The week at a glance
Another week passes and with it came further Siberian Accentors. Though the Easington bird moved on (it was last seen on 19th), Britain was treated to at least four further individuals. Fair Isle finally got in on the act on 20th with a bird in Troila Geo; another, confirmed as a second individual on plumage differences, graced the island on 22nd.

Siberian Accentor, Fair Isle, Shetland (Photo: Lee Gregory)
The second of these coincided with the arrival of another at Lund, Unst, this individual lingering until the week's end and showing well to small but appreciative crowds. Orkney finally hit back on 24th when one was discovered at Sandside Bay, on the Deerness peninsula. It was still there on 25th, when one was seen on Holy Island, Northumberland — it was in more or less the same spot as last week's bird (which was a one-day wonder), but whether or not it is indeed the same individual is far from certain.

Siberian Accentor, Lund, Unst, Shetland (Photo: Robbie Brookes)

Siberian Accentor, Holy Island, Northumberland (Photo: Andy Mould)

Siberian Accentor, Sandside Bay, Mainland, Orkney (Photo: Alastair Forsyth)
Biggest news of the week, though, was the massively unfortunate discovery of an intriguing Phylloscopus warbler dead below a window in the lighthouse garden on St Agnes, Scilly, on 21st. Sharp-eyed birders quickly twigged that the bird in question was either a Pale-legged or Sakhalin Leaf Warbler — and feelings of anguish spread quickly through the British birding community. With the only other British (and Western Palearctic) occurrence of this species pair completely untwitchable at Portland in October 2012, it was another frustrating case of 'if only ...'.
Content continues after advertisements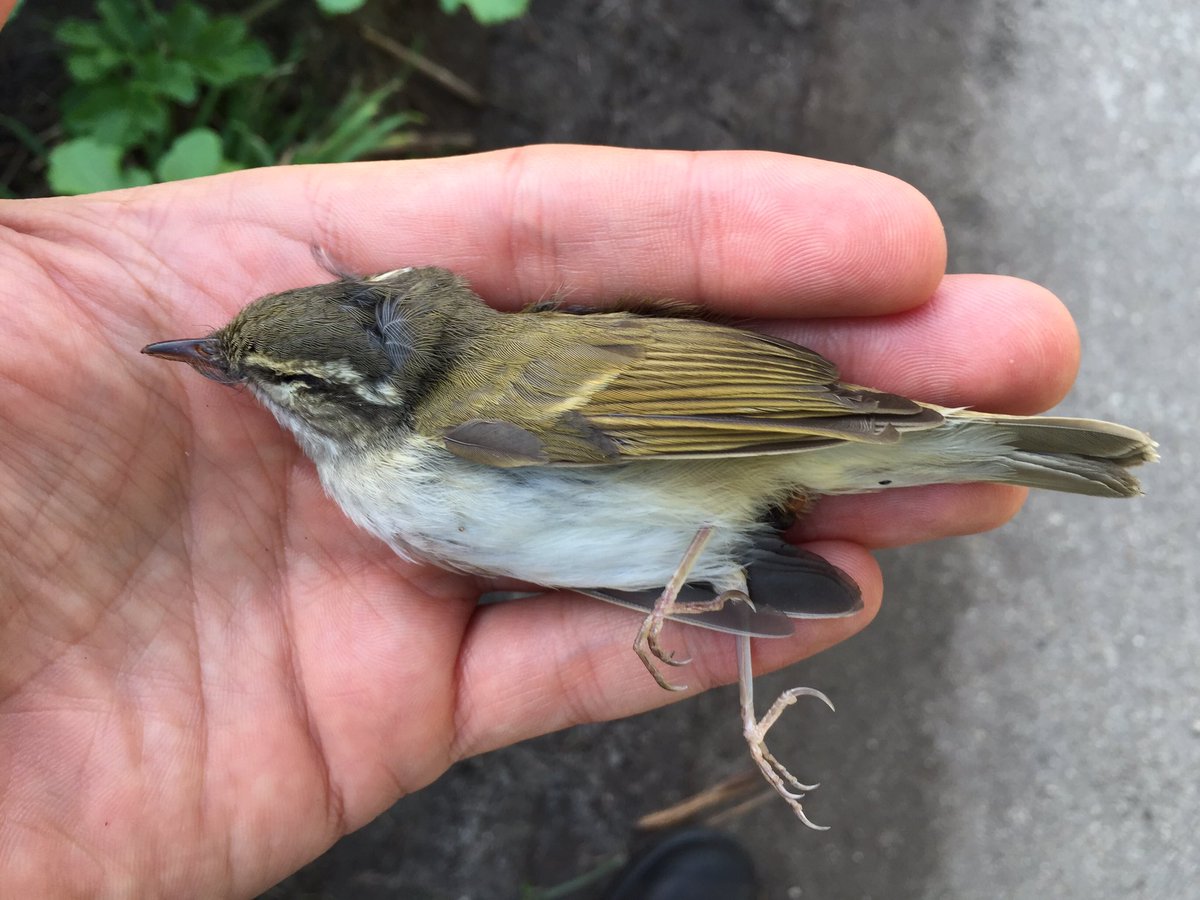 Pale-legged/Sakhalin Leaf Warbler, St Agnes, Isles of Scilly (Photo: Laurence Pitcher)
With a 'no sign' message following the day after we reported that the Bressay Black-faced Bunting has lost its tail, many had written it off as having succumbed. It was therefore a surprise when the bird was seen again at Gunnista on 24th (though there was no sign in two searches on 25th).

Black-faced Bunting, Bressay, Shetland (Photo: Chris Griffin)
Bressay did produce one of the week's six Pine Buntings on 25th — a female on the east side of the island, near Loch of Grimsetter. A male was at Hillwell, on the Shetland mainland, on 21st but proved extremely difficult to catch up with. Two of last week's females on Fair Isle remained to 19th and a first-winter male arrived there on 22nd — the island's fourth this October. Finally, a male was a brief visitor to Kilnsea, E Yorks, on 25th but quickly moved off west.

Pine Bunting, Bressay, Shetland (Photo: Richard Bonser)

Pine Bunting, Fair Isle, Shetland (Photo: Lee Gregory)
Last week's Western Orphean Warbler continued at Finstown, Orkney, to 21st. The week's four Isabelline Wheatears included three new individuals in addition to last week's bird on Holy Island, which lingered to 20th, and the Easington specimen, which was last seen on 22nd. One was at Godrevy Point, Cornwall, on 20th but proved a classic one-day wonder. Unfortunately another at Sizewell, Suffolk, on 21st was not seen again and only reported when its identification was confirmed on 25th. Thankfully the one at Burnham Overy Dunes, Norfolk, from 22nd proved altogether more co-operative and lingered to the week's end, delighting large numbers of visitors and often posing alongside a female Desert Wheatear! The only other Desert Wheatear was the male still at Spiggie, Shetland, to 21st; meanwhile, the female Pied Wheatear continued at nearby Scatness to 24th.

Isabelline Wheatear, Godrevy Point, Cornwall (Photo: Alex McKechnie)

Isabelline Wheatear, Burnham Overy, Norfolk (Photo: James Lowen)

Isabelline Wheatear, Easington, East Yorkshire (Photo: David Aitken)

Desert Wheatear, Burnham Overy, Norfolk (Photo: Andrew Steele)

Pied Wheatear, Scatness, Mainland, Shetland (Photo: Steve Minton)
Other mega news this week included an Eastern Yellow Wagtail on Benbecula on 23rd and a one-day Caspian Stonechat on St Mary's, Scilly, on 22nd — though the latter wasn't widely twitched as it was reidentified from photos the following day. Candidate Stejneger's Stonechats were at Spurn, E Yorks, from 22nd and still on Fair Isle. Otherwise it was the long-staying Western Swamphen at Alkborough Flats, Lincs, and the even more familiar Hudsonian Whimbrel in Cornwall that made up the headlines.

Putative Stejneger's Stonechat, Spurn YWT, East Yorkshire (Photo: Matt Slaymaker)

Putative Stejneger's Stonechat, Fair Isle, Shetland (Photo: Lee Gregory)
As October edges towards November it was no great surprise to see a handful of typical late-autumn species begin to arrive, not least the first Hume's Leaf Warblers of the season. Easily the most accessible of these was a stunner at Thornwick Pools, E Yorks, from 22nd. Showing delightfully well, it was one of three seen in East Yorkshire this week — the others were at Grimston on 23rd and Bempton Cliffs (seemingly this autumn's Phyllosc hot-spot) on 25th, the latter apparently (and amazingly) a first for any RSPB reserve! Another was at Cape Clear, Co Cork, on 23rd with further possibles in Cork and Suffolk.

Hume's Leaf Warbler, Thornwick Bay, East Yorkshire (Photo: Mick Hemingway)
Other rare warblers included a late Booted Warbler on Scolt Head Island, Norfolk, this week and a Paddyfield Warbler trapped at Nanjizal, Cornwall, on 20th. Blyth's Reed Warblers were on Tiree, Argyll, and Lundy, Devon. A Western Bonelli's Warbler was on Inishmore, Co Galway, on 20–21st — this being another county first find for Dermot Breen. Dusky Warblers were reported from almost 30 sites this week and included up to four on Scolt Head Island and the first in Kent this autumn — a bird at Kingsdown on 25th. Radde's Warblers typically become less numerous deeper into October, and just three were logged this week — including a bird at Burnham Overy Dunes on 24th acting as fine supporting cast to the wheatear double. At least 30 Pallas's Warblers were recorded.

Western Bonelli's Warbler, Inishmore, Galway (Photo: Dermot Breen)

Pallas's Warbler, Unst, Shetland (Photo: Micky Maher)
Red-flanked Bluetails continue to enjoy a bumper autumn with an absolutely gorgeous adult male at Spurn Point, E Yorks, on 25th — this is one of the finest individuals (if not the finest) ever recorded in Britain and, looks-wise, surely matches anything seen this autumn. It was one of nine recorded this week; another male at Portland Bill, Dorset, on 25th was relegated to an also-ran only because its appearance, while fine, was not as pristine as the Spurn bird. Others included a second in the Spurn area (at Kilnsea Wetlands on 25th) and a confiding individual at Lissagriffin, Co Cork, on 22–23rd.

Red-flanked Bluetail, Portland, Dorset (Photo: Martin Cade)
A gorgeous male Eastern Black Redstart at Easington, E Yorks, on 25th rivalled the male bluetail for looks but, given the influx of 2014, is unlikely to prove as big a draw as it perhaps deserves to be. Four or so Siberian Stonechats looked typical for maurus, including a popular bird at Easington on 21–22nd. Suffolk produced a Black-bellied Dipper in Needham Market from 20th. A Black-throated Thrush at Brancaster Staithe, Norfolk, briefly on 23rd continued this autumn's good run. A Bluethroat lingered at Belhaven Bay, Lothian, and another was on Shetland at Hillwell.

Eastern Black Redstart, Easington, East Yorkshire (Photo: Andy Butler)

Siberian Stonechat, Easington, East Yorkshire (Photo: Alan Shaw)

Black-bellied Dipper, Needham Market, Suffolk (Photo: Paul Chamberlain)

Bluethroat, Belhaven Bay, Lothian (Photo: Lukasz Michal Pulawski)
The week's only Red-throated Pipit flew from fields at Hook Head, Co Wexford, on 23rd. Up to two Olive-backed Pipits were on St Mary's, Scilly, and a third was on Tresco. Others were at Hornsea, E Yorks, on 21st and Firkeel, Co Cork, on 19th. Around 20 Richard's Pipits were noted. Last week's Isabelline Shrikes just about made it into the review period, the Northumberland bird being last noted on 19th and the Aberdeen bird on 20th. At least one Pallid Swift was on the Isles of Scilly (sightings came from St Mary's on 24th and Tresco on 25th) and another was on Lundy on 25th.
As many as 20 Barred Warblers were reported nationwide, while a late Greenish Warbler was at Knockadoon Head, Co Cork, on 20th. Red-backed Shrikes were on Orkney and still in Suffolk, and Common Rosefinches were on Scilly, Orkney and Shetland (2). A handful of Wrynecks were all in the far south-west. Five Red-breasted Flycatchers included one at Calf of Man on 23rd. Late October Icterine Warblers are always notable and Shetland produced birds on Trondra and Fair Isle. Little Bunting numbers were somewhat reduced, with around 15 recorded.
An isolated report of a Nearctic vagrant concerned a White-throated Sparrow at Lochmaddy, N Uist, on 20th — this was presumably the bird also reported back on 1st of this month.
Shore Larks continue to grace the east coast in excellent numbers, with peak counts of 28 at Saltfleetby NNR, Lincs, and Holkham Gap, Norfolk, both on 24th. Elsewhere up to 14 were at Tyninghame Bay, Lothian, and birds were reported from at least 32 sites.

Shore Lark, Landguard NR, Suffolk (Photo: Mark ferris)
Much to the delight of birders nationwide (and the chagrin of the news team here at BirdGuides!), the indications are strong that it is to be a Waxwing winter. During the week we carried exactly 150 reports of the species and numbers steadily increased over the seven days. Reports included 70 at Drumbeg, Highland, on 23rd, although most were of ones and twos with the occasional small flock reaching into double figures.

Waxwing, Holme Dunes NWT, Norfolk (Photo: Chris Teague)
Northern Bullfinches were also scattered around northern and eastern areas, as were Mealy Redpolls. Among the latter (at least on Shetland) were a number of Coues's Arctic Redpolls, with at least two in Lerwick, three on Unst and one on Bressay. The only Northern Long-tailed Tit reported this week was one flying south over Burnham Overy Dunes, Norfolk, on 23rd.
As well as continuing Long-billed Dowitchers in Kent and Lincolnshire, further individuals were unearthed at Dundalk, Co Louth, and Tacumshin, Co Wexford. The Baird's Sandpiper lingered another week in Northumberland, while reports of Lesser Yellowegs at three sites in Somerset perhaps all referred to the same wandering individual. Elsewhere the Dorset bird was still around on 24th. Semipalmated Sandpipers remained in Counties Donegal and Wexford, but the only Pectoral Sandpiper was last seen in Cornwall on 19th. At least two American Golden Plovers were on South Uist, with two still together at Ballycotton, Co Cork, and further individuals in Northumberland and Conwy.

Long-billed Dowitcher, Frampton Marsh RSPB, Lincolnshire (Photo: Dean Eades)

Lesser Yellowlegs, Steart WWT, Somerset & Bristol (Photo: Jeff Slocombe)
A first-winter Ring-billed Gull at Ainsdale Sands Lake, Lancs, on 25th was just about the only larid of real note this week. Six American Wigeon and two Green-winged Teal were reported. An immature drake Ferruginous Duck was a new arrival on 25th at Wilstone Reservoir, Herts, where there was also a drake Ring-necked Duck (one of three seen nationwide) all week. Four drake Surf Scoters were off Llanddulas, Conwy, on 21st, and single birds were in Orkney, Lothian and the Outer Hebrides; rarer still was the presumed returning Black Scoter at Rossbeigh, Co Kerry, on 25th. A King Eider was tracked north from Whitburn, Durham, to Holy Island, Northumberland, on 23rd, with another in Co Donegal on 24th. At least one Richardson's Cackling Goose and a Lesser Canada Goose were on Islay, and a Todd's Canada Goose was noted in Northumberland.

Ring-necked Duck, Wilstone Reservoir, Hertfordshire (Photo: James J Anderson)

Surf Scoter, Musselburgh, Lothian (Photo: Sam Northwood)

King Eider, Beadnell (village), Northumberland (Photo: Gary Woodburn)

Richardson's Cackling Goose, Bridgend, Islay, Argyll (Photo: Steve Percival)
Cattle Egrets were reported at 11 sites — these including six at Cartron, Co Sligo, on 23rd and fives at Slimbridge, Glos, on 25th and at Burton Mere Wetlands, Cheshire. Three remained at Marshside, Lancs. Eight sites held Glossy Ibises, while a Purple Heron at Ardersier, Highland, was a surprise on 22nd.

Cattle Egret, Steart WWT, Somerset & Bristol (Photo: Jeff Slocombe)
Western Palearctic news
The onslaught of Siberian Accentor records continued and, by the end of 24th, 144 (excluding Britain's nine) had been recorded, with Sweden (56) and Finland (45) leading the way in terms of records. Arguably the most significant occurrence of the week was the Netherlands' first, a bird twitchable throughout the day at Maasvlakte on 21st — much to the delight of Dutch listers.

A large crowd watching the first Dutch Siberian Accentor at Maasvlakte on 21 October (Photo: Joachim Bertrands)

Siberian Accentor, Inkoo, Finland (Photo: Petteri Hytönen)
Easily overlooked amid the seething mass of Prunella montanella records on our Western Palearctic news page, it was nice to see the first P atrogularis of the season record — a bird at Vuosaari, Finland, on 23rd represents just the 11th Black-throated Accentor for Finland. Will more follow?

Black-throated Accentor, Vuosaari, Finland (Photo: Petteri Hytönen)
Eastern vagrants continued to pile into Northern Europe. Belgium's first Eastern Crowned Warbler was trapped and ringed at Anzegem, West Flanders, on 24th, this in turn following the Netherlands' second at Castricum for a few days from 21st. France scored with a Two-barred Greenish Warbler on Ouessant Island, Finistère, on 22nd. Sweden continued to host up to two Asian Desert Warblers, while late news of a japonicus Buff-bellied Pipit in Skåne on 16th was received. An influx of Pine Buntings appears to be occurring, with records from Norway, Belgium, Netherlands (2) and Germany. An apparent Mountain Chiffchaff trapped and ringed in the German state of Saarland, close to the border with Luxembourg, on 20th will be an amazing record for western Europe if confirmed.
The Azores' third (and the Western Palearctic's fourth) Northern Flicker arrived on Corvo on 19th and was still there the following day. Other records from the island this week included Cliff Swallow on 21st, Swainson's Thrush on 23rd, two Philadelphia Vireos on 20th, three Yellow-billed Cuckoos on 25th, two Common Yellowthroats, several Red-eyed Vireos and the lingering Upland Sandpiper and Short-billed Dowitcher. Nearby Flores held onto its Snowy Egret, while Cabo da Praia, Terceira, produced a Pacific Golden Plover.

Northern Flicker, Corvo, Azores (Photo: Mika Bruun)

Yellow-billed Cuckoo, Corvo, Azores (Photo: Radoslaw Gwozdz)

Snowy Egret, Flores, Azores (Photo: Radoslaw Gwozdz)
Other records included a juvenile Bateleur in the north-west Negev area of Israel and two European Storm-petrels off Haifa (just the sixth and seventh individuals recorded in Israel). Given the recent focus on eastern vagrants and almost total lack of anything Nearctic, a Chimney Swift at Gozón, Asturias, Spain, on 21st was an impressive discovery. Finally, a Yellow-browed Warbler hopping about in a wadi at Krechba, Algeria, on 20th just goes to show that this species is probably attempting to cross the Sahara on a broad front.