We're very much in autumn proper now – in fact, we're going into what has traditionally been the most productive three-week spell of the birding year. Anticipation is high, particularly with the weather charts looking productive for arrivals from both east and west, and we wait with bated breath to see what will happen …
For now, though, to the week that just passed. While not spectacular, it was a very solid 'introduction' to peak autumn, with several new mega rarities discovered among a reasonable scattering of arriving migrants.
The two stand-out finds were European in their origins, which wasn't overly surprising given the warm south and south-easterly winds in the run up to and over the weekend. The first was a classy discovery in the form of a Short-toed Treecreeper, bewilderingly clinging to metal fencing just above the Port of Dover for a matter of minutes on the morning of 21st. Seemingly freshly arrived, it was heard to call and well photographed but soon flew off along the cliff and wasn't seen again.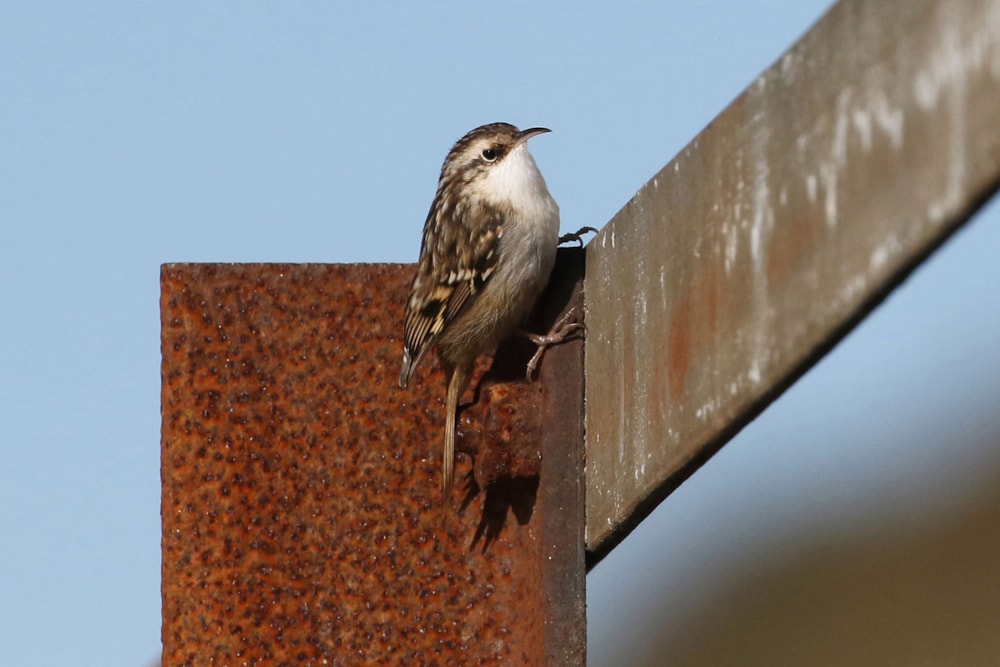 Short-toed Treecreeper, Langdon Cliffs NT, Kent (Jamie Partridge).
The second came the following day, in the form of a mobile Blue Rock Thrush at The Garrison on St Mary's, Scilly. It was still around on 24th but could disappear for long periods. While arguably not causing the same nationwide shockwaves as the famous bird of 1999 did, this will no doubt prove a well-watched visitor in the coming week or two, should it hang around (though the 1999 bird only managed two days). Of course, its impact will have been diminished by the wintering bird in Gloucestershire in 2016-17, which was on show for almost four months …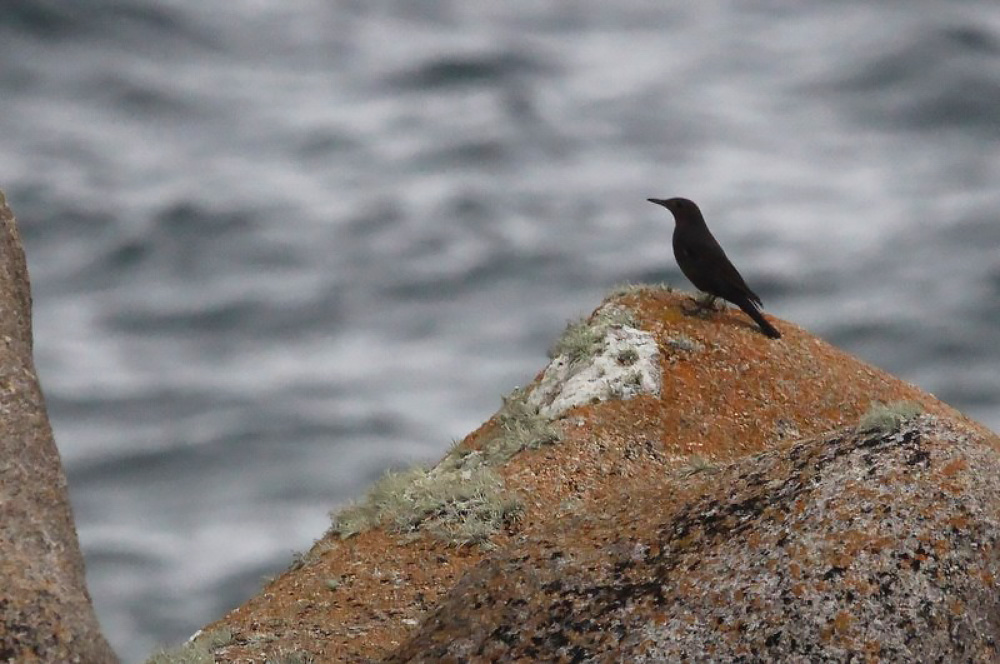 Blue Rock Thrush, St Mary's, Isles of Scilly (Kris Webb).
The autumn's second Isabelline Wheatear spent two days at Gibraltar Point NNR, Lincs, on 22-23rd but was only identified conclusively after dark on the latter day. Unfortunately for Lincolnshire listers, the bird had seemingly moved on by 24th. Somewhat surprisingly, it was a county first.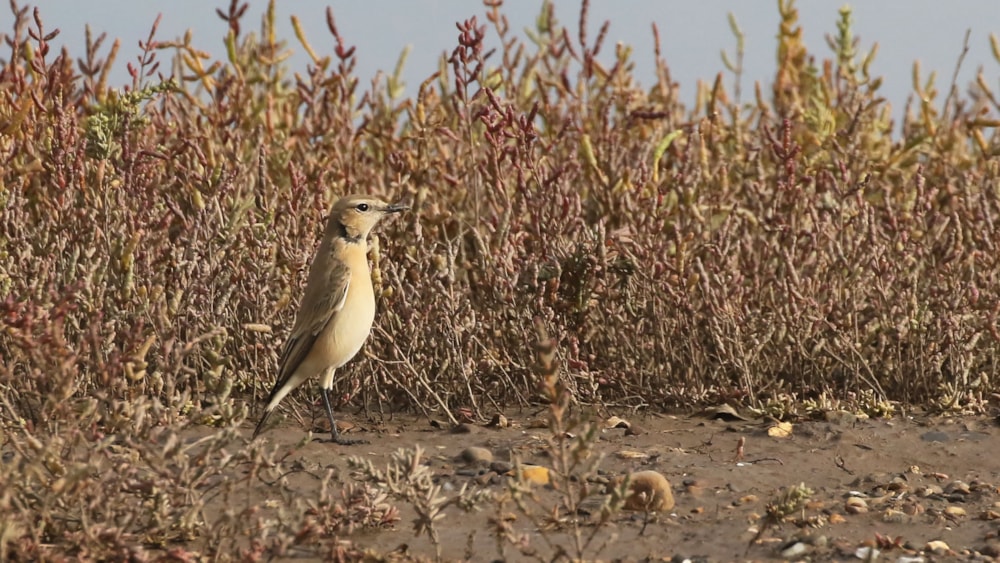 Isabelline Wheatear, Gibraltar Point NNR, Lincolnshire (John Clarkson).
A fleeting visitor to Tacumshin, Co Wexford, was a juvenile American Black Tern on the afternoon and evening of 18th. However, this rare Nearctic visitor had gone by the following morning. Not far away, an adult-type Laughing Gull flying south past Greystones, Co Wicklow, on 19th would have been a popular bird had it stuck.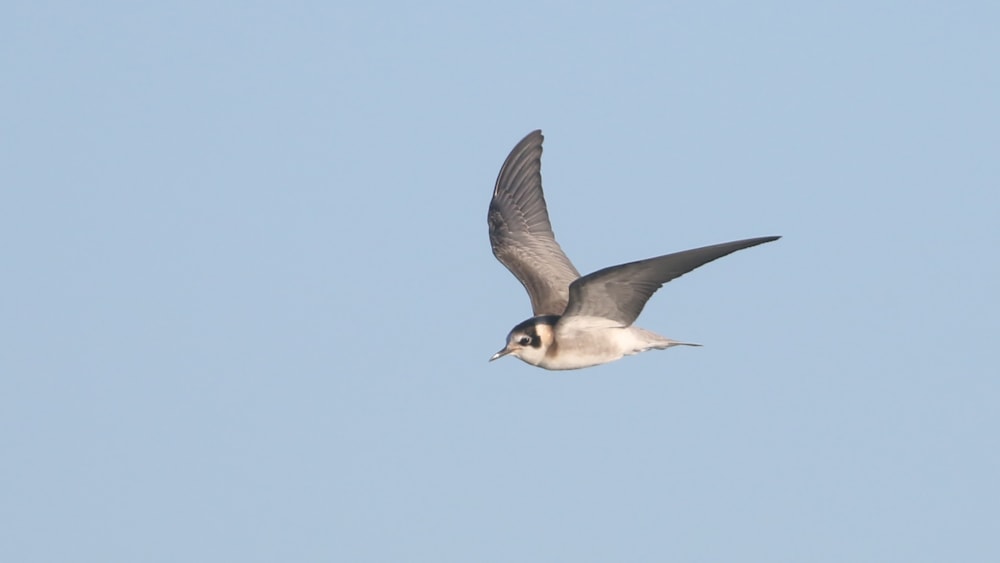 American Black Tern, Tacumshin, Wexford (Killian Mullarney).
A couple of curious reports of albatrosses included single birds passing north at St Abbs Head, Borders, late morning on 22nd and then south at Winterton Dunes, Norfolk, later that day. Seabirding was otherwise fairly average, with notable bits and bobs including a northbound Cory's Shearwater tracked between Whitburn, Durham, and Barns Ness, Lothian, on 18th and a showy adult Long-tailed Skua at North Ronaldsay, Orkney, on 19th.
It almost goes without saying that the Forster's Tern was still resolute and reliable around the Castletown River Estuary in Co Louth this week, while that county also produced the week's only Ring-billed Gull (at Blackrock on 23rd). The Bonaparte's Gull was still at Liscannor, Co Clare, on 19th. Two candidate Baltic Gulls dropped in at Pool of Virkie, Shetland, during strong south-easterlies on 23rd.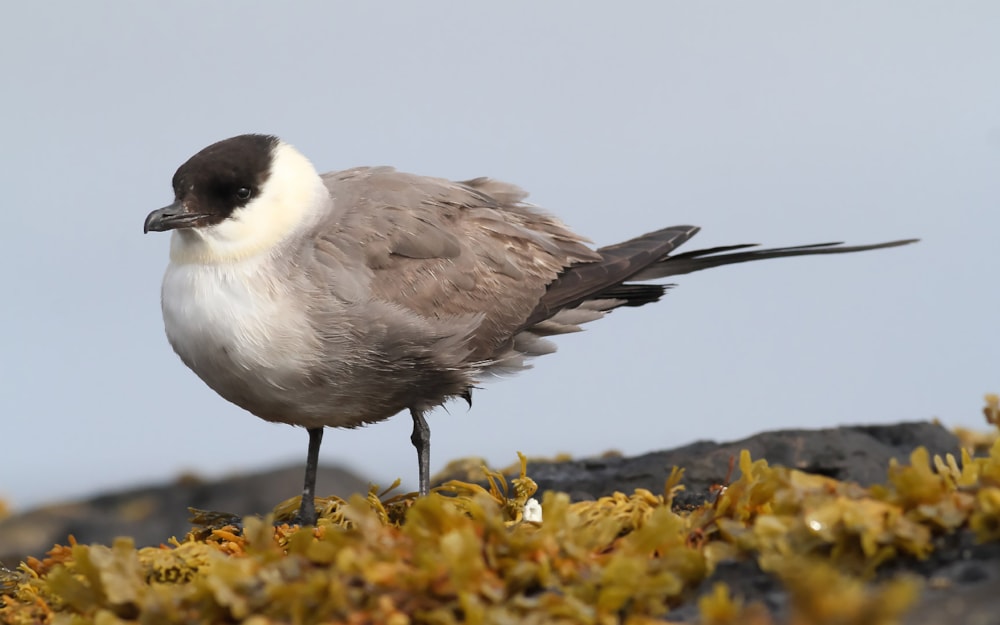 Long-tailed Skua, North Ronaldsay, Orkney (Dante Shepherd).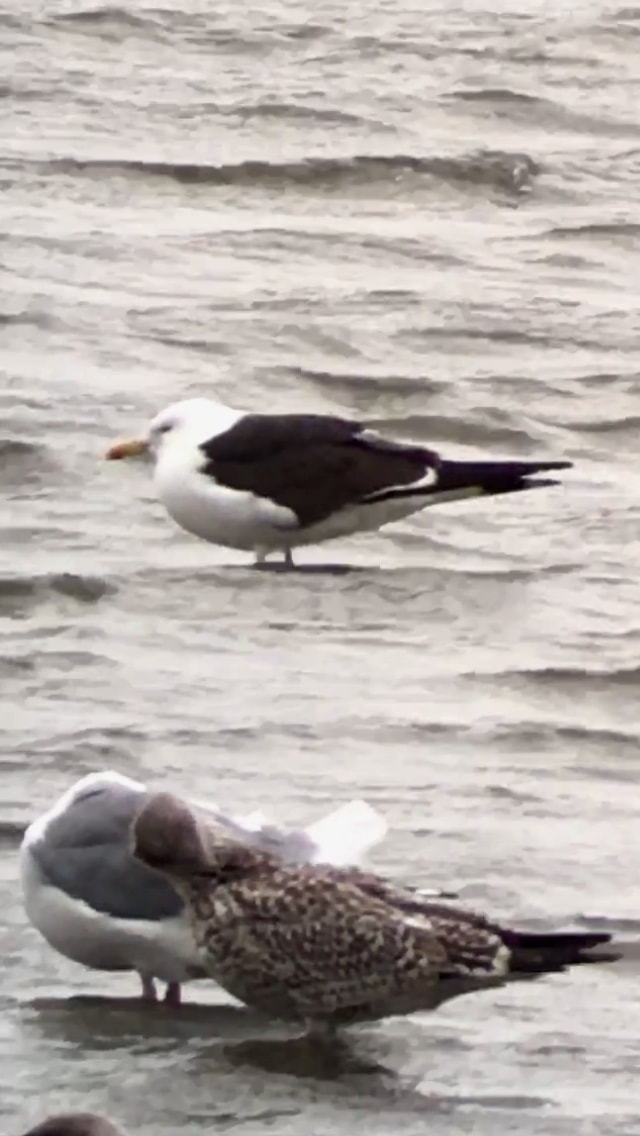 Candidate Baltic Gull, Pool of Virkie, Mainland, Shetland (Nature Finder).
Co Kerry continued to assert dominance over Semipalmated Sandpiper occurrences, with no fewer than three including a new individual at Beale Strand on 24th. Just across the Shannon Estuary, a fourth was at Poulnasherry Bay, Co Clare, on 23rd and a White-rumped Sandpiper was at nearby Rinevella Bay on 21st. It's been a great year for the latter species, but the discovery of an adult inland at Tophill Low, East Yorkshire, on 20th was nonetheless impressive. Elsewhere, another showed well at Davidstow Airfield, Cornwall, from 22nd and a fourth adult was on Harris, Outer Hebrides, on 21st. Further 'Semipees', meanwhile, remained in Co Wexford and on South Uist.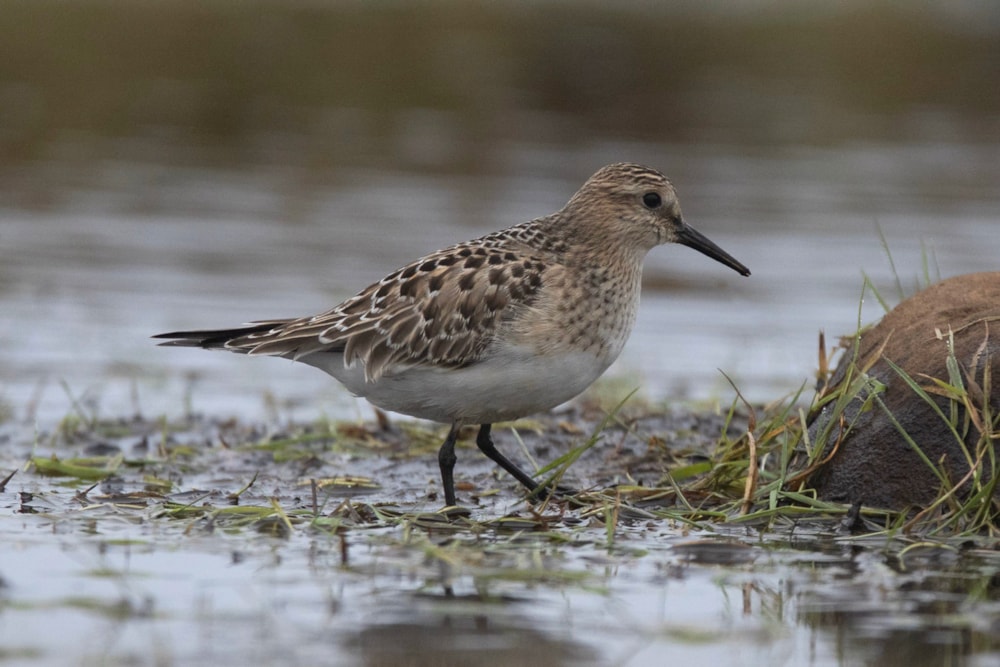 Baird's Sandpiper, Foula, Shetland (Chris Turner).
Davidstow Airfield also held onto one of the week's seven Buff-breasted Sandpipers, with the Outer Hebrides managing at least three, another still on Shetland and a flyover on North Ronaldsay, Orkney, on 20th. A dozen Pectoral Sandpipers were registered, including two together in Lancashire, but just a single of these was in Ireland. The only Baird's Sandpiper was a confiding juvenile on Foula, Shetland.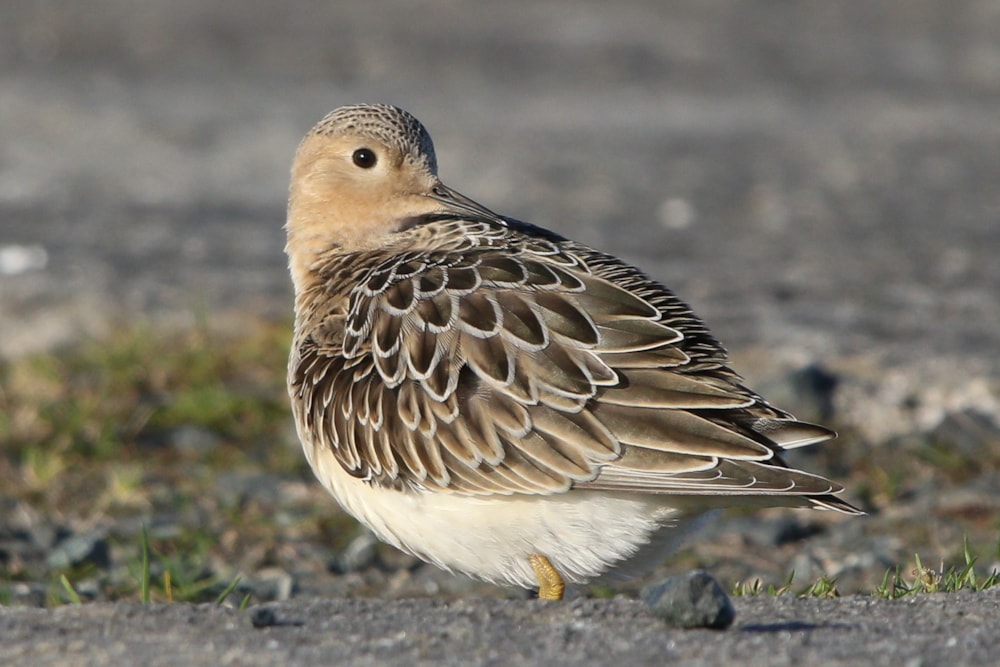 Buff-breasted Sandpiper, Davidstow Airfield, Cornwall (Paul Ash).
While it may have been an average year for most American waders so far, one species that has fared particularly well is American Golden Plover. At least 21 were seen during the week this week, with up to two adults at Lunt Meadows, Lancs, probably the most seen of the lot. New finds this week included an adult at Frampton Marsh, Lincs, on 22nd, two adults in Co Galway and juveniles in Co Mayo and on Tiree, Argyll. Several were seen in both Shetland and the Outer Hebrides.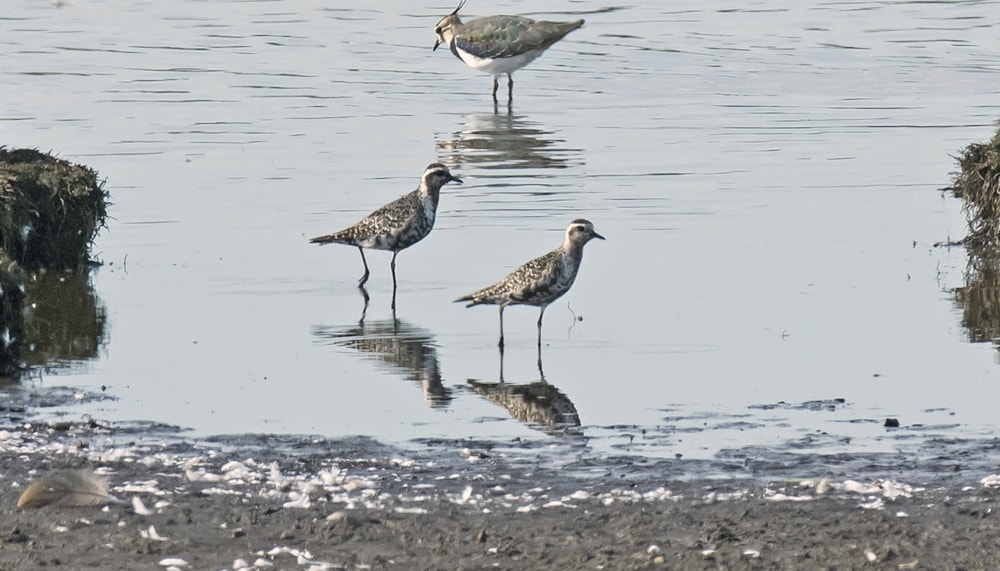 American Golden Plover, Lunt Meadows NR, Lancashire (Steve Young).
The elusive Long-billed Dowitcher was seen again at West Gerinish, South Uist, on 20th, while the Dorset bird found Lodmoor RSPB to its liking throughout the week. In West Yorkshire, the juvenile was last seen at Fairburn Ings on the morning of 21st, relocating the next day to Swillington Ings, where it remained for the remainder of the review period. A Lesser Yellowlegs was new at South Efford Marsh, Devon, on 19-20th, with others remaining on Tresco, Scilly, and at Pembroke, Pembs.
Meanwhile, shorebirds of a Palearctic flavour concerned two juvenile Black-winged Stilts: the juvenile still at Moor Green Lakes, Berks, all week and a second at Ham Wall RSPB, Somerset, from 21st. A first-winter Red-necked Phalarope arrived at Marshside RSPB, Lancs, on 20th and hung on thereafter. Just a couple of Grey Phalaropes included a showy bird on the shore at Grenham Bay, Kent, on 24th.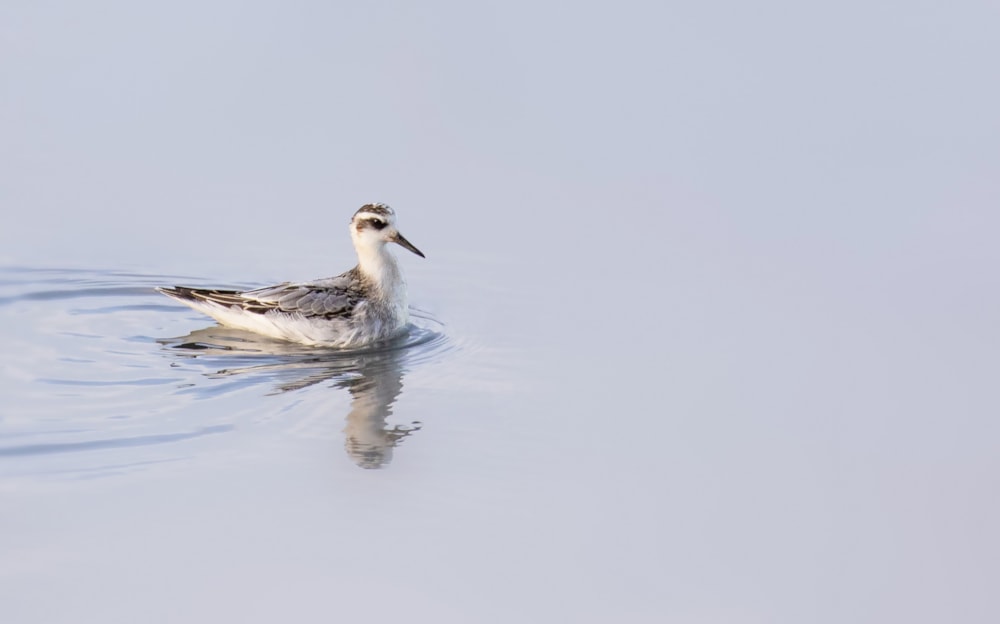 Grey Phalarope, Birchington, Kent (Alex Perry).
There must have been a few hearts in mouths on 18th when a four-hour search revealed no sign of the beloved drake American Black Duck at Strontian, Highland, but positive news later in the day alleviated fears that this aged hero of British birding might have slipped away. The only Ring-necked Duck of the week was the semi-resident bird at Abberton Reservoir, Essex, while the Co Wexford Blue-winged Teal moved from Lady's Island to Tacumshin. A drake Hooded Merganser flying past Titchwell RSPB, Norfolk, on 18th was presumably the same bird that pitched up at Upper Bittell Reservoir, Worcs, the following day. Two white-morph Snow Geese remained at Balranald, North Uist, and another visited Loch Leven, Perth & Kinross, on 18th.
Great Egret was a species very much on the move this week, with a noticeable spike in reports from the weekend onward and plenty of sightings of ones, twos and even small flocks on the move at height. These included a fivesome in West Yorkshire, four together in East Yorkshire and single birds north to Highland and Aberdeenshire. How long before this species becomes barely notable, even as far north as Scotland?
A Purple Heron at Portland, Dorset, on the morning of 18th later flew past Chesil Cove, while a second flew high over Chamber's Wall, Kent, on 19th. The only Glossy Ibis was the long stayer at Newport Wetlands, Gwent.
Though there was no sign of last week's Little Crake, the Spotted Crake continued to perform intermittently at Blacktoft Sands RSPB, East Yorkshire, while others were in Essex, Somerset, Pembrokeshire and North Yorkshire.
A smart female Pallid Harrier bearing a Finnish ring (white 'CAL') visited Beachy Head, East Sussex, on 17-18th and transpired to have been banded as a chick at a nest near Oulu in June 2018. News from Shetland concerned the male Snowy Owl again at Ronas Hill on 17th.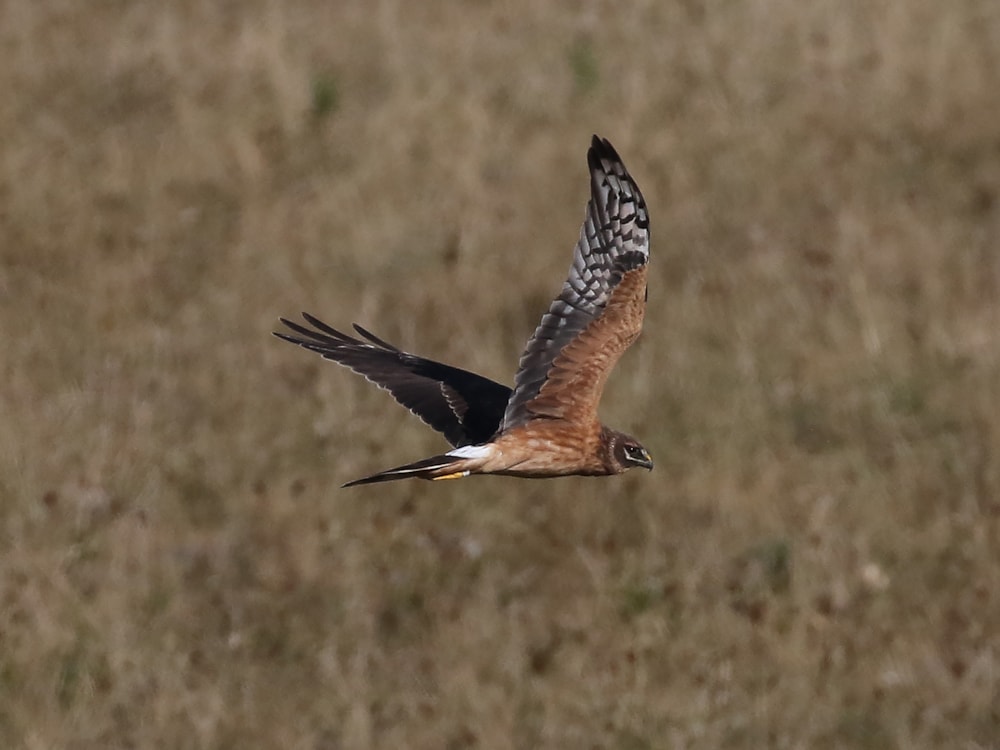 Pallid Harrier, Beachy Head, East Sussex (Beachy Birder).
A European Roller flew over Oxenhope, West Yorkshire, on 18th – interestingly, it's only a few miles from where an adult spent a couple of days in early June and the striking coincidence does make one wonder if it's the same individual that has been lurking in this quiet corner of England all summer.
Scarce migrants included a couple of newly arrived Hoopoes on 24th, on the Isles of Scilly and in Co Wicklow. Of the 20 or so Wrynecks, the most significant find was a bird at Langass, North Uist, from 22nd. North Uist also held one of the week's four Rosy Starlings, these also including a new juvenile at Pagham Harbour, West Sussex, on 24th. Fifteen Common Rosefinches were totalled, most of which graced Shetland.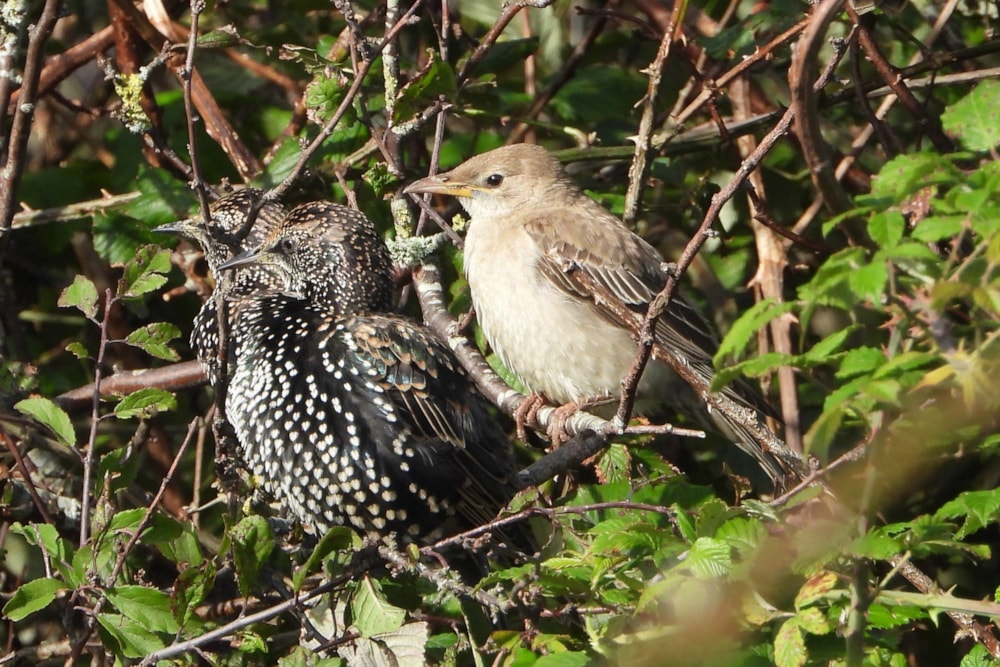 Rosy Starling, Pagham Harbour LNR, West Sussex (Andy Wilkes).
It's not entirely clear when the Eastern Olivaceous Warbler actually departed Farlington Marshes, Hants, but it was definitely still there on 18th – though there were reports from 19th and 22nd. Elsewhere, the Western Bonelli's Warbler was still on Barra on 19th. A chunky beast of a Great Reed Warbler was extracted from a mistnet in the Observatory garden at Portland Bill, Dorset, late afternoon on 18th, showing in the quarry there for a while in the evening. A subalpine warbler sp was a brief visitor to Pennington Marshes, Hants, on the morning of 20th.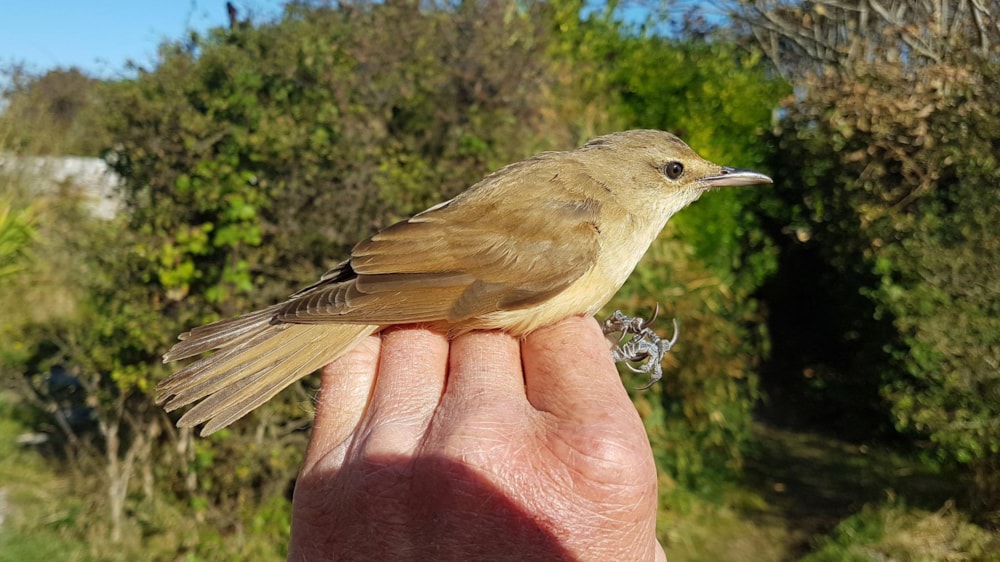 Great Reed Warbler, Portland, Dorset (Martin Cade).
A Melodious Warbler reached Yell, Shetland, on 24th, with others on Inishbofin, Co Galway, and at Land's End, Cornwall. Two Blyth's Reed Warblers were also identified on 24th: at Hillswick, Shetland, and on Barra, Outer Hebrides. Just a single Marsh Warbler was seen, on North Ronaldsay. Both the week's Arctic Warblers – on the Isle of May, Fife, and at Grimston, East Yorkshire – were trapped and ringed.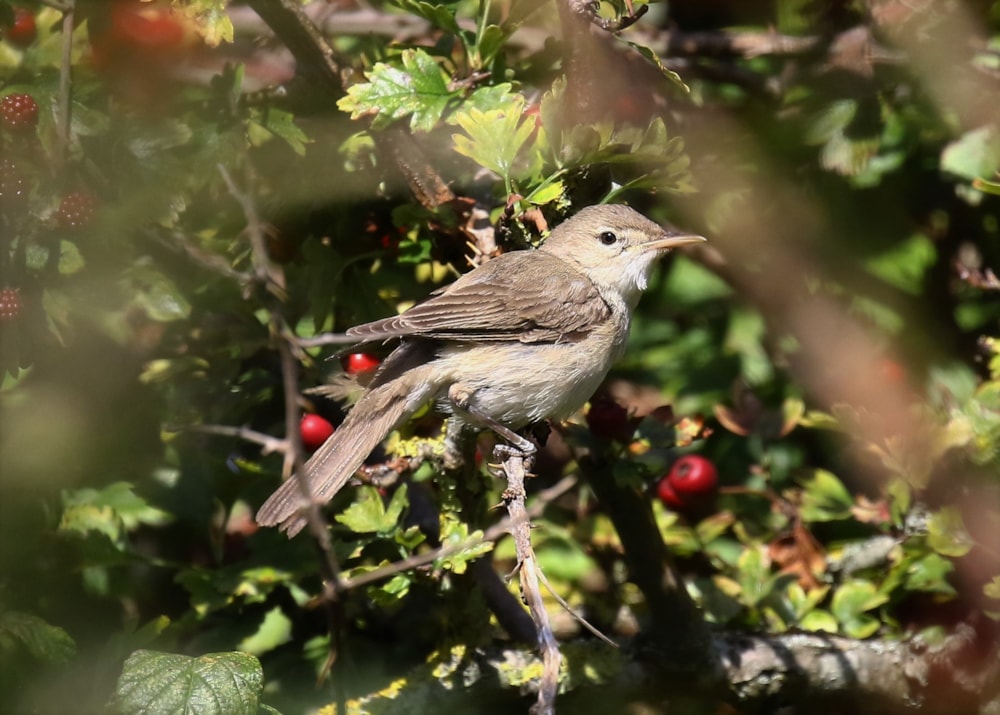 Eastern Olivaceous Warbler, Farlington Marshes HWT, Hampshire (Ian Wells).
Isle of May ringers also got their hands on a male Siberian Stonechat on 23rd, while three classic localities bagged the first three Red-flanked Bluetails of the autumn: on Fair Isle on 23rd and then on Foula and North Ronaldsay on 24th. At least 20 Red-breasted Flycatchers hinted that it might be a decent autumn for them, with North Ronaldsay scoring at least three and birds seen south to Suffolk. Hampshire birders were treated to their second twitchable Bluethroat of the month, with a bird at Titchfield Haven from 19-22nd. Another was on Tresco, Scilly, on 21-22nd.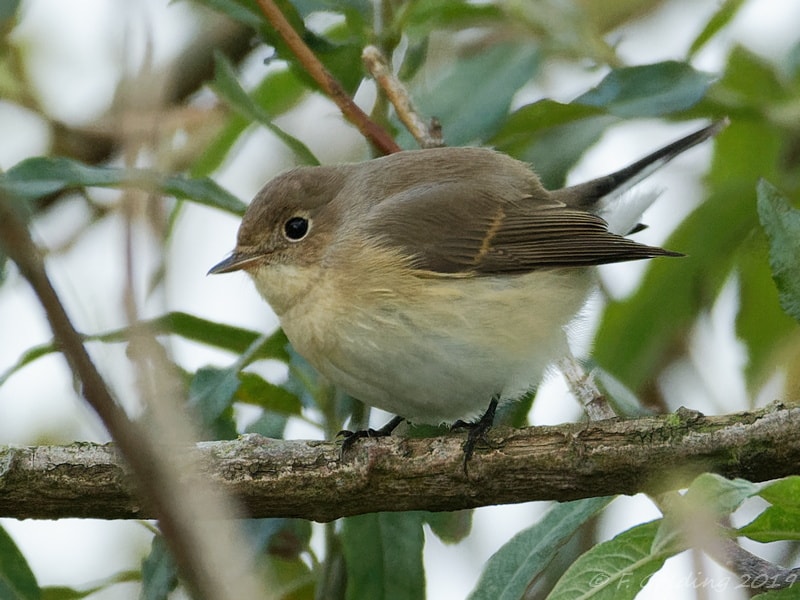 Red-breasted Flycatcher, Holy Island, Northumberland (Frank Golding).
Some 15 Barred Warblers were seen, but Red-backed Shrikes numbered just four between Durham and Shetland. Richard's Pipits totalled five, while Greater Short-toed Larks were on the Isles of Scilly and Shetland. The week's four Ortolan Buntings were split two apiece between Co Cork and Shetland. An Alpine Swift spent some time over Aberystwyth, Ceredigion, on the evening of 23rd.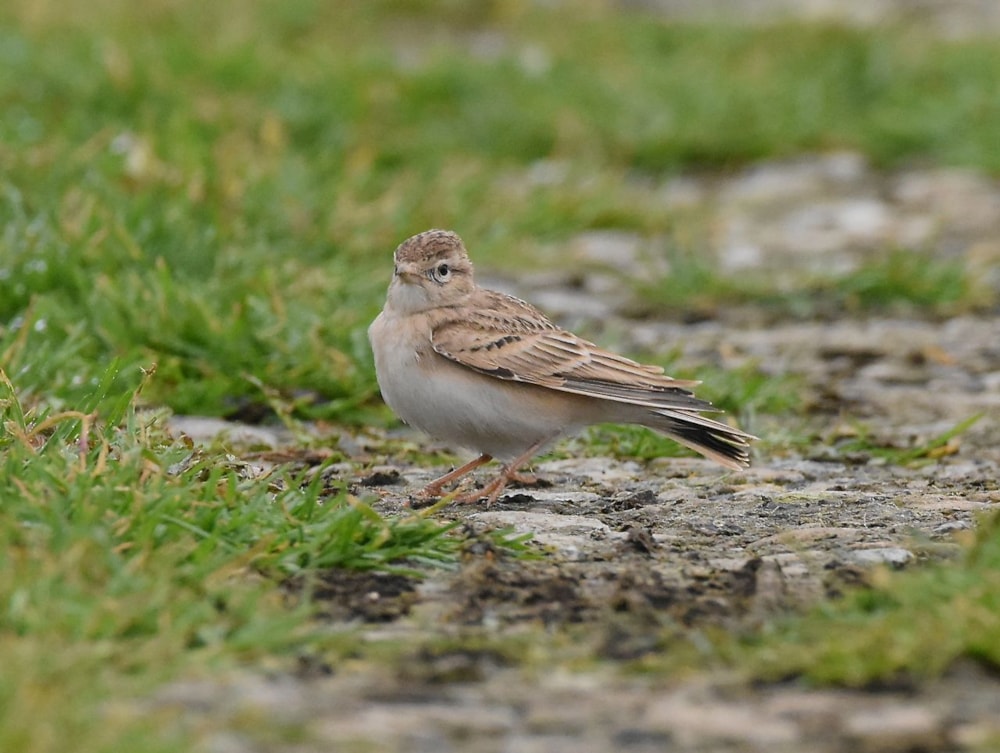 Greater Short-toed Lark, Lamba Ness, Unst, Shetland (Roger Ridley).
The autumn's first Olive-backed Pipit arrived on Foula, Shetland, on 24th, with a Rustic Bunting also there that day in addition to the aforementioned Red-flanked Bluetail. Three Little Buntings were on Shetland; further south, birds visited Coquet Island, Northumberland, on 22nd and Kilminning, Fife, on 23rd. The only Citrine Wagtail of the week was a lingering bird on Foula.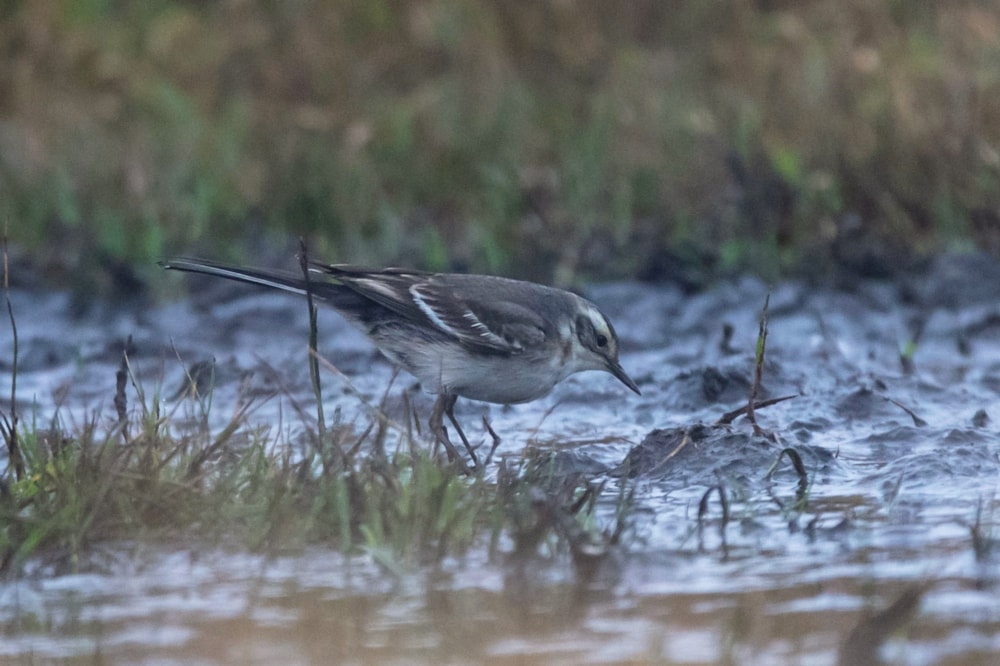 Citrine Wagtail, Foula, Shetland (Chris Turner).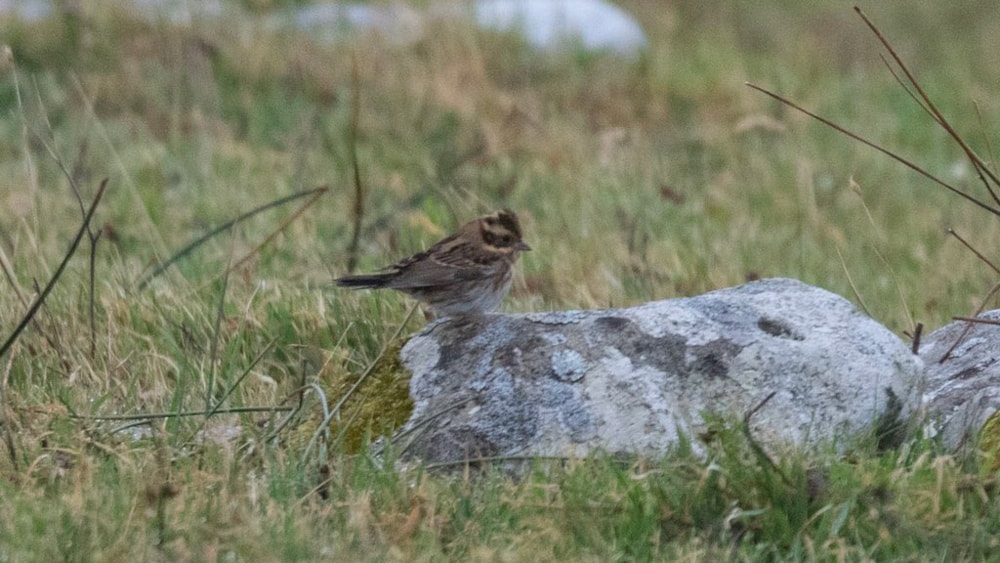 Rustic Bunting, Foula, Shetland (Chris Turner).
Last, but absolutely not least … an exponential increase in Yellow-browed Warbler numbers was to be expected as soon as the winds gained an easterly element, as they did from the weekend onward. After birds at Titchwell, Norfolk, on 18th and Norwick, Unst, on 19th, numbers began to rapidly increase from 21st, with birds appearing from Kent north to Shetland. A total of 183 reports of the species were put out over the seven days, with some sizeable counts coming from the Scottish mainland (such as 11 at Loch of Strathbeg, Aberdeenshire, on 23rd) and Shetland (14 on Out Skerries on 23rd and 21 on Bressay on 24th).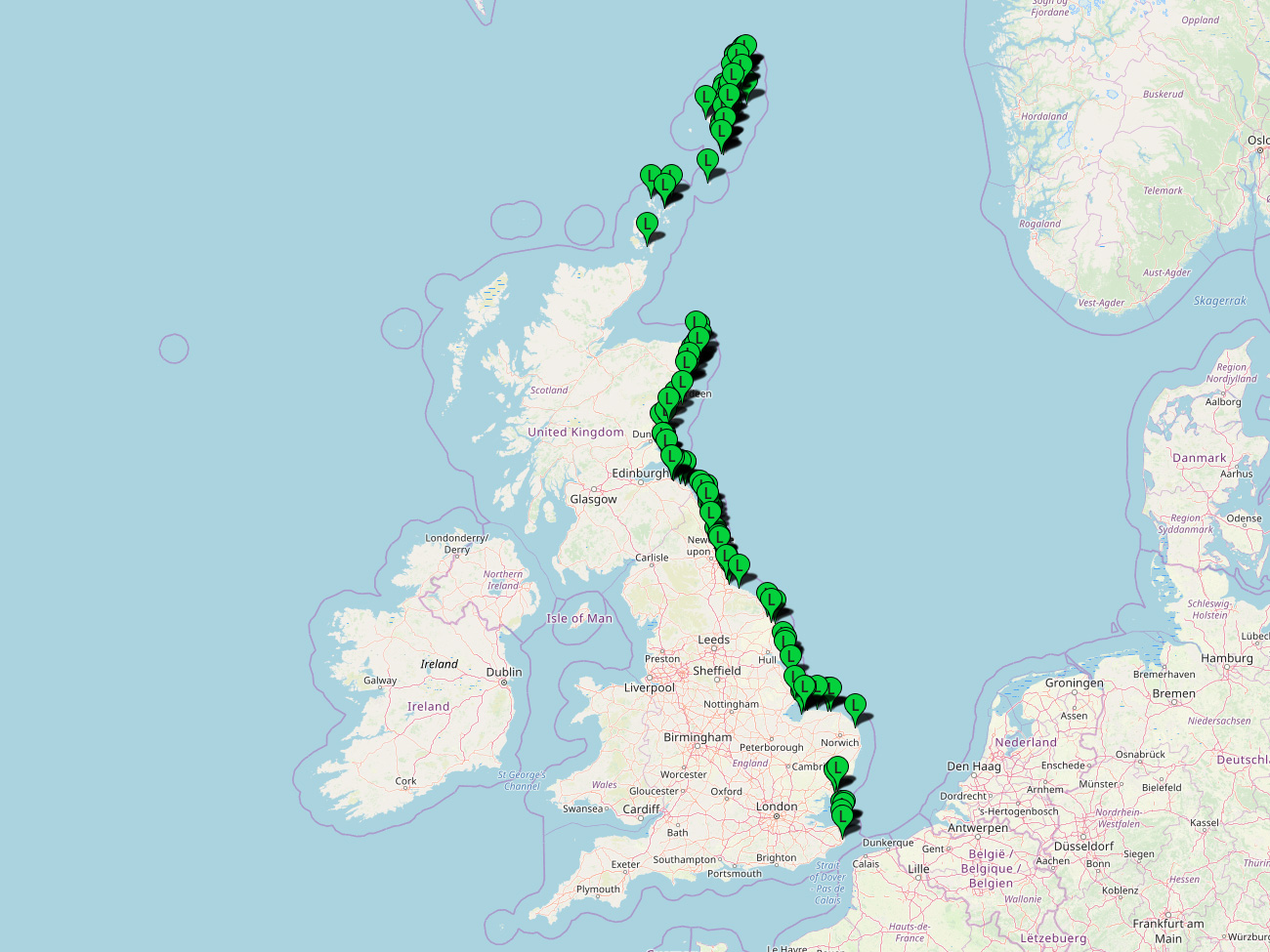 This week's Yellow-browed Warbler reports, illustrating a neat easterly distribution (BirdGuides.com data).
Western Palearctic
With westerlies prevailing, all Corvo needed was birders to arrive and the birds would surely start flowing … and flow they did. The region's fifth Chestnut-sided Warbler and sixth Canada Warbler were both found on 24th, as well as a supporting cast of Black-and-white Warbler and multiple Red-eyed Vireos. Sadly, though, the Least Bittern picked up on São Jorge on 21st died in care the following day. A Hudsonian Whimbrel remained on São Miguel.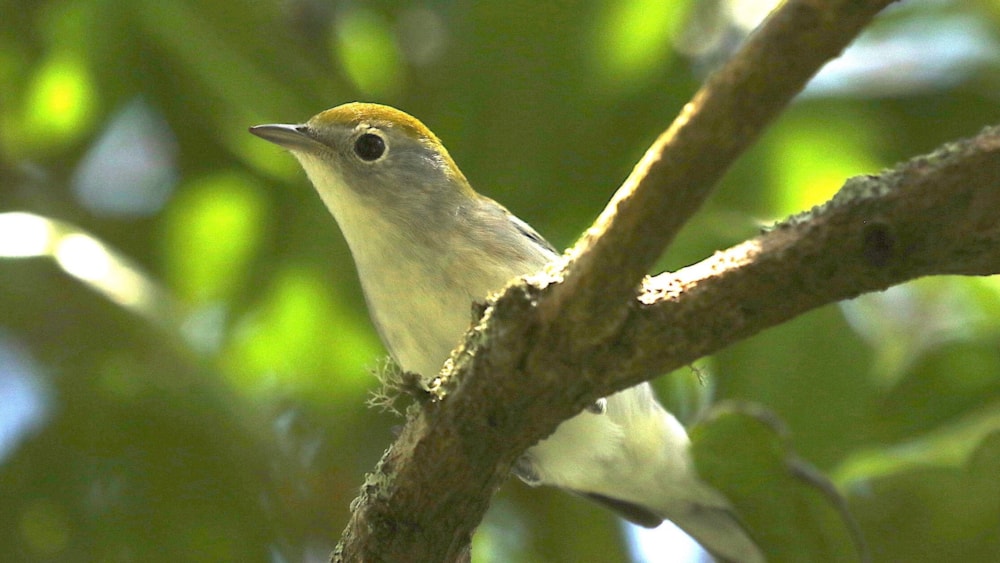 Chestnut-sided Warbler, Corvo, Corvo (Peter Stronach (Highland recorder)).
Strong south-easterly winds brought a glut of European migrants to Iceland, topped by the country's second-ever Melodious Warbler at Eyrarbakki from 23rd. Also there was a Common Rosefinch, while other highlights included Red-backed Shrike and Hoopoe – both with fewer than 20 Icelandic records.
A Wilson's Phalarope was at Rusanda, Serbia, on 22nd, unsurprisingly representing a national first. A Laughing Gull at Allaman from 22nd was a fantastic record for land-locked Switzerland. A South Polar Skua was off Fisterra, Galicia, for a couple of days to 24th.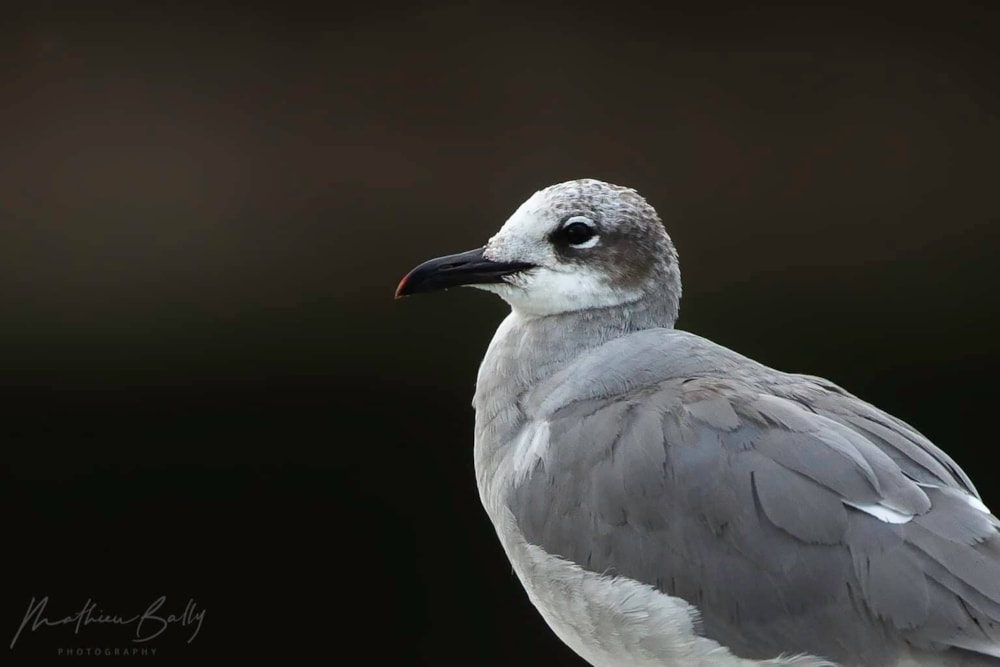 Laughing Gull, Allaman, Vaud (Mathieu Bally).
A fortunate few were treated to in-the-hand views of a Pallas's Grasshopper Warbler at The Zwin Nature Reserve on the Belgian coast on 22nd, while a Nutcracker was in The Netherlands, as well as a Great White Pelican and a candidate Semi-collared Flycatcher.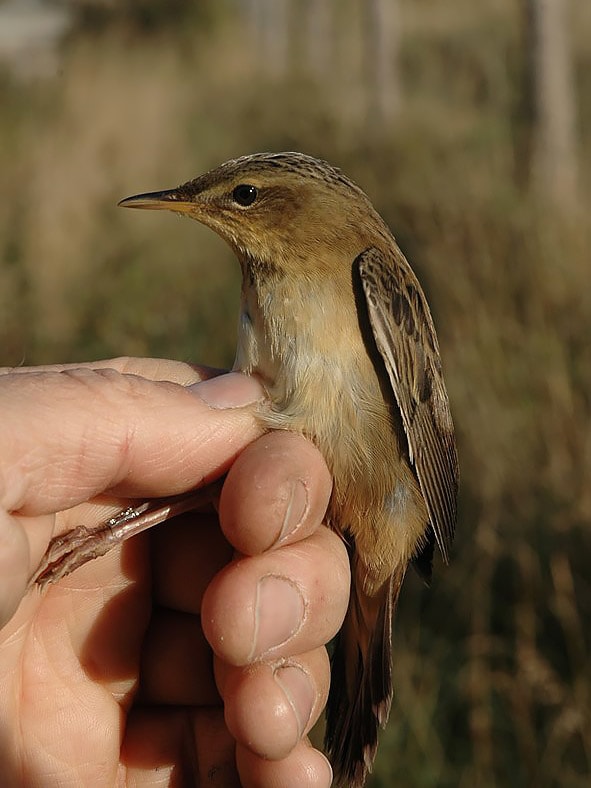 Pallas's Grasshopper Warbler, Het Zwin, West Flanders (Miguel Demeulemeester).
Norwegian islands netted Pechora Pipit (Værøy) and Eastern Olivaceous Warbler (Karmøy). The Stejneger's Scoter was again off Cape Põõsaspea, Estonia, on 20th.
It wasn't massively surprising to hear that the Dwarf Bittern was still on Fuerteventura this week, although these were the first reports of it since May. The Broad-billed Roller was last seen in Israel on 18th, although the White-throated Bee-eater remains at Eilat, where at least one Crested Honey Buzzard was logged. In Kuwait, a Great Knot was at the hot-spot of Sulaibikhat Bay on 22nd.