Another eventful week passes by, headlined by a stellar cast of rarities - the highlight of which would appear to be a retrospectively identified first for Britain - and the ongoing major invasion of Hawfinches.
The 'first' in question is the warbler on St Agnes, Scilly, reported last week as a Western Orphean Warbler. After further analysis of a series of images of the spread tail and undertail coverts (the latter clearly showing extensive markings), it turns out that it was in fact Eastern Orphean Warbler, with the nod of approval for crassirostris given by Lars Svensson, no less. Although there was a report of the bird on 20th, weather has been challenging on Scilly since and, with few people having spent time looking, perhaps there is a glimmer of hope that it might still be around for a twitch this coming weekend …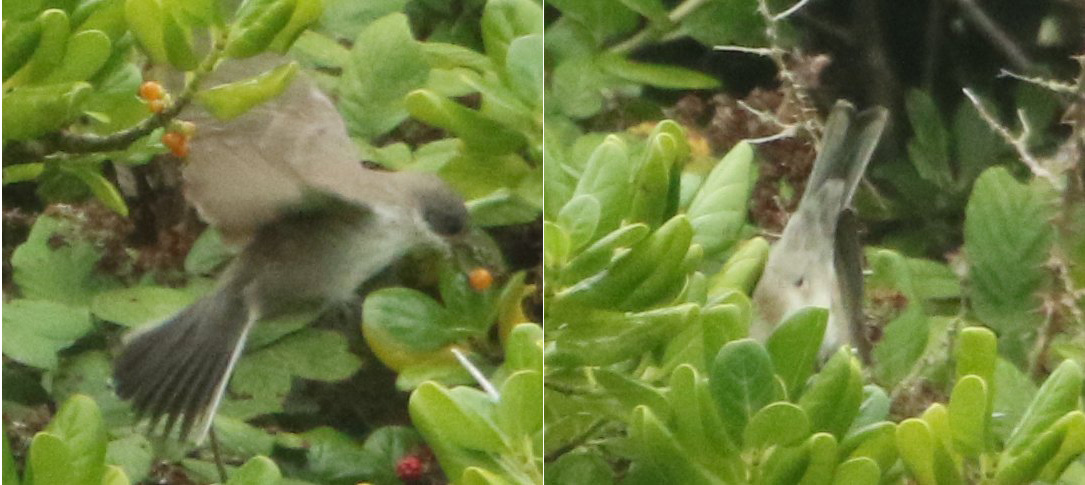 Eastern Orphean Warbler, St Agnes, Scilly (Adrian Webb)
St Agnes has enjoyed a fantastic few weeks, and its already enviable list of autumn vagrants was further bolstered by the arrival of a Yellow-billed Cuckoo on 20th. Unfortunately the bird was clearly exhausted; it spent the day sprawled on a lawn near Grinlinton Farm and, although taken in to care that evening, unsurprisingly succumbed overnight. A grim end for the bird, and saddening experience to see it in such a way, but a reminder of the very real struggles that migrant and vagrant birds face on a daily basis. By reaching St Agnes, this bird managed to complete an Atlantic crossing, a feat that is spectacular, bewildering and humbling in equal measure.

Yellow-billed Cuckoo, St Agnes, Isles of Scilly (Clive Ireland)
Physiologically, a seaduck is somewhat better prepared for an Atlantic crossing than a cuckoo, and it was no great surprise that the juvenile drake American White-winged Scoter on Shetland this week was in a rather better state than St Agnes's storm-blown waif. First seen at Belmont, Unst, on 16th, it was not until it was photographed on neighbouring Yell on 18th that its true identity was discussed. That evening, the bird had returned to Loch of Belmont. Better views here over the following day confirmed the identification beyond all doubt – the first juvenile of either form of White-winged Scoter to be recorded in Britain. It was still present on 22nd.

American White-winged Scoter, Belmont, Unst, Shetland (Robbie Brookes)
Exciting new finds included a Blackpoll Warbler at Lochmaddy, North Uist, on 23rd, the best bird of this year's 'Magic 23rd', and a fly-through American Cliff Swallow at Spurn, East Yorks, on 22nd. Less exciting was a long-dead Black-and-white Warbler found on a ship that docked at Seaforth, Lancs, on 20th. Two Grey-cheeked Thrushes performed well in Co Cork: one, with clearly diseased feet, was at Galley Head from 19-22nd, with another nearby at Rosscarbery from 20-23rd.

Grey-cheeked Thrush, Rosscarbery, Cork (Norma Gleeson)
Last week's Two-barred Warbler was on offer on the Wednesday only at St Aldhelm's Head, Dorset, and had seemingly moved on by mid-morning on 19th (it was reported briefly early on). Its departure was a disappointment for those hoping this IOC species would put in an extended stay, but solace must be taken from the fact that there's been three British records in the space of a year now – more will surely follow.

Two-barred Warbler, St Aldhelm's Head, Dorset (Tony Hovell)
Also still on show, and lingering all week, was the male Common Rock Thrush at Pwll-du, Gwent, which performed brilliantly throughout, as evidenced by the series of fantastic photos and videos shared in the BirdGuides galleries.

Common Rock Thrush, Pwll-du, Gwent (Simon Colenutt)

Common Rock Thrush, Pwll-du, Gwent (Craig Reed)
Furthermore, the Steppe Grey Shrike seemed settled on Whalsay, Shetland, all week, as did the Wilson's Snipe on St Mary's, Scilly. Both showed well, treating admirers to fulfilling views.
Many Northumberland birders were afforded a long-overdue county tick from 18th when a European Bee-eater took up residence in the Druridge and East Chevington area from 18-22nd. It was the first twitchable individual in the county for 30 years and an excellent highlight in an otherwise fairly quiet week on the east coast.

European Bee-eater, Druridge Pools, Northumberland (Ross Moore)
Indeed east coast birders have been living off scraps so far this autumn. Cast your eye back over the Review of the Week for the corresponding seven days in 2016 and you'll notice multitudes of 'Sibes' littered right along the coast, these including multiple Siberian Accentors and Pine Buntings. The contrast is stark, to say the least. This week's east-coast highlight was probably the Pallid Swift(s) seen in East Yorkshire. One at Easington on 20th was followed by records at Flamborough Head on 22nd and Hunmanby Gap on 24th, and it seems reasonable to assume these may involve one wandering bird. Otherwise, reports of BBRC rarities from east coast counties were restricted to a presumed escaped Red-breasted Goose in Northumberland and the long-staying Long-billed Dowitchers at Paradise Pool, Lincs, and Oare Marshes, Kent, where the Wilson's Phalarope had moved on by 22nd – not exactly ground breaking.
Five Barred Warblers graced the east coast from Kilnsea north to Girdle Ness (with a sixth well to the west at Inishmore, Co Galway, on 20th). Four mainland Dusky Warblers were in Northumberland, Cleveland, Suffolk and, quite amazingly, Northamptonshire. This last bird was trapped and ringed at Stanford Reservoir on 19th but wasn't seen for long after release. Another Dusky was on St Mary's, Scilly. Half-a-dozen Radde's Warblers were noted in England and Wales in the first few days of the review period, the sole Welsh record coming from Skomer, Pembs, on 20th, while English records unsurprisingly came from East Yorkshire, Norfolk, Suffolk, Kent and Dorset. Pallas's Warblers were on North Ronaldsay and in Borders, Durham and at Filey, East Yorkshire. The majority of these scarcer warblers arrived in tandem with a major arrival of thrushes that peaked on 19th, when tens of thousands of Redwings poured in, particularly in north-east England and parts of Scotland.
Red-breasted Flycatchers were on Barra and in Co Cork, Cornwall, Dorset, Norfolk, North Yorkshire, Durham and, most curiously, at Ainsdale, Lancs, on 24th. Richard's Pipits numbered about 10 while Greater Short-toed Larks were seen in Cornwall (still at Sennen to 24th) and Co Cork (Cape Clear on 19th). A Tawny Pipit was at Mousehole, Cornwall, on 21st. A late Red-backed Shrike was trapped at East Denwick, Orkney, on 22nd. A couple of Little Buntings were on the Isles of Scilly, including a showy bird on St Agnes, with a further five along the coast between Spurn and the Scottish border – the most confiding of which was at Low Newton, Northumberland, from 20-23rd. Apart from one at Long Eaton, Derbyshire, on 18th, all five Wryneck records came from south-western localities.

Little Bunting, Low Newton-by-the-Sea, Northumberland (Chris Barlow)
Content continues after advertisements
Just how many Hawfinches must have invaded Britain, and particularly the southern half of England, over the past couple of weeks is virtually unimaginable, but it is clearly a record-breaking influx involving many thousands of birds. Away from 'classic' areas such as Breckland and the ancient woodlands of south-east England (where there were plenty), the outstanding count was a staggering 115 over Steps Hill, Bucks, during the morning of 23rd. But singles and small flocks have been passing over just about everywhere in the South and Midlands, providing the best-ever opportunity for local birders to add this species to the patch lists. It'll be interesting to see how long it lasts – how many of these birds are transient, and how many will winter? For now, the pace shows no sign of letting up.

Hawfinch records in southern England, Wales and Ireland from 18-24 October 2017 (BirdGuides.com data)
Despite the rest of the country missing out, Shetland still continued to produce odd snippets of quality. A Black-throated Thrush arrived on Fair Isle on 23rd, as did a Hornemann's Arctic Redpoll, in addition to Black-headed Bunting, Red-throated Pipit, Red-flanked Bluetail, Dusky Warbler and Great Grey Shrike among the island's highlights for the week (a very decent count of 43 Ring Ouzels was also logged on 23rd). A Hume's Leaf Warbler was on Foula on 22nd.

Black-headed Bunting, Fair Isle, Shetland (Chris Griffin)
Back on Shetland Mainland, a couple of Siberian Stonechats were in the Sandwick area, while a Northern Treecreeper showed well at Vidlin (with others on Fair Isle and Out Skerries). A Hornemann's Arctic Redpoll was at Uyeasound, Unst, on 24th. Pallas's Warblers were at Scatness on 21st, Whalsay on 22nd and Out Skerries on 23rd, an Olive-backed Pipit was at Baltasound, Unst, a Coues's Arctic Redpoll visited Rerwick on 18th and there was a typical scattering of expected October migrants including Little Buntings, Bluethroats and Red-breasted Flycatchers.

Northern Treecreeper, Vidlin, Mainland, Shetland (Richard Bonser)
Two Red-breasted Geese were among Pink-feet at Loch of Skene, Aberdeenshire, to 20th, with just one (limping) on 21st – a little suspicious in light of the hunting activity which occurs in this area. Also there were up to two Snow Geese, presumably the birds from Moray/Nairn last week. Another blue morph was at Loch Leven, Perthshire, on 20th, with a further individual seen flying south at Saltfleetby St Peter, Lincs, that day and a white morph still on Berneray, Outer Hebrides. Richardson's Cackling Geese remained in Northumberland and on Islay, as did Todd's Canada Geese, with another Todd's also reported near Dunbar, Lothian, on 22nd. At least a couple of Black Brants were in Norfolk, with another at Exmouth, Devon, from 22nd.
Drake American Wigeon were in the Outer Hebrides, Highland, Argyll, Northumberland and Rutland, with last winter's female returning to Grimley, Worcs. The first Lesser Scaup of the autumn was at Tittesworth Reservoir, Staffs, on 21st and was quickly followed by an adult drake at Longham Lakes, Dorset, from 23rd. Ring-necked Ducks were on Shetland, Orkney and Lewis and in Co Donegal and Cornwall. A drake Surf Scoter remained in the Sound of Taransay, Outer Hebrides, with a youngster still at Baltasound, Unst.

Lesser Scaup, Longham Lakes, Dorset (Ian Ballam)
The young Purple Heron remains in situ at Leighton Moss, Lancs – it celebrated its two-month anniversary on 18th and looks very settled. The Black-crowned Night Heron was still in Shrewsbury on 18th and a Glossy Ibis flew south over Routh Pits, East Yorks, on 21st (with at least one still in Essex). Western Cattle Egrets occupied most south coast counties, a couple of Midlands sites and several spots in coastal north-west England, while both Norfolk and Lincolnshire also held birds.
Shorebirds included the lingering Dorset trio of Stilt Sandpiper at Middlebere, Dorset, all week, Lesser Yellowlegs at Lodmoor and Spotted Sandpiper nearby at Abbotsbury. Another Lesser Yellowlegs was found at Islanddavanna, Co Clare, on 22nd. Two American Golden Plovers were in the Outer Hebrides and seven were in Ireland, including three in Co Kerry. Long-stayers also remained in Pembrokeshire and on the Isles of Scilly, and an adult was found at Maldon, Essex, on 19th. Juvenile White-rumped Sandpipers were in Co Donegal, Co Kerry and Co Wexford, with an east coast record from Kilnsea Wetlands from 20th. A Pectoral Sandpiper remained at Austerfield, South Yorks, to 24th, with others in Co Dublin and Co Kerry.

Lesser Yellowlegs, Lodmoor RSPB, Dorset (Ian Bollen)

American Golden Plover, Dale, Pembrokeshire (Colin Harvey)
Western Palearctic news
It sometimes feels like this section should be renamed 'Corvo news' in October, and once again it was the mid-Atlantic Azorean isle that stole the limelight this week. The westerly airflow continued and treats were to be served up on a daily basis: Dickcissel on 18th, the second Magnolia Warbler and third Black-throated Green Warbler of the autumn on 19th and then, on 20th, Hooded and Tennessee Warblers as well as multiple Blackpoll and Black-and-white Warblers. A 'quieter' day on 21st was followed on 22nd by the Western Palearctic's second Bay-breasted Warbler, and then a second male Hooded Warbler was found on 23rd (along with Philadelphia Vireo and Cedar Waxwing). And that's before you start mentioning 'padders' such as multiple Ovenbirds, Scarlet Tanagers, Common Yellowthroats and Yellow-billed Cuckoos … phew!

Bay-breasted Warbler, Corvo, Azores (Vincent Legrand)

Hooded Warbler, Corvo, Azores (David Monticelli)
Although scantly watched by comparison, neighbouring Flores did well with Mourning Dove, Belted Kingfisher, Ovenbird and Northern Parula among the highlights. The Redhead remained on Terceira, where there was also American Coot (Cabrito) and Myrtle Warbler (Paul da Praia).
Meanwhile, another Atlantic island – Iceland – was revelling in a spectacular arrival of 'Sibes'. Two Red-flanked Bluetails together at Höfn on 20th represent the first and second national records, with the country's fifth White's Thrush also at the same site. A Hume's Leaf Warbler at Vík on 21st was another national first.
Following hot on the heels of the country's first in the summer, Poland's second Caspian Plover was unearthed at Jeziorsko Reservoir on 22nd. A Brünnich's Guillemot flew past Skagen, Denmark, on 22nd while, a Two-barred Warbler arrived on Öland, Sweden, on 24th. A Dusky Warbler at Subotica on 20th represents the first record for Serbia. An Asian Desert Warbler performed beautifully on the German island of Heligoland on 20-21st.

Asian Desert Warbler, Heligoland, Germany (Armin Kreusel)
Following a Stejneger's Stonechat last week, the Dutch island of Vlieland scored heavily again on 20-21st with a well-twitched male Eyebrowed Thrush. A Black-winged Kite was at Lauwersmeer on 23rd. Meanwhile a Dalmatian Pelican visited Alderney on 18th, while the north-west French islands enjoyed a productive week, with both Grey-cheeked Thrush and Upland Sandpiper on Sein Island and White's Thrush on Ouessant. Finally, one of the stand-out records of the week was a Pied Bush Chat near Pisa from 20th – the first record for Italy.