The Outer Hebridean island of Barra scored one of the undoubted highlights of the autumn when a Ruby-crowned Kinglet was found on 12th. Understandably suppressed due to coronavirus concerns and restrictions, it resided in the garden of The Manse, Cuthir, until 19th (more details here). Just the sixth Western Palearctic occurrence, there is a single record from Ireland, too – a one-day bird trapped on Cape Clear, Co Cork, in October 2013. Meanwhile, in that county but in the present day, the young Belted Kingfisher remained near Castletown Bearhaven – it was seen on 23rd at least.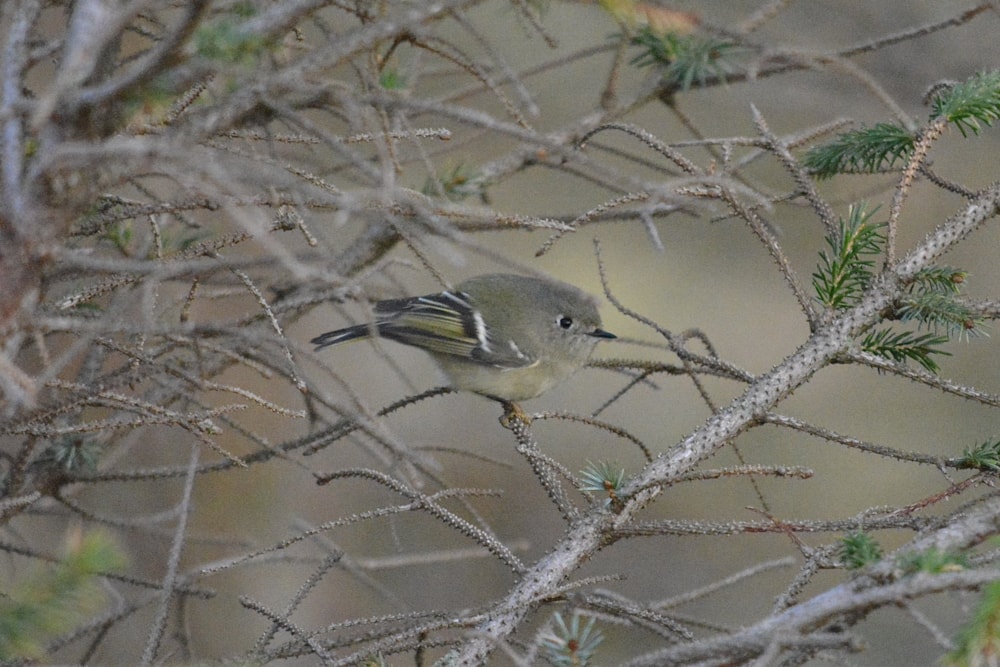 Ruby-crowned Kinglet, Barra, Outer Hebrides (Ian Ricketts).
In a mightily impressive November week, Britain was also treated to an unprecedented two Eurasian Crag Martins, the first in Orkney at Kirkwall, Mainland, on 18th (see here), which was a second for the archipelago. The other individual of the week – which does look to be a different bird when comparing photographs – was flitting around the cliffs at Kingsdown, Kent, from 21st. Still an incredibly rare bird in Britain, there have been just 10 previously accepted records since the first in 1988, while just two of those have stayed more than a single day – widely twitched individuals at Flamborough Head, East Yorkshire, in April 2014 and Chesterfield, Derbyshire, in November 2015.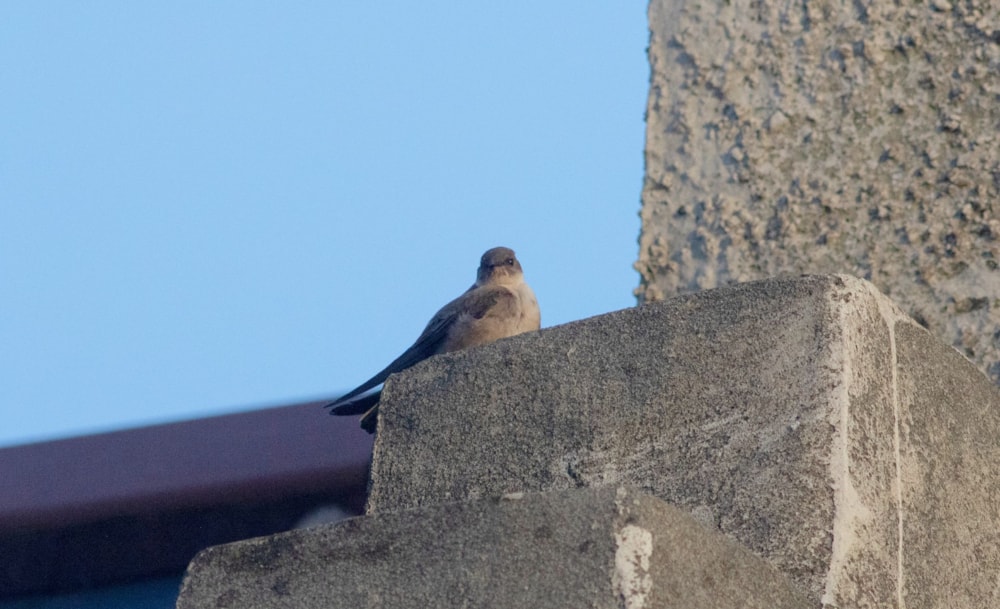 Eurasian Crag Martin, Kirkwall, Mainland, Orkney (George Gay).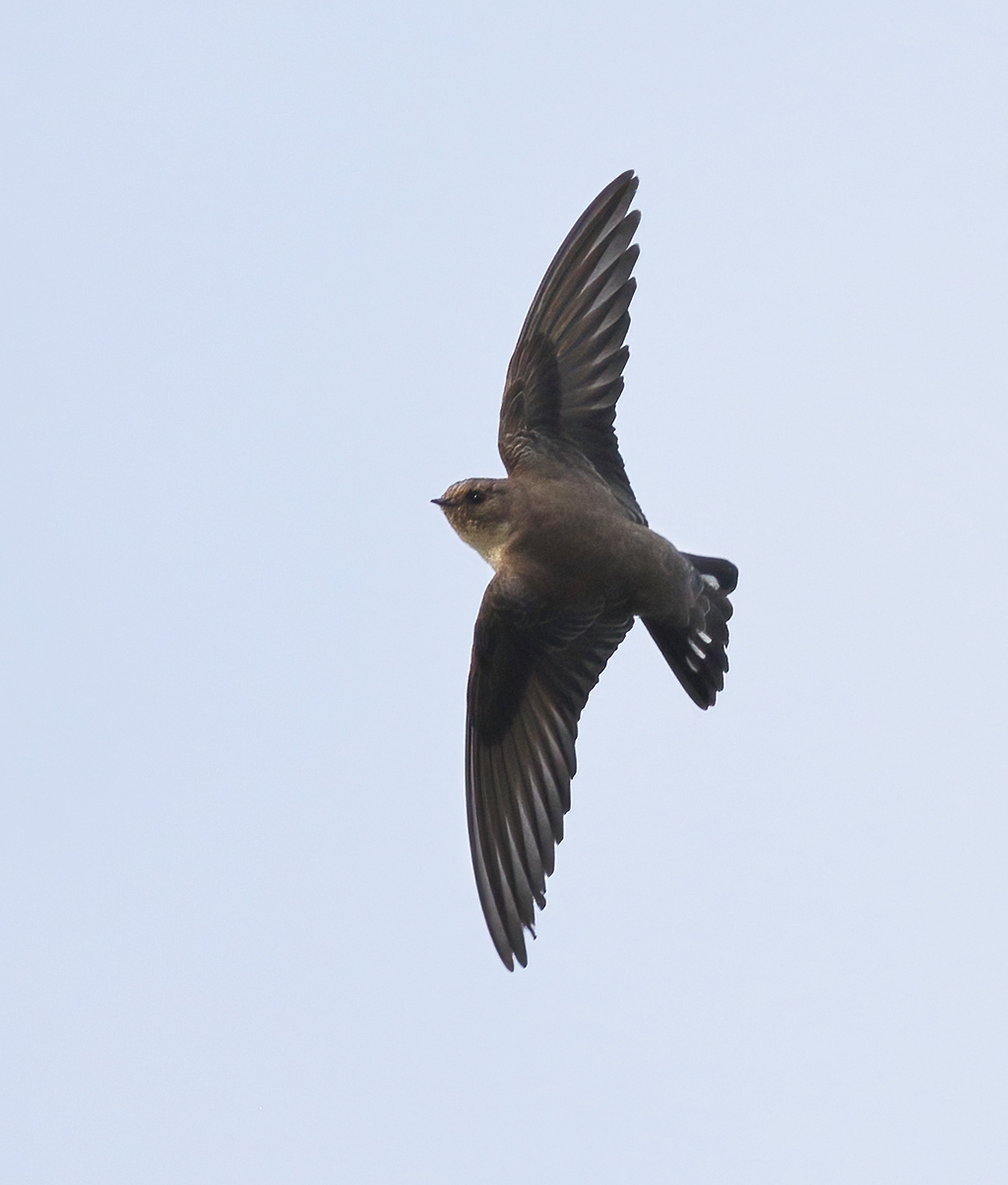 Eurasian Crag Martin, Kingsdown, Kent (Stephen Ray).
On the outskirts of Forfar, Angus, an adult drake Hooded Merganser was a brief visitor to Forfar Loch on 20th, although couldn't be relocated thereafter. Meanwhile, Shetland's Lesser Scaup remained at Loch of Spiggie, Mainland, throughout, as did the drake American Black Duck at Strontian, Highland. Northumberland's Black Scoter was back off Ross Back Sands on 18th, with the Lothian White-winged Scoter reported for the first time in two weeks off Eastfield the following day.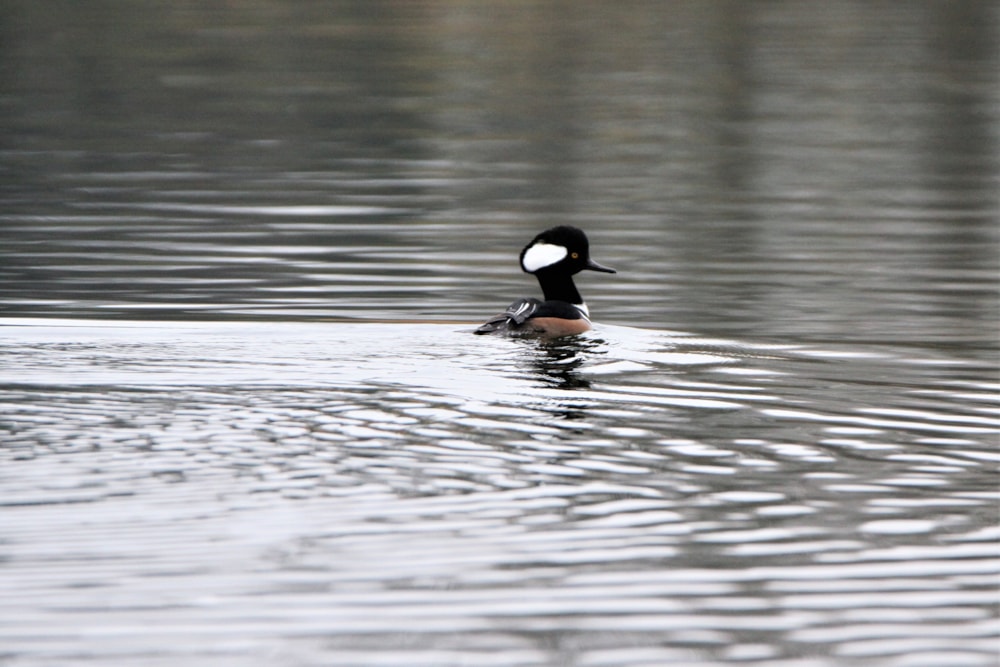 Hooded Merganser, Forfar Loch, Angus & Dundee (Gus Guthrie).
A probable Lesser White-fronted Goose was among throngs of Pink-feet at Billockby, Norfolk, on 20th, with a possible Grey-bellied Brant at Roe Estuary, Londonderry, on 24th. The adult Bonaparte's Gull was last reported from Gann Estuary, Pembrokeshire, on 18th, where a possible first-winter American Herring Gull was seen for all of 30 seconds on 21st.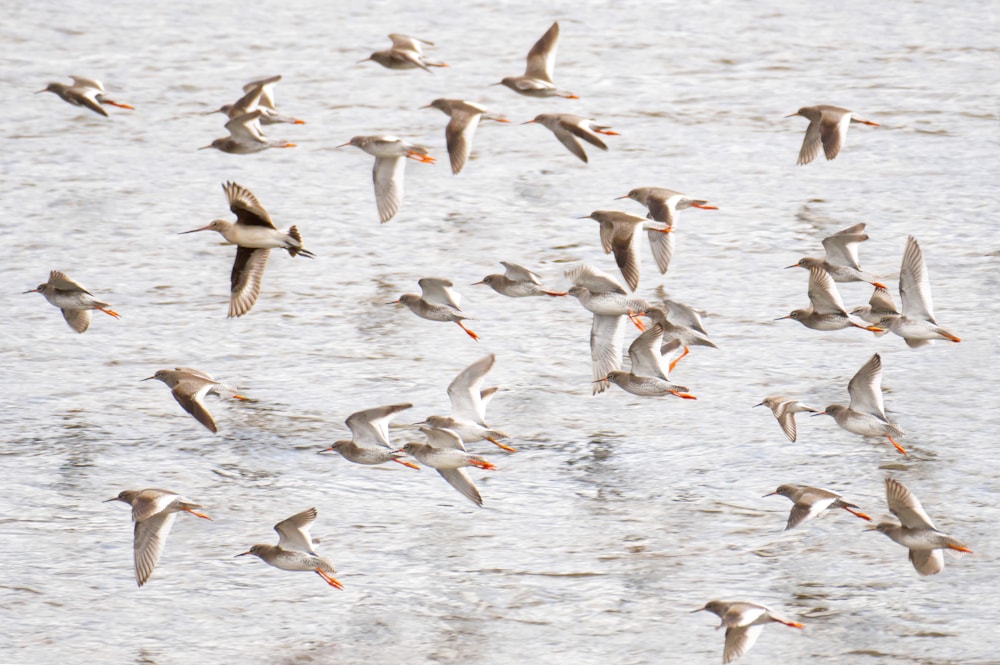 Hudsonian Godwit (centre left), Eden Estuary, Fife (Kenneth O'Keefe).
The Hudsonian Godwit continued to be sporadically reported from Guardbridge, Fife, and was present until 22nd at least, although Suffolk's Greater Yellowlegs did a bunk from Dunwich Pools after 19th. The Scorton Long-billed Dowitcher was still present, while the Cumbrian individual was at Campfield Marsh RSPB from 17-19th. In Moray & Nairn, Findhorn Bay's juvenile Pacific Golden Plover was again noted on 22nd, while in Somerset, the Stert Island Kentish Plover looks set to winter again, and was still present as the week ended.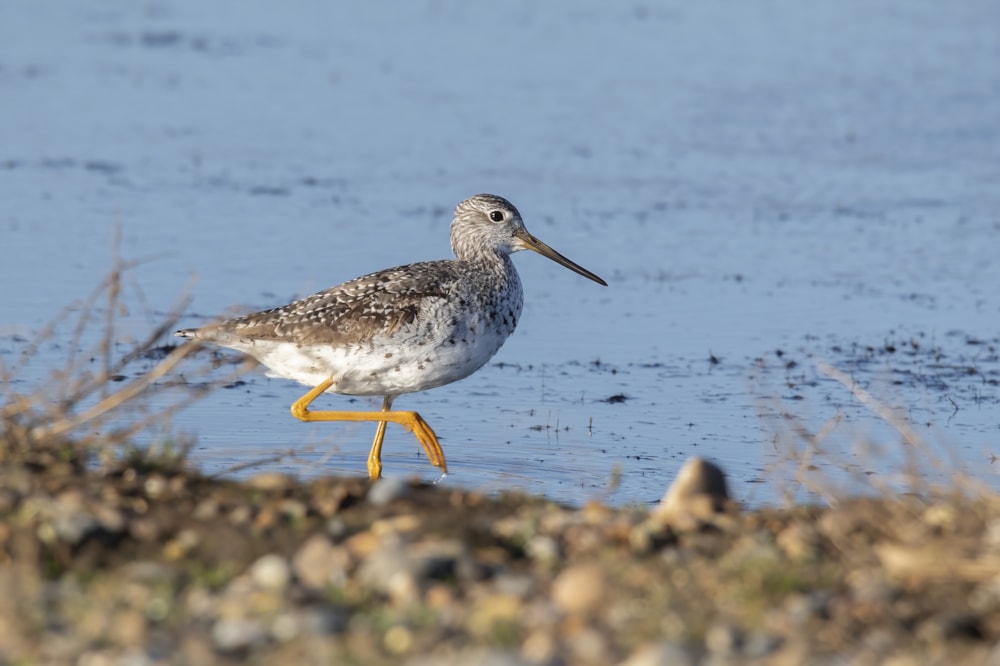 Greater Yellowlegs, Dunwich Pools, Suffolk (Matthew Trevillion).
Remarkably, Kent's first confirmed Eastern Yellow Wagtail at Worth Marsh from 20-23rd proved to be the same individual seen at Kelling, Norfolk, a week previously – a relocation of 170 km due south. A probable male was at Carlton Marshes, Suffolk, on 24th, too. An intriguing report of a possible Dusky Thrush came from Grimscote, Northamptonshire, on 20th, although proved impossible to relocate. Meanwhile, the second American Buff-bellied Pipit for the English east coast – after one at Wyberton, Lincolnshire, in 2006 – found the beach at Amble Links, Northumberland, to its liking on 18-19th.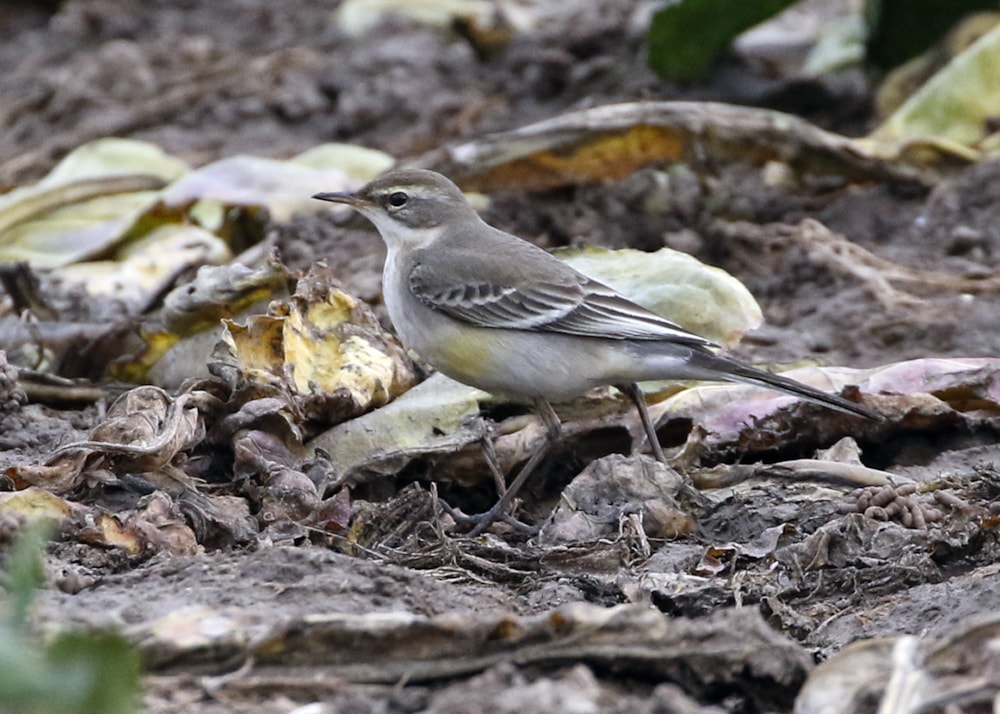 Eastern Yellow Wagtail, Worth Marsh, Kent (Mike Buckland).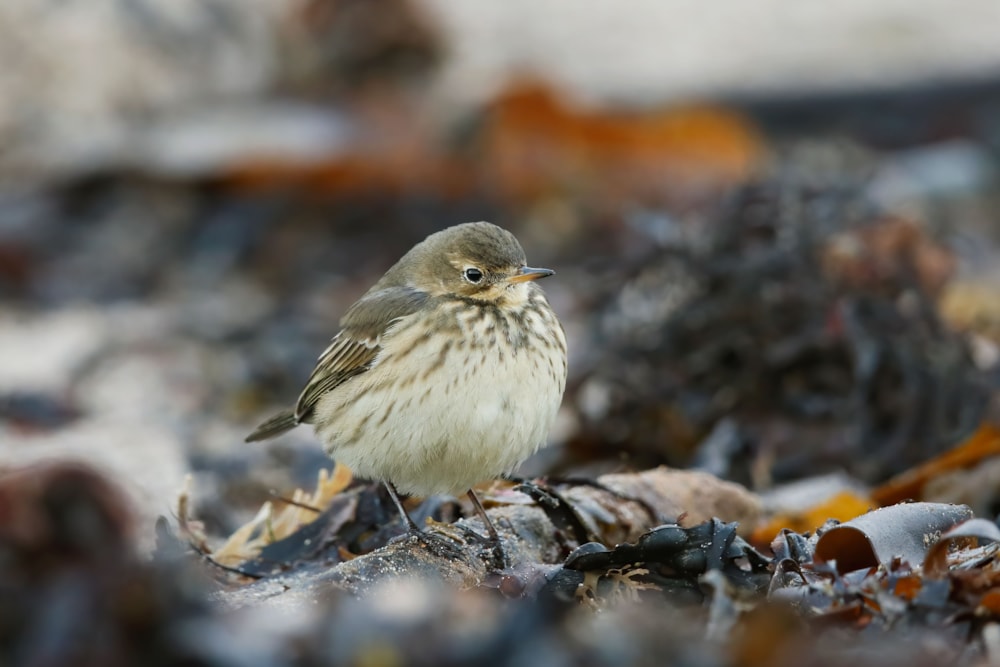 American Buff-bellied Pipit, Amble, Northumberland (Colin Bradshaw).
A Pallid Swift found exhausted in a garden in Weston-super-Mare, Somerset, on 25 October was rehabilitated at Secret World Wildlife Rescue in Highbridge, Somerset, before being released at Rye Harbour NR, East Sussex, on 16th. Cornwall's Penberth Cove was greeted to a fresh-in male Desert Wheatear on 22-23rd, with the Gramborough Hill individual last recorded on 22nd. In Shetland, a very late juvenile Pallid Harrier was over Laxo, Mainland, at the end of the week.
Wakerley Great Wood, Northamptonshire, continued to host a male Parrot Crossbill through 21st, while another was in Suffolk near High Lodge, Suffolk, on 20th. A Red-throated Pipit flew south over Huntspill, Somerset, on 20th, with a belated report received from Lundy, Devon, on 13th.
Desert Wheatear, Gramborough Hill, Norfolk (Matthew Mellor).
Scottish mainland
In Highland, the intermediate-morph Snow Goose remained with Pink-feet by Cromarty Firth, last noted at Udale Bay on 23rd, alongside three Greenland White-fronted Geese. Disappointingly, the two white morphs in Lothian (last reported at Muirton on 23rd) both proved to be wearing captive-style rings, and are thought to possibly relate to a duo first seen on North Ronaldsay, Orkney, back in July.
The drake Surf Scoter remained off Musselburgh, Lothian, on 19th and Little Auks were at three sites, with a late juvenile Arctic Tern at Maidens, Ayrshire. Also worthy of a mention was a popular young Iceland Gull at Troon, Ayrshire, from 21st. A redhead Smew lingered at Hogganfield Loch, Clyde, and another flew over North Queensferry, Fife, on 22nd, while a drake Ring-necked Duck was a smart find at Balgavies Loch SWT, Angus, on 21-22nd.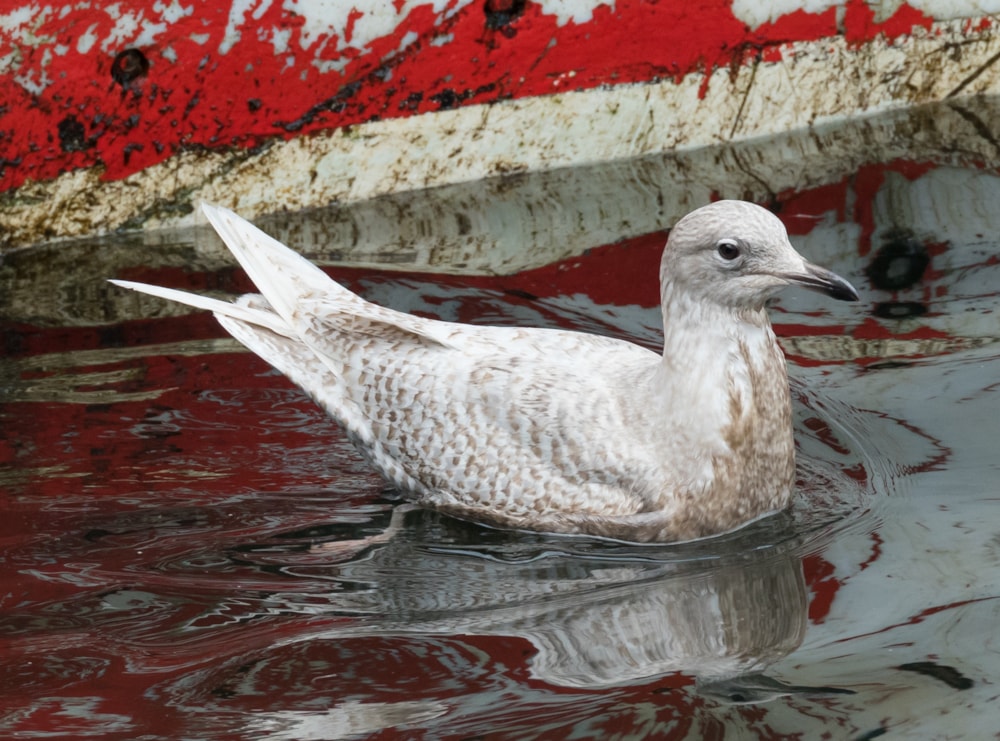 Iceland Gull, Troon, Ayrshire (Dave Grant).
In the middle of Kilmarnock, Ayrshire, a young Long-tailed Duck set up shop on the pond in Kay Park from 20th, with other lost inland wanderers at Loch o' th' Lowes, Ayrshire, Balgray Reservoir, Clyde, and Stormont Loch, Perth & Kinross. In Argyll, Tiree hosted a Ring-necked Duck duo at Loch Bhasapol, Tiree, on 19th, while on Islay, a Todd's Canada Goose was at Cornabus on 19th.
From 19-22nd, a Shore Lark was at Belhaven Bay, Lothian. Elsewhere, Lothian saw a number of returning Waxwings – at Penicuik and Edinburgh, with another at Laggan, Highland, on 22nd. Water Pipits were at Barns Ness, Lothian, and Croy, Ayrshire.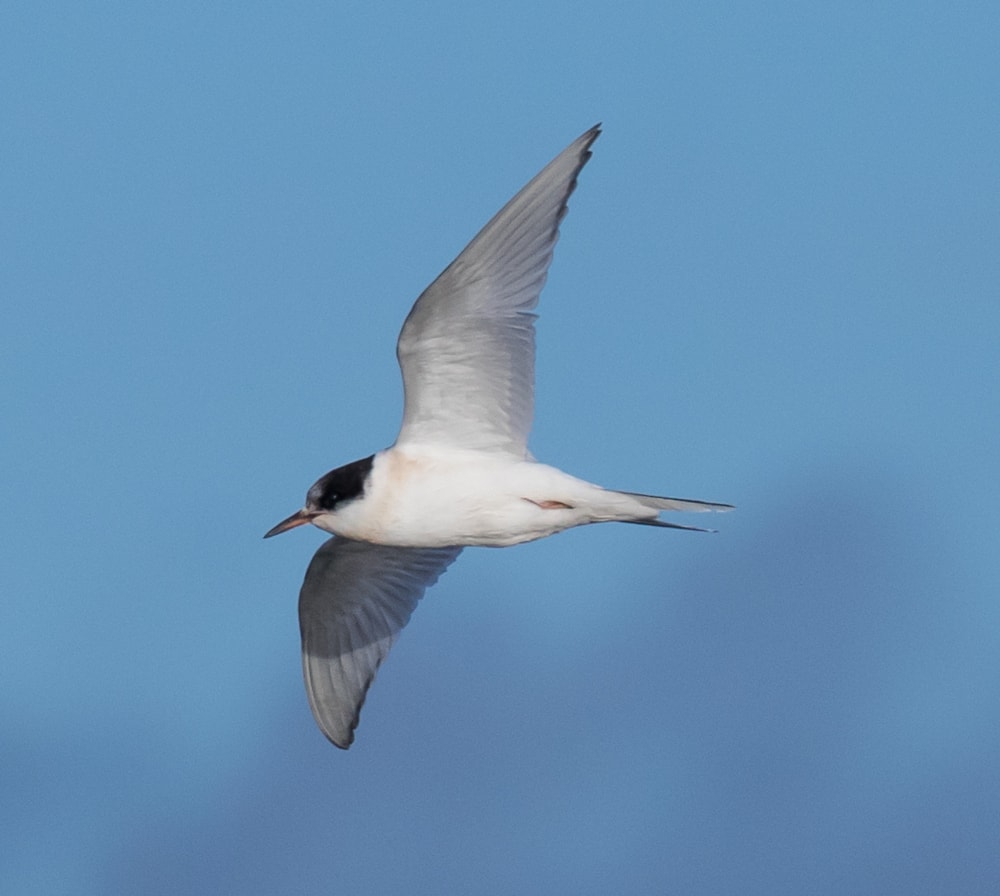 Arctic Tern, Maidens, Ayrshire (Dave Grant).
Northern Isles and the Hebrides
Baltasound, Unst, hosted Shetland's first Glossy Ibis since 2015 on 24th. A first-winter Waxwing was at Sound, Mainland, on 20th, although the female Northern Bullfinch was last recorded at Mid Yell, Yell, on 18th. Black Redstarts were at Skaw, Unst, on 19th and at Sumburgh Head, Mainland, on 24th, with a Black-throated Diver off Norwick, Unst, on 23rd. The White-billed Diver lingered in South Nesting Bay, Mainland, throughout, as did the Green-winged Teal at Scatness. At least one White-billed Diver remained off Papa Westray, Orkney.
The Outer Hebrides hosted a new Siberian Chiffchaff at Snishival, South Uist, on 19th, while another remained at Castlebay, Barra, until the same date. A Green-winged Teal hung on at Loch Sandary, North Uist, until 18th, with another at Clachan on 23rd. Grey Phalaropes were at North Bay, South Uist, and Balivanich, Benbecula, on 21st, while a Long-tailed Skua flew past Rubha Ardvule, South Uist, on 21st.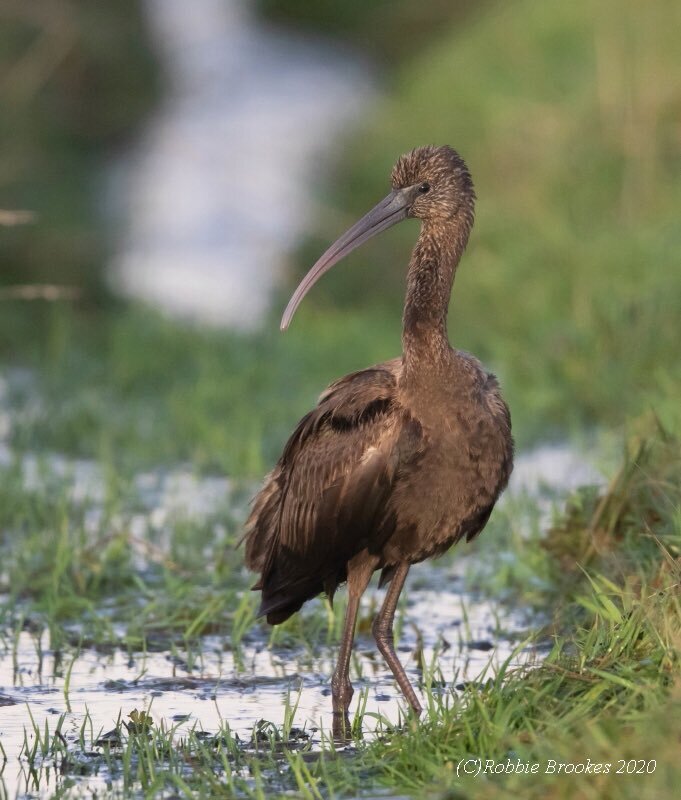 Glossy Ibis, Baltasound, Unst, Shetland (Robbie Brookes).
North-East England
Increased observer coverage has ensured the Boulmer area has been featuring regularly in our weekly summaries this year and in a generally quiet week the area once again turned up trumps with only the second Northumberland Grey Phalarope record in 2020 passing Longhoughton Steel on 23rd. Longhoughton Steel also proved attractive to scarcer gulls with juvenile Iceland Gull and first-winter Caspian Gull competing for attention on 20th.
Further south, confirmation came that two drake American Wigeon are present at Big Waters NR and Grindon Lough respectively, with both birds were noted on the same day for the first time on 21st. Five Tundra Bean Geese were at East Holywell on 19th. Single Little Auks were noted at Newbiggin, North Blyth and St Mary's Island, though a redhead Smew north past Seaton Sluice on 21st was a bigger seawatch prize. In what's shaping up to be a lean year for Waxwings, two well inland at Felton on 19th were notable. Up to five Hawfinches remained at Morpeth in the week and two Lapland Buntings flew over the Long Nanny.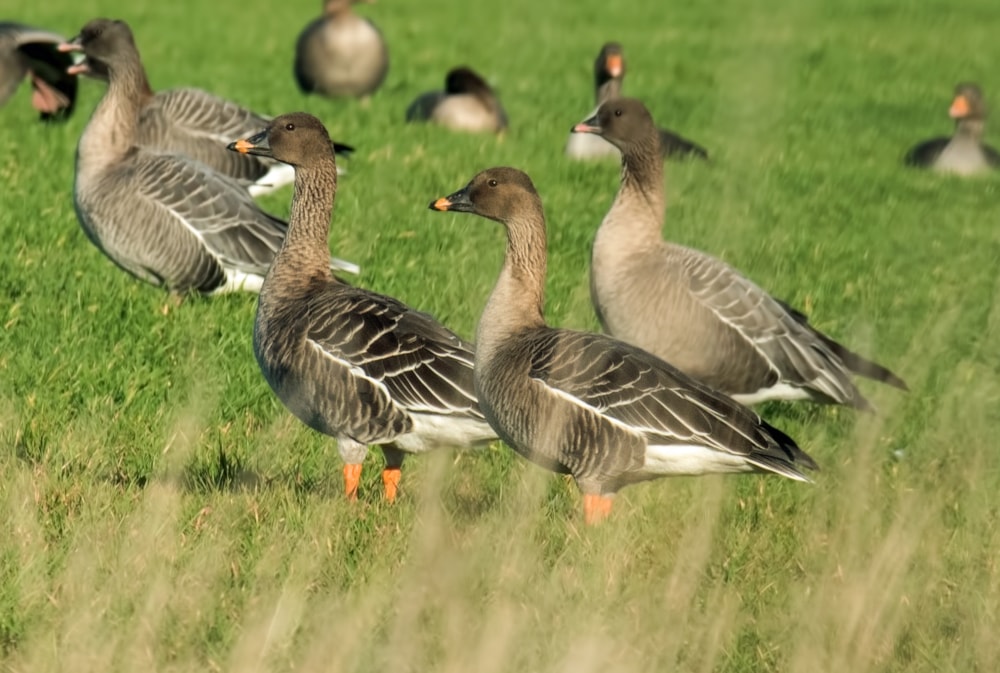 Tundra Bean Goose, East Holywell, Northumberland (Jack Bucknall).
Whitburn Coastal Park in Durham produced a single Little Auk on 20th, a juvenile Glaucous Gull was noted passing twice in the week. A Black-throated Diver slipped around Seaham harbour for a while on 21st. Great Egrets were noted at Fishburn and Bishop Middleham on 19th. A Water Pipit was at Boldon Flats NR on 21st and a Hen Harrier at Coxhoe on 22nd.
Cleveland's long-staying Great Egret remained fixture in the Saltholme RSPB/Greatham Creek area. Two Ruddy Shelducks added some colour and continental flavour at Saltholme on 22nd and a Black-throated Diver was off Bran Sands, while up to five Snow Buntings and 150-200 Twite continued to entertain at Seaton Snook.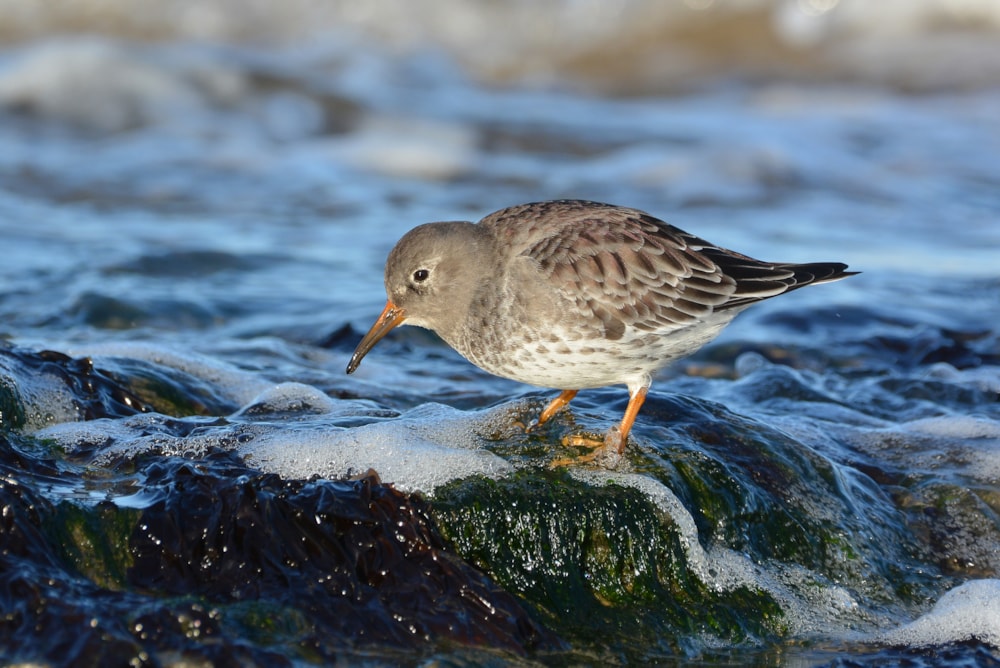 Purple Sandpiper, Redcar, Cleveland (Damian Money).
North-West England
Cumbria was quiet this week, although Urswick Tarn held onto the showy juvenile Great Northern Diver and up to three Long-tailed Duck were still at Longtown.
Lancashire also had a subdued week; however Grey Phalaropes were at Ainsdale NNR on 22nd and Marshside RSPB on 24th. The drake Ring-necked Duck was still at Pine Lake throughout. Records of both Greenland and Russian White-fronted Geese were submitted, with two of the former and one of the latter. A Caspian Gull was in the evening roost at Fishmoor Reservoir on 19th, while Snow Bunting were well represented and six localities reported birds. A brief Lapland Bunting was at Red Rocks, Cheshire, on the morning of 18th. Fortunately, the Snow Bunting at the summit of Shining Tor proved more co-operative and remained on show until 21st at least, with another along the sea wall between Meols and Dove Point on 23rd. Also on the Wirral, the Siberian Chiffchaff was last reported by Leasowe Lighthouse on 19th.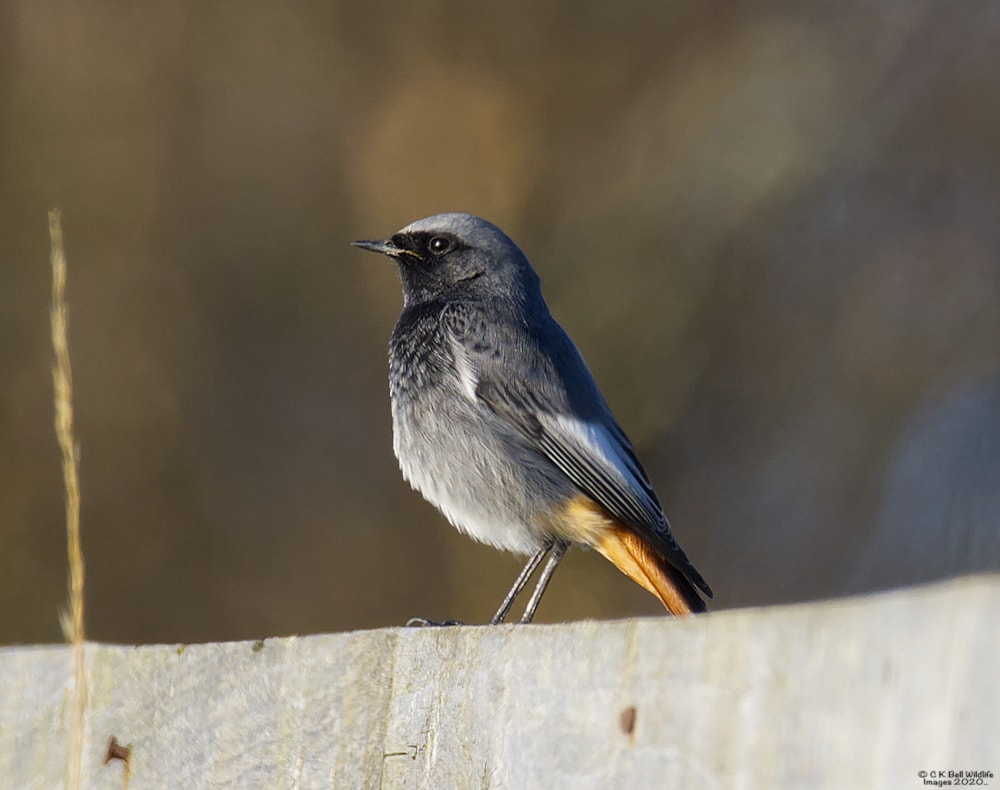 Black Redstart, Bank End, Lancashire (Craig Bell).
Given how good this autumn is panning out for the species, it was perhaps a matter of time before a Great Northern Diver touched down on a Greater Manchester waterbody, however brief. A juvenile was found at Sale Water Park on 21st but only stayed till mid-morning the following day when it was flushed by watersport activities on the lake. Another species enjoying this early winter period is Snow Bunting, and one flew north-east over Horwich Moors on 19th. It's also the time of year where scarcer species bolster local gull roosts, so a juvenile Iceland Gull at Pennington Flash CP on 21st and an adult Caspian Gull at Audenshaw Reservoirs on 22nd were both gratefully received.

Great Northern Diver, Sale, Greater Manchester (Paul Samuels).
Lincolnshire and Yorkshire
Siberian Chiffchaffs at Goxhill Haven and Gosberton Clough were the scarcest birds Lincolnshire had to offer this week. The Great Northern Diver was last seen along Deeping High Bank on 18th, while the Long-tailed Duck remained at Paradise Pool, Saltfleet.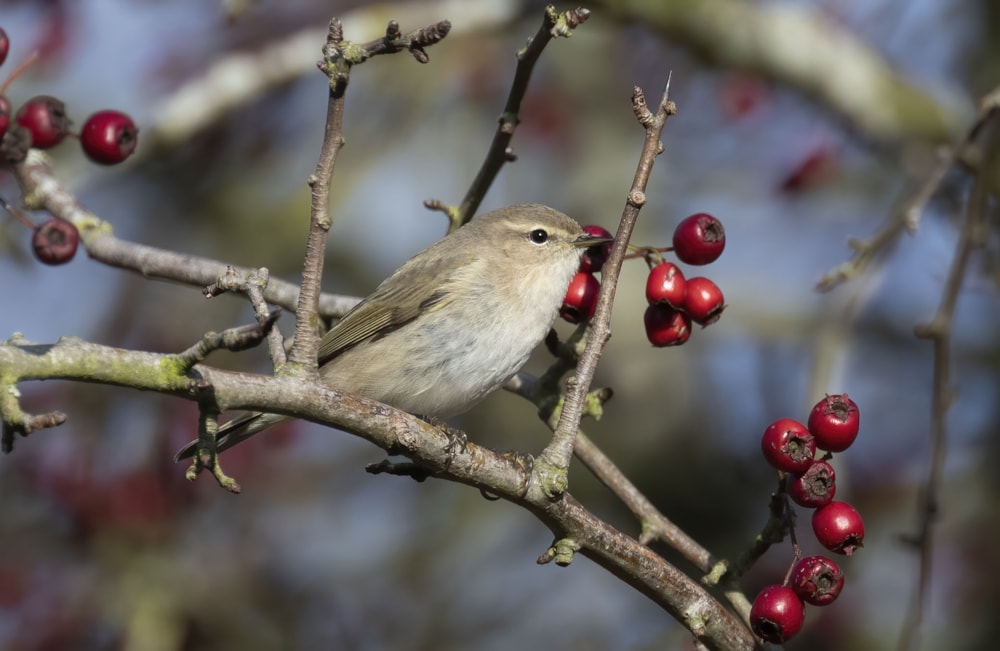 Siberian Chiffchaff, Goxhill Haven, Lincolnshire (Graham Catley).
A Dusky Warbler hung on at Spurn, East Yorkshire, with the area also producing Iceland Gull and a couple of Little Auks. A juvenile Sabine's Gull passed Holmpton on 19th and up to 13 Tundra Bean Geese were at Hornsea Mere. At least a couple of Glaucous and a single Iceland Gull were seen between Filey and Scarborough.
Moving inland and the Great Grey Shrike remained at Langdale Forest, as did the Lesser Yellowlegs at Nosterfield LNR (where Slavonian Grebe and Spotted Redshank were also seen). A Firecrest at Redmire was a great record so far north. Caspian Gulls continued to draw birders to Redcar Tarn, West Yorkshire, while a Snow Bunting was at Soil Hill on 22nd. A Yellow-browed Warbler was still at Anglers CP on 19th, and the Garganey also hung on at Potteric Carr.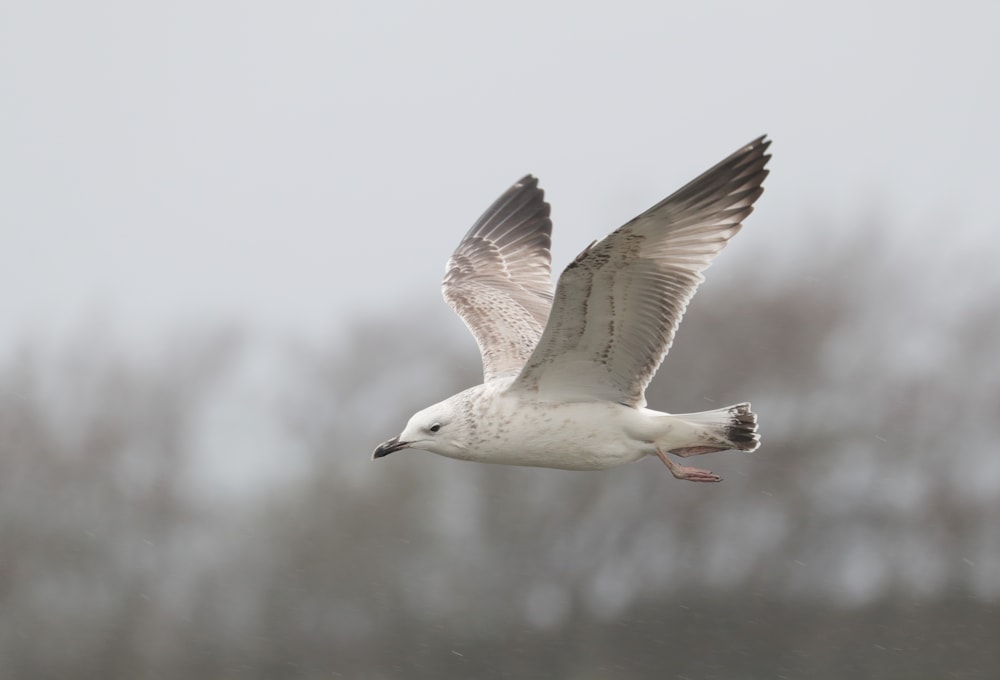 Caspian Gull, Redcar Tarn, West Yorkshire (Mark Nightingale).
West Midlands
Blithfield Reservoir, Staffordshire, received a brief visit from a Grey Phalarope on 22nd, where a third-winter Caspian Gull was present that same afternoon. The first-winter Little Stint remained at Belvide Reservoir throughout, a Northern Gannet flew high east over Eccleshall on 19th, and a pair of Greater Scaup were at Tittesworth Reservoir on 22nd, while another pitched up at Deep Hayes CP until 23rd. A Great Grey Shrike was at Hanchurch Woods on 24th, more specifically in the clearfell area by the lower car park, and a juvenile Great Northern Diver was at Chasewater. The latter site also played host to an adult Glaucous Gull on the evening of 23rd, before presumably the same individual roosted at Belvide Reservoir the following night.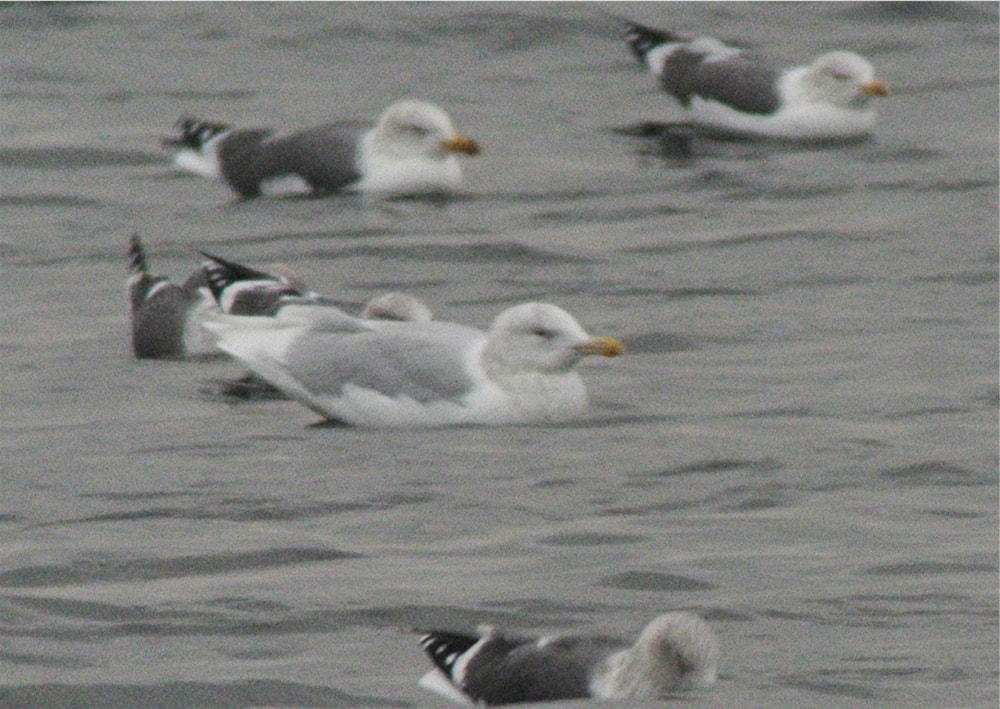 Glaucous Gull, Belvide Reservoir, Staffordshire (Steve Nuttall).
Straddling the county border, three Glossy Ibis flew south over Dosthill NR, Staffordshire, on the morning of 21st before later locating at Middleton Lakes RSPB, Warwickshire, that afternoon. Two Siberian Chiffchaffs were at Ladywalk NR on 23rd. Draycote Water continued to host two Great Northern Divers, alongside up to five European Shags and four Common Scoter – just like being at the coast! Meanwhile in Worcestershire, the juvenile Dark-bellied Brent Goose was still delighting observers at Upton Warren NR on 18th, the juvenile Great Northern Diver remained at Ripple GPs and a Siberian Chiffchaff was at Kempsey sewage works from 23rd.
Over in Shropshire, a Lapland Bunting flew over Woolston Bank on 19th while the Great Northern Diver remained at Chelmarsh Reservoir throughout. There was a similar maritime theme in Herefordshire, with a female Greater Scaup at Wellington GPs on 18th, first-winter Little Gull here the following day, and the Long-tailed Duck remaining at Brockhall GPs until 22nd at least.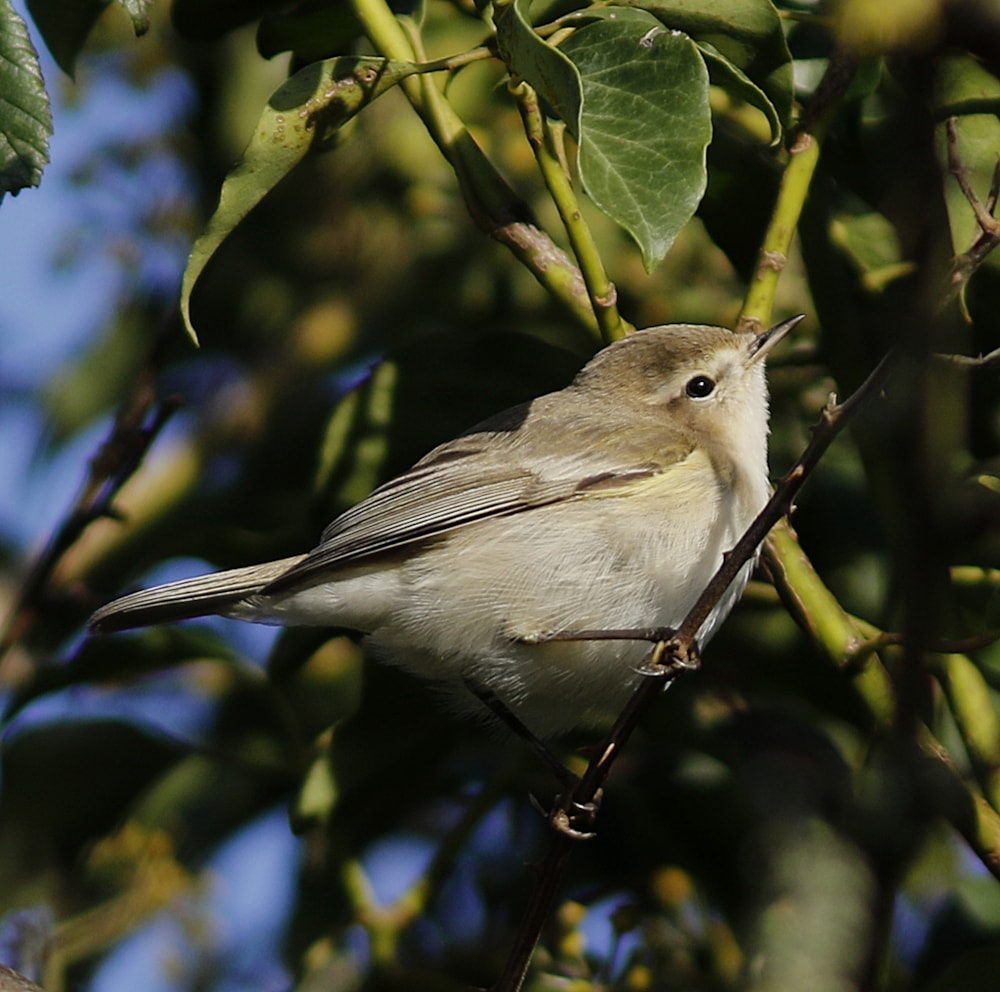 Siberian Chiffchaff, Kempsey, Worcestershire (Andrew Warr).
Content continues after advertisements
East Midlands
Two Snow Bunting records came from Derbyshire this week, with one at Beeley Moor on 19th and another at Carsington Water on 20th, where the adult Great Northern Diver continued to enjoy life until 18th. Elsewhere, a Great Grey Shrike was at Farley, Matlock Moor, from 21st and a Firecrest was trapped and ringed the previous day at Westthorpe Hills, Killamarsh.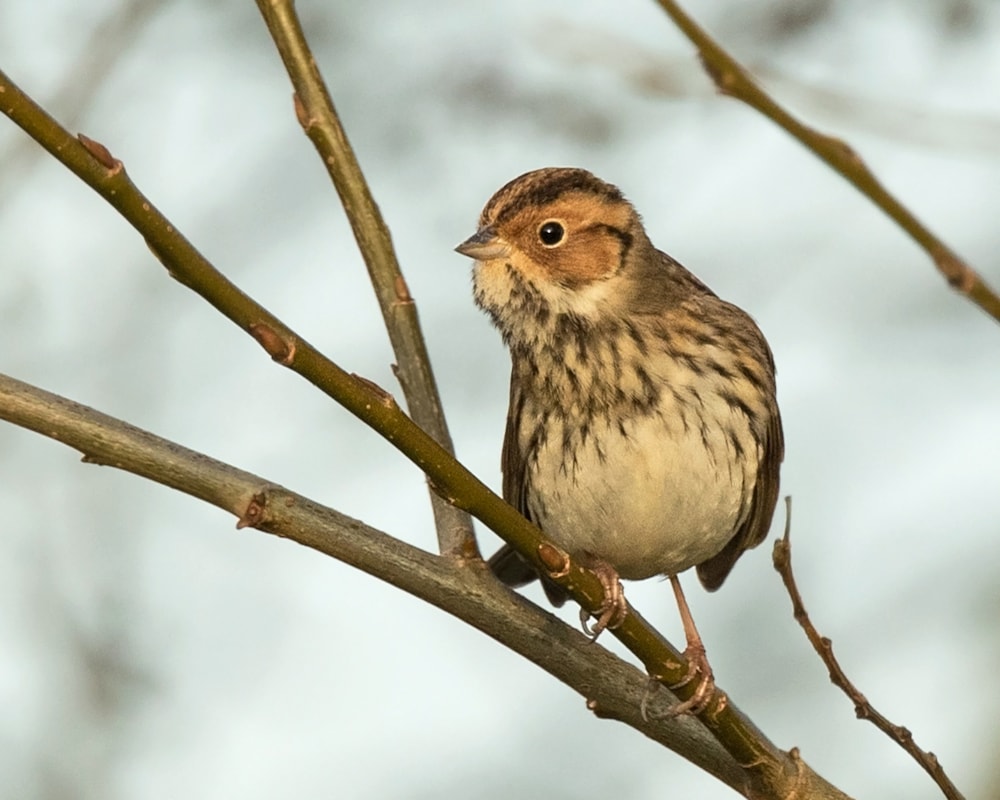 Little Bunting, Langford Lowfields RSPB, Nottinghamshire (Paul Coombes).
Nottinghamshire enjoyed another star-studded week: the Dusky Warbler remained at Holme Pierrepont until 22nd, when news broke of a Little Bunting by the car park at Langford Lowfields RSP; the latter still present on 24th. A Snow Bunting flew north over the pit top at Thoresby Park, always a respectable inland find away from any usual haunts, while an equally surprising find was a Wood Sandpiper at Collingham Pits on 22nd. The Great Grey Shrike was still being reported at Cottam until 23rd. In Northants, the juvenile Great Northern Diver lengthened its stay at Hollowell Reservoir for another week.
Speaking of Great Northern Divers, a remarkable count of seven was made at Rutland Water on 23rd, with at least six again roosting the following evening. Other sightings of note here included a lingering Greater Scaup and 2 European Shags still. Another Great Northern Diver remained at Eyebrook Reservoir until 22nd. The redhead Smew was still in place at Swithland Reservoir on 23rd at least. A Wood Sandpiper was also at Kegworth sporadically.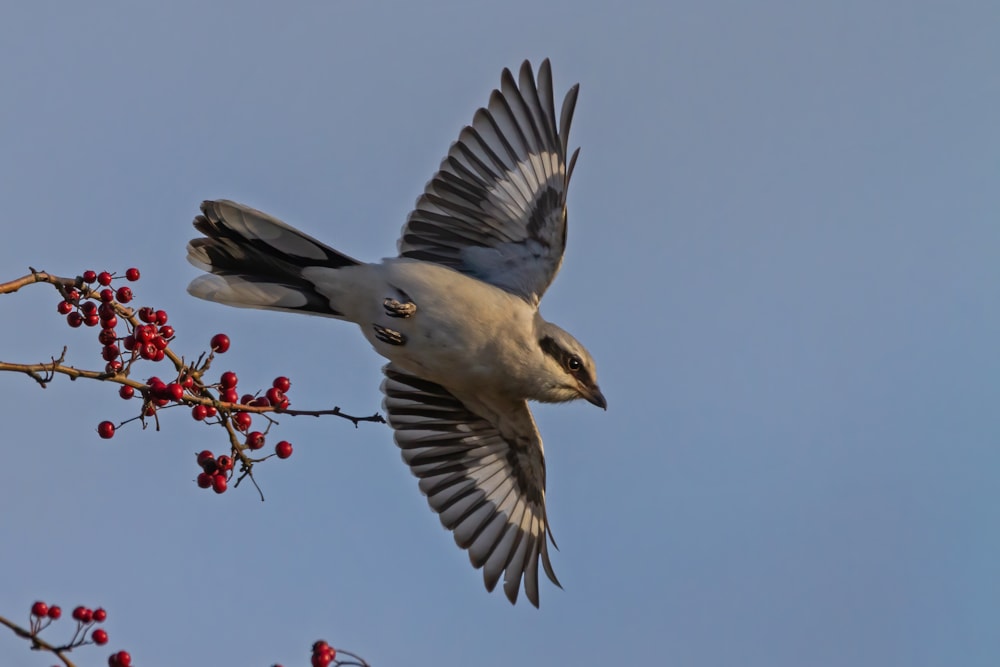 Great Grey Shrike, Cottam, Nottinghamshire (Alan Beesley).
East of England
Glossy Ibises were reported at both Cley and Titchwell, Norfolk, on 23rd, while the Lesser Yellowlegs was back at the former after a two-week absence and a Grey Phalarope visited on 22nd. Dusky Warblers lingered at Muckleburgh Hill and Beeston Common, the latter also attracting a Siberian Chiffchaff. Two further Glossy Ibises overflew Hickling Broad on 24th, having spent time at Horsham St Faith earlier in the week. At least one juvenile Iceland Gull was seen between Cley and Winterton.
Up to three Glossy Ibises were at Carlton Marshes, Suffolk. A Little Auk was a brief visitor to the seas off Lowestoft on 20th, with two past Minsmere RSPB on 23rd. The two Shore Larks hung on at Kessingland, while coastal sites picked up a typical array of Caspian Gulls, Water Pipits and other seasonal fare. Two Glossy Ibises flew over Ipswich on 23rd, the Great Grey Shrike remained at Rendlesham Forest and a Tundra Bean Goose arrived at Trimley Marshes.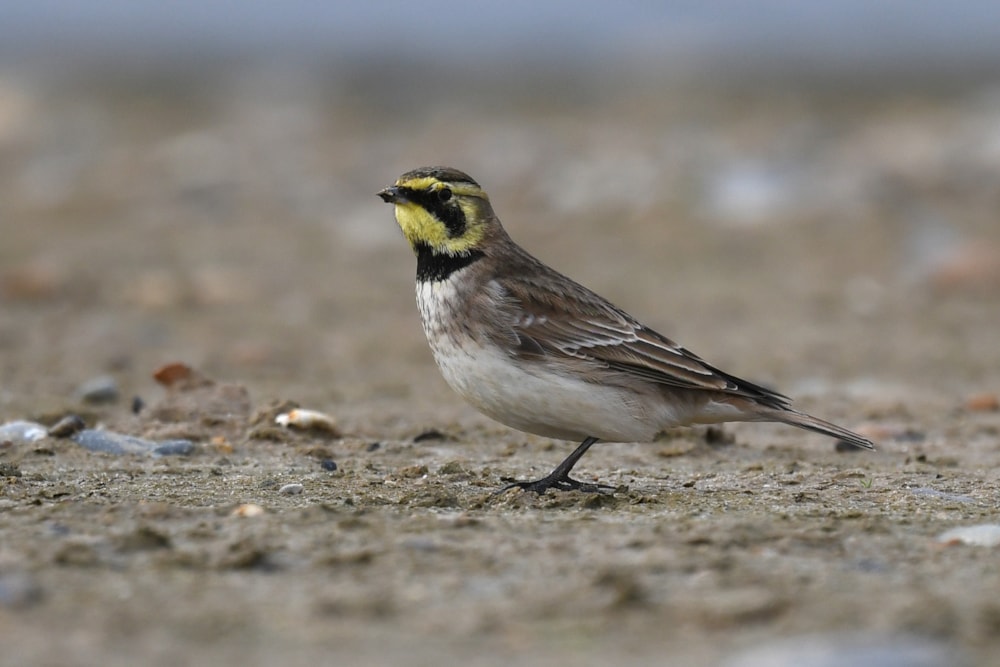 Shore Lark, Kessingland, Suffolk (Nick Appleton).
One or two Black Brant were in the Old Hall Marshes area of Essex, while nearby Abberton Reservoir boasted Red-necked and Black-necked Grebes, multiple Greater Scaup and Long-tailed Duck, Caspian Gull and Hen Harrier among its enviable list of sightings. Hanningfield Reservoir hosted a Slavonian Grebe, The Naze produced a flock of Snow Buntings and Lee Valley CP continued to offer good views of up to two Short-eared Owls.
An impressive three Ring-necked Duck – adult and first-winter males and a female – were at Wilstone Reservoir, Herts, from 24th. In Bedfordshire, the Hoopoe remained at Northill till 19th and the Russian White-fronted Goose was still at Broom. A second-winter Iceland Gull at Dernford Reservoir, Cambs, could be a returning bird. Up to four Great Northern Divers hung on at Grafham Water and as many as three Glossy Ibises were in the county, with individuals at Ouse Fen RSPB, Wistow and the Nene Washes. A Hooded Crow lingered at Castor Hanglands.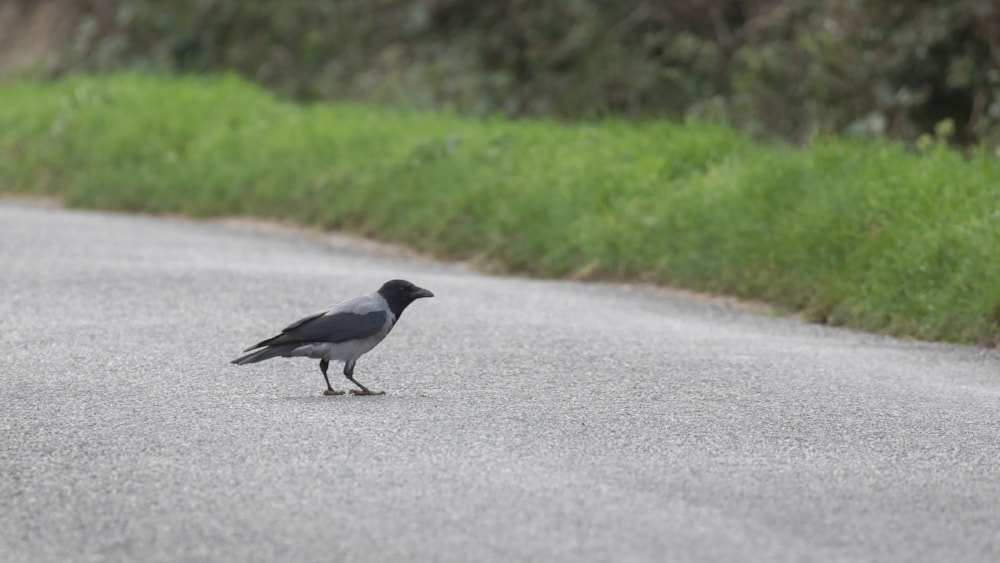 Hooded Crow, Castor Hanglands, Cambridgeshire (Josh Jones).
South-East England
There were a few new scarcities in Kent, perhaps most notably a drake Green-winged Teal at Kearnsey on 20th. A brief European Serin was at Lade Sands on 22nd. Dungeness scored a Pallas's Warbler on 20th, and the Glossy Ibis there continued throughout. On 23rd, a Siberian Chiffchaff was trapped and ringed at Worth Marsh, with the same site hosting two Lapland Buntings on 21st; another Lapland Bunting was at Swale NNR on 20th. Notable seawatching records included a Black Guillemot at Minnis Bay on 18th and a Sabine's Gull past Reculver the following day.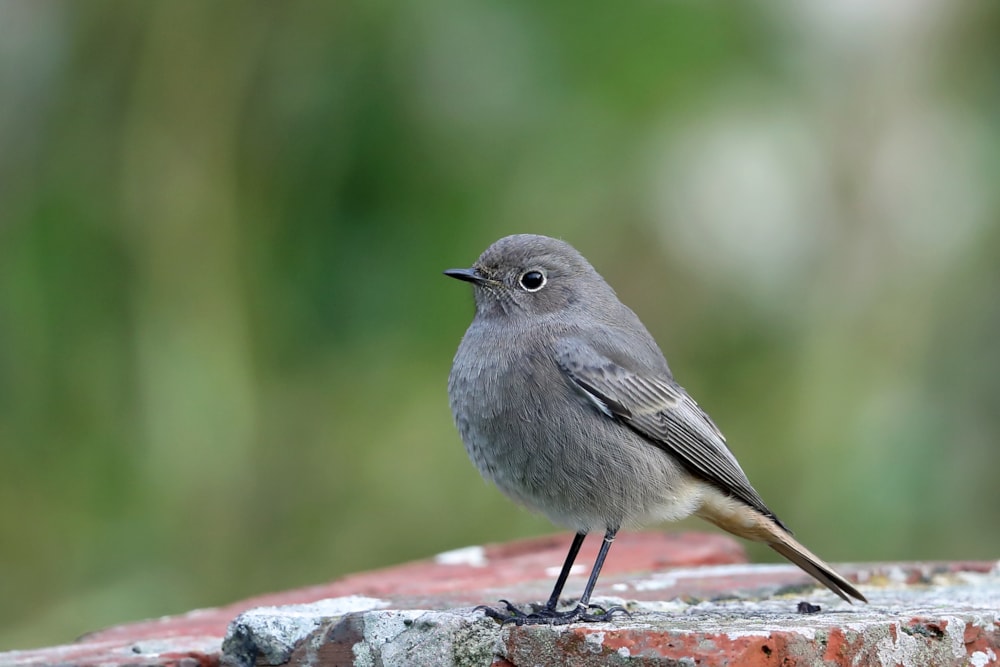 Black Redstart, Nursling, Hampshire (Richard Jacobs).
The star attraction in Sussex was a Shore Lark at Rye Harbour, which was eventually pinned down following late news of its presence, though it proved fairly elusive throughout the review period. A Glossy Ibis touched down at Sidlesham on 24th, rounding off a week for the Selsey peninsula which included Black-throated Diver, Red-necked Grebe and some 50 Western Cattle Egrets.
Two Great Grey Shrikes were in Hampshire, though it seems neither records involved the bird in the New Forest last week: one was at Woolmer Forest on 22nd and the other (or the same) at Bransbury Common two days later. A Black Brant was at Gosport on 21st and a Grey Phalarope was at nearby Southsea on 19th. A couple of Long-tailed Duck were reported in the Solent, while the Isle of Wight hosted a Yellow-browed Warbler at Shanklin on 23rd and two Lapland Buntings at Whale Chine on 24th

Little Bunting, Thursley Common, Surrey (Mark Leitch).
In Surrey, the Thursley Common Little Bunting continued but remained elusive, and it remains to be seen whether it'll overwinter. Walthamstow Wetlands, London, hosted a Yellow-browed Warbler on 19th and the following day a Siberian Chiffchaff was at Dagenham Chase. From 21st, a Great Northern Diver was at Staines Reservoirs.
The Great Northern Diver continued at Caldecotte Lake, Buckinghamshire, throughout. In the same county, a Siberian Chiffchaff was trapped and ringed at Linford Lakes on 23rd. In Oxfordshire, Farmoor continued to host a decent suite of inland birds, including three Greater Scaup, a Brent Goose and the lingering Great Northern Diver. The juvenile Iceland Gull was again at Sutton Courtenay/Appleford GPs on 23rd. Berkshire's Western Cattle Egret at Lower Farm GP was present throughout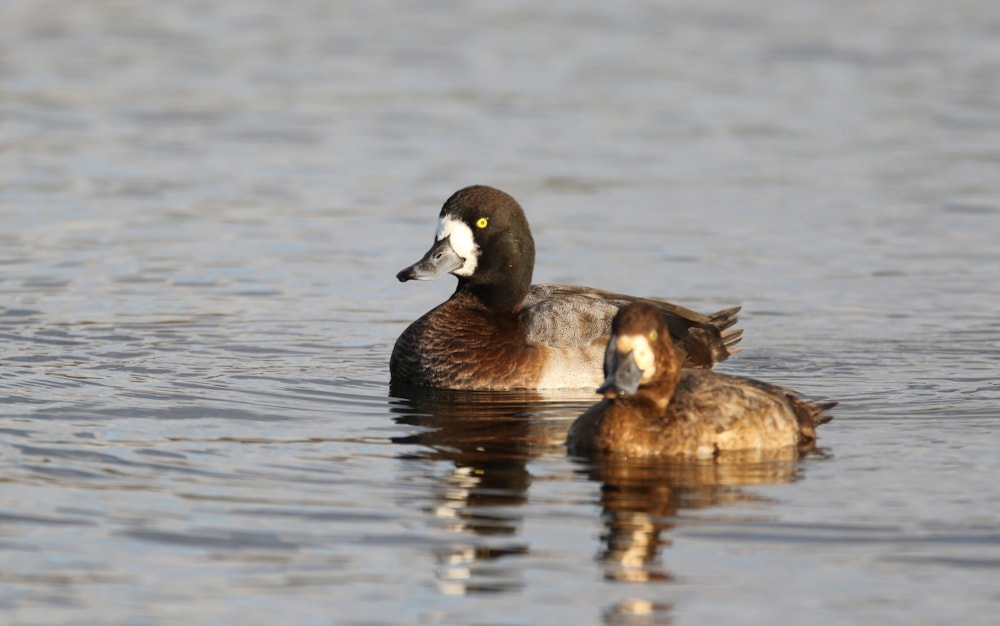 Greater Scaup, Farmoor Reservoir, Oxfordshire (Ian Stewart).
South-West England
An inland Snow Bunting is always a welcome find, and one was at Gore Cross, Wiltshire, on 23rd. A Siberian Chiffchaff ringed at Cleveland Lakes the day previous was another county highlight. In Gloucestershire, a Yellow-browed Warbler was reported from Frampton-on-Severn on 19th, three Whooper Swans were at Ashleworth Ham NR the same day, and no fewer than three Black Redstarts remained at Oldbury Power Station.
Somerset's highlights consisted of lingering wildfowl – juvenile Tundra Bean Goose at Apex Leisure Park and both the adult drake Long-tailed Duck and juvenile Great Northern Diver still at Barrow Gurney Reservoirs. A Yellow-browed Warbler was at Sand Point, with a Dartford Warbler at Berrow Golf Club on 24th.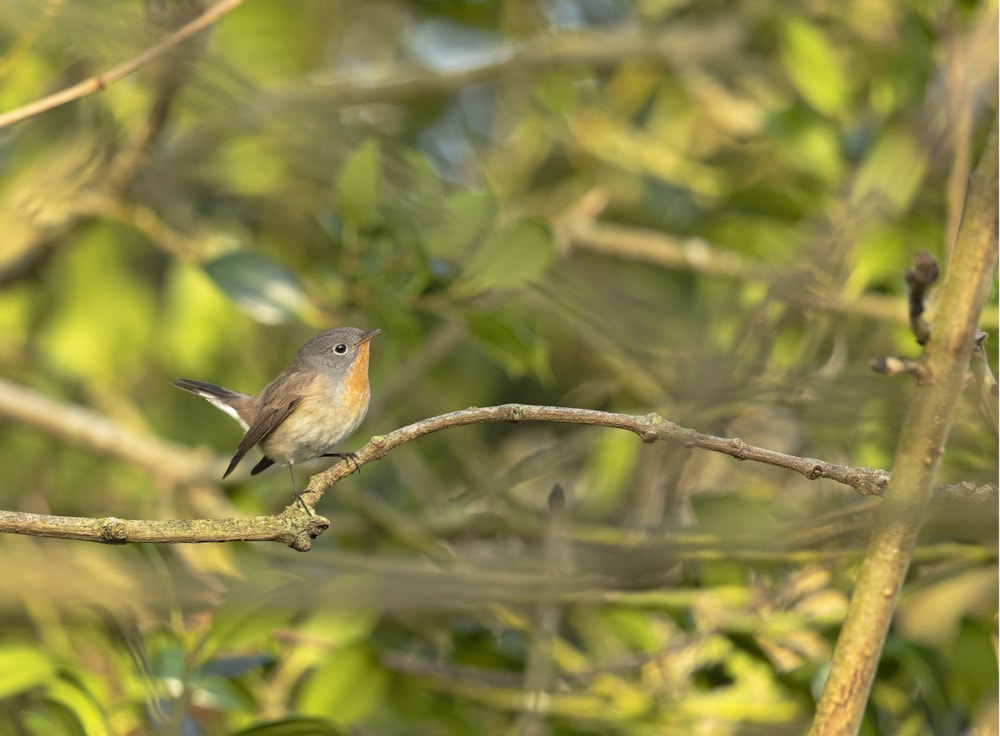 Red-breasted Flycatcher, Church Cove, Cornwall (Connor Coombes).
In Cornwall, an adult male Red-breasted Flycatcher at Church Cove from 19-23rd was a veritable highlight. Elsewhere, a Dusky Warbler was trapped in Nanjizal Valley on 22nd and another was at Porthgwarra on 23rd, while the College Reservoir Pallas's Warbler was last noted on 18th. Rosy Starlings were noted at St Mawgan and St Buryan, a Little Bunting was at Cadgwith on 23rd, and a possible Siberian Lesser Whitethroat was at St Levan on 21st. Offshore, a late Long-tailed Skua flew past Pendeen on 21st.
A remarkable four Dusky Warblers made themselves at home on St Mary's, Scilly, along with numerous Yellow-browed Warblers. A juvenile Kumlien's Gull continued alongside at least three Iceland Gulls and the young Russian White-fronted Goose was still at Kittydown, plus four Western Cattle Egrets and a Hooded Crow remain on Tresco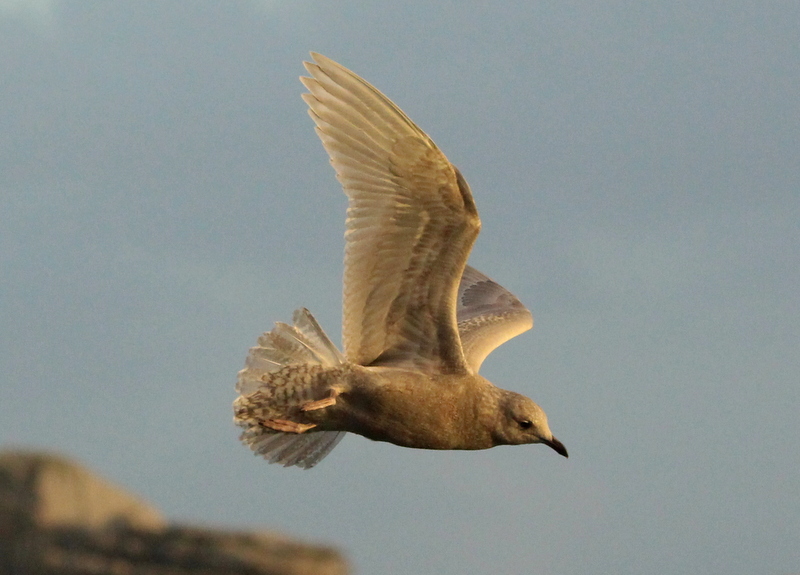 Kumlien's Gull, St Mary's, Isles of Scilly (Kris Webb).
Two Great Grey Shrikes look set to winter on Devon's Dartmoor, with individuals at both Soussons Down and Fernworthy Forest. Beesands Ley's drake Ring-necked Duck reappeared on 20-21st and four Glossy Ibises don't look like moving on from Fremington Pill anytime soon. Siberian Chiffchaffs were at three sites – Clennon Valley Lakes, Dawlish Warren NNR and Kilmington.
Portland, Dorset, saw a brief visit from both a Pallas's Warbler and European Serin on 24th, while the young Rosy Starling remained in place. Away from Portland, a Red-breasted Flycatcher spent 20 minutes at St Aldhelm's Head on 22nd, a Siberian Chiffchaff was ringed at Lytchett Bay on 23rd, a popular Glossy Ibis remained at Stanpit Marsh, and a Black Brant was at Chickerell.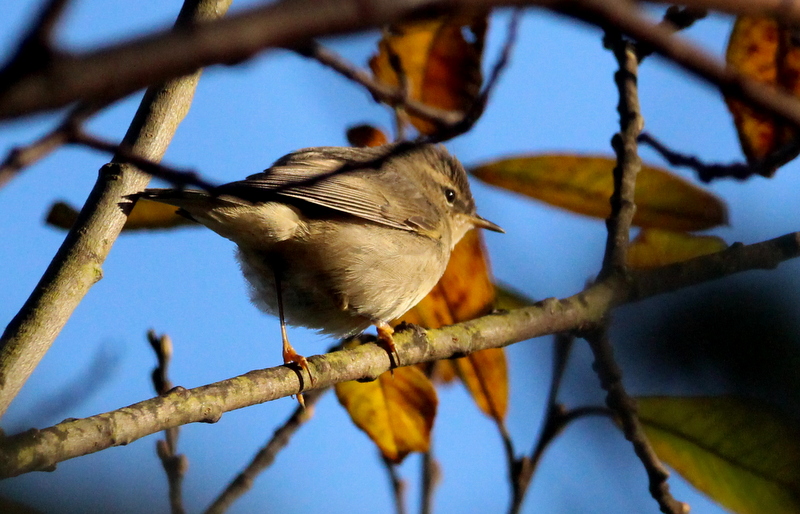 Dusky Warbler, St Mary's, Isles of Scilly (Kris Webb).
Wales
Pembrokeshire's second Caspian Gull was on the Gann Estuary from 20th. Thanks to the yellow colour ring, it later transpired this individual was seen as a first-winter at Llanrhystud, Ceredigion, back in March 2017, and later at Newport, Pembrokeshire, that same summer – talk about an impressive recovery! Juvenile Glaucous Gulls were on Skokholm and Skomer this week.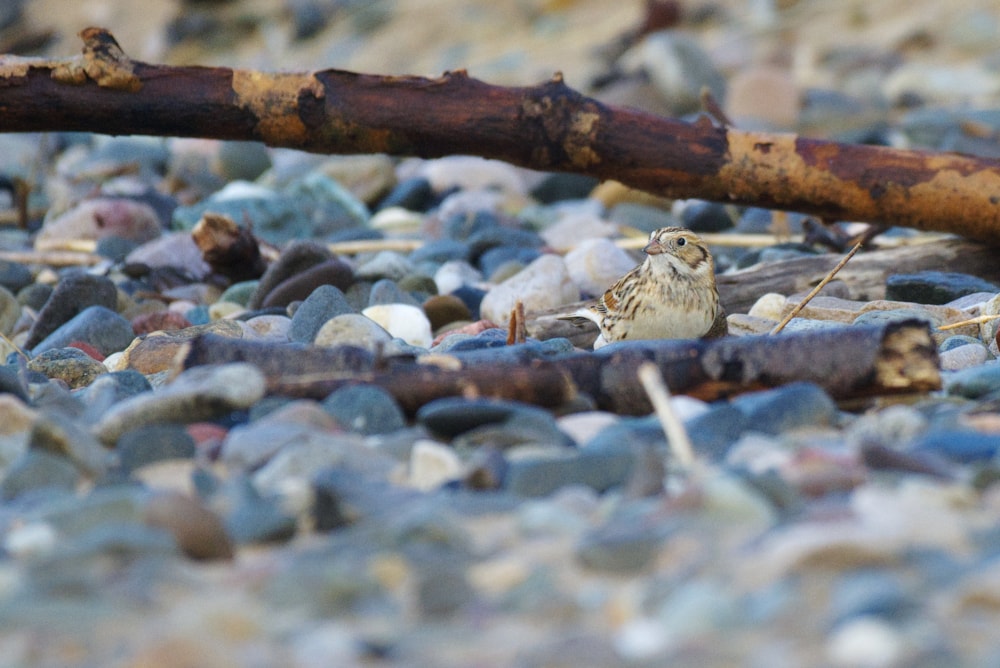 Lapland Bunting, Llandudno, Conwy (Jonathan Bull).
A Tundra Bean Goose was originally reported at Goldcliff Pools NR, Gwent, on 21st before relocating to Neddern Floods from 23rd. Two Glossy Ibises were still present at the former site throughout. It's also probably safe to assume reports of a Red-necked Grebe off Cwm yr Eglwys on 20th and Fishguard on 22nd refer to the same individual. The female Garganey was again located at Ynys y Fro Reservoirs, Gwent, and represents a remarkably late record, not just for the county but the country. A Curlew Sandpiper at Kilpaison, Pembrokeshire, on 23rd was also unseasonal.
Lapland Buntings were at two sites while Snow Buntings were reported from a respectable seven, with the north coast, in particular, doing well for the latter. A Siberian Chiffchaff was at Amlwch, Anglesey, on 20th where the adult Rosy Starling continues to thrive on local feeders. Sticking with the theme of gardens just a moment, a first-winter European Turtle Dove was photographed at Aberystwyth, Ceredigion, on 22nd. The Monmouth, Gwent, Yellow-browed Warbler stayed in place for yet another week.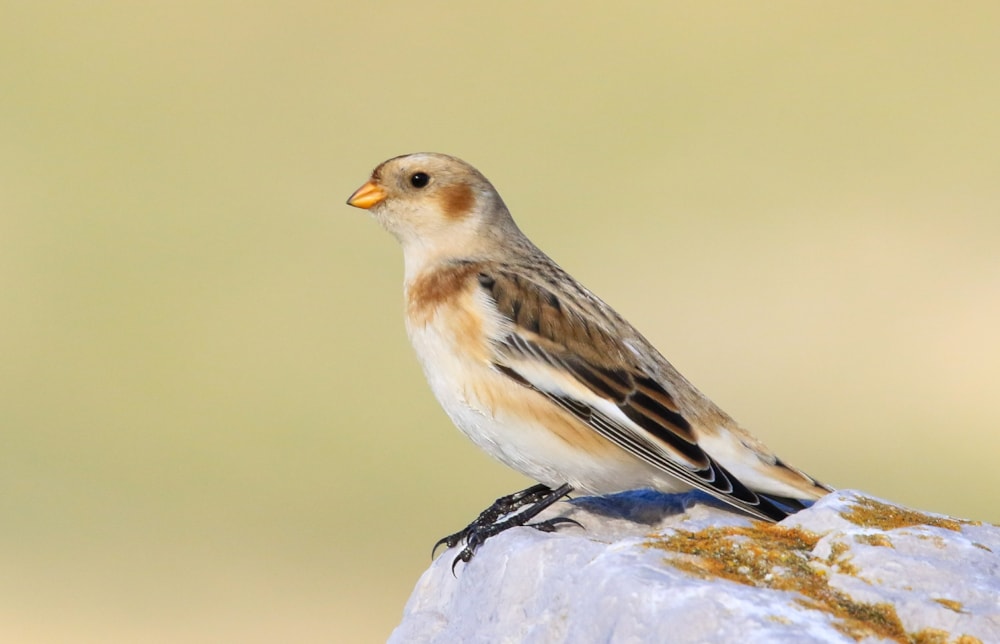 Snow Bunting, Llandudno, Conwy (Dan Gorton).
Ireland
A female Surf Scoter inland at Lough Gara, Co Sligo, on 21st was the find of the week, with three Ring-necked Ducks also there. Another Surf Scoter was off Mornington, Co Meath, with the Todd's Canada Goose still nearby at Duleek and, in Co Dublin, the Ring-necked Duck at Knock Lake. Another Ring-necked Duck was at Tacumshin, Co Wexford.
The Lesser Yellowlegs was still at Killongford, Co Waterford, with a Glossy Ibis nearby at Lismore. The Russian White-fronted Goose remained in fields near The Gearagh, Co Cork. Several Great Egrets remained at large in Northern Ireland. Half a dozen sites scored Iceland Gulls, including two at Lahinch, Co Clare, on 24th.
A Siberian Chiffchaff was back at the traditional wintering site near Killarney, Co Kerry, while another was at Monkstown, Co Antrim. In Co Limerick, a Richard's Pipit was reported from an undisclosed site.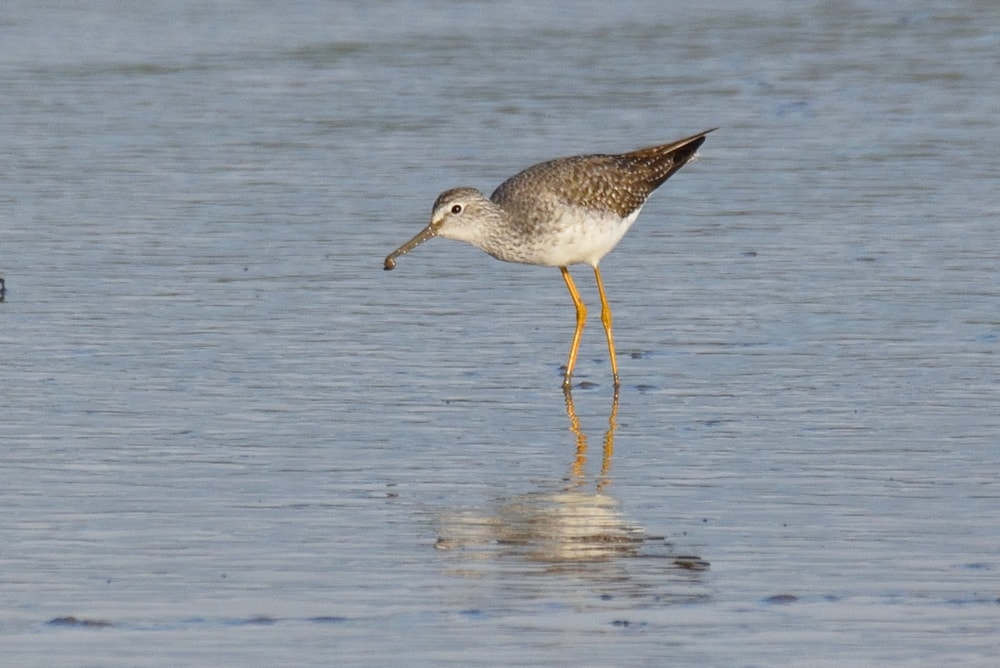 Lesser Yellowlegs, Dungarvan, Waterford (Andrew Malcolm).
Western Palearctic
In Israel, an immature Bateleur – thought to be the same individual seen over the Golan Heights back in August – surfaced over the Judean Plains on 19th, and was still nearby four days later. Elsewhere, Eilat's Persian Shearwater was still in situ, while the Greater Painted-snipe was still at HaMa'apil fishponds recently.
A quadruple of wintering Wallcreepers in northern France once again raised hopes of a long-overdue record on the north side of the English Channel. Three of these were on churches – one was back at Coutances Cathedral (which can be seen from as far away as Jersey) from 18th, with one at Basilique Saint-Sauveur, Dinan, from 21st, and another at Cathedral Saint-Pierre, Nantes, from 10th. The final individual was on sea cliffs at Cap Fréhel on 23rd, site of the biggest colonies of both Razorbills and Guillemots in France.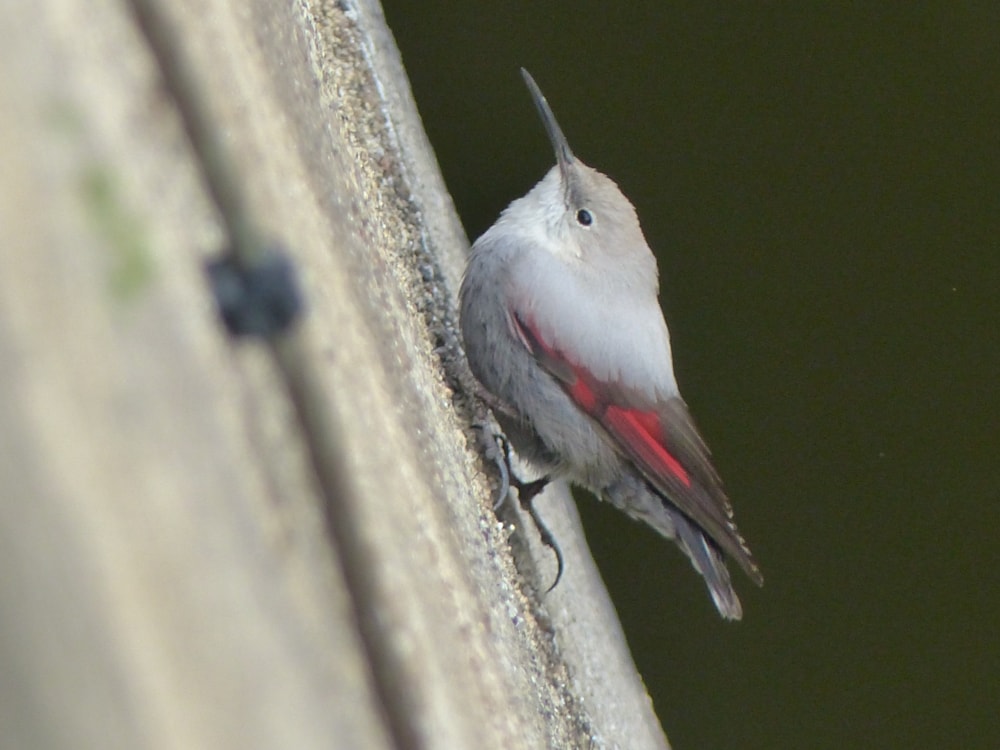 Wallcreeper, Nantes, Loire-Atlantique (Benoît Moreau).
Ghent, Belgium, hosted a Eurasian Crag Martin for several hours on 22nd. The last couple of weeks have produced a real Belgian purple patch as far as the species is concerned, with a remarkable four records – matching the country's entire total prior to 2020.
The Canary Islands continued to hold a Belted Kingfisher – the young male was still at Arrecife, Lanzarote, all week. On Tenerife, the first-winter Kelp Gull reappeared at San Miguel de Tajao landfill on 24th. Mainland Spanish flavour was added with a rare Dusky Warbler at Bareyo, on the Cantabrian Biscay coast, on 18th and a Sociable Lapwing at Cabeza del Buey, Extremadura, on 21st. Several Double-crested Cormorants remain in the Azores, including three at Horta, Faial, and four at Santa Cruz das Flores, Flores, while a new Green Heron was at Povoação, São Miguel, on 24th.
In far north-west Germany, a Pygmy Cormorant was at Alfhausen on 20th and the first-winter drake Falcated Duck continued at Dechsendorfer Weiher on 22nd, while Denmark's first Greater Yellowlegs remained at Sønderho. Luxembourg's first European Shag was on the River Moselle at Grevenmacher, along the German border. In Poland, a sub-adult Pallas's Gull was at Jezioro Tarnobrzeskie on 18th. Two new White-headed Ducks were at Wielikąt on the same date and another remained at Zbiornik Jutrosin, while another remained at Kronstorf, Austria.
A spotty first-winter Ivory Gull enjoyed the scraps left out by locals at Husavík from 21st, including at least one poor Ptarmigan. In the Channel Islands, Alderney's third trapped Dusky Warbler of the autumn was there on 21st.