Circumstances have changed significantly over the past seven days, with the possible nationwide 'lockdown' we mooted in last week's column becoming a stark reality from Monday evening. Inevitably, this took an immediate toll on the volume of bird news on Tuesday, with birders sticking to their homes (check out #BWKM0 to see what housebound birders have been up to right across Europe and beyond) or, at most, enjoying a bit of fresh air and local patching on their (currently permitted) one walk a day.
It goes without saying that it is imperative that all our readers adhere to the government guidelines introduced on Monday, and it would be utterly irresponsible for anyone to consider trying to travel any sort of distance to see a bird at present. Stick to the rules, be sensible, and remember to adhere to social distancing measures. The tighter we all stick to these measures, the quicker we can beat coronavirus as a collective and normal life (and birding) can resume.
In recognition of this, and the fact that there simply isn't going to be much news at all for at least the next three weeks, this is the final Review of the Week column for the foreseeable future – an unprecedented break in this long-running series, which has been a constant weekly staple since the early 2000s.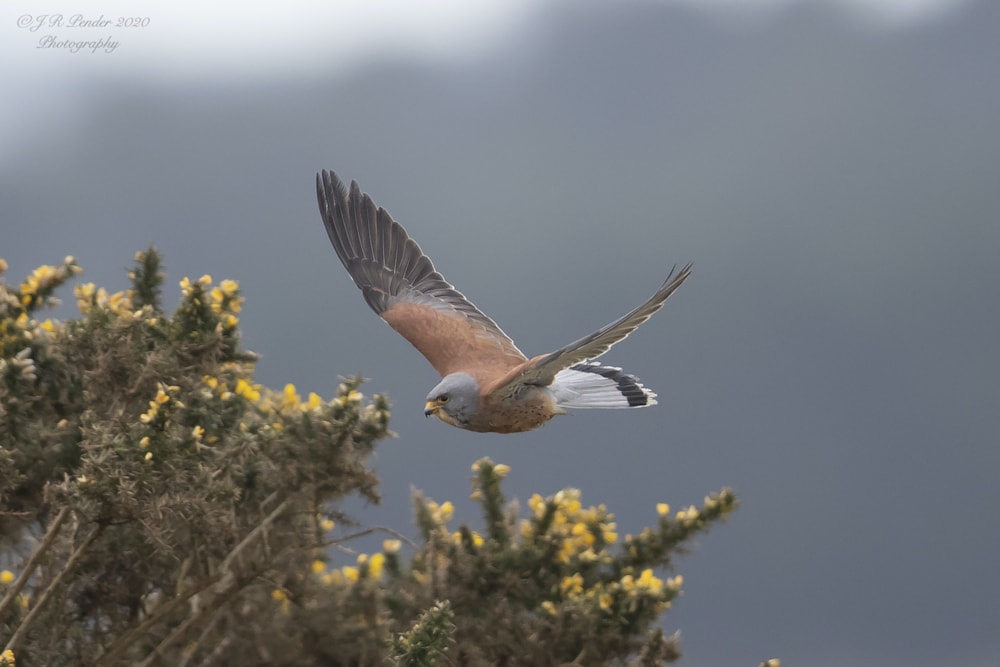 Lesser Kestrel, St Mary's, Isles of Scilly (Joe Pender).
Without further ado, let's get on to this week's summary. The weather may have felt very spring-like over the weekend, but in the gloriously clear conditions, there simply weren't many grounded migrants about. Year firsts included Sedge Warbler at Ventnor, Isle of Wight, on 19th and Yellow Wagtails in Kent, Essex and Cambridgeshire on 21st, Eurasian Hobby in Dorset on 21st (and West Sussex on 22nd), but there was no repeat of last week's big Northern Wheatear fall.
All offshore islands are now sensibly out of bounds to visitors, so it was up to locals to report the Tengmalm's Owl at Kergord, Shetland, which was still there on 23rd, and the Lesser Kestrel on St Mary's, Scilly, which seems set for an extended stay.
A familiar line-up of wildfowl involved Grey-bellied Brant in Lancashire, Richardson's Cackling Goose in the Outer Hebrides, Blue-winged Teal in Devon, Ferruginous Duck in West Midlands and White-winged Scoter in Lothian. The Pied-billed Grebe was reported again in Highland.
The Laughing Gull wasn't seen at Cheddar Reservoir, Somerset, past 22nd, but the Bonaparte's Gull at Kilmore Quay, Co Wexford, was there throughout. The Forster's Tern was reported again from Galway Bay, too.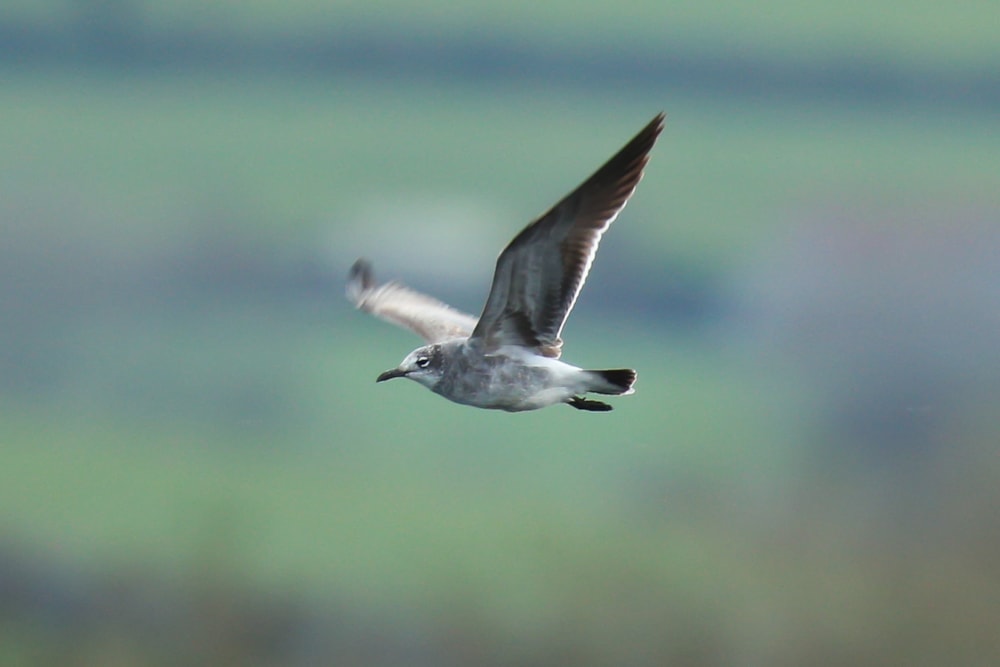 Laughing Gull, Cheddar Reservoir, Somerset & Bristol (Lee Gregory).
A Long-billed Dowitcher briefly at Wedholme Flow, Cumbria, on 22nd was presumably the bird from Campfield Marsh RSPB in the winter. Others continued in Cos Wexford and Wicklow.
Last week's Short-toed Treecreeper was elusive at Dungeness NNR, Kent, remaining there till 20th.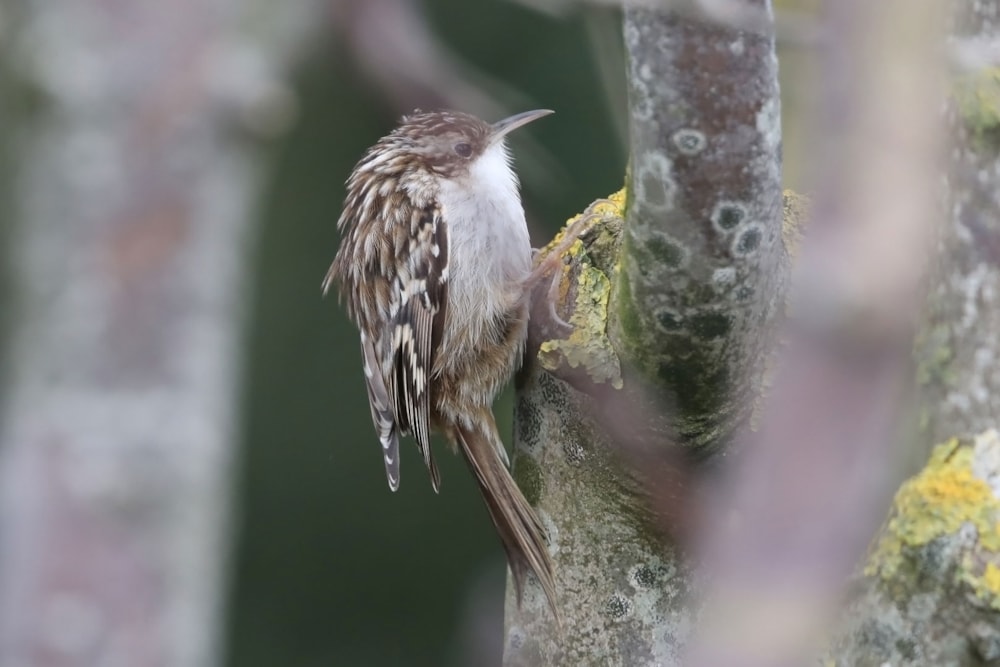 Short-toed Treecreeper, Dungeness NNR, Kent (Martin Casemore).
Making a surprise reappearance on Monday was the Eastern Yellow Wagtail in Northumberland, but it hasn't 'coloured up' much and still looks pretty drab. The Cheshire Siberian Stonechat was still around, but an imminent departure must be due. The same goes for the Black-throated Thrush in north Lincolnshire.
One of the few new birds this week was a grey-morph Gyr Falcon in Orkney, although it was never easy to pin down. The male Snowy Owl also returned to Ronas Hill, Shetland, for the second year running.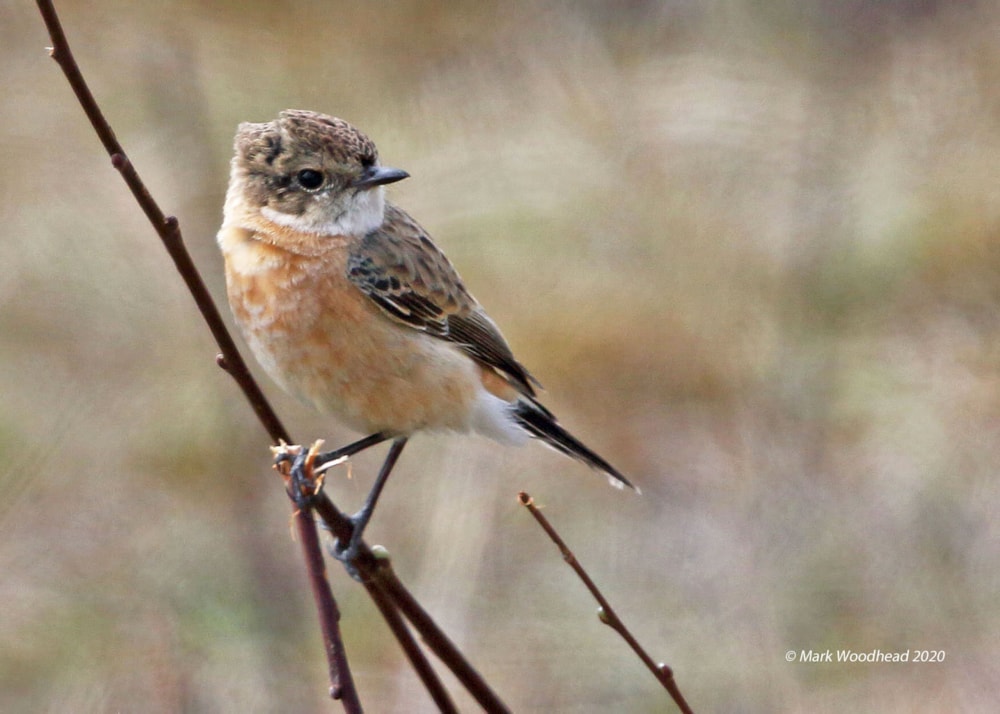 Siberian Stonechat, Ashton's Flash, Cheshire (Mark Woodhead).
Scottish mainland
A White-billed Diver flew south off Brora, Highland, while Embo was treated to a congregation of Surf Scoter – six different individuals, three of each sex, were seen in the week.
The Great Grey Shrike was steadfast in the Brawlbin area, as was the Udale Bay Ruddy Shelduck. A single Lapland Bunting was at Stoer on Sunday.
Up to four White-billed Divers off Cullen, Moray, marked the commencement of the annual spring build-up, with Aberdeenshire chalking up one off Portsoy and a couple off Sandend. Also returning were three Common Cranes at Troup Head and Loch of Strathbeg RSPB. The drake American Wigeon continued at Fedderate Reservoir, while Aberdeen held a flock of 100 Waxwings.
The continued presence of Black-necked Grebe and Great Egret were the highlights in Angus, where up to 21 Little Gulls remained off the Carnoustie coast and 11 Waxwings continued to reside in Kirriemuir.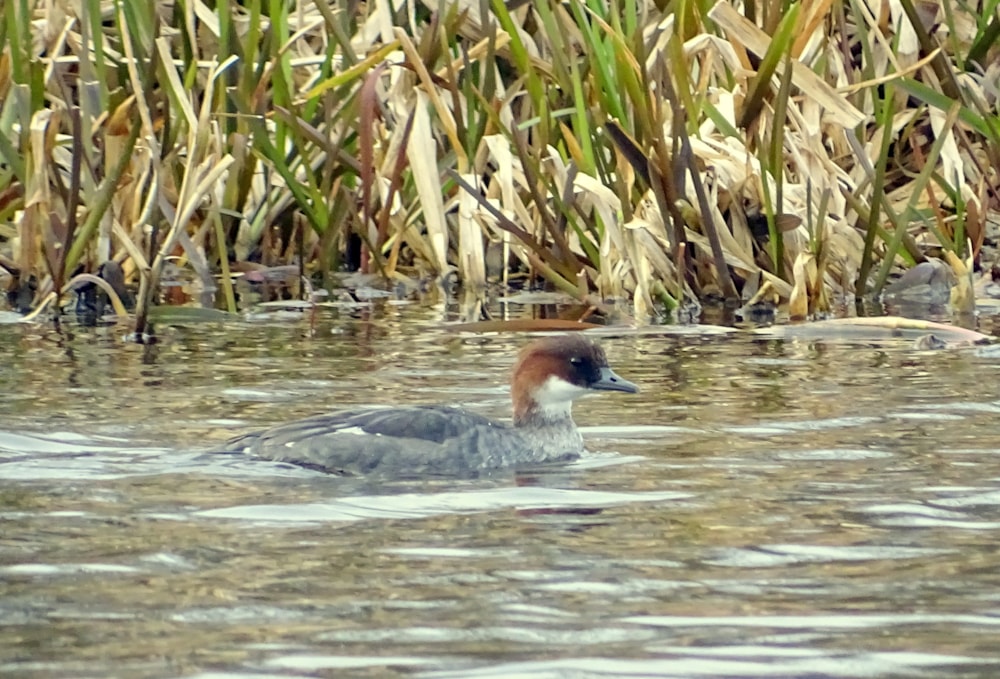 Smew, Lochore Meadows CP, Fife (John Nadin).
Three Common Cranes flew over Mersehead RSPB, Dumfries & Galloway, on Sunday and the drake Lesser Scaup continued to hang out at Loch Ryan. In Lothian, the drake Surf Scoter was off Musselburgh throughout the week and single Iceland and Glaucous Gulls were noted. East Calder briefly hosted 25 Waxwings.
Two different juvenile Iceland Gulls were noted in Borders at Coldingham and Reston, while a Black Redstart kicked off spring at Mire Loch.
Northern Isles and the Hebrides
The wintering White-billed Diver continued at South Nesting Bay, Shetland. Two Glaucous Gulls were on Unst and two Iceland Gulls were noted on Yell in the week. A Red Kite was on Foula on 18th. Killer Whales continued to be prominent and two Humpback Whales were also recorded off Papa Little.
Orkney's long-staying Green-winged Teal stuck around on North Ronaldsay. A juvenile Iceland Gull was at Westray as the week ended. The Red-necked Grebe was noted again at St Mary's, Mainland.
A Common Crane at Steinis, Lewis, was new on Monday evening and offered a change from the usual array of scarce wildfowl still present on the islands, these including the Snow Goose on North Uist, Green-winged Teal on South Uist, Ring-necked Duck on Barra and three Surf Scoter in the Sound of Taransay. An adult Iceland Gull was on Harris and up to four Glaucous Gulls were noted around the isles.
Finally, Tiree's two Ring-necked Duck remained at Loch Bhasapol.
North-East England
Cleveland birders received their first hints of spring this week, with two Northern Wheatears at South Gare, a Black Redstart at Scaling Dam and a Little Ringed Plover at Salthome RSPB. Ruddy Shelduck, Spotted Redshank and Water Pipit from recent weeks all lingered.
Durham too had a Northern Wheatear and also chipped in House Martin and Willow Warbler as the week ended. An adult Rough-legged Buzzard was at Bolam and the Great Grey Shrike remained at Trimdon. A Glaucous Gull was at Whitburn CP and an Iceland Gull at Sunderland.
In Northumberland, the wintering American Wigeon at Grindon Lough and Common Crane at Middleton both maintained a foothold. A European Turtle Dove photographed in a Hadston garden over three consecutive days was a surprise, and new Black Redstarts were at Blyth, Newbiggin and a Warkworth, the latter providing a 'lockdown' garden tick for one lucky observer. A restored Longhirst Flash continued to host a Great Egret and North Shields held the juvenile Iceland Gull.
North-West England
Cumbria stayed quiet through the week, but continuing birds included three Greater Scaup and Hooded Crow at South Walney NR, Hawfinches at Sizergh Castle and two Great Egrets at Rockcliffe.
Lancashire's pick of the bunch came from the exciting news of an immature White-tailed Eagle that headed north-east over the Alt Estuary at Hightown on the afternoon of 22nd. There have been no further reports thus far, but with many local birders gazing longingly out of their windows there's a chance it could be picked up again soon …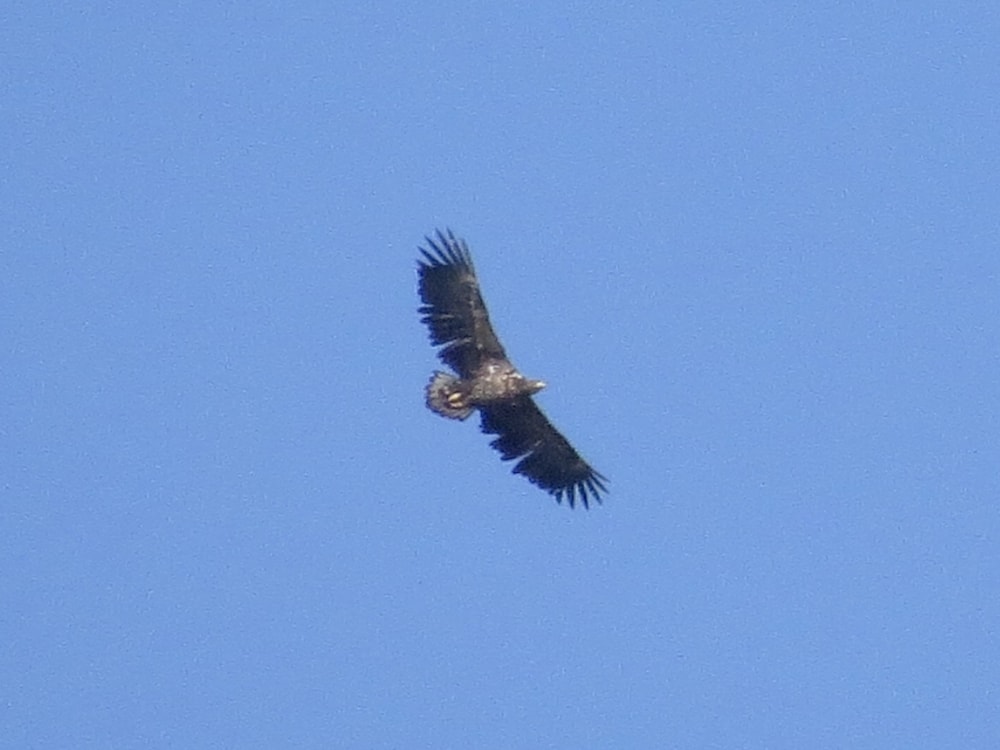 White-tailed Eagle, Hightown, Lancashire (Pete Kinsella).
As Easter approaches, it was only appropriate for the Purple Heron to resurrect. One was seen at Marton Mere on 19th and it would be wise to assume this sighting refers to the Fylde's overwintering youngster. Other leggy birds included a Eurasian Spoonbill at Marshside RSPB briefly on 22nd and the usual Great Egrets. Wildfowl included the Todd's Canada Goose still, Green-winged Teal again at Crossens Outer Marsh, Brockholes LWT long-staying Smew and both flavours of Greater White-fronted Goose in their usual haunts. The juvenile Iceland Gull made a re-appearance by the River Calder at Altham.
Down in Cheshire, two Eurasian Spoonbills are back on territory and a Garganey was reported at Burton Mere Wetlands RSPB on 20th. A Kittiwake flew south through Woolston Eyes NR on 18th. In Greater Manchester, the regular adult Iceland Gull was still roosting at Pennington Flash CP most evenings and the redhead Smew remained at Wigan Flashes LNR.
Lincolnshire and Yorkshire
Bird of the week in Lincolnshire was a fine Rough-legged Buzzard along Deeping High Bank from 19-22nd, while the county's first Garganey of the year was at Willow Tree Fen on 23rd. More than 50 Water Pipits roosted at Gibraltar Point NNR, while coastal localities produced Black Redstart and Firecrest – and a Glaucous Gull was in Grimsby on 22nd.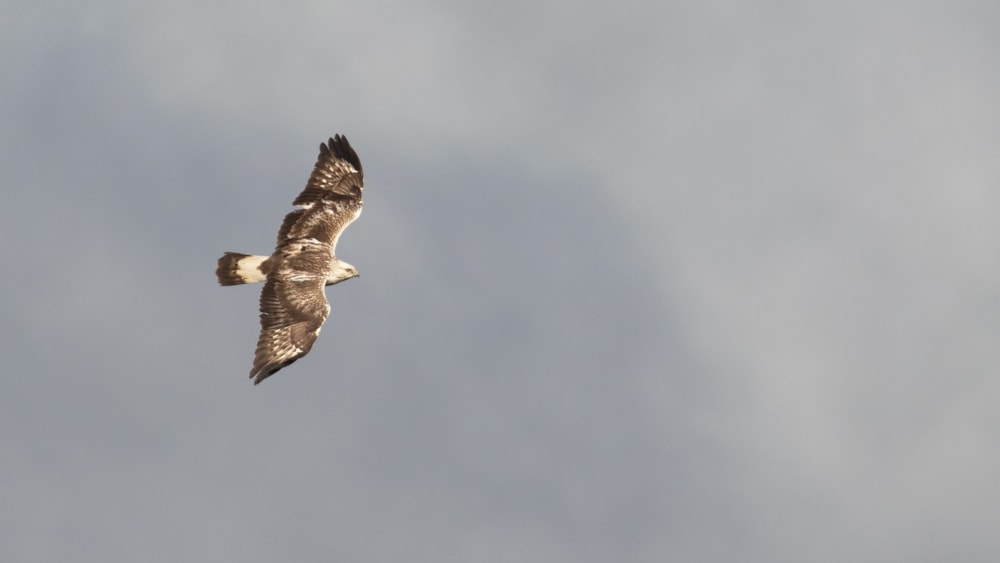 Rough-legged Buzzard, Deeping High Bank, Lincolnshire (Josh Jones).
Presmably the same Green-winged Teal moved between Ellerton and Bubwith Ings, East Yorkshire, while the continuing Black Brant and an adult Bewick's Swan were in the Spurn area. Further north, the Richard's Pipit was still at Flamborough Head on 21st, where there was also a locally significant Egyptian Goose record on 19th.
The Lesser Yellowlegs remained at Nosterfield, North Yorkshire, early in the week, as did the Ring-necked Duck at Long Preston Deeps. Precious little was reported in West Yorkshire, although the Black-necked Grebes are now back at Swillington Ings. In South Yorkshire, the Great Grey Shrike was still at Hatfield Moors.
Content continues after advertisements
West Midlands
In Worcestershire, the regular juvenile Glaucous Gull continued its commute between Upton Warren NR and Upton Snodsbury throughout the week.
A pair of Common Cranes over Brandon Marsh NR on 21st was a nice Warwickshire record. Meanwhile the Black-necked Grebe remained at Draycote Water, along with the three regular Greater Scaup.

Yellow-legged Gull, Trench Pool, Telford, Shropshire (Kris Webb).
There was a scattering of Black-necked Grebes in Staffordshire, with birds at Chasewater and Belvide Reservoir. The young female Greater Scaup was still at the latter site through the week, and the Long-tailed Duck remained at Branston GPs.
East Midlands
Bird of the week for Northamptonshire birders would have been the Hooded Crow at Aldwincle on 23rd, had it lingered. A Siberian Chiffchaff was also still at Billing GPs early in the week and migrants included a Firecrest at Ravensthorpe Reservoir.
Two Common Cranes flew over Benscliffe Wood and Swithland Reservoir, Leics, on 21st, while up to six Smew and a Garganey were at the now-closed Rutland Water NR.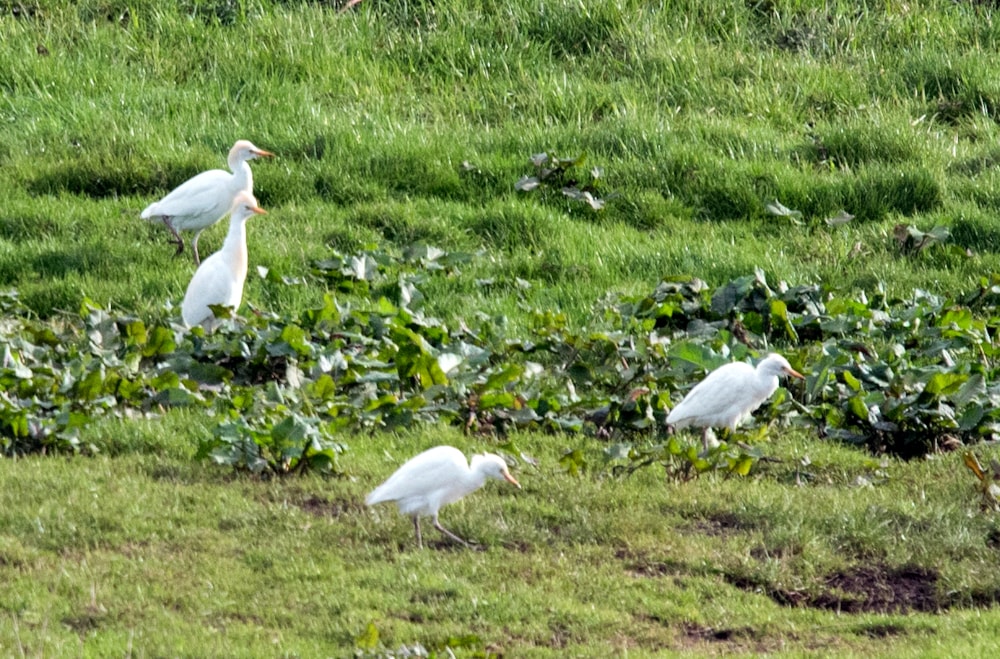 Western Cattle Egret, Sutton on Trent, Nottinghamshire (Robin Brace).
Nottinghamshire news included the Red-necked Grebe and Long-tailed Duck still at Holme Pierrepont, Slavonian Grebe at Attenborough NR and a couple of Waxwings in Bulwell. Derbyshire was quiet, but a drake Garganey was welcome at Willington GPs on 22nd, as was a Brent Goose at Barrow upon Trent GPs the same day.
East of England
Aside a light smattering of summer arrivals, it was business as usual in Norfolk – the Rough-legged Buzzard at Wells and Great Grey Shrike at Fincham being the main players, although a Glossy Ibis was reported from the former site on 19th. Migrants included an early Ring Ouzel at Dersingham Bog, a Western Osprey over UEA, Norwich, and three reports of Garganey.
A Green-winged Teal at Southwold, Suffolk, could well be the presumed hybrid seen until recently at nearby Minsmere. A Tundra Bean Goose hung on at Covehithe Broad, a Western Cattle Egret flew inland at Landguard on 24th and the flock of 11 Waxwings hung on at Butley.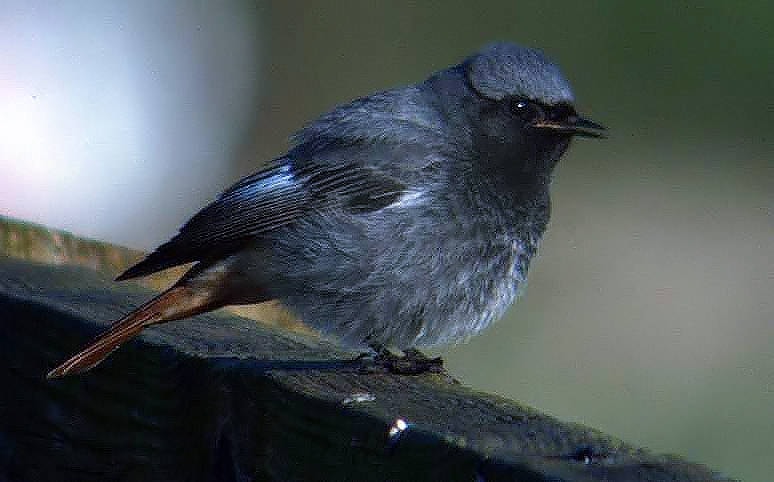 Black Redstart, Pakenham, Suffolk (Barry Woodhouse).
Three Essex sites held Western Cattle Egrets, while a Smew stuck around at Abberton Reservoir and a male Ring Ouzel was at Brightlingsea on 21st. Common Scoter and Little Gull were seen at Hilfield Park Reservoir, Herts, while the Lee Valley Western Cattle Egrets visited Amwell NR.
In Bedfordshire, the Ring-necked Duck hung on at Priory CP and typical late-March records included a Grey Plover at Dunstable and Little Gull at Grovebury Sand Pit. Cambridgeshire produced a varied array of winter (Smew and Iceland Gull) and summer (Garganey) visitors, with an early Yellow Wagtail at Witcham on 22nd.
South-East England
A smattering of Garganey and early Yellow Wagtails and Dungeness and Cooling Marsh were of seasonal flavour in Kent. Two Red-necked Grebes remained in the county, as did the Dungeness Glaucous Gull. The Tundra Bean Geese lingered at Seaton GPs.
East Sussex too enjoyed a few Garganey, while Weir Wood Reservoir scored both Little Gulls and a Common Scoter. There was a juvenile Iceland Gull at Birling Gap on 18th. In West Sussex, Pagham Harbour and Chichester GPs hosted Garganey, three White Storks flew over Burgess Hill and the Siberian Chiffchaff remained at Burpham sewage works.
An early Eurasian Hobby was over Thursley Common, Surrey, on 23rd. Elsewhere in the county a Black-necked Grebe visited Tice's Meadow from 22-23rd, a Common Scoter dropped in at Mercers CP and a few released White Storks were seen.
Beddington Farmlands had a good week, with two Twite found there on 18th. They lingered a few days, during which time Red Knot and Spotted Redshank visited. The Mitcham Yellow-browed Warbler was still about, as were the capital's two Iceland Gulls. A Western Osprey flew over Leyton on 24th.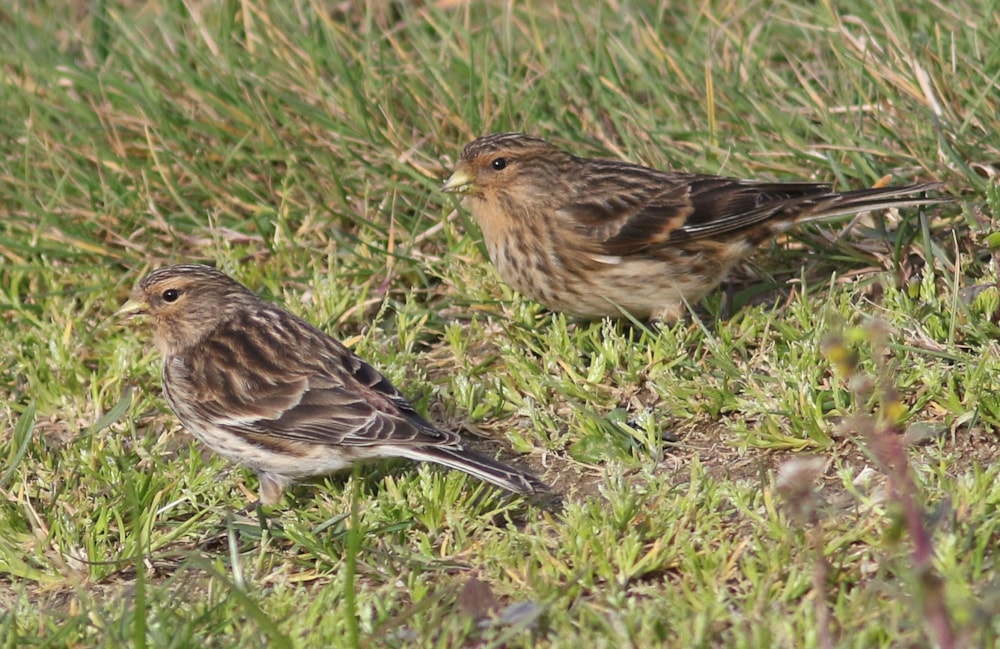 Twite, Beddington Farmlands, London (Peter Alfrey).
A White-tailed Eagle flew over Bedlow, Buckinghamshire, on 23rd. Two Garganey were at Jubilee River on the same day, while the county boasted Common Scoter at Foxcote Reservoir (a pair) and Watermead Lake on 19th. No fewer than 14 Common Scoter were in Oxfordshire on the same day, including 10 at Baulking Pit. In Berkshire, both Padworth Lane GP and Lower Farm GP boasted pairs of Garganey.
The released Great Bustard was still in Hampshire, where a White-tailed Eagle was over Milkham Inclosure on 18th and three Little Gulls visited Fleet Pond on 19th. On the Isle of Wight, a European Serin flew over St Catherine's Point early morning on 24th.
South-West England
On Scilly, a sprinkling of Ring Ouzels and a Willow Warbler hinted at warmer days. Cornwall also enjoyed a few ouzels, with the Ring-billed Gull, Lesser Scaup and Ring-necked Duck all still present. A few lingering white-wingers remained, with the adult Kumlien's Gull was again at Mousehole on 21st. A Siberian Chiffchaff was at Marazion on 23rd.
Devon enjoyed a fun week. Highlights included a female Kentish Plover at Dawlish Warren on 21-22nd, a Eurasian Dotterel on Dartmoor at Emsworthy Mire DWT on 23rd, a couple of Garganey, and a Eurasian Stone-curlew near Plymouth on 22nd. The Green-winged Teal and Surf Scoter lingered, and a second-winter Iceland Gull flew past Thurlestone on 18th.
In Dorset, a similar flurry off commoner spring migrants occurred, a Eurasian Stone-curlew on Portland. Better still was a European Serin over Durlston CP on 24th and a Hoopoe at Swyre Head on 22nd. A Glaucous Gull was briefly at West Bexington on 18th. The Great Grey Shrike and Ring-necked Duck were still present.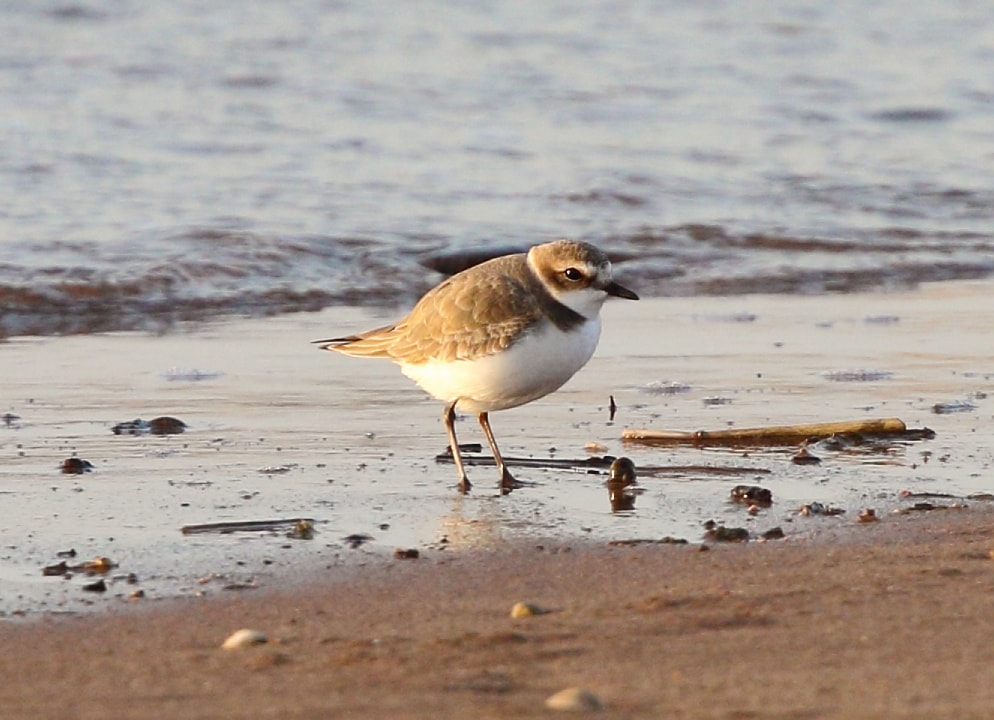 Kentish Plover, Dawlish Warren NNR, Devon (Steph Murphy).
In Wiltshire, a Western Osprey was at Longford Fisheries, Downton, on 23rd and a Willow Warbler at Cotswold Water Park on 20th. Gloucestershire enjoyed a roaming immature White-tailed Eagle and a handful of Ring Ouzels and Garganey. Both Great Grey Shrikes were present and correct – at Crabtree Hill and Stratton.
A Purple Heron at Chew Valley Lake on 21st topped Somerset's scarcity pile. The Burnham-on-Sea Kentish Plover was still knocking about, as was the Great Grey Shrike at Croydon Hill and the Ring-necked Duck at Wet Moor. At Barrow Gurney Reservoirs, the Black-throated Diver, Great Northern Diver and Long-tailed Duck remained.
Wales
On Anglesey, the first-winter Rosy Starling was still at garden feeders at Llanfaethlu early in the week and the regular Hooded Crows remained at Holyhead. Over on Bardsey Island, a handful of Firecrests made landfall, along with the first Swallow and Willow Warblers on 24th, as well as a few Black Redstarts.
The permanent Eurasian Spoonbills were at Llanelli WWT, and the Glossy Ibis at Newport Wetlands, Gwent. A Western Cattle Egret made for a nice local record at Llay Pool, Clwyd, on 21st.
Great Grey Shrikes remained at three localities, and the regular Ring-necked Duck stuck around at Llyn Blaenmelindwr, Ceredigion.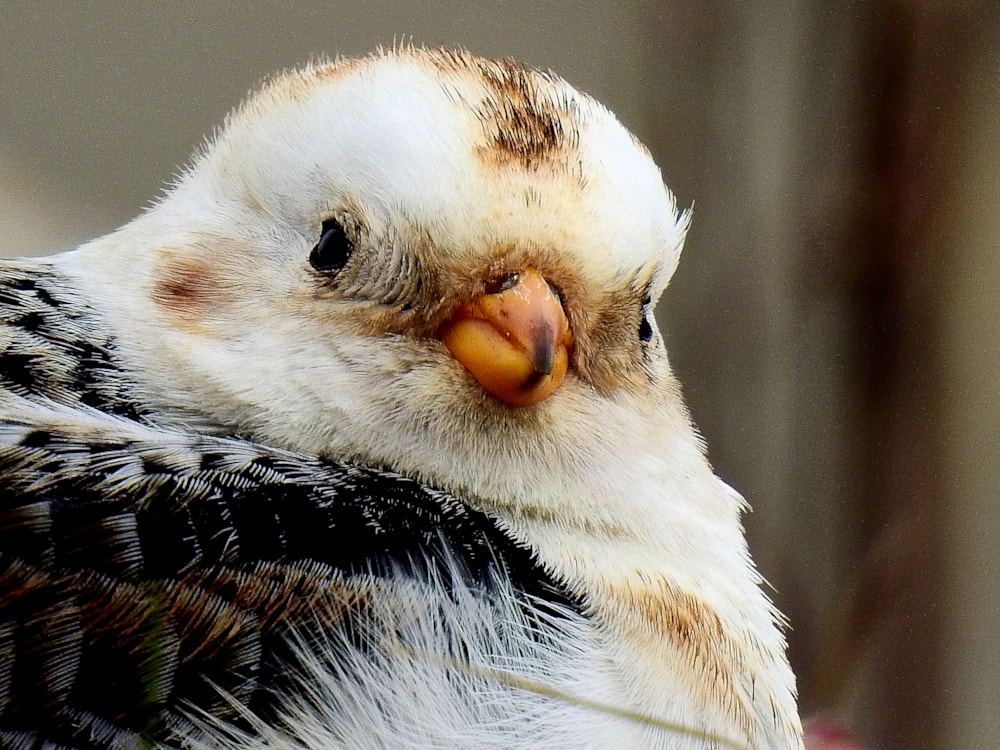 Snow Bunting, Red Wharf Bay, Anglesey (Jonathan Bull).
Republic of Ireland
Most uplifting news of the week concerned a Hoopoe at The Cunnigar, Co Waterford, on 23rd, the same day the first Irish Willow Warbler of the year appeared on Cape Clear. A Ring Ouzel was at Long Strand, Co Cork, on 21st.
Female Ring-necked Duck were new finds in Cos Westmeath and Kerry respectively, while drakes hung on in Cos Monaghan and Clare. The drake Red-crested Pochard remained on the outskirts of Dublin, albeit was rather tame, but a female was perhaps more 'legitimate' at Kilcoole, Co Wicklow, on 20th. The American Wigeon remained nearby at East Coast NR.
The Tundra Bean Goose also remained at the wonderfully named Nobber, Co Louth, with a Velvet Scoter off the equally colourfully brandished Termonfeckin on 23rd. A drake Garganey was at Ashton's Callows, Co Tipperary, on 20th.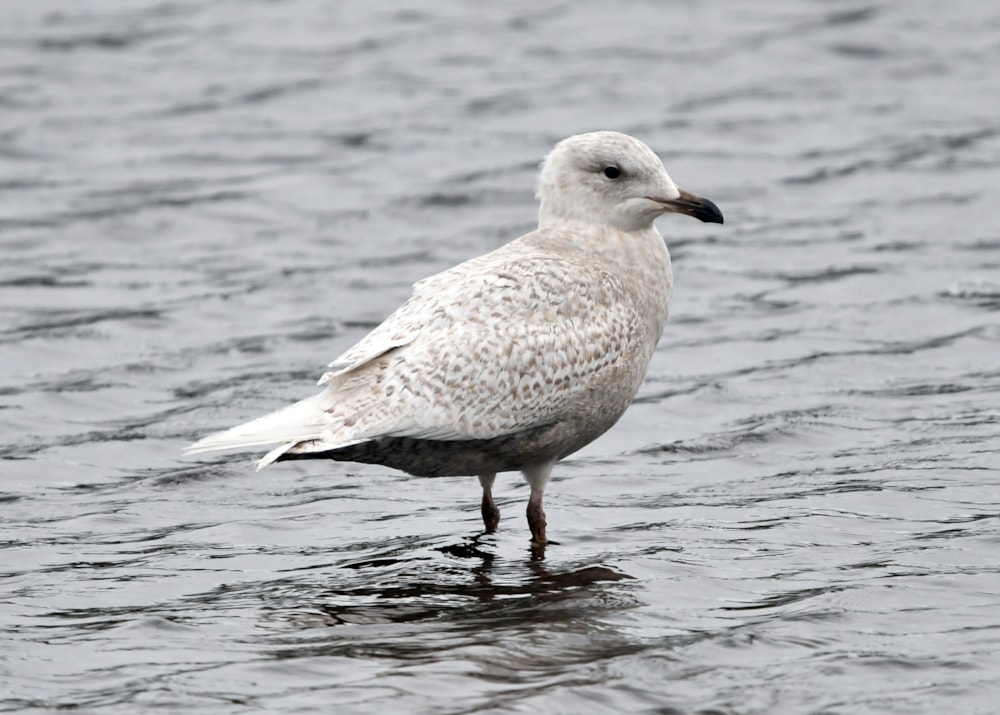 Iceland Gull, Ballydehob, Cork (Richard Mills).
Northern Ireland
There were just two reports from Northern Ireland all week: the usual Ring-billed Gull at Carrickfergus, Co Antrim, and four Pink-footed Geese at Lough Neagh, Co Armagh.
Western Palearctic
With so many nations restricting movement over the past seven days, it was a quiet week around the region. Both the Masked and Green-headed Wagtails were still in Sweden, a single Azure Tit remained in Finland, the Thayer's Gull was in Galicia, Spain, and Belgium's 17th Golden Eagle flew over Braine-le-Château. A male Little Bustard at Drahotuše was the first Czech record since the 1950s. Closer to home, the American Royal Tern stuck around on Guernsey.