The week at a glance
If last week saw quantity preside over quality, then the opposite was true this time round. After a busy start to the review period, proceedings tailed off considerably after the weekend as the number of reports issued on Bird News Extra each daily plummeted to near-normal levels. That said, it was hardly a week to be sniffed at, producing some incredibly rare birds — as late October so often does.
Unquestionably top of the pile was Britain and the Western Palearctic's second-ever Cape May Warbler — a momentous find for Mike Pennington right at the very northern periphery of Britain at Baltasound, Unst, on 23rd. Often dismissed as somewhat drab (particularly compared to its many gaudy cousins), the bird is subtly attractive and astonishingly rare to boot — the only other Western Palearctic record concerns a singing male in Paisley (Clyde) for one day only in mid-June 1977. Fortunately, the bird remained overnight and was enjoyed by a bigger audience the following day, including some travelling from the mainland.

Cape May Warbler, Baltasound, Unst, Shetland (Photo: Brydon Thomason)

Cape May Warbler, Baltasound, Unst, Shetland (Photo: Brydon Thomason)

Cape May Warbler, Baltasound, Unst, Shetland (Photo: Brydon Thomason)

Cape May Warbler, Baltasound, Unst, Shetland (Photo: Mike Pennington)
Most will agree that Shetland's other star offering was somewhat better looking, though. After a run of four females (including one last October), Fair Isle finally scored a male Siberian Rubythroat this week — and what a stunner it was! Found on 21st, it was still present on Wednesday and showed extremely well at times. It seems the species is becoming almost annual nowadays — surely a twitchable mainland bird is imminent?

Siberian Rubythroat, Fair Isle, Shetland (Photo: David Parnaby)

Siberian Rubythroat, Fair Isle, Shetland (Photo: David Parnaby)
As a result, Hampshire's first (and only Britain's fourth) Semipalmated Plover was denied top spot this week — in many other weeks, it would have been an unrivalled 'bird of the week'. This takes nothing away from the find, though: identification of these subtle plovers is challenging at the very least and the finder deserves all the praise he gets. Found on 17th, it was a feature at Black Point and nearby Hayling Island seafront on the flowing tide, and was last seen there on 20th. It was also seen across the harbour in West Sussex — at Pilsey Sands — on 18th–20th and therefore also becomes the first record for that county.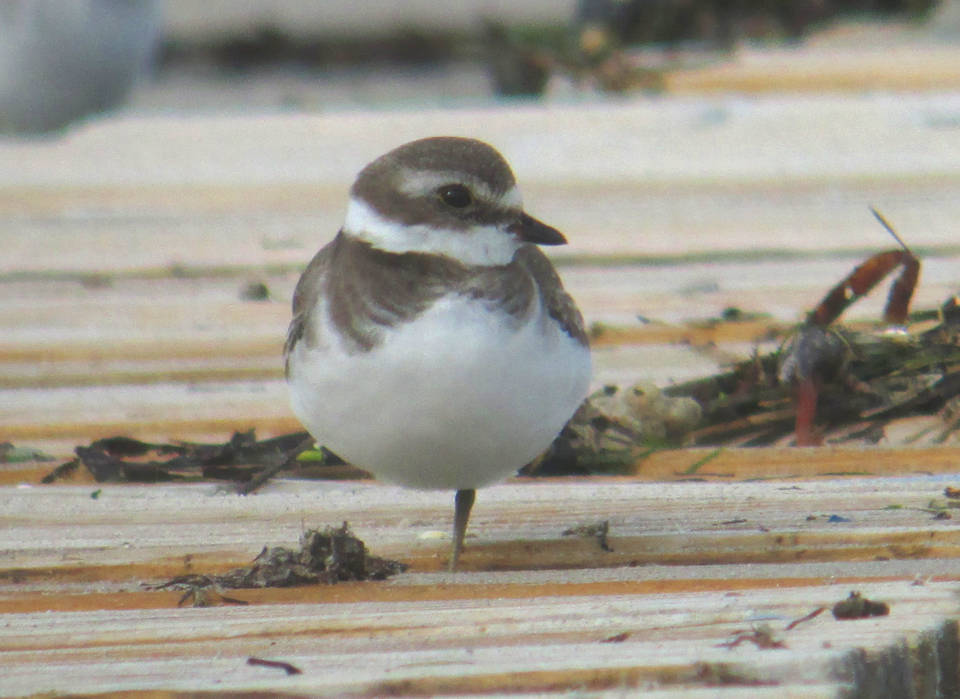 Semipalmated Plover, Black Point, Hampshire (Photo: Andy Johnson)

Semipalmated Plover, Hayling Island, Hampshire (Photo: Brian Harrison)
Meanwhile, down on Scilly, the Sora on Tresco was still present to at least 22nd while, quite remarkably, a second bird was identified from photographs after being caught on camera at Lower Moors, St. Mary's on 19th. A Spotted Crake there didn't help matters. A Fea's-type Petrel was then seen from the Scillonian III crossing in the late afternoon on 23rd. The islands were otherwise quiet, though, as Shetland once again stole the limelight. A Black-browed Albatross was reported as seen twice in the English Channel north of Alderney on 22nd.
Potentially one of the rarest birds of the week was the smart Eastern Yellow Wagtail seen on Tory Island (Donegal). It lingered there to at least 20th after being found on 12th; two faecal samples have been taken and sent for DNA testing, which hopefully will resolve the identification once and for all.

Eastern Yellow Wagtail, Tory Island, Donegal (Photo: Victor Caschera)
After the popular Essex birds a fortnight ago, it was refreshing to see that lingering flocks of Parrot Crossbills were not a one-off: up to seven were to be found in Hemsted Forest (Kent) from 18th. A female was in Wells Woods (Norfolk) on 19th–20th, with a flock of four also reported there. Hemsted Forest also continued to host a stunning male Two-barred Crossbill, while two further males were still at Lynford Arboretum (Norfolk) during the week.

Two-barred Crossbill, Hemsted Forest, Kent (Photo: Mike Gould)
It also looks as if a 'redpoll winter' is on the cards, with healthy numbers of Mealy Redpolls continuing to arrive all along the east coast between Shetland and Kent. Among them, four Coues's Arctic Redpolls were to be found: still at South Gare (Cleveland) to 18th, on North Ronaldsay (Orkney) on 17th, at Quendale (Shetland) on 20th–22nd and at Castlebay, Barra (Outer Hebrides) on 20th. A Hornemann's Arctic Redpoll was near Sandwick (Shetland) on 20th.

Coues' Arctic Redpoll, South Gare, Cleveland (Photo: Martyn Sidwell)
It's been a quiet year for Red-eyed Vireos, so one at Prussia Cove (Cornwall) on 23rd was welcome. Also from the west were a Grey-cheeked Thrush at the familiar location of Mizen Head (Cork) on 22nd and a Buff-bellied Pipit remaining on Foula (Shetland). Somewhat more surprising for southwest Ireland, though, was a Thrush Nightingale on Dursey Island (Cork) on 22nd.
Further goodies from the east included three Isabelline Shrikes: one remained at Flamborough Head (E Yorks) to 19th, with others on Whalsay (Shetland) on 17th–19th and at Donna Nook (Lincs) on 20th. Paddyfield Warblers were at Kirkwall (Orkney) on 21st and on Fair Isle on 22nd; the latter site also hosted a late Lanceolated Warbler on 20th. Fair Isle also accommodated both Red-throated and Olive-backed Pipits, the latter one of six seen during the week: others were on North Ronaldsay (Orkney), Vidlin (Shetland), Skomer (Pembrokeshire) on 21st, the Farne Islands (Northumberland) and two at Flamborough Head (E Yorks).

Isabelline Shrike, Donna Nook, Lincolnshire (Photo: Mark Johnson)
Four Red-flanked Bluetails included the Sizewell (Suffolk) bird, last seen on 17th; new individuals were on Westray (Orkney) on 18th–21st, at Spurn (E Yorks) on 18th and at Voe (Shetland) on 20th–21st. A Siberian Stonechat at Howick (Northumberland) on 20th–22nd joined the long-stayer still present at Scalby Mills (N Yorks) throughout the week. A Black-bellied Dipper was briefly at Grimness, South Ronaldsay (Orkney) on 22nd.
Content continues after advertisements

Red-flanked Bluetail, Sizewell, Suffolk (Photo: Matthew Mellor)

Siberian Stonechat, Howick, Northumberland (Photo: Colin Bradshaw)
A great week for Dusky Warblers saw eleven recorded, with two at Filey (N Yorks) on 17th the standout record alongside one trapped and ringed near Caernarfon (Gwynedd) and a third at Hook Head (Wexford), both also on 17th. Others were in Fife, Cleveland and Norfolk (3), and two East Yorkshire records included a long-stayer still performing well at Spurn. Radde's Warblers were altogether scarcer, with birds at Mire Loch (Borders) and St. Agnes (Scilly), both on 19th–20th. The Sardinian Warbler was also still at Mire Loch throughout, while three lingering Western Bonelli's Warblers were still in Cleveland, Orkney and Shetland.

Dusky Warbler, Spurn YWT, East Yorkshire (Photo: Martin Standley)

Sardinian Warbler, Mire Loch, Borders (Photo: Keith Hoey)

Western Bonelli's Warbler, Hartlepool Headland, Cleveland (Photo: Martyn Sidwell)
A Citrine Wagtail was at Fleck (Shetland) on 20th–22nd. Four Short-toed Larks comprised lingering birds still in Dorset, Cork and Scilly, and a fourth reported at Llanon (Ceredigion) on 19th. Several Hoopoes were seen, no doubt largely thanks to a mild southwesterly airflow. Of these, a bird at Annesley Pit Top (Notts) proved most popular from 20th onwards, while another was as far north as Greencastle (Highland) on 17th. Others were in Lincolnshire and North Yorkshire.

Citrine Wagtail, Boddam, Mainland, Shetland (Photo: James Wood)

Short-toed Lark, Portland, Dorset (Photo: Allan Chard)

Hoopoe, Newstead & Annesley CP, Nottinghamshire (Photo: Jamie MacArthur)
The same winds were responsible for an arrival of late swifts. Several appeared to be just Common Swifts, although a challenging bird at Hartlepool Headland (Cleveland) from 18th proved to be a juvenile Pallid Swift. It showed well there throughout the week and allowed for excellent images to be taken, but once again highlighted the great difficulty in separating Common and Pallid Swifts in autumn. Further probables were over Sizewell (Suffolk) and Foreness Point (Kent) on 21st, Winterton (Norfolk) on 22nd and the Cley/Salthouse area, eventually finishing up at Weybourne, on 23rd. Several further individuals were left unidentified.

Pallid Swift, Hartlepool Headland, Cleveland (Photo: D Johnson)

Pallid Swift, Hartlepool Headland, Cleveland (Photo: Frank Golding)
Returning wildfowl are becoming more prominent by the day. Hampshire's Red-breasted Goose remained around Sturt Pond all week and provided a nice padder for plover twitchers. Up to two Black Brants were at Ferrybridge (Dorset), with others at Shoeburyness (Essex) on 20th and in the Kilnsea (E Yorks) area all week. At least three vagrant white-cheeked geese were seen on Islay (Argyll) — two were Richardson's and the third possibly a Taverner's. A brief Todd's Canada Goose was a great record for Low Newton-by-the-Sea (Northumberland) on 20th, being seen with 10 Barnacle Geese.

Todd's Canada Goose (right), Low Newton-by-the-Sea, Northumberland (Photo: Gary Woodburn)
The Manchester Lesser Scaup was last seen at Pennington Flash on 17th, while the Cardiff Bay (Glamorgan) bird lasted all week. Female/juvenile Ring-necked Ducks remained at Slapton Ley (Devon), Eyebrook Reservoir (Leics) and Carnach, North Uist, with a drake again at Lough Shivnagh (Donegal) on 23rd. A drake American Wigeon was at Loch of Strathbeg (Aberdeenshire) from 20th, and three Green-winged Teals were in Donegal, Lancashire and Derbyshire — the latter new at Carsington Water from 19th. A good showing of Blue-winged Teals included a drake flying in off the sea at Ballycotton (Cork) on 20th and lingering to 22nd; another drake was at Rahasane Turlough (Galway) on 19th, with long-stayers still in Clyde and Lincolnshire (3). A drake Surf Scoter was off Ruddon's Point (Fife) on 20th and another was on Islay on 23rd.

Blue-winged Teal, Boultham Mere, Lincolnshire (Photo: J Farmer)
The Purple Heron was last seen on St. Mary's (Scilly) on 19th, with the Kent Cattle Egret still on Sheppey the previous day. Numerous Great White Egrets and Glossy Ibis remained, the latter species including a flock of four tracked through Norfolk on 18th and four still at Doffcocker (Gtr Man).

Glossy Ibis, National Wetlands Centre, Carmarthen (Photo: Wayne Davies)
In County Wexford, the apparent juvenile Northern Harrier was still at Tacumshin during the week, and a second juvenile was found on the Ouse Washes (Cambs) on 21st, lingering there to 23rd but often proving difficult to catch up with. Rough-legged Buzzards were in Suffolk, Cleveland and Northumberland.

Rough-legged Buzzard, Long Nanny, Northumberland (Photo: Gary Woodburn)
A moulting adult Pacific Golden Plover was a great find at Breydon Water (Norfolk) on 19th, though it wasn't seen subsequently. Just five American Golden Plovers were seen: in Ireland, juveniles were at Rahasane Turlough (Galway) and Tacumshin with an adult on Dursey Island (Cork) on 22nd. One flew over Fair Isle on 18th and another was seen on Islay on 17th. In Cornwall, a probable Killdeer was reported flying from the Amble Marshes towards the nearby estuary on 20th. The Long-billed Dowitcher remained at Keyhaven (Hants) to at least 20th and the juvenile Baird's Sandpiper was still at Black Rock Strand (Kerry) on 22nd. At least five Pectoral Sandpipers included two at Rahasane Turlough on 19th. White-rumped Sandpipers were at Boddam (Shetland) from 17th and at Snettisham (Norfolk) on 21st–22nd.

White-rumped Sandpiper, Boddam, Mainland, Shetland (Photo: Hugh Harrop)
The adult Forster's Tern continued to tour sites in the north of County Dublin to at least 22nd with one of its chosen haunts — Rush — also hosting an adult Bonaparte's Gull on 17th. Ring-billed Gulls were in Counties Dublin, Galway and Kerry while a Whiskered Tern was reported off Bamburgh (Northumberland) on 19th.
Photo of the Week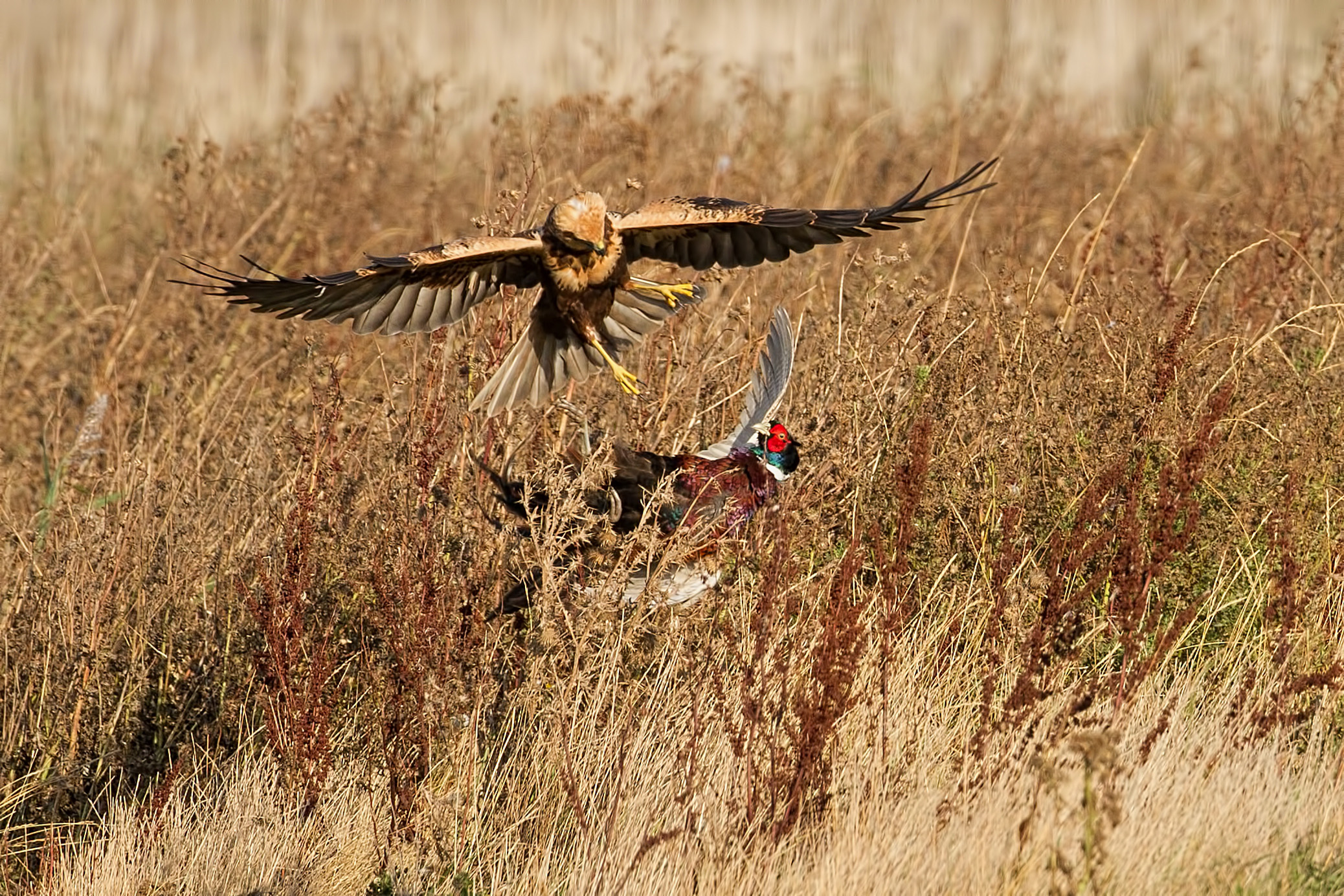 Marsh Harrier and Pheasant, Cley Marshes NWT, Norfolk (Photo: Trevor Hannant)
We are all familiar with wildlife documentary scenes showing big cats, sharks and insects preying on creatures much larger than themselves but, in contrast, birds only tend to tackle prey over which they have a significant size/weight advantage. This week, while photographing Marsh Harriers in Norfolk, Trevor Hannant witnessed the unusual spectacle of one of these raptors attacking a cock Pheasant. Keeping a cool head, Trevor captured the moment as the Pheasant ended up inverted beneath the menacingly posed harrier. Trevor included plenty of the surrounding marshland setting to provide a sense of place. He bags his first BirdGuides Photo of the Week.

Parrot Crossbill, Gunners Park, Essex (Photo: Kit Day)

Dusky Warbler, Spurn YWT, East Yorkshire (Photo: Carl Day)

Hoopoe, Newstead & Annesley CP, Nottinghamshire (Photo: Simon Richardson)

Shore Lark, Reculver, Kent (Photo: Steve Ashton)

Bar-tailed Godwit, Sennen Cove, Cornwall (Photo: Lewis Thomson)

Pallid Swift, Hartlepool Headland, Cleveland (Photo: Ian Forrest)

Greenshank, St. Mary's, Isles of Scilly (Photo: Dave Perrett)

Cetti's Warbler, Minsmere RSPB, Suffolk (Photo: Judith Last)

Long-eared Owl, Cley Marshes NWT, Norfolk (Photo: John Saxton)

White-rumped Sandpiper, Boddam, Mainland, Shetland (Photo: Hugh Harrop)

Siberian Stonechat, Scalby Mills, North Yorkshire (Photo: Lee Johnson)

Red-breasted Flycatcher, Low Newton-by-the-Sea, Northumberland (Photo: Gary Woodburn)

Pallas's Warbler, Kingsdown, Kent (Photo: Steve Ray)