That humble patch of scrub just east of Land's End and behind Treeve Moor House remained the centre of attention as the now famous Grey Catbird feasted on berries through the weekend and to the end of the review period. Having racked up nine days so far under the firm gaze of a shifting and well-mannered crowd, as well as mainstream media, all but the very busiest twitchers will have connected by now.

Grey Catbird, Trevescan, Cornwall (Peter Garrity).

Grey Catbird, Land's End, Cornwall (Lee Fuller).

Grey Catbird, Trevescan, Cornwall (Peter Garrity).
While the combined efforts of resident and visiting birders on Scilly this month have been rewarded with a respectable set of scarcities, the archipelago has been something of an exclusion zone for those longed-for Nearctic passerines, until this week. Persistent graft by regular birders on St Agnes produced a Grey-cheeked Thrush on 17th, a bird which, despite playing hard to get at times, was still popping out from behind the boat shed at Covean to the end of the week. A Red-eyed Vireo which spent 19-23rd on neighbouring Bryher was similarly gratifying for those patient Scilly birders. Indeed, Red-eyed Vireos demonstrated their firm stand as our most frequent Nearctic passerine with others on Lundy, Devon, from 19-22nd and at Lizard, Cornwall, on 20th, in addition to Irish birds at Inishmore, Co Galway, from 18-21st and Lehanemore, Co Cork, on 22nd.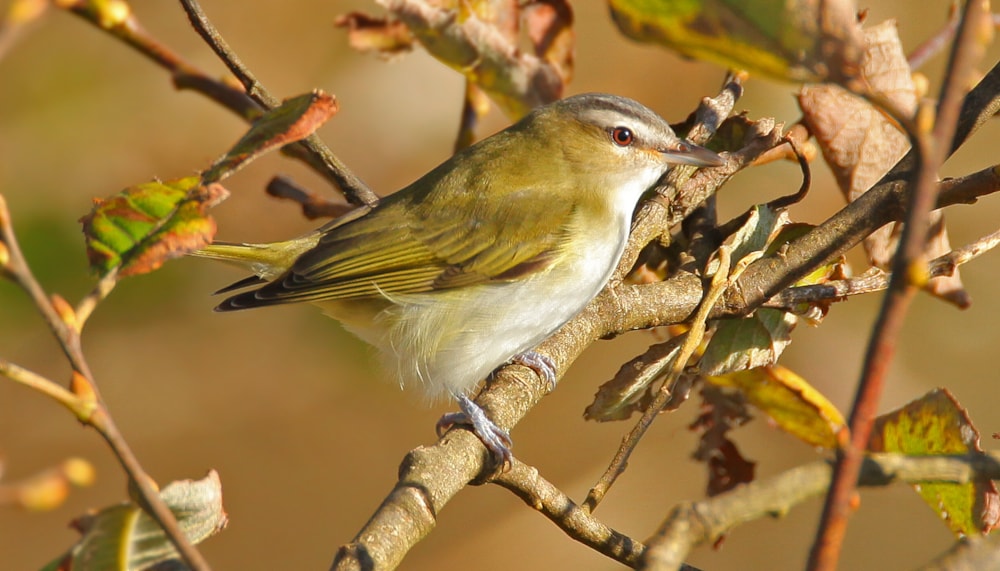 Red-eyed Vireo, Mizen Head, Cork (Sean Cronin).
The legendary island of Cape Clear, Co Cork, was on classic form when two Catharus thrushes, Ireland's first-ever Veery and a Swainson's Thrush, both turned up on 17th to join last week's lingering Scarlet Tanager. This last ended up staying to 21st, but the thrushes were a short-lived treat, though the Veery did stay one night to the delight of day-tripping birders. Barra, Outer Hebrides, answered back strongly with a startlingly vibrant Baltimore Oriole hanging around Northbay House from 17-23rd. Only the second Outer Hebrides record, the first was on Benbecula in 1988. With this hit from an assemblage of Nearctic passerines, it felt as though autumn had been given a much-needed adrenaline shot, and inspiration to find that next bird round the corner has been revived.

Swainson's Thrush, Cape Clear, Cork (Tom Shevlin).

Scarlet Tanager, Cape Clear, Cork (Tom Shevlin).

Baltimore Oriole, North Bay, Barra, Outer Hebrides (Andrew Stevenson).
News of our second Brown Shrike of the autumn, and the first for Norfolk, emerged from Weybourne Camp on 21st when the true identity of a bird initially identified as a Red-backed Shrike was sussed out. Large crowds assembled in the afternoon, but the bird became increasingly skulky in the final hours of the day and had cleared off entirely by the following morning. Fortunately, the shrike wasn't the only eastern treat the county offered up, with an 'eastern stonechat' ticking all the right boxes for Stejneger's Stonechat at Kelling from 19-23rd. As the first opportunity to observe this taxon since adoption of IOC taxonomy, giving us stejnegeri as a full species, it was understandably popular, and quite accommodating for its many admirers. The same cannot be said of the bird involved in continued reports of Two-barred Warbler at Holkham Pines, also Norfolk, on 17th, which a number of observers on site struggled to catch up with.

Stejneger's Stonechat, Salthouse, Norfolk (Brian Martin).
The Greater London migrant hot-spot of Wanstead Flats turned inland patch-workers green – and not for the first time – with the incredible discovery of a Rustic Bunting on 17th. The fact that this inland, urban record was the first British report this autumn of what is becoming a genuinely challenging species to see, let alone find, makes it all the more outstanding. Indeed, the season's second only came late on 23rd with the unearthing of a bird near the Longstone Café on St Mary's itself a significant record for the archipelago.

Rustic Bunting, Wanstead, London (Josh Jones).
The first Booted Warbler for Co Kerry was found at Bolus Head on 21st and remained to the week's end, with the same dates covering the stays of Dusky Warblers at Porthgwarra, Cornwall, and on St Mary'. A Blyth's Reed Warbler was found at Bakkasetter, Shetland, on 18th. Melodious Warblers were confined to western extremities, with the bird at Slyne Head, Co Galway, staying to 20th, two on Scilly and another at Porth Meudwy, Gwynedd, on 23rd. Beacon Lane in Kilnsea, East Yorks, attracted a Marsh Warbler on 18th.

Booted Warbler, Bolus Head, Kerry (Seamus Enright).
Pallas's Warblers turned up at Salthouse and Great Yarmouth, both Norfolk, as well as Kingsdown, Kent, on 17th, with the last bird staying on a day. Another was found by the camp site at Southwold, Suffolk, on 20th and proved popular throughout the day. Yellow-browed Warbler numbers remained buoyant, with hundreds littered across Britain and Ireland, while Siberian Chiffchaffs stayed scarce, with 14 logged. Few of the nine Barred Warblers strewn from Unst to Scilly were new arrivals, the two birds heaving themselves around the hedgerows of Kilnsea to 21st attracting the most attention.

Pallas's Warbler, Southwold, Suffolk (Andrew Moon).

Barred Warbler, Flamborough Head, East Yorkshire (Andy Hood).
A Red-flanked Bluetail located towards the west end of Holkham Pines on 17th will surely have been the same furtive bird that was there last week. Bardsey Island, Gwynedd, continued to host its Siberian Stonechat at the south end of the island to the evening of 18th. Candidate Eastern Yellow Wagtails received close scrutiny at Leighton Moss RSPB, Lancs, on 17th, on St Mary's to 18th and on North Ronaldsay, Orkney, on 23rd. A Red-throated Pipit bombed around St Mary's on 19th before being pinned down in a cattle field at Porth Hellick on 22nd.

Eastern Yellow Wagtail, St. Mary's, Isles of Scilly (Kris Webb).
The Olive-backed Pipit at Flamborough Head, East Yorks, gave itself up now and then to 18th, while another was trapped and ringed on the Isle of May, Fife, on 17th. Further birds were on Fair Isle on 17th and at Tetney, Lincs, on 19th. Some 25 Richard's Pipits were well-scattered and included duos on St Mary's and Cape Clear. A Greater Short-toed Lark was clocked flying over Whitburn, Co Durham, on 17th.
A Red-breasted Flycatcher at Penlee Point, Cornwall, on 17th stayed till the next day, when the county drew in another at Porthgwarra; additional birds were found on Bryher and in Sidmouth, Devon. Birds inherited from last week at Mains of Usan, Angus, and Kilbaha, Co Clare, remained to 17th and 18th respectively. Galley Head, Co Cork, boasted two on 23rd, after a singleton had been around for a couple of days, and the only other was on Fair Isle on 18th.
A Pallid Swift overflew Kilnsea, East Yorks, on 17th, cruising through at a suitable speed for a few observers to clap eyes on it before heading out high to sea. This was followed by a sighting at High Hauxley, Northumberland, on 18th. Blakeney Point, Norfolk, produced a Bluethroat on 19th and Hoopoes were at Landguard, Suffolk, on 19th and Margate, Kent, from 18-23rd. A total of five late Wrynecks, all in the south, included an individual which stayed at Lavernock Point, Glamorgan, from 19-22nd.

Pallid Swift, Kilnsea, East Yorkshire (Ian Bollen).

Hoopoe, Landguard NR, Suffolk (John Richardson).
The majority of the week's 16 Little Buntings were in western Cornwall and on Scilly, with two together on St Mary's on 20th. Others in the south-west were at Portland, Dorset, to 18th and Slapton Ley, Devon, on 21st. Landguard, Suffolk, had a fly-over on 17th and two were on the East Yorkshire coast, while one at Malinbeg, Co Donegal, from 19-20th was a good local record. Common Rosefinches were clustered almost exclusively at opposite extremes of the country, with three on the Northern Isles and six shared between Scilly and western Cornwall. The only other bird was on Lundy, Devon, on 20th. A European Serin paid Land's End, Cornwall, a fleeting visit on 17th and another trilled over St Mary's on 22nd.

Little Bunting, Easington, East Yorkshire (Daniel Gornall).
A total of 14 Great Grey Shrikes included five on Shetland and three in Norfolk. One at the traditional site of Ashdown Forest, East Sussex, from 22nd might well turn out to be back to its winter territory, while another at Tylers Green, Bucks, was noteworthy. The week's only Red-backed Shrikes were the lingering birds on Scilly, with the St Agnes individual throughout and the bird on St Mary's last seen on 17th. Somehow a first-winter Woodchat Shrike managed to find its way into a house near Poole of Virke, Shetland, on 27th but was quickly released.
The first mini-wave of Waxwings this autumn, amounting to 30 birds, were logged as they made landfall on the east coast and the Northern Isles from 17th; mostly singletons were involved, but some reports concerned small groups, including seven at Dyke, Moray, on 22nd. Up to four Rosy Starlings graced Scilly during the week, while two were in Cornwall and three in Co Cork. Urbanites included the individual lingering around Timperley, Greater Manchester, from last week to 17th and another in St Helens, Lancs, to 23rd. Others were on Lewis, Outer Hebrides, on 19th and in Easington, East Yorks, from 19-20th, while another flew over St Aldhelm's Head, Dorset, on 18th.

Rosy Starling, Old Head of Kinsale, Cork (Brian Power).
The two Gull-billed Terns at Haughton Strother GP, Northumberland, on 18th made for an eye-catching report, especially as it was said that both birds had already been visiting the pit for some 15 days while potential access arrangements at this tricky site were investigated. Fortunately, they remained settled for the rest of the week, only flying off occasionally to feed over nearby arable fields, and many birders could travel to enjoy this curiously late, northern and inland double occurrence.

Gull-billed Tern, Haughton Strother GP, Northumberland (Tom Tams).

Gull-billed Tern, Haughton Strother GP, Northumberland (Duncan Watson).

Gull-billed Tern, Haughton Strother GP, Northumberland (Frank Golding).
Ireland had a clear monopoly on White-rumped Sandpipers, headlined by an incredible three on the Roe Estuary, Co Derry, on 20th, pipping a duo at Inishmore, Co Galway, on 18-19th (with one of these hanging around to 21st). A juvenile was at Sandymount, Co Dublin, from 22-23rd and the Cashen Estuary, Co Kerry, attracted another on 19th. Cape Clear had its bird from last week to 18th. Alongside the Roe Estuary birds were two American Golden Plovers on 20th, another species which Ireland did well for this week, with a further pair at Myroe Levels, Co Derry, on 20th and lone birds at Loop Head, Co Clare, to 19th and Lurgan Green, Co Louth, on 21st, as well as Tacumshin, Co Wexford, on 23rd. The long-staying adult on Shetland – present since mid-September – was still at Uyeasound, Unst, on 17th and another was on Benbecula from 21-23rd. One picked out among the hordes of European Golden Plovers at Oare Marshes KWT, Kent, on 23rd will surely prove tempting for local birders should it hang around.
In Co Durham, the banks of the River Don in Jarrow continued to accommodate the obliging juvenile Spotted Sandpiper throughout the week. Another juvenile at Girdle Ness, Aberdeens, was less taken with its surroundings and was not seen post-discovery on 20th. Four Lesser Yellowlegs wasn't a bad total, with the Suffolk individual lingering only to 17th, but other long-stayers sticking to Devoran, Cornwall, and Lodmoor RSPB, Dorset, to 22nd. A juvenile in a flooded stubble field at Crailing, Borders, on 21st went down a treat with locals, feeding happily there to 23rd. Frampton Marsh RSPB, Lincs, held onto its adult Long-billed Dowitcher throughout, but a short meeting with an unidentified dowitcher at Huntspill, Somerset, on 17th will remain frustrating for the observer.

Spotted Sandpiper, Jarrow, Durham (David Fullerton).

Lesser Yellowlegs, Crailing, Borders (Heiko Peters).
Buff-breasted Sandpipers were at Inch Island Lake, Co Donegal, on 18th and at Mangersta, Lewis, on 21st. The latter kept company with a Pectoral Sandpiper, others of which materialised at South Huish Marsh, Devon, from 18-22nd and on North Uist on 22nd. The Temminck's Stint at Baston and Langtoft Pits, Lincs, finished its six-day stay on 20th, but another (or the same?) was at Stithians Res, Cornwall, from 22-23rd.
Wilstone Res, Herts, held onto its two Spotted Crakes for the week, but they were nowhere to be seen after 17th. Other long-stayers were reported from Chew Valley Lake, Somerset, to 20th and Oare Marshes KWT to 19th. Another was flushed at Porthgwarra on 23rd, after a Corncrake was disturbed not far away at Nanquidno on 19th.
Few Great Shearwaters came within sight of land, though vessels in the Western Approaches crossed paths with good numbers, such as a couple of congregations amounting to 275 off Scilly on 17th. A very small number of Grey Phalaropes continued to be seen at various points along the coastline, including counts of six off Scilly on 19th and three in Dunnet Bay, Highland, on 23rd. Two Sabine's Gulls passed Bardsey Island, Gwynedd, on 19th and Long-tailed Skuas were off Canvey Island, Essex, on 18th and Flamborough Head on 19th.
Following an isolated report earlier in the month, Northumberland's drake Black Scoter floated peacefully off Cocklawburn Beach from 19th to at least 22nd, seemingly more settled and sometimes allowing fine views from the shore. The resident drake American Black Duck was reported from Strontian, Highland, on 20th. On Shetland, the Pied-billed Grebe was on Loch of Spiggie to at least 21st. The resident adult female King Eider goes on loafing her days away around the Dyfi Estuary, being reported again at Ynyslas, Ceredigion, on 17th and 18th.

Black Scoter, Cocklawburn Beach, Northumberland (Hector Galley).
A Blue-winged Teal inadvertently flushed from Loch of Houll on Whalsay, Shetland, on 17th thankfully returned later in the day, but moved to nearby Vats-Houll Loch from 19-22nd, where it performed well. In Suffolk, Minsmere RSPB's juvenile Ferruginous Duck moved on from the South Girder pool after 19th, but the Forth drake saw the week through at Skinflats Lagoons.

Blue-winged Teal, Whalsay, Shetland (Roger Riddington).
Anglesey enjoyed a Lesser Scaup on Llyn Llygeirian from 20-23rd. Drake Green-winged Teals were identified at Loch of Strathbeg RSPB, Aberdeens, from 19-23rd and on North Ronaldsay from 20-22nd. As well as the regular drake at Rutland Water on 18th, American Wigeon were at Hesketh Out Marsh RSPB, Lancs, on 18th and on Inishmore, Co Galway, on 22nd.
Lingering Ring-necked Ducks included the three at Drift Reservoir to 20th (with one again on 23rd), the drake still at Llyn Caer Euni, Gwynedd, to 20th and the females at Inch Island Lake, Co Donegal, and Loch of Clumlie, Shetland, throughout. In Essex, Abberton Reservoir's drake pitched up again on 19th and new birds were at Loch of Spiggie, Shetland, on 19th, at Lodmoor RSPB, Dorset, from 19-21st and at Loch of Wester, Highland, on 20th.
The juvenile Surf Scoter in sheltered waters east of Tresco, Scilly, continued to provide a welcome diversion for birders on the archipelago all week, while the resident adult drake in Lothian was visible from the seawall at Musselburgh most days. St Andrews Bay, Fife, hosted another drake on 20th.
Snow Goose individuals with respectable credentials were in Udale Bay, Highland, on 17th and on Loch of Skene, Aberdeens, on 23rd, while Todd's Canada Goose records came from Northumberland, Highland, Aberdeenshire and Orkney, and on Islay, Argyll, which enjoyed at least two Richardson's Cackling Goose sightings.

Richardson's Cackling Goose, Loch Gruinart RSPB, Islay, Argyll (Steve Percival).
South of the village of St Buryan, Cornwall, a Black Kite tracked its way east on 20th. Late European Honey Buzzards flew over Wimbledon Common, London, on 18th and Middlebere, Dorset, on 19th, then Holland Haven, Essex, on 20th. Two or three Rough-legged Buzzards roamed the north Norfolk coast during the week, while others were seen in Kent, Lincolnshire, Cleveland and Highland, with two in Yorkshire.
Glossy Ibis reports involved the regular bird at Fremington Pill, Devon, to 19th and another at Bowling Green Marsh RSPB, also Devon, on 22nd. Bonaparte's Gulls were picked out at Lochgilphead, Argyll, on 2nd and Shapwick Heath NNR, Somerset, on 21st, while in Co Cork the putative Azores Gull roosted off the train station at Glounthaune again on 22nd.

Putative Azores Gull, Glounthaune, Cork (Brian Power).
Western Palearctic
A busy week in the region was naturally once again dominated by mouth-watering reports from the Azores. Things kicked off on 17th when the Western Palearctic's first Blue Grosbeak (or second, depending on the acceptance of a 2011 bird on the same archipelago) began its two-day stay on Corvo. The island also held the region's third Bay-breasted Warbler for its second day, along with the Wood Thrush from last week (these two staying to 21st). As if that wasn't enough, a Lincoln's Sparrow on the island on 18th was followed by Eastern Wood Pewee and White-eyed Vireo on 20th. Other highlights in the second half of the week included Black-throated Blue Warbler on Flores on 21st and Dickcissel on Corvo on 22-23rd.
Daily paragraphs full of Nearctic vagrants made it clear that the archipelago was the place to be, with other headliners on Corvo during the week including Philadelphia Vireo, Yellow-throated Vireo and White-eyed Vireo, at least two Ovenbirds, three Black-throated Green Warblers, American Redstart, two Yellow-billed Cuckoos, Scarlet Tanager, Baltimore Oriole, at least four Indigo Buntings, Common Yellowthroat and Myrtle Warbler to list a few. Flores drew in a trio of Chimney Swifts from 19-20th, an Indigo Bunting on 19th and another Yellow-billed Cuckoo on 18th. São Miguel had its Hudsonian Whimbrel to 17th and the resident Pied-billed Grebe to 22nd.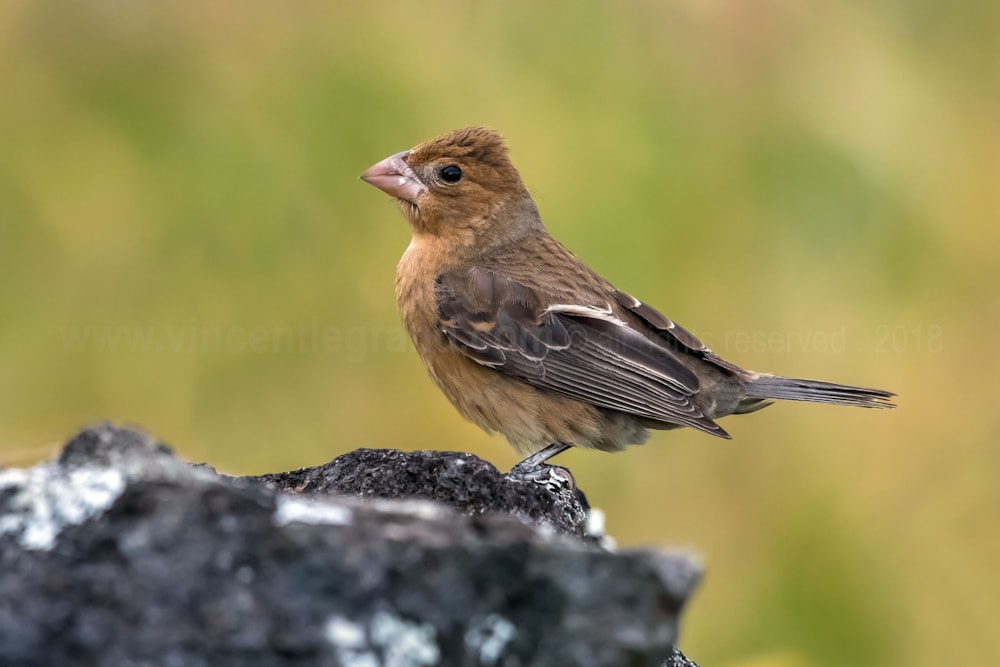 Blue Grosbeak, Corvo (Vincent Legrand).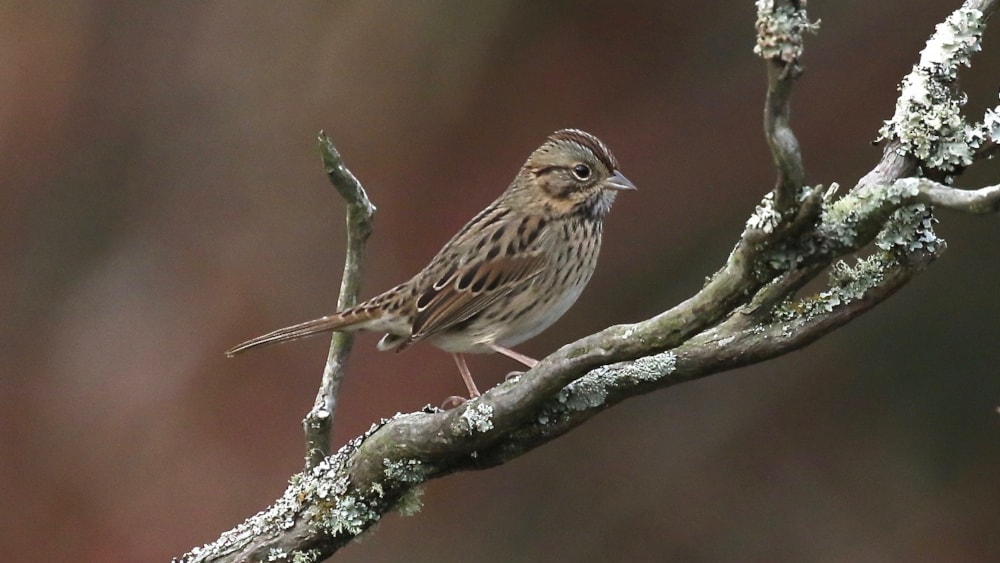 Lincoln's Sparrow, Corvo (Peter Stronach).

White-eyed Vireo, Corvo (Vincent Legrand).
In Portugal, a Green Heron spent 20-21st at Quinta do Lago, Algarve. An Asian Desert Warbler was found on Heligoland, Germany, on 19th and the Pacific Diver in Denmark was back off Grenen on 18th. Iceland had Swainson's Thrushes at Höfn, Asuturland, on 19th and at Eyrarbakki, Suðurland, on 23rd, as well as the country's fourth Pied-billed Grebe at Sandgerði, Suðurnes, on 22nd.

Green Heron, Lagoa de São Lourenço (Quinta do Lago), Algarve, Portugal (Peter Dedicoat).
A Black-winged Pratincole was at Batenburg, Gelderland, The Netherlands, from 21st and Belgium's Pygmy Cormorant was again in Brussels on 18-21st. In Norway, a Brown Shrike was near Holmestrand, Vetsfold, on 23rd. A Blyth's Pipit reached Ouessant Island, Finistère, France, on 18th, increasing to a remarkable three on 21st, along with a Rustic Bunting. A Black-winged Kite teased with an appearance on Jersey on 18th.