It's not every week that we have the privilege of writing about a Western Palearctic first in either Britain or Ireland. However, high-quality photographs of the putative adult female Cayenne Tern at Lady's Island Lake, Co Wexford, now seem to have allowed the bird's identity to be secured beyond reasonable doubt, with various plumage details considered to be past the limits of what a 'runt' Sandwich Tern or a hybrid might show. Most importantly, these include the bird's diminutive stature, a short, stout, mustard-yellow bill and a distinct charcoal secondary bar, as well as a primary pattern best matching that of Cayenne Tern.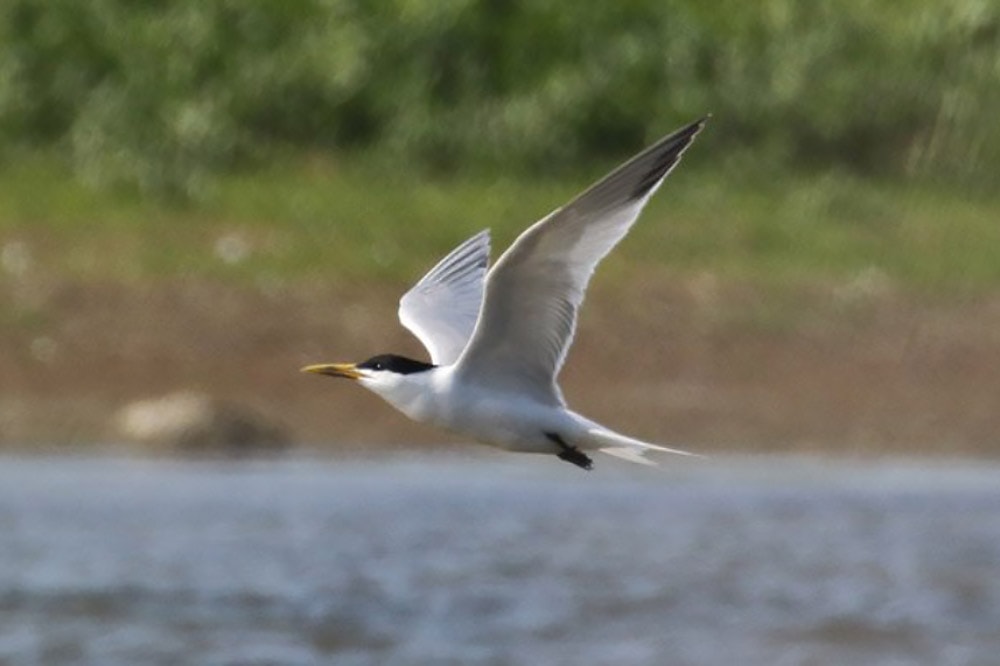 Cayenne Tern, Lady's Island Lake, Wexford (Paul Kelly).
A subspecies of North American Cabot's Tern – a species with two historic WP records from the unlikely locations of Herefordshire and The Netherlands – it is native to the eastern seaboard of South America, breeding from the Caribbean south to southern Argentina. There seems to be some suggestion that the Lady's Island bird's erratic behaviour suggests she is incubating amid the Sandwich Tern colony; one can only hope she is still there for all to enjoy once COVID-19 restrictions on either travelling around or entering Ireland are sufficiently relaxed.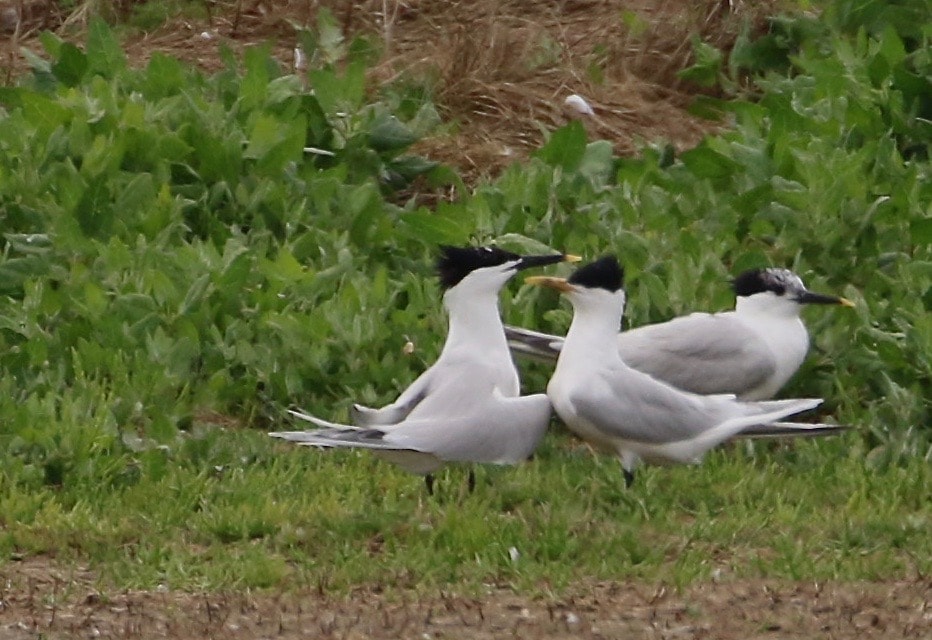 Cayenne Tern with Sandwich Terns, Lady's Island Lake, Wexford (Victor Caschera).
Fair Isle maintained its recent position on the front pages with a Calandra Lark on Monday. The fabled isle has quite the record with this species, hosting more than a third of those to appear, with this the seventh of 20 records in total. Also in Shetland, a rattling female Moltoni's Warbler in a Lerwick garden on 17th was the other breaking mega of the week. Sadly, though, it was all too brief. A new Great Reed Warbler was at nearby Asta throughout the week, although news only came to light on 21st. Elsewhere on Shetland, a rare spring Paddyfield Warbler was at Virkie on 18th and a male Rustic Bunting was at Ham, Foula, on 17-18th.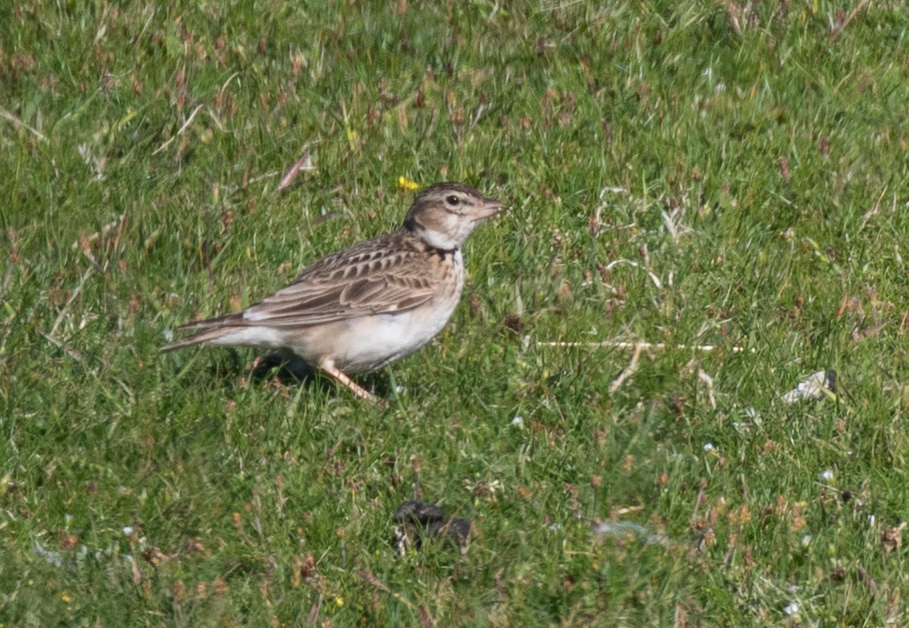 Calandra Lark, Fair Isle, Shetland (Daniel Gornall).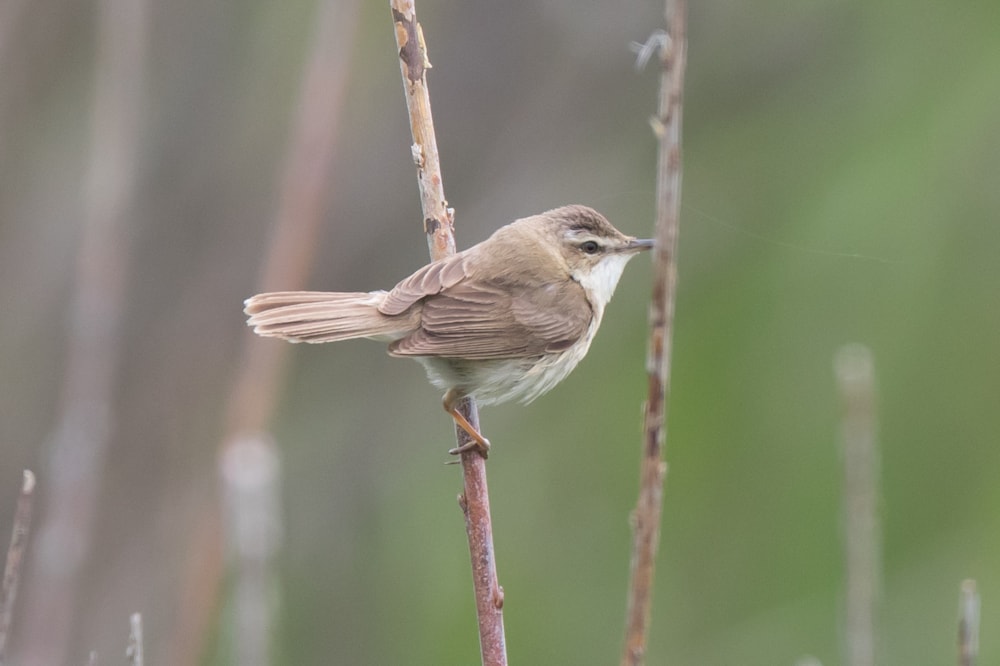 Paddyfield Warbler, Pool of Virkie, Mainland, Shetland (Mick Kemp).
As seems so typical of birds that break late on a Sunday evening, Northumberland's Asian Desert Warbler took an early night's sleep and performed a Friday night bunk from his favoured bushes on Holy Island, and was nowhere to be seen over the weekend. Trails of disappointed twitchers, strewn along the A1 corridor, were left hoping their big day out had a Plan B – although many had the added disappointment of dipping the Biggin Red-footed Falcon that same afternoon!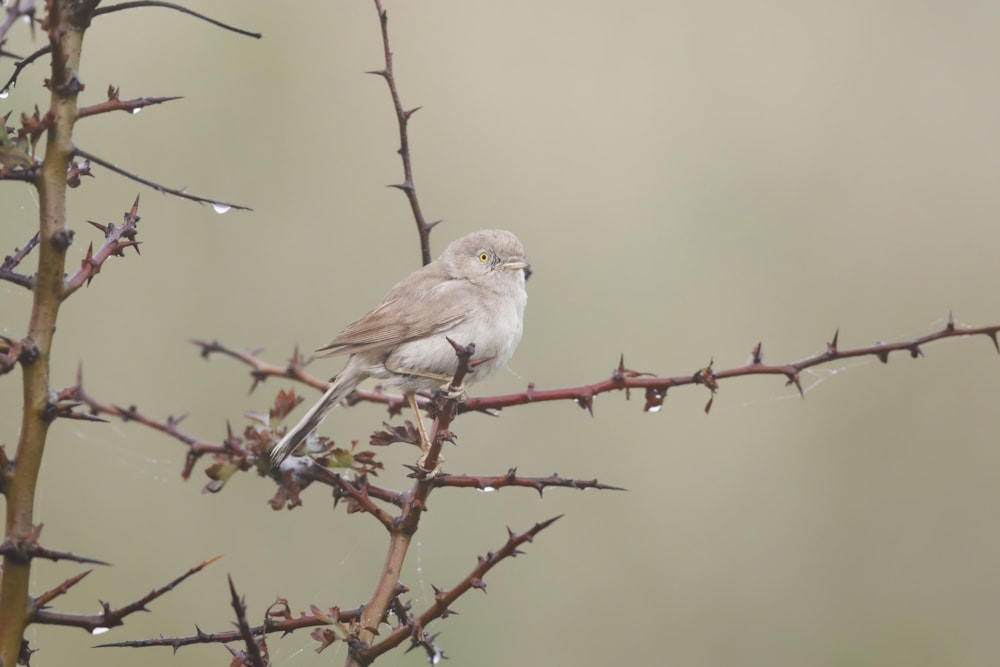 Asian Desert Warbler, Holy Island, Northumberland (Colin Bradshaw).
A female Subalpine Warbler was still on Foula on 17th and another – presumed to be a female Western Subalpine Warbler this time – was at Hope Point, Kent, at the end of the week. A new male Lesser Grey Shrike cropped up at Auldhame, Lothian, from 17th and Suffolk's Iberian Chiffchaff was ever-present. Singing Savi's Warblers were still in Shetland and Norfolk, with a new bird at Stodmarsh NNR, Kent, on 17th.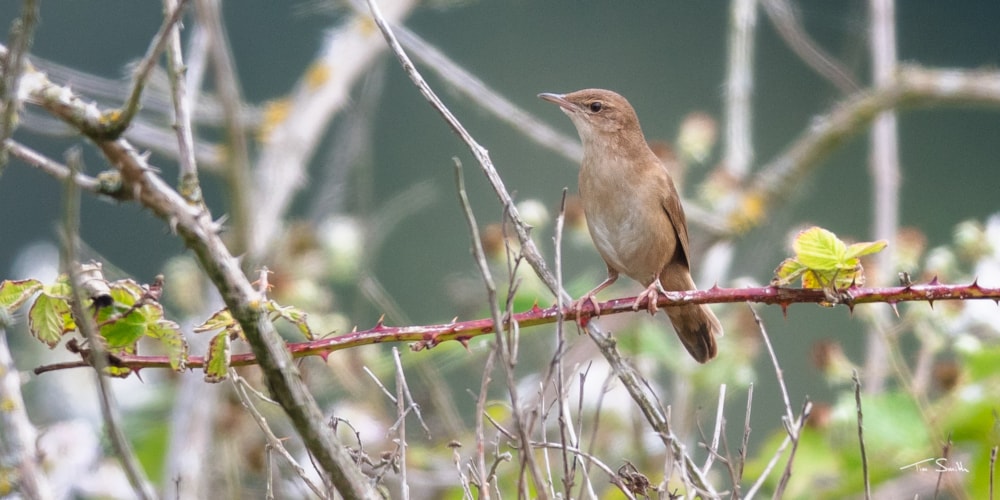 Savi's Warbler, Thorpe St Andrew, Norfolk (Tim Smith).
In Highland, the Strontian American Black Duck popped back up on 15th, while the Pied-billed Grebe made a reappearance at Loch Feorlin from 17th. The confusing first-summer female Blue-winged Teal is still at Castle Island, Northumberland; likewise the Lesser Scaup on the Outer Hebrides. In Moray and Narin, a drake King Eider was found in Findhorn Bay on 23rd and was probably the Ythan Estuary bird relocating. A Black Stork headed north-east over Aveton Gifford, Devon, on 20th, while the Cumbrian bird reportedly flew over Grange-over-Sands again on 22nd.
In Norfolk, the Potter Heigham Marshes Caspian Tern returned from 19th. A brief Whiskered Tern at Dungeness RSPB, Kent, on 17th was upstaged by a Gull-billed Tern there from 22nd, while another was across the Irish Sea at Ballycotton, Co Cork, from 20th. In the Outer Hebrides, a first-summer Bonaparte's Gull visited Rubha Ardvule, South Uist, on 20th. Another first-summer was on Add Estuary, Argyll, on 22nd, while a gorgeous adult was on the Teifi Estuary in Pembrokeshire on 23rd.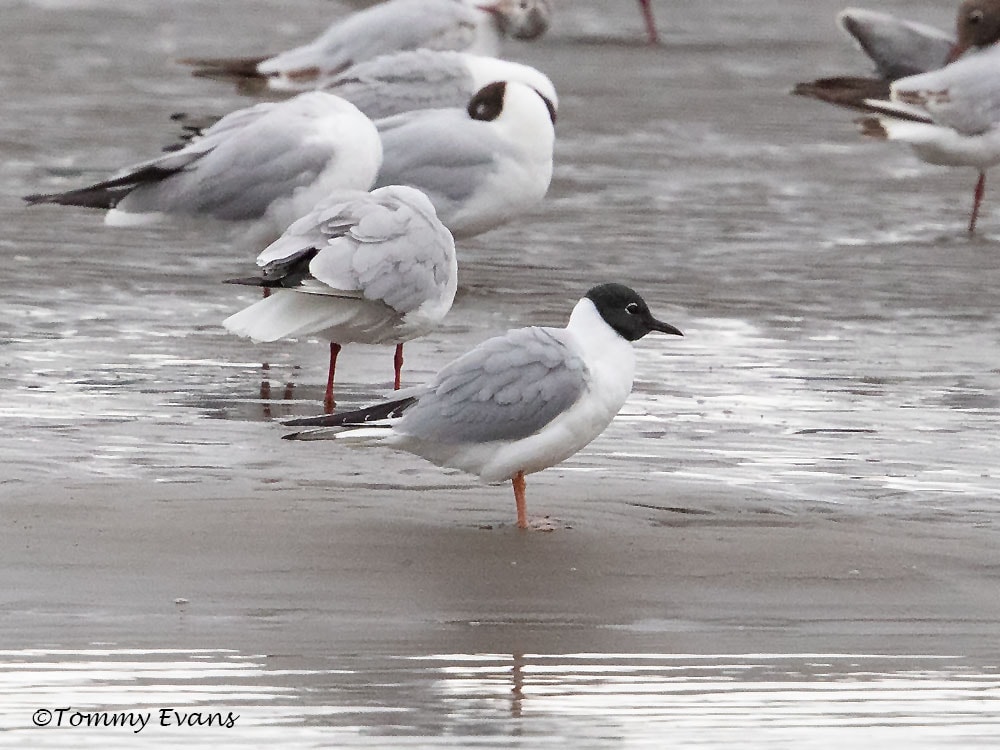 Bonaparte's Gull, Teifi Estuary, Pembrokeshire (Tommy Evans).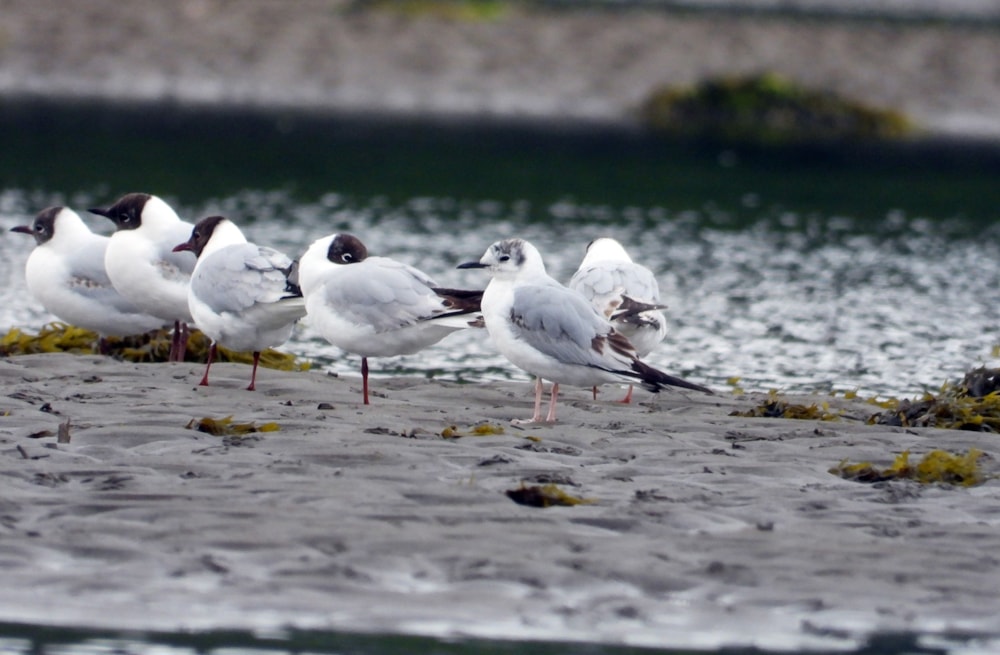 Bonaparte's Gull, Add Estuary, Argyll (Jim Dickson).
Scottish mainland
The last dregs of spring migration provided highlights of Red-breasted Flycatcher on the Isle of May, Fife, on 18th and Common Rosefinch at Salen, Mull, Argyll on 23rd. The Rosy Starling influx continued to provide some summer colour, with as many as 10 individuals still present across six counties; Aberdeenshire held three, at Hatton, Inverallochy and a yet to arrive bird found on a vessel in the Arran Oil Field some 244 km off the coast ...
Moray and Nairn recorded Rosy Starlings at two sites, while Argyll chipped in with birds on Islay and Skye. Fife had a a female-type at Crail, to add to the already present male on the Isle of May that lingered until Wednesday. Borders and Lothian both held singles, too.
Other notable records included Iceland Gull at Holborn Head, Caithness, on 19th, Great Egret on Aberdeenshire's Ythan Estuary on 18th and Black Redstart at Westhaven, Angus, on the same day. A Common Crane visited Loch of Strathbeg and a White-tailed Eagle flew out to sea at Granton, Lothian. European Turtle Doves (or perhaps the same individual) were at Mains of Olrig, Caithness, on 20th and Durness, Highland, on 21st. Common Quail were noted at five sites in Borders, Lothian, Clyde and Fife.
Northern Isles and the Hebrides
Shetland settled into a summer feel this week, with a sparse cast of scarce distributed around the islands. Three Rosy Starlings remained at Vidlin on 17th, Gloup, Yell, on 21st and Graven on 23rd. A Common Rosefinch was on Foula on 17th; the following day brought Golden Oriole to Halligarth, Unst and Red-backed Shrike on Fair Isle. A Hoopoe was at Toab on 19th. A quiet back end to the period saw only a female-type Bluethroat of note, on Fair Isle on 23rd. The continued presence of Marsh Warblers at Hillwell, Loch of Brow, Scousbrough and Sumburgh during the week was noteworthy.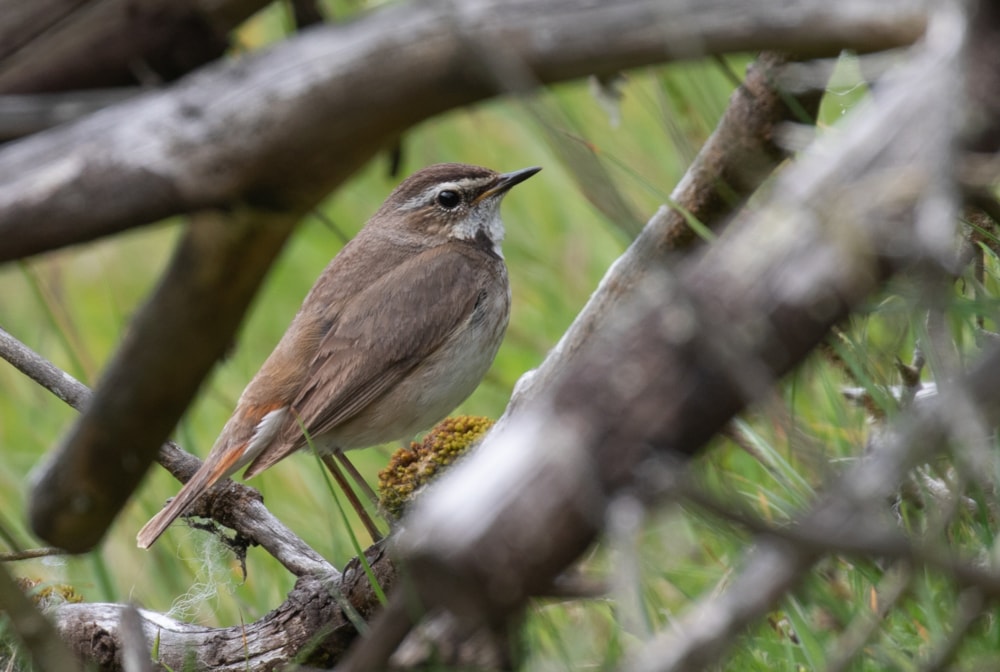 Bluethroat, Fair Isle, Shetland (Daniel Gornall).
Perhaps four Rosy Starlings were recorded around the Outer Hebrides in the period – two on Harris and individuals on Lewis and North Uist. A Red-breasted Flycatcher in a North Uist garden at Paiblesgarry was perhaps the last gasp of spring in the archipelago.
Orkney's productivity appeared to grind to a halt this week, with the sole report of a Eurasian Reed Warbler on Papa Westray.
North-East England
It was slim pickings in the land of The Prince Bishops of Durham this week, with a new Rosy Starling at Whitburn the star. Eight Velvet Scoter and a couple of Roseate Terns were available offshore there, too. Boldon Flats NR picked up passage waders in the form of Wood Sandpiper and Spotted Redshank, and a European Turtle Dove was at Burdon Moor on 19th.
Two Long-tailed Duck off Bran Sands, Cleveland, on 17th were a surprise summer record in a week where a single Little Gull at Seal Sands and two Ruddy Shelduck at Saltholme RSPB were the only other sightings of note.
Boulmer continued to show its potential for an under-watched part of the Northumberland coast, with a Grey-headed Wagtail photographed on 21st. A Black Redstart at Cresswell was an odd summer report. Common Quail sang from five sites: Alnwick, Dunstanburgh, Beal, Mickley Square and Whittle Dene. A Eurasian Spoonbill was agin at Cresswell Pond and Wood Sandpipers were at Druridge Pools and Holywell Pond.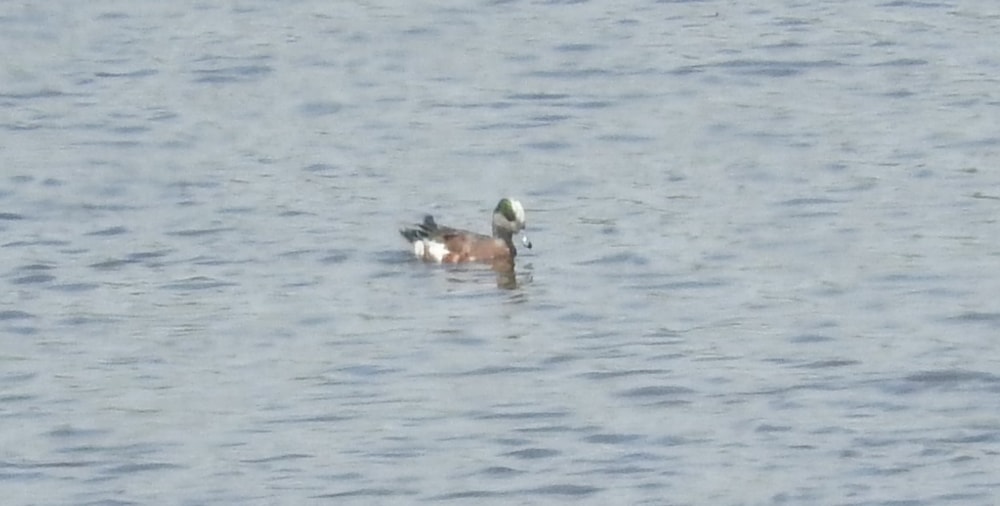 American Wigeon, Grindon Lough, Northumberland (Thomas Hepple).
North-West England
The Rosy Starling influx continues in Cumbria, with South Walney NR still holding onto its individual and a further two in undisclosed gardens in the Lake District. The Hoopoe was again at the former site on 17th, with no further sign the following day. A Corncrake was reported near Edenhall on 20th.
In a quiet week for Lancashire, a Rosy Starling was in Morecambe on 20th, having reportedly been present for two days. Elsewhere, Blackpool's Black Guillemot put in another appearance on 18th and the Eurasian Spoonbill lingered at Lunt Meadows NR until 19th.
Three Eurasian Spoonbills remained at Parkgate Marsh, Cheshire, throughout, and it was pleasing to hear Burton Mere Wetlands RSPB announce that Great Egrets had successfully bred at the reserve for the second year running. First-summer Little Gulls were at Frodsham Marsh on 17th and Hale on 20th. In Greater Manchester, two Black-necked Grebes were at Audenshaw Reservoirs.
Lincolnshire and Yorkshire
In East Yorkshire, Spurn's recording area was once again the place to be. A strong start to the week was made with a European Bee-eater south on 17th, followed by a Black Tern on 18th. One for the 'Cat C' fanatics came on 22nd with four Ruddy Shelduck in-off the sea early morning – one must surely wonder when the large flocks we get every summer become too much of a coincidence to ignore ...
This was followed by a male Golden Oriole later that day and a Little Stint on 23rd. Elsewhere in the county, a brief Blyth's Reed Warbler sang at Old Fall on Flamborough Head late on 19th, followed by a singing Golden Oriole at the same site on 22nd. A Common Rosefinch was there, too. A European Honey Buzzard flew over Fraisthorpe on 19th.
Two reintroduced White-tailed Eagles remained on the North Yorkshire Moors near Farndale, with the European Honey Buzzards continuing to perform over Wykeham Forest. Otherwise, a new Rosy Starling was at Boroughbridge, the first-summer female Red-footed Falcon remained near Biggin until 20th and the Lesser Yellowlegs continued at Nosterfield LNR.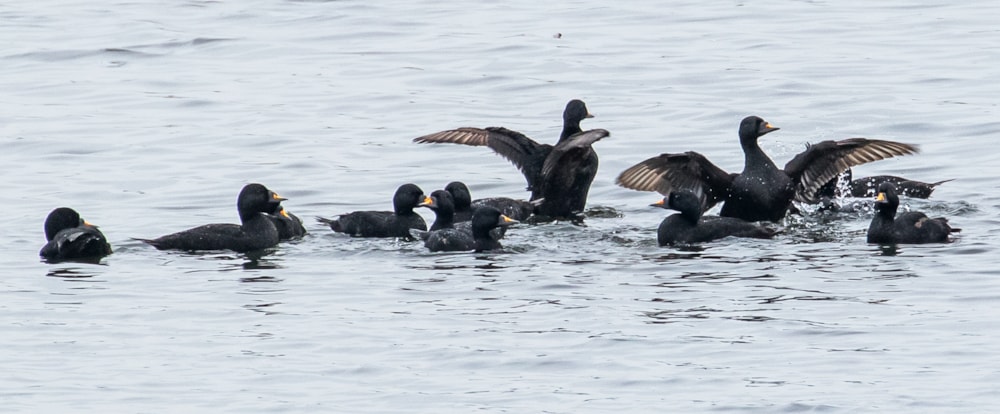 Common Scoter, St Aidan's RSPB (Swillington Ings), West Yorkshire (Steve Cribbin).
In West Yorkshire, extensive overland Common Scoter passage saw 13 at St Aidan's RSPB and an impressive 31 at Pugney's CP on 17th. The popular cherry-gorging Rosy Starling remained at Collingham until 20th. Fairburn Ings RSPB's collection of Eurasian Spoonbills and the lone Western Cattle Egret continued to delight. Another Western Cattle Egret was at Old Moor RSPB, South Yorkshire, on 19th, while a European Honey Buzzard flew over Brampton on 21st.
Black-necked Grebes were announced as successfully breeding at Lincolnshire's Frampton Marsh RSPB for a second year, with two chicks merrily bobbing round the North Scrape, joined by a Curlew Sandpiper on 21st. An out-of-season Glaucous Gull was reported at Stallingborough on 19th, while a probable Montagu's Harrier headed south-west over Deeping Lakes. Far Ings NR's delightful Blyth's Reed Warbler unfortunately took a leave of absence after the 21st.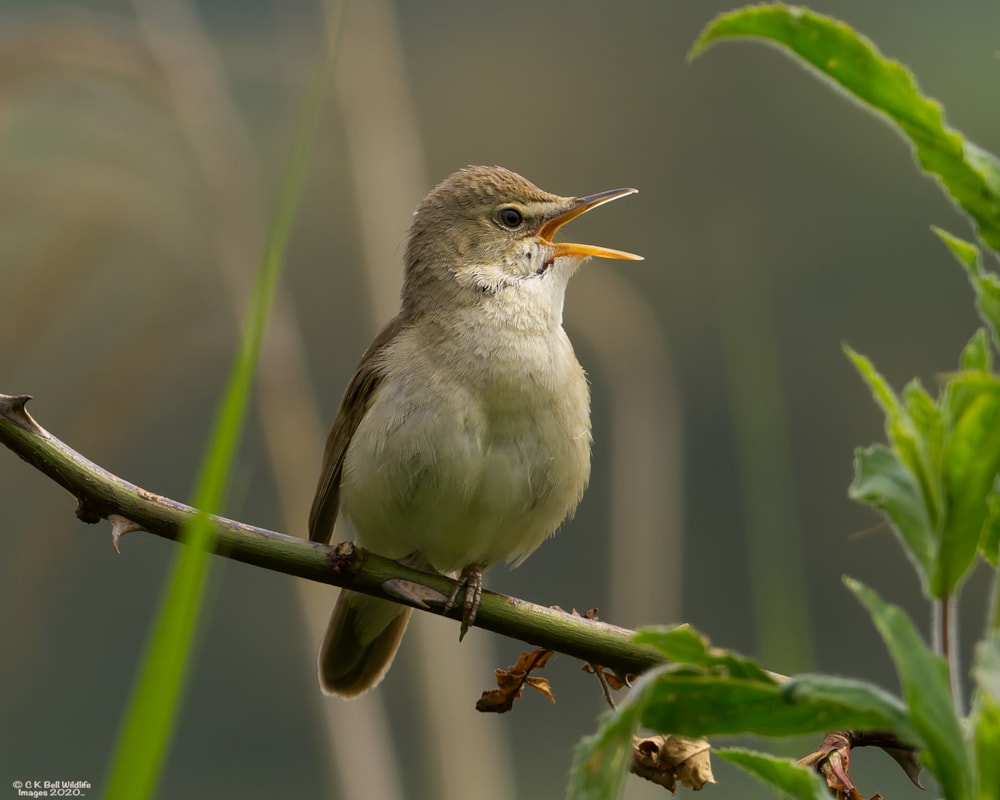 Blyth's Reed Warbler, Far Ings NR, Lincolnshire (Craig Bell).
West Midlands
In Staffordshire, Uttoxeter Quarry held on to the immature Eurasian Spoonbill until 18th and the Western Cattle Egret was at Doxey Marshes until 19th. Moving over to Shropshire, a Hoopoe was seen in the Steel Heath area, Prees, on the morning of 18th, but there was no further sign by the evening and no subsequent reports. A European Honey Buzzard drifted south over Dothill, Wellington, on 23rd.
After first being reported on 4th, Herefordshire's first-summer Black-crowned Night Heron put in another appearance. Having moved along the River Wye slightly, it was seen just downriver of Kerne Bridge, Goodrich, on this occasion. The drake Long-tailed Duck lengthened his stay at Fens Pool NR, West Midlands, by a further week and showed nicely for his admirers. Meanwhile, the Glossy Ibis was still at Lower Moor, Worcestershire.
East Midlands
An immature Arctic Tern was at Hollowell Reservoir, Northamptonshire, from 20-21st and there were four juvenile Western Cattle Egrets at Ringstead GPs on 21st.
There was belated news of a European Bee-eater at Mansfield, Nottinghamshire, on 19th but no sign since. Elsewhere in the county, an adult Rosy Starling visited a private garden in Southwell on 20th, the long-staying drake Smew remained off Slaynes Lane, Misson, and at least one European Honey Buzzard was still soaring over Welbeck watchpoint. A first-summer Arctic Tern at Idle Valley NR on 22nd and a Wood Sandpiper at Langford Lowfields RSPB on 23rd were also of note.
In Derbyshire, two Arctic Terns flew through Ogston Reservoir on 22nd with one more passing by on 23rd. An adult Roseate Tern was present briefly at Shawell, Leicestershire – always a quality find inland. A Wood Sandpiper was at Rutland Water on 22nd.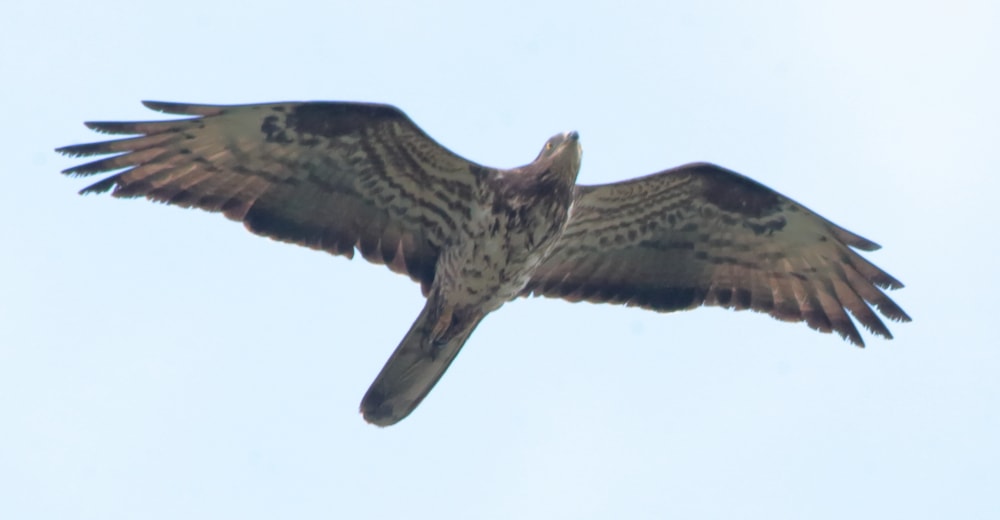 European Honey Buzzard, Welbeck watchpoint, Nottinghamshire (Rob Smith).
East of England
The Red-footed Falcons keep coming, and Norfolk records this week concerned two over Wells-next-the-Sea on 20th and another over Upwell on 22nd. A couple of Marsh Warblers were in the east of the county, as was a brief Eurasian Stone-curlew at Winterton Dunes on 20th. Just a single Rosy Starling concerned a flyover at Wymondham on the evening of 17th.
Suffolk highlights included a report of two Rosy Starlings at Stoke-by-Nayland on 19th, Marsh Warbler and Red-footed Falcon at North Warren RSPB, plus Marsh Warbler, Golden Oriole and Roseate Tern at Minsmere RSPB.

Red-footed Falcon, North Warren RSPB, Suffolk (Brian Small).
A quiet seven days for Essex saw the Marsh Warbler last sing at South Benfleet on 21st; otherwise, returning Spotted Redshanks included 10 at the classic location of Old Hall Marshes RSPB on 22nd. Two Western Cattle Egrets hung on at Blue House Farm EWT.
A sleepy week in Hertfordshire produced just a Common Quail in song at Therfield Heath on 22nd. Things weren't much better in Bedfordshire, where a brief first-summer Arctic Tern at Grovebury Sand Pit on 18th was the week's only report from the county. A Red-footed Falcon was a fleeting visitor to Grafham Water, Cambs, on 19th, with a European Bee-eater heard flying south over Cambridge on 21st.
South-East England
Another new Rosy Starling appeared in Kent, this time briefly with Common congeners in a Tunbridge Wells garden on 21st. A Black Kite flew over Seasalter the previous day, while a male Red-footed Falcon was at Walland Marsh two days later – a possible bird at Cliffe Pools on Wednesday remained unconfirmed. At the same site, the first waves of autumn waders were logged with a couple of Spotted Redshanks and a Wood Sandpiper. No fewer than three European Honey Buzzards – at Dover, Langdon Cliffs and Sandwich Bay – while a Black-winged Stilt pitched up at Dungeness from 21st.
East Sussex was also graced by a Rosy Starling, this one similarly fleeting in its appearance at Beachy Head on the morning of 20th. A Common Nightingale at the same site was a stark reminder of how quickly spring and summer can move on. A Hawfinch at Pevensey Castle on 22nd was a fine record for the local area. It was quiet in West Sussex, with the local Western Cattle Egrets at Pagham Harbour the pick of the bunch.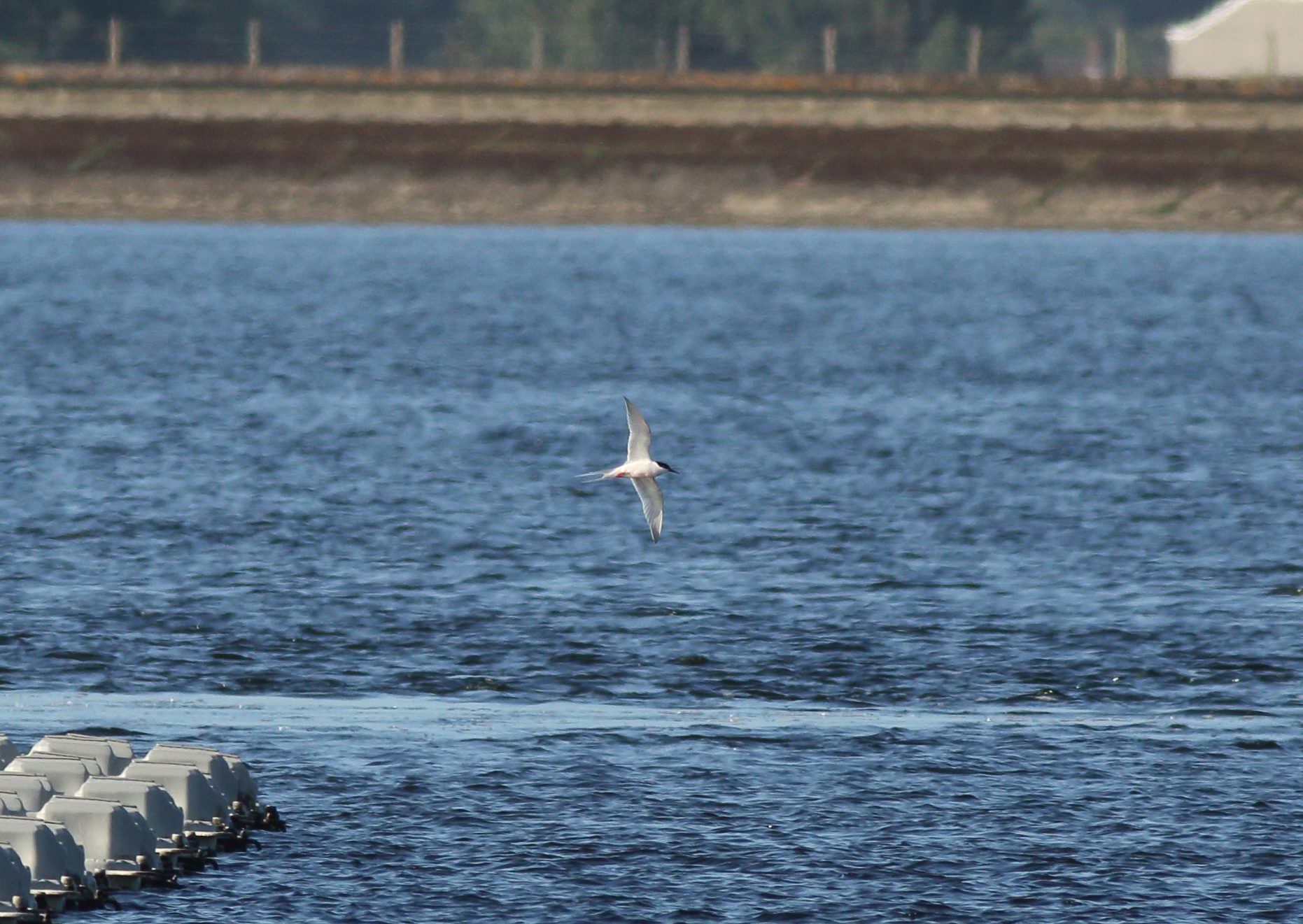 Roseate Tern, QEII Reservoir (Permit Only), Surrey (Dave Harris).
There wasn't heaps to shout about in Hampshire, with the best record involving late news from Tuesday 16th, when a Red-rumped Swallow flew south over Romsey Golf Club. Clearly you needed to be playing a few rounds if you wanted a decent bird in the county this week – six probable White Storks were over Bramshaw Golf Club on 23rd.
A Great Egret at Dinton Pastures was Berkshire's standout record, while Buckinghamshire got in on the Common Quail year with its first of the summer – a singing individual at Little Linford Wood on 20th. Like the Beachy Head Common Nightingale, a Whinchat at Aylesbury was another nod to the season's change. Oxfordshire had a decent week, highlighted by a Red Knot at Farmoor on 17th, with two Black Terns at Sutton Courtenay/Appleford GPs on 18th and a Common Quail at Kingston Warren Down on 20th also very much of note.
South London was the scene of the capital's continental-flavoured surprises – a female-type Golden Oriole was a mighty fly-through record at Morden Hall Park early morning on 20th, while late news was received of a Hoopoe in a Wimbledon garden. In Surrey, QEII Reservoir delivered for the second week in a row with the county's eighth Roseate Tern for one day only on 22nd, while the Common Quail continued in its favoured alfalfa field at Shackleford throughout.
South-West England
Devon saw a singing male Golden Oriole on Lundy on 18th, replaced by a Rosy Starling on 21st. Two Pomarine Skuas headed past Ilfracombe on 21st, with the ever-present Slavonian Grebe still enjoying the Exe Estuary. A popular Eurasian Spoonbill was on Pit 74 at Cotswold Water Park, Wiltshire, while a Sandwich Tern flew west there on 19th. A Western Cattle Egret flew south over Downton. Wood Sandpipers were in Gloucestershire at Northwick Warth and Slimbridge WWT, with a Black Tern and the Ruddy Shelduck still at the latter site.
A classic mid-summer Scilly week comprised a sprightly Greenish Warbler on St Mary's on 23rd as the highlight, seconded by a mobile Red-rumped Swallow on 19th and 20th. Cornwall was this week's Rosy Starling invasion epicentre, with individuals sighted at Lizard village (two), St Just, Newbridge, Hayle (two), St Keverne and Newquay through the week. An Icelandic coburni Redwing was trapped and ringed at Nanjizal 17th, with a Hooded Crow gracing Housel Bay on 20th.
Late spring migrants were the talk of the town in Dorset, including a Hoopoe in Poole on 20th and a European Serin on Portland from 21st. A pair of Rosy Starlings rocked around Weston gardens on Portland from 20th. A Roseate Tern was at Abbotsbury Swannery on 20th, with a Black Tern at Longham Lakes the following day.
In Somerset, belated news of an adult Black-crowned Night Heron at Watchet on 8th came courtesy of the West Somerset Free Press! A funny-looking falcon espied at Cothelstone on 19th morphed into a splendid first-summer male Red-footed Falcon, munching on insects to his heart's content until 22nd. Rosy Starlings were at Drayton and Stokes Croft on 17th. Meanwhile, the first-summer Purple Heron made a reappearance at Shapwick Heath on 22nd, a Curlew Sandpiper was at Steart WWT from 21st and a male European Honey Buzzard flew north-east over Axbridge at the end of the week.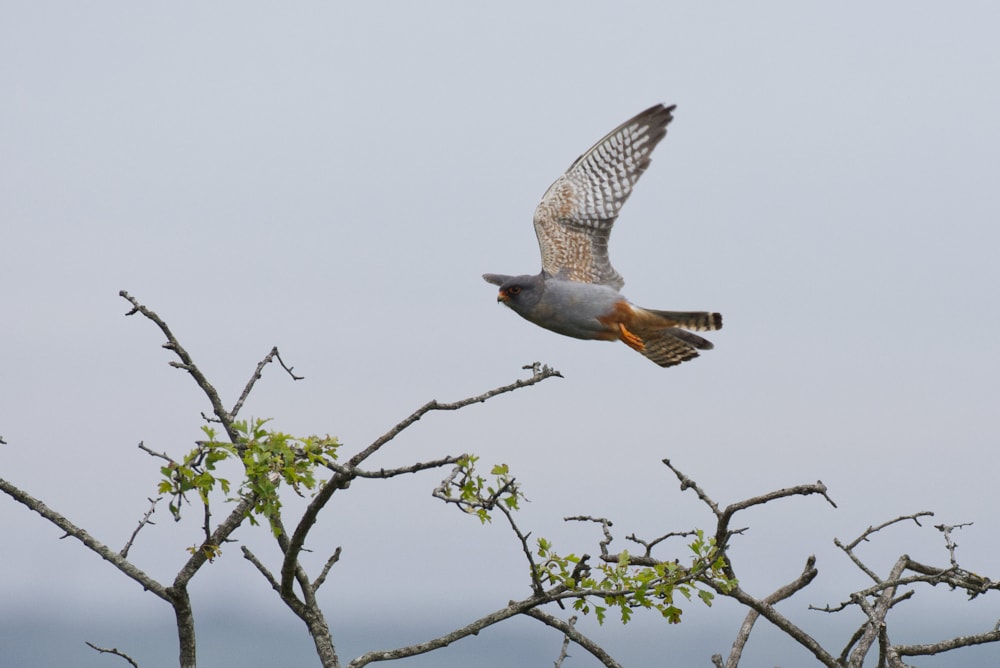 Red-footed Falcon, Cothelstone, Somerset & Bristol (Jonathan Bull).
Wales
The eastern theme continued this week, with three Rosy Starlings in the country, at Cemaes Bay, Rhos-on-Sea and on Skokholm. The adult male Common Rosefinch again frequented garden feeders at Briton Ferry, Glamorgan, until 18th at least, and a female Red-backed Shrike was at Martin's Haven, Pembrokeshire, on 21st.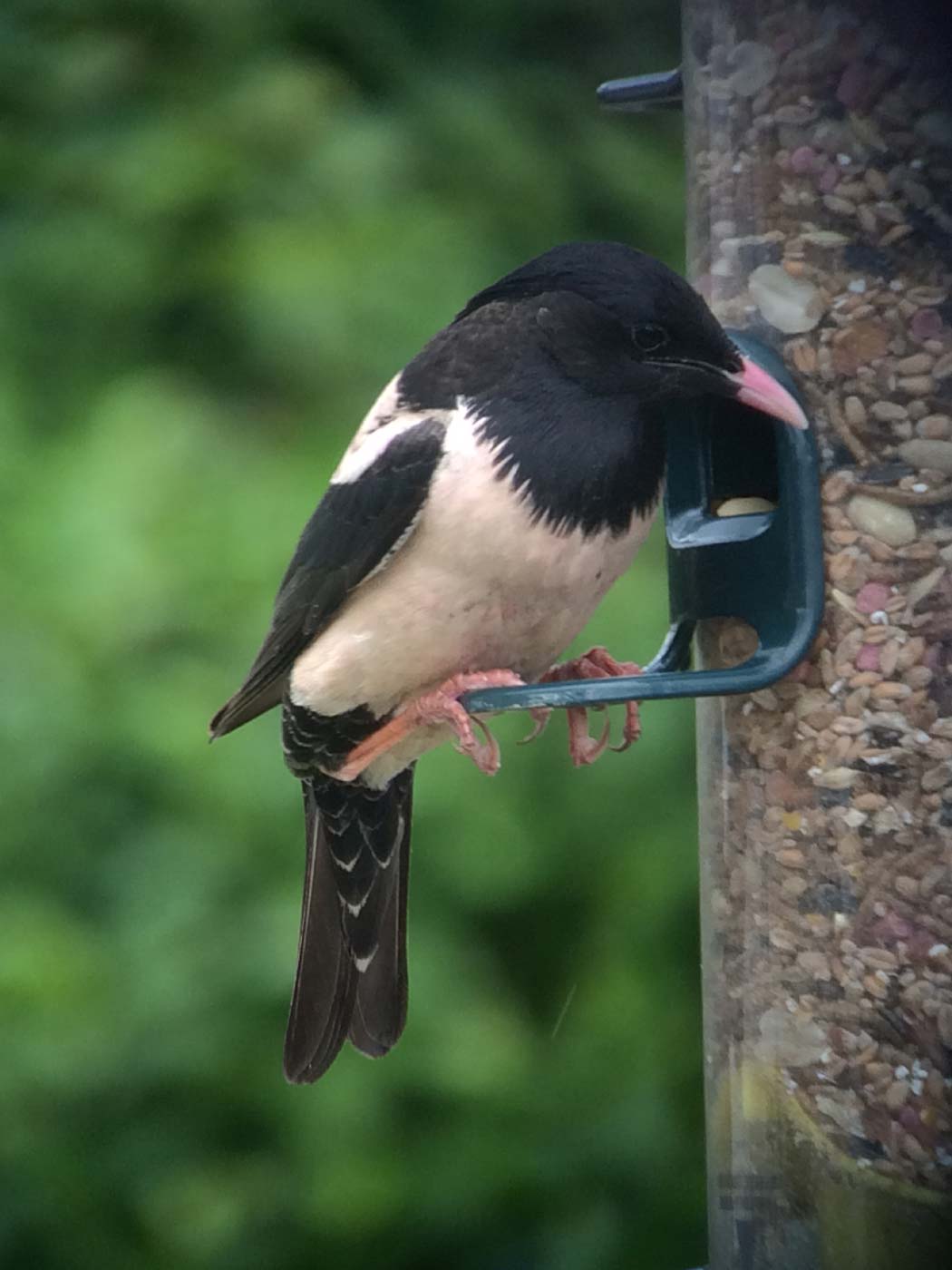 Rosy Starling, Rhos Point, Conwy (Rob Sandham).
Not to be outdone by Bardsey Island, a veritable hot-spot for the species, Skokholm also scored a Greenish Warbler on 23rd. A Hooded Crow frequented the Gower, Glamorgan, with one at Black Pill in recent days and briefly in a Southgate garden on 19th. An excellent regional count of Black Guillemot was had on 18th when 44 of the pied delights decorated Holyhead Harbour, Anglesey.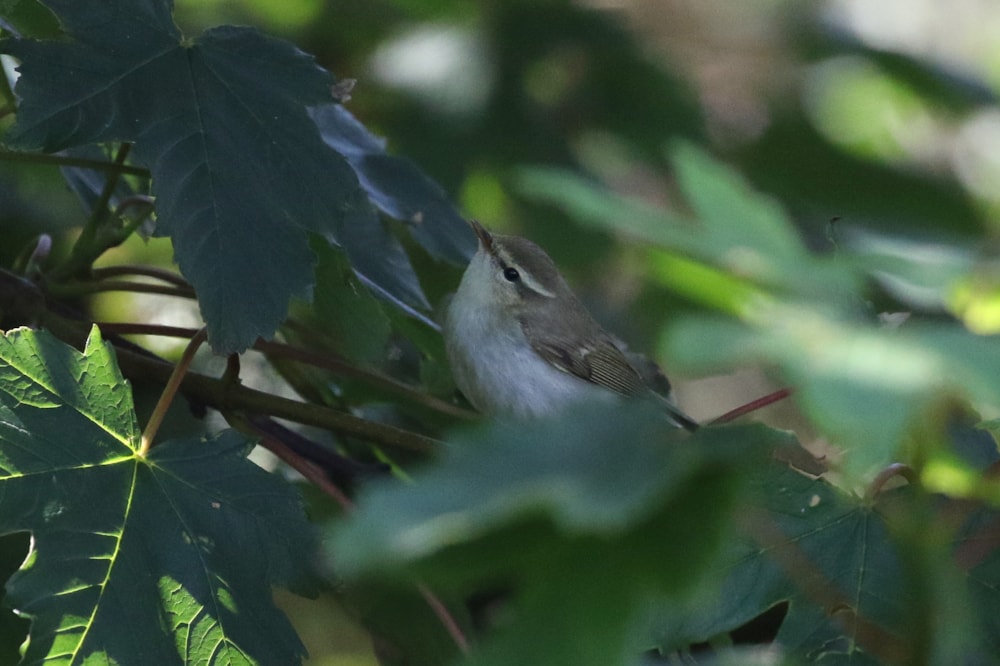 Greenish Warbler, Skokholm, Pembrokeshire (Skokholm Warden).
Ireland
Tory Island continued its recent good form with a Rosy Starling on 23rd, curiously the only individual seen in Ireland this week. A drake Ring-necked Duck was found at Lough Beg, Co Derry, that day, while the six Ruddy Shelduck hung on at Lurgan Green, Co Louth.
Two Wilson's Storm Petrels were seen in Co Cork waters on 23rd, the Glossy Ibis remained at Pilmore and, on 20th, a European Turtle Dove was seen at Dungarvan, Co Waterford. A returning Spotted Redshank had reached Rosscarbery, Co Cork, by 23rd.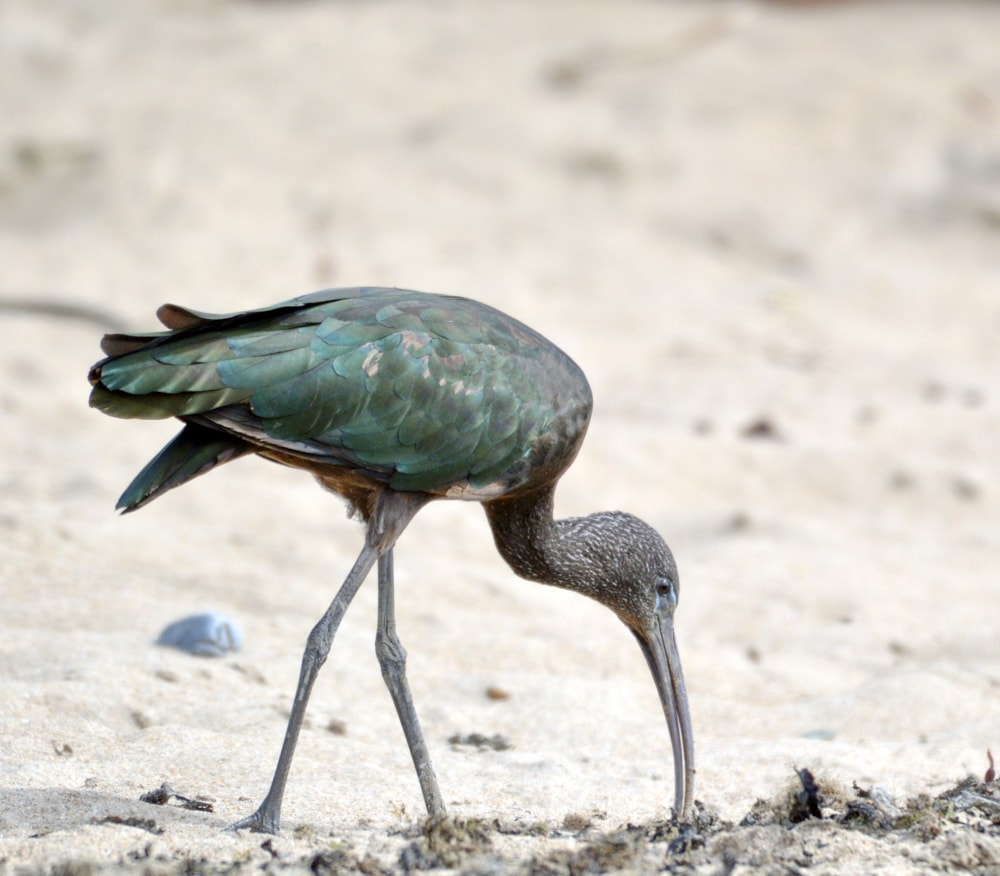 Glossy Ibis, Pilmore, Cork (Tom Kennedy).
Western Palearctic
Photographs of a strange seabird off Sagres, in the far south-west of Portugal, taken on 22nd by a fisherman who knew it was something he had never seen before, transpired to be Portugal's first and the region's sixth Atlantic Yellow-nosed Albatross.
In the Azores, Faial's adult Yellow-crowned Night-Heron was rediscovered at Porto do Comprido on 19th, although the mainland Portuguese bird hasn't been seen for a couple of weeks. On nearby Pico, a Least or Little Tern shows an intriguing grey rump but, so far at least, has not uttered any vocalisations.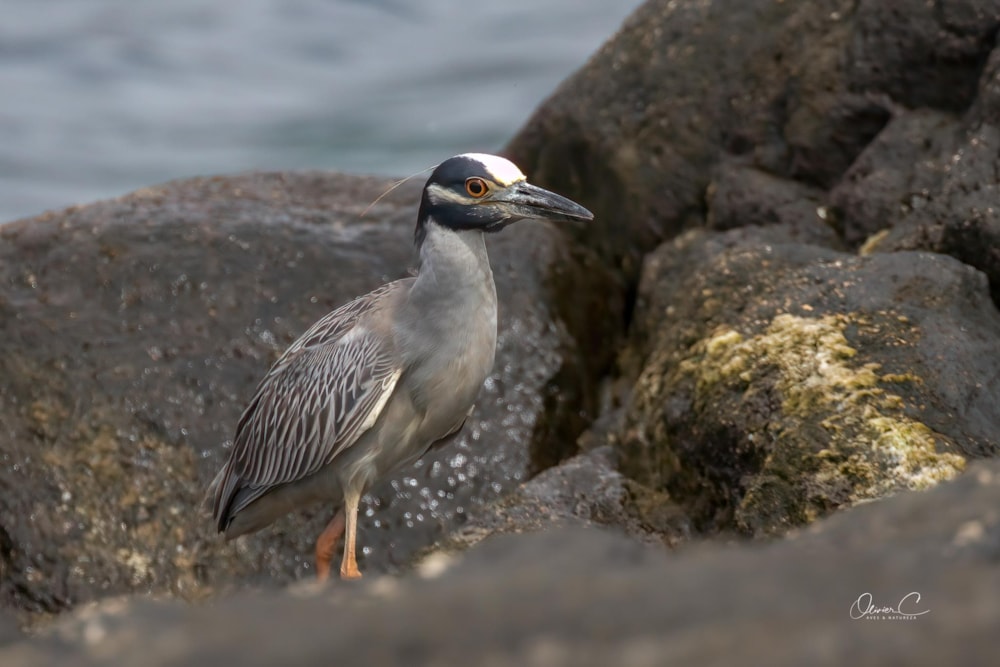 Yellow-crowned Night Heron, Capelinhos, Faial (Olivier Coucelos).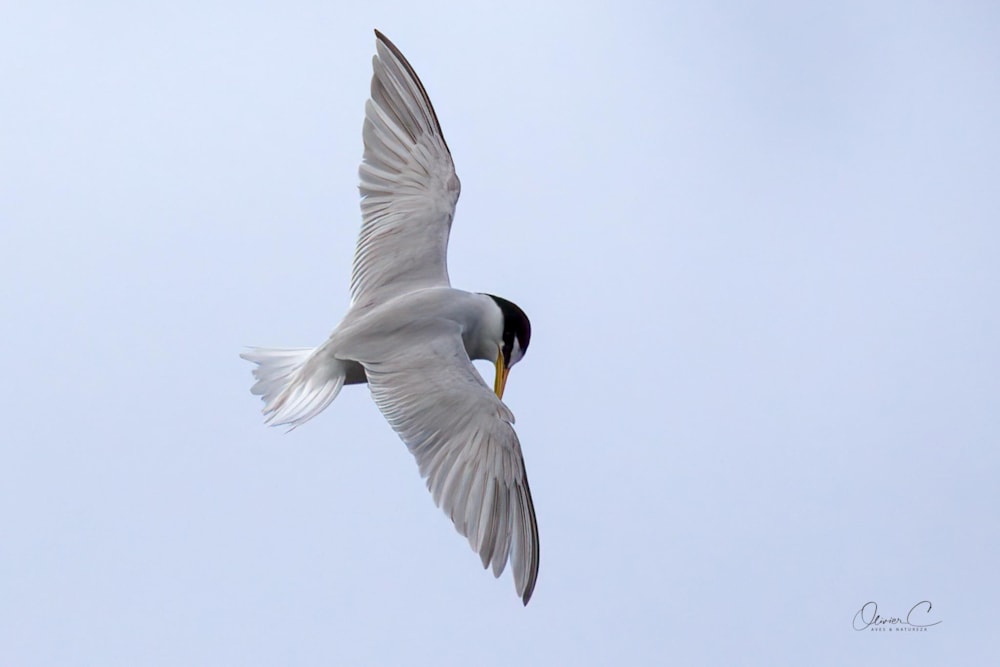 Little or Least Tern, Lajes do Pico, Pico (Olivier Coucelos).
The Netherlands' first Bimaculated Lark, found late in the evening of 17th on the inaccessible island of Rottumerplaat, had plenty of tongues wagging in the hope of another in Britain. In the panic of trying to relocate it, the observers stumbled across the country's eighth Slender-billed Gull – not a bad bonus bird!
Far to the north, in the Arctic Circle in fact, a Bridled Tern in the Barents Sea at Hamningbirg, Norway, was more than a little lost – one wonders if it might make an appearance in a tern colony further south somewhere this summer. The French Elegant Tern was still in the Sandwich Tern colony at Polder de Sébastopol this week.
An immature Bearded Vulture doing its best Bateleur impression (it was missing the majority of its tail feathers) floated over Belgium from 18th, along with 13 Griffon Vultures on 18th and 19th and a Black-winged Kite at Veessen on 18th. One of the Polish Pallas's Gulls remained at Nowe Gniewniewice on 18th, while the Dutch Amur Wagtail was still in situ throughout. Cape Verde's first Lanner Falcon was photographed on Sal on 23rd.
The first-summer male Eastern Olivaceous Warbler singing at Gedser, Denmark, on 17th and 18th is both the second record for the site and the country. On 19th, two more Rosy Starlings were at Djúpivogur, Iceland, while mainland Spain's first Seebohm's Wheatear was high in the Sierra de Gredos mountains on 19th. Norway's 10th Greater Sand Plover was at Klepp on 20th, while the Three-banded Plover was still in Israel.