It was a week of meteorological contrasts, with a mixed bag of heavy rain, cool and blustery conditions – particularly in the north, where Sunday felt more like the middle of October than late July – preceding hot and sunny weather by the end of the review period, with temperatures charging past 30°C in the south on Tuesday.
All in all, it was a pretty run-of-the-mill July week, as focus shifted towards a crop of newly arrived rare shorebirds, with last week's major Two-barred Crossbill influx somewhat running out of steam – just a handful of new individuals could be located over the seven days. Significantly, a couple were on the mainland, with brief female-types at St John's Pool, Caithness, and Titchwell, Norfolk, on 21st. Otherwise Shetland dominated, with reports involving eights on Whalsay on 18th and at Brae on 23rd, up to four still at Baltasound, Unst, twos in Lerwick and on Trondra and Noss, and singles on both Fair Isle and North Ronaldsay, Orkney.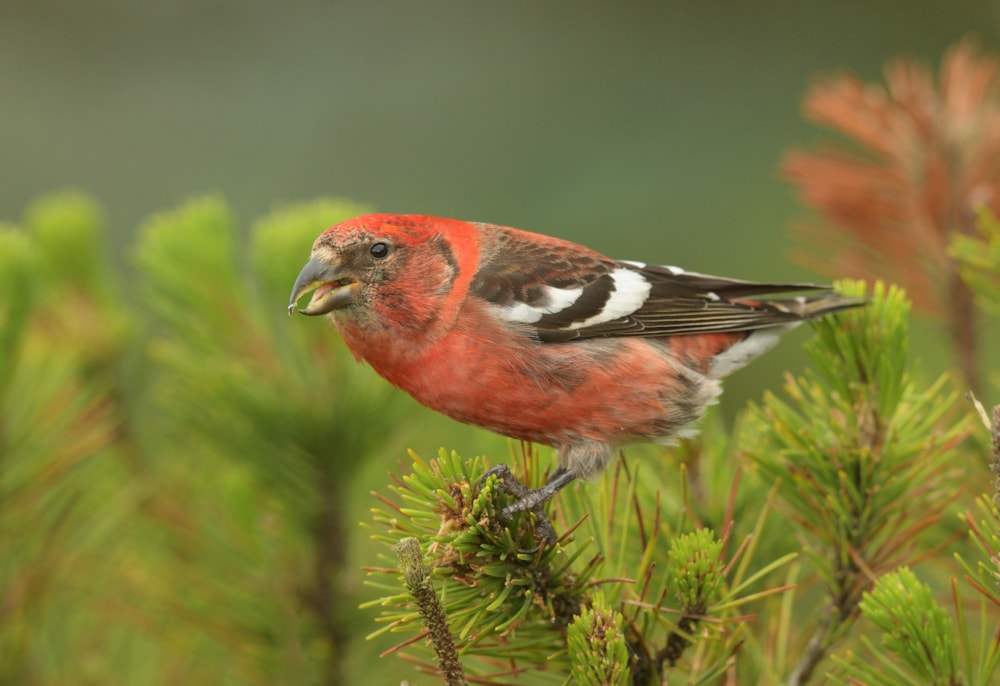 Two-barred Crossbill, Baltasound, Unst, Shetland (Baz Scampion).
Rarest find of the week was Ireland's fourth record of Collared Pratincole at the Co Donegal hot-spot of Blanket Nook, Lough Swilly. Discovered on 22nd, it was still there the following day and was twitched by a sizeable crowd of Ireland's finest. The only previous twitchable bird in the Republic of Ireland was a five-day bird on the Mullet Peninsula, Co Mayo, in June 2007, which was also seen in Co Galway, so this latest individual was a very welcome repeat for anyone who missed that bird.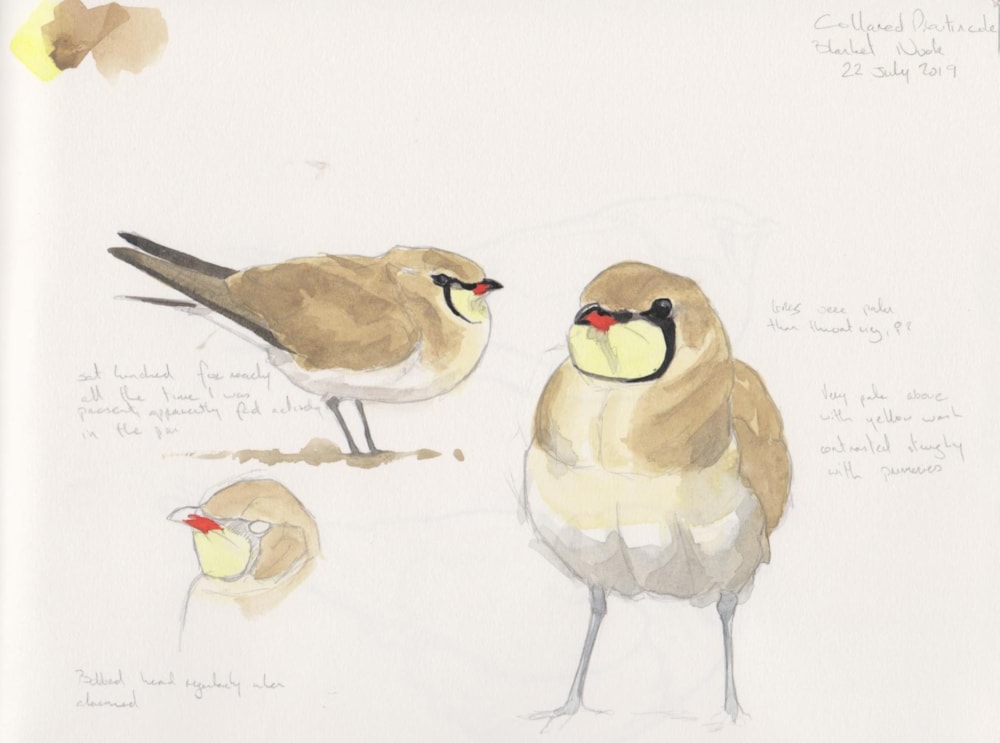 Collared Pratincole, Blanket Nook, Lough Swilly, Donegal (Robert Vaughan / www.robertvaughanillustrations.com).

Collared Pratincole, Blanket Nook, Lough Swilly, Donegal (Brian McCloskey).
Two adult Pacific Golden Plovers were the best discoveries in Britain. One frequented fields adjacent to Breydon Water, Norfolk, from 18-22nd, with another mobile and elusive bird touring Holy Island, Northumberland, from the evening of 21st.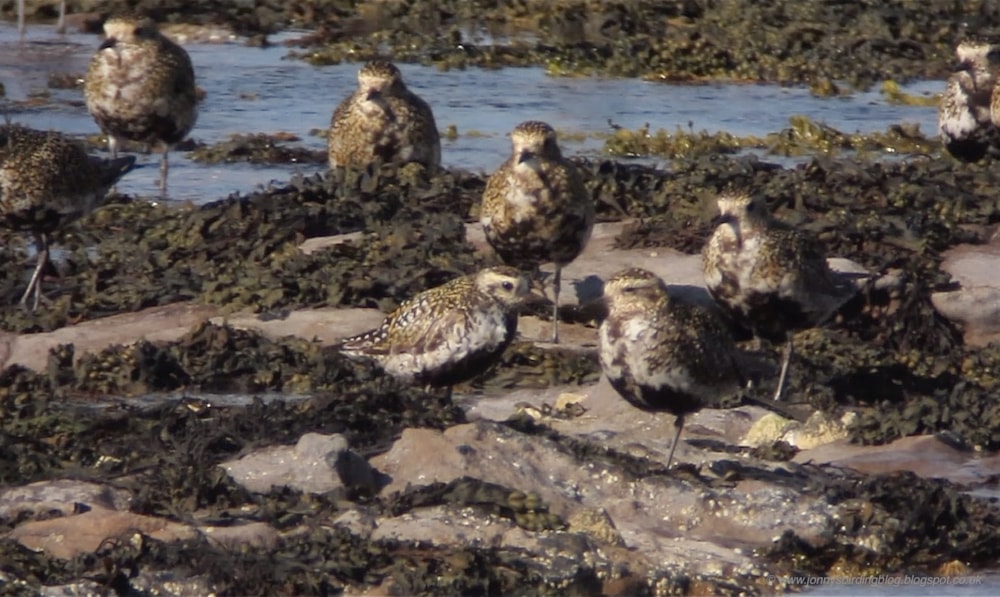 Pacific Golden Plover, Holy Island, Northumberland (Jonathan Farooqi).
Time and time again Frampton Marsh RSPB, Lincs, makes the headlines of this column as it consistently proves itself as one of Britain's finest birding sites, producing countless quality birds among the throng of commoner species that litter the pools, scrapes and marshes. This week was no exception, with an adult Long-billed Dowitcher dropping in on the evening of 19th. This is presumably the returning bird from last winter, which departed on 1 May and has presumably been unsuccessfully touring the Arctic in search of love in the intervening weeks. It lingered until the week's end. A pair of adult White-rumped Sandpipers at Loch of Strathbeg RSPB, Aberdeenshire, on 17-18th were then relocated among the hordes of Dunlin at Frampton on 20th, with at least one lingering there to 23rd. Stormy conditions subsequently produced a third White-rumped Sand on Vatersay, Outer Hebrides, on 22-23rd.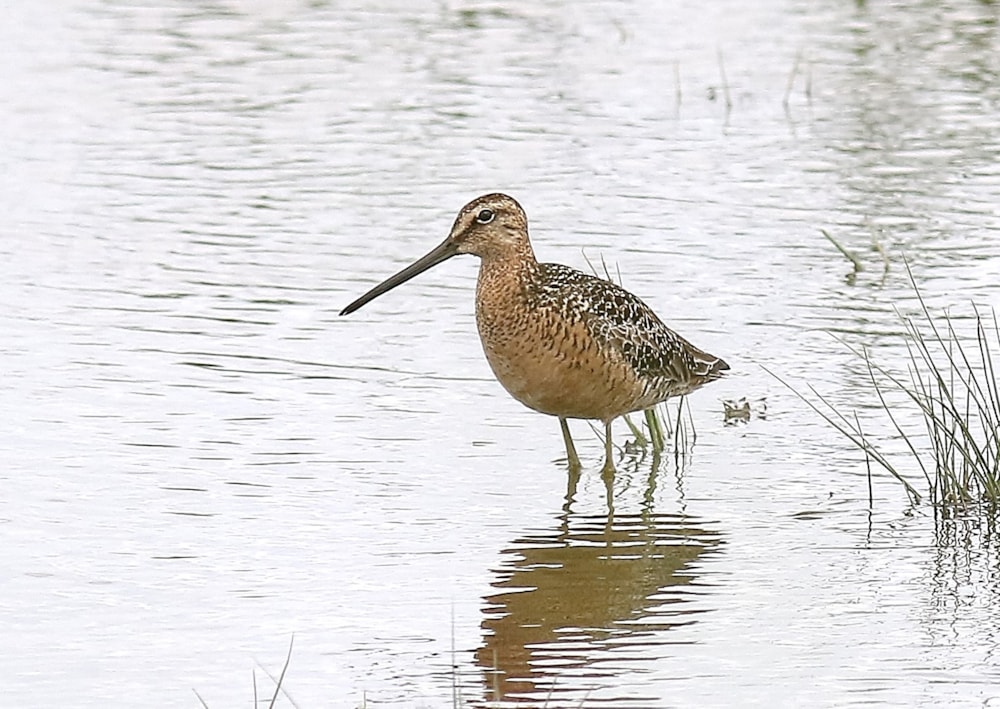 Long-billed Dowitcher, Frampton Marsh RSPB, Lincolnshire (Robert Dowley).
Just across The Wash, Titchwell RSPB bagged its own quality wader this week. An adult Semipalmated Sandpiper found during the afternoon of 19th lingered there until 23rd and represented a first for the reserve. Continuing the good run for RSPB reserves, Belfast Lough's Long-billed Dowitcher reappeared on 17th and was still there on 21st. As well as its pratincole, Blanket Nook also retained the one of two Pectoral Sandpipers seen this week, the other (at Pannel Valley, East Sussex) also hanging on from the last review. Also lingering was the Lesser Yellowlegs at Oare Marshes, Kent, while Temminck's Stints were in Lincolnshire and Essex on 21st.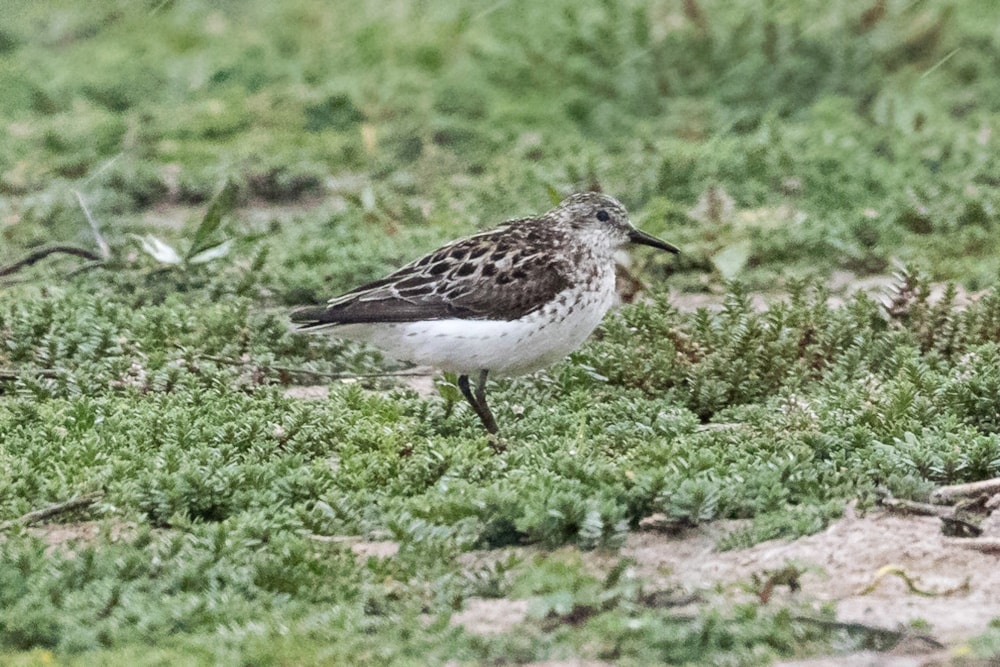 Semipalmated Sandpiper, Titchwell RSPB, Norfolk (Ian Bollen).
The adult Bonaparte's Gull lingered another week at Oare Marshes, Kent, while a ringed Baltic Gull was reported from Orford Ness, Suffolk, on 19th. First-summer Ring-billed Gulls were on the Camel Estuary, Cornwall, on 17th and Harper's Island, Co Cork, on 18th, while an adult returned to Nimmo's Pier, Co Galway, on 23rd. Returning to the Co Louth coastline for another autumn was the adult Forster's Tern, which was already moulting into winter plumage when it appeared on 22nd. Something of a surprise was a fly-by Caspian Tern at Pendeen, Cornwall, on 19th, which was tracked past Zennor a little later in the afternoon.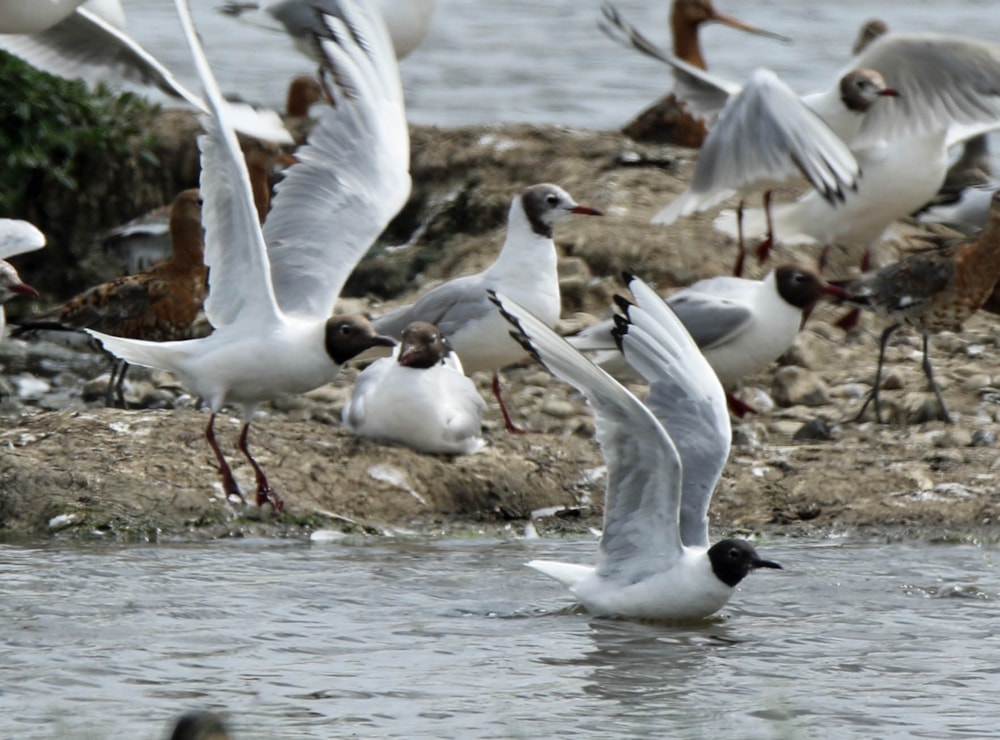 Bonaparte's Gull, Oare Marshes NR, Kent (Mark Leitch).
Caspian and Yellow-legged Gulls are beginning to arrive back, although the former is still rather scarce on the ground – an impressive five roosted at Livermere Lake, Suffolk, on 18th, while a juvenile showing well at Cromer, Norfolk, from 18th will no doubt prove the vanguard of a wider arrival as we go into August. Juvenile Yellow-legged Gulls are very much up for grabs across Britain and Ireland at present. As proven by a bird past Whitburn, Durham, on 21st, these birds can't help but disperse northwards at this time of year and the hot weather and south/south-easterly winds of the coming days are surely conducive to some reaching as far north and west as they ever have done. Peak count this week was 67+ at Rainham Marshes, London, on 22nd, roughly a third of which were this year's youngsters.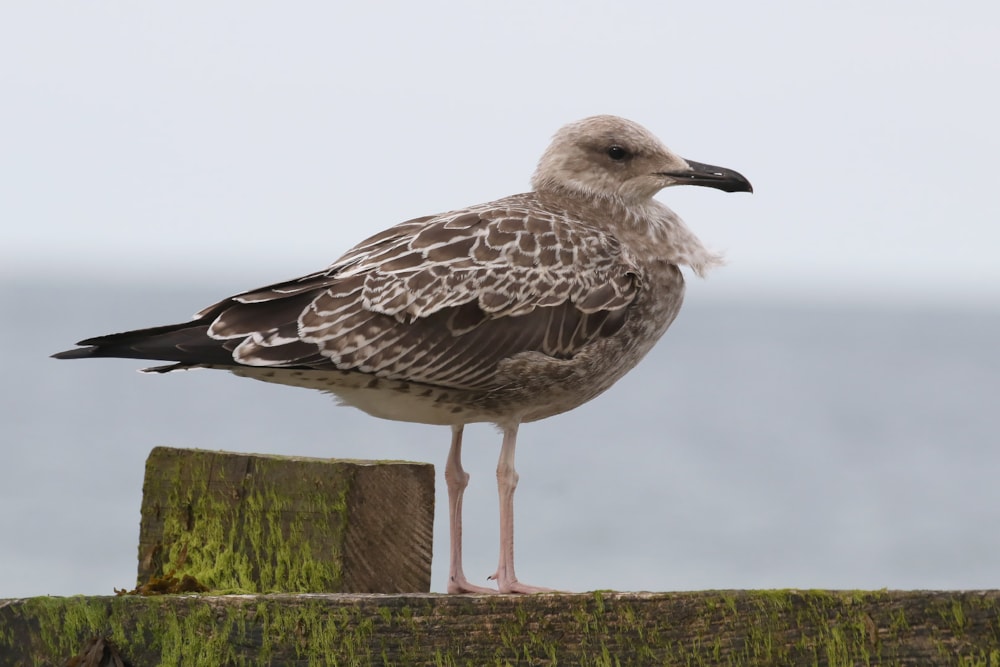 Caspian Gull, Cromer, Norfolk (Andy Hale).
Seawatching improved further, with the first significant passage of Cory's Shearwaters in Co Cork on 21st including 132 past Cape Clear and 39 past Galley Head. Elsewhere, ones and twos passed both Porthgwarra and Pendeen, Cornwall. The 21st also produced Great Shearwaters past Porthgwarra and Toe Head, Cornwall, with another from a Scilly pelagic on 22nd. Both Co Cork and Scilly pelagics produced two Wilson's Storm Petrels on 21st and 22nd respectively.
Content continues after advertisements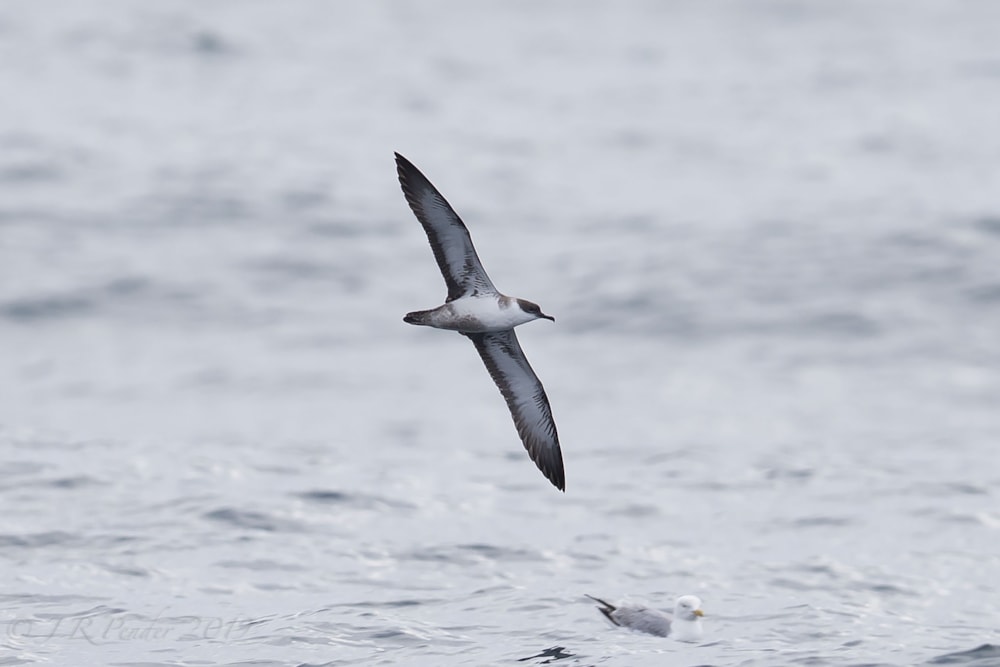 Great Shearwater, Scilly pelagic, Isles of Scilly (Joe Pender).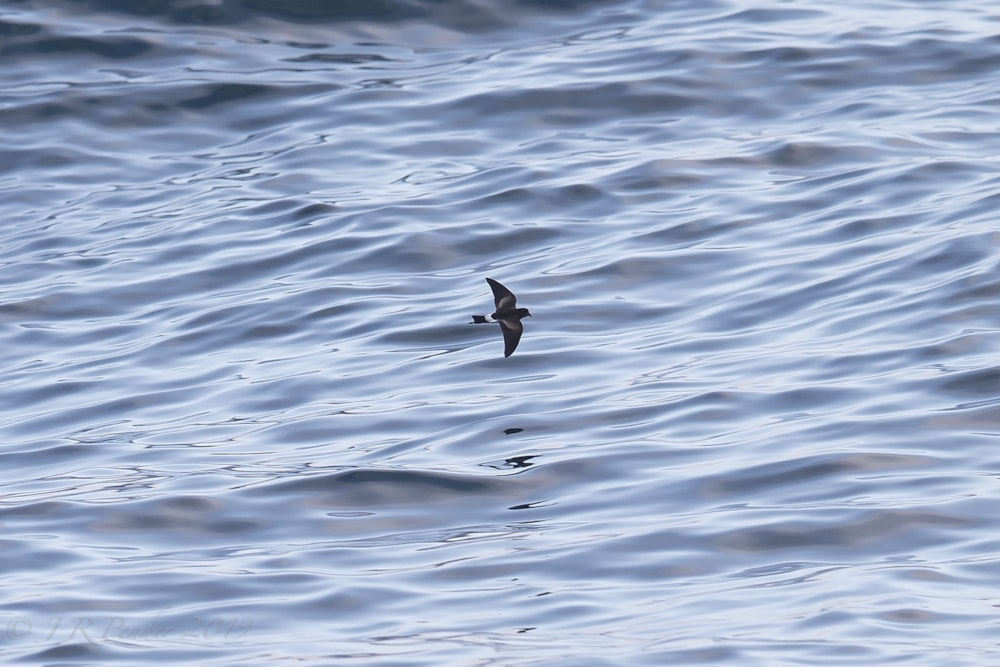 Wilson's Storm Petrel, Scilly pelagic, Isles of Scilly (Joe Pender).
Lingering into another week were both the American Black Duck at Strontian, Highland, and the Blue-winged Teal at Frankfield Loch, Clyde. Ring-necked Duck remained in Essex and Clwyd, as did the drake Ferruginous Duck at Pett Level, East Sussex. The King Eider returned to waters off Nairn from 20th and up to two Surf Scoter could be seen off Musselburgh, Lothian. Meanwhile, the well-travelled Bufflehead of captive origin returned to its favoured Rutland Water on 22nd and the Pied-billed Grebe continued at Loch Feorlin, Argyll.
Glossy Ibises were seen in Devon, Gwent and Yorkshire, the latter flying south over Seamer Carr on 18th before being relocated at Tophill Low on 18-19th. The elusive Purple Heron was again at Cors Ddyga RSPB, Anglesey, on 19th with the Minsmere bird again in flight on 20th. A flyover White Stork was noted at Gallows Bridge Farm NR, Bucks, on 21st, while families of Western Cattle Egret were on show at Chigborough Lakes, Essex, and Ringstead Gravel Pits, Northants.

Glossy Ibis, Tophill Low NR, East Yorkshire (Sonia Johnson).
The female Snowy Owl was again on Gleninagh Mountain, Co Clare, on 18th – almost 15 months since the last sighting of her. Elsewhere, the female was also still on St Kilda, Outer Hebrides. Black Kites were reported from Gloucestershire, Hampshire and the Isle of Wight.
Crossbills aside, passerines were few and far between. The European Serin was still singing on the Kent coast at Littlestone-on-Sea on 21st and another was again at Kilnsea, East Yorkshire. Rosy Starlings were on Unst, Shetland, and Harris, Outer Hebrides, while a male Red-backed Shrike visited Horse Eye Level, East Sussex, on 21st. The Savi's Warbler resolutely buzzed on at Cors Ddyga RSPB throughout the week.
Western Palearctic
Iceland's strong run continued with a Greater Sand Plover at Hvalsnes from 22nd. This is the second national record, but may as well be a first given that the only previous occurrence involved a bird at sea to the north of Iceland in July 2002. Also in the south-west of the country, the Pacific Golden Plover lingered on at Garður.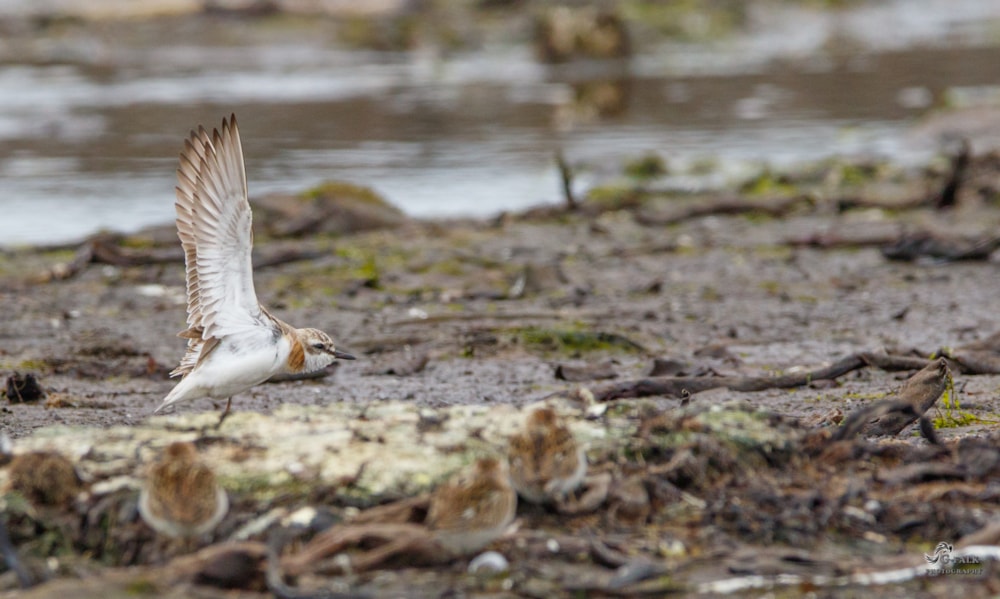 Greater Sand Plover, Hvalsnes, Suðurnes (Gudmundur Falk).
The German Stilt Sandpiper was relocated near Varel, Lower Saxony, on 20th, lingering at least three days and proving twitchable after its frustratingly brief visit to Meldorf last week. The Great White Pelican remained near Meldorf, but the trio at Leese have departed.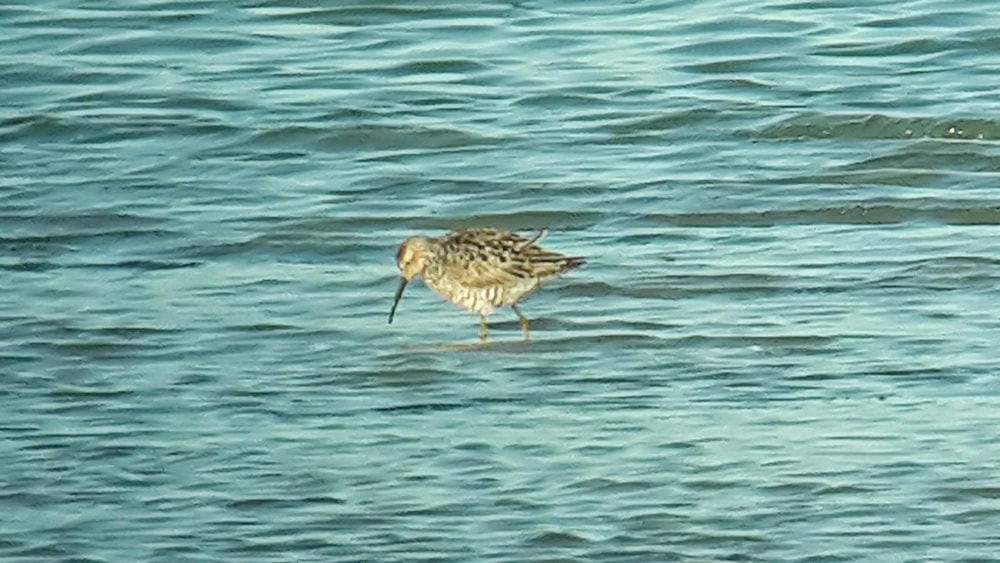 Stilt Sandpiper, Varel, Lower Saxony (Armin Kreusel).
Potentially the first Saker Falcon for The Netherlands lingered at Den Oever from 18th, while the Pied Crow continued in Leeuwarden. A Great Bustard at La Rochelle, France, is considered by some to be a Spanish (rather than British) bird, while a Western Reef Heron lingered on the south coast at Hyères.
Good numbers of Two-barred Crossbills continued to roam the west coast of Norway, with the odd bird filtering south throughout Denmark (and one found dead in north-west Germany). Two Parrot Crossbills at Skagen, Denmark, on 22nd were extremely early (this species usually appears from September onward), while there was an unconfirmed report of a Bulwer's Petrel off Klepp, Rogaland, on 20th.
Last but by no means least, it's worth mentioning that a group of seven Ruddy Shelduck has made it to Svalbard(!). These appear to have split up, with one at Skansbukta on 22 July and five at Ny Ålesund on 19th. The question is whether these have overshot from Central Asia or Central Europe ... either way, if they can make it there, they can surely make it here ...