An adult Pacific Diver off Crookhaven, Co Cork, is sure to be popular as the county's first record. A surprise Spotted Sandpiper in Nottinghamshire at Holme Pierrepont from 22nd – although apparently already present for several days as a misidentified Common Sandpiper – was the best of the other new arrivals this review week. The reappearance of the American Horned Lark at Staines Reservoirs, Greater London, on the same date provided those slow off the mark the first time around a second bite at the cherry. Fans of armchair ticks would be wise to pay a visit; some studies suggest the Holarctic superspecies could in fact contain over 10 individual species!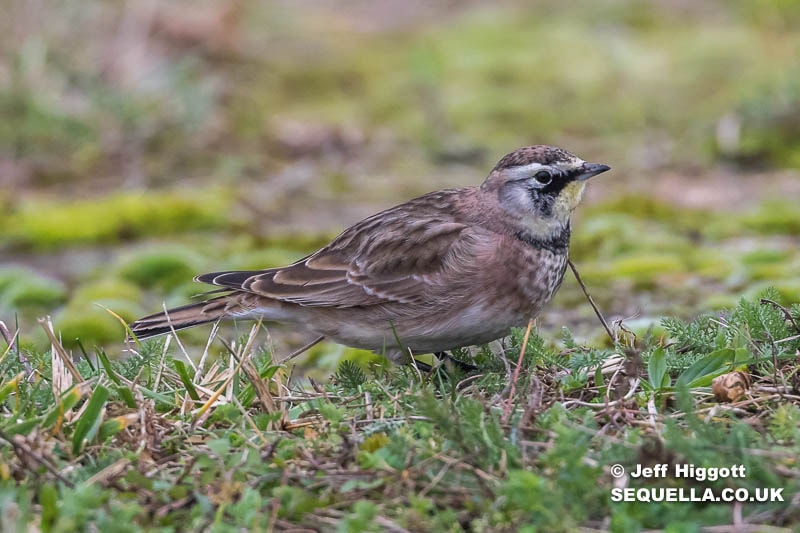 American Horned Lark, Staines Reservoirs, Surrey (Jeff Higgott).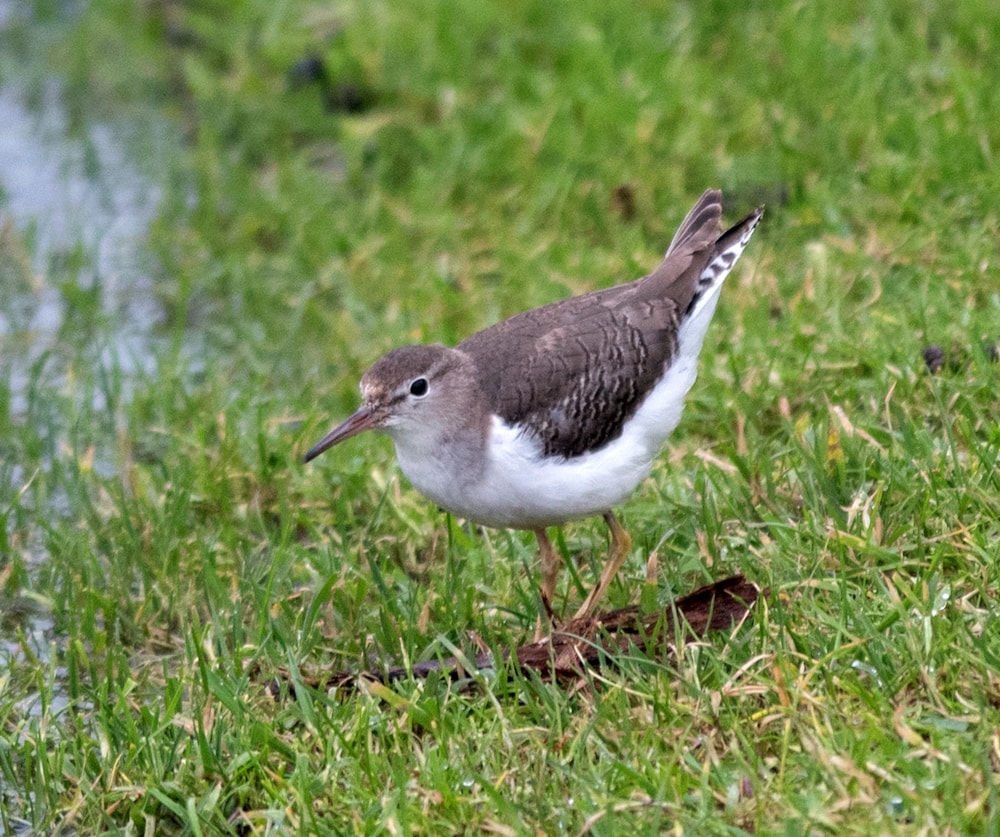 Spotted Sandpiper, Holme Pierrepont, Nottinghamshire (Robin Brace).

After a few days' leave (although likely down to viewing conditions as much as anything else), the Black Scoter was back off the Northumberland coastline from 18-23rd, while in Wales the content female King Eider was again at Ynyslas, Ceredigion, from 18th. The Yell Sound, Shetland, female was again gorging on mussels off Mid Yell from 17-19th. Remaining in Shetland is the Spiggie Pied-billed Grebe, which was still to be found on 23rd. A trio of Surf Scoters remained off Porthpean, Cornwall, this week, while duos in Lothian were in Gullane Bay on 20th and off Musselburgh from 19-20th. Others were in Co Meath and Largo Bay, Lothian.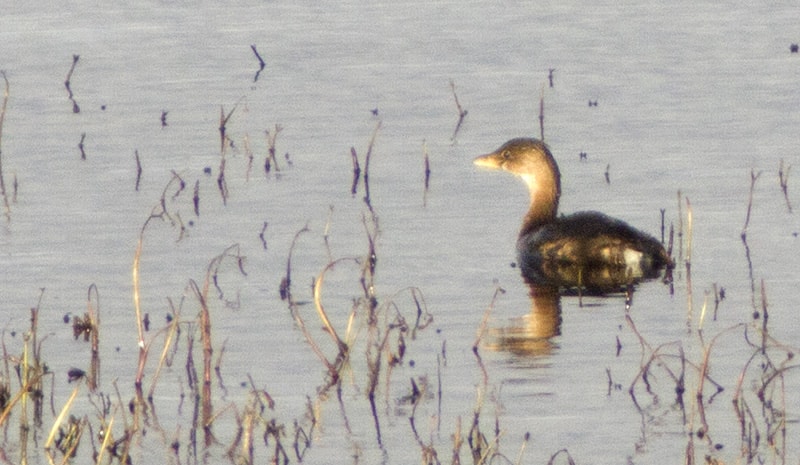 Pied-billed Grebe, Loch of Spiggie, Mainland, Shetland (Roger Riddington).

A new American Wigeon rocked up in Nottinghamshire at Idle Valley NR on 23rd, although was somewhat overshadowed by its Nearctic compatriot down the road. The rest of the week's records refer to drakes, with singles at Matford Marsh RSPB, Devon, Rutland Water, Leicestershire, Grindon Lough, Northumberland, and Clachnaharry, Highland, throughout. Others were at Tain Links, Highland, on 19th and 20th, as well as Dipple Shore, Ayrshire, on 20th and on North Uist at Ardheisker on 19th. Just eight Green-winged Teal were logged, with new birds at Loch of Strathbeg, Aberdeenshire, on 18th and Wacker Quay, Cornwall, on 19th.
The settled drake Lesser Scaups remained at Dozmary Pool, Cornwall, and Chew Valley Lake, Somerset, throughout. Nine Ring-necked Ducks are largely the same as last week, with five in Ireland, three in England and two in Scotland; a drake at Beesands Ley, Devon, from 20-22nd was the sole new arrival. The only Ferruginous Ducks concerned the remaining German-ringed drakes at Dinton Pastures, Bedfordshire.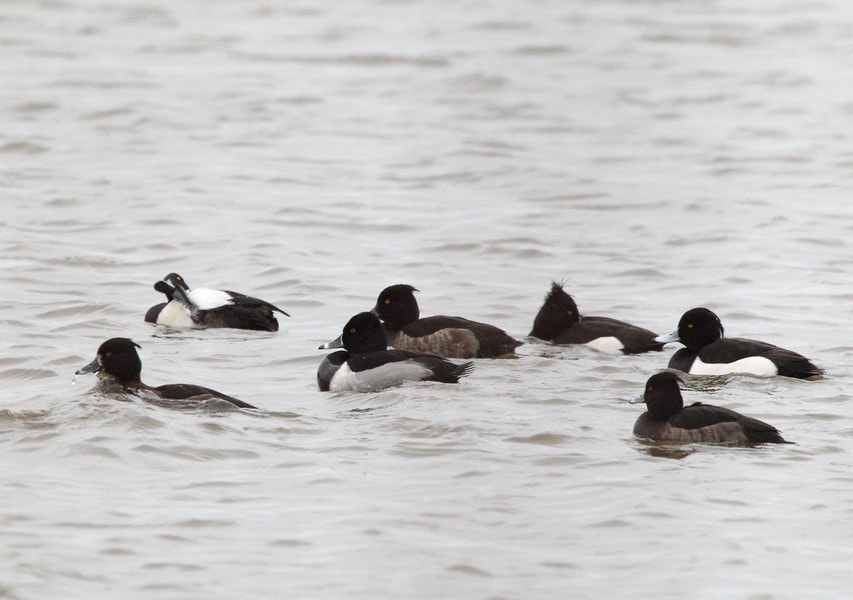 Ring-necked Duck, Beesands Ley, Devon (Alan Doidge).

In Aberdeenshire, the blue-morph Snow Goose and Todd's Canada Goose remained in situ at the Loch of Skene roost. Essex seems the place to be for Black Brants, with no fewer than four birds; two were at Hamford Water on 23rd and a single was at Wallasea Island on 21st. Another remained at Brightlingsea. Elsewhere the only two records concerned individuals in Poole Harbour, Dorset, and Walney Island, Cumbria. Rounding off the interesting wildfowl of the period was a surely suspect drake Wood Duck at Priory Fishing Lakes, Lincolnshire, on 18th.

In Dorset, the wide-ranging Stilt Sandpiper was back at Coward's Marsh, having once again gone missing after a brief stint at Stanpit Marsh on 17th. In Kent, the wintering Long-billed Dowitcher was seen again on 17th at its usual haunt of Oare Marshes. Elsewhere, a Temminck's Stint remained at Pulborough Brooks RSPB, West Sussex, throughout.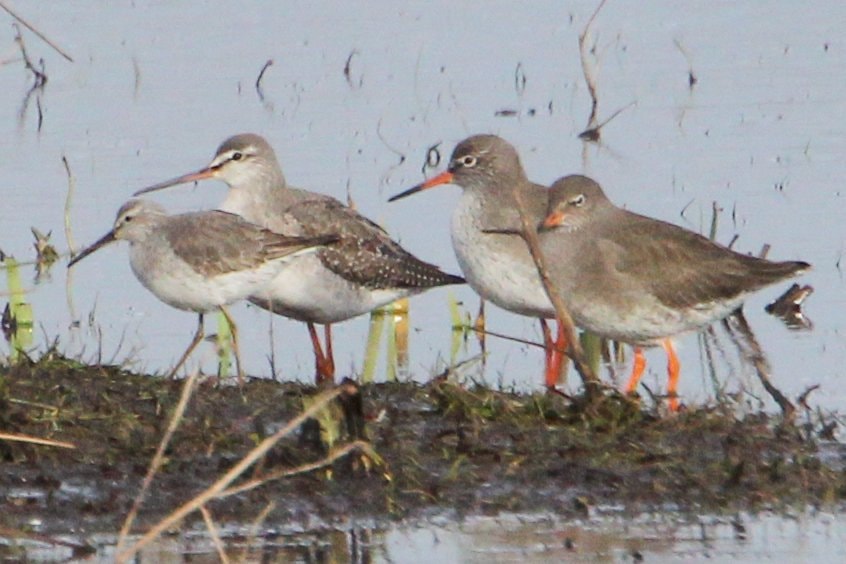 Stilt Sandpiper, Coward's Marsh, Dorset (Alan Hayden).

Delightfully now a seemingly permanent fixture, around 80 Western Cattle Egrets at 13 sites were recorded, peaking with 18 birds on 22nd at Westhay in Somerset. Nine Glossy Ibises were spread wide, as far as the Isle of Wight to the south and Orkney to the north. The sole new record was an individual passing over Swalecliffe, Kent, on 23rd - only the second site record.

An adult Bonaparte's Gull was again at Cardwell Bay, Clyde, on 23rd, with the long-stayer still off Exmouth, Devon. New Ring-billed Gulls were reported from Ynyslas, Ceredigion, on 18-19th and Deeping Lakes NR, Lincolnshire, on 22-23rd, although the latter seems likely to be a hybrid with a Common Gull. In Ireland, adults were at Quilty, Co Clare; Timoleague, Co Cork; Tralee Bay, Co Kerry; Drimnagh, Co Dublin; Bray, Co Wicklow; Sandymount Strand, Co Dublin; and in Limerick city centre. In mainland Britain, birds were again at Blashford Lakes, Hampshire, Newquay, Cornwall and Strathclyde Loch, Clyde.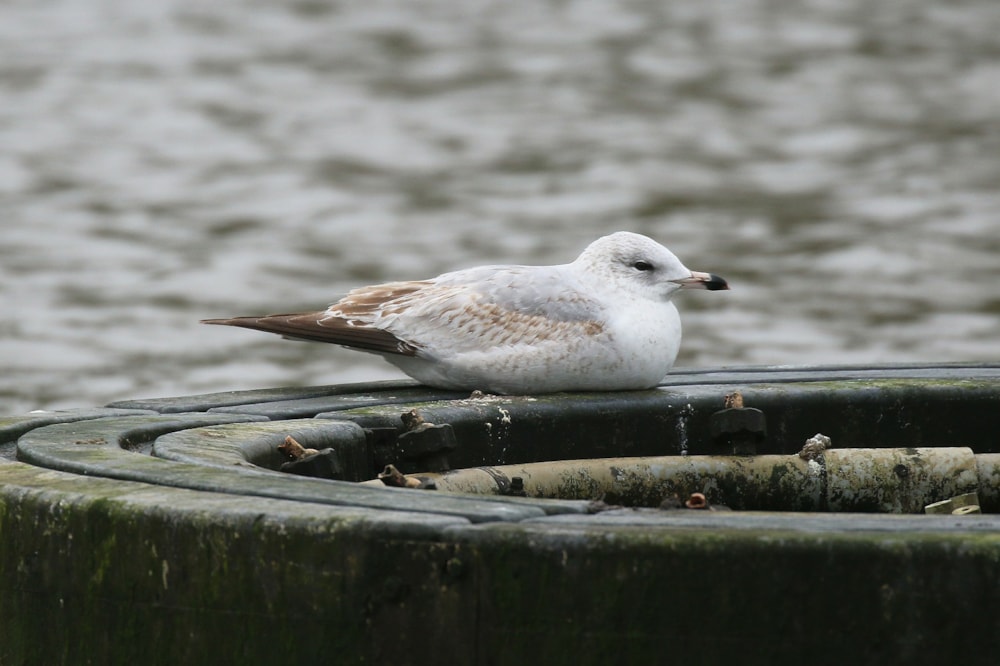 Ring-billed Gull, Newquay, Cornwall (Chris Teague).

The noticeable cold, windy and generally unattractive weather this week seems likely to be responsible for a white-winger influx, with large numbers of Glaucous and Iceland Gulls fairly widespread. Two reports of Kumlien's Gull (now classed as a subspecies of Iceland Gull) concerned a juvenile in the West Midlands at Parkes Hall Reservoir on 17-18th and then Sedgley on 20th. A second-winter was seen in Sligo on 20th, a third-winter was at Tralee from 18-21st and an adult was at Newlyn, Cornwall, from 21st.

Scilly's wandering Snowy Owl relocated to Tresco from 21st, where it continued to show just as well. New Rough-legged Buzzards were in Lincolnshire at Glentham on 22nd, Waveney Forest, Norfolk, from 21st and in Essex at Blue House Farm EWT. Others were at Cantley and Haddisoe Island, Norfolk, and Thorney Toll, Cambridgeshire.

Unfortunately, a morbid discovery of a few tail feathers was all that was to be seen of the tame Whitby, North Yorkshire, Desert Wheatear on 21st, having last been seen the previous day. The Norfolk Hume's Warbler was last seen on 19th, while the male Eurasian Penduline Tit at Plock Court, Gloucestershire, remained in situ throughout. Only two Yellow-browed Warblers were recorded; singles at Portland, Dorset, and in Cornwall at Falmouth. Both wintering Richard's Pipits remained; a more surprising addition was a female Bluethroat on South Ronaldsay on 19th. The intriguing apparent Italian Sparrow was still at East Budleigh, Devon on 17th, with the Rosy Starling also continuing to grace Easington, East Yorkshire. Parrot Crossbill records slowed this week, peaking with a count of 20 birds on 20th. The Howden Reservoir, Derbyshire, birds were still present, as were those at Santon Warren, Norfolk, Broxbourne, Hertfordshire, and Wishmoor Bottom, Berkshire.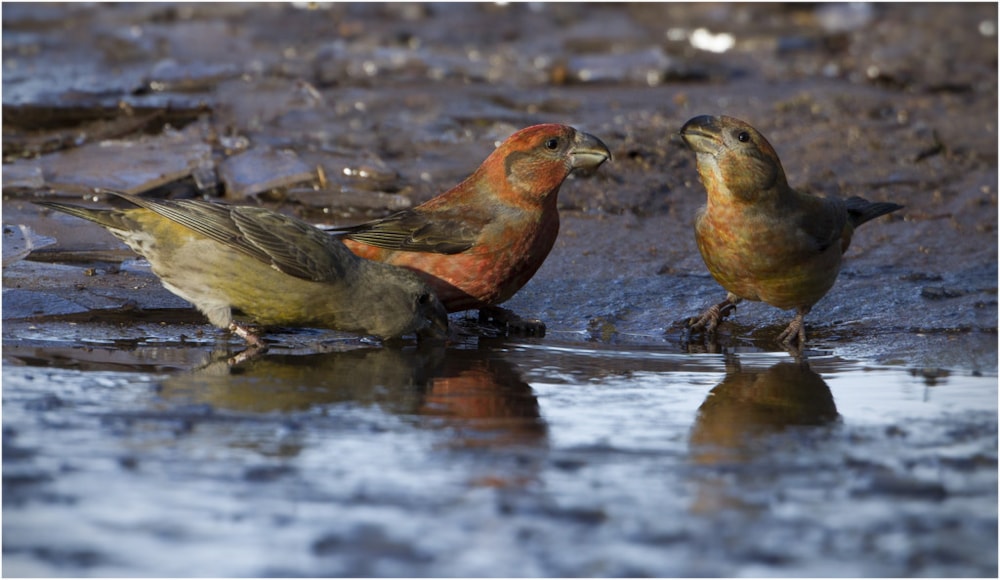 Parrot Crossbill, Santon Warren, Norfolk (Gary Watson).

Desert Wheatear, Whitby, North Yorkshire (Steven Meredith).

Several of last week's arriving Coues's Arctic Redpolls were still to be found, with duos at Letheringsett, Kelling and Bodiham, Norfolk. Others were at Loch Stack, Highland, on 19th, Hazlewood Common, Suffolk, throughout and at Finstown, Orkney. Not to be overshadowed by the Staines Horned Lark was a Little Bunting from 19th at Walthamstow Reservoirs, Greater London. Numbers of Great Grey Shrikes remained relatively low, with seven recorded in Gloucestershire (three), Northumberland, Dorset, East Sussex and Hampshire.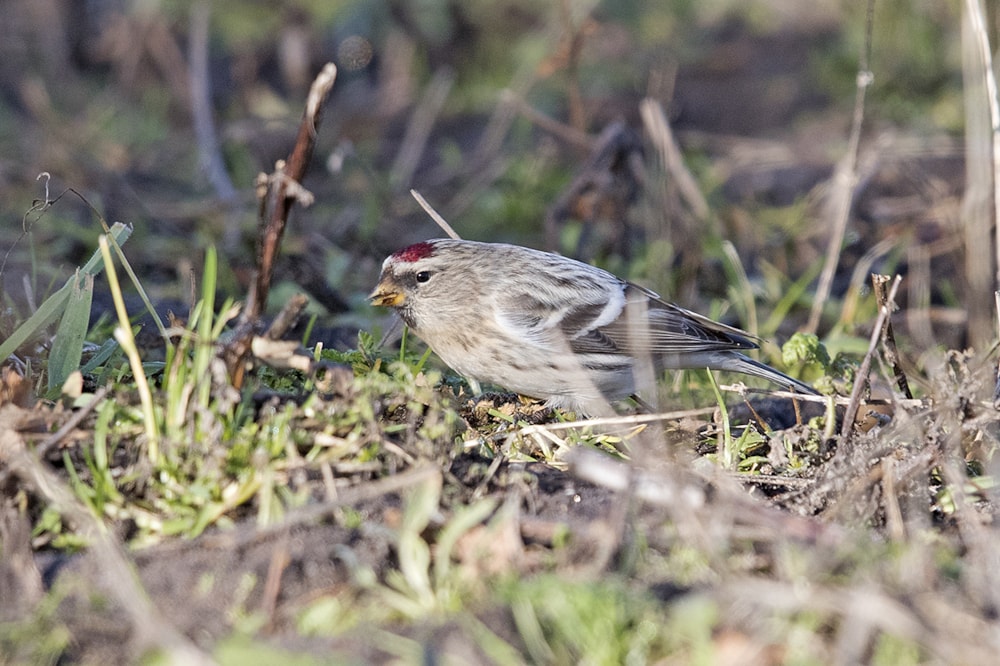 Coues's Arctic Redpoll, Hazlewood Common, Suffolk (Andrew Moon).
Western Palearctic
Tantalisingly close to south-east England is Belgium's fifth Pygmy Cormorant, present at Parc Domaine du val Duchesse, Brussels, since 12th. Romania's first White-billed Diver was on the River Olt at Ulmu on 19th, while in Sweden the Greater Yellowlegs remained at Tvaaker Standenge on 18th. Also in Sweden was an American Black Duck at Dagshog on 21st. A Franklin's Gull was near Calais at Le Touquet-Paris-Plage on 21st.

Seemingly a popular holiday venue for British birders this year, the Dwarf Bittern and Greater Hoopoe Larks remained on Fuerteventura until the end of the week. On Tenerife the Semipalmated Plover was seen again on 21st and 22nd. The Redhead was still at Praia da Vitória, Terceira, on 18th and in Iceland the American White-winged Scoter remained on 21st.