The week at a glance
It was another unsettled week of weather, and another one of those weeks where news has filtered out of a bird of the highest order that has managed to avoid the limelight until a few days after the event: an all-too-common occurrence in recent months. But, as the week drew to a close, one of those limelight-shunners appeared, the news was out immediately and the hunt was on!

Blue-cheeked Bee-eater, St. Margaret's at Cliffe, Kent (Photo: Steve Ray)
After the stunning belated stories of Blue-cheeked Bee-eaters in Hampshire and Devon earlier this summer (both photographed, the Hampshire bird particularly nicely), hopes that one of them (if indeed two were involved) may still be bouncing around the country seemed to have faded away. It's been over three weeks since the sighting in North Devon. Then, out of nowhere, in the middle of the morning on 22nd, came amazing news from Kent: a Blue-cheeked Bee-eater had been found around Bockhill Farm, St.Margaret's-at-Cliffe. The bird was initially seen for some ten to fifteen minutes, then was lost for almost an hour. Just before noon, the bird was back and showed on and off (with at least one flight out to sea, the French coast clearly on view) until early afternoon. For those arriving from slightly further away than the southeast, there was a gathering sense of inevitability to the proceedings. The dogged old-timers working their local patch could enjoy the find of a lifetime.

Brown-headed Cowbird, South Pembrokeshire (photo: anon)
The third photographed Brown-headed Cowbird of 2009 (and probably the fourth record of the species this year) came to light this week after photographs of another rather splendid male were sent to the RSPB Cymru office in Cardiff and then forwarded to their warden on Ramsey Island. The bird had been seen in a private garden in south Pembrokeshire from 13th–15th July and the householders had identified the bird themselves, via the Internet. They also requested that no further information was given as to the whereabouts of the bird and a search in the general area on 18th proved fruitless. The next guessing game is just how far would a three-day bird in midsummer really want to move? With some pretty grotty weather moving through that part of the country in the past few days, a move is indeed what seems to have happened, but hopefully a relocation is on the cards. The remarkable rise of the "Moobird" is, arguably, the rarity story of 2009, and this first for Wales sees an incredible series of records continue. In date order, this year has seen single males arrive in Northumberland on 1st–2nd May (this bird was successfully suppressed), very briefly in Norfolk on 7th May, on Fair Isle from 8th–10th May (the only bird to be twitched), and another report of the bird in Norfolk (at a different location) on 3rd June. An amazing tally, adding to the only accepted record, on Islay 21 years ago. The question for those of a listing disposition remains: will 2009 see a Cowbird give itself up on mainland soil? And will the crowds be invited to enjoy this rather hard-done-by vagrant?
Short-stay mega Bee-eaters and belated Cowbird aside, in reality, there really wasn't much to get excited about this week. A possible Yelkouan Shearwater flew past Porthgwarra (Cornwall) on 19th (this is the sixth possible/probable Yelkouan reported in Cornish waters within the past 12 months, and presumed Yelkouan Shearwater was seen and photographed off the coast of south Devon last August). On Guernsey, the two Zitting Cisticolas remained at Port Soif to 19th at least.
It has been a poor summer so far for Wilson's Storm-petrels in the waters off Scilly; the second of the year so far was seen on the evening of 20th. There have also been slimmish pickings for fans of the "big" shearwaters, with still no significant movements yet this year. Just 19 Cory's Shearwaters were reported this week, mostly from Porthgwarra, including eight on 19th and six on 20th. In the North Sea, lone Cory's were seen on 18th off the coasts of East Yorkshire and Norfolk, preceded by one reported off Southwold (Suffolk) on 17th. Single Great Shearwaters were seen from Cape Clear Island (Co. Cork) on 18th, Towan Head (Cornwall) on 19th and Porthgwarra, a Scilly pelagic and the Old Head of Kinsale (Co. Cork) on 20th. It has been a good week for the endangered Balearic Shearwater, numbers comfortably making it through three figures. At least 110 were recorded off Porthgwarra alone, including 36 on 16th. A further 30 or more were seen elsewhere in the Duchy and around 50 were counted off the coast of Dorset (mainly from Portland Bill). Elsewhere there were ones and twos along the rest of the south coast with others seen in Pembrokeshire, Conwy, North Yorkshire and Norfolk. At least half a dozen Pomarine Skuas were noted around the country during the week, including an adult at Bartley Reservoir (West Midlands) on 21st, while a first-summer Sabine's Gull was seen on an evening pelagic out of St. Mary's (Scilly) on 18th.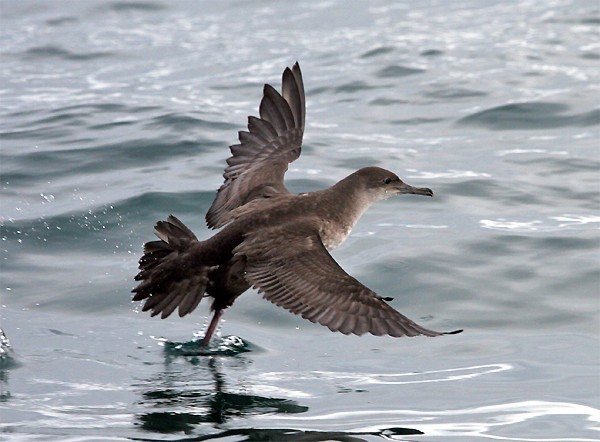 Balearic Shearwater, Portland, Dorset (Photo: Tom Brereton)

Pomarine Skua, Bartley Reservoir, West Midlands (Photo: Philip John Parsons)
An adult summer Cattle Egret was at Lodmoor (Dorset) on 21st and a juvenile was seen at Colyford Common (Devon) on 19th–22nd. An old favourite returned this week, the Great White Egret at Blashford Lakes (Hampshire) appearing on 21st. Three of last week's Great White Egrets made it to another week, remaining at Graemeshall Loch (Orkney) to 19th; in Suffolk, mainly at Hen Reedbeds SWT, but also at Minsmere; and at several sites around the Somerset Levels throughout the week. Also on the Levels, the male Little Bittern was still at Loxton Marsh, on Walton Heath, to 20th. The flock of Spoonbills on Cley Marshes (Norfolk) continued to see its numbers rise this week, hitting a new record of 15 by the morning of 20th (a count of 18 the previous day remains unconfirmed). Four were seen at Minsmere (Suffolk) on 16th and Scottish singles were seen in Aberdeenshire and Angus. Common Cranes noted away from their various nesting (or potential nesting) sites included one on Shetland, at Walls on 19th, two birds over Honingham (Norfolk) on 21st and two near Goole (East Yorkshire) on 22nd. Two White Storks were reported over Taunton (Somerset) on 20th.

Great White Egret, Meare Heath, Somerset & Bristol (Photo: James Packer)

Spoonbill, Cley Marshes NWT, Norfolk (Photo: Mark Skipper)
The drake Ferruginous Duck was again at Chew Valley Lake (Somerset) on 16th and 22nd, cutting a lonely figure as the sole wildfowl representative of the week. Also going solo this week was the only raptor of any note (aside from the usual rare breeding suspects), the White-tailed Eagle seen again near Ardrossan (Ayrshire) on 16th.
Content continues after advertisements
In East Yorkshire, a nice little midsummer surprise appeared on 20th when a Collared Pratincole dropped in to the Pulfin and High Eske reserve near Arram. Seen briefly on the first evening, the bird obliged all comers on 21st, remaining into the gathering gloom and on into 22nd, when some debate as to which pratincole species was involved cropped up. Some images hinted at a vague Oriental look, but others ensured that Collared was the only answer. Once accepted, this will be the first Collared Pratincole for East Yorkshire since June 1996, when one was seen at Hornsea Mere.

Collared Pratincole, Pulfin and High Eske NR, East Yorkshire (Photo: Dave Mansell)

Collared Pratincole, Pulfin and High Eske NR, East Yorkshire (Photo: Graham Catley)
In Norfolk, a beautiful adult American Golden Plover appeared briefly on the marshes at Cley during the late afternoon of 16th, before heading towards the vast open tidal spaces of Blakeney Harbour. Against the odds, the bird was relocated twice that evening and the second show, although distant, prompted the first observers (the second refinders if you will) to voice their disquiet at the original identification — which had been Pacific Golden Plover). Thankfully, the bird reappeared the next day briefly at Cley before settling on Sea Pool, east of the NWT reserve, where it showed wonderfully well until late afternoon. Then the bird was lured west by two European counterparts and it was away. Whether it eventually swung east, and headed to Breydon Water is the next question: an adult summer dominica appeared there on 22nd.
A Lesser Yellowlegs was found on the Eden Estuary (Fife) on 21st. Inevitably, it is tempting to surmise that this may well be the bird seen for a large part of last September at the same site. The following day, Lesser Yellowlegs were discovered in North Yorkshire, at Wheldrake Ings — the first in the county since 2005 — and at Aberlady Bay (Lothian). The Pectoral Sandpiper seen at the end of the last review period at Greatham Creek (Cleveland) was still around from 16th–18th. New "Pecs" popped up at Nosterfield (North Yorkshire) on 16th, on North Ronaldsay (Orkney) on 17th and at Dungeness (Kent) from 17th. A non-summer-plumaged Grey Phalarope was seen at Loch of Strathbeg (Aberdeenshire) on 17th.

Lesser Yellowlegs, Aberlady Bay, Lothian (Photo: Willie McBay)

Lesser Yellowlegs, Wheldrake Ings YWT, North Yorkshire (Photo: Russell Slack)
The second-summer Franklin's Gull on mainland Orkney was around Holm until 17th and then spent 18th–19th back at Graemeshall Loch (where it had originally been found). On 21st, it was back at Holm, remaining to 22nd. A first-summer Ring-billed Gull was again at Sandymount Strand (Co. Dublin) on 20th and an adult was on Nimmo's Pier (Co. Galway) at the end of the week. In the summering white-winged gulls play-off, this week's score was Glaucous Gull 5 Iceland Gull 2 (all bar one Glaucous present in Scotland or on Scottish islands).
At least five different Caspian Gulls were found at Blackborough End tip (Norfolk) this week. Three birds, all second-summers, were found on 16th (including a green-ringed, presumably Polish bird). The following day, three second-summer birds were seen again (all of them unringed) along with a particularly fine-looking large adult male. Further second-summers in Norfolk were seen at King's Lynn, Edgefield and Salthouse while Suffolk added another adult to the week's tally, one at Livermere Lake on 16th. The near-adult Caspian Gull was again at King George VI Reservoir (Surrey) on 17th and another green-ringed bird, a pure cachinnans or hybrid, was at Stubber's Green (West Midlands) on 19th. A winter-plumaged Gull-billed Tern was seen at St. John's Lake (Cornwall), also on 19th.

Roseate Tern, Minsmere RSPB, Suffolk (Photo: Jon Evans)
Two male Golden Orioles remained in the woods at Lakenheath Fen (Suffolk) to 17th, while four Red-backed Shrikes were reported. Males were at Cissbury Ring (West Sussex) to 16th and another was at St. Abbs Head (Borders) on 18th–22nd. A female was seen on North Ronaldsay (Orkney) on 19th–22nd and another female was on mainland Orkney from 20th, arriving at Skaill. The only Serin of the week flew over Skomer (Pembrokeshire) on 17th, heading towards the mainland.

Red-backed Shrike, St. Abbs Head NNR, Borders (Photo: Bruce Kerr)

Red-backed Shrike, North Ronaldsay, Orkney (Photo: Paul A Brown)
Photo of the Week

Puffin, Skomer, Pembrokeshire (Photo: Paul Hillion)
Just when you thought all possible Puffin shots had been done, Paul Hillion has sent in a comical photo of one looking right into a camera lens, its bill fully inside the lens hood. This shot nicely captures the character of these charismatic birds in a natural setting. More importantly, though, by allowing the Puffin to investigate his camera, Paul has created a fun shot with loads of impact. Hope his subject was the only one left with a big bill!

Marsh Harrier, undisclosed site, Lincolnshire (Photo: Graham Catley)

Gannet, Germany (Photo: Rudi Debruyne)

Black Tern, Minsmere RSPB, Suffolk (Photo: Jon Evans)

Common Kingfisher, Venus Pool NR, Shropshire (Photo: John Fielding)

Little Egret, Venus Pool NR, Shropshire (Photo: Jim Almond)

Moorhen, Sankey Valley Park, Cheshire (Photo: Stuart Hill)

Barn Owl, undisclosed site, Lancashire (Photo: David Cookson)

Skylark, undisclosed site, Lancashire (Photo: David Cookson)

Kittiwake, Bempton Cliffs RSPB, East Yorkshire (Photo: Steve Race)

Sand Martin, undisclosed site, Powys (Photo: Paul_Leafe)

Cuckoo, Venus Pool NR, Shropshire (Photo: Paul King)

Spotted Flycatcher, Fressingfield, Suffolk (Photo: Jon Evans)

Starling, Islay, Argyll (Photo: Amanda Hayes)

Greenshank, Hornsea Mere, East Yorkshire (Photo: Martin Standley)

Common Tern, Pitsford Reservoir, Northamptonshire (Photo: John Betts)

Great Skua, St. Kilda, Outer Hebrides (Photo: Chris Jones)