In Argyll, last week's Yellow-bellied Flycatcher was still in situ in its favoured garden at Balephuil until 20th at least, proving a delight to all those lucky enough to visit this delightful Scottish isle. With a similar range and migration routes to a number of species already recorded in Britain and Ireland, it complements two Alder Flycatchers (in Cornwall in October 2009 and Norfolk in September 2010) and the single Acadian Flycatcher (at Dungeness, Kent, on 22 September 2015) on Britain's impressive collection of Empidonax flycatchers. Generous donations by visiting birders and those further afield have raised more than £1,500 for the Tiree Community Trust to date. Anyone wishing to make a donation can do so here.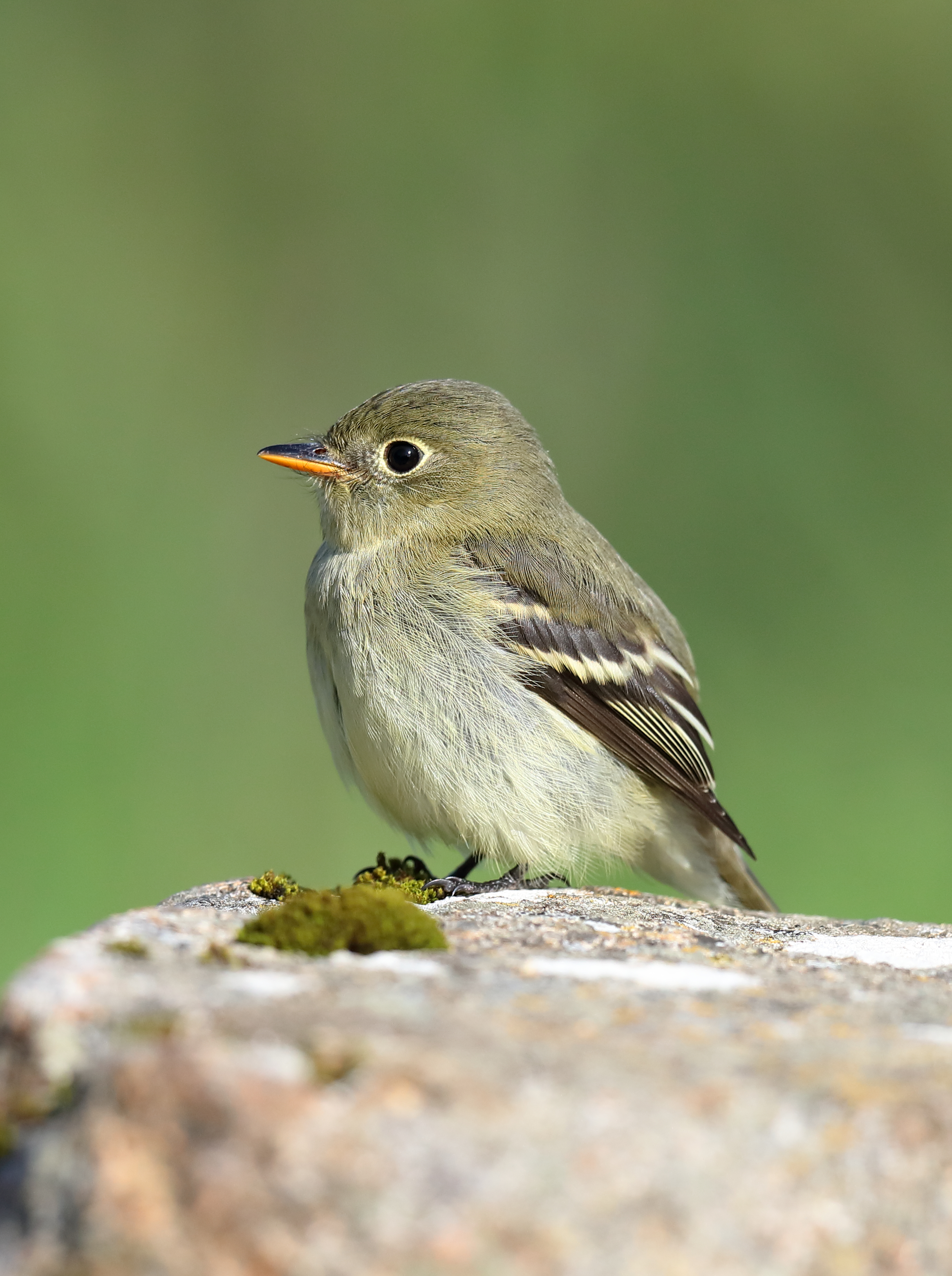 Yellow-bellied Flycatcher, Tiree, Argyll (Mark Rayment).
Yellow-bellied Flycatcher, Balephuil, Tiree, Argyll (Jim Dickson).
Ireland's fourth Bobolink was an impressive find at Fanad Head, Co Donegal, on 20th, remaining until 22nd at least. Last recorded in the country in 2003, it is the first twitchable individual since 1982 – at Cape Clear, Co Cork, from 13-24th September – and proved a popular addition in its adopted boggy field. Meanwhile, Mainland Orkney scored a Swainson's Thrush at Birsay from 17th, remaining in the garden of Viewforth until the following day.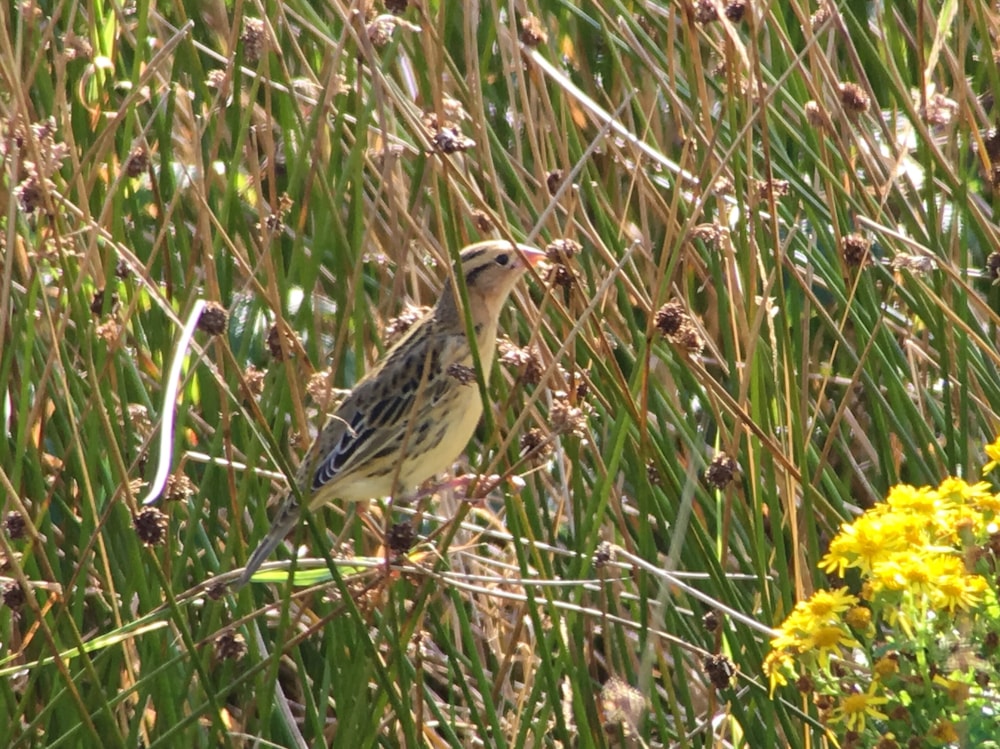 Bobolink, Fanad Head, Donegal (Brian McCloskey).
Derbyshire's Bearded Vulture showed murmurings of potential unrest on 19th, when it left its adopted haunts in the Crowden area and spent several hours in the Edale area, on the southern extremity of the Peak District. The following hours and days proved these theories correct, photographed even further south in the county on potential roosting cliffs at Lathkill Dale NNR late that afternoon before heading high south-east over Thornton, Leicestershire, mid-afternoon the next day. The trail didn't end there – a probable report was received due south of the previous sighting, over Eynsham, Oxfordshire, early afternoon on 21st. Place your bets on where it is now, with such a prolonged warm spell over recent days it wouldn't be a surprise to hear of sightings in France or the Low Countries in the near future.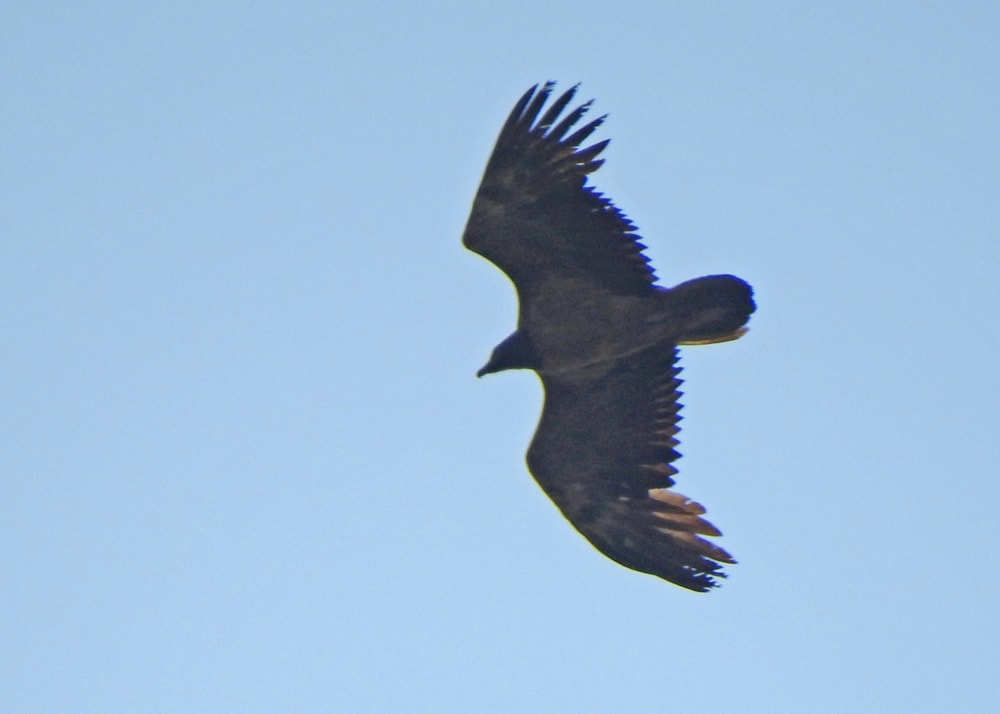 Bearded Vulture, Thornton, Leicestershire and Rutland (Andy Smith).
A confusing seabird initially reported as a possible Great-winged Petrel flew west past Cley Marshes NWT, Norfolk, early morning on 20th, before the realisation that it was potentially a better fit for White-chinned Petrel. Initially seen by four observers, what is thought to be the same bird was picked up again – with a bigger crowd present – heading back east early afternoon. In Cornwall, a Brown Booby was reported off Trevose Head on 16th.
One of the more popular members of this week's round-up, Norfolk's second Brown Shrike (following a one-day bird at Weybourne Camp in October 2018) found the hedgerows of Warham Greens to its satisfaction from 18th, lingering until the end of the week at least. A first-winter individual, it was surrounded by a strong supporting cast of other scarce eastern migrants throughout, including an Arctic Warbler at the same site.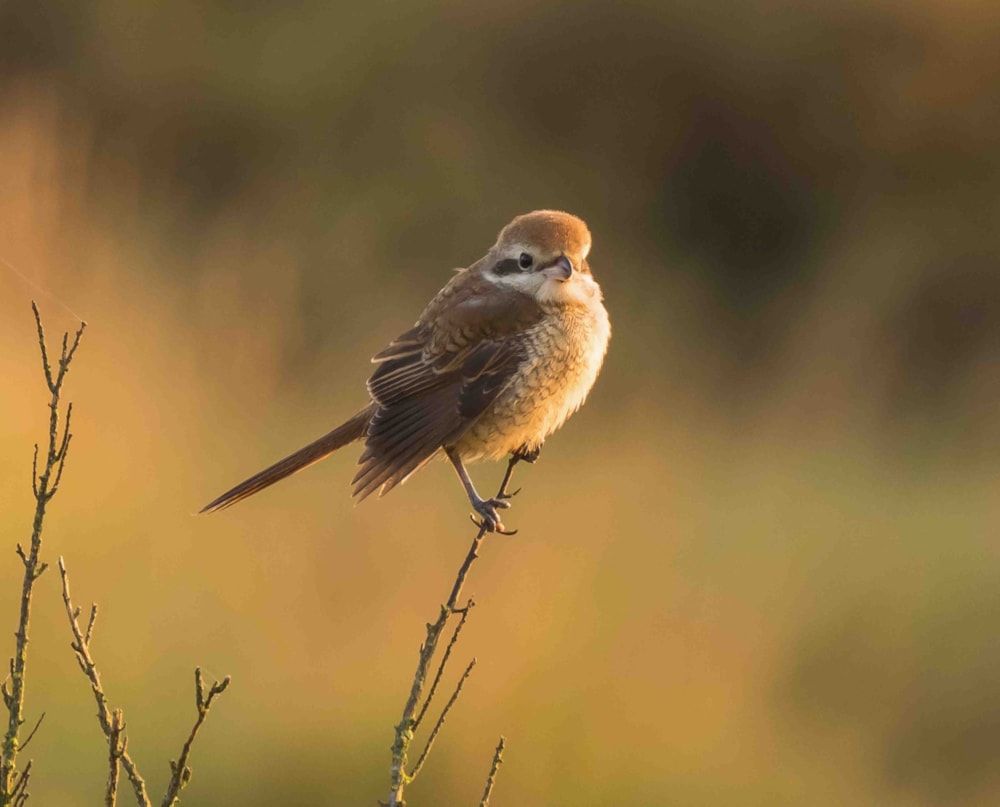 Brown Shrike, Warham Greens, Norfolk (Tom Whiley).
A promising candidate for a Yellow-breasted Bunting was at Wells Woods, Norfolk, on 19th, although proved highly elusive and provided only flight views for the majority. Another rare member of the Emberiza family was on Fair Isle: a Rustic Bunting from 22nd.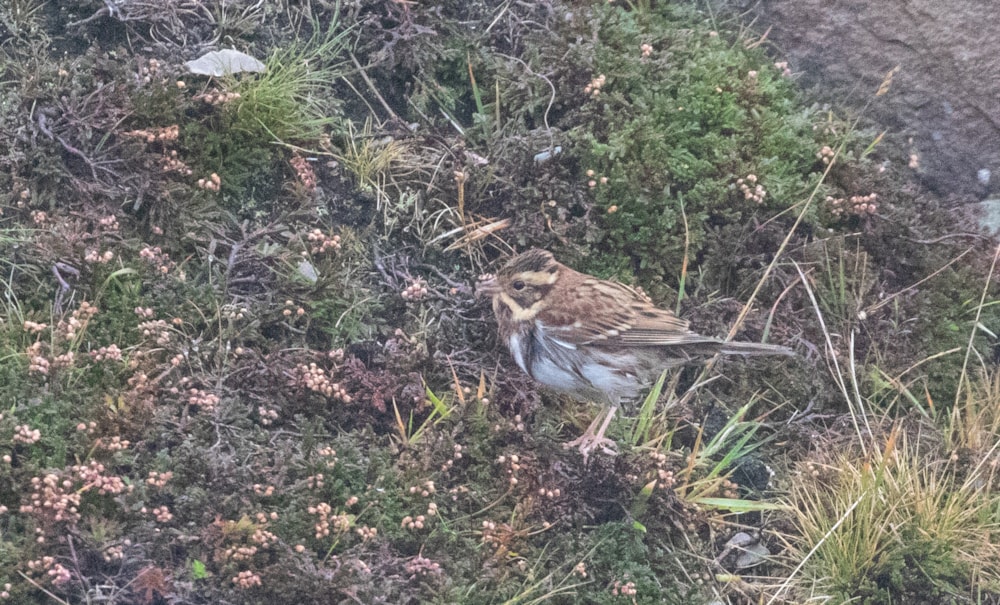 Rustic Bunting, Fair Isle, Shetland (Daniel Gornall).
In Cornwall, a Tawny Pipit at Porthgwarra on 21-22nd was joined by an elusive Paddyfield Warbler on the latter date. A Red-throated Pipit on St Mary's, Scilly, from 20th, added to the island's reliable track record with the species – another was on North Ronaldsay, Orkney, on 18th, and one headed south over Kilnsea, East Yorkshire, on 19th.
A Western Bonelli's Warbler was on Out Skerries, Shetland, on 18-19th – a Bonelli's warbler sp at Holkham Pines, Norfolk, on 19th remained unconfirmed. An Aquatic Warbler was reported from Radipole Lake RSPB, Dorset, on 21st, while a possible Pallid Swift was a brief visitor to Filey, North Yorkshire, on 19th. A juvenile Pallid Harrier west over Penzance, Cornwall, on 19th is presumably the individual picked up over Polgigga and Porthgwarra the following day; the individual at Thorney Island, West Sussex, last reported on 18th.
On the Outer Hebrides, an impressive flock of four Blue-winged Teals resided at Miavaig, Lewis, from 21st; two of the record-breaking group of five remained at Eoligarry, Barra, throughout. Singletons were recorded from Loch Ardvule, South Uist, on 18-19th and Baleshare, North Uist, on 20th, while further afield saw one at Annagh Marsh, Co Mayo.
In Highland, Strontian's drake American Black Duck remained ever-present, while a probable Grey-bellied Brant was at Findhorn Bay, Moray & Nairn, on 22nd. A Laughing Gull was reported at Loch Fleet, Highland, on 22nd, with Co Cork's adult Bonaparte's Gull still at Garretstown until 17th.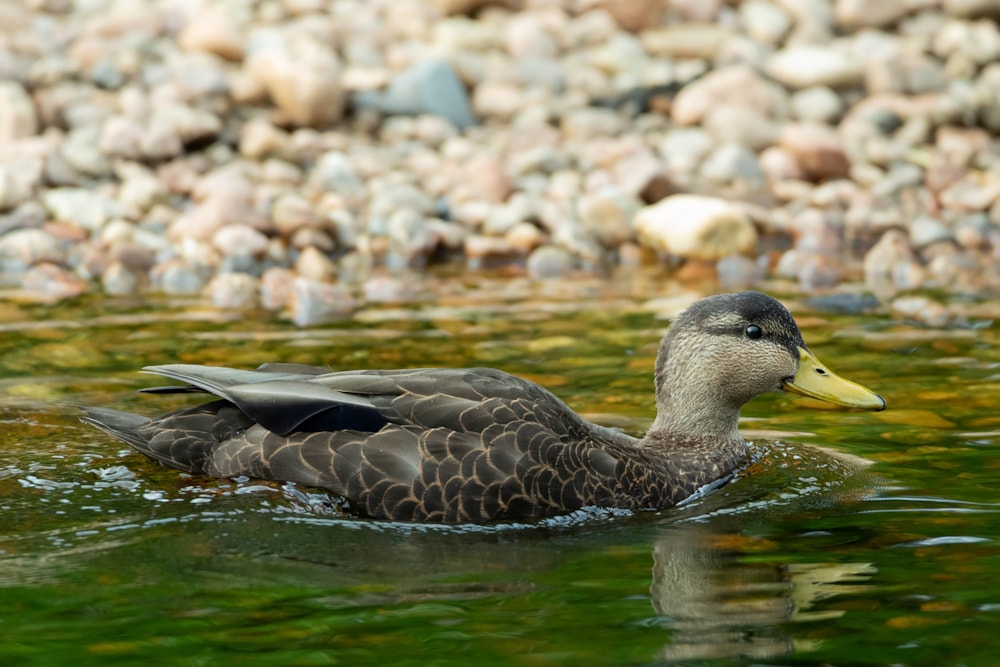 American Black Duck, Strontian, Highland (Martyn Sidwell).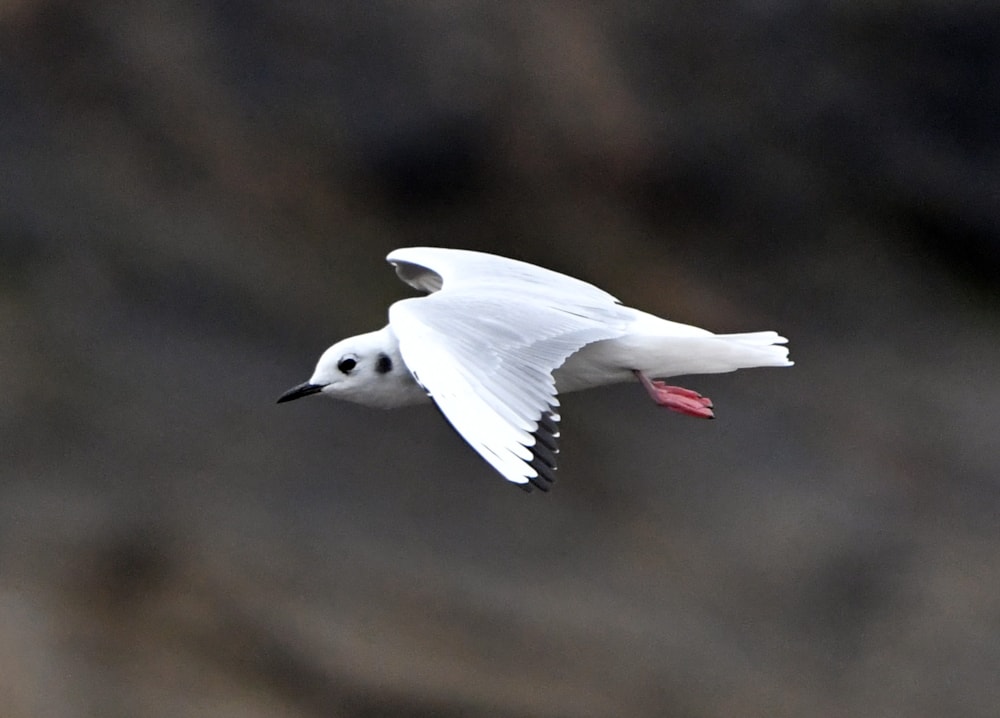 Bonaparte's Gull, Garretstown, Cork (Richard Mills).
In Ireland, a Collared Pratincole was an unexpected find at Ballinskelligs, Co Kerry, on 20th; likewise a Great Snipe on Bryher, Scilly, on the same date.
New Spotted Sandpipers were at Cloghaun Lough, Co Clare, on Shetland at Norwick, Unst, and at Balemartine on Tiree, Argyll, while the Scilly juvenile was last reported on 18th. A new juvenile Long-billed Dowitcher was at Lough Beg, Co Londonderry, on the evening of 21st; unsurprisingly the Cumbrian individual remained steadfast at Old Anthorn.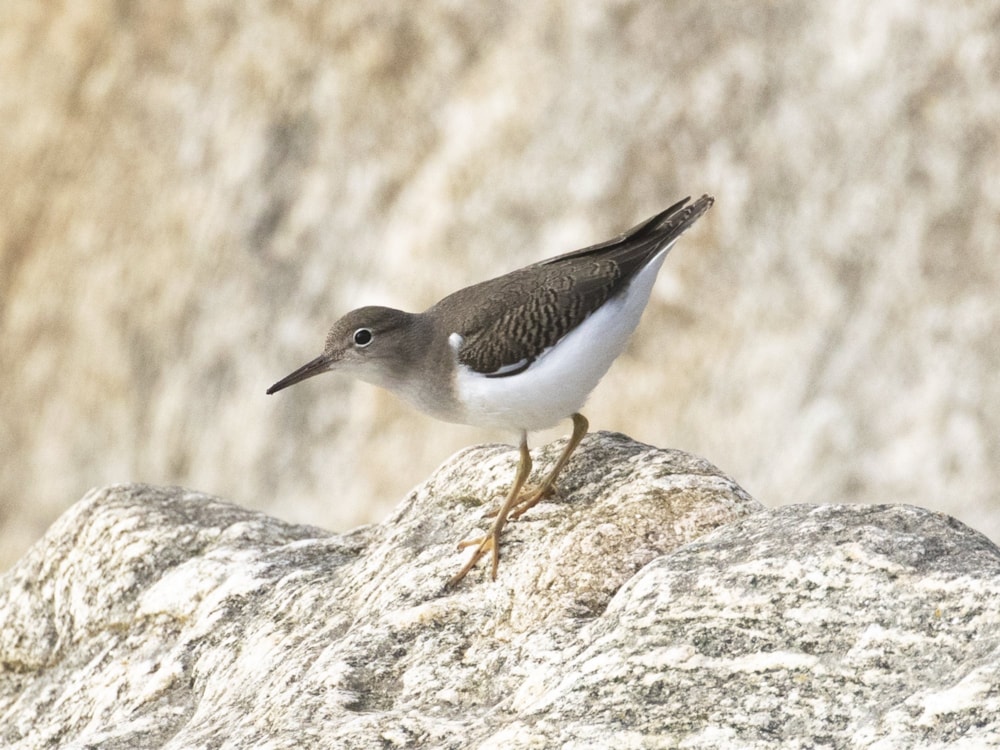 Spotted Sandpiper, Haroldswick, Unst, Shetland (Jamie Partridge).
Ballycotton, Co Cork, hosted the only new Semipalmated Sandpiper of the week on 17th, while others lingered at Rosscarbery, Loch Ordais, Lewis, and Loughaunbeg, Co Galway. Cornwall's duo were still present, at Godrevy Point and Hayle Estuary.
It was another impressive week for Baird's Sandpipers, with five new individuals: at Black Rock Strand (17th) and Ferriter's Cove, Co Kerry (18th), Nethertown (20-21st) and Churchtown, Co Wexford (21st), and Balgarva, South Uist (21st). Others remained at Carnsew Basin, Cornwall, Harbour View, Co Cork, and North Ronaldsay, Orkney, while the Dornoch, Highland, juvenile was last reported on 20th.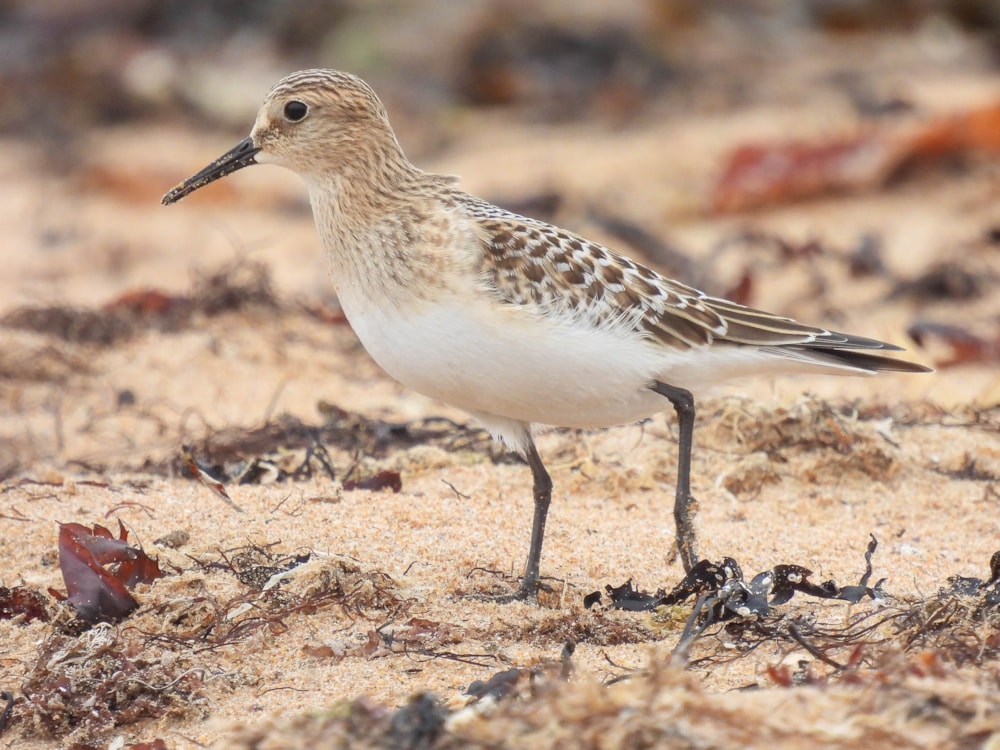 Baird's Sandpiper, Dornoch, Highland (Colin Leslie).
Scottish mainland
The Scottish mainland was a little subdued this week but still offered a scattering of scarce birds to the stalwart birder. A Glossy Ibis made it north to Caithness, photographed at Westfield on 20th. In Highland last week's Sabine's Gull at Ullapool continued to entertain and a single Leach's Storm Petrel was noted off the Ullapool to Stornoway Ferry. Loch of Strathbeg RSPB, Aberdeenshire, continued to host a Pectoral Sandpiper until 21st at least and the 11 adult Common Cranes were again present on 19th. At the coast a Barred Warbler occupied itself at Girdle Ness from 18th to 21st.
The highlight in Moray & Nairn was another Sabine's Gull; a juvenile off Nairn on 20th. The recent Pectoral Sandpiper at Longhaugh Point, Clyde, reappeared on 21-22nd. Lothian and Borders both had flyby Long-tailed Skuas at Scoughall on 16th and St Abb's NNR on 17th. Two drake Surf Scoters were in Gosford Bay, Lothian, on 19-20th and a returning Ring-necked Duck was at Seafield Pond on 20th. Two Eurasian Spoonbills continued their Scottish stay at Montrose Basin and a Great Egret offered another big white target at the same site.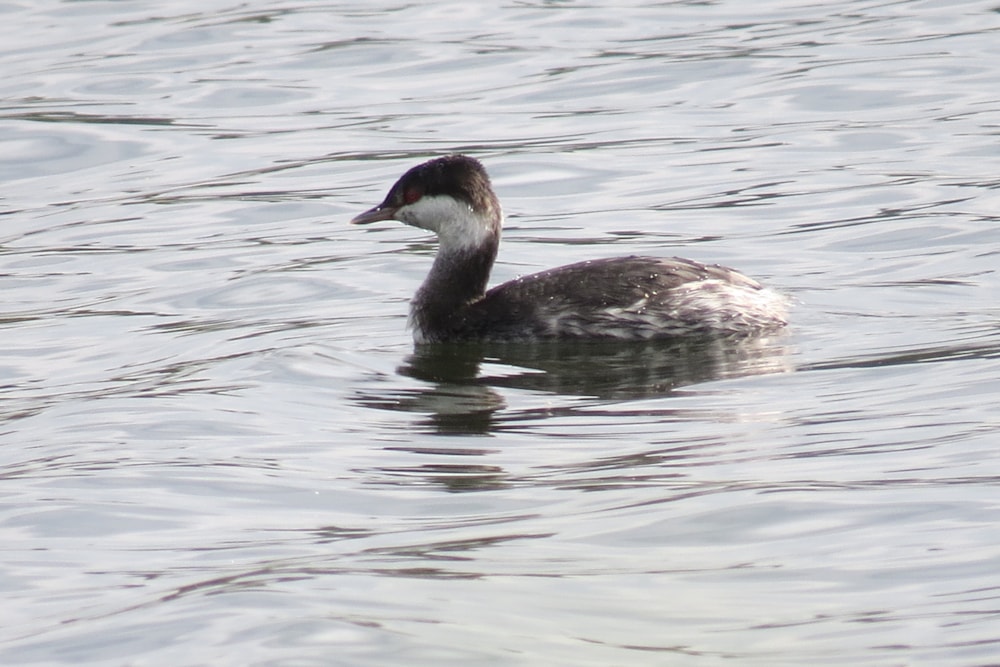 Slavonian Grebe, Hogganfield Loch, Clyde (Jim Coyle).
Northern Isles and the Hebrides
The supporting cast to the abundance of rarities on the Outer Hebrides was far from mundane. Buff-breasted Sandpipers were again noted at Baleshare on 16th and at the Butt of Lewis (two) on 17th. A single Pectoral Sandpiper was at Loch Paible on 18th. A single Long-tailed Skua was noted passing Loch Ordais on 17th while an Iceland Gull was noted at Rubha Ardvule. An adult male Red-breasted Flycatcher brightened up a garden at Castlebay, Barra, between 20th and 21st. At Askernish, South Uist a ringing session produced a Greenland Redpoll, while at Howmore a European Turtle Dove was found. The first Yellow-browed Warbler of the year made it to Barra by 20th and Lapland Buntings continued to be noted with records from eight sites including 20th at the Butt of Lewis.
A probable Common Crane heard on Westray, Orkney on 19th may well have been the same individual as on North Ronaldsay later in the week. Almost all the Orkney news this week was centred on North Ronaldsay, with a Bluethroat on 17th and two Little Buntings on 18th the most notable. Common Rosefinch and Barred Warbler were also noted on the island and up to five Yellow-browed Warblers by 19th. The flock of 42 Lapland Buntings still on North Ronaldsay also worthy of mention. Away from there, another Barred Warbler was at Stove, Sanday on 18th.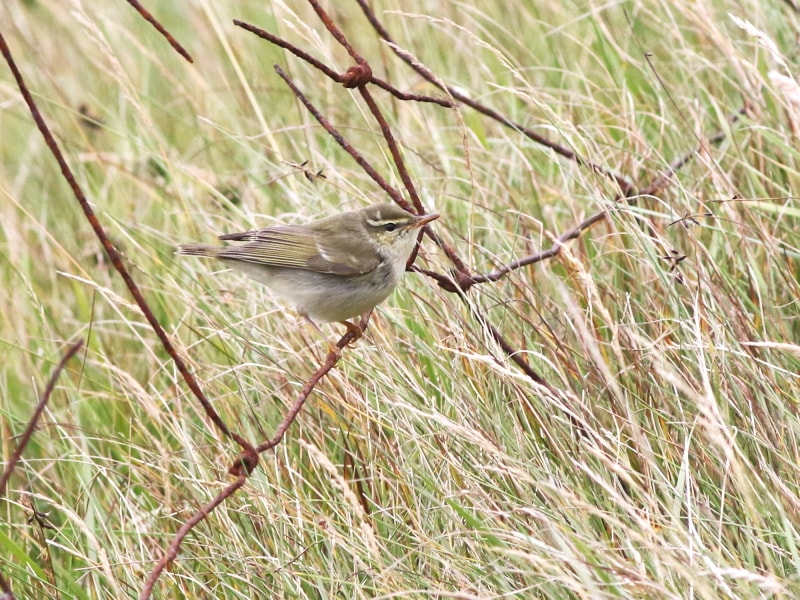 Arctic Warbler, Skaw, Unst, Shetland (David Cooper).
Shetland continued offer the kind of numbers that show its pedigree. New in this week were six Little Buntings; three on Fair Isle and three on Unst. An Arctic Warbler was at Skaw, Unst between 17th and 18th. Three Citrine Wagtails included the long-stayer on Fair Isle and others at Grutness and Quendale. Woodchat Shrikes were at Levenwick and Camb, Yell, the latter from 16th to 21st and four Red-backed Shrikes were noted in the week. Fair Isle's 'resident' Rosy Starling was only noted on 16th whilst single Wrynecks were at Sumburgh and on Out Skerries in the week. Three Red-breasted Flycatchers were spread between Fair Isle, Unst and Bressay; Unst also held a Bluethroat mid-week. Up to nine Barred Warblers included two on Fair Isle and nine Common Rosefinches found also included two on Fair Isle. A Temminck's Stint at Pool of Virkie on 16th provided a refreshing alternative to passerines.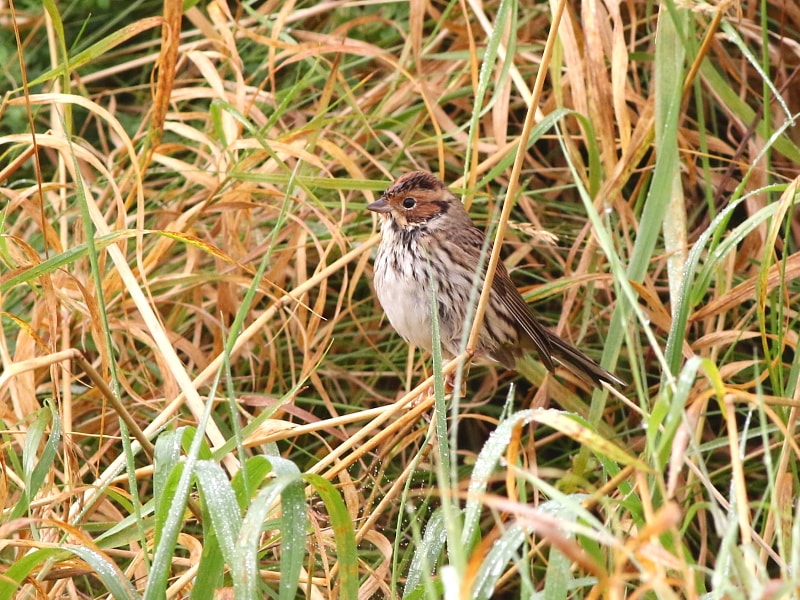 Little Bunting, Burrafirth, Unst, Shetland (David Cooper).
North-East England
Northumberland's first Buff-breasted Sandpiper since 2012 made brief touchdown at Low Newton on 16th before relocating to Boulmer, where it remained for the rest of the week – albeit ranging over a couple of miles of coast. Weather conditions on 16th also brought a flurry of decent seabirds along the Northumbrian coast. Up to five Sabine's Gulls were seen, two adults off Church Point, Newbiggin complemented by singles at Snab Point, Cullernose Point and Annstead Point as the day progressed. A single Leach's Storm Petrel at Church Point, Newbiggin-by-the-Sea, was eclipsed by four off Boulmer, while further north at Annstead a Long-tailed Skua moved through. A Little Bunting took up residence in the Vicar's Garden on Holy Island from 19-21st. At the other end of the county, a Red-breasted Flycatcher was briefly in gardens in Tynemouth on 20th. Barred Warblers were at the St Mary's Wetland on 18th and Budle Point on 20-21st. Up to 23 Yellow-browed Warblers appeared in the week with four individuals found at two sites, Holy Island and Brier Dene.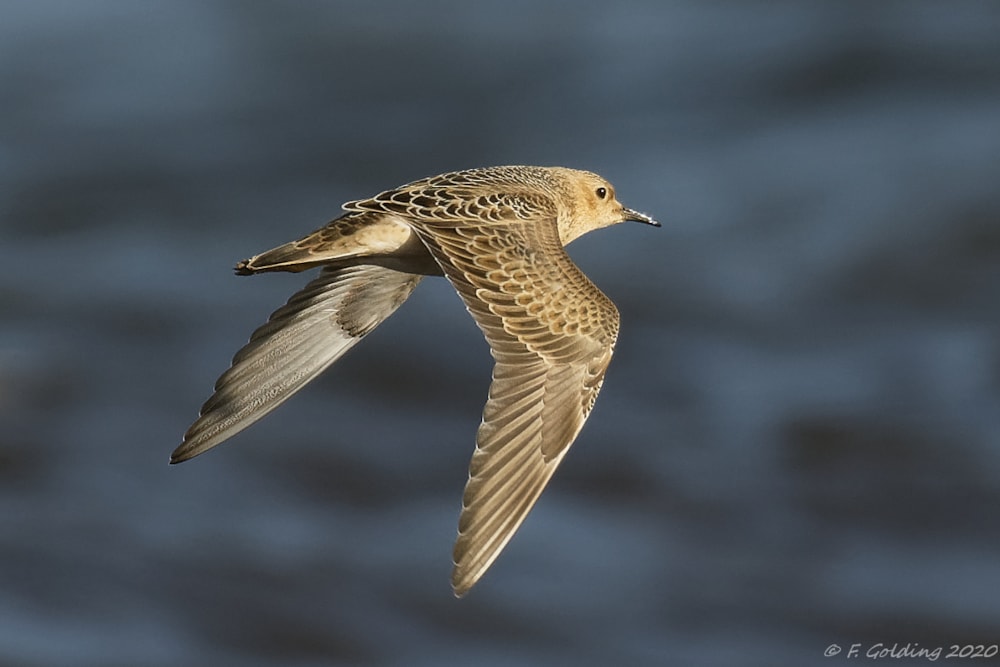 Buff-breasted Sandpiper, Boulmer, Northumberland (Frank Golding).
A single Leach's Storm Petrel on 16th and a Long-tailed Skua on 18th were both off Whitburn Coastal Park, Durham, in a week that also saw a Balearic Shearwater and steady daily movements of Sooty Shearwaters. Surprisingly, Durham birders needed to look inland for their Sabine's Gull, with a brief juvenile at Castle Lake, Bishop Middleham, on 21st. An Arctic Warbler moved through gardens on Whitburn's Shearwater Estate on 21st but a possible Greenish Warbler at Ryhope eluded confirmation. Up to a dozen Yellow-browed Warblers were found, with nine in the Whitburn/Marsden area. The confiding Blackhall Rocks Lapland Buntings remained a popular target for photographers.
Cleveland also got in on the Sabine's Gull action with a juvenile passing Hartlepool Headland on 16th; a Long-tailed Skua and two Black Terns also noted on the same day, while a Balearic Shearwater on 18th added some variety. South Gare had both juvenile and adult Long-tailed Skuas move through on 16th and 17th respectively, and up to five Roseate Terns continued to linger. As many as 11 Yellow-browed Warblers were found as the week progressed with four in the Brotton area. Fly-over Lapland Buntings went through South Gare and Brotton and a Snow Bunting settled for a couple of days in the Cowbar car park.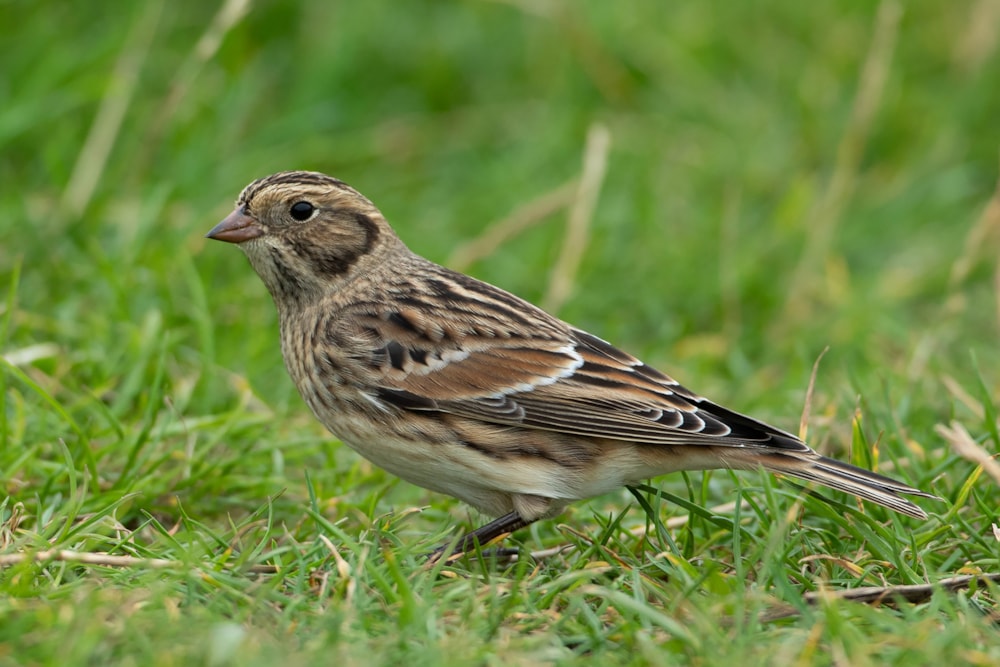 Lapland Bunting, Blackhall Rocks, Durham (Martyn Sidwell).
North-West England
Waders remained at the forefront of Cumbria's arsenal this week, with Curlew Sandpipers at six localities and two Little Stints at Bowness-on-Solway. A Garganey mingled among the Eurasian Teal at Campfield Marsh on 16th, although remained typically elusive.
A bit of bird-theft never hurt anyone, and luckily Cheshire birders didn't seem to mind Hale's juvenile Sabine's Gull moving along the Mersey and entering Lancashire airspace, at Oglet on 17th. A Yellow-browed Warbler rocked up at Hesketh Out Marsh RSPB on 18th, some 12 days earlier than the first autumn bird of 2019! A Wryneck was at Cant Clough Reservoir from 20th and occasionally showed well on the north bank although was typically elusive, meanwhile four Glossy Ibis moved between Longton and Banks Marshes on 20th. A Black-necked Grebe spent its evening at Clowbridge Reservoir on 19th, and the typical autumn array of waders continued to decorate waterbodies.
A possible Lesser Yellowlegs on the Dee Estuary at Thurstaston on 20th got local birder's blood pumping although there were no further reports. The aforementioned Sabine's Gull remained at Hale until the morning of 17th. No Yellow-browed Warblers yet but the first three Redwings of the autumn put in a fleeting appearance at Burton Mere Wetlands RSPB on 22nd, where up to 10 Western Cattle Egrets remain, alongside Ruddy Shelduck, Garganey, Little Stint and Curlew Sandpipers. Neumann's Flash and Tatton Park both supported juvenile Black-necked Grebes.
A juvenile Sabine's Gull flew through Elton Reservoir on the morning of 17th, a cracking Greater Manchester record. Ring Ouzels are off to a flying start this autumn, particularly over the Horwich Moors were numbers peaked at 22 on 20th; the county's first Redwing of the autumn was at Pennington Flash CP on 22nd. Audenshaw Reservoirs pulled in a Grey Plover and Ruddy Turnstone on 20th and both remained until 22nd at least.
Lincolnshire and Yorkshire
Gibraltar Point had another solid week, with Red-breasted Flycatcher and Little Bunting on 20th and 21st respectively, plus a couple of Barred Warblers among a nice selection of migrants, including the first Redwings and Bramblings. Substantial north-easterly winds produced more solid seawatching, with a Leach's Storm Petrel past Sutton-on-Sea on 19th and several more Long-tailed Skua records. A Northern Gannet flew inland at Throckenholt on 19th.
A wandering Glossy Ibis was seen at Conisholme on 16th, then North Killingholme that evening. It was then at Spurn, East Yorks, on 17th before perhaps the same settled at Southfield Reservoir from 19th.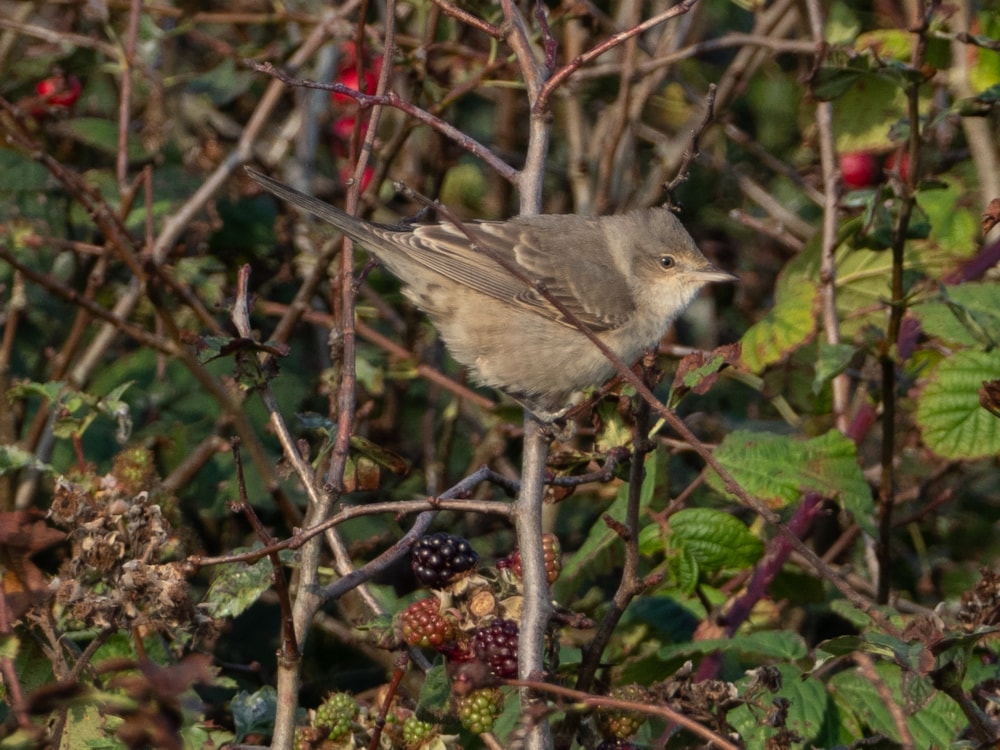 Barred Warbler, Flamborough Head, East Yorkshire (John Tebbet).
Another great week at Spurn saw the highlight reel include Ortolan Bunting on 18th, Blyth's Reed Warbler trapped and Cory's Shearwater past on 19th, Little Bunting, Corncrake, Barred Warbler, Rosy Starling and Pectoral Sandpiper, plus an arrival of Yellow-browed Warblers and a Vagrant Emperor dragonfly.
Moving up the coast a Red-breasted Flycatcher was at Tunstall on 19th, with the Cory's Shearwater also seen past Ulrome that day. The Flamborough area didn't fare too badly, either, with a couple of Red-breasted Flycatchers, Red-backed Shrike, and Greenish and Barred Warblers. Another Greenish was at Robin Hood's Bay on 18-19th. In excess of 20 sites produced Yellow-browed Warblers.
Things were much quieter inland, although a Glossy Ibis hung on at St Aidan's RSPB to 18th, with a Common Crane there the same day, the latter also seen at several sites in the Dearne Valley on 20th.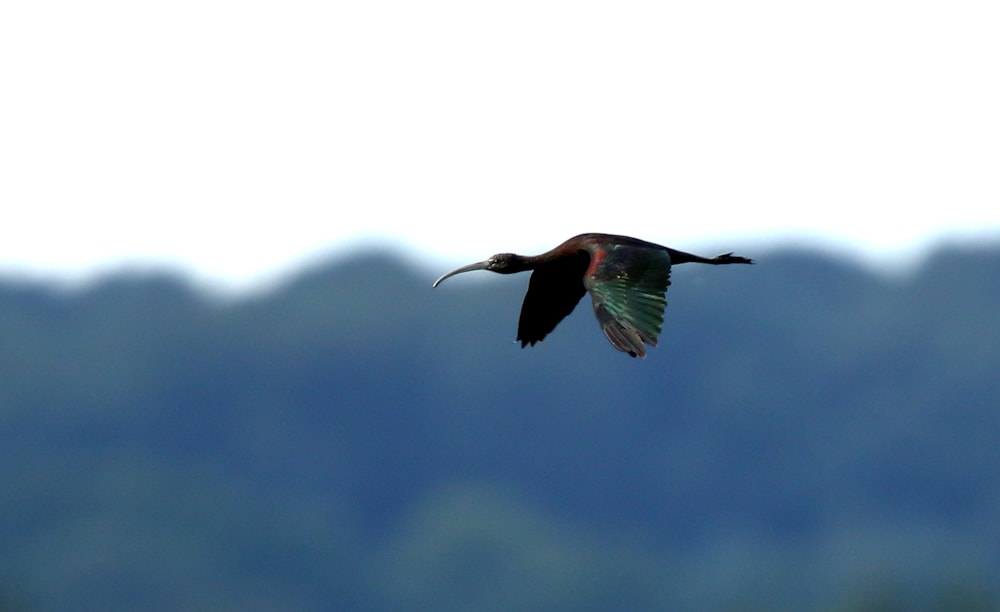 Glossy Ibis, St Aidan's RSPB (Swillington Ings), West Yorkshire (Chris Downes).
West Midlands
It's always pleasing when an inland county joins in on the Nearctic wader fun, and this week it was Staffordshire's turn, with a Pectoral Sandpiper at the north end of Rudyard Reservoir from 21st. Little Stints were at Blithfield and Belvide Reservoirs, the latter site also producing an Arctic Tern on 20th. A Wood Sandpiper was at Middleton Lakes RSPB until 20th, and Ring Ouzels were noted at three localities.
Western Cattle Egrets began their Shropshire takeover, with up to six noted at The Mere this week, where a possible first-winter Caspian Gull touched down on 18th. Another was at Condover the same day. Sticking with Caspian Gulls, a second-summer roosted at Bartley Reservoir, West Midlands county on 16th.
Up to two juvenile European Shags remained at Draycote Water, Warwickshire, for another week. A Wood Sandpiper flirted with Bodymoor Heath, with sightings on 20th and again on 22nd, while there was a distant Black Redstart at Earlswood Lakes on 18th.
Content continues after advertisements
East Midlands
In Derbyshire, four Sandwich Terns at Carsington Water were a nice inland record, where a Garganey, Little Stint and Grey Plover were all noted. Other Little Stints were noted at Carr Vale NR on 19-20th and Pleasley Pit CP on 19th. A Western Cattle Egret remained by Cranfleet Lock on 20th, while two Eurasian Spoonbills flew north over Woodhead on 18th.
Inland Northern Gannets continue to feature, with two juveniles south-west over Langford Lowfields RSPB on 18th serving as Nottinghamshire's contribution. A Black-necked Grebe was at Annesley Pit Top on 18th, a juvenile Little Gull was at Holme Pierrepont on 21st and a second-winter Caspian Gull was at Langford Lowfields RSPB on 22nd. Curlew Sandpipers and Little Stints remained between Slaynes Lane and Newington Flash, Misson.
Rutland Water had a familiar week; highlights included the Red-necked Grebe still off Old Hall, while the Black-necked Grebe remained in South Arm and a juvenile European Shag clinged on. Three Sandwich Terns flew east on 17th. Elsewhere, four juvenile Northern Gannets flew east over Aylestone Meadows and one over Melton Mowbray all on 19th.
A Yellow-browed Warbler was trapped and ringed at Stanford Reservoir, Northants, on the rather early date of 22nd. A Little Stint played cat and mouse at Hollowell Reservoir throughout, and there was a juvenile Wood Sandpiper on the scrape at Summer Leys LNR on 22nd. The adult Caspian Gull returned to Stanwick GPs on 18th and a Black Redstart put on a fine show at Borough Hill.
East of England
Suffolk enjoyed some decent seawatching throughout the week, including a Cory's Shearwater south past Ness Point, Lowestoft, on 17th. The same date saw a juvenile Pomarine Skua past Southwold and Long-tailed Skuas off Covehithe and Thorpeness. A Great Shearwater flew north past Southwold on 19th, with an adult Sabine's Gull off Gunton and Thorpeness the following day. On the land, a Hoopoe was at Saxmundham on 16th, while a Marsh Warbler was trapped at Trimley Marshes SWT on 18th. Yellow-browed Warblers were at no fewer than five sites. A Glossy Ibis south over Southwold on 19th was perhaps the bird at Carlton Marshes the same day. Meanwhile, Minsmere RSPB had a respectable week – including a Barred Warbler, Lapland Bunting, Long-tailed Skua and Leach's Storm Petrel, while a Spotted Crake was reported on 21st.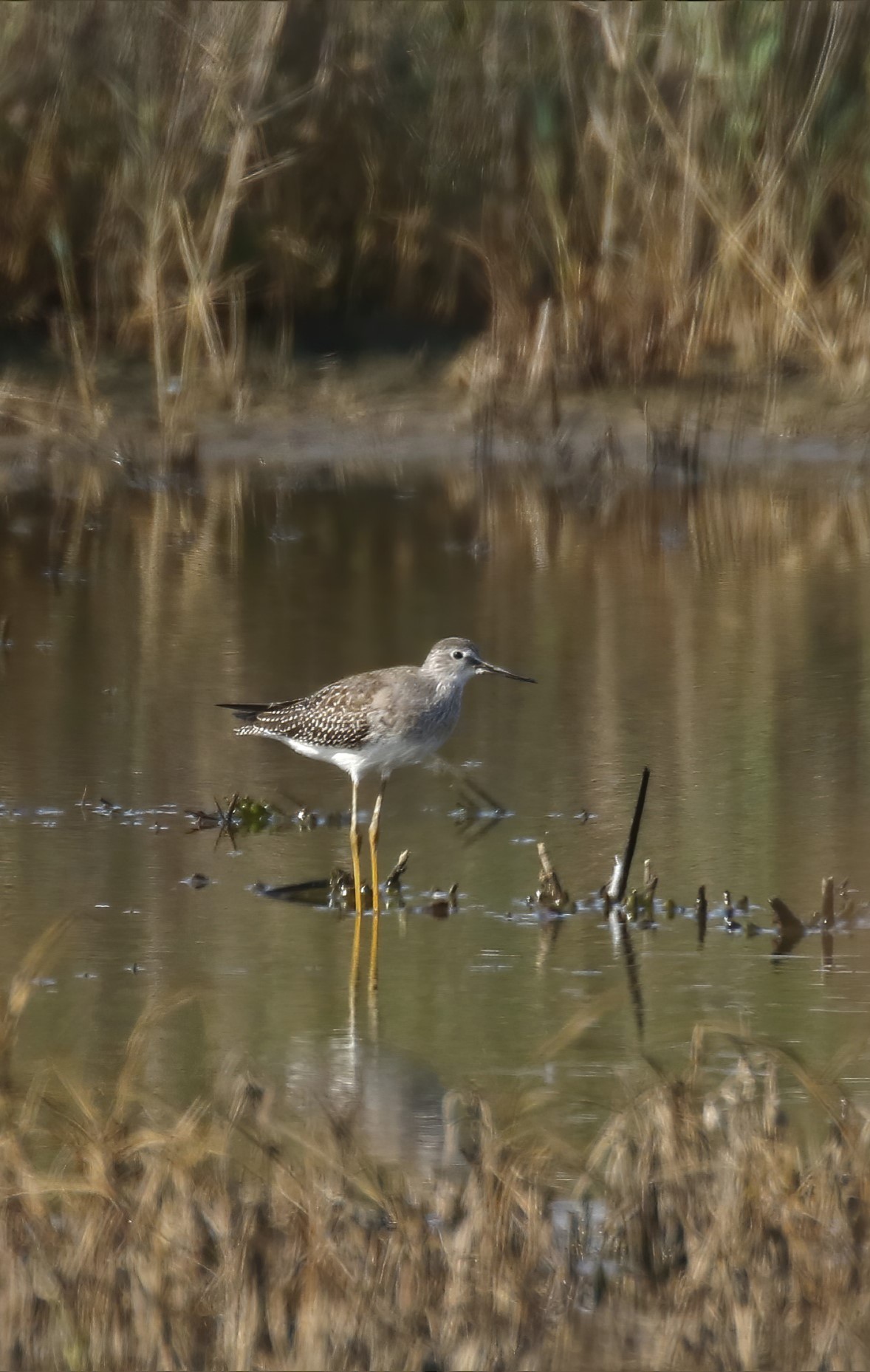 Lesser Yellowlegs, Runham, Norfolk (Nicky Garrett).
Over in Norfolk, the Lesser Yellowlegs remained at Runham throughout with another, or perhaps the same, at Potter Heigham Marshes on the afternoon of 21st only. Pectoral Sandpipers were in decent supply with five locations notching up records. It felt good to welcome back Yellow-browed Warblers for another autumn, and they arrived in force with 18 sites reporting birds, with the award for furthest inland going to one at Mundford on 20th. More eastern flare was provided by five Red-breasted Flycatchers, a one-eyed Red-backed Shrike at Wells Woods and an Arctic Warbler at Warham Greens on 21st. A Snow Bunting was back at Titchwell RSPB from 17th and Lapland Buntings were scattered around the north coast.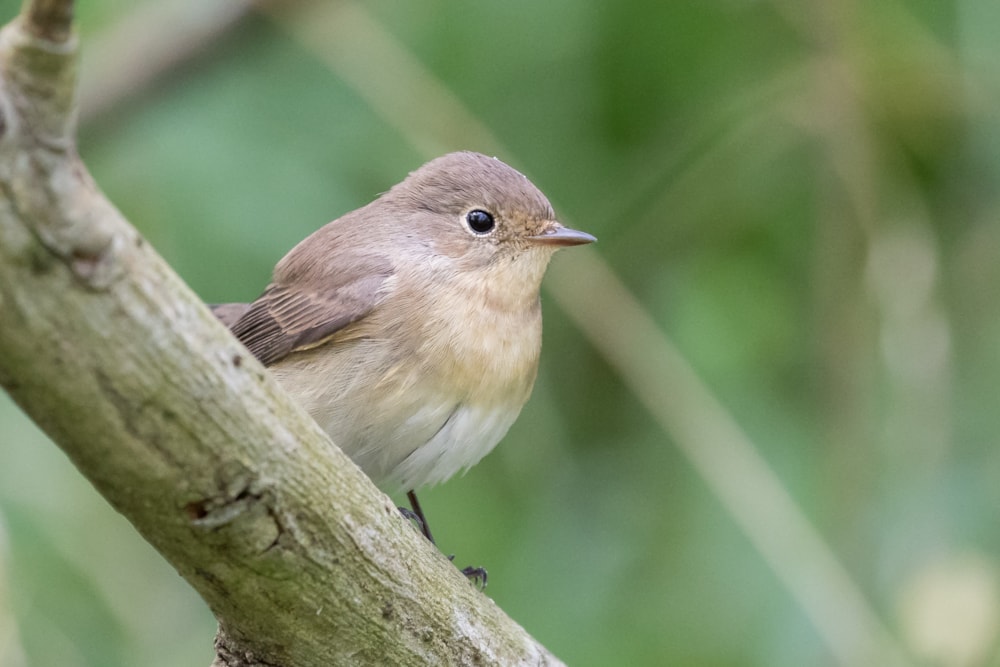 Red-breasted Flycatcher, Wells Woods, Norfolk (Jack Morris).
Blyth's Reed Warbler was a smart addition to the Essex week, at The Naze from 21st – a Leach's Storm Petrel flew past the same site on 18th. A Yellow-browed Warbler was at South Woodham Ferrers on 21st. Holland Haven CP scored a Ring Ouzel on 22nd, while two Leach's Storm Petrels and a Pomarine Skua flew past the same site on 18th and 19th respectively. A report of seven possible Glossy Ibis south over Wivenhoe on 19th was rather intriguing.
An early Cambridgeshire Yank duck duo saw an American Wigeon at Bluntisham on 20-21st and a drake Ring-necked Duck at Needingworth Quarry Lakes from 20th. Elsewhere saw a Barred Warbler trapped and ringed at Dunkirk on 16th and a Yellow-browed Warbler at Fowlmere, while a late Black Tern was at Kingfishers Bridge NR on 20th. A Dartford Warbler was an impressive find at The Pinnacle, Bedfordshire, while up to three Caspian Gulls roosted at Grovebury Sand Pit.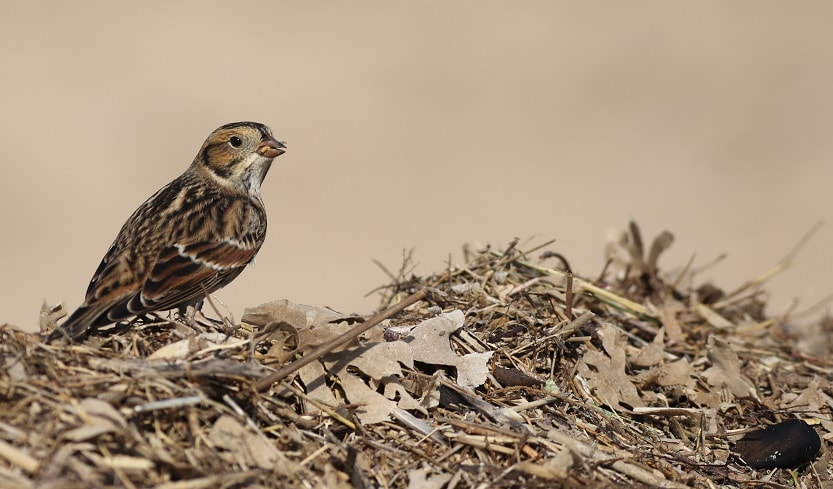 Lapland Bunting, Titchwell RSPB, Norfolk (Brian Anderson).
South-East England
Surrey enjoyed a rare week in the limelight, with the county's second Greater Short-toed Lark – and the first since 1966 – an unexpected discovery in a field near the village of Shackleford from 19-20th. Now very much a rarity in the South-East and with twitchable mainland birds increasingly uncommon, it proved popular. The county also hosted its seventh Glossy Ibis, which was a brief visitor to Tice's Meadow on 17th, a Wryneck at Winterfold Heath on 21st and a European Honey Buzzard over Burgh Heath on 17th.
Greater Short-toed Lark, Shackleford, Surrey (Shaun Ferguson).
In the capital, a Yellow-browed Warbler was an excellent discovery in tiny St John's Gardens in central London on 21st. A Common Eider at Staines Reservoir the previous day was another decent record.
An Arctic Warbler, discovered at Pegwell Bay, Kent, on 20th, was still present on 22nd but was proving mighty hard to connect with. A possible Greenish Warbler on the Isle of Grain was even more hard to pin down. On 22nd, a Red-rumped Swallow flew over Kingsgate. Eight east Kent sites scored Yellow-browed Warbler. The Dungeness Glossy Ibis remained all week, with the same site one of three in Kent to host European Honey Buzzard. A Pectoral Sandpiper was at Elmley on 16th, the same day the American Golden Plover was last seen at nearby Swale NNR. On 19th, a Sabine's Gull flew past Oare Marshes and a Wryneck was at Broadstairs.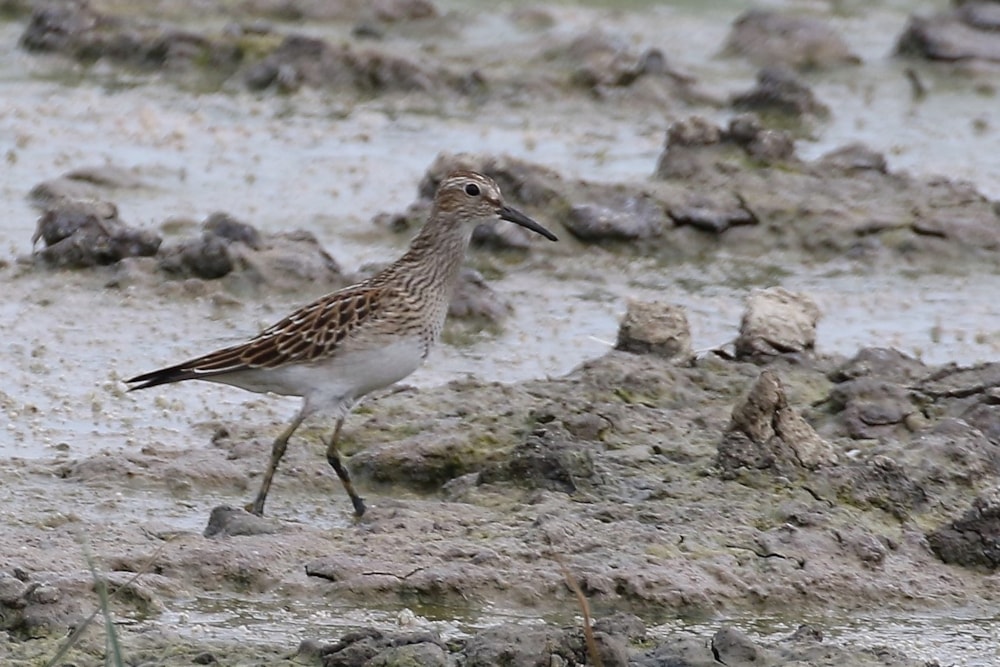 Pectoral Sandpiper, Elmley NNR, Kent (Mike Hook).
East Sussex enjoyed at Ortolan Bunting on 16th, when one flew over Birling Gap. A Wryneck was at Newhaven on 18th, the day after a Eurasian Dotterel flew over Sheepcote Valley. On 20th, a European Honey Buzzard flew over Brighton. It was quiet in West Sussex, save another Eurasian Dotterel – an especially showy juvenile – at Medmerry RSPB on 22nd.
The Isle of Wight also got in on the Eurasian Dotterel act, with one in flight over West High Down on 20th. Elsewhere on the island, two Yellow-browed Warblers were at Brading Marshes the same day as the dotterel, a White Stork was at Whitwell on 17th and, on 21st, a Lapland Bunting was at Ventnor Downs, two European Honey Buzzards flew over Wroxall and a Wryneck was at Alum Bay.
Farlington Marshes, Hampshire, scored a brief American Golden Plover on 21st, but after it was spooked by a Peregrine Falcon it wasn't seen again. A Glossy Ibis was similarly fleeting on Hayling Island on 20th while, the previous day, Pennington Marshes hosted a juvenile Pectoral Sandpiper. It seems probable that the same young Pec Sand was the one present at Titchfield Haven the previous day.
Ruddy Shelduck and Western Cattle Egret highlighted in Berkshire, both at Theale GPs, while three Northern Gannet flew over Marsworth Reservoir, Buckinghamshire, on 20th. Oxfordshire also scored a Northern Gannet, with one over Waterstock on 19th. A Yellow-browed Warbler was at Farmoor on 21st.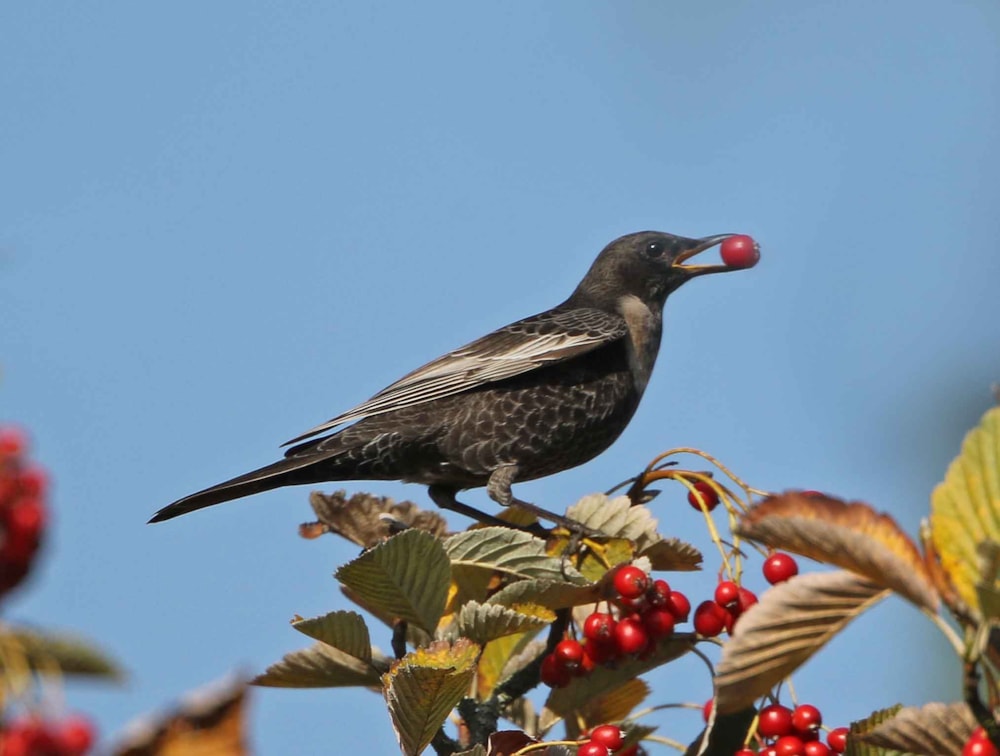 Ring Ouzel, Leith Hill, Surrey (Mark Leitch).
South-West England
In Cornwall, a new American Golden Plover was a brief visitor to Pendeen on 20th. A Buff-breasted Sandpiper was at Predannack Airfield on the same date, while Pectoral Sandpipers were noted at Siblyback Reservoir and Helston Loe Pool. Flighty Eurasian Dotterels included seven over Pendeen on 18th – a lone juvenile at Porthgwarra proved far more obliging. Elsewhere, the flock of six Ruddy Shelducks remained at Walmsley Sanctuary until 19th, a Barred Warbler was at Rosewall Hill, Black Kites were over Nanjizal and Polgigga, and an Icterine Warbler was at Nanquidno. Yellow-browed Warblers were recorded from five sites; Wrynecks from eight. An adult Glaucous Gull was on the Hayle Estuary on 21st, while a European Honey Buzzard and Ortolan Bunting flew over the previous day. A mobile European Bee-eater moved between Porthgwarra, Land's End and Polgigga on 16-17th.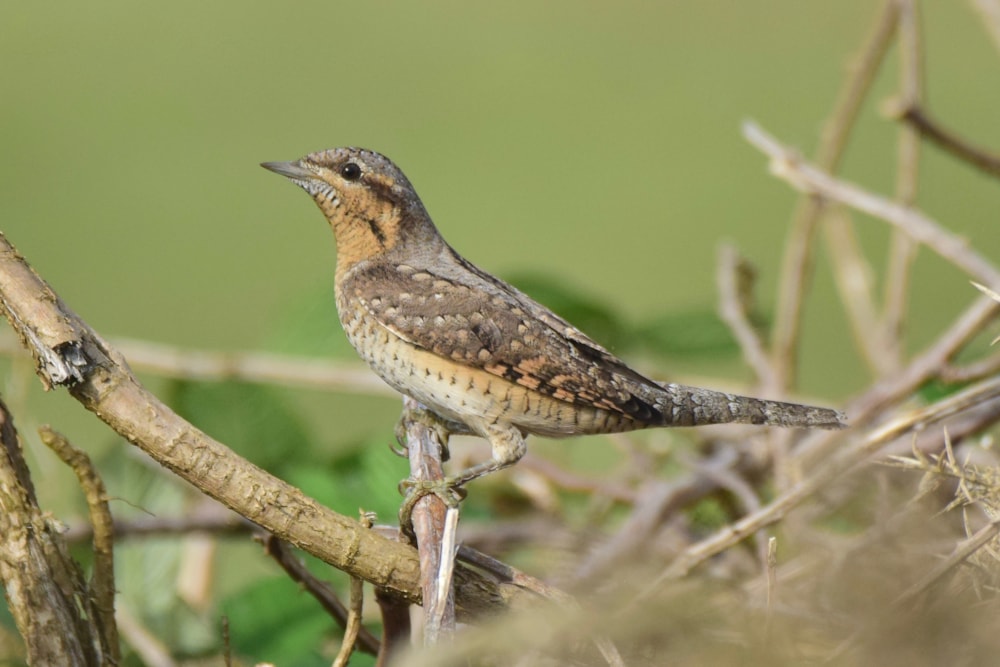 Wryneck, Kenidjack Valley, Cornwall (Ben Lucking).
A quieter Devonian week, two Eurasian Stone-curlews at South Huish Marsh on 22nd stand out. Elsewhere, Fremington Pill's Glossy Ibis count increased to two from 19th while Lundy scored a Wryneck, Yellow-browed Warbler and Lapland Bunting. Another Yellow-browed was at Holsworthy on 21st.
A brief Buff-breasted Sandpiper alighted on St Mary's golf course, Scilly, on 19th, with a further three exciting observers on Shipman Head Down, Bryher, until 17th – the latter island also hosting a lingering Rosy Starling. Eurasian Dotterels were on Tresco (four until 21st) and St Mary's. St Martin's hosted a brief Melodious Warbler on 18th, while Gugh's Woodchat Shrike just made the review period, last reported on 16th. Other attractions on St Mary's during the week included Common Nightingale, European Honey Buzzard, Wood Warbler, European Turtle Dove and Ortolan Bunting, while a European Bee-eater flew over on 17th – special mention goes to a pair of Greylag Geese, a Scilly rarity. A plethora of Wrynecks were spread across three islands – St Mary's, Bryher and St Martin's. The latest Wilson's Storm Petrel ever recorded in Britain was offshore on 21st, during the final pelagic of the season.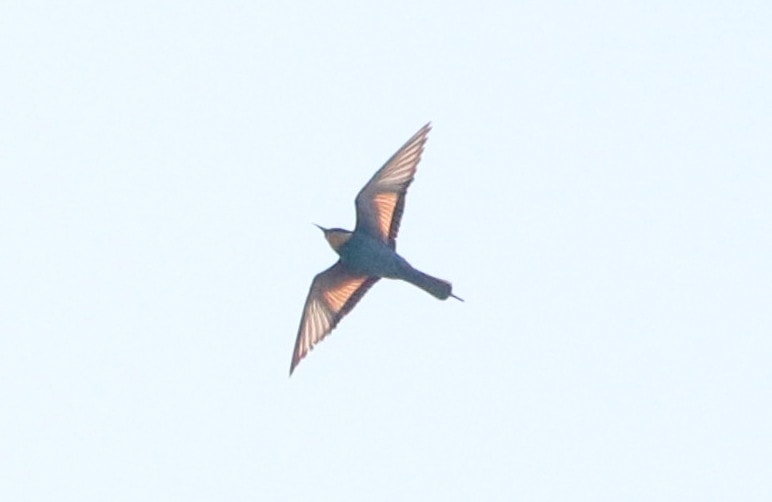 European Bee-eater, St Mary's, Isles of Scilly (Kris Webb).
Dorset was greeted to a juvenile Buff-breasted Sandpiper at St Aldhelm's Head on 20-21st, while two juvenile Pectoral Sandpipers remained at Swineham GPs. Several mobile Lapland Buntings included a brief shower at Ringstead Bay. A delightful dark-morph juvenile European Honey Buzzard headed out to sea over Durlston CP on 21st and a Ruddy Shelduck was at West Knighton from 17th, while the Portland Rosy Starling was still in situ.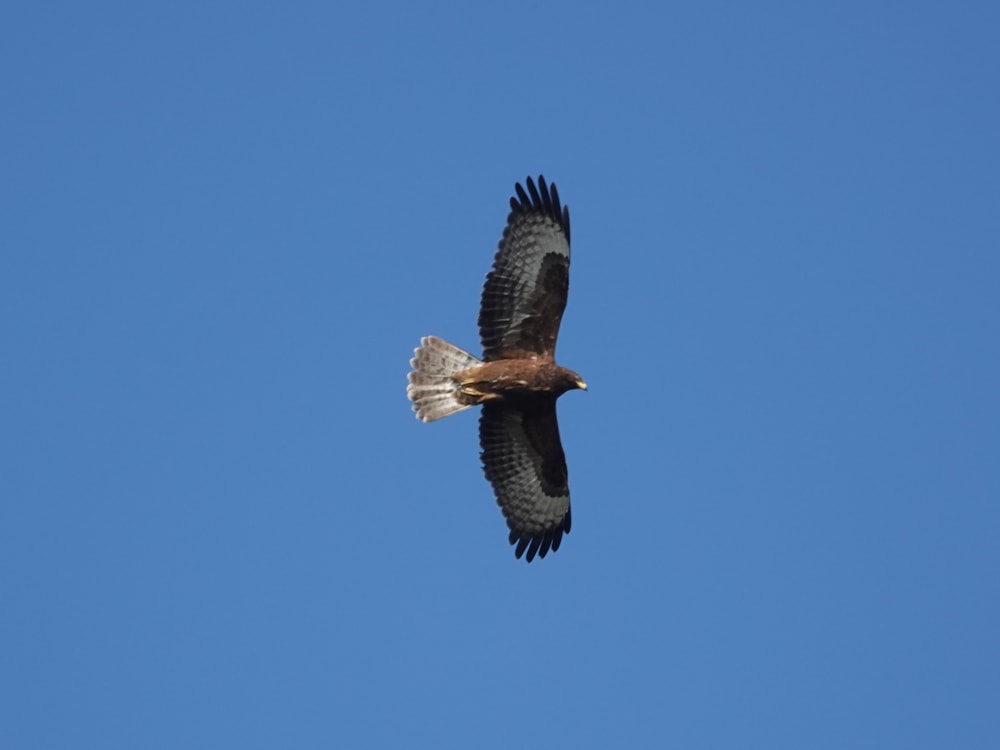 European Honey Buzzard, Durlston CP, Dorset (Samuel Levy).
Somerset's Chew Valley Lake hosted a plethora of almighty heron counts this week, with an impressive 39 Western Cattle Egrets on 16th followed up by 44 Great Egrets on 22nd – who would have imagined such a site 10 years ago? Meanwhile, European Honey Buzzards flew over Sparkford and West Hatch on 22nd, and a flock of seven Ruddy Shelducks were at Cheddar Reservoir on 21-22nd, where a tame juvenile Red-necked Grebe resided from 18th. A Spotted Crake was at Westhay Moor NNR on 22nd, with a Lapland Bunting at Brue Estuary on 19th, and a brief Wryneck at Brean Down on 20th. The Glossy Ibis remained at Chard Reservoir throughout.
A fresh Lesser Yellowlegs was new to Slimbridge WWT, Gloucestershire, on 17-18th, with Pilning Wetland continuing to host a juvenile Pectoral Sandpiper. Elsewhere in the county saw a Wryneck at Oldbury Power Station on 20th and a Ring Ouzel at Rodborough Common on 16th. Wiltshire saw two ringtail Hen Harriers on Salisbury Plain on 21st, with a Ruddy Shelduck at Langford Lakes the previous day.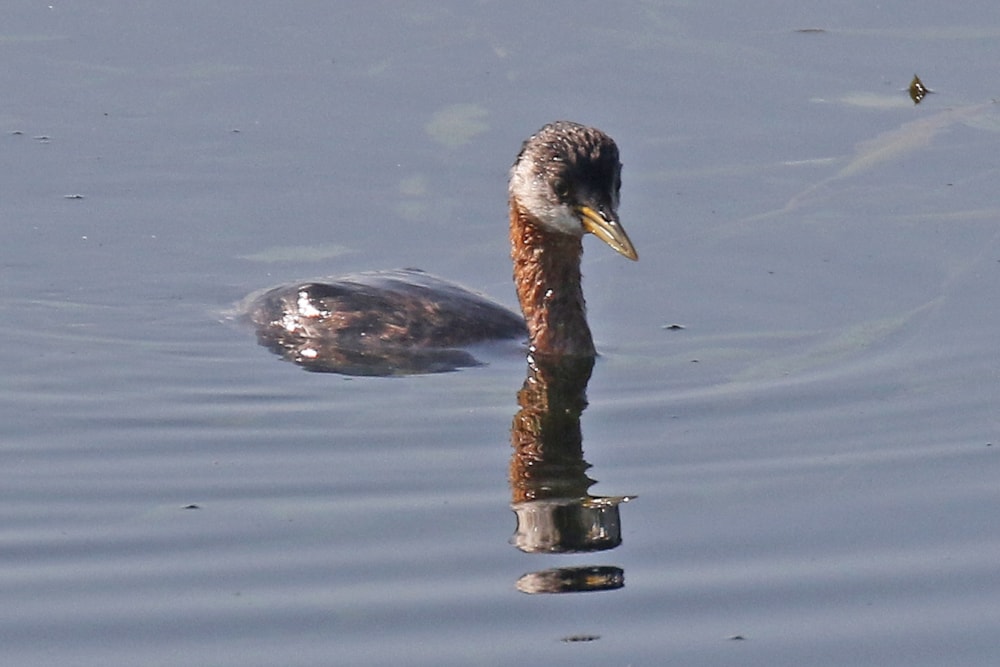 Red-necked Grebe, Cheddar Reservoir, Somerset & Bristol (Chris Teague).
Wales
Yellow-browed Warblers seem to be filtering across to the west coast early this year, and Wales joined in the action with one at Bardsey Island and Skokholm both 18th, with a new unringed bird at the latter island on 20th. Other Bardsey highlights included two Wrynecks, three Curlew Sandpipers, four Lapland Buntings, Wood Warbler, Woodlark, two Hooded Crows and a Firecrest. Meanwhile offshore, 13 Balearic Shearwaters flew past on the morning of 22nd. Skokholm held onto its Melodious Warbler until 19th and also managed two Lapland Buntings, Ring Ouzel, three Firecrests and a Great Northern Diver.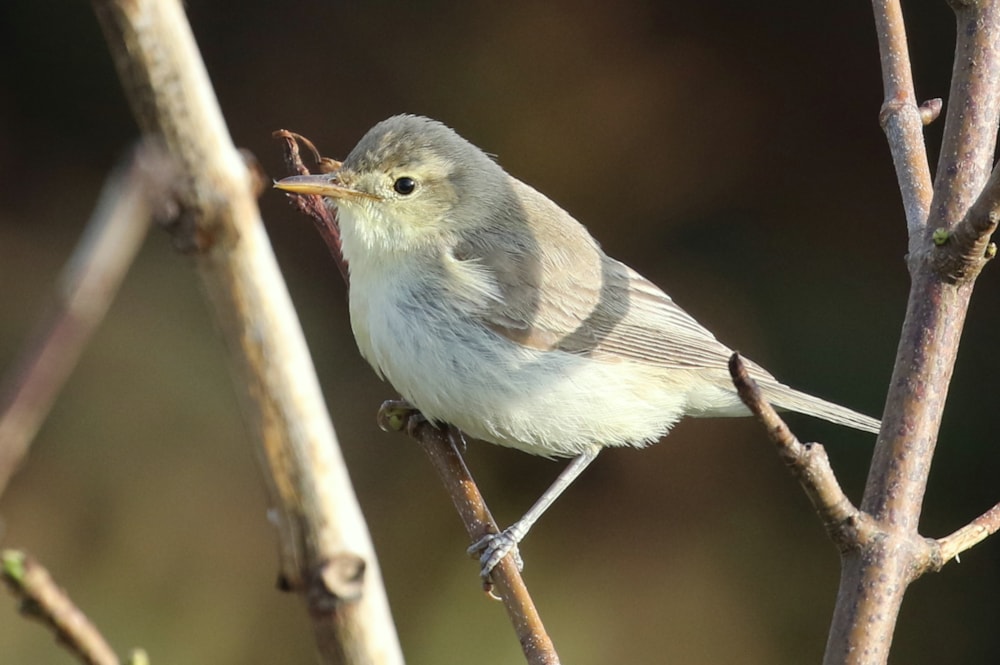 Melodious Warbler, Skokholm, Pembrokeshire (Richard Brown).
Away from Bardsey's Wryneck portal, another was sadly taken by a cat in Pembrokeshire, between Tavernspite and Llanteg on 19th. A Black Kite flew over Dowrog Common late afternoon on 20th. A juvenile Lesser Yellowlegs touched down at Goldcliff Pools NR from 21st – possibly the bird from Slimbridge WWT getting restless? Pembrokeshire held the monopoly with Buff-breasted Sandpiper records, with three sites recording birds. A single juvenile remained at Marloes Mere until 20th, one visited the Gann Estuary sporadically and a pair were by the car park at St Govan's Head on 18-20th. Eurasian Dotterels had a decent passage, with one keeping the Buff-breasts company at St Govan's Head, a showy juvenile at Great Orme until 21st and the Llŷn Peninsula grabbing two at Uwchmynydd and two at Mynydd Rhiw both on 19th.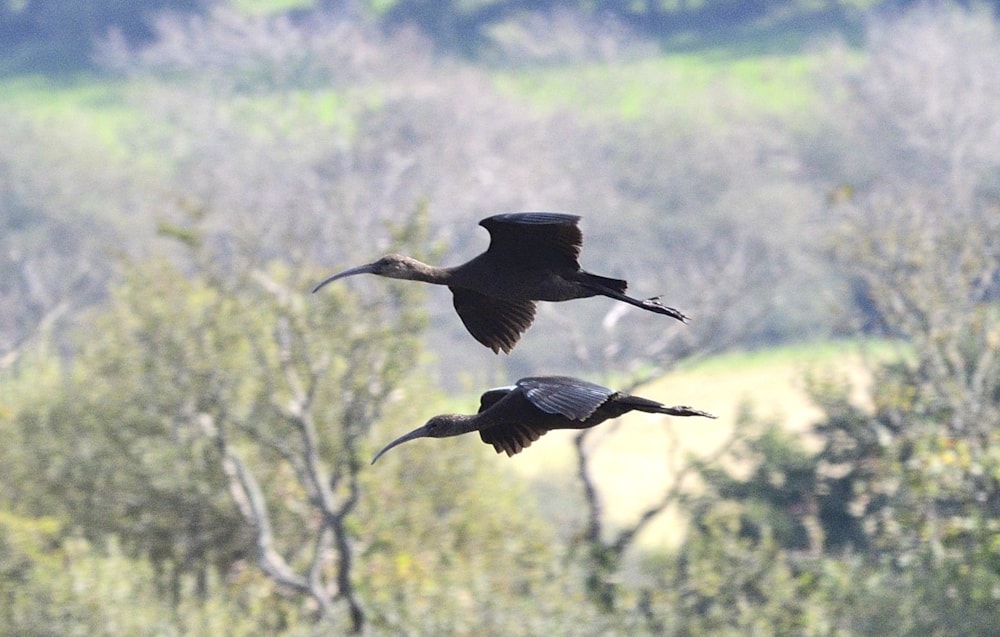 Glossy Ibis, Cors Ddyga RSPB, Anglesey (John Gilbody).
Glossy Ibis continued their good spell, with a respectable seven sites recording birds. As ever, the long-staying bird remained at Goldcliff Pools NR where it was joined by a second on 17th, others were more fleeting visits but three birds on Anglesey performed for admirers throughout, namely two at Cors Ddyga and a single at Cemlyn Bay until 20th. Also on Anglesey, the adult Rosy Starling continued to hang about at Bull Bay Hotel. Lapland Buntings were at a further three sites in the north.
Seawatching was largely limited, but Ynyslas, Ceredigion, notched Long-tailed and Pomarine Skuas on three dates each, with a drake Velvet Scoter on 19th. Another drake Velvet was off Porth Eirias, Conwy on 21st.

Eurasian Dotterel, Great Orme, Conwy (Clive Daelman).
Ireland
Another flush of Buff-breasted Sandpipers included four at Lissagriffin, Co Cork, on 17th (when a Lesser Yellowlegs was also found there) and five at Slyne Head, Co Galway, on 21st. Six sites held Pectoral Sandpipers, with Tacumshin, Co Wexford, still holding up to seven. Three American Golden Plovers were seen, including a juvenile at Slyne Head on 22nd.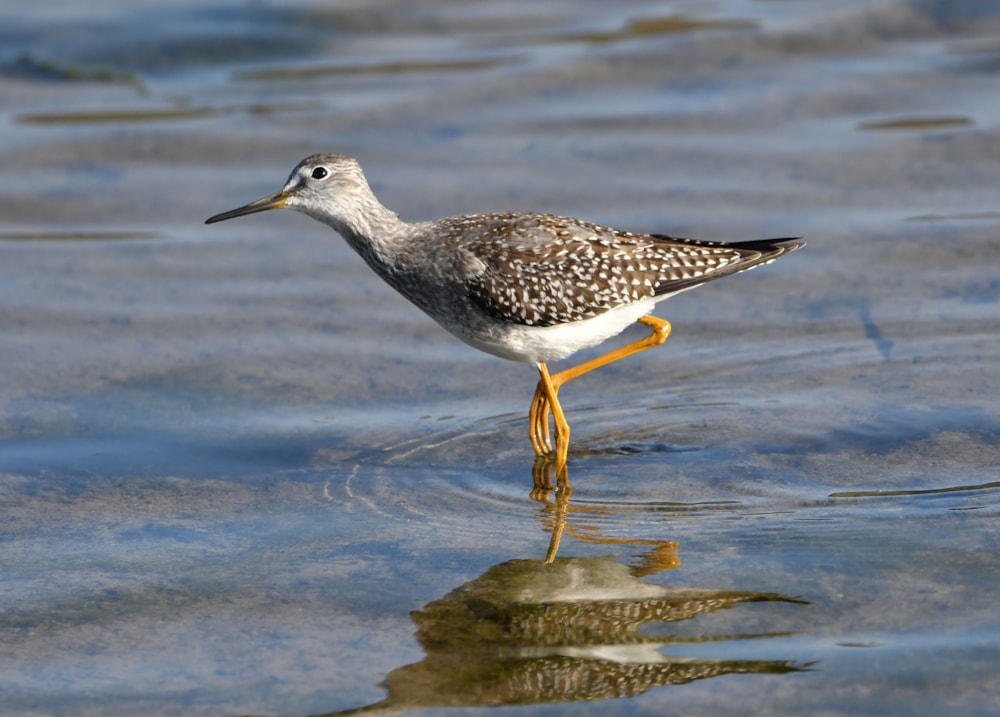 Lesser Yellowlegs, Lissagriffin, Cork (Richard Mills).
From the east, an early Yellow-browed Warbler reached Inishmore, Co Galway, on 18th. Four Wrynecks included two in Co Cork and one at Slea Head, Co Kerry. A Citrine Wagtail was at Tacumshin on 18th and a Red-backed Shrike was on Great Saltee Island. European Turtle Doves were at two sites in Mayo and may well have related to the same bird, given its sad demise to a genuine rarity in the country these days.
Meanwhile, decent numbers of Lapland Buntings included up to 30 on the Mullet, Co Mayo, and 13 at Malin Head, Co Donegal.
A late Wilson's Storm Petrel was off Cape Clear, Co Cork, on 18th. Inland, a Glossy Ibis remained near Cashel, Co Tipperary.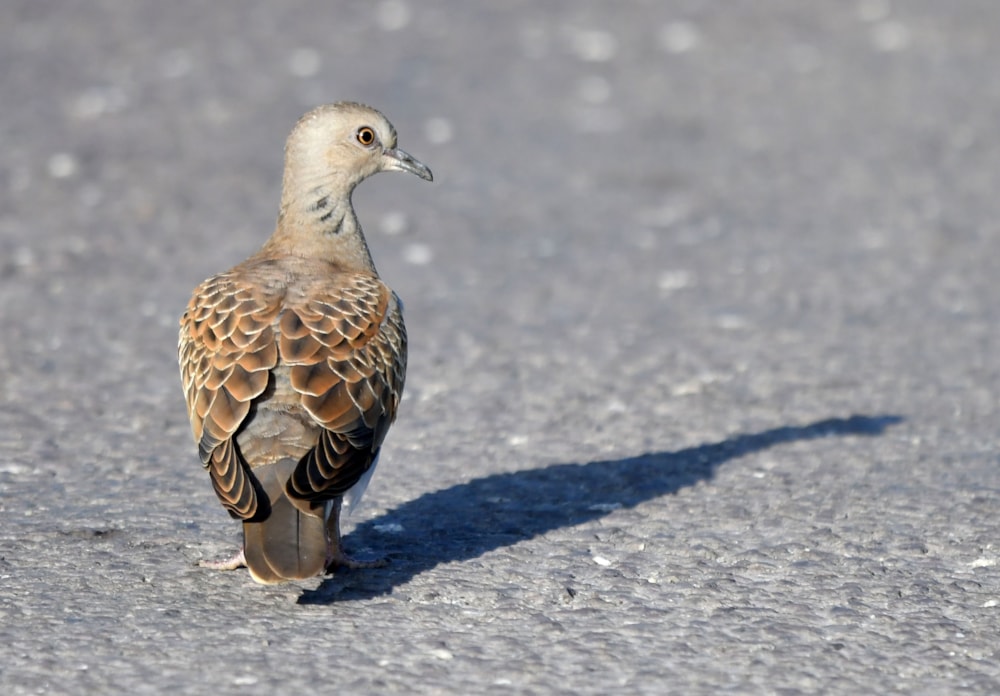 European Turtle Dove, Mizen Head, Cork (Richard Mills).
Western Palearctic
Tiree's standout Empidonax flycatcher was complemented by a Traill's-type – a probable Alder Flycatcher – on Iceland at Hvalsnes, Suðurnes, on 21st, with features including loral pattern and primary detail looking a better match for Alder than the closely related Willow.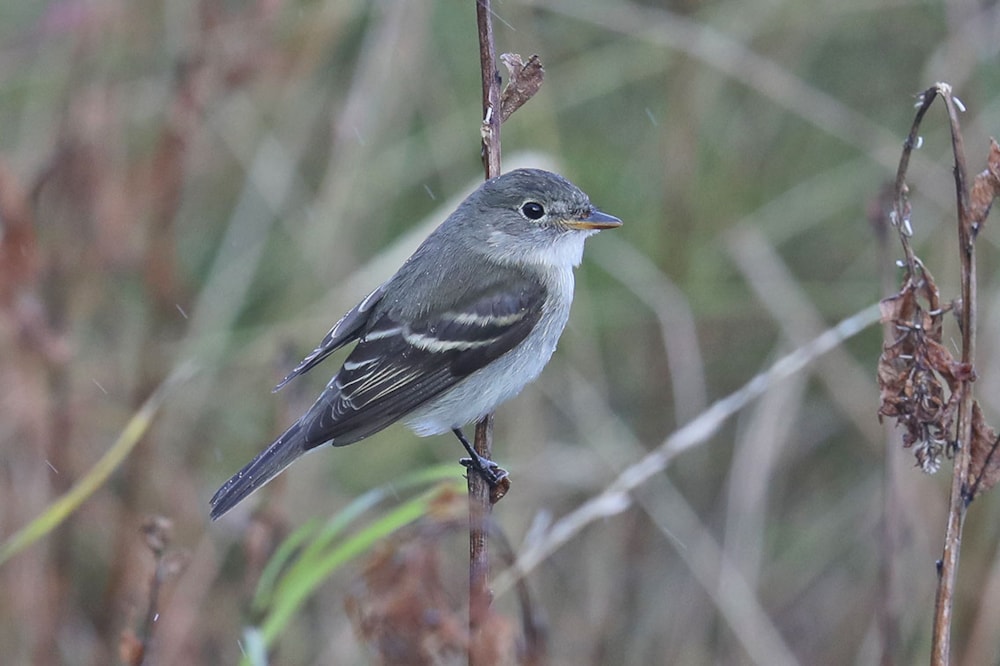 Alder Flycatcher, Hvalsnes, Suðurnes (Sigmundur Ásgeirsson).
On the Azores, Corvo's American rarity season got off to a stellar start on 18th, with a Bay-breasted Warbler and Red-eyed Vireo duo at Pico, while an adult Laughing Gull was at Vila do Corvo on 21st, alongside two Semipalmated Plovers.
An exciting indicator of things to come, a White's Thrush was trapped at ringed in Germany at the bird observatory on Greifswalder Oie on 20th. Meanwhile, the country's sixth Eastern Olivaceous Warbler was at Heidesee, Brandenburg, on 8th, with a Paddyfield Warbler at Heligoland on 17th.
Elsewhere in the region, the Western Palearctic's first Preuss's Cliff Swallow remained on Sal, Cape Verde, until 16th. A drake Black Scoter flew past Estonia's Cape Põõsaspea on 20th, while the third Rustic Bunting for Belarus was trapped and ringed at Sasnovy on 16th. France saw a Greater Sand Plover at Plouhinec on 13-14th, and the Black-winged Pratincole remained at Camperduin, The Netherlands.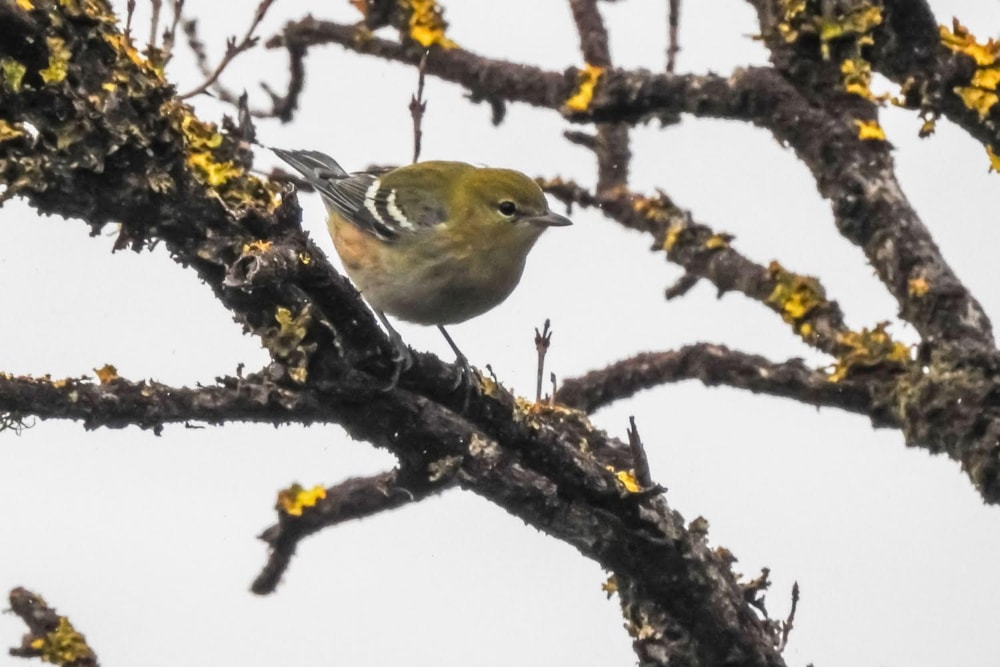 Bay-breasted Warbler, Corvo, Corvo (Pierre Andre Crochet).