After last week's excitement, things calmed down again somewhat as we moved into the weekend, although a muggy Monday produced a flourish of Black Terns, particularly in southern and eastern areas. Peak counts included 40 at Theale Gravel Pits, Berks, around 30 at Rainham Marshes, London, and 25 at Abberton Reservoir, Essex.

Black Tern, Kirkby on Bain GPs, Lincolnshire (Russell Hayes).
Among these were several White-winged Terns. In Cheshire, one graced Neumann's Flash and Budworth Mere on 18th, with perhaps the same bird at Hesketh Out Marsh, Lancs, on 20th. Another arrived at Eyebrook Reservoir, Leics, on 20th, this joined by a second on 21-22nd. Another flew through Bank Island, North Yorks, on 20th, with one at Covenham Reservoir, Lincs, and two briefly at Rainham Marshes, London, on 21st.

Two White-winged Terns with Black Terns, Eyebrook Reservoir, Leicestershire and Rutland (Paul Ward).
Fair Isle's Song Sparrow performed well up until the Friday evening, having moved from the Observatory back up towards the airfield, although there was no sign throughout Saturday. The Eurasian Crag Martin, meanwhile, put in its last appearance there on the Wednesday, that day also producing a final appearance from the American Bittern at Carlton Marshes, Suffolk. Somewhat more reliable were the Pied-billed Grebe at Loch Feorlin, Argyll, and the American White-winged Scoter off Musselburgh, Lothian, which was seen again on 20th.
Single American Wigeon and Green-winged Teal were at Tacumshin, Co Wexford, with another American Wigeon still at Grindon Lough, Northumberland, and a Green-winged Teal still on Islay, Argyll. A drake Lesser Scaup at Lower Farm Gravel Pits, Berks, on 18th moved east to Theale Gravel Pits on 20th before heading back to Lower Farm on 21st. Drake Ring-necked Duck were on South Uist and Islay, while a hybrid (with Tufted Duck) appeared at Saltholme, Cleveland. The drake King Eider continued to perform well at Ythan Estuary, Aberdeenshire, throughout, while late news concerned the female still at Ynyslas, Ceredigion, on 12th. There was still at Black Brant at Stiffkey, Norfolk, on 22nd. Three White-billed Divers were off Tory Island, Co Donegal, on 17th, with one still off Portsoy, Aberdeenshire, on 16th and an immature found off Talmine, Highland, on 19th. Further records included a fly-by at Tarbat Ness, Highland, on 22nd and, in the Outer Hebrides, singles off Lewis and South Uist.

King Eider, Ythan Estuary, Aberdeenshire (Baz Scampion).
An adult Purple Heron remained on the Somerset Levels to 20th, being seen at both Shapwick and Meare Heaths, while others were seen in Cornwall on 15th and Cambridgeshire on 20th. A fly-over White Stork was noted near Larne, Co Antrim, on 16th, while a presumed escaped, metal-ringed bird was at Eldernell, Cambs, from 19-21st. Single Glossy Ibises remained in Lancashire, South Yorkshire and Northumberland.
Worth Marsh, Kent, held a female Red-footed Falcon on 19th, with a male seen at Bentley Wood, Wilts, on 21st. Reports of Black Kite at several Cornish sites between 16th and 20th perhaps related to one roving bird, while another was over Stodmarsh, Kent, on 18th. Around a dozen English sites laid claim to European Honey Buzzard sightings during the week, with one also on Orkney. A female Snowy Owl near Ballyvaughan, Co Clare, on 22nd could feasibly be the bird seen recently in Co Galway, while the female was also still on St Kilda, Outer Hebrides, on 17th.
A male Kentish Plover visited Dungeness, Kent, on 20th and a summer-plumaged Long-billed Dowitcher took up residence at Smerclate, South Uist, from 21st. A Lesser Yellowlegs on Berneray, Outer Hebrides, on 16-17th could be the bird from Vatersay, while late news was received of another in Co Offaly on 15th. A Terek Sandpiper showed well at Rye Harbour, East Sussex, on 19th. A Red-necked Phalarope at Old Moor, South Yorks, on 19th relocated to nearby Broomhill Flash the following day, lingering to 21st. Elsewhere, the female was still at Grindon Lough, Northumberland, on 16th. Temminck's Stints were logged at 10 sites, including twos at Farmoor Reservoir, Oxon, and Saltholme, Cleveland. Eurasian Dotterel passage has been somewhat flimsy this spring, and just a scattering of ones and twos were logged.

Terek Sandpiper, Rye Harbour NR, East Sussex (Richard Bonser).
Temminck's Stints, Farmoor Reservoir, Oxfordshire (Jason Coppock).
A second-summer Ring-billed Gull graced St Kilda, Outer Hebrides, on 21-22nd, while the immature remained in the Newquay area of Cornwall. In unhelpful conditions, just a handful of Pomarine Skuas were seen from hot-spots such as Dungeness, Kent, and Aird an Runair, Outer Hebrides; the latter site also logged seven Long-tailed Skuas on 18th. The Forster's Tern was reported regularly from Tacumshin, Co Wexford.

Forster's Tern, Tacumshin, Wexford (Paul Kelly).
A light scattering of Red-spotted Bluethroats was noted across the Northern Isles, with a fine male at Kilnsea, East Yorks, on 16th, with it or another on 19th. The first Icterine Warbler of the year reached Fair Isle on 17th, the island also hosting at least one Marsh Warbler, a Red-breasted Flycatcher and a few Red-backed Shrikes. A Common Rosefinch was on North Ronaldsay, Orkney, on 21st.
Content continues after advertisements

Red-spotted Bluethroat, Landguard NR, Suffolk (Craig Holden).
Another Marsh Warbler sang at St John's Loch, Highland, on 18th, with further birds at Hope Point, Kent, on 21st and Kilnsea, East Yorks, on 22nd. A female Red-backed Shrike reached Cape Clear, Co Cork, on 19th, with a male on St Mary's, Scilly, from 19-21st and another showing well at Winterton, Norfolk, on 20-21st.
Savi's Warblers were still occasionally audible at Strumpshaw Fen, Norfolk, and Minsmere, Suffolk, while four Iberian Chiffchaffs held territory. Two were in Cornwall (Polgigga and Hayle), with a new male at Norwood Edge, North Yorks, from 19th and the Cheshire bird still singing at Thurstaston Common all week. A female Eastern Subalpine Warbler was a great find on Tory Island, Co Donegal, on 18th, with males at Flamborough Head, East Yorks, on 16-17th, Foula, Shetland, on 17th and Bardsey Island, Gwynedd, on 22nd. A subalpine warbler was also on Fair Isle on 22nd.

Eastern Subalpine Warbler, Tory Island, Donegal (Gerard Murray).
Given the reports of many thousands moving westwards in northern Greece in recent days, the beautiful Rosy Starling at Ashington, Northumberland, from 17-19th feels like the precursor to a more widespread arrival of these always popular 'pink punks'.

Rosy Starling, Ashington, Northumberland (Jonathan Farooqi).
Ten sites logged European Bee-eaters this week, with one as far north as South Gare, Cleveland, on 20th. Two flew over Lizard Point, Cornwall, on 18th, with one proving twitchable at Dungeness, Kent, on 19-20th. A Hoopoe also lingered at Dungeness from 18-20th, and another was seen at nearby Ashford on the latter date. Golden Orioles were on St Mary's, Scilly, and at Nanjizal, Cornwall.
Scilly also claimed two of the week's three Greater Short-toed Larks, with birds on St Martin's and St Agnes. The third was on Lundy, Devon. A Red-throated Pipit was on Bryher, Scilly, on 21-22nd, while a Grey-headed Wagtail touched down briefly at Cley, Norfolk, on 20th. A Red-rumped Swallow was at Holy Island, Northumberland, on 17th, with the Suffolk bird again at Bawdsey on 17th and what could be the same bird then at The Naze, Essex, on 19th and 21-22nd. Another was at Ventnor Downs, Isle of Wight, on 19th. Fly-over Alpine Swifts were at Skewjack, Cornwall, and Skomer, Pembs, on 19th.
Western Palearctic
Finland had a great week, with the country's second Eurasian Scops Owl at Hämeenlinna on 22nd, its seventh Lesser Yellowlegs at Hämeenkyrö on 18th and its third Saker Falcon at Tohmajärvi on 17th. Meanwhile, in Sweden, an Oriental Pratincole was at Björkäng on 20-21st. Meanwhile, Poland bagged its first Stilt Sandpiper, which was at Spytkowice Ponds on 21st.
Germany's Black-browed Albatross continues to draw attention to itself. Worrying messages on 21st suggested it had been found exhausted in a garden on Sylt, raising fears for the bird's health, but subsequently it transpired it had landed in a small zoo on the island, presumably finding the draw of the captive Red-crowned Cranes irresistible, and then couldn't actually get off the ground again. Fortunately, helpful locals were on hand to transport it back to its favoured Rantumbecken, from where it flew strongly out to sea.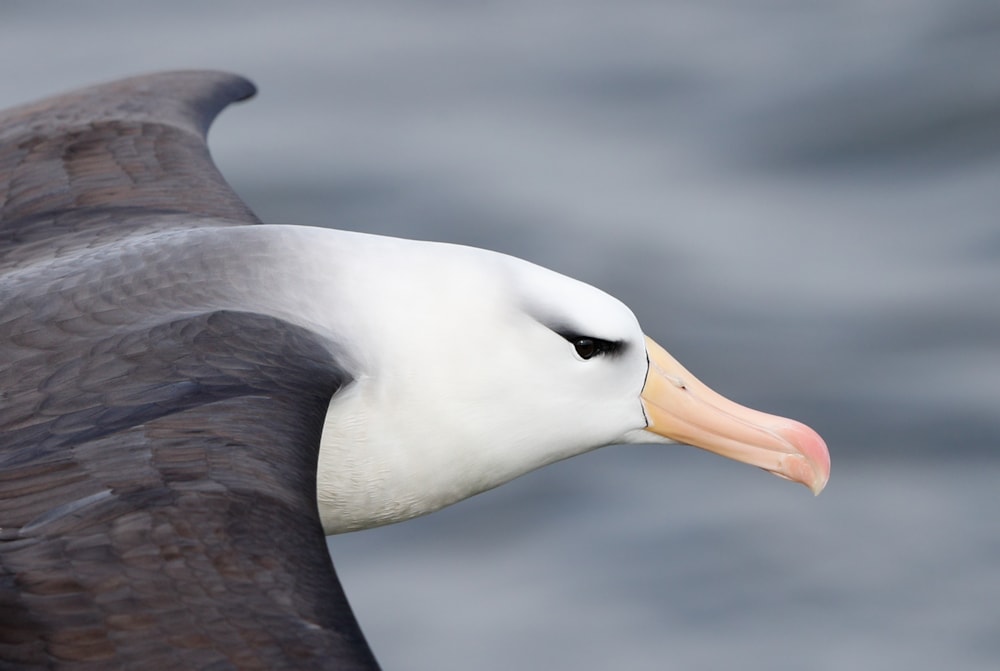 Black-browed Albatross, Sylt, Schleswig-Holstein (Helge Sorensen).
A smart Greater Sand Plover was in Catalonia, Spain, on 16th, with two Lesser Flamingos still at Laguna de Fuente de Piedra. The Dwarf Bittern also remained on Fuerteventura.
Morocco's Moulouya National Park produced a national first in the form of a drake Smew on 15th; a most surprising late spring occurrence. Israel's 12th Pink-backed Pelican was in the Beit She'an Valley on 18th. Meanwhile, Kuwait bagged its first White-eyed Gull when an adult appeared at Jahra Pools on 22nd. For WP listers, good news concerned a Goliath Heron at Wadi Lahami, Egypt – the first sighting there for well over a year.

White-eyed Gull, Jahra Pools, Kuwait (Abdulrahman Alsirhan).