Co Cork's third Bufflehead takes the plaudits this week. A female, it was photographed flying past the pier at Aghada on 20th and is also the third individual to be found in the country in the latter half of 2020. The adult drake also continued to be reported from Quoile Pondage, Co Down, throughout.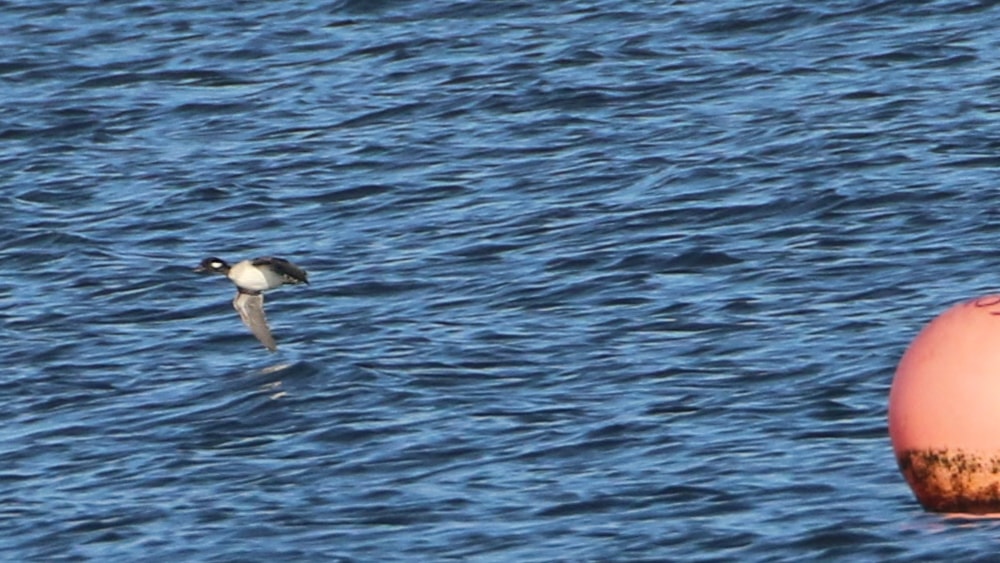 Bufflehead, Aghada, Cork (Gemma Kelleher).
Meanwhile, Ireland's mega duo remained at their respective locations: the first-winter Double-crested Cormorant in the Great Cormorant roost at Carrig Island, Co Kerry, and the young male Belted Kingfisher in the creek opposite Puxley Castle near Castletownbere, Co Cork.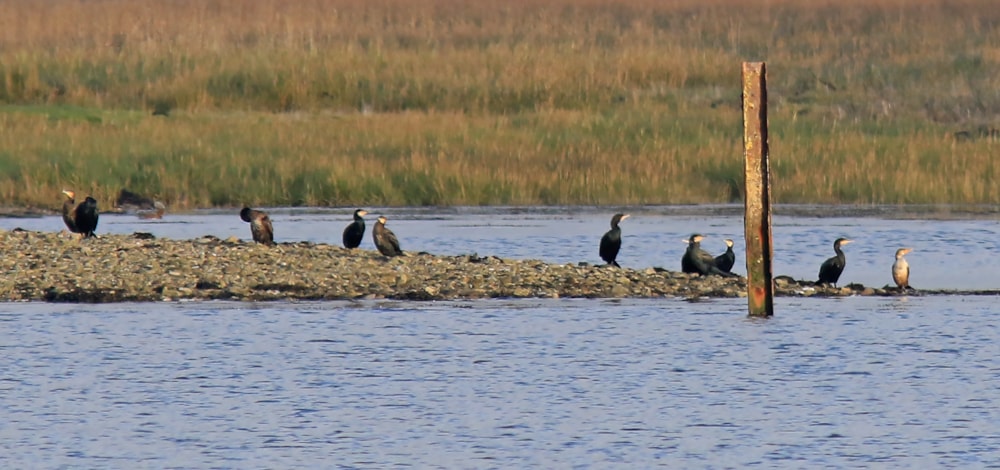 Double-crested Cormorant (far right), Carrig Island, Kerry (Seamus Enright).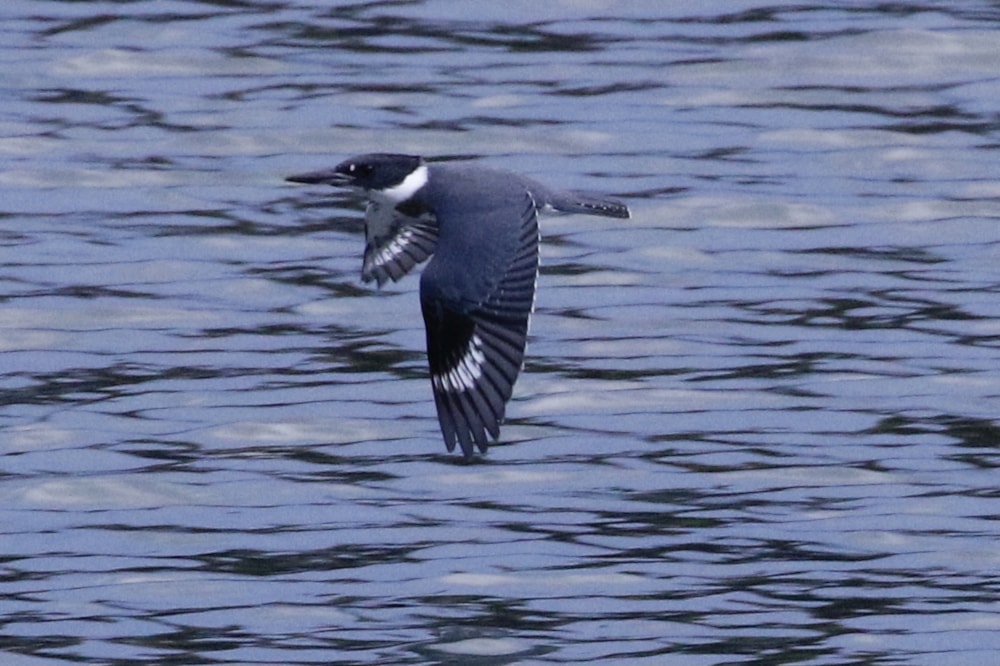 Belted Kingfisher, Castletown Bearhaven, Cork (John Lynch).
The first Pacific Diver for Dumfries & Galloway was belatedly reported off Cairnryan on 12th, while in Shropshire, Chelmarsh Reservoir's Pied-billed Grebe remained in-situ throughout. In Hampshire, the regular drake Ferruginous Duck was typically difficult to see at Blashford Lakes HWT.
The drake White-winged Scoter was again off Musselburgh Lagoons, Lothian, on 22nd, with Northumberland's drake Black Scoter lingering off Goswick all week. In Co Mayo, the first-winter drake American Black Duck and Richardson's Cackling Goose both remained at Cross Lough, Mullet.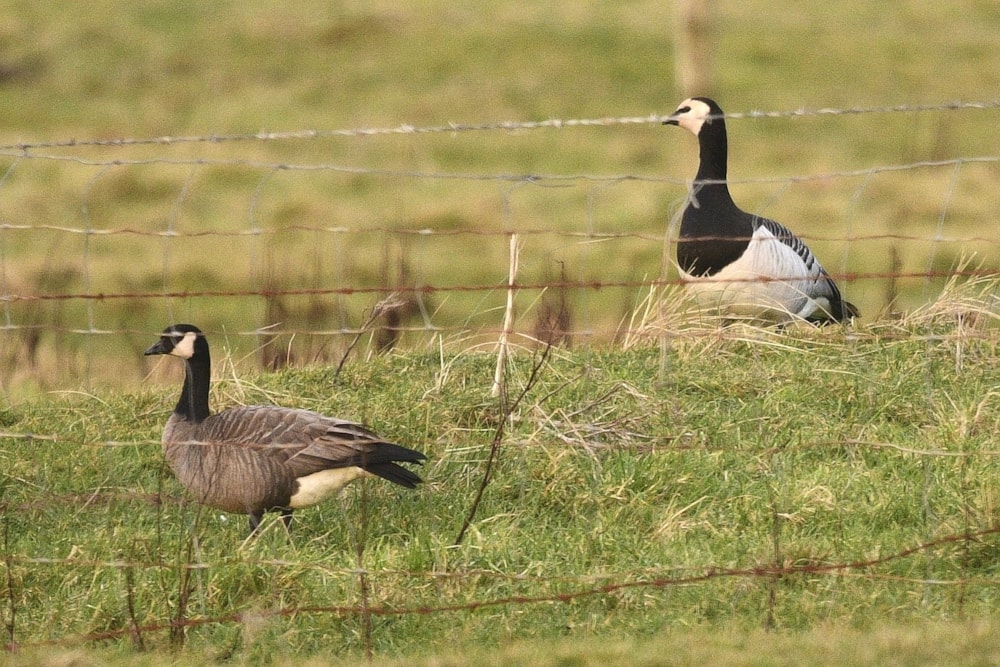 Richardson's Cackling Goose, Cross Lough, Mullet, Mayo (Stephen King).
An adult Bonaparte's Gull was a smart find at Otter Ferry, Argyll, from 17-18th. The Fife Hudsonian Godwit was still on the Eden Estuary off Guardbridge on 17th, although there was no sign subsequently. Nearby, the juvenile Pacific Golden Plover was back at Findhorn Bay, Moray & Nairn, on 17th, while the Cumbrian Long-billed Dowitcher was last reported from Campfield Marsh RSPB on the same date. The Kentish Plover was still at Stert Island off Burnham-on-Sea, Somerset & Bristol, too.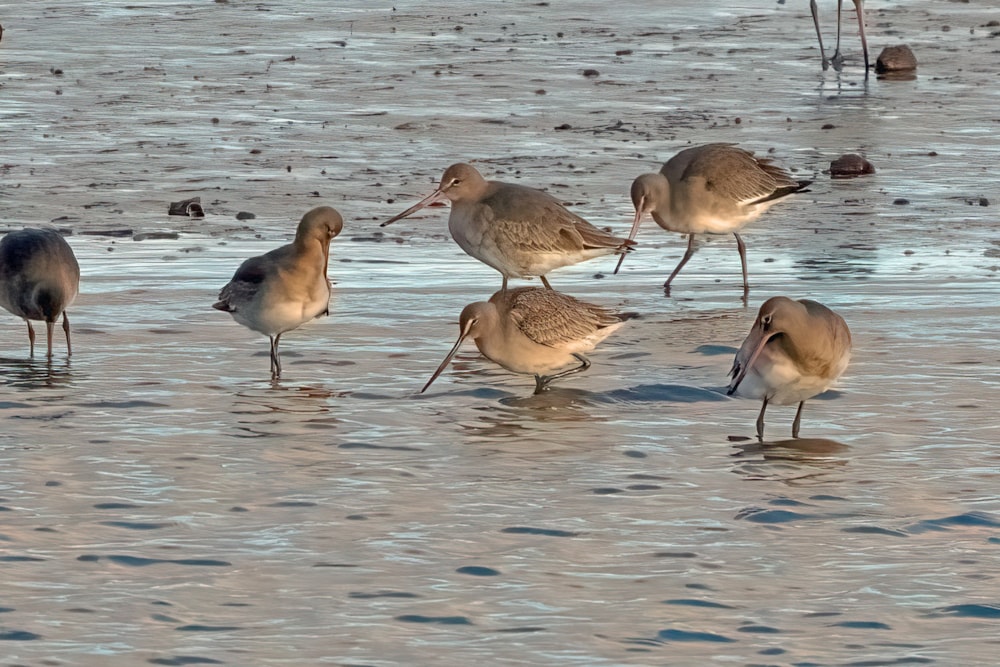 Hudsonian Godwit (centre), Eden Estuary, Fife (Nigel Voaden).
The Eastern Yellow Wagtail remained at Steart WWT, Somerset & Bristol, until 20th, with the male Alaskan Yellow Wagtail still at Carlton Marshes, Suffolk, at the week's end. In Surrey, the Rustic and Little Bunting double act held on at Thursley Common.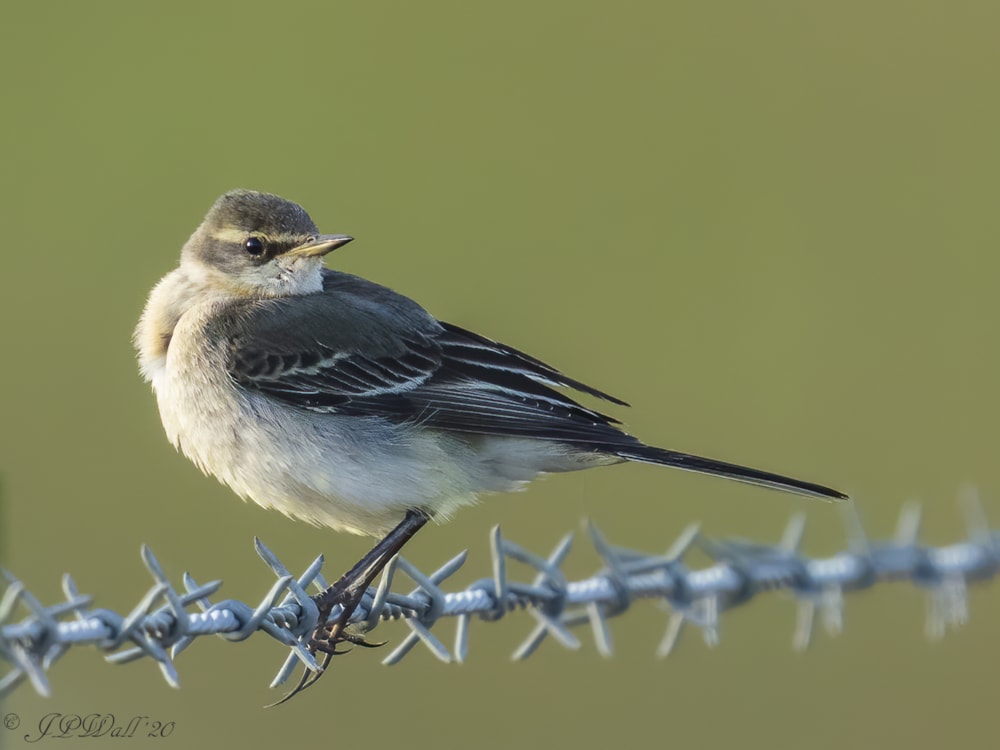 Eastern Yellow Wagtail, Steart WWT, Somerset & Bristol (John Wall).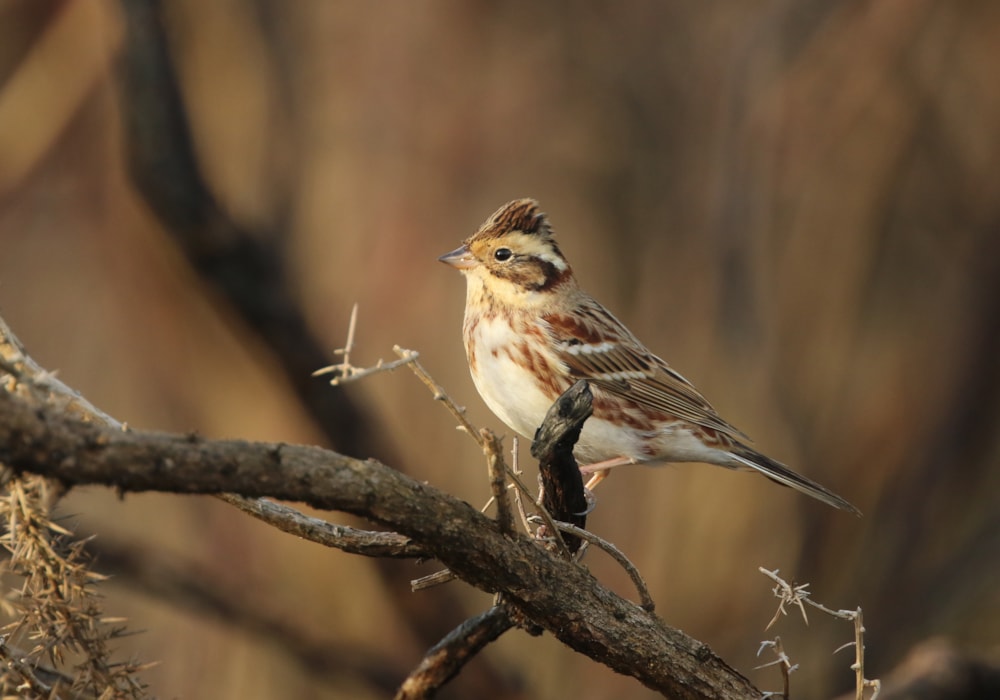 Rustic Bunting, Thursley Common, Surrey (Jon Mercer).
Northern Isles and the Hebrides
In the Outer Hebrides, a Lesser Yellowlegs remained at Ardivachar Point, South Uist, while the drake Green-winged Teal lingered at Coot Loch, Benbecula. A late Yellow-browed Warbler was at Brevig, Barra, on 16th; three Lapland Buntings held on at Eochar, South Uist.
Shetland's Little Bunting reappeared at Halligarth, Unst, on 18th. Nearby, two Siberian Chiffchaffs were at Baltasound on 16th and a Little Gull graced Uyeasound on 20th. A ringtail Hen Harrier was over Sandgarth, Mainland, on 17-18th, with a Waxwing at Brae on 16th and Black Redstart at Hayfield, Lerwick, on 16th. Fair Isle's Tundra Bean Goose was last noted on 16th.
Scottish mainland
New Siberian Chiffchaffs were at Coatbridge, Clyde, and Cameron Reservoir, Fife. Up to six remained at Seafield, Edinburgh, and no fewer than 14 Lapland Buntings continued in fields near Boarhills, Fife. Waxwings were at four sites – 11 at Elgin and 10 at Hill of Glaschyle, Moray & Nairn, two at Dundee, Angus & Dundee, and a singleton over Kinghorn Loch, Fife.
Black Redstart, Elie, Fife (Simon Pinder).
At Tain, Highland, the drake Green-winged Teal continued to show well; another was at Loch of Strathbeg RSPB, Aberdeenshire, on 21st. A Todd's Canada Goose was reported at New Deer on 19th. In Fife, an immature drake Surf Scoter was off Tentsmuir on 17th, with two Tundra Bean Geese among a large flock of Pink-feet at Drem, Lothian.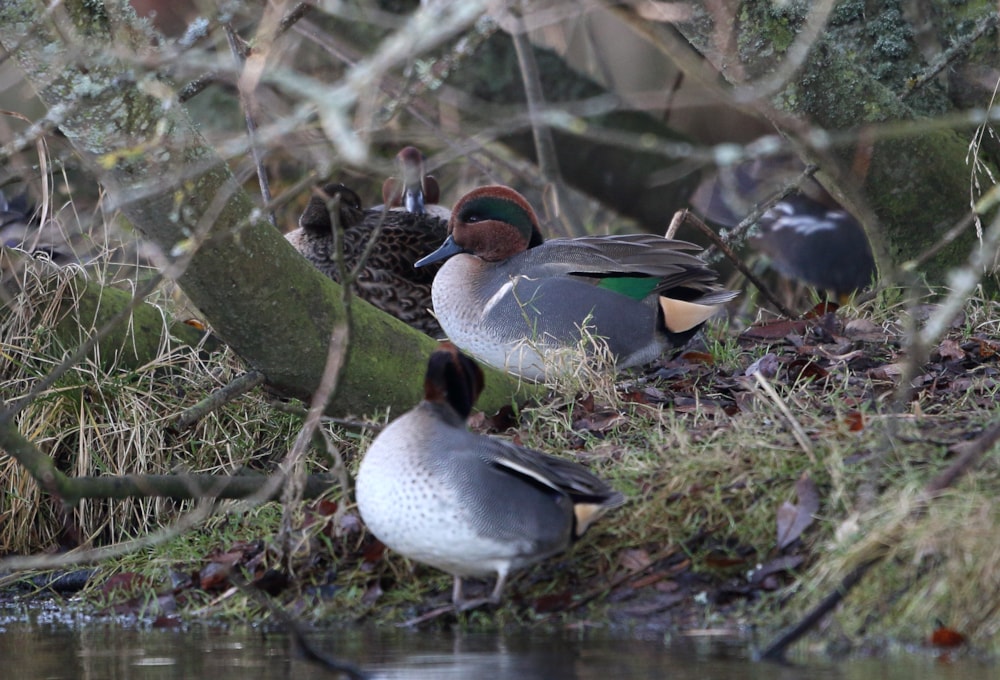 Green-winged Teal (centre), Tain, Highland (Dave Pullan).
A Glossy Ibis was a brief visitor to Crook of Baldoon, Dumfries & Galloway, on the morning of 22nd; redhead Smew continued at Hogganfield Loch, Clyde, and Cameron Reservoir, Fife, and the third-winter Yellow-legged Gull continued to be a regular feature in the roost at Balgray Reservoir. Five sites hosted Ring-necked Duck – Mugdock CP, Clyde, Belston Loch and Martnaham Loch, Ayrshire, and Kinghorn Loch and Cameron Reservoir, Fife.
Two female Ring-necked Duck continued at Loch Bhasapol, Tiree; the Todd's Canada Goose remained with Barnacle Geese at Ruaig. Another Todd's held on at Cornabus, Islay.
North-East England
A settled week in England's most northerly county; the drake American Wigeon remained at Big Waters NR and both Iceland Gulls continued to visit North Shields, as did a juvenile Glaucous Gull. A single Tundra Bean Goose was at St Mary's on 17th and four were on Holy Island on 19th. Seven Russian White-fronted Geese were in the Embleton area. A Shore Lark was noted at East Chevington on 17th, Lapland Buntings were recorded at Ross Back Sands and St Mary's in the week, and both the Tynemouth and Annstead Black Redstarts stuck it out.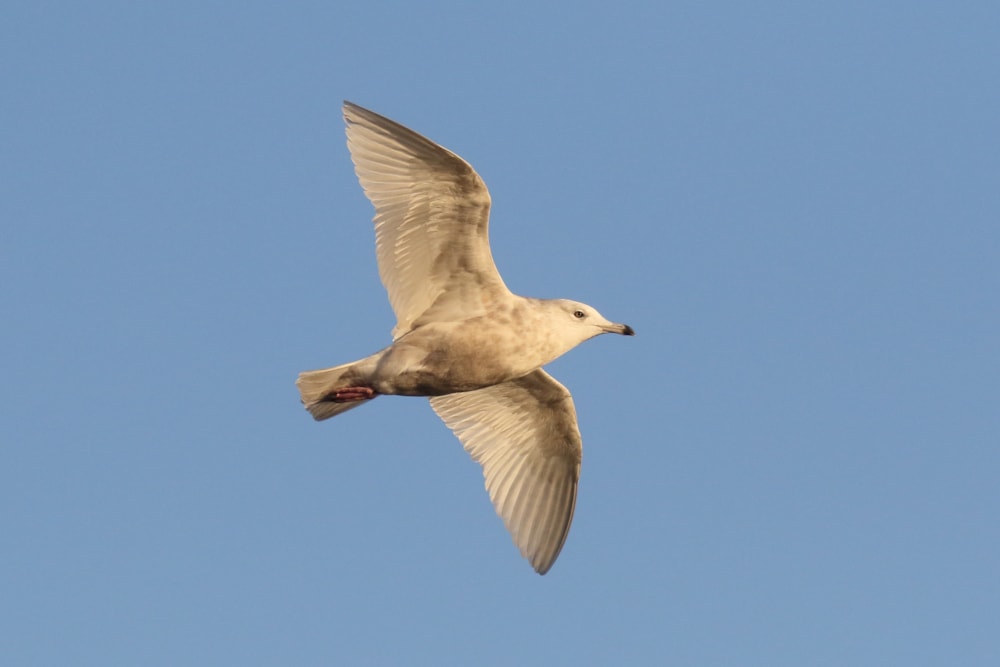 Iceland Gull, North Shields, Northumberland (Alan Jack).
Three Russian White-fronted Geese continued to visit Boldon Flats in the early part of the week, alongside last week's juvenile Glaucous Gull; it or another flew south past Whitburn Coastal Park on 17th, where a juvenile Iceland Gull was also present. Five Snow Buntings remained steadfast at South Shields and, more unusually, one was well inland at Bishop Middleham. Up to two Mealy Redpolls were at both Hardwick Hall CP and Hetton Lyons CP.
Cleveland's drake Northern Eider continued to loaf off the Redcar coast until 19th at least and five Russian White-fronted Geese were noted arriving there on 19th. The Great Egret remained in the Saltholme/Cowpen Marsh area as did the showy Black-throated Diver at Hartlepool's Jackson's Landing. Up to 80 Snow Buntings frequented the South Gare dunes.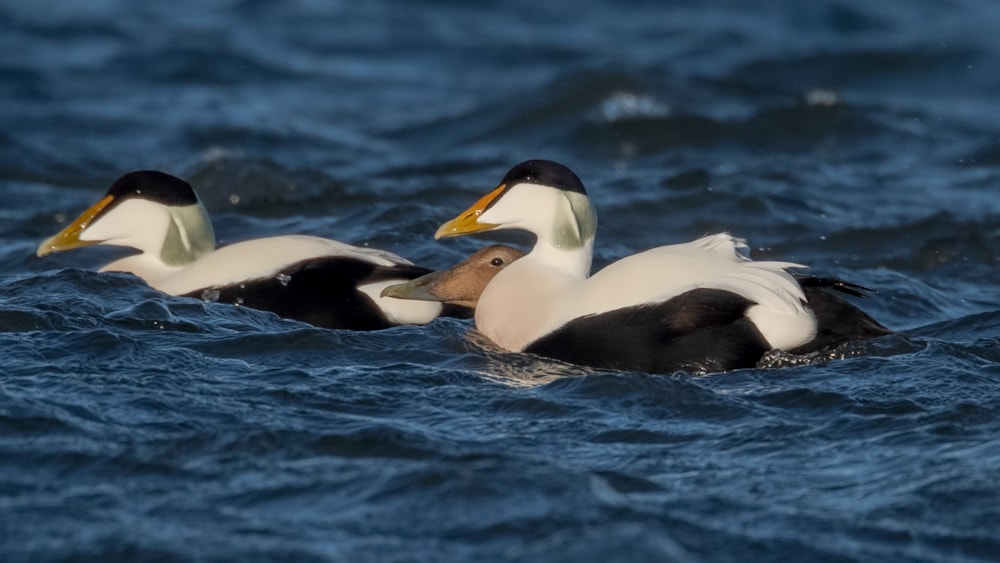 Northern Eider (right), Redcar, Cleveland (Brian Martin).
North-West England
Belated news of a Rosy Starling came from Cumbria, where it transpired a first-winter had been photographed at Castlerigg Stone Circle on 15th. Back to present day, the juvenile Iceland Gull put in sporadic appearances at Rockcliffe, four Long-tailed Ducks continued to put on a show at Longtown and Snow Buntings were at three sites. 10 Russian White-fronted Geese were in fields between Laithes and Catterlen on 21st.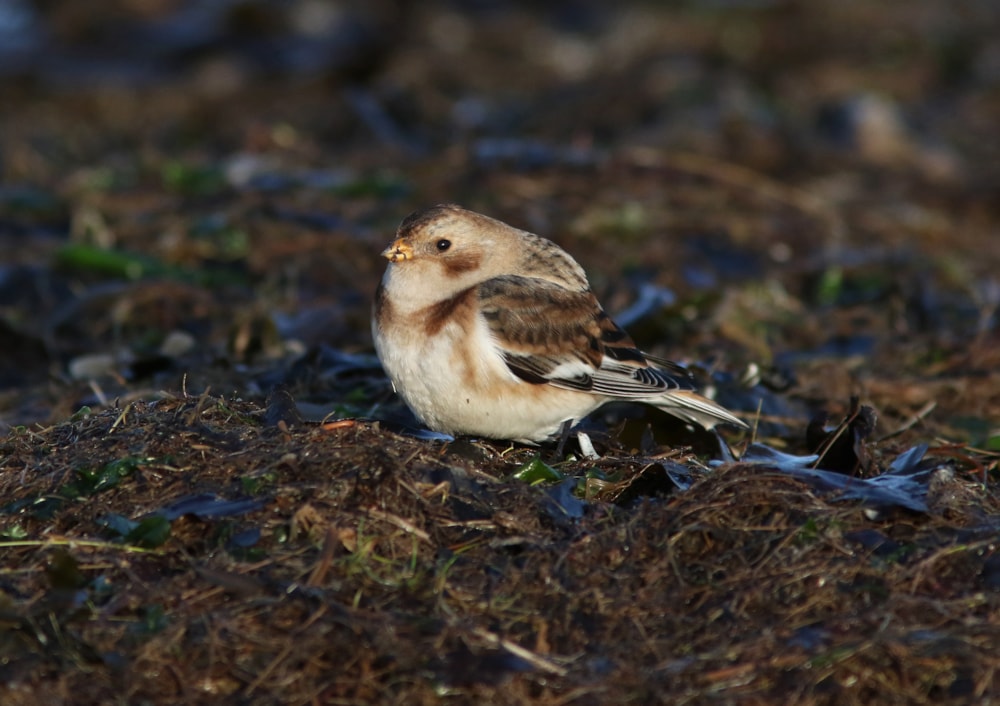 Snow Bunting, Grune Point, Cumbria (Nick Franklin).
Ainsdale's Dusky Warbler continued to frustrate Lancashire birders this week, putting on brief shows throughout. At this time of year wildfowl rarely disappoint; the drake Ring-necked Duck was still to be had at Pine Lake, two Tundra Bean Geese and two Bewick's Swans were still mingling with the Whoopers at Hundred End and another Bewick's found its way into the Mute Swan herd at Conder Pool.

Dusky Warbler, Astbury Mere CP, Cheshire (Mark Woodhead).
Not to be outdone by the birders to the north, Cheshire too turned up a Dusky Warbler: one was at Astbury Mere CP from 20th and represents just the second county record. Elsewhere, a white-morph Snow Goose flew over Burton Mere Wetlands RSPB on 18th with Pink-footed Geese, where the Little Stint continued to grace the scrape. Redhead Smew remained at Lapwing Hall Pool and Newchurch Common. A probable Siberian Chiffchaff was at Glazebury sewage works on 20th, although remained frustratingly silent. Greater Manchester was quiet this week, although Audenshaw Reservoirs continued to prove reliable for Caspian Gulls and the Greater Scaup was still at Elton Reservoir.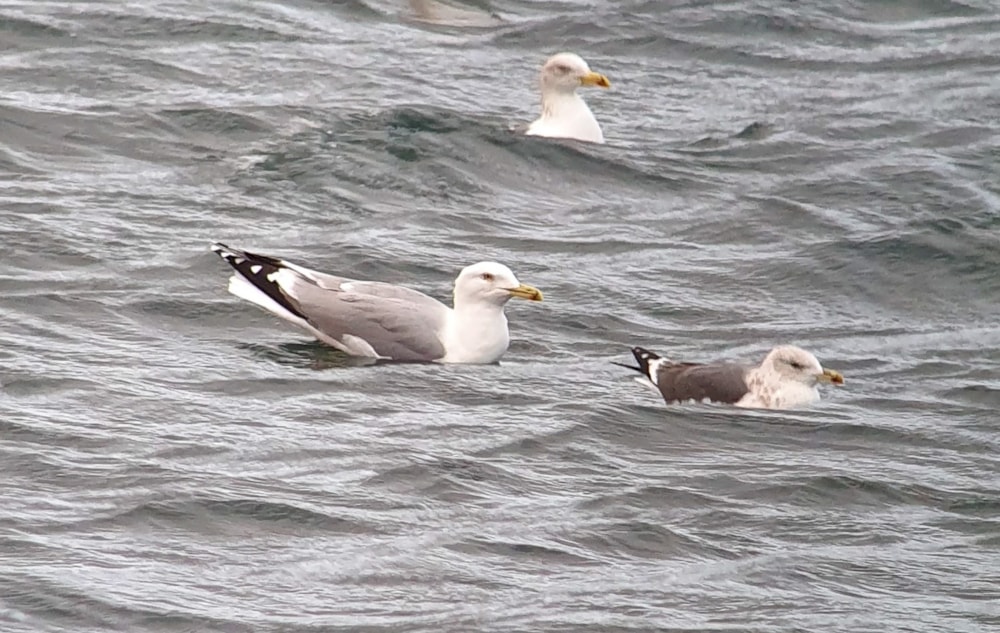 Caspian Gull (left), Audenshaw Reservoirs (Permit only), Greater Manchester (Daniel Gornall).
Lincolnshire and Yorkshire
Highlight of a quiet seven days in Lincolnshire was a drake Green-winged Teal again at Frampton Marsh RSPB from 19th. Elsewhere, the Red-necked Grebe continued at Covenham Reservoir and the adult Iceland Gull reappeared at Saltfleet.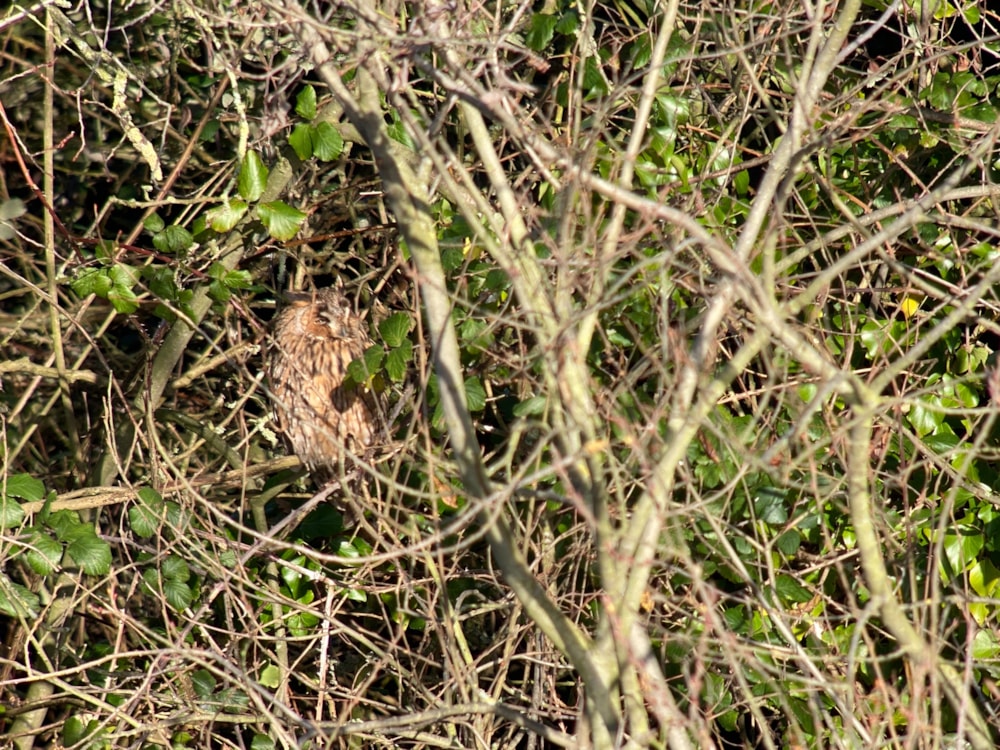 Long-eared Owl, Deeping Lakes NR, Lincolnshire (John Hague).
The Black Brant hung around in the Spurn area of East Yorkshire, where a Garden Warbler was trapped on 17th. Up to two Smew continued at Hornsea Mere, where there was a Red-necked Grebe on 20th. Four Tundra Bean Geese were at Barmston on 22nd, with a Ring Ouzel at Bempton Cliffs RSPB that day.
The male Rough-legged Buzzard was seen again at Rosedale Abbey, North Yorkshire, on 17th, while the Lesser Yellowlegs hung on at Nosterfield LNR and a Grey Phalarope did the same off Filey Brigg. Four West Yorkshire sites held Caspian Gulls, and 22 Russian White-fronted Geese flew over Hebden Bridge on 19th. Two Waxwings were at Winscar Reservoir, South Yorkshire, on 19th. The Wood Sandpiper continued at Old Moor RSPB.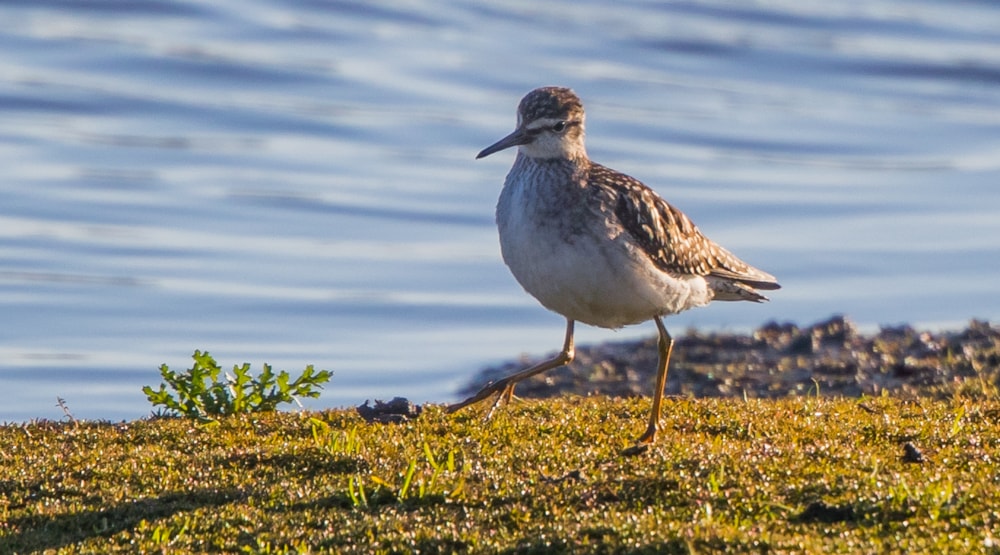 Wood Sandpiper, Old Moor RSPB (Dearne Valley), South Yorkshire (Peter Garrity).
West Midlands
Up to 20 Russian White-fronted Geese continued to decorate the floodwater at Radford Meadows SWT, Staffordshire, this week. The first-winter Little Stint was still at Belvide Reservoir, while a Caspian Gull was at Branston GPs and at least five different Casps roosted at Chasewater. Over in Shropshire, the juvenile Dark-bellied Brent Goose was still at Leighton Bends until 17th and the juvenile Great Northern Diver was still at Chelmarsh Reservoir.
In what was a quiet week for Worcestershire, a ringtail Hen Harrier by Little Malvern Priory on 19th served as the only sighting of note. Things were a little more lively in Warwickshire, where Draycote Water held onto its Red-necked Grebe, two Great Northern Divers and three European Shags. The adult Glaucous Gull roosted again on 22nd alongside the more regular Caspian Gulls.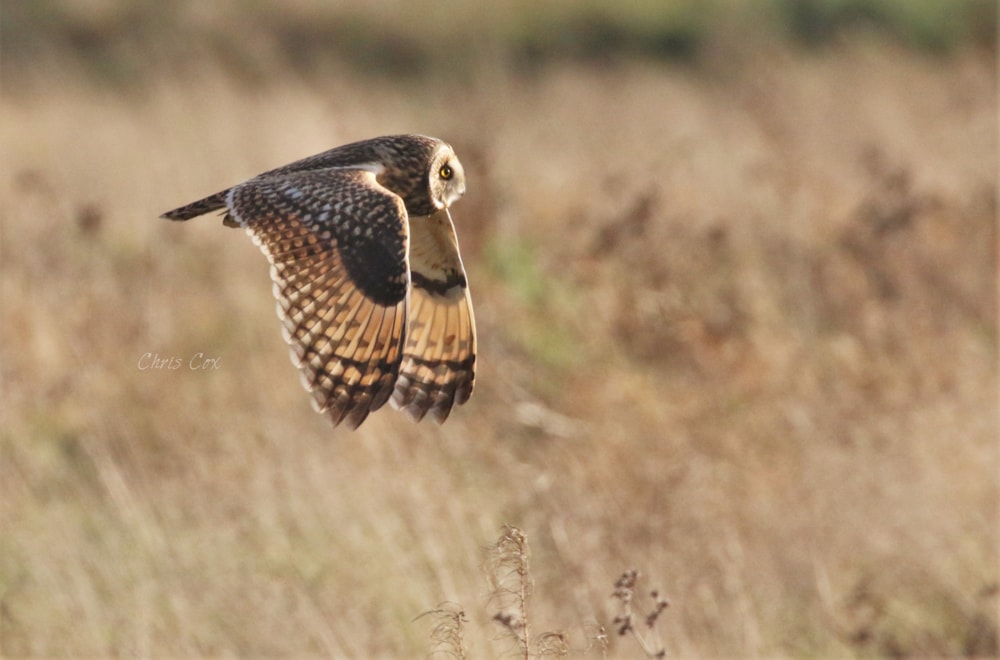 Short-eared Owl, Rugby, Warwickshire (Christopher Cox).
East Midlands
A first-winter drake Ring-necked Duck took the place of Derbyshire's star bird. First reported from Staunton Harold Reservoir on 17th, it continued to flirt the county border with Leicestershire until 19th, much to the delight of birders on both sides of the line. The previous day a juvenile Great Northern Diver turned up too, remaining until 22nd; three Russian White-fronts touched down at Willington GPs on 16th too.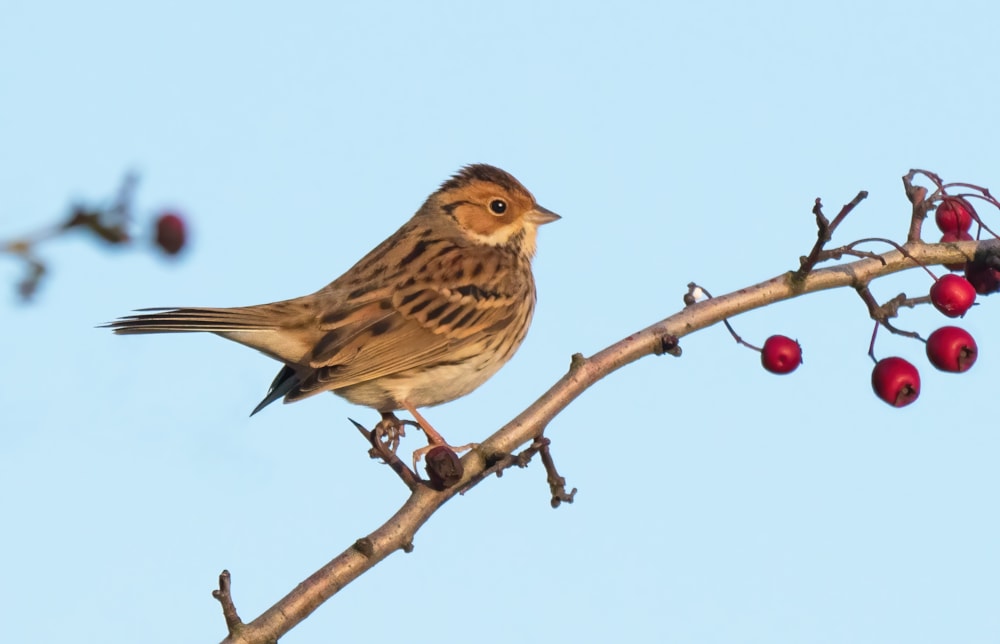 Little Bunting, Langford Lowfields RSPB, Nottinghamshire (David Smith).
Nottinghamshire's two Red-necked Grebes remained at Attenborough NR and Colwick CP throughout. Likewise, the Little Bunting remained faithful to the car park hedge at Langford Lowfields RSPB. A Great Grey Shrike proved typically elusive in Boundary Plantation, Budby, with sightings on 17-18th only. Thankfully, the two redhead Smew at Holme Pierrepont proved more reliable and the juvenile Great Northern Diver was still at Hoveringham GPs.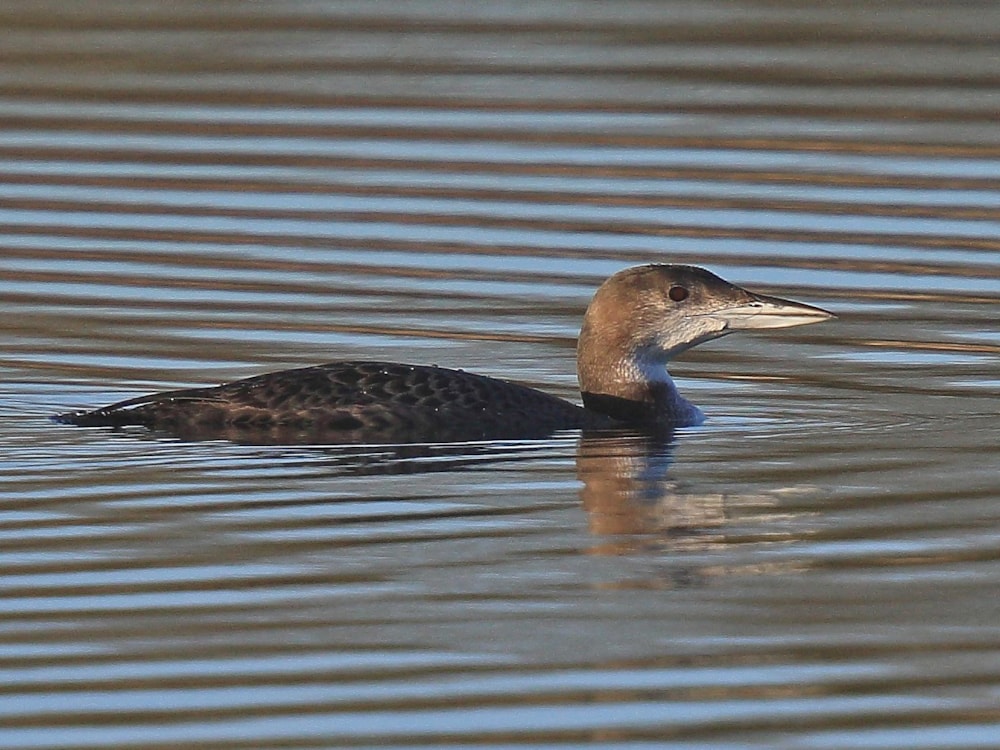 Great Northern Diver, Hoveringham, Nottinghamshire (David Carr).
Russian White-fronts were across three sites in Northants, with a special shout-out to a flock of 23 over Summer Leys LNR on 20th. The quartet of Black-necked Grebes remained at Stanford Reservoir all week, as did the Great Northern Diver at Hollowell Reservoir. The aforementioned Ring-necked Duck regularly strayed over the county border into Leicestershire, Smew were at three sites and Russian White-fronts at four. Impressively, up to six Great Northern Divers continue to find a home at Rutland Water. Unfortunately, the reported Ferruginous Duck at Longmoor Lake was reidentified from photographs as a Ferruginous Duck × Common Pochard.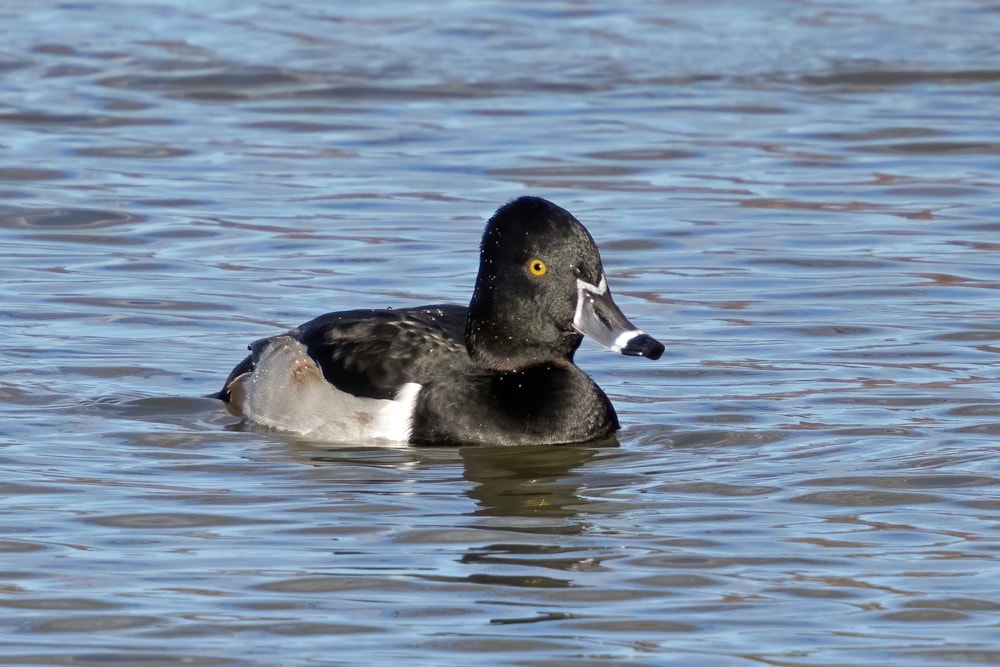 Ring-necked Duck, Staunton Harold Reservoir, Leicestershire and Rutland (David Smith).
Content continues after advertisements
East of England
The Todd's Canada Goose remained in north-west Norfolk, generally favouring the Choseley area to 22nd. A superb Black Brant was also on offer at nearby Titchwell RSPB, where up to 68 Western Marsh Harriers roosted. A Glossy Ibis at Cley on 19th was relocated at nearby Wiveton the following day, with another at Sea Palling on 20th. At least three Iceland Gulls were along the county's coast, with another at Nunnery Lakes, Thetford, on 19th. A Yellow-browed Warbler was a surprise at Snettisham RSPB on 19th.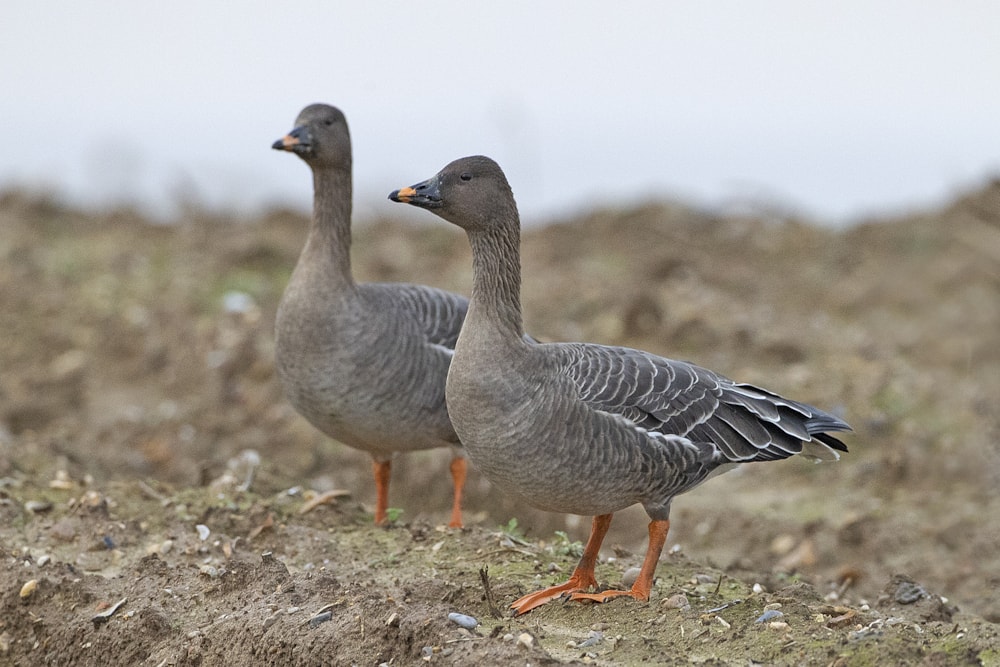 Tundra Bean Goose, Wenhaston, Suffolk (Andrew Moon).
A Rough-legged Buzzard at Felixstowe Ferry, Suffolk, on 16th was a rare record in what's been a poor winter for the species so far. The Great Grey Shrike hung around at Upper Hollesley Common and a Siberian Chiffchaff was at Lackford Lakes on 19th, the same day a juvenile Iceland Gull was at nearby Livermere. Tundra Bean Goose flocks included 25 in the Southwold area and 12 at Gedgrave Marshes.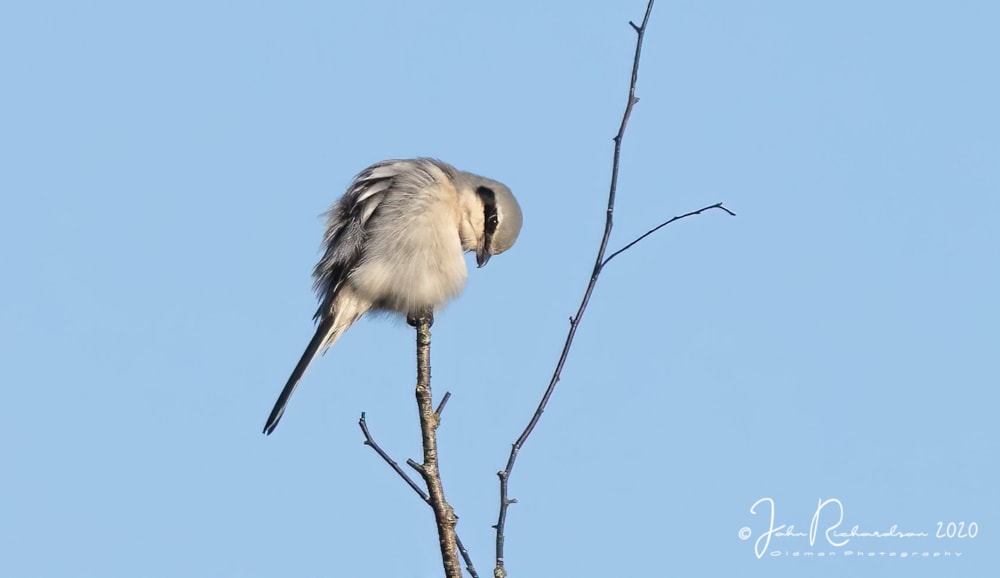 Great Grey Shrike, Upper Hollesley Common, Suffolk (John Richardson).
In Essex, a couple of Black Brant were seen in the Mersea Island area. Abberton Reservoir remained a hotbed of action, with Bewick's Swans, Tundra Bean Geese, Red-necked Grebe and three Long-tailed Ducks among the prizes on offer. A dozen sites in the county held Russian White-fronted Geese, with a peak of 270 at Wallasea Island RSPB.
A drake Ring-necked Duck reappeared at Marsworth Reservoir on 22nd, and a Great Northern Diver commuted between there and Wilstone Reservoir on 20th before moving into Buckinghamshire. A female Red-breasted Merganser was at Northchurch on 19th and a Siberian Chiffchaff at Aston End on 20th.
Two Western Cattle Egrets were the week's highlights in Bedfordshire, favouring fields at Clifton from 17th. Some 33 Russian White-fronted Geese hung around at Little Barford. Cambridgeshire had plenty to offer as always, with Great Northern Diver, Brent Goose and Siberian Chiffchaff at Grafham Water, three Glossy Ibises at Earith, Tundra Bean Goose at Wimpole Hall (and several Russian White-fronted Geese flocks) and several Caspian Gulls at Tanholt GPs among the plentiful winter 'padders' on offer.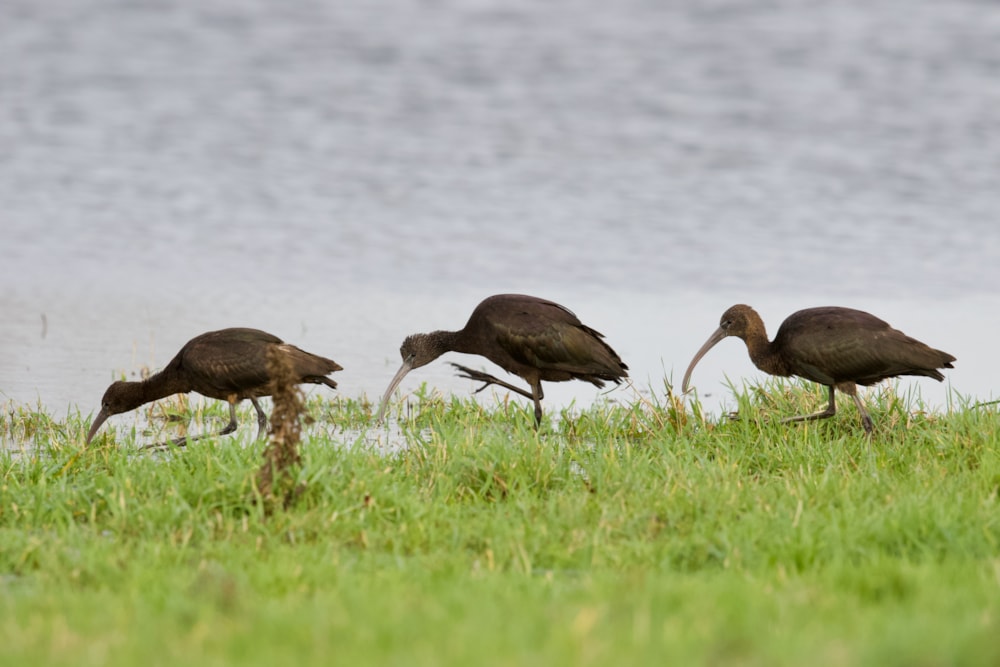 Glossy Ibis, Earith, Cambridgeshire (Paul Chamberlain).
South-East England
On 20th, Siberian Chiffchaffs were found at two London sites: Mitcham and Morden Hall Park. The previous day, three Tundra Bean Geese pitched up near Laleham – a fine record for the capital, especially out west – and they lingered throughout. Nearby, Staines Reservoirs held onto its Great Northern Diver. Four sites continued to host Russian White-fronted Geese: Clapham Common, London Wetland Centre, Walthamstow Wetlands and Wanstead.
A Ring-necked Duck did the honourable thing by gracing both Hertfordshire and Buckinghamshire sides of Marsworth Reservoir following its arrival on 22nd. At least two Great Northern Divers were also in Bucks, with Calvert, College and Willens Lakes scoring. Western Cattle Egrets were at Sherington and Newport Pagnell. Russian White-fronts were at four sites, a better showing than in Oxfordshire, where only Otmoor hosted the species. The clear Oxon highlight was the arrival of a pair of Ring-necked Duck on a small lake at Radley GPs from 19th. Otherwise, it was business as usual with the Great Bustard at Letcombe Regis, the Farmoor Great Northern Diver and the Iceland Gull at Sutton Courtenay/Appleford GPs all present and correct.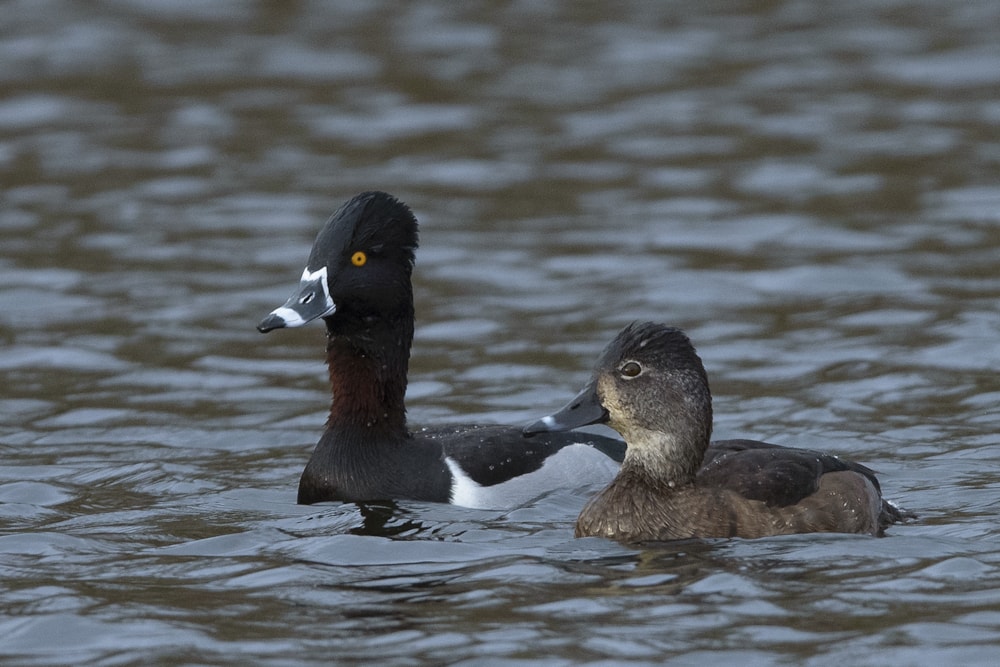 Ring-necked Duck, Radley GPs, Oxfordshire (Richard Tyler).
Only two locations in Berkshire held Russian White-fronted Geese, while the Greater Scaup at Burghfield Common and the Western Cattle Egret at Lower Farm GP lingered. In Surrey, the Thursley Common bunting extravaganza showed now signs of abating with both the Little and Rustic Buntings still about. Remarkably, a Tree Pipit was sound recorded at the same site on 17th, but the Great Grey Shrike wasn't seen after 16th. In Reigate, the female Ring-necked Duck seemed settled throughout. The Laleham Tundra Beans crossed the vice-county border on 22nd, briefly visiting Thorpe, and Tice's Meadow held onto its Brent Goose. Russian White-fronted Geese were at five sites.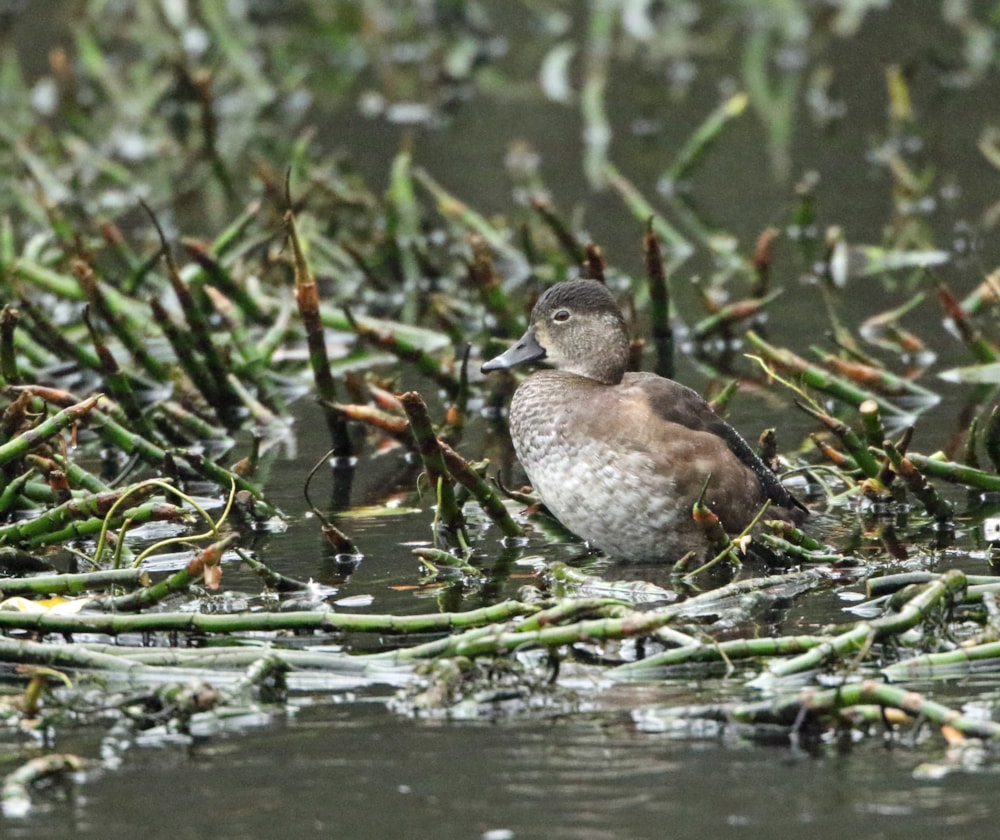 Ring-necked Duck, Reigate, Surrey (Mark Leitch).
At Blashford Lakes, Hampshire, the Yellow-browed Warbler was seen again on 17th. The four Tundra Bean Geese were at Keyhaven on 17th and then Pennington Marshes briefly on 19th; only four sites hosted Russian White-fronted Geese. Interesting seawatching records at Milford-on-Sea included a probable Glaucous Gull on 18th and a Pomarine Skua the following day. Three Pale-bellied Brent Geese were at Farlington Marshes on 21st.

Richard's Pipit, Sidlesham village, West Sussex (Mark Leitch).
In Sussex, the Richard's Pipit – which seemed settled at Sidlesham – wasn't reported after 19th. Nearby, the Glossy Ibis remained though proved a little mobile. Pagham and Burpham held Siberian Chiffchaffs, a Pale-bellied Brent Goose was at Fishbourne and the Rye Harbour Shore Lark was reported again. Some 11 sites held Russian White-fronted Geese, but the biggest wildfowl news was the return of the relic Arun Valley Bewick's Swan 'herd', with two adults at Amberley Wildbrooks on 22nd. The Eastbourne Velvet Scoter continued to show well.

Velvet Scoter, Eastbourne, East Sussex (Glenn Welch).
The number of Russian White-fronts at large in Kent seems a little more concentrated now, with 10 sites recording birds and clear clusters around Dungeness, Reculver, Sandwich Bay and the Swale. Tundra Beans at four sites included 13 on Sheppey. The county's two wintering Dusky Warblers were still up for grabs at Dungeness and Minster, as was the Richard's Pipit at Egypt Bay on the Hoo. Both Dartford Marshes and Sandwich Bay hosted Lapland Buntings; Snow Buntings were at Reculver and South Swale. A possible Kumlien's Gull was at Pegwell Bay on 19th, while Dungeness and Foreness Point perhaps shared the same juvenile Glaucous Gull. A Leach's Storm Petrel flew past Dungeness on 21st; two Little Auks went by on 18th. Inland, a Siberian Chiffchaff was at Sevenoaks.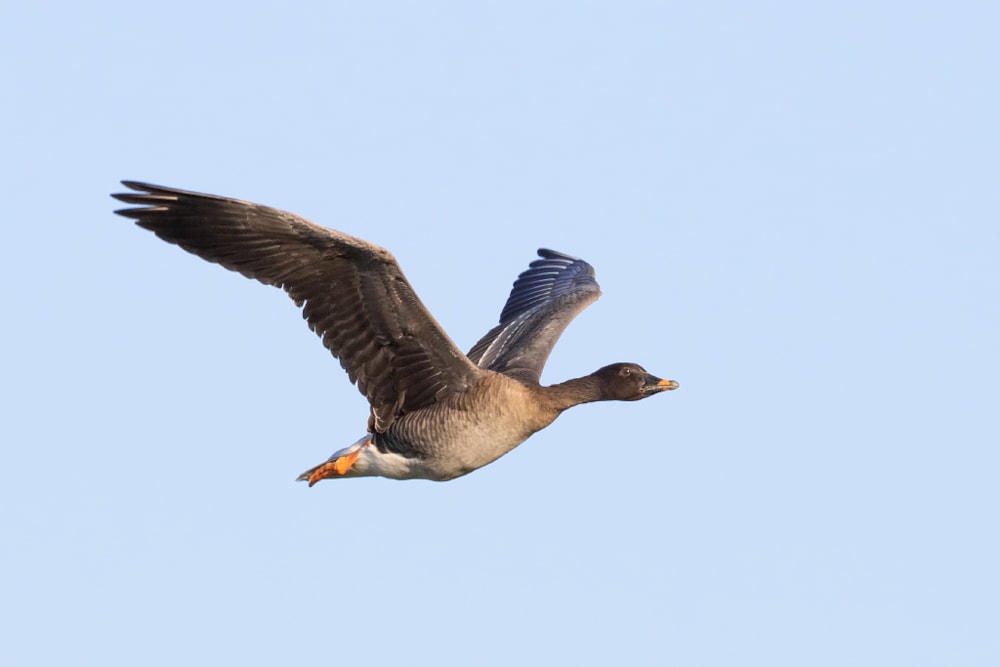 Tundra Bean Goose, Reculver, Kent (Alex Perry).
South-West England
Slimbridge WWT continued to be the epicentre of all Gloucestershire action; a Water Pipit there on 20th was followed by a Little Stint on 22nd, while the Ridgway's Cackling Goose of suspect origin remained throughout. Gloucester Cathedral retained its Black Redstart, too. Westbury sewage works, Wiltshire, played host to two Siberian Chiffchaffs on 20th. Elsewhere in the county, a young Kittiwake graced The Crammer, Devizes, on 22nd and four Whooper Swans remained at Castle Eaton.
A remarkable leucistic Great Northern Diver off Salcombe, Devon, is one of the week's national highlights, nevermind for the county. Meanwhile, a juvenile Iceland Gull enjoyed the environs of Brixham marina from 18th, while Glaucous Gulls were at Slapton Ley, Man Sands and Seaton Marshes, the latter site also hosting a first-winter Caspian Gull on 17th. Near Barnstaple, four Glossy Ibises remained at Fremington Pill, the Lesser Yellowlegs was again reported at South Efford Marsh on 19th, a Red-necked Grebe was still off Broadsands, and a Pomarine Skua lingered off Shoalstone Point from 16th. News broke of a young Rosy Starling at Stoke Fleming for its third week on 19th. Two Snow Buntings continued at Northam Burrows CP, as did the Soussons Down Great Grey Shrike, while a White-tailed Eagle flew over Lower Tamar Lake on 19th. At Exwick, both the Dusky Warbler and Siberian Chiffchaff remained throughout.

Great Northern Diver, Salcombe, Devon (Peter Coe).
In Somerset, a new Grey Phalarope was at Langport on 20th and a Water Pipit was at Ham Wall RSPB on 22nd, while a Dartford Warbler at West Moor, Hambridge, was a notable county find. Apex Leisure Park held onto its Tundra Bean Goose and pair of Russian White-fronts, and Barrow Gurney Reservoirs Great Northern Diver and drake Long-tailed Duck remained; another Great Northern was a brief visitor to Chard Reservoir on 22nd. Elsewhere, a Ruddy Shelduck remained at Westhay, Chew Valley Lake hosted a Slavonian Grebe and Water Pipit, and a White Stork was at Bitton on 16th.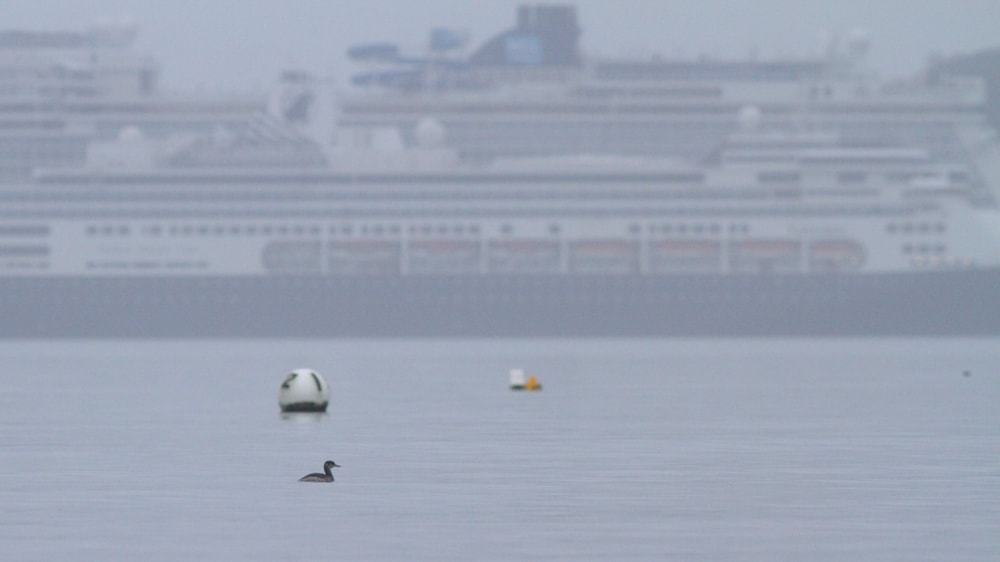 Red-necked Grebe, Portland Harbour, Dorset (Joe Stockwell).
Five Ruddy Shelduck lingered at Winkton, Dorset, until 18th, when they were joined by six Russian White-fronted Geese. Another 16 of the latter were at Silverlake, West Knighton, were the young drake Long-tailed Duck also remained. A Black Brant was at Langton Herring from 17th; another two were in Brand's Bay on 20th. Ferrybridge hosted a Grey Phalarope on 19th, the drake Green-winged Teal was still at Longham Lakes, the drake Velvet Scoter continued off Hive Point, Chickerell, and Stanpit Marsh's Glossy Ibis remained. On the passerine front, a Siberian Chiffchaff was at Lodmoor RSPB on 17th and the Rosy Starling was still at Easton, Portland. Four sites hosted Iceland Gulls and a brief first-winter Caspian Gull at West Bexington on 19th.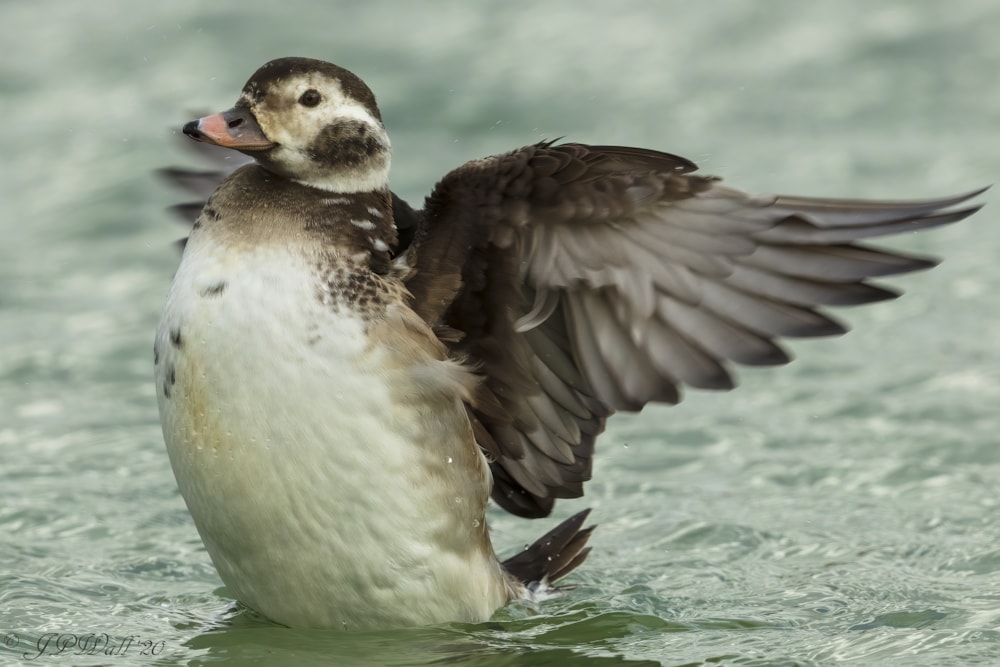 Long-tailed Duck, West Knighton, Dorset (John Wall).
A popular Black-necked Grebe was at Marazion Marsh RSPB, Cornwall, from 20th. Glaucous Gulls were reported from five sites, with Iceland Gulls at four, and single Pomarine Skuas were off both Towan Head and Feock. The adult Ring-billed Gull continued to roost at Hayle Estuary, along with at least three Caspian Gulls. Two female Ring-necked Ducks remained at Siblyback Reservoir, while a Curlew Sandpiper was again on the Camel Estuary on 22nd. St Erth's Dusky Warbler and Siberian Chiffchaff duo continued, with other Sibe Chiffs at Lower Nansloe Farm, Helston (three), and Sandy Cove, Newlyn. A Richard's Pipit was at Nanquidno Valley on 17th, while Yellow-browed Warblers were at three sites – Marazion Marsh RSPB, Coverack and Lelant Saltings (two).

Yellow-browed Warbler, Lelant, Cornwall (George Gay).
On St Mary's, Scilly, a Little Bunting was new-in from 22nd. At least one Dusky Warbler continued at Lower Moors, the Snow Bunting was again at Old Town, and Yellow-browed Warblers and Siberian Chiffchaffs were at two sites apiece. Two regular juvenile Iceland Gulls were briefly joined by a third-winter on 21st. Away from St Mary's, Yellow-browed Warblers remained on both Tresco and St Martin's.
Wales
Glamorgan proved the larid hotspot for another week; a possible Ring-billed Gull put a brief stint in at Cosmeston Lakes CP on 19th, although sadly wasn't seen again. Both first- and second-winter Caspian Gulls roosted at Cardiff Bay throughout, however the second-winter appeared with much less regularity.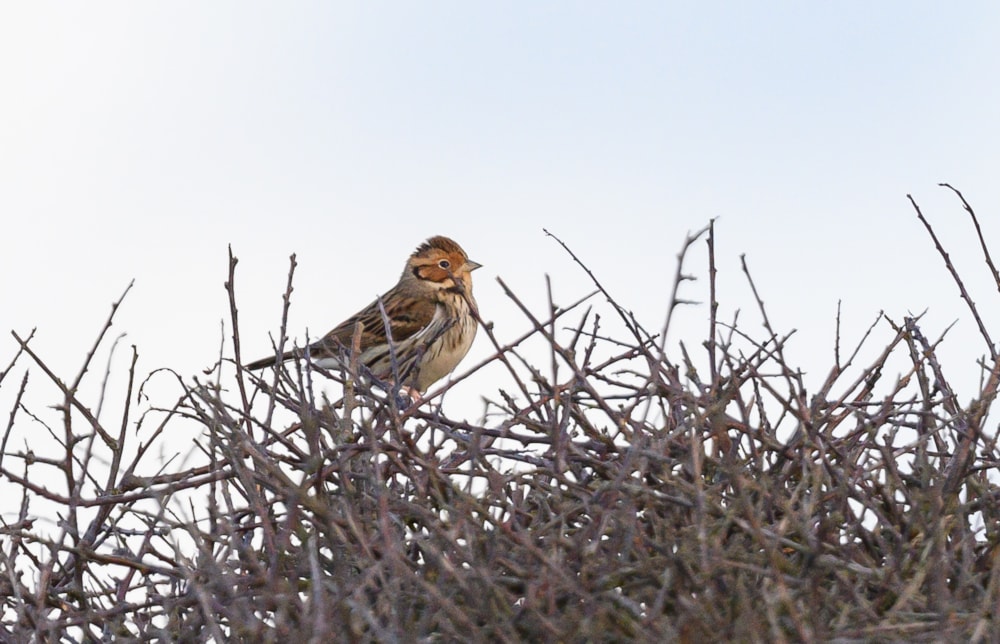 Little Bunting, Abereiddy, Pembrokeshire (Mike Young-Powell).
At least four Ring-necked Ducks continued in the country, with an impressive three still at Talley Lakes, Carmarthen on 22nd. Meanwhile, the adult Russian White-fronted Goose was still at Kenfig NNR, Glamorgan, with a juvenile Great Northern Diver on Kenfig Pool for company on 17th. The adult and juvenile Glossy Ibises were still showing well on Redbarn Pools at Goldcliff Pools NR, Gwent.
Anglesey provided the passerine action this week; the garden feeders of Amlwch Port provided enough nutrition for the adult Rosy Starling for yet another week. Three Snow Buntings remained along the breakwater at Soldier's Point whilst three were at Llanddona beach on 17th. In Bridgend, Glamorgan, the Christmas tree-roosting Pied Wagtails continued to prove quite the festive draw.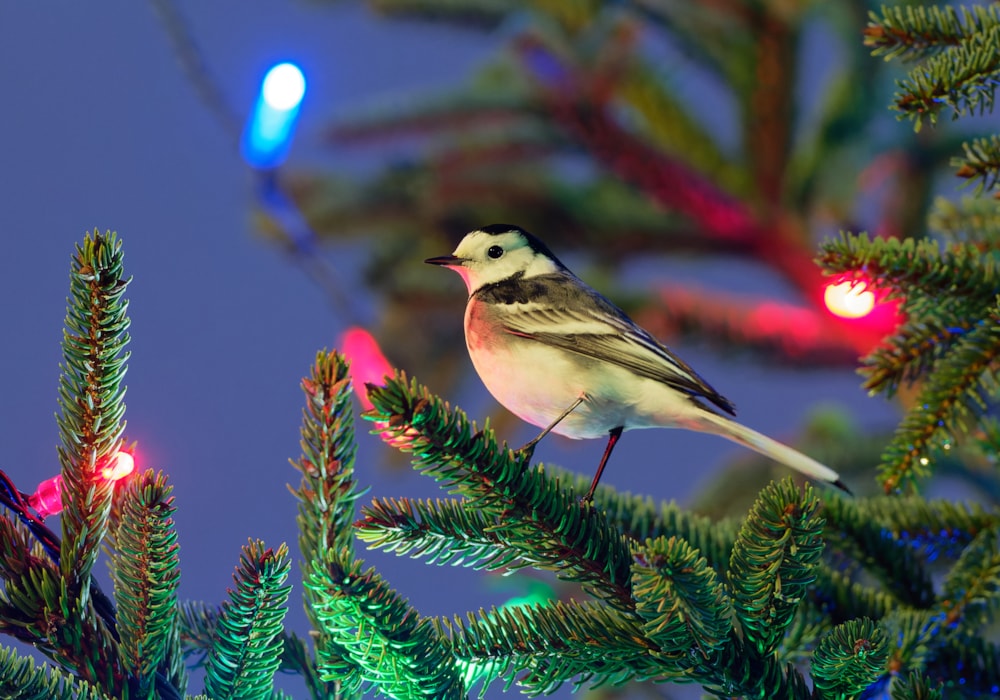 Pied Wagtail, Bridgend, Glamorgan (Paul Roberts).
Ireland
Five Ring-necked Duck were seen, including two at Lough Gara, Co Sligo. The confiding male American Wigeon performed well at Glynn, Co Antrim, with another still on The Mullet, Co Mayo, where a Green-winged Teal also remained. A Surf Scoter continued off the Co Louth coast.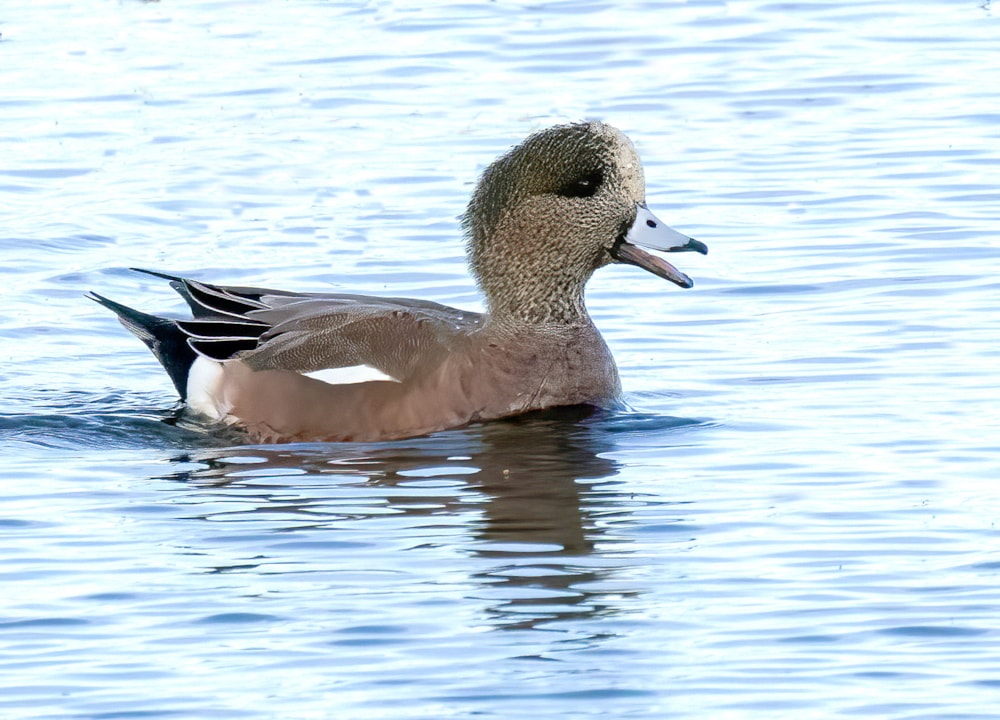 American Wigeon, Larne Lough, Antrim (Ian Dickey).
Somewhat less seasonal was a Swallow at Castle Espie WWT, Co Down, from 17-19th. Siberian Chiffchaffs were at South Slob, Co Wexford, and The Gearagh, Co Cork, while the latter county also produced a Great Spotted Woodpecker in a garden at Carrigtwohill.
Co Waterford's wintering Lesser Yellowlegs was still at Killongford, while a Spotted Redshank at Reenroe, Co Kerry, was a notable local occurrence. In Co Cork, Pilmore's Glossy Ibis was still in-situ.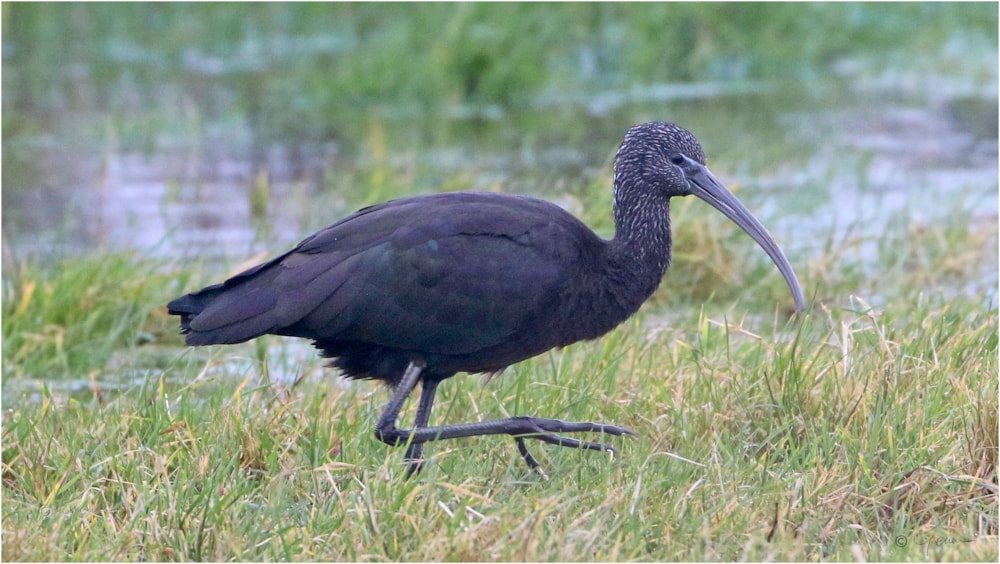 Glossy Ibis, Pilmore, Cork (Gemma Kelleher).
Ten sites held Iceland Gull, including fours at Gearhies, Co Cork, and Duncannon, Co Wexford. Just four localities produced Glaucous Gull, although two adults inland at Enniskillen Dump, Co Fermanagh, was notable. Regular adult Ring-billed Gulls were in Cos Galway, Wicklow and Antrim.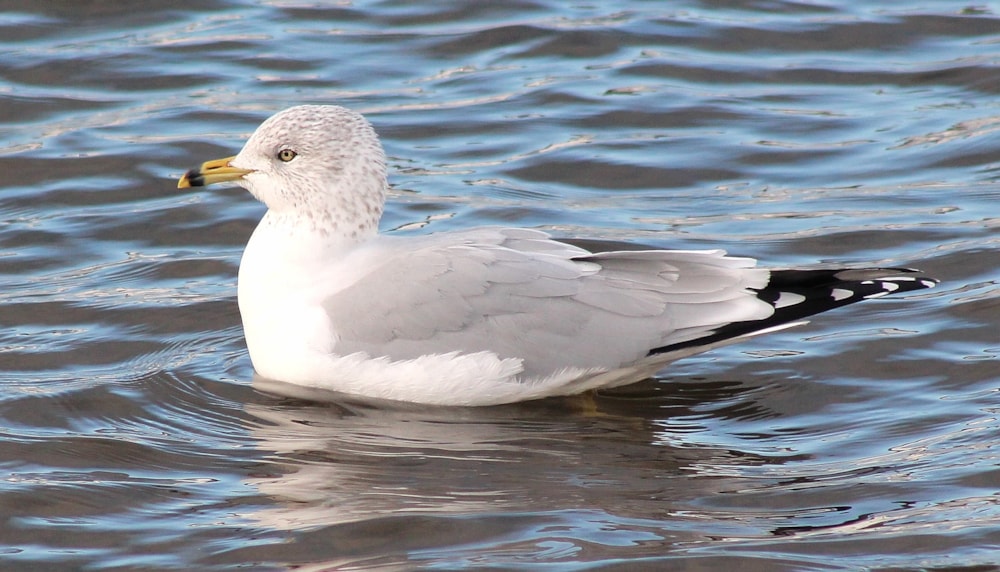 Ring-billed Gull, Nimmo's Pier, Galway (Ian Stevenson).
Western Palearctic
Kuwait's hot streak continued with a first-winter Brown-headed Gull at Jahra Pools on 22nd, a national first and just the second for the Western Palearctic, after one in Israel back in 1985. The country's long-staying Lesser Flamingo was back at Sulaibikhat Bay from 20th, while the Masked Wagtail was again at Jahra Pools on 21st.
Israel's first Wilson's Phalarope was a remarkable find at Sde Eliyahu from 18th. Continuing the Nearctic flair was both the country's third American Golden Plover at Eilat and a Lesser Yellowlegs at Ein Hamifratz on 19th, also a national third. Otherwise, the Bateleur was last reported over Tsor'a on 22nd, a Basalt Wheatear was at Samar from 20th, and a Greater Painted-snipe was at Gan Shmu'el fishponds from 14-19th.
A first-winter female White-headed Duck at Stausee Altheim near Landshut, south-west Germany, was especially notable and continues the impressive influx into Eastern Europe. Elsewhere, the Pygmy Cormorant lingered at Alfhausen until 21st.
The Faroes first Pied-billed Grebe was at Eiði from 16th, while Norway's Franklin's Gull – a first-winter – was still at Kviljo-odden, Vanse. Trelleborg, Sweden, held onto its Alaskan Yellow Wagtail. The young Sociable Lapwing was again noted at Aitona, Spain, on 20th. In the Azores, the Belted Kingfisher remained at Lajes do Pico until 17th at least. A new Great Blue Heron was at Paul da Praia, Terceira, on 21st; another was found freshly dead at the same site on 12th.