In what proved a steadily improving week, sprinkled with timely Pied Flycatcher passage, Sunday delivered in a big way with a Rufous-tailed Scrub Robin in Cornwall. Otherwise, the weekend provided the first real arrival of scarcer autumn migrants for much of England, including a Greenish Warbler or three.
Belonging to one of the eastern subspecies, Cornwall's first Rufous-tailed Scrub Robin at Black Head was a smashing way to end the week. As the old saying goes, you wait ages for a bus and then two come along at once! It's amazing how often this happens in birding – and so it proved again in this instance, with Britain's first modern-day record occurring as recently as October 2020. Another eastern bird, that individual – at Stiffkey, Norfolk, for six days from 17th – proved a tick for almost everyone at the time and was perhaps the most popular attraction of a bumper autumn, gaining plenty of notoriety in the national press. Before that, you have to look as far back as 9 August 1980 for a one-day record at Prawle Point, Devon, while there are just a further four British records since 1951.

Rufous-tailed Scrub Robin, Black Head, Cornwall (Jon G).
Along the east coast of Ireland, the Least Tern remained around the Little Tern colony at Portrane Point, Co Dublin, with the Forster's Tern still at Soldier's Point, Co Louth.

Least Tern, Portrane Point, Dublin (Kris De Rouck).

Forster's Tern, Dundalk, Louth (Fergal Stanley).
In Lancashire, the Elegant Tern became rather more mobile, commuting between Hightown, Knott End-on-Sea and Ainsdale during the week. A new first-summer Bonaparte's Gull was hawking insects over Aghada Power Station, Co Cork, on 18th, while long stayers held on at both Oare Marshes NR, Kent and Norwick, Unst, Shetland.

Elegant Tern, Crosby, Lancashire (Elliot Montieth).
A likely immature booby species flew west past Portland Bill, Dorset, with Northern Gannets on 20th, while a possible Fea's-type petrel flew distantly south off Spurn, East Yorkshire, on 18th. Meanwhile, the Black-browed Albatross remained popular – and reliable – at Bempton Cliffs RSPB, East Yorkshire.

Black-browed Albatross, Bempton Cliffs RSPB, East Yorkshire (Lee Fuller).
A juvenile Aquatic Warbler – the first of the autumn – was trapped and ringed at Lytchett Fields RSPB, Dorset, on 17th. Elsewhere, the St Kilda Snowy Owl was noted again on 16th.

Aquatic Warbler, Lytchett Fields RSPB, Dorset (Shaun Robson).
Draycote Water, Warwickshire, hosted a smart juvenile Ferruginous Duck from 16-19th, although was likely present for up to a week before its true identity was revealed. A probable spent the evening of 19th at Stanwick GPs, Northamptonshire, too. In Shetland, the first-summer drake King Eider was again at Baltasound, Unst, on 15th.

Ferruginous Duck, Draycote Water, Warwickshire (Dave Hutton).
At Funzie, Fetlar, the fresh juvenile Black-winged Pratincole wasn't reported after 20th, while the juvenile Black Stork commuted between Freiston Shore RSPB and Frampton Marsh RSPB, Lincolnshire, until 21st.

Black-winged Pratincole, Fetlar, Shetland (Robbie Brookes).

Black Stork, Frampton Marsh RSPB, Lincolnshire (David Carr).
Both Long-billed Dowitchers remained in-situ throughout – at Llanelli Wetland Centre WWT, Carmarthen, and Frodsham Marsh, Cheshire – although the Pacific Golden Plover count at Frampton Marsh RSPB, Lincolnshire, dwindled to one after 16th.

Long-billed Dowitcher (front), Llanelli Wetland Centre WWT, Carmarthen (Nick Moglia).

Pacific Golden Plover, Frampton Marsh RSPB, Lincolnshire (Nigel Sprowell).
In pinniped news, the immature male Walrus made an appearance around Crookhaven, Co Cork, on 17-18th. Having now reached the Atlantic coast of Ireland for the first time since its initial discovery at Valentia Island, Co Kerry, back in March, one wonders if his days around British and Irish coastlines are numbered, with a journey back to his native haunts perhaps due imminently.
Look where Wally the Walrus has ended up.... #Crookhaven !

Thanks to Gary Finn & Eillie for the pic#wallythewalrus#CorkToday pic.twitter.com/pVl6S2kNS8

— C103 (@C103Cork) August 18, 2021
Scottish mainland
Fife's first Great Shearwater since 2003 flew past Fife Ness twice on 21-22nd. An adult Sabine's Gull flew past on 22nd, while a Wood Sandpiper flew in off the sea. A Cory's Shearwater was photographed off Carnoustie, Angus & Dundee, on 21st and a Balearic Shearwater was off Eyemouth, Borders, a day later, while Long-tailed and Pomarine Skuas were otherwise well represented. Four Aberdeenshire sites hosted Black Terns, with one at Donmouth present alongside a Roseate Tern.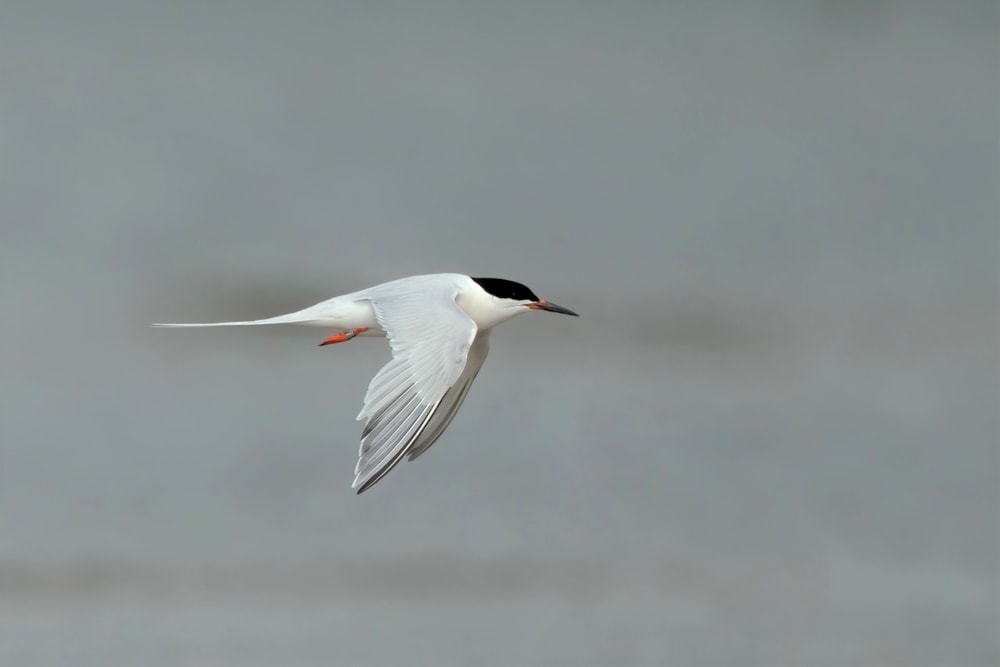 Roseate Tern, Burntisland, Fife (Douglas Dickson).
Baugh, Tiree, saw a flyover European Bee-eater on 22nd and a Common Rosefinch resided on the Isle of May, Fife, on 18-19th, while a first-winter Red-backed Shrike at Corby Loch, Aberdeenshire, from 18th was well-appreciated. The Stoer Rosy Starling – last seen on 18th – perhaps relocated a short distance to Culkein, Highland, on 20th. Collieston, Aberdeenshire, scored a Greenish Warbler on 22nd – a Fin Whale was there too on 19th.
Four Common Quail were spread between New Aberdour, Aberdeenshire, and Portmahomack, Highland, Eurasian Spoonbills were at Findhorn Bay, Moray & Nairn (two), and Ythan Estuary, Aberdeenshire, and Garganey were at two sites – Frankfield Loch, Clyde, and The Wilderness, Fife. In Angus & Dundee, the Ruddy Shelduck was again at Montrose Basin, with a drake Surf Scoter still off Kinnaber.
Northern Isles and the Hebrides
South-easterlies and rain at the week's end didn't materialise huge falls across Shetland, but a handful of drift migrants did make landfall. A Wryneck was at Scatness, Mainland, on 22nd when a Greenish Warbler was on Foula. Earlier in the week, a male Red-backed Shrike was at Rerwick, Mainland, on 17th. A single Wood Warbler was at Boddam, Mainland, two were at Hoswick, Mainland, and Pied Flycatchers were reported from seven localities. Out Skerries enjoyed a steady weekend, with three Barred Warblers and three Common Rosefinches on 22nd, with a supporting cast of two Wood Warblers. A juvenile Little Ringed Plover visited Quendale, Mainland, on 22nd.
Fair Isle was largely quiet thanks to some stubborn fog, although the adult Rosy Starling remained until 20th. New arrivals were thin on the ground, although a Common Rosefinch was on the island on 20th and a juvenile Spotted Redshank on 21st.

Common Rosefinch, Fair Isle, Shetland (Daniel Gornall).
In Orkney, the Rosy Starling made a re-appearance on the golf course at Stromness, Mainland, on 20th. A possible Alpine Swift was over Hoy the same day but sadly couldn't be clinched. An adult Pomarine Skua flew south through Eynhallow Sound on 17th.
The adult American Golden Plover continued to find North Ronaldsay to its liking, while seawatching records on 19th involved a Sabine's Gull, Pomarine Skua and 34 Sooty Shearwaters, with another Pom past on 20th, when a Wood Warbler was also present.
The Outer Hebrides had a quiet week. A European Turtle Dove was at Benbecula Airport on 18th and a juvenile Curlew Sandpiper was at Eochar, South Uist.
Dan Owen
North-East England
In Northumberland, scarcities consisted of two Barred Warblers on Holy Island on 22nd, Long-tailed Skuas past Newbiggin-by-the Sea, and a brief probable Buff-breasted Sandpiper at Whittle Dene Reservoir on 19th. A Balearic Shearwater flew past Seaton Sluice. Wood Sandpipers were at five sites, with Curlew Sandpipers and Little Stints at two. St Mary's Island hosted a Dutch-ringed Caspian Gull on Saturday, with a Yellow-legged Gull at East Chevington the day after.

Little Stint, St Mary's Island, Northumberland (Alan Jack).
A Cory's Shearwater seen heading north past three sites on 18th was the highlight of the week in Durham. Whitburn produced three Long-tailed Skuas on two dates, a Sabine's Gull, two Balearic Shearwaters, several Little Gulls and Velvet Scoter, and a Western Osprey. Spotted Redshanks were at three sites and Wood Sandpipers were at Lamesley and Bishop Middleham. A Great Egret was at Hurworth Burn Reservoir with six Ruddy Shelduck still commuting between there and Bishop Middleham. A female Greater Scaup was at Brasside Ponds on Friday.
In Cleveland, Cory's Shearwaters were seen off Hartlepool Headland on 18th and 20th, with a Sabine's Gull and Balearic Shearwater also offshore. A Eurasian Spoonbill and two Great Egrets were on the Tees Marshes. Black Terns were at Hartlepool and Seaton Snook and a juvenile Caspian Gull was seen at Scaling Dam Reservoir on 17th. A juvenile Little Stint was at Redcar at the end of the week.
Jonathan Farooqi
North-West England
A Pomarine Skua winged its way south past Silecroft, Cumbria, on 20th, as did a Long-tailed Duck. A Garganey was at Ulpha Meadows CWT on 17th and up to four Great Egrets were present. It was a quiet week for Lancashire. A juvenile Caspian Gull was on the beach at Crosby on 19th and again on 22nd, while a Common Quail was still trying his luck at Hesketh Out Marsh RSPB on 21st.

Black Redstart, Tindale Tarn, Cumbria (Roger Ridley).
At least five Ruddy Shelduck continued to drift around the Mersey this week, while the juvenile drake remained at Burton Mere Wetlands RSPB, Cheshire. The second-summer Caspian Gull was again on the Mersey off Runcorn on 15th and an adult Kittiwake paid a brief visit to Neumann's Flash on 16th. Five Arctic Terns flew south-west through Elton Reservoir, Greater Manchester, on 17th.
Dan Owen
Lincolnshire and Yorkshire
Long-tailed Skuas past Saltfleetby and Gibraltar Point were the best seawatch records from Lincolnshire, where land-based sightings along the coast included numerous Pied Flycatchers and Wood Sandpipers, as well as the odd Black Tern. The three Ruddy Shelduck made occasional appearances at Deeping Lakes LWT and nearby Baston Fen produced two Common Cranes and a Western Cattle Egret.
In South Yorkshire, the White-tailed Eagle was seen again at Broomhead Moor and a Purple Sandpiper visited Redmires Reservoirs on 18th. Spotted Redshanks were at several sites, with the two Little Gulls at Anglers CP, West Yorkshire, plus two Black Terns there on 20th. St Aidan's RSPB also produced Black Terns (three on 22nd), with the two Ruddy Shelduck still to 17th.

Greenish Warbler, Filey, North Yorkshire (Will Scott).
A Cory's Shearwater was seen along the Holderness coast on 16th; perhaps the same bird off Flamborough Head on 18th later went by Old Nab, Staithes, and was tracked north to Durham. An adult Sabine's Gull also passed Flamborough on 22nd and Little Gulls reached an impressive 6,840 at Hornsea Mere that evening.
A fall on 22nd saw Greenish Warbler arrive at Filey, with another reported at Scarborough and a third at Kilnsea. Flamborough Head produced a Barred Warbler, while Pied Flycatcher numbers really began to pick up along the coast.
Josh Jones
West Midlands
It was another fair week for tern passage through Staffordshire. Two juvenile Black Terns were off the dam at Belvide Reservoir on 16th, replaced by a juvenile Arctic Tern the following day. Arctic Terns were reported from a further two sites. Three Sandwich Terns were at Tittesworth Reservoir on 17th, the same day one flew south through Belvide Reservoir. Two juvenile Little Gulls were also at Belvide from 16-18th.

Little Gull, Belvide Reservoir (PERMIT ONLY), Staffordshire (Steve Nuttall).
Content continues after advertisements
A possible adult Baltic Gull was in the roost at Chelmarsh Reservoir, Shropshire, on 20th, while Priorslee Lake had a fair passage of Arctic Terns, with three through on 16th and an adult on 18th. Two Wood Sandpipers briefly touched down at Venus Pool NR on 21st. An adult Arctic Tern was at Wellington GPs, Herefordshire, on 17th. A juvenile Wood Sandpiper was at Sandwell Valley RSPB, West Midlands, from 18th and a Wood Warbler was at Barr Beacon NR, Streetly.

Wood Sandpiper (right), Sandwell Valley RSPB, West Midlands (Craig Reed).
Five Ruddy Shelduck were at Lower Moor, Worcestershire, on 18th, while a Lesser Emperor was at the North Pond at Ripple GPs on 22nd. Draycote Water, Warwickshire, held onto its single Ruddy Shelduck until at least 18th. A Spotted Redshank was at Brandon Marsh NR on 17th, while Wood Sandpipers were at Bodymoor Heath (18th) and Ladywalk NR (21st).
Dan Owen
East Midlands
Idle Washlands, Nottinghamshire, was the epicentre of the week's regional action, peaking with a Golden Oriole on 21st. The site also held a Western Cattle Egret, two Wood Sandpipers and no fewer than five Garganey. Elsewhere, a drake Ruddy Shelduck graced Kilvington Lakes, Eurasian Spoonbills visited Attenborough NR and Holme Pierrepont, Wood Sandpipers were at Collingham Pits and Holme Pierrepont, and two Garganey continued at Attenborough NR.

Golden Oriole, Idle Washlands, Nottinghamshire (Simon Spavin).
Two Ruddy Shelduck remained at Kedleston Park, Derbyshire, on 19th, Kittiwakes briefly visited Carsington Water (two) and Carr Vale, and a Common Quail was at Monyash. In Northamptonshire, a Ruddy Shelduck was a brief visitor to DIRFT 3, Lilbourne, on 19th and Stanwick GPs recorded a Wood Sandpiper and five Garganey, with Spotted Redshanks at Summer Leys (three) and Daventry Reservoir on 22nd.
Seven Sandwich Terns was a notable count at Rutland Water on 21st, as was four Spotted Redshanks there on the same date. Black Terns were at three sites – Cropston Reservoir, Rutland Water (two) and Eyebrook Reservoir – the latter alongside two Garganey.

Ruddy Shelduck, Kilvington, Nottinghamshire (Robin Brace).
East of England
A classic spread of early autumn drift migrants reached Norfolk over the weekend as a north-easterly airflow took hold, with Pied Flycatcher typically among the most numerous species. Blakeney Point produced up to three Wrynecks and an Icterine Warbler on 22nd, with another Wryneck at Happisburgh and a Greenish Warbler at Burnham Overy Dunes. An Ortolan Bunting was a brief visitor to Salthouse on 20th.
A Purple Heron took up residence at Barton Broad from 18th. The five Glossy Ibises remained at Welney WWT. A pristine adult Sabine's Gull spent the day at Cley Marshes NWT on 16th, with the White-rumped Sandpiper still at Snettisham RSPB that day. At least five Caspian Gulls gave fine views at Cromer.

Sabine's Gull (right), Cley Marshes NWT, Norfolk (David Griffiths).
Things were rather quieter in Suffolk, but a Wryneck did make it to Gunton on 22nd. A European Bee-eater passed over Minsmere RSPB on 18th, where there was a likely Temminck's Stint on 19th alongside the continuing Glossy Ibis. A Spotted Crake was at Botany Marsh RSPB on 19th, a White Stork flew over Lakenheath Fen RSPB on 16th, and a Ruddy Shelduck was at Southwold on 22nd.

Ruddy Shelduck, Southwold, Suffolk (Andrew Moon).
A male Montagu's Harrier was Essex's bird of the week, seen on Foulness Island on 21st. The juvenile Purple Heron was still at Bowers Marsh RSPB to 16th. It was also announced that Eurasian Spoonbill bred at Abberton Reservoir for the first time this summer.
Smithy Fen, Cambridgeshire, is proving something of a hot-spot this year and it produced Temminck's Stint on 19th and four Spotted Redshanks on 22nd. Perhaps the same Temminck's was at nearby Burwell Fen on 16th and 22nd, with up to three Spotted Redshanks there. Two Black-necked Grebes continued at Grafham Water.
A quiet seven days in Hertfordshire produced little more than a Garganey at Rye Meads RSPB and Western Ospreys at a couple of sites. In Bedfordshire, a Pied Flycatcher was at Ampthill Park on 22nd and five Ruddy Shelduck visited Stewartby Lake on the evening of 21st.
Josh Jones
South-East England
A whiff of easterlies towards the end of the review period got the autumn ball gently rolling in the region. Kent was unsurprisingly the main beneficiary and, on 22nd, an impressive double-act included a showy Melodious Warbler at Langdon Cliffs and a juvenile Purple Heron at Conningbrook Lakes. A small arrival of Pied Flycatcher was also detected over the weekend. Wood Warblers were clearly exiting Britain during the past week with three Kent sites scoring, a Eurasian Stone-curlew was at St Margaret's at Cliffe on 17th, European Honey Buzzards flew over Staple and Pegwell Bay and Glossy Ibises were at Dungeness and Oare Marshes. Dunge also enjoyed a trickle of Balearic Shearwater passage.

Melodious Warbler, Langdon Cliffs NT, Kent (Richard Bonser).
Three Hampshire sites hosted Pied Fly, but the headline bird in the county was probably the Sabine's Gull off Lee-on-the-Solent on 21st. The Fleet Pond Pink-footed Goose was reported again. On the Isle of Wight, Pied Flycatchers were at St Catherine's Point and Newtown Harbour.

Wood Sandpiper, Lymington, Hampshire (Steve Laycock).
Wader action was heating up at Pagham Harbour, Sussex, where a Temminck's Stint headlined at Sidlesham Ferry, having been found on 16th. It lingered throughout, while Little Stint and Curlew Sandpiper were elsewhere on the Manhood Peninsula. Four Sussex sites scored Pied Flycatcher, a European Honey Buzzard was seen over Brighton on 21st and an unexpected Redwing was sadly found dead at Cissbury Ring.

Western Cattle Egret, Otmoor RSPB, Oxfordshire (Fergus Mosey).
It was rather quiet inland, though in Oxfordshire an impressive 14 Ruddy Turnstone and seven Sanderling were at Farmoor Reservoir on 18th and a European Shag was at Sutton Courtenay/Appleford GPs on 17th. In London, a European Honey Buzzard flew over Sanderstead and a Pied Flycatcher was at Wanstead on 21st and Dagnam Park hosted a Wood Warbler on 16th.
Ed Stubbs
South-West England
On Scilly, the Lesser Yellowlegs lingered alongside a Wood Sandpiper on Tresco throughout, while a Glossy Ibis flew over on 22nd before settling on St Mary's. Wilson's Storm Petrels continued to be seen daily from the Scilly pelagics, with two on Saturday marking the 20th successive trip to produce the species. A couple of Great Shearwaters and a smart adult Sabine's Gull were also logged. A Wood Warbler was on Tresco on 21st with Pied Flycatchers there and on St Mary's.

Lesser Yellowlegs, Tresco, Isles of Scilly (Mike Alibone).
Several new scarcities were found in a productive week in Cornwall. Nanjizal Valley produced a flyover American Golden Plover on Tuesday and a Melodious Warbler was trapped and ringed at the end of the week. Further Melodious Warblers were at Porthgwarra and Kynance Cove on 19th and 22nd respectively. A Glossy Ibis flew past Pendeen and Cape Cornwall on 22nd. Five sites scored Great Shearwaters and two Grey Phalaropes were noted from Thursday's Scillonian crossing.

Wilson's Storm Petrel, Scilly pelagic, Isles of Scilly (Drew Lyness).
In Devon, a Long-tailed Skua flew past Berry Head on 20th. Other scarcities consisted of a European Serin reported in Haldon Forest and a probable White-tailed Eagle over Budleigh Salterton – both on 21st. A good count of 241 Balearic Shearwaters came from Dawlish Warren NNR on Sunday. The Curlew Sandpiper lingered there too, with a couple of Wood Sandpipers at Seaton Marshes.
A Spotted Crake was at Lodmoor RSPB, Dorset from 17th, although did go missing mid-week. Late news from Portland concerned a Melodious Warbler trapped and ringed there on 15th. Little Stints were at Stanpit Marsh and Lytchett Fields RSPB (two), with Curlew Sandpipers at Ferrybridge and Brownsea Island.
A Red-necked Phalarope at Slimbridge WWT on 21st was Gloucestershire's highlight. In addition, the Eurasian Spoonbill, Spotted Redshank, Wood Sandpiper and four Garganey remained. Little Stints were at Shepperdine and Coombe Hill Meadows, and the three juvenile Spotted Redshanks were still at Northwick Warth on 16th. A Eurasian Spoonbill flew over Splatt Bridge too.

Wood Sandpiper, Slimbridge WWT, Gloucestershire (Jonathan Bull).
Another week and another scarcity at Steart WWT, Somerset – a brief Pectoral Sandpiper on 22nd. An adult Rosy Starling was sighted in Wellington that afternoon. New arrivals at Chew Valley Lake included a Black-necked Grebe and Wood Sandpiper. Three sites produced Garganey, including two at Blagdon Lake. Highlights in Wiltshire included a flyover Western Cattle Egret at Eysey and six Hawfinches at Franchises Lodge RSPB.
Jonathan Farooqi
Wales
A new adult Rosy Starling at Nefyn, Gwynedd, on 17-18th was a rare highlight of a quiet Welsh week. Long-staying Hooded Crows remained at South Stack RSPB, Anglesey, and Rhyl, Clwyd, with a new bird at Uwchmynydd, Gwynedd. A Wood Sandpiper was at Cors Ddyga RSPB, Anglesey, with three reported at Goldcliff Pools, Gwent, on 21st. Goldcliff also held two Little Stints mid-week, with a drake Garganey there still. Four sites scored Balearic Shearwaters, while a Pomarine Skua flew past Bardsey Island, Gwynedd, on 20th.

Rosy Starling, Nefyn, Gwynedd (Shirley Roulston).
Ireland
The first juvenile Pectoral Sandpiper of the autumn touched down at Tacumshin, Co Wexford, on 16th, with a Buff-breasted Sandpiper at Clonakilty, Co Cork, on 21st. Little Ringed Plovers and Wood Sandpipers were at three sites.
A pelagic out of Baltimore, Co Cork, produced five Wilson's Storm Petrels and a Sabine's Gull on 22nd; a Long-tailed Skua past Bloody Foreland, Co Donegal, on 17th was among the few other notable seawatching records this week.
The Rosy Starling was still in Dungarvan, Co Waterford, to 21st at least and the Ring-billed Gull lingered at Blackrock, Co Louth.
Josh Jones
Western Palearctic
A mega Nearctic passerine had Iceland again dominating headlines – an Eastern Kingbird was belatedly reported from Setberg, Snæfellsnes, on 20 July, having been photographed by a visitor. Meanwhile, the summering Black-and-white Warbler was again at Syðra Lágafell on 19th, with Iceland's eighth Wilson's Phalarope at Höfuðborgarsvæði on 22nd.
In the east, an immature Pallas's Fish Eagle was a remarkable find at Volma on 22nd. A first for Belarus, it is one of just a handful of modern-day Western Palearctic records of this endangered Central Asian raptor, after one over Besh Barmag, Azerbaijan, in November 2017.

Pallas's Fish Eagle, Volma, Minsk Oblast (Aleksandra Kudinova).
Germany's first Oriental Pratincole was a smart find at Hauke-Haien-Koog on 22nd. Amazingly, at least three Long-billed Dowitchers were at the same site mid-week and the Western Swamphen continued near Eich. No fewer than 60 Pygmy Cormorants are suspected to have been involved in the unprecedented influx to date, peaking with no fewer than 22 at Vogelschutzgebiet Garstadt, Bergrheinfeld, on 16th. A juvenile was also in Switzerland at Klingnauer Stausee from 19th.
Two Swinhoe's Storm Petrels were noted in the Gulf of Aqaba off Eilat, Israel, on 22nd, while the Turkish-ringed Northern Bald Ibis remained near Gvulot. Off the Spanish coastline, a South Polar Skua was off Estaca de Bares on 21st and a juvenile Brown Booby flew past Lira on 11th, while an Elegant Tern was at Chipiona on 21st.
In the Channel Islands, a Greenish Warbler was trapped and ringed at Alderney Bird Observatory on 17th, a Lesser Flamingo held out in the Camargue, France, and a Pygmy Cormorant lingered near Utrecht. Austria's fourth Pacific Golden Plover was at Illmitz on 20th; Norway's Sandhill Crane remained near Lakselv on 18th.