The week at a glance
It was a week memorable for a truly beautiful weekend (though not everywhere), with barely an (ash) cloud in sight across the whole of the country, which promised much but actually delivered very little. Such nice weather actually proved to be quite deceptive: despite the blue skies and sunshine, the airflow was undoubtedly still routed in the north to northwest and migrants were still finding it a struggle to make it across the English Channel and the North and Irish Seas.
As with the last couple of weeks, there was a nice array of species on offer, but the true star quality wasn't quite up to scratch. Pick of the bunch was a handsome Black-headed Wagtail found at Cresswell Pond (Northumberland) on 18th and again on 20th–21st. Despite a hint of white on its chin and a touch of white making up its very indistinct and broken supercilia, it would be a tough nut who would label this lovely olive-mantled jet-hooded dandy as anything other than a fine example of this slightly variable form. The first pictures posted suggested why he may not have felt overly suited to the Northeast: it was cold and wet and not at all like the south, but thankfully this super bird sought shelter and did the decent thing and came back. Amazingly, it shared the pond with an equally handsome Channel Wagtail, giving many a unique opportunity to see these two contrasting birds side-by-side.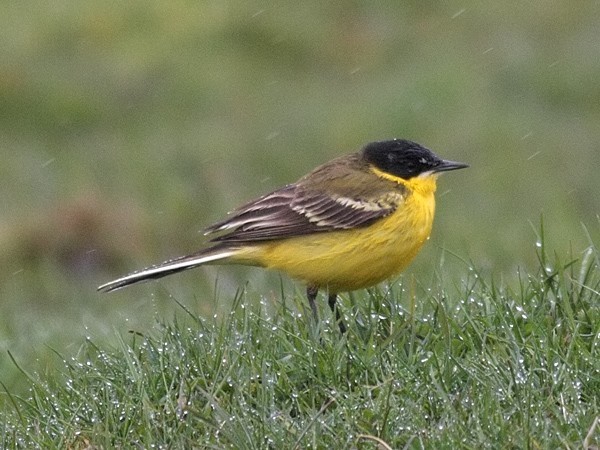 Black-headed Wagtail, Cresswell Pond NWT, Northumberland (Photo: Alan Gilbertson)

Channel Wagtail, Cresswell Pond NWT, Northumberland (Photo: Tom Tams)
Cornwall's first Savi's Warbler for donkey's years (since one at Par in 1988) was discovered singing at Marazion Marsh on the morning of 17th and remained in place until 20th. This tricky-to-catch-up-with Locustella has firmly re-established itself as a proper rarity now — for instance, only two birds were found last year (in Essex and on Fair Isle) and three (two of them brief) the year before. The days of regular trips to the Norfolk Broads for a fairly straightforward year tick are, sadly, long gone.

Savi's Warbler, Marazion, Cornwall (Photo: Colin Selway)
Off the north coast of Devon, on Lundy Island, a possible Blue Rock Thrush was reported on 16th and 19th, but information was scant and it sounds as if the views were, second time around at least, brief. With just half a dozen accepted records and no twitchable birds since the first-summer female in Cornwall in May 2000, a trip to Lundy would have been welcomed by a sizeable number of UK listers.
A White-billed Diver remained off Burghead (Moray) to 15th and another, a first-summer, was discovered off County Clare's diver hotspot, Finvarra Point, on the afternoon of 17th. This week saw the first waft of passage Pomarine Skuas heading past familiar sites in East Sussex, Cumbria and the Outer Hebrides, but particularly Kent, where 13 passed Dungeness on 18th. Two single Little Auks were found on 17th, in Belfast (Co. Antrim) and at Lamesley (Co. Durham).
Up to 12 Great White Egrets included one or two birds around Hampshire (birds seen at three sites around the county) with roaming birds seen again in Dorset, West and East Sussex (perhaps Hampshire birds?), Glamorgan, Warwickshire, Lancashire and Cumbria, while one remained in Somerset and singles appeared in Suffolk and Aberdeenshire on 21st. Some 20 Spoonbills included threes in Cornwall and Dorset, with two still moving around County Cork.
In Scotland, the four Common Cranes remained at Loch of Kinnordy (Angus) to 19th and a second foursome were seen flying over Nafferton (East Yorkshire) on 18th. Two birds were in Ceredigion on 15th and two appeared in Cleveland on 18th, with at least six singles seen elsewhere around the country. In County Wexford, at Tacumshin, the Glossy Ibis was noted again on 21st.

Common Crane, Loch of Kinnordy RSPB, Angus & Dundee (Photo: Jim Duncan)
A Purple Heron was seen on Tresco (Scilly) on 18th and a Night Heron was seen at Rye Harbour (East Sussex) on 20th.
Last week's two White Storks were reported in Glamorgan, at Dinas Powys, on 15th. The same date saw a single White Stork noted at Wimborne Minster (Dorset) — again presumably the bird seen last week near Arne — while sightings in Durham and Northumberland on 17th–18th were presumably the same bird, with its origins unknown. The same caveat applied to birds in Suffolk, Leicestershire, Lincolnshire and South Yorkshire on 21st.

White Stork, Lackford Lakes SWT, Suffolk (Photo: Ian Goodall)
In Cornwall, a Spotted Crake was reported briefly at Marazion Marsh on 18th.
The three Snow Geese (the two blue birds and a single white one) were still near Gollanfield (Highland) on 21st. A Black Brant was still at Frampton Marsh on the Lincolnshire coast on 17th, and on 19th another was seen again at Stiffkey (Norfolk).
The drake Lesser Scaup was still in Cardiff Bay (Glamorgan) until 18th at least while a drake Ring-necked Duck on Otmoor (Oxfordshire) on 15th–16th must surely have been the same drake that was at the same site this time last year (seen sporadically between 8th and 20th April 2009). On Orkney, the female Ring-necked Duck remained on North Ronaldsay until 21st. The drake Ferruginous Duck remained at Chew Valley Lake (Somerset) until 17th.

Ring-necked Duck, Otmoor RSPB, Oxfordshire (Photo: Andy Johnson)
Two drake Green-winged Teal were at North Duffield Carrs (North Yorkshire) on 15th and further new singles were found at Maxey GPs (Cambridgeshire) on 17th, Rossie Bog (Fife) on 18th, Wheldrake Ings (North Yorkshire) and Mersehead (Dumfries & Galloway) on 20th and Holme (Norfolk) on 21st. Back in Fife, a Green-winged Teal remained at Guardbridge, while others were still at Kildrochat (Dumfries & Galloway), Marloes Mere (Pembrokeshire) and Eyebrook Reservoir (Leicestershire). In Cleveland, a drake American Wigeon was at Saltholme Pools on 19th–21st.
Two drake Surf Scoters were seen off Ruddon's Point (Fife) on 15th and one was again in Gosford Bay (Lothian) on 17th–20th.
In Lancashire, the Long-billed Dowitcher was seen again at Banks Marsh on 21st while two Dotterel were seen near Amwell (Hertfordshire) on 20th.
Single Rough-legged Buzzards were reported in Highland and Suffolk on 18th and a male Snowy Owl was seen on St. Kilda (Outer Hebrides) on 19th. If wild, the raptor record of the week must surely be the adult White-tailed Eagle seen in flight near St. Ives (Cambridgeshire) on 20th — where had that sprung from?! They're not the sort of thing to go unnoticed for too long, so surely it will reappear somewhere. Another White-tailed Eagle was seen on Fair Isle (Shetland) on 21st.
An adult summer Bonaparte's Gull was at Arlington Reservoir (East Sussex) on 18th, and again on 20th–21st, much to the delight of any county birders who missed the first-winter reported at Rye Harbour earlier this year. There are three accepted county records for East Sussex, the most recent being June 1951.

Bonaparte's Gull, Arlington Reservoir, East Sussex (Photo: Mickd)
An adult Ring-billed Gull was found at Loch of Hillwell (Shetland) on 15th (the first on the islands since two young birds, at the same site, in May 2004), with two second-winters at Belfast Lough (Co. Antrim) on 17th and a first-winter at Oldtown Cove (Cornwall) on 18th and 20th. There was a slight upturn in numbers of Iceland Gulls this week, at least 15 noted in Britain and Ireland, while seven Glaucous Gulls included two each for Ireland and the Outer Hebrides.
Cornwall welcomed the first Whiskered Tern of 2010: one found at Dinham Flats during the morning of 20th lingered into the afternoon and on to 21st and, once accepted, will be the 11th county record, following one at Tamar Lake in May 2008.

Whiskered Tern, Dinham Flats, Cornwall (Photo: Colin Selway)
A Bee-eater flew over Shapwick (Somerset) on 18th and another spent 20 minutes on wires at Polgigga (Cornwall) on 20th. Two of the week's three Red-rumped Swallows appeared on 18th: at Wraysbury GPs (Berkshire) and Botallack (Cornwall), with bird number three making an early-morning stop-off at Audenshaw Reservoir (Greater Manchester) on 20th.
Five Wrynecks appeared during the last few days. The first was on the Lower Test Marshes (Hampshire) on 17th and was followed by singles at Polgigga (Cornwall) on 18th and at Castle Drogo and on Lundy (Devon) on 19th, with another at Hagworthingham (Lincolnshire) on the same day. It was a good week for Hoopoes, with up to 16 seen, including up to three on the Lizard (Cornwall) on 18th (two of them seen together) and singles spread from London to Lancashire and Norfolk to North Uist.

Hoopoe, Kemsing, Kent (Photo: Jeremy)
In London, a male Spanish Wagtail (or a very convincing hybrid lookalike) was at King George V Reservoir on 20th. The same day saw a Tawny Pipit in flight at Polgigga on 20th — quite a day there, with the Bee-eater and Wryneck too. The first Subalpine Warbler of the year was at Seven Sisters CP (East Sussex) on the evening of 18th, but couldn't be found the next day.

Spanish Wagtail, King George V Reservoir (Permit Only), Greater London (Photo: Roy Woodward)
A Woodchat Shrike was found at Minehead (Somerset) on 21st. The only Great Grey Shrikes this week were seen at Wilmersham Common (Somerset) on 16th and Tetney Lock (Lincolnshire) on 20th–21st, while two were reported in Landford Forest (Wiltshire) on 18th. Another duo were late news from last week: a report of two together came from Burger Hill (Orkney) on 14th.
Just seven Waxwings were seen this week, all in West Yorkshire, in a two and a five. A probable Arctic Redpoll was on Orkney on 21st. The review concludes with news of a Serin at Fen Drayton Lakes (Cambridgeshire) on 17th, two together on Portland (Dorset) on 20th (with one there on 21st). Another Dorset bird flew over Durlston Country Park (Dorset) and the final Serin of the week was at Pegwell Bay (Kent), both on 21st.
Photo of the Week

Greenfinch, Summer Leys LNR, Northamptonshire (Photo: Ben the Plumber)
It's not unusual to see small birds fighting, especially around feeders, but the timing of these tussles is very unpredictable. Recording these events photographically is therefore quite a challenge, made all the more difficult by the fast and furious action and the erratic trajectories taken by the combatants. Worst of all, the whole event can be over within only a second or two, so lightning-fast reflexes are needed to follow and capture the action. Ben The Plumber's sequence of a pair of Greenfinches in aerial combat shows what can be achieved, and reveals details of the conflict that the human eye could never detect. Our pick of the burst shows the birds attacking each others' faces, with both bills and claws being used as weapons. The majority of Ben's shots are difficult flight/action shots and he's certainly added to his impressive portfolio with this one.

Bittern, Minsmere RSPB, Suffolk (Photo: Jon Evans)

Gannet, Bempton Cliffs RSPB, East Yorkshire (Photo: Steve Race)

Red-rumped Swallow, Spain (Photo: Marcus Conway - ebirder)

Greater Flamingo, India (Photo: Mital Patel)

Green Bee-eater, Israel (Photo: Rudi Debruyne)

Oriental White-eye, India (Photo: Dave Williams)

Puffin, Bempton Cliffs RSPB, East Yorkshire (Photo: Dean Eades)

Black-tailed Godwit, Minsmere RSPB, Suffolk (Photo: Amanda Hayes)

Goosander, undisclosed site, Gwynedd (Photo: Steve Round)

Long-eared Owl, undisclosed site, Suffolk (Photo: Jon Evans)

Little Owl, Woodbridge, Suffolk (Photo: Rebecca Nason)

Ruff, Minsmere RSPB, Suffolk (Photo: Richard Bedford)

Dartford Warbler, undisclosed site, Devon (Photo: Roy Churchill)

Grasshopper Warbler, Two Tree Island, Essex (Photo: Steve Arlow)

Reed Warbler, Brecon, Powys (Photo: Steve Wilce)

Shore Lark, Holkham, Norfolk (Photo: Robert Askew)

Dipper, undisclosed site, Herefordshire (Photo: Tom Melton)

Starling, Great Blakenham, Suffolk (Photo: Steve)

Woodcock, Bollihope Common, Durham (Photo: Glen Roberts)

Collared Dove, Gosforth, Northumberland (Photo: Nigel Tinlin)