The rather mild weather ensured that the vast majority of this week's bird news was broadly similar to that of the last review period, although northerly winds did produce a smattering of misplaced Little Auks – including arguably the week's most popular bird at Weymouth Harbour, Dorset. A probable Brünnich's Guillemot flew past the Stornoway-Ullapool ferry on 19th, following a bumper showing of the species in Fennoscandia in recent weeks.
Shetland's second Black-throated Thrush of the year was another of the week's few highlights and performed admirably at Skaw, Whalsay, on 15-16th. An Arctic Redpoll was at Brae, Mainland, on 15th.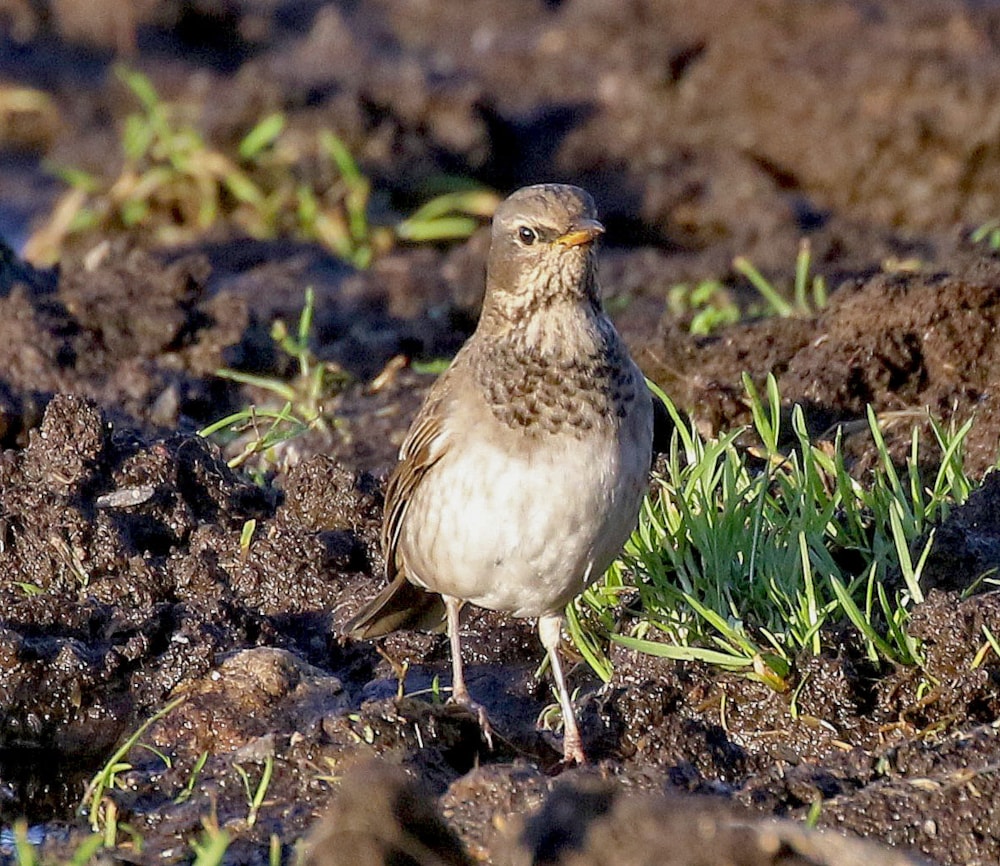 Black-throated Thrush, Skaw, Whalsay, Shetland (John Irvine).
A Red-throated Pipit was at Mizen Head, Co Cork, on 18th, while the Pied Wheatear lasted at Whitburn Steel, Durham, until 17th. Ireland's Northern Harrier held on at Lough Boora Parklands, Co Offaly, and the Snowy Owl was still on Hirta, St Kilda, Outer Hebrides, while a possible Gyr Falcon was reported near Trerulefoot, Cornwall, on 18th.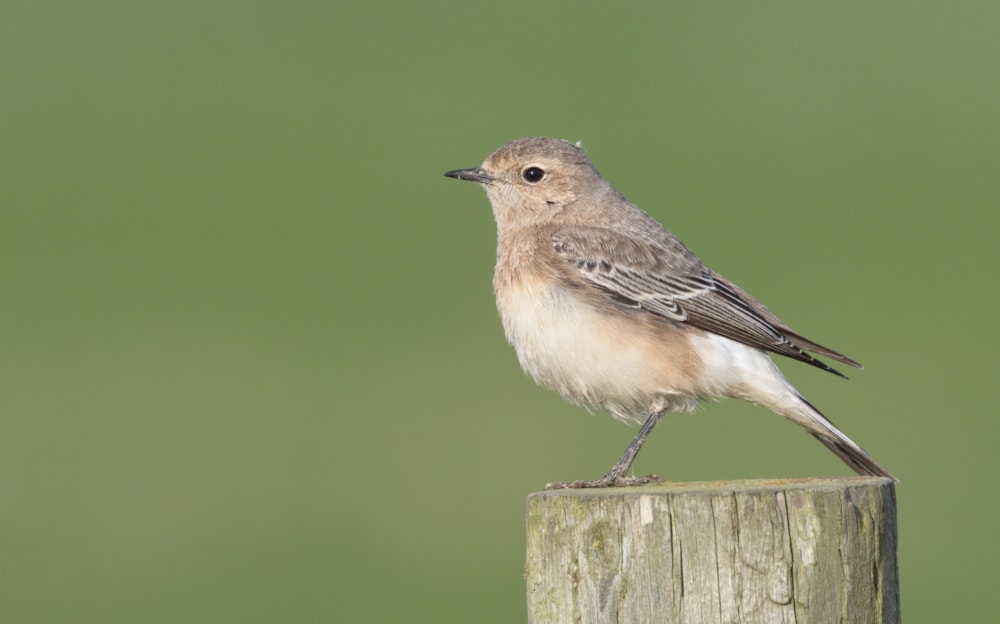 Pied Wheatear, Whitburn Steel, Durham (Carolyn Farry).
A mini-influx of Lesser Scaup saw three new drakes found – at Loch Stiapavat, Lewis, Outer Hebrides, and in Ireland at Cloonacleigha Lough, Co Sligo, and Lough Sheelin, Co Cavan. Impressively, the count at Loch Skerrols on Islay, Argyll, increased to three, while a lingering youngster remained on Tresco, Scilly.
Nice to find this drake Lesser Scaup in with a flock of about 125 Tufted Duck and 7 Greater Scaup on the eastern shore of Lough Sheelin, Co. Cavan this morning. pic.twitter.com/ueBJqAcqJz

— Aidan G. Kelly (@agk10k) November 21, 2021
The drake Ferruginous Duck was back at Blashford Lakes, Hampshire, for its tenth year from 21st. Meanwhile, the lingering female at Belvide Reservoir, Staffordshire, until 16th is presumably the one at Marsh Lane, West Midlands, from 20th – it's just 45 km as the duck flies.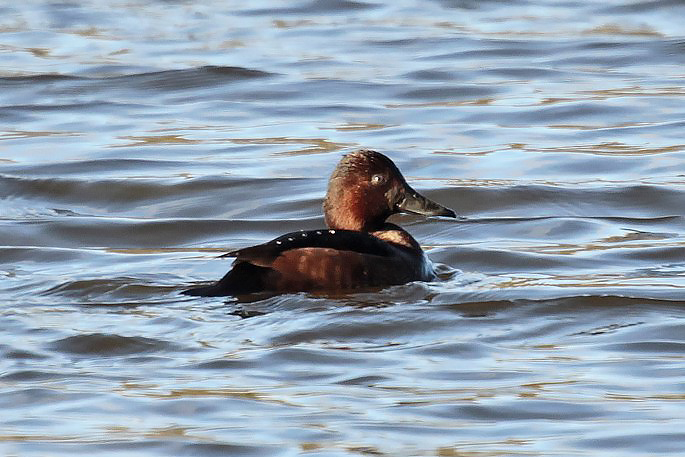 Ferruginous Duck, Marsh Lane NR, West Midlands (David Hatton).
The Scottish scoter-fest continued, with the Black Scoter at Lossiemouth, Moray & Nairn, and White-winged Scoter at Musselburgh, Lothian, both still in place. Drake King Eider remained at Musselburgh, Lothian, until 17th and Hopeman, Moray, until 18th.
A few photos of the white-winged scoter with velvet scoters at Esk Mouth, Musselborough this morning. Distant but apart from the bill shape and colour, it also has a distinct jizz. Great bird #scoter #birds #musselburgh pic.twitter.com/bqRSS3O07O

— Colin Davies (@ColinDa80667186) November 15, 2021
The American Coot seemingly bid farewell to Tacumshin, Co Wexford, after 19th. Elsewhere, the Pied-billed Grebe lingered at Loch Feorlin, Argyll, and the Pacific Diver was again at Crookhaven, Co Cork, on 18th.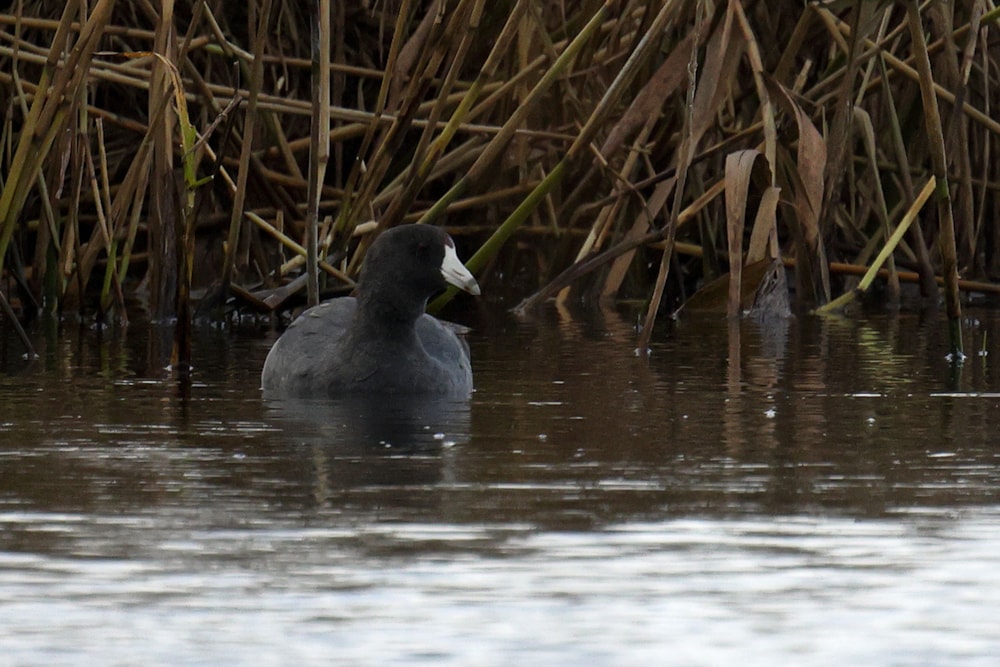 American Coot, Tacumshin, Wexford (Tom Shevlin).
Two Red-breasted Geese at Holliwell Point, Essex, continued to impress among the assembled Dark-bellied Brent Geese, with one still among Barnacle Geese at Loch Gruinart RSPB, Islay. Two Richardson's Cackling Geese remained on Islay and another was on The Mullet, Co Mayo, on 15th, with two more again on North Uist, Outer Hebrides, on 21st.
Red-breasted Goose, Holliwell Point, Essex (Shaun Ferguson).
Unfortunately, the adult Lesser White-fronted Goose at Ringstead, Norfolk, on 18-19th seems likely to be the Lancashire individual relocating – a returning escape from the previous year.
I was delighted to catch up with the lesser white-fronted goose which materialized on the edge of the pink feet between Ringstead and Sedgeford this afternoon, before the entire wary flock was spooked by a farm vehicle and dispersed in different directions. Also one barnacle. pic.twitter.com/dUPefu9huT

— John Sharpe (@JackSnipe) November 19, 2021
A second-winter Laughing Gull tracked heading north-west over Tweseldown Hill early on 18th was just reward for the intense effort put in at this premier Hampshire vis-mig site. Pembrokeshire's Gann Estuary scored a smart adult Bonaparte's Gull on 15th, with another still at Stag Rocks, Northumberland. In Co Galway, the returning Forster's Tern was at Kinvarra from 16th.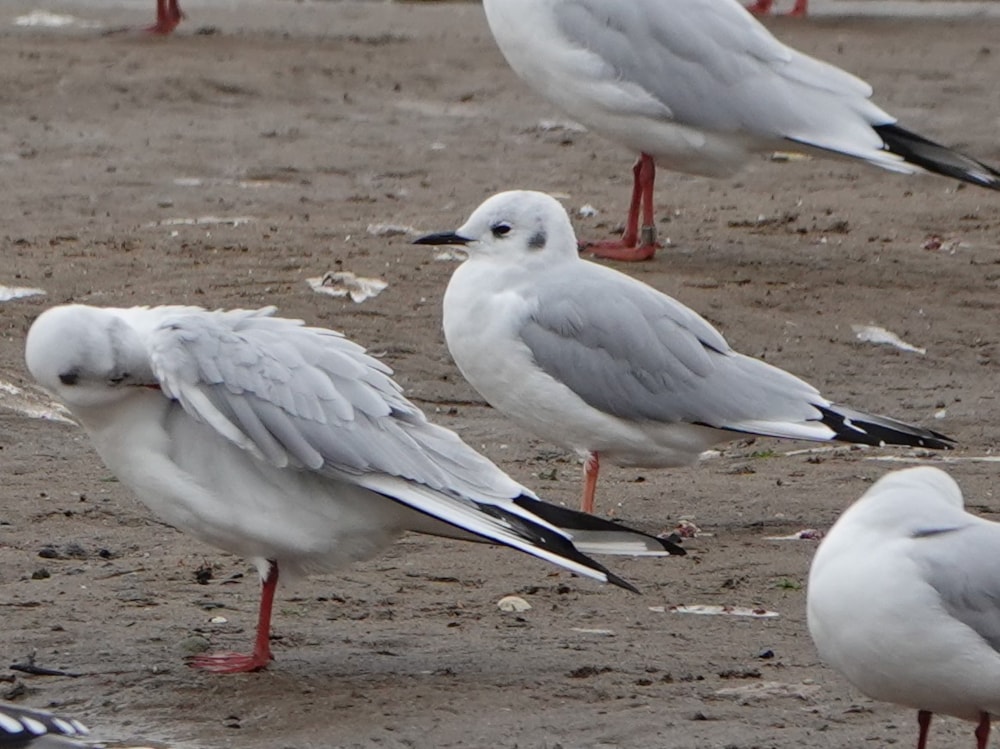 Bonaparte's Gull (centre), Gann Estuary, Pembrokeshire (David Astins).
At Blacktoft Sands RSPB, East Yorkshire, the White-tailed Lapwing is looking resplendent post-moult, while the Semipalmated Plover at Crookhaven, Co Cork, and Spotted Sandpiper on St Mary's, Scilly, both lingered.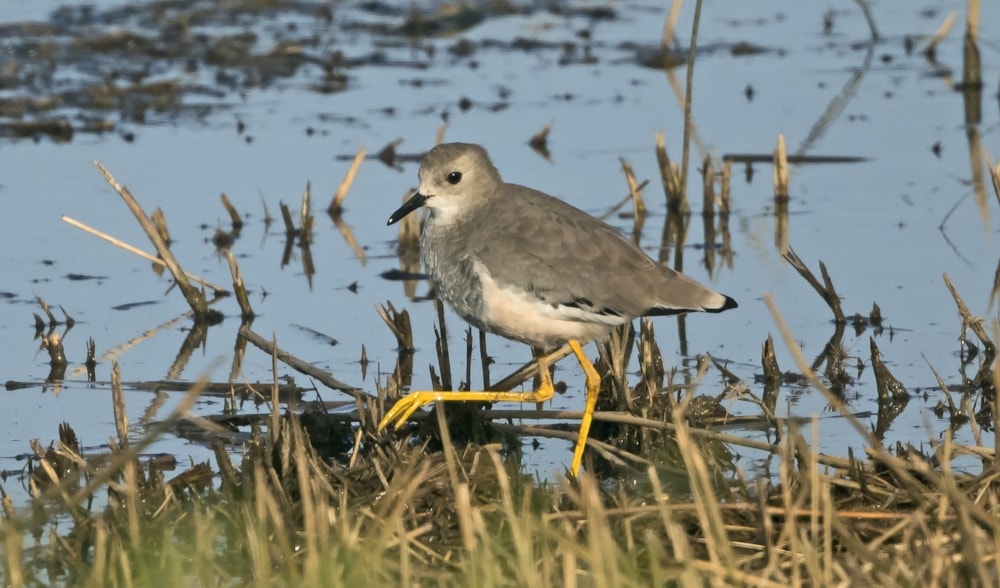 White-tailed Lapwing, Blacktoft Sands RSPB, East Yorkshire (Steve Young).
Scottish mainland
An adult Caspian Gull at Castle Loch, Dumfries & Galloway, on 17th is potentially the first county record. Iceland Gulls were at five sites, with a Glaucous Gull at Peterhead, Aberdeenshire. A number of sites saw fly-by Little Auks, with a peak of 693 past Fife Ness, Fife, in two hours on 20th. No fewer than 18 Grey Phalaropes flew past the following day.
A Glossy Ibis proved a brief visitor to Blair Drummond, Forth, on 2st, with Western Cattle Egrets at Kingussie, Highland, until 16th and Arbroath, Angus & Dundee, on 21st. A young Little Stint lingered at Eden Estuary, Fife, until 16th. A lone Waxwing was at Reay, Caithness, on 20th, with a Great Grey Shrike reported near Inverness on 16th. Three Yellow-browed Warblers were noted: at Dulnain Bridge and Melvich, Highland, and Balephuil, Tiree, Argyll.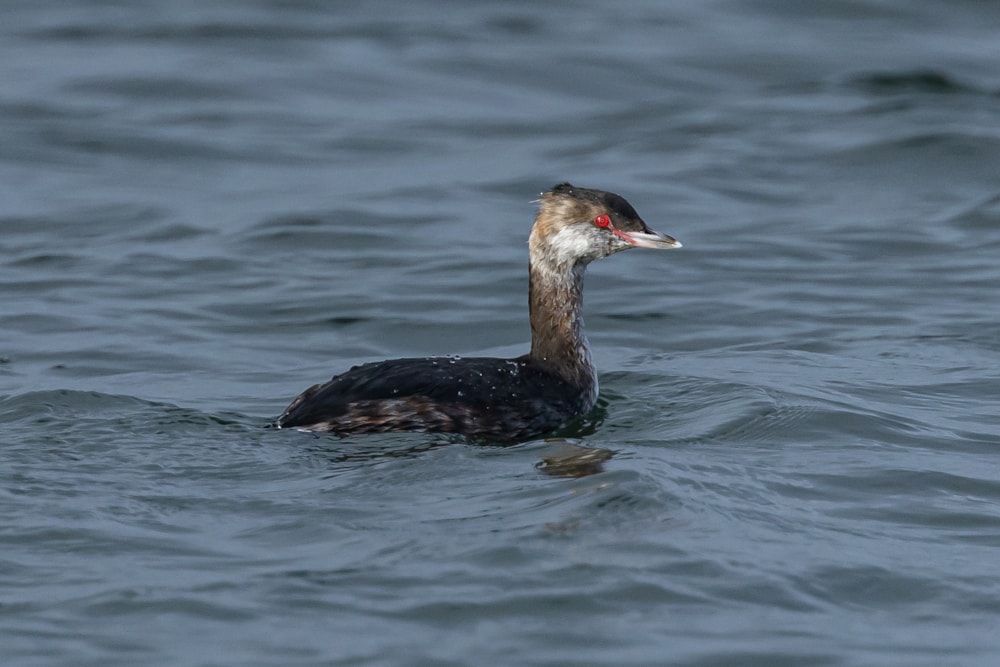 Slavonian Grebe, Out Head, Fife (Keith Simpson).
In Highland, a White-billed Diver flew past Portree, Skye, on 21st and a flock of Bewick's Swans flew south over Inverbervie, Aberdeenshire, late on 16th. Skinflats Lagoons, Forth, and Clochan, Moray (three), held Snow Geese, a drake Green-winged Teal was still at Lossie Estuary, Moray, until 16th, with the drake American Wigeon still at Udale Bay, Highland, throughout.
Three Ring-necked Duck held out at Loch Bhasapol, Tiree, Argyll. Another drake continued at Loch na Bo, Moray & Nairn, until 18th, Surf Scoter continued off Musselburgh, Lothian (three), Lossiemouth, Moray (three), and a redhead Smew remained at Loch of Kinnordy RSPB, Angus & Dundee, throughout.
Northern Isles and the Hebrides
A Blyth's Reed Warbler at Boddam, Mainland, on 21st was a decent late record for Shetland. The regular adult White-billed Diver was still bobbing in South Nesting Bay, where a second bird flew north on 21st, and one flew north past Lamba Ness, Unst, on 19th. Drake Ring-necked Duck were present and correct at Sand Water, Yell, and Loch of Tingwall, Mainland. Glaucous Gulls were reported from three sites this week, with Iceland Gulls at just two.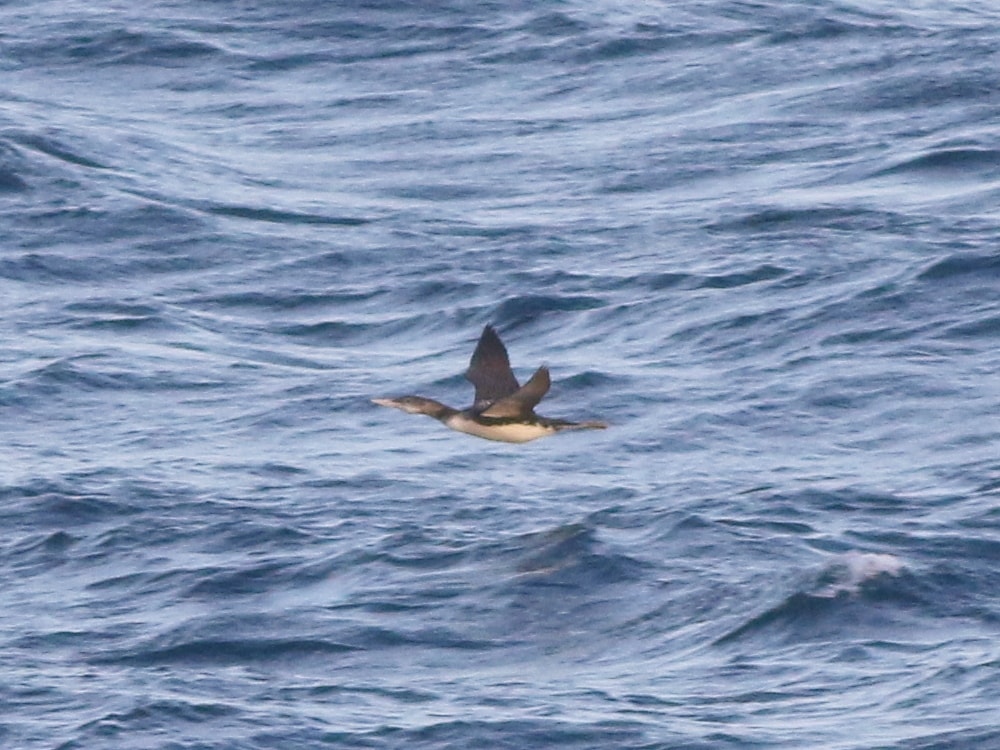 White-billed Diver, Lamba Ness, Unst, Shetland (David Cooper).
Two White-billed Divers flew past Papa Westray on 21st, when a Glaucous Gull was present. Just one other Glauc was reported in Orkney this week, a juvenile past Brough of Birsay, Mainland, on 20th. A single Siberian Chiffchaff was on Sanday on 18th.
The Outer Hebrides had a slightly busier week. There was a scattering of Surf Scoter; a female was at Stornoway Harbour, Lewis, the juvenile remained off Allasdale, Barra, and two were off Sgarasta Mhor, Harris. Green-winged Teal also had a good showing with drakes at Ardmhor, Barra, Loch Sandary, North Uist, and Loch Bee, South Uist. The Todd's Canada Goose relocated to Grianamul, Barra, on 20th while the South Uist Snow Goose moved to Loch Bee on 21st. Five Iceland Gulls were split between four sites. Decent numbers of Little Auk made their way past various headlands, with a high count of 52 past Labost, Lewis, on 20th.
Dan Owen
North-East England
It was another decent week for Grey Phalaropes in Northumberland, with up to four being seen. One was off Low Hauxley on 15th with two off there and one at Stag Rocks, Bamburgh on 21st. The Todd's Canada Goose remained with the Barnacles in Budle Bay throughout and a Rough-legged Buzzard was seen near Hepple at the end of the week. The Rosy Starling at Glanton was last reported on 15th. A few Little Auks continued to pass coastal localities and at least two Black Guillemots were seen. A third-winter Iceland Gull lingered at North Shields Fish Quay.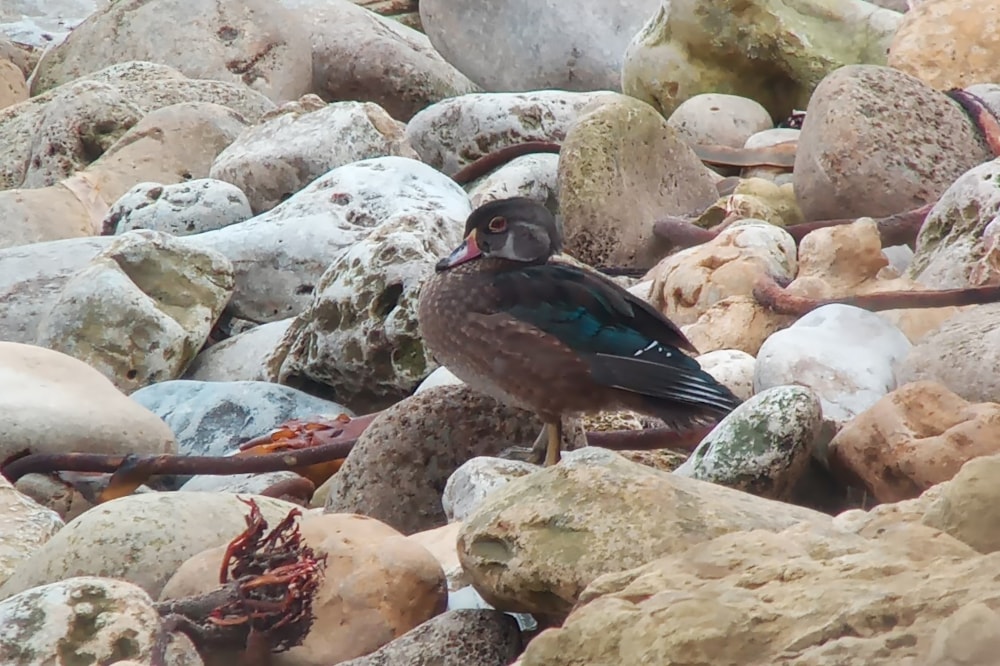 Wood Duck, Whitburn Steel, Durham (Matthew Scarborough).
Whitburn was again the place to be in Durham with a Glaucous Gull, a couple of Black-throated Divers and a few Little Auks among the highlights. A Wood Duck flying in-off the sea and alighting on Whitburn Steel on 15th was an intriguing record. Two Northern Bullfinches were reported in nearby Marsden Quarry the same day.
Just two sites produced Little Auks in Cleveland with four past Hartlepool Headland on 21st being the highest count. The drake Northern Eider was still off Redcar until at least 16th and a Great Egret and Eurasian Spoonbill were on the North Tees Marshes.
Jonathan Farooqi
North-West England
In Cumbria, an interesting report of seven Waxwings came from Wray Castle NT on 16th, although there were no follow-up sightings. The Todd's Canada Goose remained at Rockcliffe Marsh until at least 18th, when a Little Auk was logged past South Walney NR.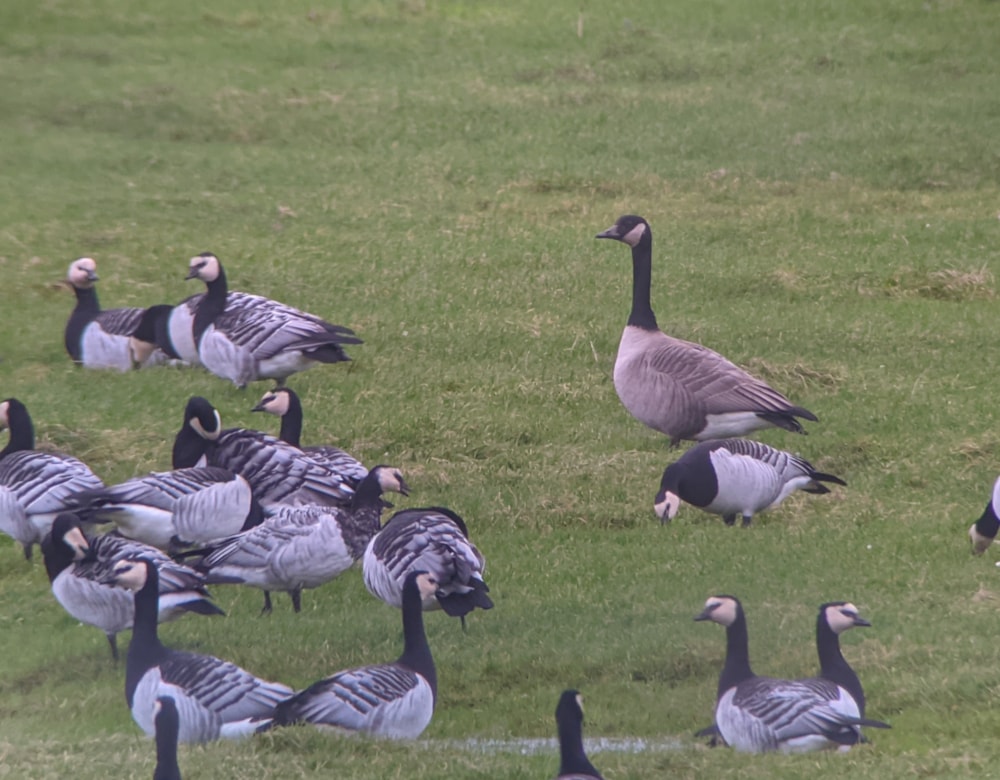 Todd's Canada Goose (top right), Rockcliffe Marsh, Cumbria (Colin Davies).
There was another healthy showing of Snow Buntings in Lancashire this week, with two still at Ainsdale, two at Ward's Stone (on 17th), up to four at Southport, and up to two at Crosby Marine Park. The Glossy Ibis remained at Marshside RSPB and a new Todd's Canada Goose was mingling with Pink-footed Geese at Banks Marsh on 21st. The Snow Goose made a re-appearance at Altcar Withens on 21st.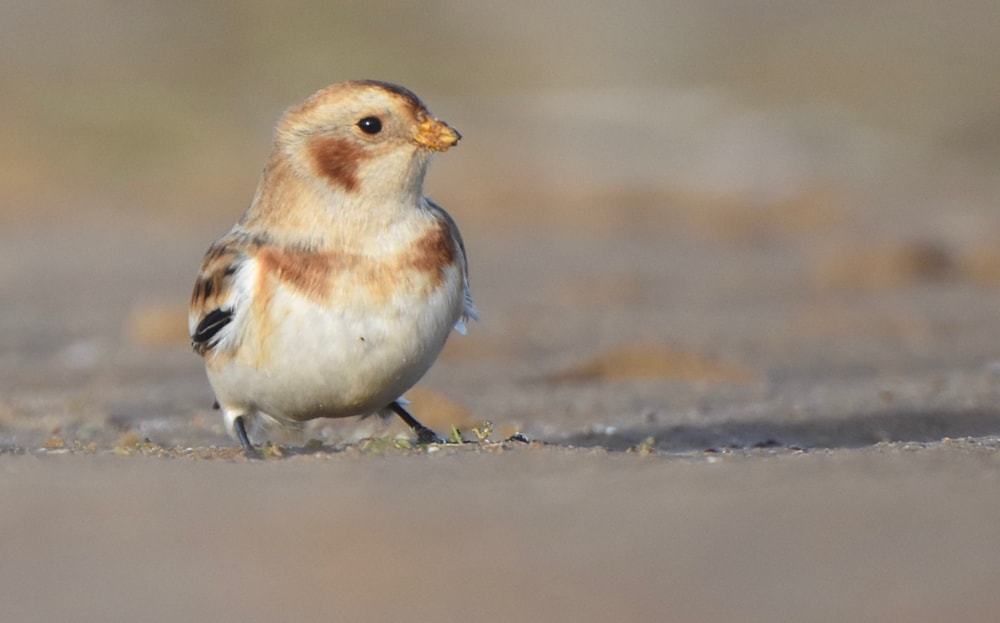 Snow Bunting, Ainsdale, Lancashire (Miles Cluff).
Another intriguing Waxwing report came from Cheshire, with one at Toft on 21st. Two Snow Buntings were still at Hilbre Island until 16th and five were at Red Rocks on 19th. An unseasonal Black-necked Grebe was at Acre Nook Sand Quarry on 20th. A showy Red-throated Diver delighted Greater Manchester birders at Watergrove Reservoir from 20th.
Dan Owen
Lincolnshire and Yorkshire
Northerly winds produced Little Auks at four Lincolnshire sites, as well as a decent flush of Pomarine Skuas on 21st – including 10 past Chapel Point. Associated with this was a juvenile Glaucous Gull on the beach at Mablethorpe on 21st. A young male Ring-necked Duck was at Baston & Langtoft Pits on 15th and two Tundra Bean Geese were at Frampton Marsh RSPB on 17th.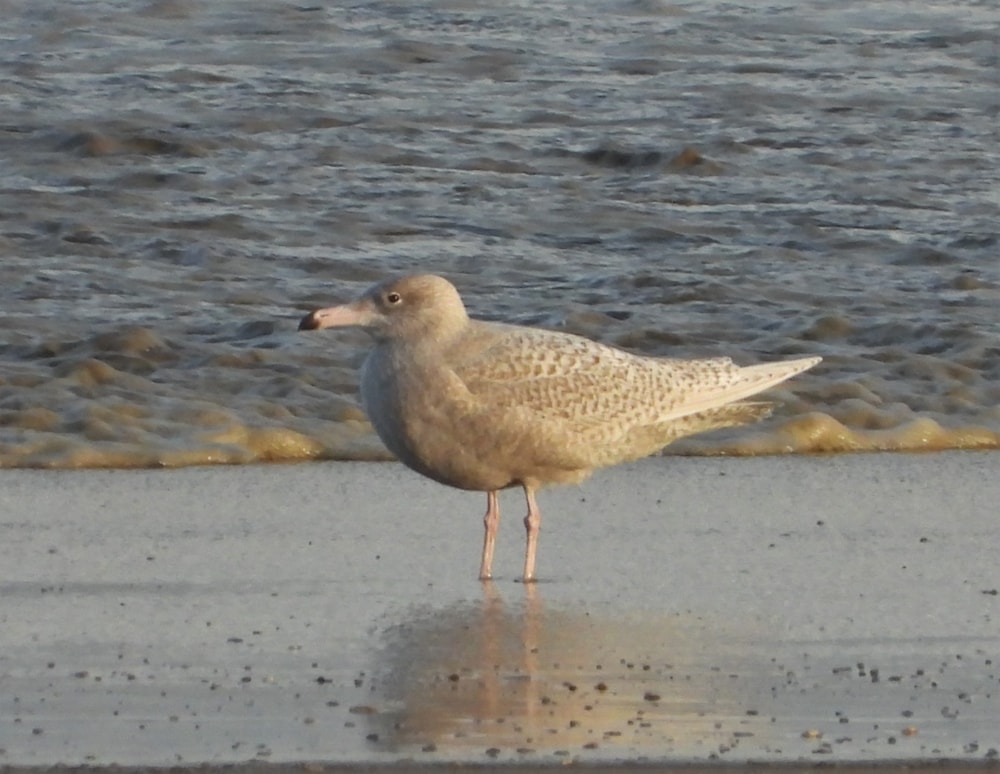 Glaucous Gull, Mablethorpe, Lincolnshire (Dean Nicholson).
A Dusky Warbler remained at Kilnsea, East Yorkshire, on 15th, with a striking, white-headed Ring Ouzel also there and a Pallas's Warbler still at Flamborough Head. Several coastal sites scored Little Auk and Pomarine Skua.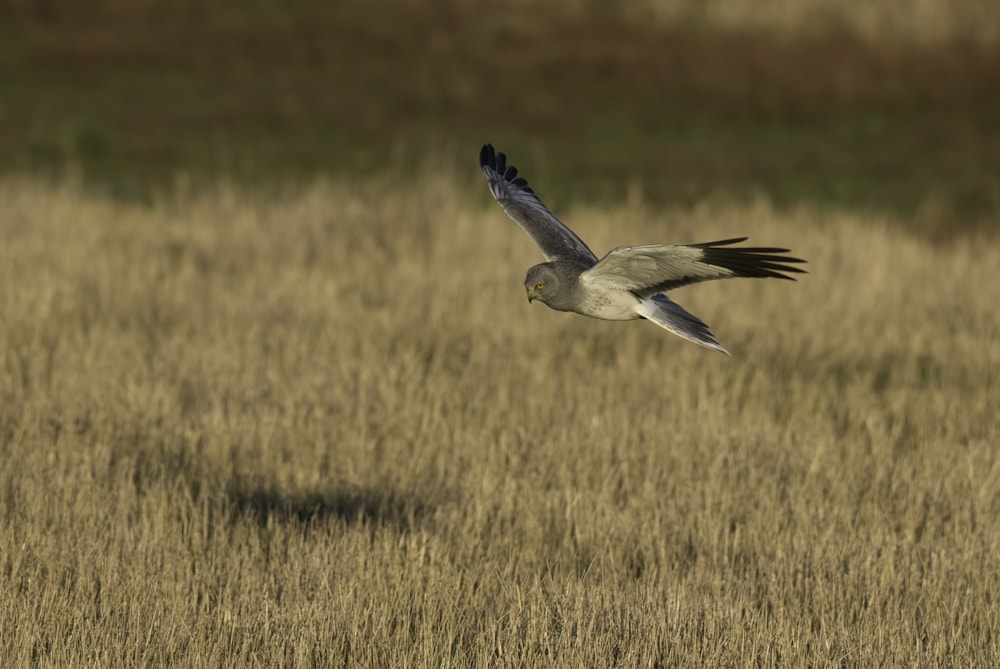 Hen Harrier, undisclosed site, East Yorkshire (Mark Dunhill).
Inland, two Greater Scaup were at Hay-a-Park GPs, North Yorkshire, and the Caspian Gull was still at Redcar Tarn, West Yorkshire. A male Cinnamon Teal caused brief excitement at Anglers CP on 18th, although is presumed to be an escape.
A Snow Bunting was at Totley Moor, South Yorkshire, on 19th and two Water Pipits were at Wombwell Ings. Southfield Reservoir had Brent Goose on 17th and Greater Scaup on 18th.
Josh Jones
West Midlands
The adult Ring-billed × Lesser Black-backed Gull continued to roost at Belvide Reservoir, Staffordshire, throughout, where a new Greater Scaup pitched down on 20th. Shropshire's Grey Phalarope performed well at Whixall Moss until 20th and was joined by a Water Pipit. A Greater Scaup was at Priorslee Lake on 19th.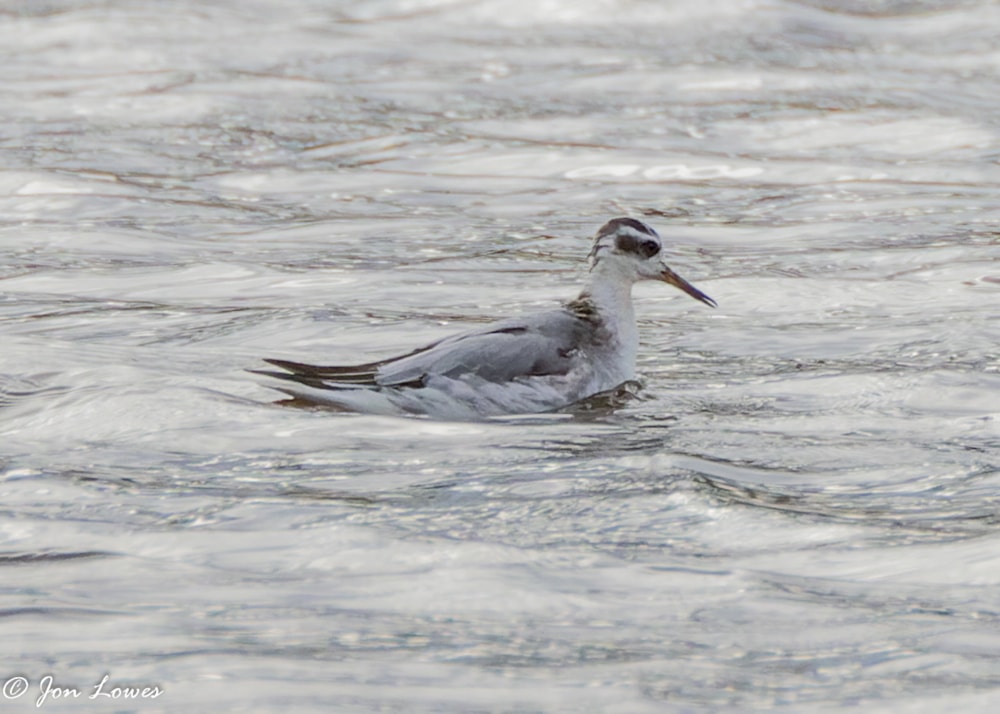 Grey Phalarope, Whixall Moss, Shropshire (Jonathan Lowes).
The Red-throated Diver remained at Brockhall GPs, Herefordshire, until 20th and was joined by a Slavonian Grebe on 19th. Three Western Cattle Egrets were at Grimley, Worcestershire, on 19th, and the female Ruddy Shelduck lingered at Ladywalk NR, Warwickshire.
Dan Owen
East Midlands
A Great Northern Diver flew south over Carsington Water, Derbyshire, on 17th, where a Rock Pipit did the same a day earlier. In Nottinghamshire, the Great Northern Diver remained at Langford Lowfields RSPB throughout. The drake Ruddy Shelduck was still at Kilvington Lakes on 19th and one was reported near Burton Joyce on 17th.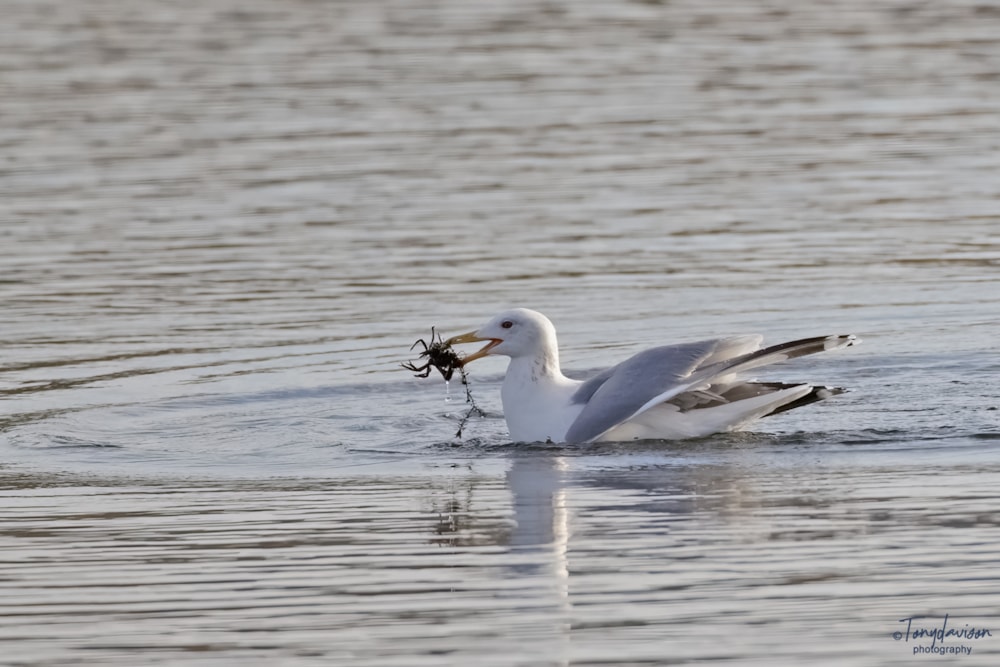 Caspian Gull, Attenborough NR, Nottinghamshire (Tony Davison).
Content continues after advertisements
The Wood Sandpiper lengthened its stay at Pitsford Reservoir, Northants, until at least 21st. A single Greater Scaup stayed put at Daventry Reservoir and a Dark-bellied Brent Goose was at Clifford Hill GPs from 17th. A pair of Smew was back at Ringstead GPs from 19th and felt somewhat early in the mild weather.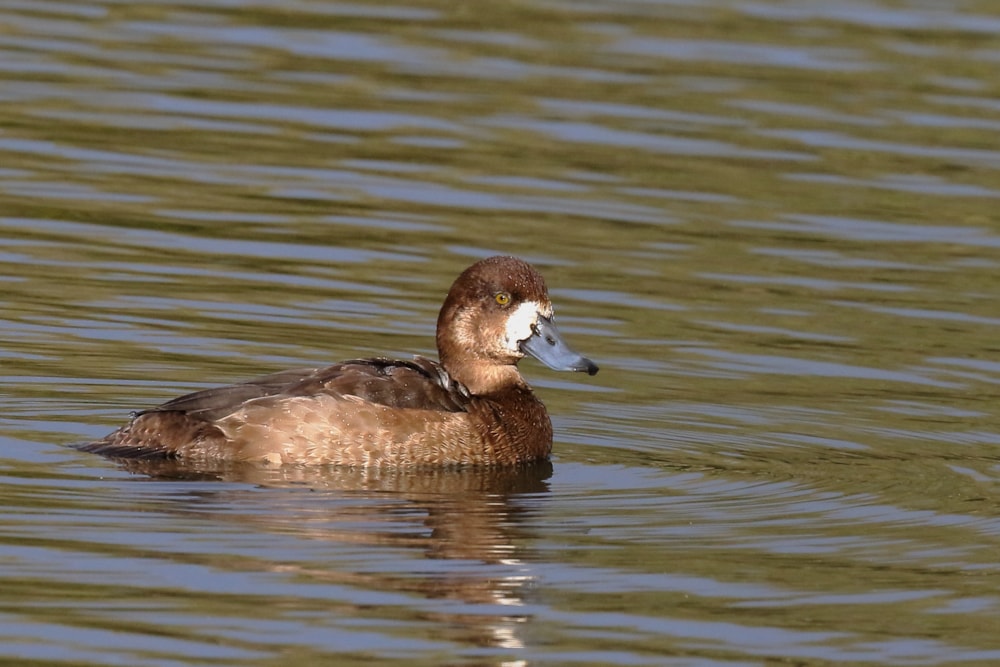 Greater Scaup, Swithland Reservoir, Leicestershire and Rutland (Steve Daniels).
The juvenile Ring-necked Duck stayed at Eyebrook Reservoir, Leicestershire & Rutland, until 15th with up to three Greater Scaup and a Slavonian Grebe. Swithland Reservoir recorded an overflying Hooded Crow on 18th, the four Greater Scaup remained and a Garganey was present on 18-19th. Rutland Water boasted Ruddy Shelduck, Great Northern Diver and Slavonian Grebe.
Dan Owen
East of England
In Norfolk, the Todd's Canada Goose remained between Titchwell and Docking until at least 17th. Nearby Titchwell RSPB had a Grey Phalarope from 21st and a Rosy Starling was reported from Redwell Marsh, Holme, on 15th. A Dusky Warbler entertained at Stiffkey on 15-16th, while seawatching records included Leach's Storm Petrels past Sheringham and Cley. Pallas's Warblers were at Happisburgh and Waxham on 15-16th, the latter also playing host to the lingering Great Grey Shrike. A White-tailed Eagle at Pensthorpe on 18th transpired to be 'G463', the Isle of Wight bird that spent much of the year on the Continent.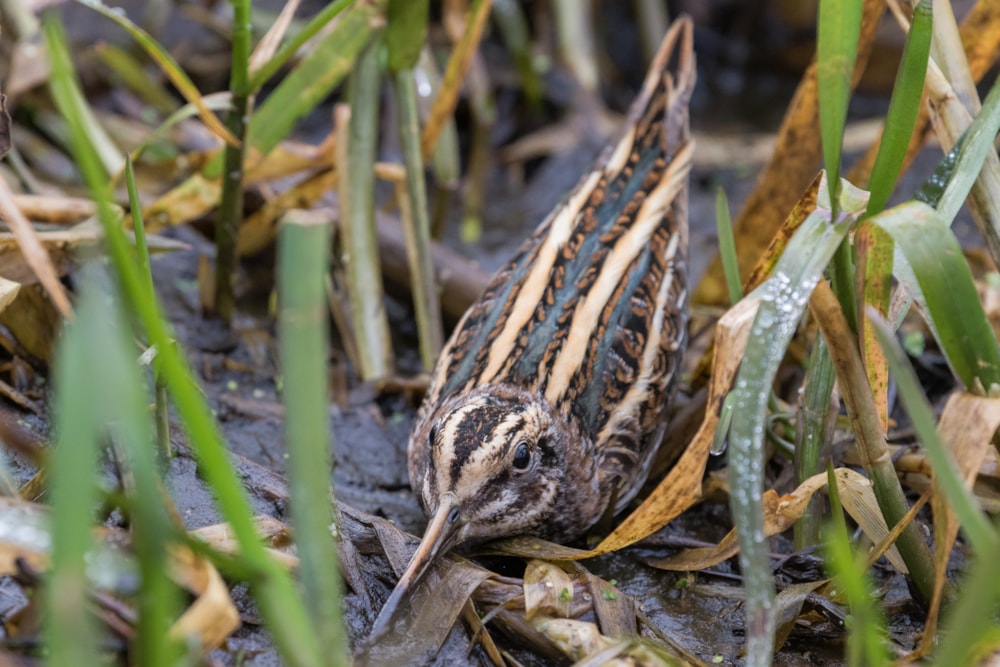 Jack Snipe, Norwich, Norfolk (Jack Morris).
A Rough-legged Buzzard was at Orford Ness, Suffolk, on 16th. Shore Larks were at Kessingland and Minsmere RSPB, with Little Auks noted off six sites. An impressive 21 Tundra Bean Geese flew inland at Carlton Marshes SWT on 21st. The Glaucous Gull continued at the mouth of the River Blyth and a Yellow-browed Warbler was at Thorpeness on 15th.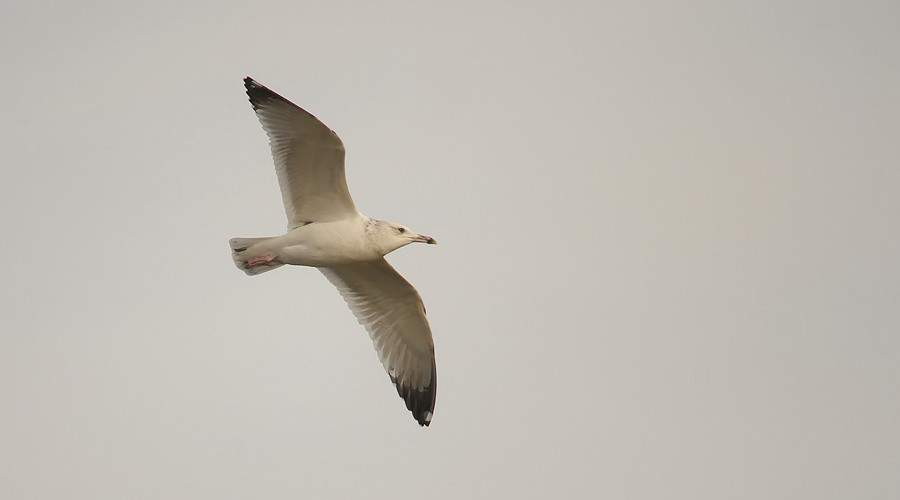 Caspian Gull, Hollesley, Suffolk (Craig Shaw).
Two Slavonian and a Red-necked Grebe were at Abberton Reservoir, Essex, with another Slavonian at Hanningfield Reservoir from 19th. Four Common Cranes flew over St Osyth on 21st. Black Brant were at Canvey and Mersea Islands, while the White Stork continued at Stanway Green on 15th. A Little Auk was a big surprise flying upriver at East Tilbury on 15th. At least three Hawfinches were at Hatfield Forest.
Two Hawfinches were near Anstey, Hertfordshire, on 20th, with four Western Cattle Egrets at Watton-at-Stone on 21st (the Wilstone bird was also seen on 18th). The American Wigeon was again at Marston Vale CP, Bedfordshire, on 16th, with a Greater Scaup at Grovebury Sand Pit from 20th and a Hawfinch at Wrest Park on 17th.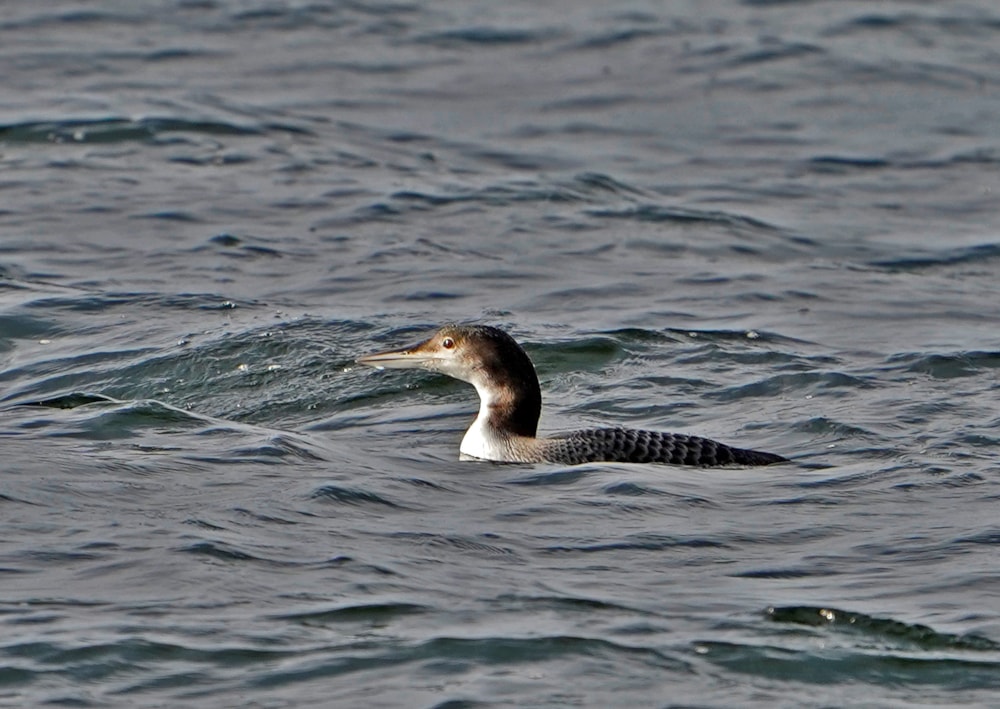 Great Northern Diver, Grafham Water, Cambridgeshire (Rodney Pattison).
A good week in Cambridgeshire saw the return of the Kumlien's Gull to the Heydon area and a male Green-winged Teal on the Ouse Washes on 21st. A Great Grey Shrike was popular at Comberton from 19th. Other bits included the Berry Fen Glossy Ibis flock, both Great Northern and Red-throated Divers at Grafham Water, plus two Greater Scaup there on 19th and a third at Fen Drayton RSPB.
Josh Jones
South-East England
A few late passerine migrants headlined an otherwise wintry line-up in Kent, with the pick of the bunch a neat Red-breasted Flycatcher that was trapped and ringed at Dungeness on 20th. A Pallas's Warbler was at South Foreland on 15th, with a Yellow-browed Warbler at Pegwell Bay on 21st. Seawatching reports included up to four Sabine's Gulls and, on 21st, a Puffin past Reculver and Seasalter, a Grey Phalarope off Cliftonville and a Little Auk past Tankerton. The Swalecliffe Black Guillemot reappeared offshore on 20th, too. Three Tundra Bean Geese were at Minster Marshes, the Sheppey Shore Larks were again at Leysdown-on-Sea and a Lapland Bunting flew over Sandwich Bay. Siberian Chiffchaffs were at four sites, Snow Buntings at nine and Glossy Ibises at two.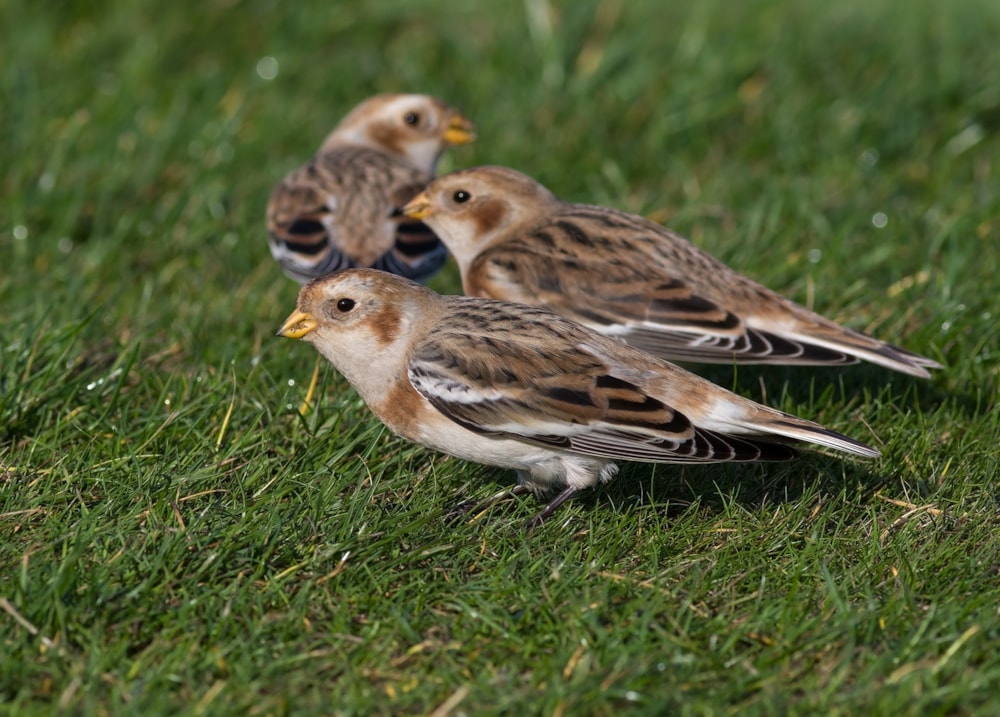 Snow Bunting, Sandwich Bay, Kent (Stephen Ray).
Lingering scarcities were of note in Sussex, namely the Poundgate Little Bunting that was in situ all week and the Newhaven Dusky Warbler to 15th. The Polegate Hooded Crow was knocking about all week as well. Snow Buntings were at Chantry Hill on 16th and Mount Caburn on 21st, and bumper numbers of Hawfinches were noted including 50 or more at Netherfield.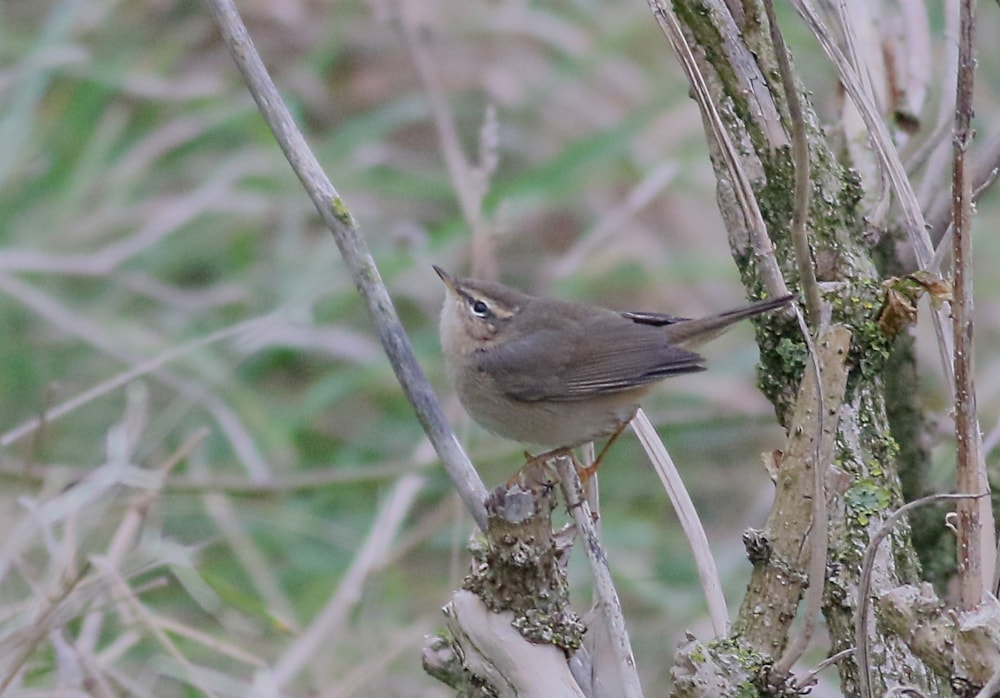 Dusky Warbler, Newhaven, East Sussex (Malcolm Freeman).
It was dead quiet in Hampshire, where the New Forest Great Grey Shrike remained and the Hayling Island 'flock' of Snow Buntings dropped to two. A Siberian Chiffchaff was at Darby Green on 20th.
Berkshire held onto its Pink-footed Goose and Western Cattle Egret flock, while the second-winter Iceland Gull returned to Buckinghamshire, being seen at Little Marlow GPs and Beaconsfield from 19th. Eyethrope hosted a Pink-footed Goose, too. The Aythya-fest continued in Oxfordshire, where new Ring-necked Duck were at Otmoor (a drake on 16th) and Sutton Courtenay/Appleford GPs (a female on 18th), joining the Radley GPs drake that was present throughout. Greater Scaup were also at three sites.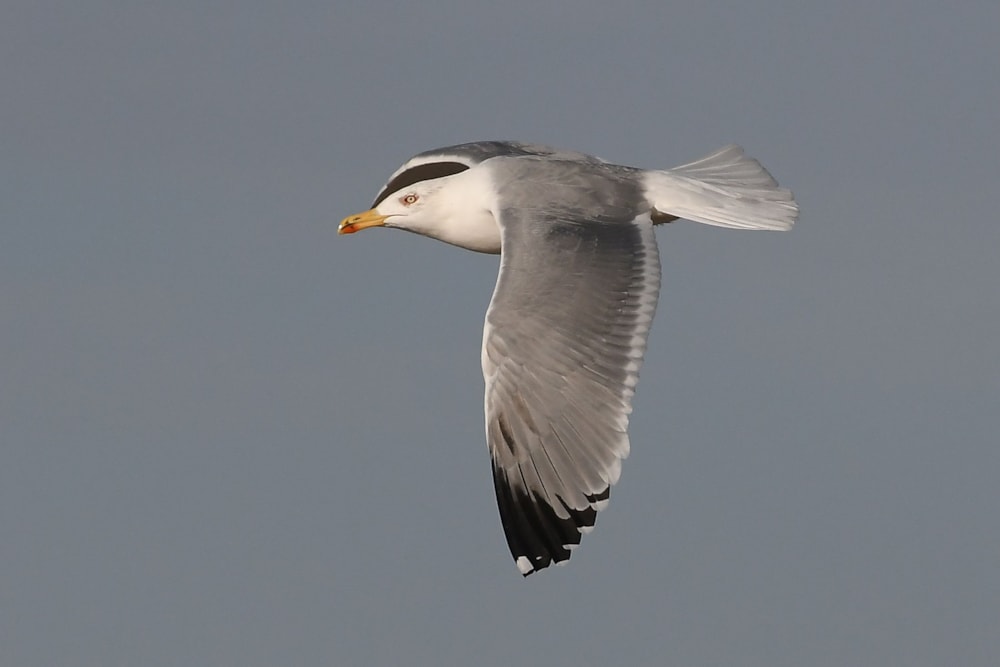 Yellow-legged Gull, Farmoor Reservoir, Oxfordshire (Tim Dean).
The aforementioned Iceland Gull took a two-day trip to Surrey from 17-18th, where it graced Holmethorpe SPs and Redhill landfill. The Reigate Ring-necked Duck and Esher Western Cattle Egrets continued, while Greater Scaup were at Island Barn Reservoir and Thorpe Park. It was quiet in London, where an adult Iceland Gull was reported at Beckton on 18th.
Ed Stubbs
South-West England
It was an excellent week for Dusky Warblers and Siberian Chiffchaffs in the south-west of England. On Scilly, as many as three Dusky Warblers and 14 Sibe Chiffs were on Tresco on 20th. Another Dusky was on St Mary's, while a Glossy Ibis was the best of the rest on the islands.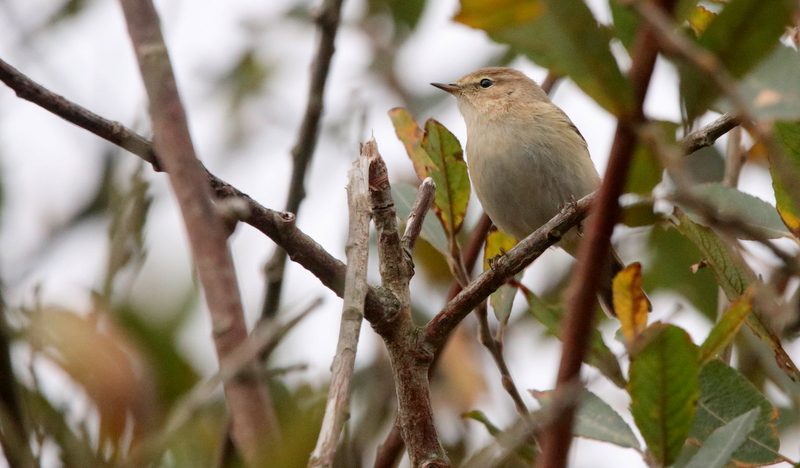 Siberian Chiffchaff, Tresco, Isles of Scilly (Kris Webb).
Three Cornish localities produced Dusky Warblers, with three at Porthgwarra and singles at Nanjizal Valley and Lizard. Siberian Chiffchaffs were seen at five sites, including six at Nanjizal Valley on 20th. It was another productive week there with a Radde's Warbler, Bluethroat, Yellow-browed Warbler and probable Little Bunting also recorded. A classic late September fall anyone? Another Radde's was at Cot Valley on 17th.
Two European Serin were at Land's End on Monday, while another flew over Lizard Point on 20th. Eight Ring-necked Duck remained at Dozmary Pool and others were at Siblyback Reservoir and Colliford Lake (two). Cadgwith scored a Richard's Pipit on 17th and Glossy Ibis were seen at three localities. A juvenile American Golden Plover ended the week at Hayle Estuary.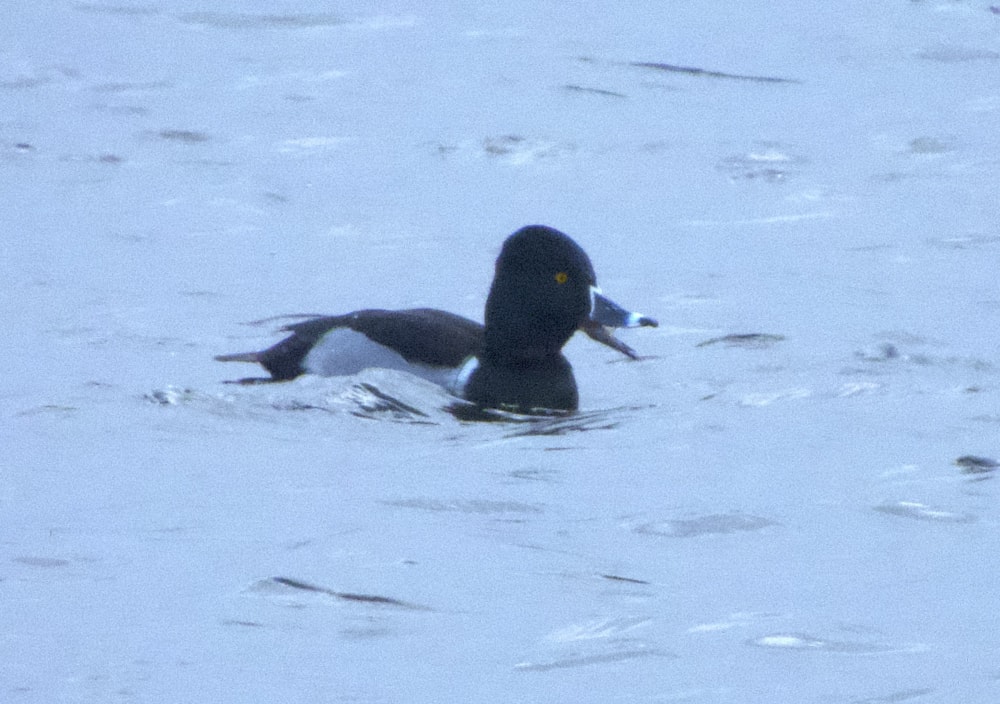 Ring-necked Duck, Dozmary Pool, Cornwall (Roger Labbett).
The Glossy Ibis count at Fremington Pill, Devon, increased to four from 17th. A Pectoral Sandpiper was still at South Huish Marsh until at least 20th, with another found at South Efford Marsh that day. The drake Ring-necked Duck remained at Beesands Ley throughout.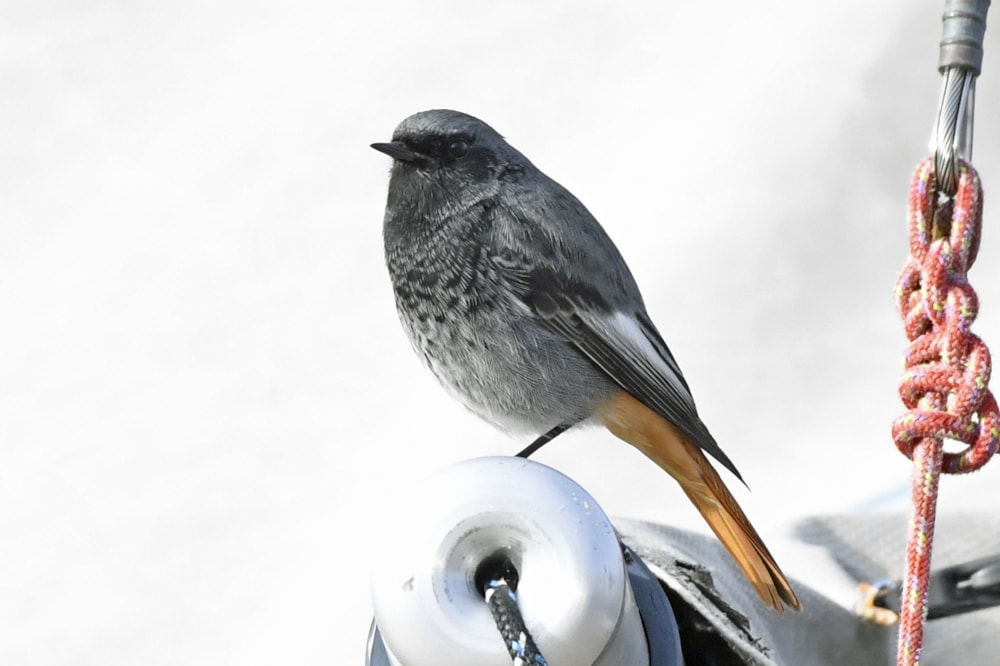 Black Redstart, Exmouth, Devon (Peter Newman).
A Pallas's Warbler was located in Weymouth, Dorset on 21st and Portland hosted a Red-breasted Flycatcher for a couple of days. A couple of Black Brant lingered on The Fleet between Ferrybridge and Chickerell, while a Great Bustard at Butterstreet Cove was presumed to be from the reintroduction programme. Five localities produced Siberian Chiffchaffs and a White Stork was seen near Sturminster Marshall on 21st. A Little Auk at Weymouth Marina proved rather popular.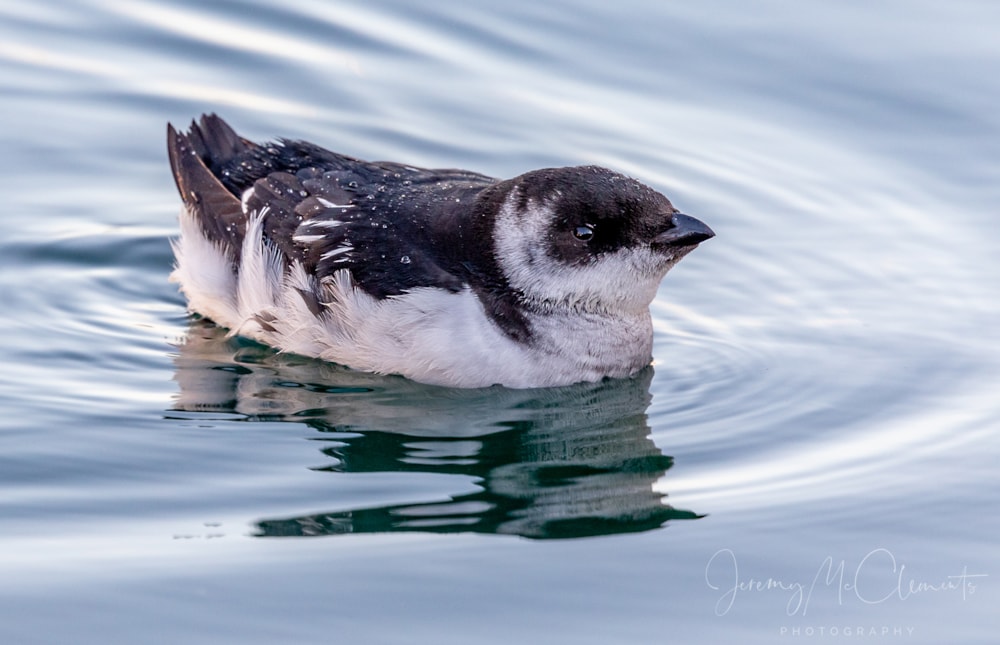 Little Auk, Weymouth, Dorset (Jeremy McClements).
The Todd's Canada Goose remained at Slimbridge WWT, Gloucestershire, through 20th and the site continued to play host to 14 Bewick's Swans and small numbers of Russian White-fronted Geese. A probable Great Grey Shrike was seen briefly at Crabtree Hill on 18th and a Snow Bunting was reported from Cleeve Hill.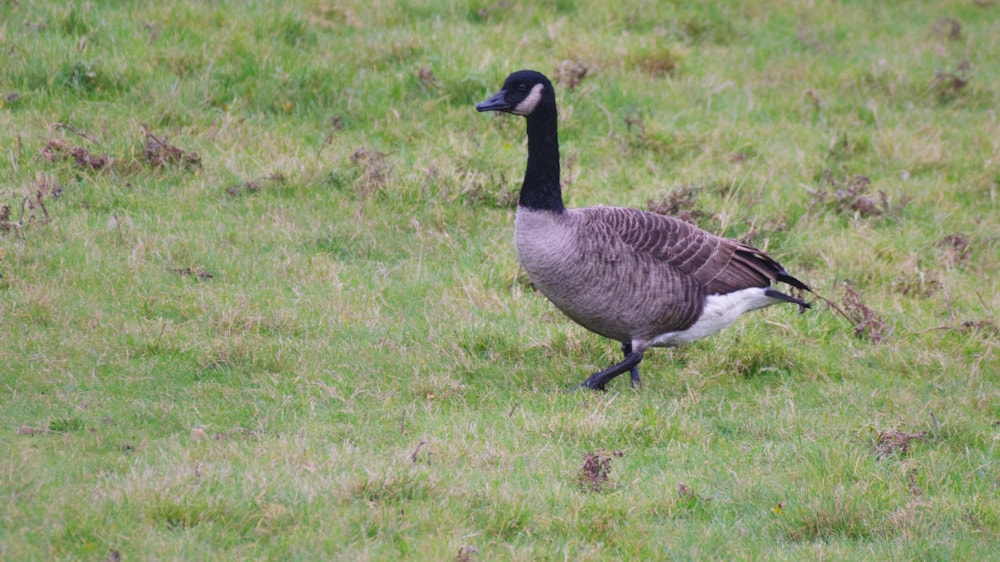 Todd's Canada Goose, Slimbridge WWT, Gloucestershire (Jonathan Bull).
Two Richard's Pipits were recorded in Somerset on 16th, at Kingston Seymour and Clevedon. A possible Olive-backed Pipit visited Burnham-on-Sea on 20th and the two Ring-necked Duck put in appearances at Ham Wall RSPB. A Glossy Ibis at Shapwick Heath NNR on 16th was new, with the lingering bird still near Westhay. A Siberian Chiffchaff was trapped and ringed at Chew Valley Lake. Another Sibe Chiff was at Swindon, Wiltshire, on 20th.
Jonathan Farooqi
Wales
A European Serin at Gann Estuary, Pembrokeshire, on 16th was the most notable Welsh record of the week. Meanwhile, the Hooded Crow was noted there again on 19th, while the Dusky Warbler lasted at Talacre, Clwyd, until 15th. A young Red-backed Shrike at Bwlchtocyn, Gwynedd, made for a standout late November record, while Great Grey Shrikes were at Bryn Trillyn (two) and Clocaenog Forest, Conwy. A Hoopoe was a smart Ceredigion addition at Bronant from 12-15th, with another reported from Cwm Ivy, Gower, Glamorgan, on 17th. Five sites in the south and west of the country hosted Siberian Chiffchaffs.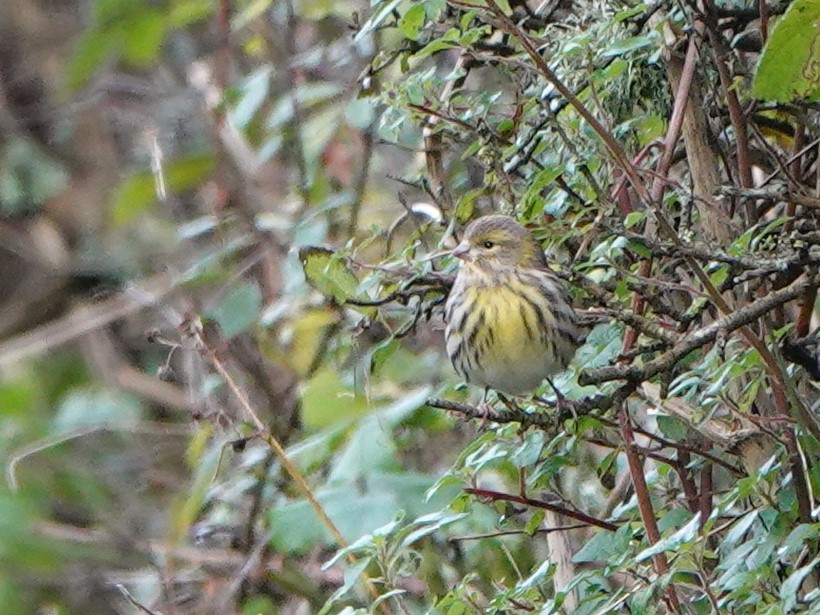 European Serin, Gann Estuary, Pembrokeshire (David Astins).
In Glamorgan, the Cardiff Bay Ring-necked Duck moved back to Lisvane Reservoir from 17th and was joined by a second bird on 21st, with the Ceredigion drake still at Teifi Marshes until 15th at least. A drake Surf Scoter continued off Pensarn, Conwy, and the Garganey continued at Llanelli Wetland Centre WWT, Carmarthen, throughout.
Returning Caspian Gull 'X290' was back at Gann Estuary, Pembrokeshire, on 16th, while a possible roosted at Llys-y-Fran Reservoir on 21st, as did the Ring-billed × Lesser Black-backed Gull on 15th. Meanwhile, a late Long-tailed Skua was off Point Lynas, Anglesey, on 21st, while a Little Auk was found at a Trearddur Bay building site and released at Porth Dafarch on 18th.
Ireland
Two Green-winged Teal were at Courtmacsherry, Co Cork, with another in the county at Ballycotton; others were in Cos Kerry, Mayo and Wicklow. A new female Ring-necked Duck was near Leixlip, Co Kildare, on 16th, with twos still in Cos Monaghan and Sligo, plus further birds in Cos Donegal and Mayo. A Black Brant visited North Bull Island, Co Dublin, on 15th. An Egyptian Goose was at Baltimore, Co Cork, while a Todd's Canada Goose was with Barnacles on the Mullet, Co Mayo.
A surprisingly high number of Little Auks were noted in Ireland, with 19 passing Bloody Foreland, Co Donegal, on 20th and inshore birds at Reenroe, Co Kerry, and Dunmore East, Co Waterford. Also from the north were a handful of Glaucous Gulls.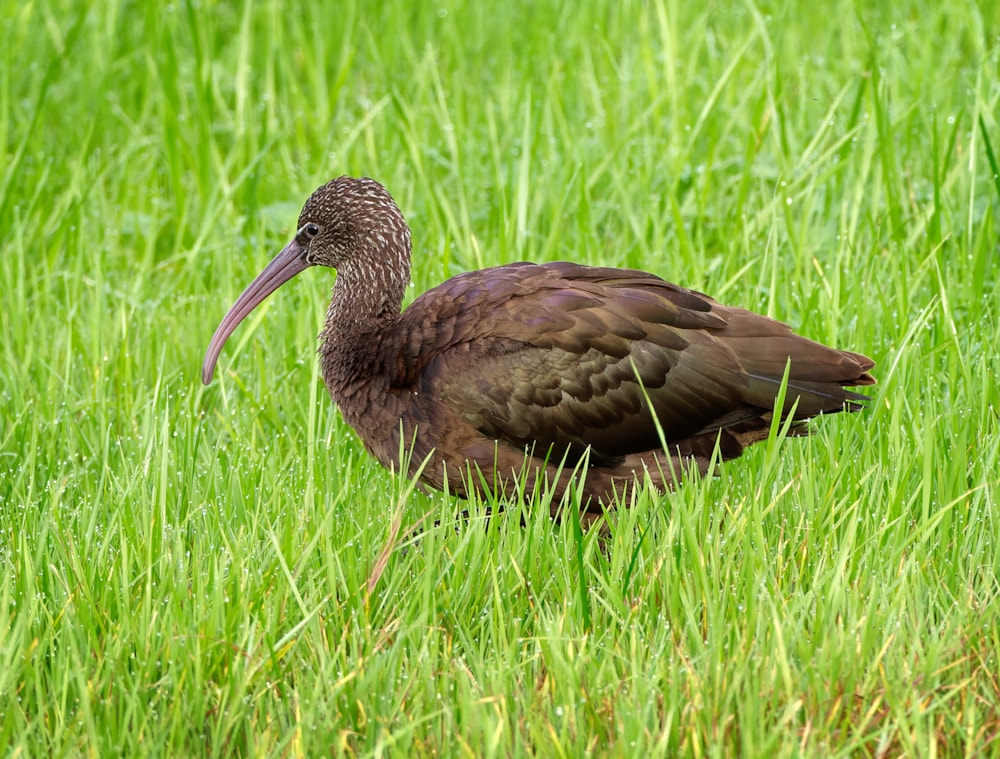 Glossy Ibis, Waterford, Waterford (Tom Murphy).
Despite the late date, three American Golden Plovers were noted: at Ballylongford, Co Kerry, Ballycotton, Co Cork, and The Cull, Co Wexford. A Lesser Yellowlegs was at Rahasane Turlough, Co Galway, on 21st, with the Tacumshin bird also still around. At least two Glossy Ibises were in south-east Co Wexford, with further reports from Cos Waterford (two), Cork and Limerick.
Siberian Chiffchaffs were noted at a few localities and included two as far north as Oxford Island NNR, Co Armagh, two on the Mullet, Co Mayo, one at Cahore Marsh, Co Wexford, and another trapped and ringed at Owenahincha, Co Cork.
Josh Jones
Western Palearctic
Sweden's second Siberian Rubythroat – a first-winter male – caused great excitement at Vargön from 15th. Elsewhere, an Eastern Black Redstart appeared at Götene and the Steppe Eagle remained near Ullervad. Belatedly reported, a migrating Eastern Yellow Wagtail photographed and sound-recorded over Blåvand, Denmark, on 20 October represents a national first.
Siberian Rubythroat, Vargön, Västra Götalands län (Jonas Bonnedahl).
In Norway, a white-morph adult Ross's Goose at Mebonden, Trøndelag, on 13th and Høllen, Agder, on 16th is a potential national first. Keeping the company of Pink-footed Geese, it was first noted near Verdalsøra on 23 October. Meanwhile, a Brown Shrike at Farsund and Oriental Turtle Dove at Lyngdal both lingered, while the regular drake White-winged Scoter was back at Vatnsnes, Iceland.
Very belated news from Spain concerns a first-winter Least Tern photographed at Jaizkibel on 26 September 2019, a national first, just the second for the Western Palearctic (pre-dating the Irish record) and the first record of an immature. Elsewhere, a Laughing Gull was at Cartagena, a Sociable Lapwing graced El Hondo, and both Snowy Owls continued north-west of Gijón – at El Musel and Cabo de Peñas.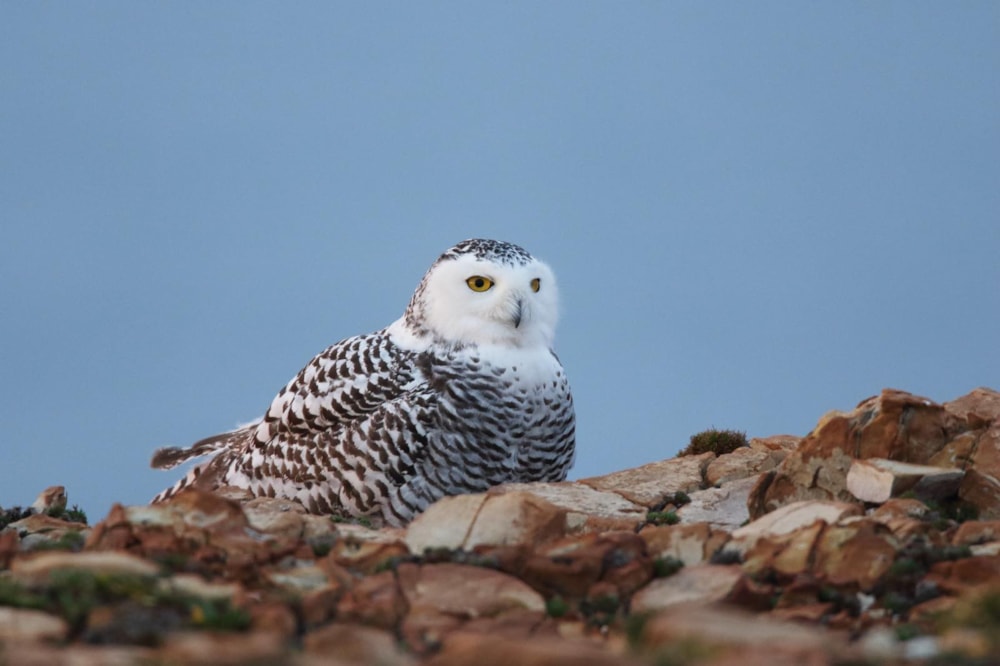 Snowy Owl, Cabo de Peñas, Asturias (Daniel López Velasco).
A second Portuguese site was confirmed for Plain Swift this week, with no fewer than eight over Estádio Universitário de Lisboa, Lisbon. In the Azores, no fewer than four Great Blue Herons were at Praia da Vitória, Terceira, on 16th, with Snowy Egrets there and at Ribeira Grande, São Miguel. A Spotted Sandpiper was at Funchal, Madeira.
An adult male Red-flanked Bluetail was at Achna Dam, Cyprus, from 13th – a national third – with a Sociable Lapwing again at Salin-de-Giraud, France. In The Netherlands, the Eastern Olivaceous Warbler at Nieuwvliet-Bad and Pygmy Cormorant near Utrecht both held on, with a Western Swamphen still at Zoutleeuw, Belgium.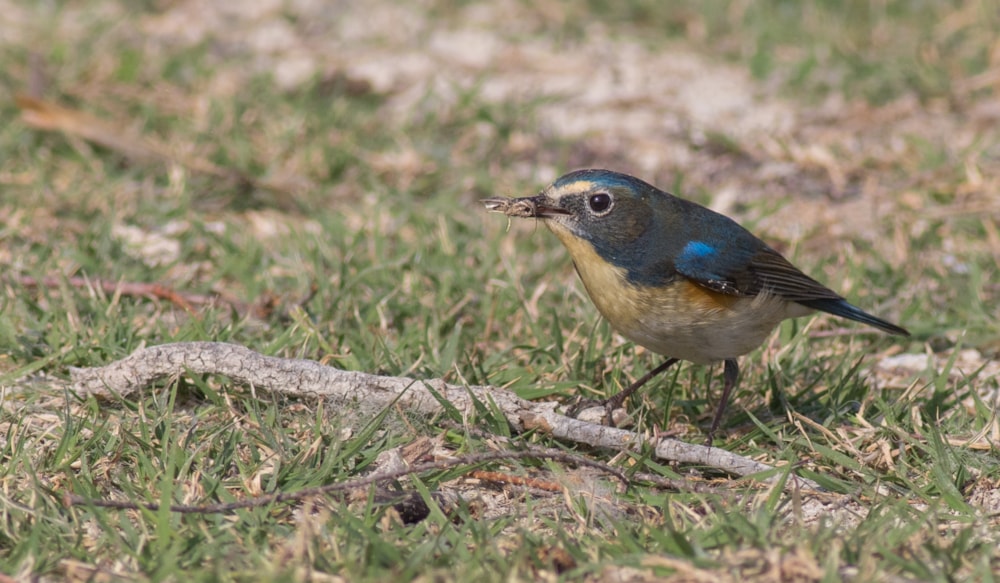 Red-flanked Bluetail, Achna Reservoir, Famagusta (Matthew Smith).