Scilly is always in the frame at this time of year due to its prime position in the British seabirding arena, but this week it has also led the way with land-based birds. One birder visiting Tresco on 15th was rewarded with the discovery of an adult Solitary Sandpiper on the Great Pool. Lingering for the entire week, it was the first twitchable British bird since 2012, when another was on Scilly, and was gratefully received by birders staying on the archipelago for the weekend's pelagic trips.
Visitors staying beyond the weekend could also enjoy both Citrine Wagtail and Spotted Sandpiper on St Mary's, the birds favouring Porth Hellick and Lower Moors respectively. The former was found on 19th and news of the sandpiper – a juvenile – emerged the next day, though it transpired to have been lurking incognito since 18th until being identified. It was only a 20-minute walk between the two, but they shared a binocular view for a few minutes when the wagtail swung by Porth Hellick on 21st.

Solitary Sandpiper, Tresco, Isles of Scilly (Kris Webb).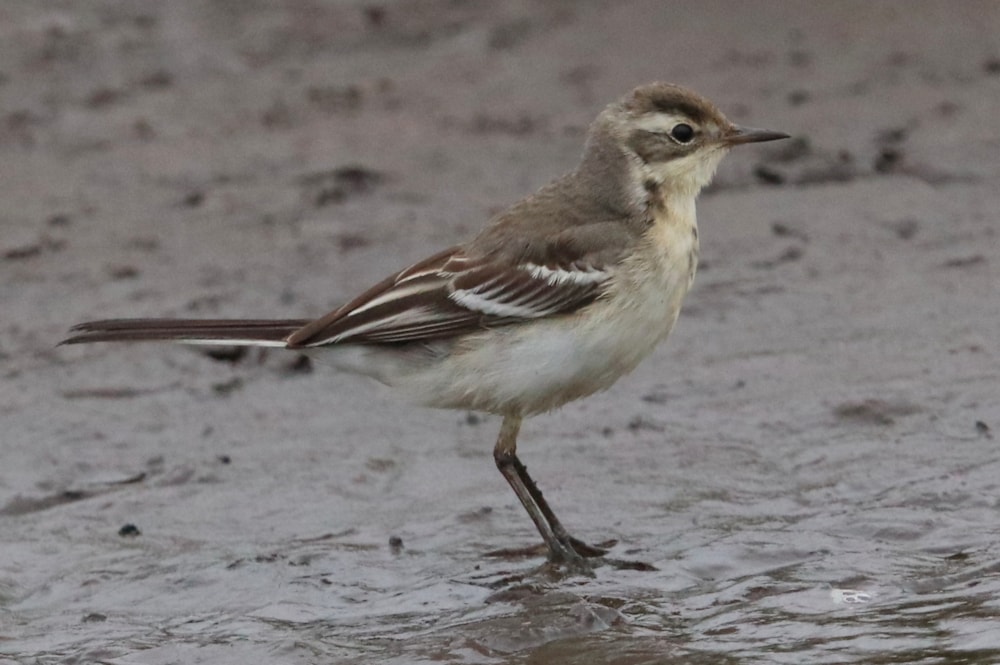 Citrine Wagtail, Isles of Scilly, Isles of Scilly (Kris Webb).
By coincidence, 2012 also happens to be the last time we had a good stab at American Black Tern, when a juvenile toured Lancashire and Greater Manchester. Burrowes Pit at Dungeness RSPB, Kent, has been attracting hordes of terns, including a consistent small gathering of Black Terns over the last few weeks, and late on 21st a juvenile surinamensis was duly singled out among them. Hopefully the reserve's pits will cater for it well enough to tempt a stay into the weekend.
Minsmere RSPB, Suffolk, attracted another newly arrived juvenile Nearctic wader in the form of a Semipalmated Sandpiper on the scrape from 18th to the end of the review period. Being a species that has presented relatively few opportunities for observation in the south recently, the reserve's visitor numbers were boosted somewhat, despite the bird maintaining a fair distance.
The adult White-rumped Sandpiper remained at Lower Rosses, Co Sligo, to 20th, and another turned up at Pool of Virkie, Shetland, for 15-21st, while Potter Heigham Marshes, Norfolk, produced a report on 19th. After disappearing at the very start of the week, Suffolk's American Golden Plover turned up again at Hazlewood Marshes for a short while on 16th. A new 'AGP' didn't hang around long at Skinflats Lagoons, Forth, on 18th.

Semipalmated Sandpiper, Minsmere RSPB, Suffolk (Craig Shaw).

White-rumped Sandpiper, Pool of Virkie, Mainland, Shetland (Mick Kemp).
Ythan Estuary, Aberdeens, easily topped the Palearctic wader billing, with a Marsh Sandpiper on 21st possibly being the same elusive bird last reported in the area at the very start of the month. Scarcities included word of two Black-winged Stilts on the Blackwater Estuary off Heybridge Basin, Essex, on 15th and – to the delight of Birdfair pilgrims – the continued stay of Rutland Water's Red-necked Phalarope over the weekend and to 21st.
Locally noteworthy, Eurasian Stone-curlews were in Essex, with the lingering Bowers Marsh RSPB individual to 18th, and near Rigifa Pool, Aberdeenshire, fleetingly on 19th. The long-staying Pectoral Sandpiper at East Chevington NWT, Northumberland, was still on the North Pool to 16th and newbies were in Co Cork at The Gearagh, on 20th and at Macroom on 21st, when another turned up at Martin Mere WWT, Lancs.
Our two well-settled but elusive juvenile Purple Herons lingered, with the Poole Harbour, Dorset, bird exclusively giving evening showings to 18th. The Rutland Water individual kept its head down early in the week and during the Birdfair, only to resurface on 21st, when the adult at Shapwick Heath NNR, Somerset, was also seen again. Norfolk boasted the week's two new Purple Herons, with a juvenile watched as it arrived off the sea at Hopton-on-Sea on 17th and a first-summer found at How Hill NR on 21st.
An adult Black-crowned Night Heron was reported alongside the River Wye in Hoarwithy, Herefordshire, on 15th, but canoeists unwittingly spooked the bird before locals could travel to enjoy this hitherto tranquil scene. A Glossy Ibis roamed the Taw Estuary, Devon, from 16-20th, and the county had a further two at Exminster Marshes RSPB on 18th. Another was at Croft Pascoe Pool, Cornwall, from 16-21st.
Trying to establish the provenance of White Storks has become a mind-numbing task of late, with almost every bird turning out to be an escapee or from a reintroduction project, but a juvenile in Norfolk on 15-16th seemed fine. It was over Titchwell RSPB on 15th before roaming between Winterton-on-Sea and Hemsby the next day.
Ireland produced two from-land Wilson's Storm Petrels on 15th, at the legendary seawatching spots of Blannan on Cape Clear, Co Cork, and Bridges of Ross, Co Clare. One went through off Porthgwarra, Cornwall, on the morning of 18th, when another passed Melmore Head, Co Donegal. Scilly pelagics racked up one on 17th, three on both 18th and 19th, then another on 20th. As the Scillonian III sailed back to Penzance on 19th, it crossed paths with a single Wilson's. The Mermaid II met with four on a trip off Cornwall at Epsom Shoal on 18th, when the regular search from Baltimore, Co Cork, yielded the same number, followed by a singleton the next day.

Wilson's Storm Petrel, Scilly pelagic, Isles of Scilly (Joe Pender).
Scilly pelagics encountered high numbers of Cory's and Great Shearwaters this week, leading to some amazing images online, peaking with 350 Cory's and 750 Greats on 18th. Seawatching sites in the South-West continued to churn out regular reports of smaller numbers of both species. Alongside gently building numbers of Pomarines, Long-tailed Skuas were seen off Bridges of Ross, Co Clare, on 15th and 19th, as well as Whitburn, Co Durham, on both 16th and 17th, and Porthgwarra, Cornwall, on 18th. The Scilly pelagic on 20th came across a distant bird.

Great Shearwater, Scilly pelagic, Isles of Scilly (Richard Stonier).
Great Shearwater, Scilly pelagic, Isles of Scilly (Robert Flood).
In Co Louth, the adult Forster's Tern was still regularly showing up at Soldier's Point to 21st. The adult Bonaparte's Gull was still commuting between the Swale and the East Flood at Oare Marshes NR, Kent, throughout the week. Anyone who hasn't yet caught up with it, though, should try to find an opportunity in the next couple of weeks, as it tends to move off for the winter in early September. The Cheshire adult was still around Hoylake early in the week but soon changed habits and was best viewed from Hilbre Island to 21st. On the Outer Hebrides, a second-winter Bonaparte's graced Aird an Runair on North Uist from 15-17th, while the second-winter Ring-billed Gull remained on Vatersay on 19th. Grey Phalaropes were seen during a Co Cork pelagic on 18th and off Bridges of Ross, Co Clare, on 21st.

Bonaparte's Gull, Aird an Runair, N.Uist, Outer Hebrides (Steve Duffield).
Sabine's Gull passage was evident, with a first-summer showing spectacularly at Rhaslas Pond, Glamorgan, for much of the day on 20th, when an adult on the beach at Gibraltar Point NNR, Lincs, was notable but an expired adult at Grafham Water, Cambs, made for a sorry find. The only other North Sea bird was seen past Seaham, Co Durham, on 21st. There was a better supply out west, with these elegant gulls featuring at selected seawatching sites, mainly in Ireland. Bridges of Ross, Co Clare, did particularly well, with three on both 16th and 19th. The Scilly pelagic on 20th encountered no fewer than four.

Sabine's Gull, Rhaslas Pond, Glamorgan (Jeff Lack).
Pollars Loch near Sound, Shetland, hosted an adult female Hooded Merganser all week from 15th, and considering the wildfowl movement of recent weeks and corresponding arrivals from across the Atlantic, there seems no reason to doubt its credentials. Lunan Bay, Angus and Dundee, continued to support the drake Surf Scoter to 17th and the adult drake Ferruginous Duck was still at Abberton Res, Essex, to 15th. After more than a month with no one checking, a visit to Loch Feorlin, Argyll, on 20th confirmed that the male Pied-billed Grebe was still in residence.

Hooded Merganser, Sound, Mainland, Shetland (David Cooper).
A Black Kite flew west near Helston, Cornwall, on 16th and a juvenile Montagu's Harrier sailed south over Pegwell Bay, Kent, on 15th. However, raptor migration was otherwise limited to European Honey Buzzards moving over Puttenham and Epsom Downs, both Surrey, on 15th then Ogston Res, Derbys, and Headon, Notts, on 21st. The female Snowy Owl was still on St Kilda, Outer Hebrides, to 21st.
Of the week's seven Spotted Crakes, the lingering bird at Gibraltar Point NNR, Lincs, was the best to go for. Mere Hide offered good views to the end of the review period. Further north in the county, a trickier bird was on a pond by the River Freshney to 18th, having been there since at least 11th. One of the furtive birds at Potter Heigham Marshes, Norfolk, was still around on 19th, as was the Burton Mere Wetlands RSPB, Cheshire, individual. The Northumberland bird continued to perform around Newton Pool to 20th, as did the bird at Lackford Lakes SWT, Suffolk. Finally, a new individual showed from the viewing ramp at Grove Ferry NNR, Kent, from 19-21st.

Spotted Crake, Gibraltar Point NNR, Lincolnshire (Russell Hayes).
The rarest passerine of the week was a Western Bonelli's Warbler which gave nice views at North Gare, Cleveland, from 17-19th. However, by their slippery nature, Aquatic Warblers tend to steal the attention from technically rarer species these days and so two field-observed birds in Hampshire, the second and third in Britain this year, were most gripping. The first report came from Farlington Marshes HWT on 20th and was followed by a bird showing at Lepe the next morning. Despite both birds skirting the customary mistnet for Aquatic Warbler records, both were just as out-of-hand for twitchers as they melted away soon after discovery.

Western Bonelli's Warbler, Seaton Carew, Cleveland (Christopher Bill).
A light yet assorted smattering of scarcities kept us on our toes and has set the scene for the coming weeks. Fair Isle had an Arctic Warbler on 16th, as well as a Common Rosefinch on 21st and a Barred Warbler on 19-20th. Other Barreds were at Valyie on Unst, Shetland, on 15th and Covehithe, Suffolk, on 18th. The Royal Cromer Golf Club, Norfolk, was visited by a Greenish Warbler on 21st. Icterine Warblers stayed on the map, with a bird each at Sammy's Point, East Yorks, and on Holy Island, Northumberland, on 19th. These were followed by one around the corner from Sammy's at Easington Gas Terminal on 21st and another at Winterton Dunes, Norfolk, the same day. Melodious Warblers made their way into mistnets at Nanjizal Valley, Cornwall, on 18th and Calf of Man on 20th, while viewable birds were at Beachy Head, East Sussex, and Portland Bill, both on 20-21st. An Ortolan Bunting announced itself as it tracked east over Goring Gap, West Sussex, on 21st.
A juvenile Woodchat Shrike was found at West Bexington, Dorset, on 19th, but only showed in the morning the next day. A Red-backed Shrike was a short stayer at Shingle Street, Suffolk, on 17th, but another first-winter was more co-operative as it paraded around the hedgerows of Flamborough Head, East Yorks, from 15-18th.

Red-backed Shrike, Shingle Street, Suffolk (John Richardson).
Wrynecks at Rutland Water on 17th and Oare Marshes NR, Kent, on 18th were frustratingly brief, while another in a private garden in Hinton Ampner, Hants, from 20-21st was out of reach. This left a very secretive bird in the Galloways area of Dungeness, Kent, which stayed from 18th to the end of the week, but given the right winds, we shouldn't be short of Wrynecks over the next fortnight or so. A Rosy Starling was on Tiree, Argyll, for at least its seventh day on 20th, while an adult at Dooagh on Achill Island, Co Mayo, was there for its fifth. The bird on Lewis, Outer Hebrides, frequented Stornoway to 19th and one of the St Kilda birds showed up again on 21st.

Rosy Starling, Tiree, Argyll (John Bowler).
Western Palearctic
In a very quiet week regionally, north Denmark's adult Pacific Diver was still off Grenen, Skagen, to 21st. The Yellow-billed Kite was still at Km19 in Eilat, Israel, on 20th.