The week at a glance
And lo, the east wind did blow and the fall it began. Yes, many birders (especially those on the relevant coasts) continued to enjoy the brisk east-to-southeast winds that blew into the new review period and, for extra interest, the rain came down too. A significant number of classic mid-May fall species dropped out of the skies in many North Sea coastal counties. Despite a telling lack of common migrant species to search through, the list of what did make it was, for recent times, rather impressive. Even when the winds veered back to the southwest, the overshoots continued to arrive.

Collared Flycatcher, Crail, Fife (Photo: John Anderson)
Top of the list this week was the second Collared Flycatcher of the spring. Another first-summer male, it was found at Denburn Woods, Crail (Fife) on 16th. This was a county first, and the first record on the Scottish mainland since the male at Cove at decade ago (Shetland, in the meantime, has claimed four in the same period). The bird remained to 19th and must have more than made up for the bird trapped in the same county last September — at one point identified as a Collared Flycatcher, it proved to be a Pied Flycatcher after all, much to the chagrin of those who travelled to see it. The probable Western Sandpiper reappeared this week at Dawlish Warren (Devon), on 17th, and more images were taken of a fascinating bird. The longer it goes on, the more this conundrum resembles the Felixstowe stint saga of 1982/83 and, interestingly, more people are siding with Semipalmated Sandpiper than they were last week. In Wexford, the first-summer male Balearic Woodchat Shrike remained at Duncormick from 14th–20th and a possible Hudsonian Whimbrel was reported at Goldcliff Pools (Gwent) on 15th. The same site has hosted this ultra-distinctive form in the past, most recently in May 2002. Then, on 19th, another potential Hudsonian Whimbrel was seen at Heysham (Lancashire), flying off northwest. On Shetland, the drake Wood Duck was still on Loch of Brow to 14th at least while the two Zitting Cisticolas were still at Port Soif on Guernsey on 16th.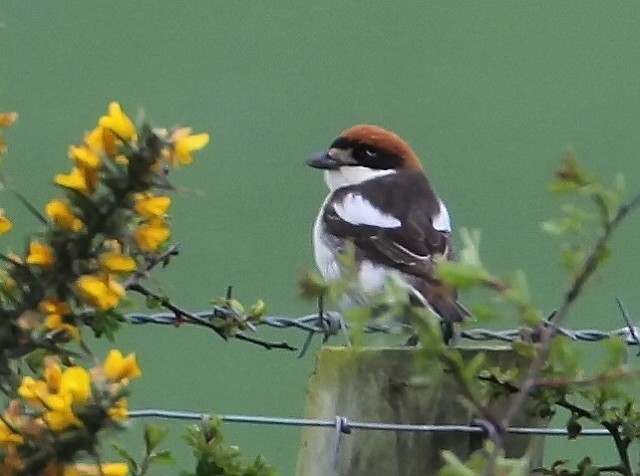 Balearic Woodchat Shrike, Duncormick, Wexford (Photo: Sean Cronin)
A White-billed Diver was still in Laggan Bay (Mull) early in the week, present to 15th at least, with another in Saltcoats harbour (Ayrshire) on 18th. Around 625 Pomarine Skuas were counted during the week, mainly off the west coasts of Britain and Ireland, with 116 at Bowness-on-Solway (Cumbria) on 18th and 81 off Galley Head (Co. Cork) on 17th the highest counts of the week. The same blast of brisk southwesterly winds on 16th produced single Long-tailed Skuas in Cumbria, Galway, Sligo and Mayo, while 18 were seen off Criccieth (Gwynedd). A further 20 or so were noted elsewhere in the week. The same weather on the same day produced single spring Cory's Shearwaters off the coasts of Cornwall, Devon, Dorset and County Cork (one was seen off Ballycotton, where a Sabine's Gull was also seen, along with a Sooty Shearwater). Another Sabine's Gull was noted off Helvick Head (Co. Waterford), also on 16th, while Balearic Shearwaters nudged into double figures during the week.

Long-tailed Skua, Balranald RSPB, N.Uist, Outer Hebrides (Photo: Sandy Morrison)
Two Cattle Egrets were seen at Pyle (Glamorgan) on 13th, but weren't seen subsequently. Breeding birds aside, the only other reports of the week came from Brading Marshes (Isle of Wight) on 17th and Preesall (Lancashire) on 19th. Single Great White Egrets were at Slimbridge (Gloucestershire) on 14th; Earls Barton GPs (Northamptonshire) on 15th; Knapps Loch (Clyde) on 16th (presumably the bird seen recently at Gilmourton); Seaton Common (Cleveland) on 18th, moving to Saltholme Pools on 19th; and at Blakeney and Cley on 19th–20th. At least 40 Spoonbills were noted from 23 different counties this week, with three again at Inner Marsh Farm (Cheshire) on 16th and four over Flamborough Head (East Yorkshire) on 19th and along the north Norfolk coast on 20th. Two Spoonbills were seen at Willen Lake (Buckinghamshire) on 14th–15th. What may have been the same two roving Common Cranes were seen in Worcestershire, Derbyshire and Nottinghamshire on 14th and Leicestershire on 19th, while four flew over Little Paxton (Cambridgeshire) on 15th. Also on 19th, a Common Crane was near Loch Davan (Aberdeenshire). The only White Storks of the week were seen over Falkirk (Forth) on 17th and near Glamis (Angus) on 19th.

Spoonbill, Conwy RSPB, Conwy (Photo: Steve Round)
An early-morning flyover Purple Heron was at Dungeness (Kent) on 17th and one was at Chew Valley Lake (Somerset) on 20th; one was seen there on 10th–11th, but was this another individual? On Scilly, both male and female Little Bitterns were seen around St. Mary's this week: a female was at Lower Moors on 14th with a male flushed there on 16th. The female was then seen again on 18th. The week's star marsh-dweller though was the first-summer Squacco Heron that arrived at Felixstowe Ferry (Suffolk) on 18th and was seen briefly on the following two days. This glorious Mediterranean heron is still desperately rare in Suffolk. A one-day bird at Minsmere in 2007 is the only modern-day record; the most recent before that was in May 1912.

Little Bittern, St. Mary's, Isles of Scilly (Photo: Steve Arlow)
Not surprisingly, this has been a quiet week for wildfowl. Five Snow Geese were on South Ronaldsay (Orkney) on 14th. The drake Lesser Scaup was still at Loch of Benston (Shetland) to 16th, reappearing at Loch of Freester on 18th, while Ferruginous Ducks included a female at Lenwade (Norfolk) on 14th and a male still at Chew Valley Lake (Somerset) on 15th, joined by a second drake (from Wimbleball Lake?) on 17th. The only Green-winged Teal this week remained on Loch Stiapavat, Lewis (Outer Hebrides).
The wing-tagged White-tailed Eagle remained around Shetland this week, while late Rough-legged Buzzards were noted in Leicestershire and Northamptonshire, on 14th and 16th respectively, with singles on 20th at Loch of Strathbeg (Aberdeenshire) and Deerness (Orkney). A rather more typical raptor for the time of the year is Black Kite and one was seen at three sites along the Somerset coast (Steart, Berrow and Burnham-on-Sea) on 14th. The Black Kite was associated with another significant movement of Red Kites: an amazing 15 birds were noted at Berrow. In Norfolk, a Black Kite was seen at Holkham and along the coast to Titchwell on 15th, with singles on 17th at Ower (Hampshire) and Goss Moor (Cornwall). Hampshire scored again with a Black Kite near Hook on 19th with Kent securing another on 20th, one seen at Dungeness.
An adult male Red-footed Falcon was at Flamborough Head (East Yorkshire) on 17th–18th and females were seen at Grove Ferry (Kent) on 16th and near Snetterton (Norfolk) on 18th. At least one Honey Buzzard was back at the regular summer spot of Swanton Novers (Norfolk) by 16th. The romantic would like to think that the Honey Buzzard appearing in off the sea and heading inland just to the east of Cley on 15th was perhaps the same bird — if the Swanton bird was a slightly "moulty"-looking female, they may be right! A Snowy Owl was again on mainland Orkney on 14th, while another was seen near Lahinch (Co. Clare) on 17th (having been present since early in the month). On 19th, a Snowy Owl was seen on the Inishkea Islands (Co. Mayo).
The popular Black-winged Pratincole stayed in Kent until 20th. The first Collared Pratincole for twelve months arrived at Salthouse (Norfolk) on 15th and moved around the "Cley square" to 20th. This most famous of birding spots has enjoyed a real purple patch of late, the words "just like the old days" heard from more than one resident birder this week!

Black-winged Pratincole, Grove Ferry NNR, Kent (Photo: Adrian Dowling)

Collared Pratincole, Cley Marshes NWT, Norfolk (Photo: Gary Thoburn)
In Cleveland, a Pectoral Sandpiper remained at Saltholme Pools to 16th while at least 25 Temminck's Stints were recorded this week, with up to seven in Norfolk, five in Yorkshire and three in Cambridgeshire. Numbers of Dotterel fell a little this week, though 100 or so were noted. Double-figure trips from last week remained in Cambridgeshire and the Outer Hebrides, while a new group of 10 was seen near St. Combs (Aberdeenshire) on 16th. The female Kentish Plover at Dawlish Warren (Devon) was last seen on 14th, while the crowd-pleaser at Cley Marshes (Norfolk) was last seen on 15th. A Red-necked Phalarope was seen at Bru, Lewis (Outer Hebrides) on 20th.

Temminck's Stint, The Hythe, Essex (Photo: Stuart Read)

Temminck's Stint, Swine Moor, East Yorkshire (Photo: Martin)

Dotterel, Danby Beacon, North Yorkshire (Photo: Mick Brennan)

Kentish Plover, Cley Marshes NWT, Norfolk (Photo: Richard Bayldon)
Last week's hooded Nearctic gull representative on Shetland was the super adult summer Franklin's Gull; this week it was an adult summer Laughing Gull, seen at Boddam on 17th–19th and surely the bird seen earlier in the month out on Foula. For the first time in what seems like an age, numbers of Iceland Gulls barely struggled to double figures this week, with just 11 birds seen (after 55 were noted last week). Of those, six were in Ireland (three of them at Nimmo's Pier in Galway). On Shetland, a Kumlien's Gull was still on Whalsay on 19th. Glaucous Gulls totalled just five individuals. Three first-summer Ring-billed Gulls were at Cuskinny Marsh (Co. Cork) on 17th and further first-summers were on Cross Lough (Co. Mayo) on 16th and again at Lough Neagh (Co. Antrim) on 18th. An adult Ring-billed Gull at Athlone (Co. Westmeath) on 19th was the first county record.

Ring-billed Gull, Antrim, Antrim (Photo: Derek Charles)
A White-winged Black Tern at Covenham Reservoir (Lincolnshire) on 14th was one of up to three birds seen during the week. Another to appear on 14th was at Livermere Lake (Suffolk) while the third was at Guardbridge (Fife) on 18th. In Wexford, the Forster's Tern was again at Tacumshin on 17th.

White-winged Black Tern, Guardbridge, Fife (Photo: John Anderson)
Content continues after advertisements
On Merseyside, the Pallid Swift reappeared around Crosby and Seaforth on 14th, popping up again on 16th–17th. On Scilly, a showy Pallid Swift was seen on St. Mary's on 17th and again on 19th–20th. The only Alpine Swift of the week was at Dryslwyn (Carmarthenshire) on 16th. This was only the second county record: the first was in April 1998. A Bee-eater was at Auchmithie (Angus) on 17th, and the same day brought news of a flock of five birds at Donna Nook (Lincolnshire); this group were first noted on 16th. The same county saw three birds arrive at Humberston Fitties on 18th, when one was seen at Barns Ness (Lothian) and perhaps even the same bird then emerged at Elie (Fife) on 19th. The largest group of the week though was six at Langton Herring (Dorset), seen on the evening of 20th.
Two Red-rumped Swallows were on St. Mary's (Scilly) on 14th (with at least one still present to 20th). Single birds were seen at Burnham Norton and Titchwell (Norfolk) on 16th, when one was at Dungeness (Kent). The two days that followed saw two more single Red-rumped Swallows appearing in the county, at Grove Ferry on 17th and at Deal on 18th. Further north, in Fife, a Red-rumped Swallow was seen near Elie, also on 18th, appearing again on 19th. Further singles on 20th flew past Spurn (East Yorkshire) and Cowpen Bewley (Cleveland).

Red-rumped Swallow, St. Mary's, Isles of Scilly (Photo: Steve Arlow)
A Hoopoe spent 15th–16th at Great Ryburgh (Norfolk) and could even have been the bird seen last week heading strongly inland from Cley. Perhaps surprisingly, given the range and (in some cases) number of classic May "fall" species, only seven (or eight) Wrynecks were seen this week: singles in Norfolk, in Fife, on Foula, Whalsay and Out Skerries (Shetland) and two birds on Fair Isle on 15th.

Hoopoe, Great Ryburgh, Norfolk (Photo: Gary Thoburn)
The highest single spring weekly tally of Bluethroats for many years was perhaps one of the highlights of this week — at least 65 birds were noted (and quite possibly several more than that). Well over 55 of them were on Scottish islands but three were on the Scottish mainland, all in Aberdeenshire; the sole English records came from Northumberland, two birds on Holy Island and one on the Farnes. A grand total of at least 15 birds were counted on Fair Isle on 16th. Some 25–30 were seen elsewhere around Shetland, including five on Out Skerries on 17th, while Orkney came in with at least 13 birds, eight of them on North Ronaldsay on 15th. There were two birds each for the Outer Hebrides and the Isle of May (Fife).

Bluethroat, North Ronaldsay, Orkney (Photo: Paul A Brown)

Bluethroat, Holy Island, Northumberland (Photo: Colin Evans)
Another classic May bird is Thrush Nightingale and, after a probable at Spurn on 15th, single birds on 16th were found at Kilnsea (East Yorkshire), Donna Nook (Lincolnshire), Thorpeness (Suffolk) and Sands of Forvie (Aberdeenshire) — this last bird was identified the following day.
Nine Red-backed Shrikes were also found this week as "fall fever" gripped east-coast folk, single birds spread randomly from Suffolk to Shetland, though the female on Mizen Head (Co. Cork) was the joker in the pack. Meanwhile, it was the far southwest of England that held two of the three Woodchat Shrikes this week. One lingered on Bryher (Scilly) to 16th with another found at Lower Sharpenose Point (Cornwall) the previous day. A first-summer male was found at Friary Hills, Blakeney (Norfolk) on 19th, moving a little further to the west on 20th.

Woodchat Shrike, Blakeney Freshmarsh, Norfolk (Photo: Craig shaw)
A typical dashing summer Red-throated Pipit was on Brownsman Island, Farnes (Northumberland) on 15th and another was on Fair Isle on 18th, while the singing male on St. Agnes (Scilly) was last seen on 14th. The 14th was also the final date for the rather natty, and very popular, female Citrine Wagtail found last week at Cley Marshes (Norfolk). As if that wasn't enough, a lovely male Black-headed Wagtail paid a brief visit to nearby Kelling Water Meadows on 20th, lingering long enough for a gripping record shot to be taken!

Citrine Wagtail, Cley Marshes NWT, Norfolk (Photo: Craig shaw)

Black-headed Wagtail, Kelling, Norfolk (Photo: Nigel Rogers)
Migrant Golden Orioles this week scored nine for England and one each for Scotland, Wales and Ireland, while what may be the final Waxwing for a while was heading home from Baltasound, Unst (Shetland) on 15th.
Icterine Warblers also put in an impressive showing this week: over 40 birds were found. In England, up to seven were in East Yorkshire, including at least three at Spurn on 15th, and up to six in Kent (all on 14th) included three at Dungeness. Perhaps as many as 15 birds were spread across Shetland, including three on Fair Isle on 18th and three on Whalsay on 19th. Notable singles were in Dorset (two there), on Bardsey island (Gwynedd) and in Highland. Two Melodious Warblers were in Suffolk this week: a singing male was at Landguard NR on 17th–18th and the other was trapped and ringed at Orford Ness, also on 17th. Another Melodious Warbler was seen on the Great Orme peninsula (Conwy), on 17th — this bird was initially identified as an Icterine, but the identification changed when photos were reviewed. Orkney scored with a male Subalpine Warbler this week, on North Ronaldsay on 16th (remaining to 18th). On Shetland, two males were found. The first was on Foula (what a seriously good spell that island is enjoying!) on 17th; this bird still present on 19th. Also on 19th, an Eastern Subalpine Warbler was trapped and ringed at Scousburgh, Mainland. A female was found at Sands of Forvie (Aberdeenshire) on 18th.

Icterine Warbler, North Ronaldsay, Orkney (Photo: anon)

Melodious Warbler, Landguard NR, Suffolk (Photo: Chris Mayne)

Subalpine Warbler, Foula, Shetland (Photo: Russell Wynn)

Subalpine Warbler, North Ronaldsay, Orkney (Photo: Paul A Brown)
At the other end of the country, the sometimes-singing male Great Reed Warbler was still around Porth Hellick Pool, St. Mary's (Scilly) until 16th, while the Savi's Warbler in the Lee Valley (Essex) was still in good voice to 17th at least. The first Marsh Warbler of the year was found at Minsmere (Suffolk) on 14th and it was perhaps surprising that more didn't arrive in the optimum conditions this week — things ain't what they used to be! In Hampshire, the problematic presumed Iberian Chiffchaff was still at Brockenhurst from 14th–17th.

Great Reed Warbler, St. Mary's, Isles of Scilly (Photo: Steve Arlow)
In Dorset, Serins were seen on Portland on 14th, 15th and 16th and another was seen near East Prawle (Devon) on 18th. The first Rose-coloured Starlings of the spring arrived on 19th, at Arnside (Cumbria) and Evie (Orkney). After a late report of an Ortolan Bunting last week on Mull, this week saw one appear at Flamborough Head (East Yorkshire) on 17th, appearing again on 18th. Another Ortolan was at Pilling Moss (Lancashire) on 20th. This week's review concludes with the cracking male Rustic Bunting found at Brough, Whalsay (Shetland) on 15th, remaining to 16th.
Photo of the Week

White-tailed Eagle, Skye, Highland (Photo: Dave Perrett)
One of the key factors for successful flight photography is the choice of the right lighting conditions. In fact, most serious bird photographers who specialise in flight shots don't even bother taking their cameras out on 'white sky days'. Direct sunlight can cause problems with high contrast, but a good blue-sky backdrop is worth the extra care needed. Dave Perrett's action shot of a banking White-tailed Eagle is a good example. The pose of the eagle and the shape it forms against the sky make for an arresting image that conveys the size and strength of the species.

Spoonbill, Conwy RSPB, Conwy (Photo: Steve Round)

Common Kingfisher, Turkey (Asian) (Photo: Mehmet Goren)

Wood Warbler, undisclosed site, Gwynedd (Photo: Richard Steel)

Willow Warbler, Minsmere Heath, Suffolk (Photo: Jon Evans)

Black-headed Gull, East Walton, Norfolk (Photo: Stephen Durrant)

Dotterel, Stanage Edge, Derbyshire (Photo: Dave Hutton)

Common Sandpiper, East Walton, Norfolk (Photo: Stephen Durrant)

Dunlin, Hightown, Lancashire (Photo: David Cookson)

Lapwing, Summer Leys LNR, Northamptonshire (Photo: Richard Bedford)

Peregrine Falcon, Manchester, Greater Manchester (Photo: A.Dancy)

Puffin, Bempton Cliffs RSPB, East Yorkshire (Photo: Ben The Plumber)

Whinchat, Dunwich Heath NT, Suffolk (Photo: Jon Evans)

Dartford Warbler, undisclosed site, Devon (Photo: John Fielding)

Black Tern, Cley Marshes NWT, Norfolk (Photo: Richard Bedford)

Common Swift, Grove Ferry NNR, Kent (Photo: Chris Upson)

Garganey, Buckton, East Yorkshire (Photo: Steve Race)