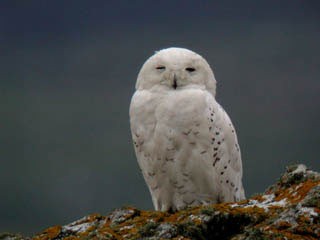 Snowy Owl: North Uist, Outer Hebrides. (Photo: Dave Pullan)
A superb Snowy Owl was a slightly unseasonable find at Greintobht on North Uist (Outer Hebrides) on 14th. Nowadays this arctic owl is quite a rarity and it is amazing to think that as recently as the late 1960s and 1970s 20 young were fledged on Fetlar (Shetland). Many would have wished that this cracking bird had made landfall in a slightly more accessible location, but from an aesthetic viewpoint where could be more suitable!
| | |
| --- | --- |
| | |
| Red-backed Shrike: Felistowe Ferry, Suffolk. A handful of birds were present during the week. (Photo: Pete Merchant) | Hoopoe: Cherry Hinton, Cambs. A good inland find, this bird was typically mobile, but showed well. (Photo: Mike Lawrence) |
| | |
| --- | --- |
| | |
| Aquatic Warbler: Several birds included one sporting a Belgian ring. (Photo: Mike Richardson) | Aquatic Warbler: Unfortunately none showed well, and most were the product of an early morning ringing session. (Photo: Mike Richardson) |
The pace is starting to quicken for rare and scarce migrants. Two Greenish Warblers during the week included birds at Funzie Burn, Fetlar (Shetland) and North Ronaldsay (Orkney) on the 20th. A supporting cast of scarcities included an Icterine Warbler at North Ronaldsay from 18th-20th, with an Ortolan Bunting there on 18th and another at Portland (Dorset) on 20th. Barred Warbler reports included one on Fair Isle (Shetland) on 18th with 3 on the 20th, with others on Shetland at Foula (Shetland) from 19th-20th, Fetlar on 19th and Hermaness on 20th. The Common Rosefinch remained on Unst (Shetland) to at least the 16th and Red-backed Shrikes included birds at Felixstowe Ferry (Suffolk) from 14th-16th, Tresco on 16th and St. Mary's (Scilly) on 17th and Minsmere (Suffolk) from 17th-18th. A couple of Aquatic Warblers were trapped during the week. One at Kenfig Pool (Glamorgan) was sporting a Belgian ring, and another was trapped at Orford Ness (Suffolk) the same day (following one trapped there on 13th). Birds were reported from Marazion (Cornwall) on 15th and 16th Gileston (Glamorgan) and the 2nd and 3rd of the autumn were trapped on Guernsey where the male Fan-tailed Warbler (Zitting Cisticola) remains. A Wryneck was at Berkley Power Station (Gloucs) on 19th and a Hoopoe was at Yardley Gobion (Northants) on 17th with the bird at Cherry Hinton (Cambs) last seen on 15th.
| | |
| --- | --- |
| | |
| Lesser Yellowlegs: Dorman's Pool, Cleveland. The first record for this well-watched county. (Photo: Tom Francis) | Pectoral Sandpiper: St. Mary's, Scilly. A striking juvenile at Porth Hellick Pool. (Photo: Bob Flood) |
| | |
| --- | --- |
| | |
| Red-necked Phalarope: King's Lynn, Norfolk. Following two in July this is the third of the autumn. (Photo: Gillian Simpson) | Semipalmated Sandpiper: Fair Isle, Shetland. Last week's bird was the second for this famous island. (Photo: Deryk Shaw) |
As would be expected, rare waders were prominent in our reports. The Lesser Yellowlegs remained at Dorman's Pool (Cleveland) to 14th, and many will be surprised to find that this is the first record for a county spoilt for rare waders over the years. Two Lesser Yellowlegs were also reported from the Welsh Wildlife Centre (Pembrokeshire) on 19th. At least 8 Pectoral Sandpipers were present during the week including a juvenile on St. Mary's (Scilly). There were 6 reports of Temminck's Stints, with singles at: Greatham Creek (Cleveland) on 14th and 16th; Wall Farm NR (Shrops) from 16th-17th, Welney WWT (Norfolk) from 17th-20th; Belvide Reservoir (Staffs) from 18th-20th; Cantley (Norfolk) from 18th-19th and Farlington Marshes (Hants) on 20th. A Red-necked Phalarope was at King's Lynn (Norfolk) from 19th onwards and a Dotterel on Bardsey (Gwynedd) on 20th. A Gull-billed Tern was at Lough Swilly (Co. Donegal) from 16th onwards and White-winged Black Terns were on the Lune Estuary (Lancs) from 14th onwards, at Tophill Low Reservoir (E. Yorks) on 15th and the long-staying Northumberland bird is still in situ at East Chevington.
Content continues after advertisements
| | |
| --- | --- |
| | |
| Great White Egret: Rutland Water, Leics. An obliging distraction for those travelling to the Bird Fair. (Photo: Steve Blain) | White-winged Black Tern: Lune Estuary, Lancs. This moulting adult continues a good late summer for the species so far. (Photo: Philip Tomkinson) |
A run of light onshore winds along the east coast finally gave seawatchers some cheer, their spirits lifted by nearly 40 Long-tailed Skuas, many of which were adults. Maximum counts included 9 past Strathy Point (Highland) on 17th and 6 past Flamborough Head (E. Yorks) on 16th. An inland dark-morph juvenile was a good find at Queen Mother Reservoir (Berks) on 17th. Associated with this were slightly fewer Pomarine Skuas. Just one Wilson's Storm-petrel was seen during the week, with one from a pelagic off Co. Donegal on the 15th. A Great White Egret proved a nice distraction for visitors to the Bird Fair at Rutland Water, and others were reported in Lincolnshire and Dorset, with a Cattle Egret reported in Lincolnshire on the 19th. New Red-footed Falcons included a 1st-summer male at Wicken Fen (Cambs) on 20th and a female on the Ythan Estuary (Aberdeenshire) also on 20th. In Lincolnshire the 1st-summer male Red-footed Falcon remains at Deeping Fen. In Somerset the female Blue-winged Teal remains at Chew Valley Lake and Spotted Crakes include the bird at Marazion, with others at Hook-with-Warsash LNR (Hants), Belvide Reservoir and Chew Valley Lake. With low water levels at many sites others can be expected in the coming weeks.
| | |
| --- | --- |
| | |
| Blue-winged Teal: Chew Valley lake, Somerset. An unseasonable female. (Photo: Gary Thorburn) | Glossy Ibis: Bowling Green Marsh, Devon. The immature remains as obliging as ever. (Photo: Phil Stidwill) |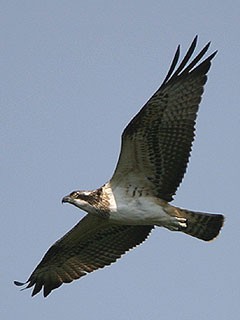 Osprey: Highland. A number have been seen over the last week and are always a welcome presence on a local waterway. (Photo: Steve Round)