In what will undoubtedly go down as one of the birds of the year, if not the decade, Britain's first Rufous-tailed Scrub Robin in just over 40 years awoke many twitchers from their weekend slumber early in the morning of 17th. Last recorded in August 1980 (a one-dayer at Prawle Point, Devon), it is as far back as 1963 when an individual was last twitchable in the UK, at Butlin's Holiday Camp in Skegness, Lincolnshire, from 2-9 September – with many hearing about it by postcard! The species had, for good reason, achieved near-mythical status in Britain, a tantalising status that wasn't helped by several records across western Europe in the past decade, including birds in The Netherlands (three), Norway, Finland and Germany, with two of those coming earlier this year. Achieving wide acclaim in the national press, it remained along its favoured stretch of coast at Stiffkey, Norfolk, until 20th at least.

Rufous-tailed Scrub Robin, Stiffkey, Norfolk (Kevin Elsby).
Rufous-tailed Scrub Robin, Stiffkey, Norfolk (Peter Garrity).
Photographs of a Red-breasted Flycatcher found on 14th at South Shields, Co Durham – the site of Britain and Ireland's first Eastern Crowned Warbler – appeared to show a very cold, greyish individual, with an all-black bill. All features highly suggestive of Taiga Flycatcher, it transpired to be Britain's fourth record and the first since 2008. Crucially, the bird's uppertail coverts are clearly blacker than the tail, the main distinguishing feature from the closely related Red-breasted Flycatcher. Indeed, the two taxa were only split as recently as 2004. Other features include white tertial tips, all-white orbital ring and a distinctive 'capped' appearance. Last noted on 18th, recordings of the bird's call during its five-day jaunt helped to prove the identity beyond doubt, showing a long rattle much faster and more condensed than in Red-breasted, while a faecal sample should hopefully yield supporting DNA evidence.

Taiga Flycatcher, The Leas, S Shields, Durham (Frank Golding).
Taiga Flycatcher, South Shields, Durham (Matthew Mellor).
Kent's first Masked Shrike – a first-winter – was another of the week's big hitters, residing on the county's north coast at Reculver on 17-18th. A different bird to the one at Hartlepool Headland just under two weeks prior, this fifth for Britain puts the species very much on the radar of east-coast birders, as well as those further afield.

Masked Shrike, Shuart, Kent (Terry Laws).
The Mainland Shetland site of East Burrafirth hosted a notable double act on 16th, with a Lanceolated Warbler there alongside Shetland's fifth Blackpoll Warbler. The island chain's first since an individual on Fair Isle in October 2009, the Blackpoll hung on until the end of the week at least, while the Lancy was still present until 17th.

Blackpoll Warbler, East Burrafirth, Mainland, Shetland (Mick Kemp).
After her brief visit to Kent at the end of last week, the wandering Bearded Vulture had made it as far as the East Sussex coast by 14th, pitching down into a field just north of Beachy Head. Roosting in a nearby tree for the night, near-perfect conditions for an sea crossing the next day led to an attempted departure early afternoon, before nerves got the better of her and she U-turned back to the safety of the Sussex coastline. Not to be perturbed, barely an hour later she tried again, disappearing high out to sea across the English Channel. So long, 'Vigo', and safe skies.

Bearded Vulture, Beachy Head, East Sussex (John Wall).

Bearded Vulture, Beachy Head, East Sussex (Adam Huttly).
One of the more controversial birds of the week concerned a tricky shrike at Johnny Brown's Common, West Yorkshire, from 18th. First suspected as being an adult Brown Shrike, photographs posted that evening suggested something altogether rarer – a potential Red-tailed Shrike, a species with just seven accepted records. Opinions switched back and forth both online and on site over the next couple of days, before falling mostly on the side of a slightly atypical adult Brown Shrike on the evening of 20th. Whatever your particular persuasion is, it is certainly a fascinating bird that is well worth seeing – and one that remained in place as we went to press.

Brown Shrike, Johnny Brown's Common, West Yorkshire (Peter Garrity).
Brown Shrike, Johnny Brown's Common, West Yorkshire (Peter Hines).
On Lundy, Devon, the White's Thrush remained until 17th, while a brief individual was on Inishbofin, Co Galway, the previous day. In Kent, Dungeness NNR's third Short-toed Treecreeper of the year was in the Old Lighthouse garden on 14th. The week concluded with an attractive member of the Emberiza family – a female Pine Bunting – in Shetland at Skaw, Unst, on 20th.

Short-toed Treecreeper, Dungeness NNR, Kent (Martin Casemore).
In a week that saw a sizeable arrival of apparent Stejneger's Stonechats, individuals at Holkham Freshmarsh, Norfolk (from 16th) and South Gare, Cleveland (from 17th), had their DNA collected, a current requirement for acceptance. Other solid candidates were at Warham Greens, Norfolk, and Medmerry RSPB, West Sussex, both on 20th and both looking the full ticket. In contrast, a classic Siberian Stonechat proved a showy superstar on Gugh, Scilly, from 16th, while unassigned Siberian/Stejneger's Stonechats were on private land at Constantine Bay, Cornwall, on 16th and at North Foreland, Kent, on 15-16th.

Stejneger's Stonechat, South Gare, Cleveland (Martyn Sidwell).

Siberian Stonechat, Gugh, Isles of Scilly (Richard Stonier).
A Parrot Crossbill on 18th at Sandwich, Kent, was an excellent record, as were confirmed birds at Sullom, Mainland Shetland, on 16th and two at Dunwich Heath NT, Suffolk, on 19th. Elsewhere, probables flew over Gibraltar Point NNR, Lincolnshire (20th), Holkham Pines, Norfolk (five on 20th). Hornemann's Arctic Redpolls were on Unst, Shetland, at Baltasound from 14-17th and Norwick on 19-20th, the latter alongside a Coues's Arctic Redpoll, while a Rustic Bunting at the North Yorkshire hot-spot of Filey was a solid find on 14th. A Brown Shrike was the highlight amid an impressive fall of eastern vagrants on Holy Island, Northumberland, on 14th, remaining throughout. Another first-winter was at Chapel Porth, Cornwall, on 16th.

Brown Shrike, Holy Island, Northumberland (Frank Golding).
Often seen as the harbinger of the impending winter, the first Desert Wheatear of the year was at Boulmer, Northumberland, from 18th. Another classic late-autumn migrant, a brief Hume's Leaf Warbler was on Shetland at East Burrafirth, Mainland, on 18th. A confusingly pale Great Reed Warbler – it is no surprise that the finders initially suspected it of being a Paddyfield Warbler – was in Devon at Yelland Pond on the same date.

Great Reed Warbler, Yelland, Devon (Ben Lucking).
A new American Buff-bellied Pipit was noted on St Agnes, Scilly, on 14th, remaining in place until 18th. Scilly's other Nearctic passerine – the Bryher Swainson's Thrush – lingered until 15th. Meanwhile, Red-throated Pipits were recorded from St Levan, Cornwall (15th), Calthorpe Broad NNR (15th) and Sea Palling, Norfolk (16th), Fair Isle, Shetland (until 16th), Scarborough, North Yorkshire (18th) and Oglet, Lancashire (18th), as well as on St Mary's and Tresco, Scilly.

American Buff-bellied Pipit, St Agnes, Isles of Scilly (Terry Laws).
Just one Snowy Owl was reported this week, that being the popular male at Ronas Hill, Mainland Shetland, on 18th.
An adult Pacific Diver was in Blacksod Bay, Co Mayo, on 18th and four Blue-winged Teal remained in the Outer Hebrides at Baleshare, North Uist, while the drake King Eider and drake American Black Duck were still to be found at Findhorn, Moray & Nairn, and Strontian, Highland, respectively.
Richardson's Cackling Geese were at no fewer than three sites on Islay, Argyll, namely Ballinaby, Loch Gorm and Loch Gruinart RSPB, while a further two Cackling Geese were at the Hebridean site of Loch Paible, North Uist, until 14th. In Highland, the returning adult Grey-bellied Brant was last seen at Castle Stuart on 15th.
In Hampshire, the wonderfully tame Wilson's Phalarope remained at Keyhaven Marshes throughout, while the juvenile Pacific Golden Plover at Findhorn Bay, Moray & Nairn, lasted until 19th. Meanwhile, the Kentish Plover at Berrow, Somerset – last reported on the 9th – reappeared in exactly the same spot on 20th. Where it has been in the meantime?

Wilson's Phalarope, Pennington Marshes, Hampshire (Richard Jacobs).
Of Nearctic persuasion, a juvenile Spotted Sandpiper was a fresh arrival at Croy, Ayrshire, on 16th, remaining until 19th. Elsewhere, a Baird's Sandpiper made a pit-stop at Steart WWT, Somerset, on 18th and a new juvenile Semipalmated Sandpiper was in Co Kerry. Unsurprisingly, the Cumbrian Long-billed Dowitcher remained at Old Anthorn, too.

Spotted Sandpiper, Croy, Ayrshire (Dave Grant).
Finally, it's well worth giving a shout-out to this week's huge influx of Red-flanked Bluetails, and Dusky and Pallas's Warblers. In excellent conditions for arrivals, each species appeared in great numbers – bluetails tallied no fewer than 24, while perhaps 45 Dusky Warblers likely make it a record seven days for both species in Britain. At least 55 Pallas's Warblers was also stunning showing. A fuller breakdown of where these were seen follows in the regional sections.
Scottish mainland
In Aberdeen, the Hoopoe bid its goodbyes from Pittodrie stadium on 14th, and is possibly the bird photographed at nearby Rora on 20th. Another was at Dornoch, Highland, on 18th. Three Pallas's Warblers were sighted in the region – at Dowlaw and Mire Loch, Borders, and Collieston, Aberdeenshire.
The White-winged Tern remained at Cairnryan, Dumfries & Galloway, until 18th, a Glossy Ibis was at Tayport, Fife, on 16th, and at least one Northern Bottlenose Whale was still at Arrochar, Clyde, until 18th. No fewer than five Todd's Canada Geese were noted – at Inverness Airport (two) and Munlochy Bay, Highland, Loaningfoot, Dumfries & Galloway, and Linwood, Clyde. In the far north, the returning drake American Wigeon was again at Loch Watten from 18th, while the intermediate-morph Snow Goose and Surf Scoter remained at Kildary, Highland, and Musselburgh Lagoons, Lothian, respectively.
A Dusky Warbler was the highlight on Tiree, Argyll – at Balephuil on 14th, while the adult Rosy Starling was still in place at Bowmore, Islay, on the 19th. Elsewhere on the island, Todd's Canada Geese were with Barnacles at Loch Gorm and Loch Gruinart RSPB.

Dusky Warbler, Balephuil, Tiree, Argyll (John Bowler).
Northern Isles and the Hebrides
Shetland was adorned by no fewer than two Richard's Pipits on 14th (at Geosetter and Garths Ness), while Dusky Warblers were at Quendale and Swinister, and a Bluethroat remained at Skaw, Whalsay. The Mainland also hosted an Arctic Redpoll at Sandness, Blyth's Reed Warbler at Spiggie and a Red-flanked Bluetail at Sandwick, while a White-billed Diver was in South Nesting Bay on 18th. A Greater Short-toed Lark lingered at Funzie, Fetlar, while four more Arctic Redpolls were at Norwick, Unst.

Red-flanked Bluetail, Sandwick, Mainland, Shetland (Mick Kemp).
A Greater Short-toed Lark on Fair Isle was accompanied by a Red-flanked Bluetail, Dusky Warbler, Red-breasted Flycatcher, two Bluethroats, Hawfinch, two Great Tits, Greenland Redpoll and three Ring Ouzels, while Little Auks, Glaucous Gulls and blue-morph Northern Fulmars hinted at the impending winter months.

Greater Short-toed Lark, Fair Isle, Shetland (Daniel Gornall).
At least one of the Snow Geese in Orkney remained with Greylags at Eastside, South Ronaldsay, on 17th, with a returning White-billed Diver off the north end of Papa Westray on the same date. On North Ronaldsay, highlights included a Little Bunting, Common Rosefinches, Little Auks and no fewer than 18 Siberian Chiffchaffs.
In the Outer Hebrides, a Red-flanked Bluetail was at Brevig, Barra, from 17-20th and a Rosy Starling was at Stumore, North Uist, on 19th, while the Pectoral Sandpiper remained on The Range, South Uist, until 18th. An impressive nine-hour vigil off Tiumpan Head, Lewis, on 18th saw a Long-tailed Skua alongside three Pomarine Skuas, three Sooty Shearwaters, Fin Whale, two Humpback Whales and three Common Minke Whales.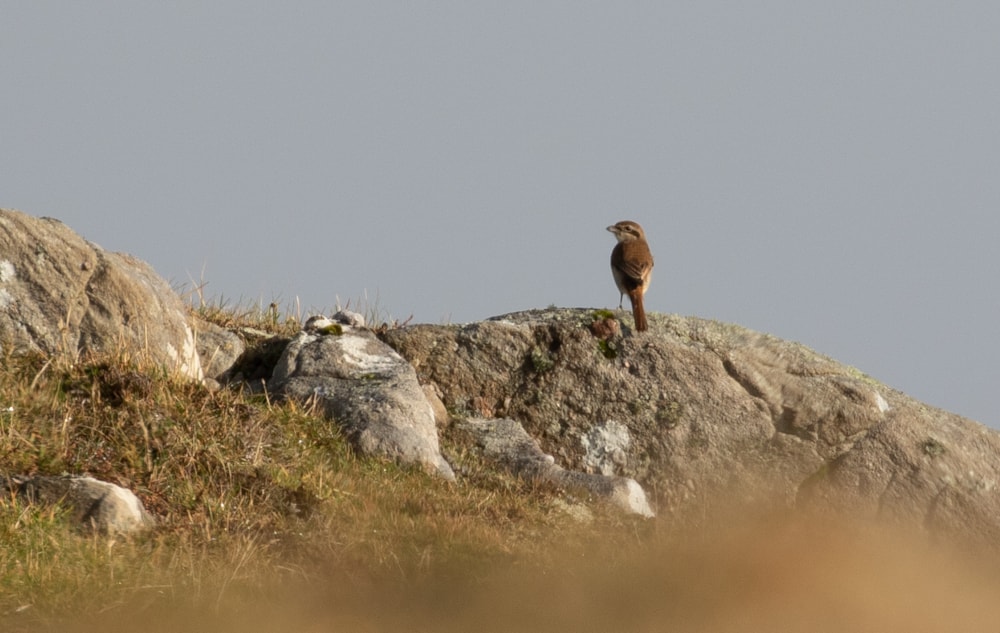 Brown Shrike, Fair Isle, Shetland (Daniel Gornall).
North-East England
In Northumberland, Holy Island had a rather strong week, with no fewer than two Red-flanked Bluetails alongside two Dusky Warblers, Pallas's Warbler, Rosy Starling and a Little Bunting. Hoopoes were at Woodhorn on 18th and Newbiggin-by-the-Sea on 20th, with another reported at Cresswell Pond NWT on 15th. Away from Holy Island, a Dusky Warbler was at Newbiggin-by-the-Sea from 18th, while Low Newton-by-the-Sea hosted a probable Siberian Lesser Whitethroat (trapped and ringed) and two Pallas's Warblers. A popular Red-flanked Bluetail was in Whitley Bay cemetery from 17-19th, while another was at Bamburgh from 18th, joined by a second bird from 20th.

Red-flanked Bluetail, Holy Island, Northumberland (Colin Bradshaw).
Whitburn Coastal Park, Durham, hosted an Olive-backed Pipit on 15-16th, trapped and ringed on the latter date, while a Little Auk, Long-tailed Skua and Grey Phalarope flew past offshore. The site also hosted a Firecrest from 19th, with a Richard's Pipit over nearby Seaham on 16th. The Taiga Flycatcher at Trow Quarry, South Shields, was joined by a Pallas's Warbler from 17th. A trio of Waxwing, Ring Ouzel and Hawfinch were sound-recorded over Jarrow during the week, demonstrating the benefits of regular noc-mig sessions.

Pallas's Warbler, The Leas, S Shields, Durham (Paul Coombes).
South Gare was the place to be in Cleveland this week, scoring a Greater Short-toed Lark from 14-19th as well as Dusky Warbler, Great Grey Shrike and Firecrest. A Hoopoe was briefly at the Tees Barrage, Stockton-on-Tees, early on 14th, two Tundra Bean Geese were at Scaling Dam Reservoir until 16th, and Pallas's Warblers were at both Skinningrove (14th) and Hunley Hall, Brotton (15-16th).

Firecrest, South Gare, Cleveland (Mark Stokeld).
North-West England
Anthorn held onto the Pectoral Sandpiper for another week. Elsewhere in Cumbria, Great Grey Shrikes made brief appearances at Brownrigg on 17th and Oldside, Workington, on 18th. Yellow-browed Warblers were at three sites through the week.
A flyover Richard's Pipit at Cabin Hill NNR on 16th was a nice addition to Lancashire's year list. Meanwhile, the returning drake Ring-necked Duck continued its commute between Pine Lake and Leighton Moss RSPB. The constant movement of geese produced a new-in Tundra Bean Goose at Banks on 19th, while the injured adult remained at Marshside RSPB. A Woodlark was a brief visitor to Sunderland Point on 15th, and Yellow-browed Warblers were at a respectable eight sites.
In Cheshire, a Hoopoe was reported from Elton on the afternoon of 18th. Richard's Pipits were well represented at a county level this week, with one west over Hoylake on 14th and another possible over Hale on 17th. The juvenile Black-necked Grebe lingered on at Ashton's Flash, while Yellow-browed Warblers were at six localities.
Yellow-browed Warblers were at two sites in Greater Manchester, while a Twite at Audenshaw Reservoirs on the morning of 16th was a decent local record.

Yellow-browed Warbler, Crawshawbooth, Lancashire (Craig Bell).
Lincolnshire and Yorkshire
This week will long be known for its influx of Dusky Warblers, and no fewer than six were recorded along the Lincolnshire coast between Gibraltar Point NNR and North Cotes. However, it was slightly surprising that only a single Pallas's Warbler could be found in Lincs, given how many were about in general. A stunning male Red-breasted Flycatcher was the bird of the week, though, being discovered at Huttoft Bank on 17th. Saltfleetby NNR produced records of Olive-backed Pipit on 15th and Rough-legged Buzzard on 19th. A Great Grey Shrike arrived at Freiston Shore RSPB on 15th and lingered thereafter. Inland, a Tundra Bean Goose was at Deeping Lakes NR and a Yellow-browed Warbler near Baston.

Red-breasted Flycatcher, Huttoft Bank, Lincolnshire (Garry Wright).
Moving to East Yorkshire, we start with the Spurn area – two Dusky, Radde's, Pallas's and Barred Warblers, Red-flanked Bluetail, two Richard's Pipits and a Bluethroat all figured in the week's highlight reel. Moving up the coast, a Pallas's Warbler was at Holmpton on 16th, with a Richard's Pipit at Grimston the same day. The Flamborough Head area also produced an illustrious list of headline birds, with Red-flanked Bluetail, two Olive-backed Pipits, three Dusky and single Radde's, Pallas's and Barred Warblers, Red-breasted Flycatcher and three Little Buntings.
Reighton Sands, North Yorkshire, held Olive-backed Pipit and Red-breasted Flycatcher, while Filey scored Pallas's and Barred Warblers. Further Pallas's were at Long Nab, and Scarborough and Whitby both hosted Dusky Warblers. Inland, the Lesser Yellowlegs was still at Nosterfield. Records of Mealy Redpoll and Yellow-browed Warbler came from Hatfield Moors, South Yorkshire, while a Great Grey Shrike was at Redmires Reservoirs from 17th and the Green-winged Teal stuck around at North Cave Wetlands.
West Midlands
The juvenile Purple Heron reappeared at Tittesworth Reservoir on 17th and put in sporadic appearances until at least 20th. The Little Stint continued to find Belvide Reservoir to its liking. Over in Shropshire, a juvenile Rosy Starling frequented a private garden in Whitchurch.
Herefordshire scored big on a local scale, with a Richard's Pipit at Wellington GPs on 17th – unfortunately it was brief and there was no further sign. Inland Yellow-browed Warblers are always good value, and one at Stivichall Common, West Midlands, on 19-20th proved popular. In Warwickshire, there was a Water Pipit at Ladywalk NR on 15th and the juvenile European Shag was still at Draycote Water. Five Brent Geese (of unspecified race) were at Upper Bittell Reservoir, Worcestershire, on 18th and Yellow-browed Warblers were at Blackstone and The Birders Store, Worcester.

Purple Heron, Tittesworth Reservoir, Staffordshire (Steven Seal).
East Midlands
Just the mere mention of an inland Red-flanked Bluetail is enough to send shivers down the spines of birders, so imagine the shock when one materialised in Derbyshire! A first-winter was trapped and ringed at a private site near Whitwell on 18th, and there has been no news since. A Lapland Bunting flew north over Carsington Water the same day, while a Yellow-browed Warbler was in Derby on 14th.

Red-flanked Bluetail, Whitwell, Derbyshire (Eleanor Wilkins).
In Nottinghamshire, a first-winter Great Grey Shrike was photographed at Rolleston on 16th, a female Greater Scaup was at Holme Pierrepoint on 14th and there was a Black-necked Grebe on the Sailing Lake at Hoveringham GPs on 16th. The Yellow-browed Warbler remained at Langford Lowfields RSPB. Moving to Northamptonshire, two Common Cranes flew south over Crick Marina on 14th and an Arctic Tern flew east through Stanwick GPs on 15th.
Rutland Water enjoyed Red-necked and Slavonian Grebes, Greater Scaup and Common Scoter. Yet another Leicestershire record of Northern Gannet made its way south over Watermead CP on 15th, a first-winter Little Gull was at Swithland Reservoir on 17-18th and the juvenile European Shag was still being reported at Stoney Cove on 19th. Yellow-browed Warblers were at three localities.

Great Grey Shrike, Rolleston, Nottinghamshire (David Holberton).
East of England
What a week to have been birding in Norfolk! An astonishing 10 Red-flanked Bluetails took the headlines, with no fewer than four in the same small area on the coast just north of Holme-next-the-Sea on 17th, as well as birds at Holme NOA, Burnham Overy Dunes, Holkham Pines, East Hills, Cromer and Waxham.

Red-flanked Bluetail, Waxham, Norfolk (David Rounce).
Just as amazing was a fall of at least 20 Pallas's Warblers in the county, with most appearing on the north coast and including up to five in the Stiffkey area. Nine Dusky Warblers was also a hefty total, while there were also three Olive-backed Pipits, five Great Grey Shrikes, Blyth's Reed Warbler and Little Bunting on offer. An inland Red-backed Shrike was on a housing estate at Hethersett on 19th and at least a couple of Rough-legged Buzzards arrived on the north coast. To fully appreciate this fantastic week in the county, we recommend casting your eye over the week's sightings in full here (subscribers only).

Pallas's Warbler, Stiffkey, Norfolk (Lee Fuller).
No fewer than four Pallas's Warblers were dug out in Suffolk, with birds at Corton, Gunton, Lowestoft and Bawdsey. A Dusky Warbler lingered at Minsmere RSPB on 16-17th and a Barred Warbler was at Dingle Marshes on 17th. No fewer than seven Great Grey Shrikes, including inland birds at Sudbury and Timworth, was an impressive tally.
In Essex, Dusky Warblers were at Frinton-on-Sea from 16th and Holland Haven CP on 17th, with Pallas's Warblers at The Naze on 14th and Shoebury on 18th. A White-tailed Eagle over Hanningfield Reservoir, Essex, on 17th had earlier been seen in Norfolk and was then later noted in Kent; it transpired not to be an Isle of Wight bird and thus presumably a continental wanderer. A Purple Heron flew over Wrabness on 14th.

Dusky Warbler, Frinton-on-Sea, Essex (Ted Smith).
Hertfordshire produced two records of Yellow-browed Warbler, at Hemel Hempstead and St Albans on 14th and 17th respectively. Bedfordshire went several steps further, producing an elusive county-first Red-flanked Bluetail at Biddenham from 18th.
A Richard's Pipit flew over Ellington, Cambs, on 15th, with a Yellow-browed Warbler noted at St Neots the same day. An adult Great Northern Diver remained at Grafham Water, where there were also records of Common Scoter and Red-breasted Merganser. Up to 66 Common Cranes lingered at Nene Washes RSPB.

Long-tailed Skua, Winterton Dunes NNR, Norfolk (Jonathan Farooqi).
South-East England
Kent well and truly got in on the Sibe action this week, with the arguable scarcity headline being two Red-flanked Bluetails, both one-day birds: at Dungeness on 14th and Northdown Park, Margate, on 15th. A seriously impressive five Dusky Warblers were also found: at St Margaret's at Cliffe and South Foreland on 16th; Sandwich Bay and Chamber's Wall on 17th; and Shuart on 18th. To put this five-bird, three-day run into some context, there had been no Kent Dusky Warblers since 2017 and only 10 since 2010!

Red-backed Shrike, Littlestone-on-Sea, Kent (Robin Elliott).
Pallas's Warbler also enjoyed an excellent Kentish showing, with eight sites scoring, all at sites east of Langdon Cliffs in the south to the Isle of Sheppey in the north. For good measure, there was a Radde's Warbler at Shuart on 14th and a Siberian Chiffchaff at the same site two days later. On 17th, a Richard's Pipit was at Worth Marsh.
Three sites in Kent hosted Great Grey Shrike and a White-tailed Eagle, which flew over Masked Shrike twitchers at Reculver on 17th, was deemed a continental bird. Lingering bits in the county included the Dungeness Glossy Ibises, the St Mary's Bay Red-backed Shrike and the American Golden Plover on and off at Oare Marshes.
The Sibe action didn't penetrate into Sussex quite as much, but a Pallas's Warbler at Roedean on 18th and a Little Bunting at Beachy Head the following day were both very nice county birds. Yellow-browed Warblers were at Pagham Harbour, Birling Gap, Beachy Head, Warnham and Hastings CP. Flyover records included a Common Crane at Horsham on 15th and Lapland Buntings at Beachy Head and Litlington.

Pallas's Warbler, Brighton, East Sussex (Tim Squire).
In Hampshire, the Langstone Harbour American Golden Plover popped up again but still proved rather elusive, being seen at Broadmarsh and Farlington Marshes on four different days. The latter site hosted a late Spotted Crake on 16th, the same day at Yellow-browed Warbler was at Hook-with-Warsash. On the Isle of Wight, a Rosy Starling was found at St Catherine's Point on 18th and a Lapland Bunting flew over Luccombe the following day.
Surrey's eighth Little Bunting was a brief visitor to Thursley Common on the morning of 19th. Buckinghamshire also enjoyed a county eighth – a Eurasian Dotterel, that was at Oakley Airfield on 18th. In the same county, a Glossy Ibis graced College Lake on 17th. Berkshire had a very quiet time, while Oxfordshire hosted two Common Cranes at Otmoor on 16th.
A decent three Yellow-browed Warblers were in the capital: at Rotherhithe, Mitcham and Rainham Marshes. East India Dock Basin NR hosted a Siberian Chiffchaff on 17th. A Common Crane that flew over Alexandra Park on 14th was later seen from a bedroom window in Harringay.

Little Bunting, Thursley Common, Surrey (Ed Stubbs).
South-West England
Cornwall had another steady week. There was an Ortolan Bunting in the Polgigga area on 16-17th, with Nanjizal Valley recording Eurasian Stone-curlew, two Greater Short-toed Larks and multiple Lapland Buntings, to name a few. Richard's Pipits were spread across a healthy four sites in the far south-west of the county, as were Red-breasted Flycatchers, with a single Little Bunting at Pendeen on 17th. The Pectoral Sandpiper made a reappearance on Hayle Estuary on 15th and proved to be Cornwall's only Nearctic bird, with a Long-tailed Skua over Land's End on 17th rounding up the seabird highlights.
Scilly birders were again delighted with a plethora of birds; American Golden Plovers were reported from Tresco and Bryher and the Pectoral Sandpiper was still on Tresco on 15th. Eastern flare came in the form of two Pallas's Warblers, with singles on St Martin's and St Agnes, while Greater Short-toed Larks were on St Mary's and Tresco, Olive-backed Pipit and Dusky Warbler on St Mary's, with another Dusky on St Agnes, as well as Richard's Pipit, Red-breasted Flycatcher, Common Rosefinch, Little Bunting and Red-backed Shrike.
Devon fared better for American birds, with a Lesser Yellowlegs at South Efford Marsh from 14th, where it remained throughout. An adult drake Ring-necked Duck was at Beesands Ley on 19th before moving to Slapton Ley the following day. Lundy had an overflying White-tailed Eagle on 16th, Red-breasted Flycatcher on 18th and a Little Bunting was trapped and ringed on 19th. Meanwhile, the ever-faithful pair of Glossy Ibises remained at Fremington Pill.
In Dorset, the juvenile Rosy Starling remained at Easton for another week, while just to the south, a Great Grey Shrike was at Portland on 17-18th in which time it was trapped and ringed. Black Brants were back in town, with up to three frequenting the Wyke Regis area from 17th, with a few Pale-bellied Brents also among the hordes of Dark-bellied Brent Geese. Grey Phalaropes were at Abbotsbury Swannery on 15th and Swineham GPs on 17th. A Richard's Pipit was flushed at Stanpit Marsh on 20th. The same day saw a sizeable influx of Glossy Ibis, with no fewer than eight individuals reported at eight sites on the south coast.
Somerset was steady; the Lesser Yellowlegs was still gracing Chew Valley Lake throughout, Richard's Pipits were at Berrow and Steart WWT, and Glossy Ibises were at Westhay, Ham Wall RSPB and Chard Reservoir. Moving to Gloucestershire, Slimbridge WWT had a Siberian Chiffchaff and Yellow-browed Warbler with the Russian White-fronted Goose flock topping out at 44. Elsewhere, a Lapland Bunting flew north over Purton. A Dartford Warbler at Barbury Castle CP was Wiltshire's bird of note.

Dusky Warbler, St Mary's, Isles of Scilly (Richard Stonier).
Wales
Bardsey Island's star prize came in the form of an Acrocephalus – a Marsh Warbler to be exact – when one was trapped and ringed on 15th. Other highlights this week were multiple Lapland Buntings, two Firecrests, Black Redstart and two Yellow-browed Warblers, while overhead passage contained two Woodlarks and a Sooty Shearwater past offshore.
It doesn't take long for eastern scarcities to trickle across, and this week showed it with a Barred Warbler and Richard's Pipit at Tonfanau, Gwynedd, on 15th, with another Richard's Pipit at Redwick on 19th. The season's first Great Grey Shrike returned on 19th, and was frequenting the Brechfa Forest Windfarm, Carmarthen. Yellow-browed Warblers were scattered across 14 sites, with Firecrests at five. The Great Orme enjoyed a flurry of Snow Buntings on 18th, with three on the limestone pavement alongside five Lapland Buntings.
Moving to wildfowl; a Ring-necked Duck was at Cosmeston Lakes CP throughout and a Russian White-fronted Goose has pitched up on the pools at Llanrhystud, Ceredigion, where the Little Stint remains. A Wood Sandpiper at Traeth Dulas, Anglesey, on 18th is getting on the late side.
Ireland
A scattering of eastern migrants reached Ireland, with a Radde's Warbler trapped and ringed at Brownstown Head, Co Waterford, and a Red-breasted Flycatcher at Ballycotton, Co Cork, both on 15th, plus a Wryneck on Valentia Island, Co Kerry, on 20th. Inishbofin, meanwhile, scored Bluethroat and Barred Warbler.
It's been a poor autumn for White-rumped Sandpipers, so one at Ballykelly, Co Derry, was notable on 18th (an American Golden Plover also remained there). A new Lesser Yellowlegs was at Rogerstown Estuary, Co Dublin, from 18th, with another (and a Pectoral Sandpiper) still at Tacumshin, Co Wexford.
A few more Ring-necked Duck popped up, with two at Moylan Lough, Co Monaghan, plus singles on Tory Island, Co Donegal, and at Lough Gash, Co Clare, and Lough Gara, Co Sligo. A drake Surf Scoter was off Cruisetown Strand, Co Louth, on 18th. Curiously, there were two new Ring-billed Gulls in Co Clare on 16th – a first-winter near Killimer and another at Cloghaun Lough.

Ring-necked Duck, Moylan Lough, Co Monaghan (Brian McCloskey).
Western Palearctic
Germany scored a Siberian Rubythroat this week, the country's second, when a first-winter female was trapped and ringed at Greifswalder Oie on 16th. In Turkey, a radio-tagged Macqueen's Bustard originating from Reneco, a breeding centre in Kazakhstan, was found exhausted at Trabzon on 19th, only the second modern-day record. A Red-eyed Vireo was at Grindavík, Iceland, on 17th, while the drake White-winged Scoter remained at Keflavík. On the other side of the White-winged Scoter split, Latvia's first Stejneger's Scoter was belatedly reported from Kolka from 11-13th.
The Azorean Double-crested Cormorant influx continued unabated, with new birds at Praia, Graciosa (two), Mosteiros, São Miguel, and Santa Cruz das Flores (two). Others remained at Horta, Faial, and on Corvo. The latter island again scored the bulk of Nearctic vagrants, with a lingering Ovenbird alongside a Rose-breasted Grosbeak, Yellow-billed Cuckoo, Swainson's Thrush, Laughing Gull, Semipalmated Plover and pale-morph Rough-legged Hawk.
The second Western Orphean Warbler for The Netherlands was a brief visitor to Noordwijk on 18th, while the young Black-winged Kite was still at Margraten. Denmark's third Spotted Sandpiper was at Lønstrup Strand. In Poland, the nation's second Blyth's Pipit was at Marzęcino on 16th, while a Moussier's Redstart-Radde's Warbler duo were trapped and ringed on Colmino, Malta, on 20th. Also finding its way into nets was a Dusky Warbler trapped and ringed on Alderney on 14th.

Moussier's Redstart, Comino, Malta (Steve Zammit Lupi).