A considerably quieter week for birds also became noticeably colder, as a brisk easterly replaced the mild southerlies of early November. Cue a gradual exodus of last week's swifts, as they were replaced by large numbers of more seasonal fare, notably wildfowl and wintering passerines.
Pallid Swifts diminished to 'just' four, with birds at Winterton Dunes, Norfolk, New Romney, Kent, Portland, Dorset and Land's End, Cornwall – amazingly, the latter, present on 18th, represents a county first. A further eight unidentified Common or Pallid Swifts were reported as far north as Tory Island, Co Donegal, and Scarborough, North Yorks, while a Red-rumped Swallow flew through near St David's Airfield, Pembs, on the afternoon of 19th. An Alpine Swift – the first of this late swift influx – flew over Silverdale, Lancs, on 16th.
An Eastern Yellow Wagtail was found on St Mary's, Scilly, on 14th – possibly at least the third individual seen there this autumn – while, quite remarkably, a Citrine Wagtail appeared alongside it from 15th. Both subsequently proved fairly mobile, but lingered until the week's end.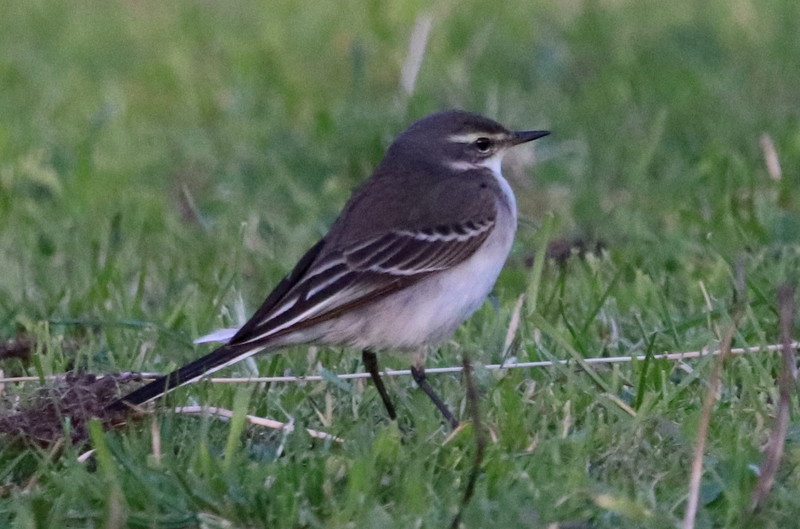 Eastern Yellow Wagtail, St. Mary's, Isles of Scilly (Kris Webb).
In Co Galway, the Mourning Dove was tracked down at Doonloughan on 15th, where it remained on show until the following day only.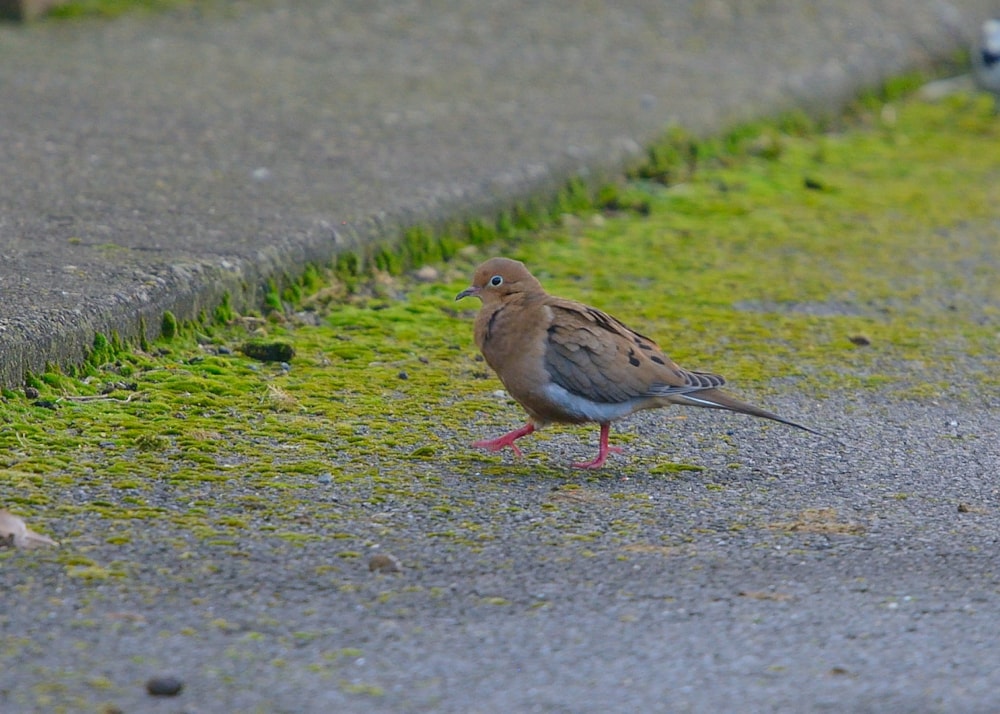 Mourning Dove, Ballyconneely, Galway (Gerard Murray).
What looks to be a good candidate for an Eastern Black Redstart was reported from Maidens, Ayrshire, on 16th, having initially been reported there on 13th as a Black Redstart. Frustratingly for local birders, the subtly rufous-bellied bird had cleared out on 17th, when news of its apparent identification first hit the headlines.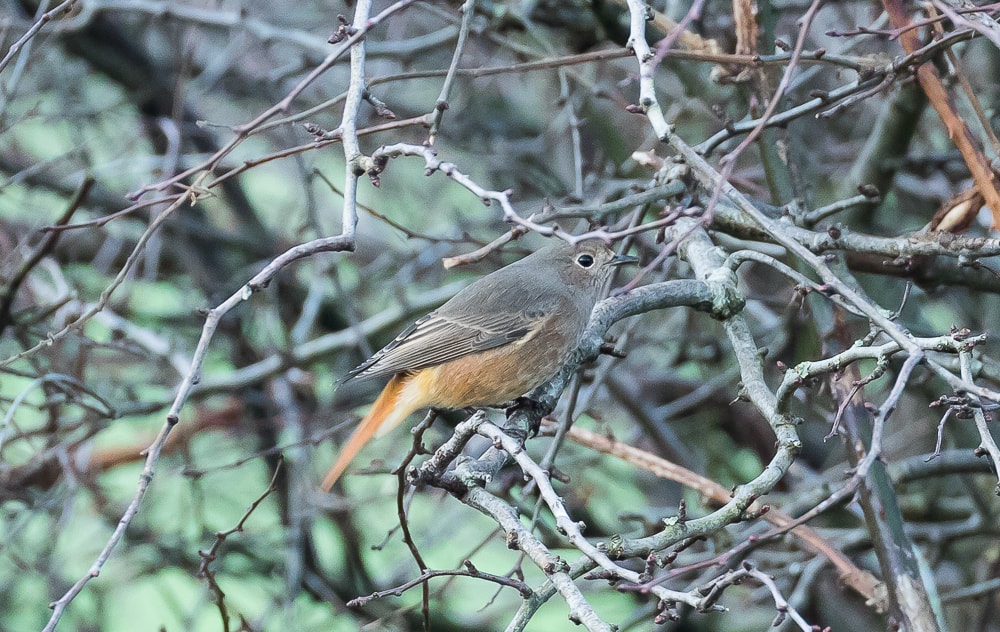 Possible Eastern Black Redstart, Maidens, Ayrshire (Dave Grant).
Meanwhile, in a generally quieter week, many birders were happy to hear that news that the Stejneger's Stonechat at Salthouse in October and early November had been confirmed as that species by DNA analsysis. Just for good measure, the altogether paler bird at Scalloway, Shetland, was confirmed as a maurus Siberian Stonechat – again, as anticipated. It's good to see DNA consistently backing up field identifications among this fascinating species pair; are we now getting to the point where genetics aren't necessary to confirm at least the more obvious candidates as either one species or the other?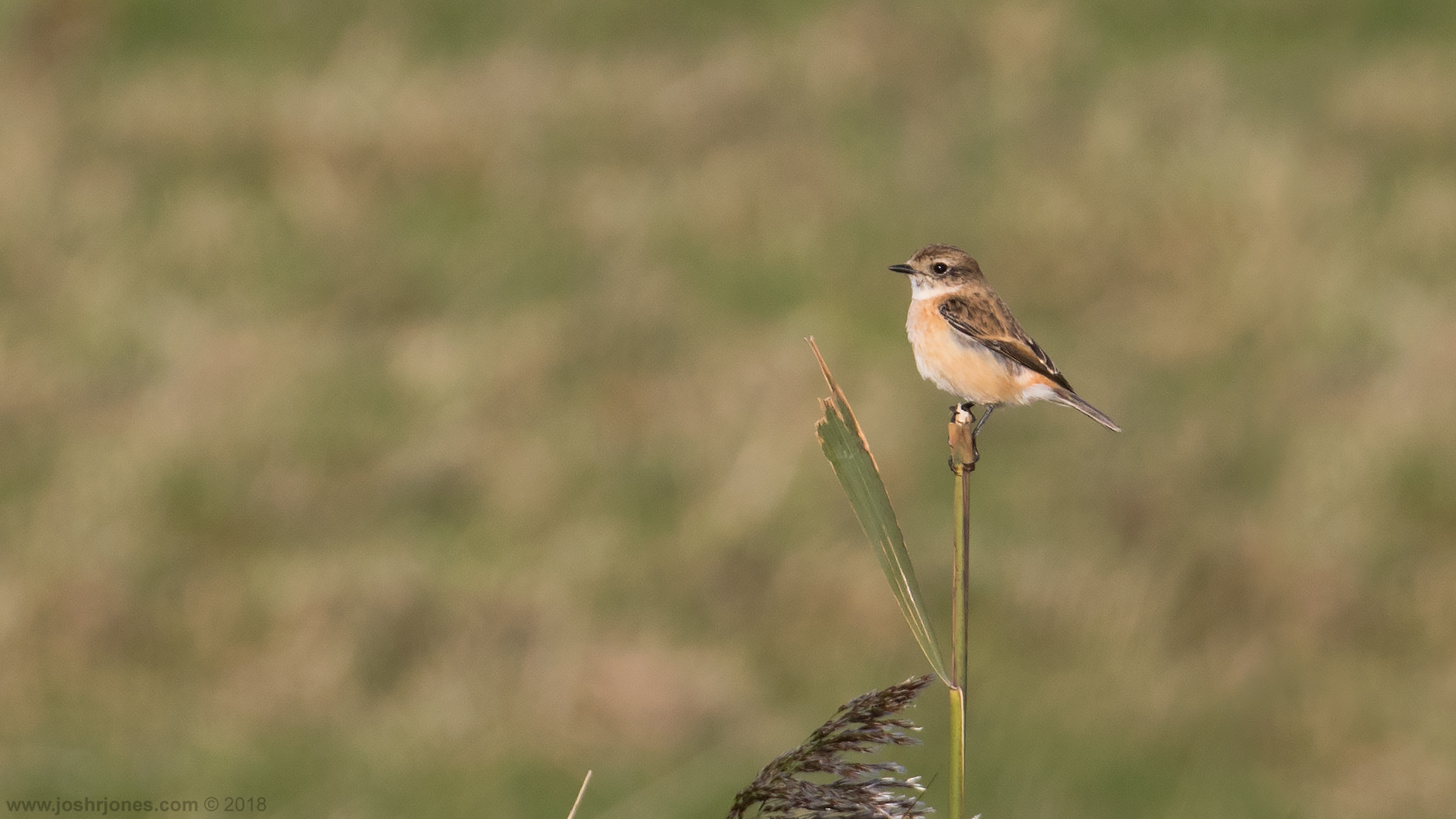 Stejneger's Stonechat, Salthouse, Norfolk (Josh Jones).
There is a saying among birders that the arrival of a Desert Wheatear signals the end of the autumn. In some years this proves premature, but this year it is perhaps more apt. With December now on the horizon and temperatures falling, the appearance of a male at Scalloway, Shetland, on 18th certainly fits better as a finale to the season. Indeed a scan down the highlights of the BirdGuides news page certainly suggests a more wintry feel, as wildfowl, waders and gulls become increasingly prominent, yet there were a few exceptions, including a brief isabelline shrike sp at Cosmeston Lakes, Glamorgan, on 17th and a Hume's Leaf Warbler on North Ronaldsay, Orkney, from 16th, while the Pied Wheatear lasted at Trevose Head, Cornwall, on 16th.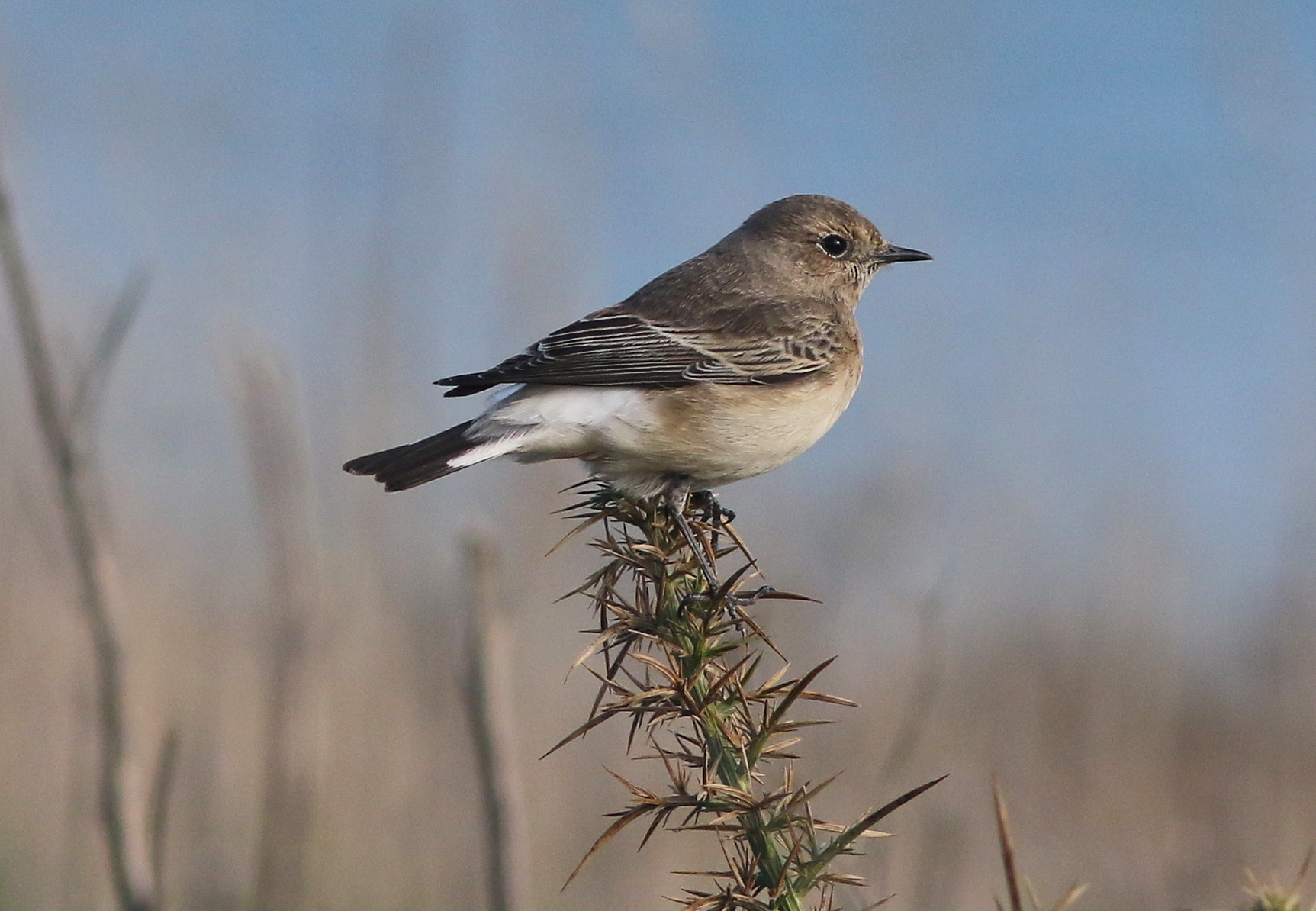 Pied Wheatear, Trevose Head, Cornwall (Martin Elliott).
In addition, a handful of Pallas's Warblers included two in Devon (singles at Exminster and Berry Head), one in Kent (Foreness Point on 20th) and up to two at The Naze, Essex, from 16-19th. A Dusky Warbler was at Ainsdale, Lancs, on 16th, having already been present several days – it lingered to 18th. Elsewhere, one was at Easington, East Yorks, on 17-18th and there were further records from Cornwall, Scilly and Jersey.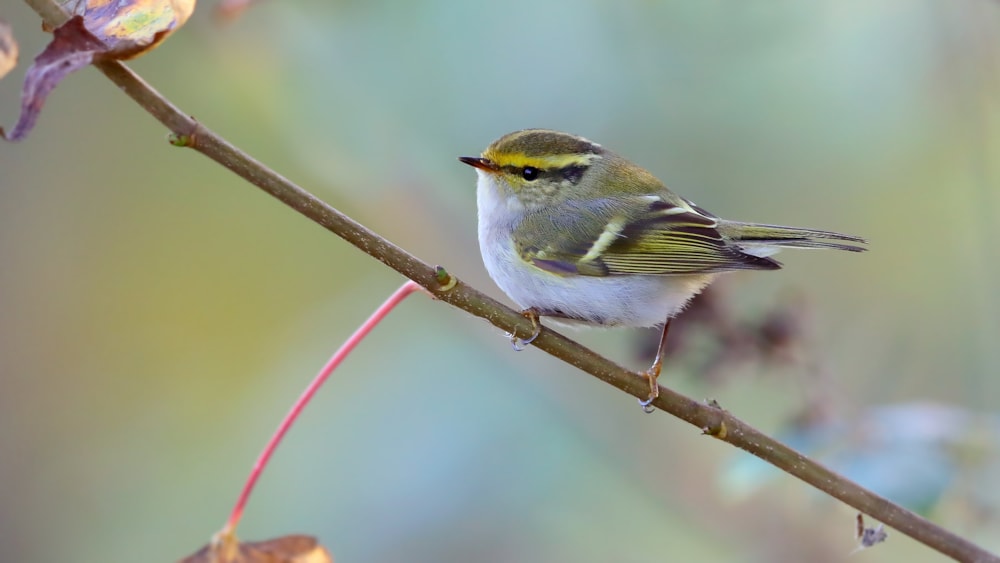 Pallas's Warbler, The Naze, Essex (Kit Day).
One or two Parrot Crossbills remained near Horsford, Norfolk, but could be elusive; a female was also at Gibraltar Point, Lincs, on 14-15th. An apparent Coues's Arctic Redpoll was still at Orgreave Lagoons, South Yorks, on 18th, while two were again in Wells Woods, Norfolk. Also in Norfolk, an Arctic Redpoll at Walsey Hills on 19th was presumably also exilipes. A late Common Rosefinch visited Baltasound, Unst, Shetland, on 16th.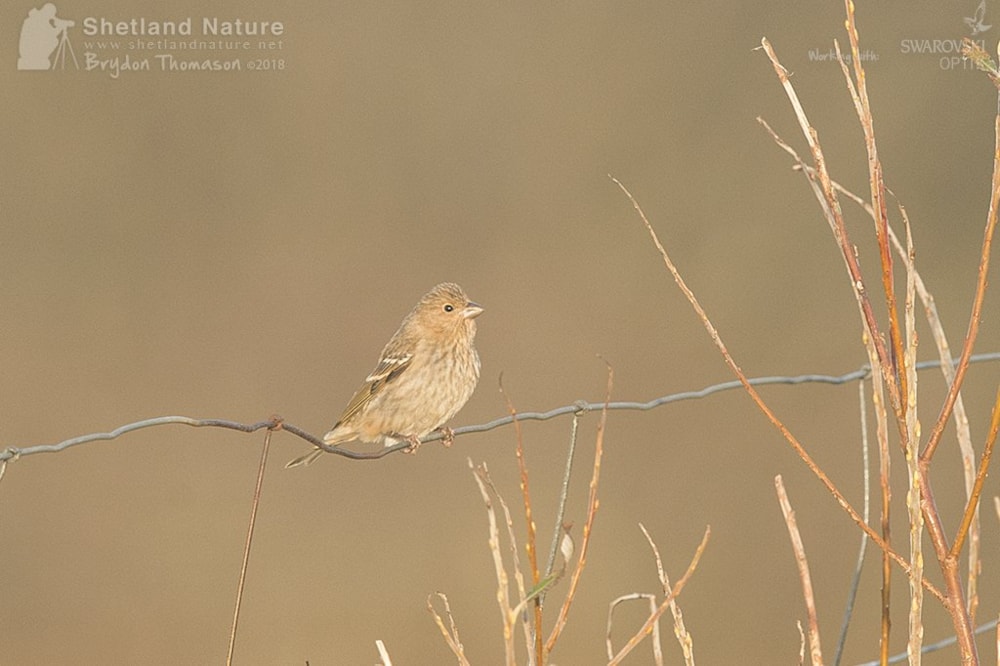 Common Rosefinch, Baltasound, Unst, Shetland (Brydon Thomason).
Just a single Barred Warbler was seen, in a private area near Winchelsea, East Sussex, on 15th. Three Rosy Starlings were seen, including an adult in Botley, Oxon, on 14-15th in addition to lingering youngsters in Suffolk and on the Isle of Man. No fewer than 10 sites logged Richard's Pipit, the most northerly of which was a flyover at Yellow Craig, Lothian. Most of the 16 or so Great Grey Shrikes were birds on winter territories, although records from Dunbar, Lothian, and Gibraltar Point, Lincs, suggested that some were still arriving. A Hoopoe was seen in Aston Cantlow, Warks, early on 15th, while the Angus bird was last seen near Montrose on 16th.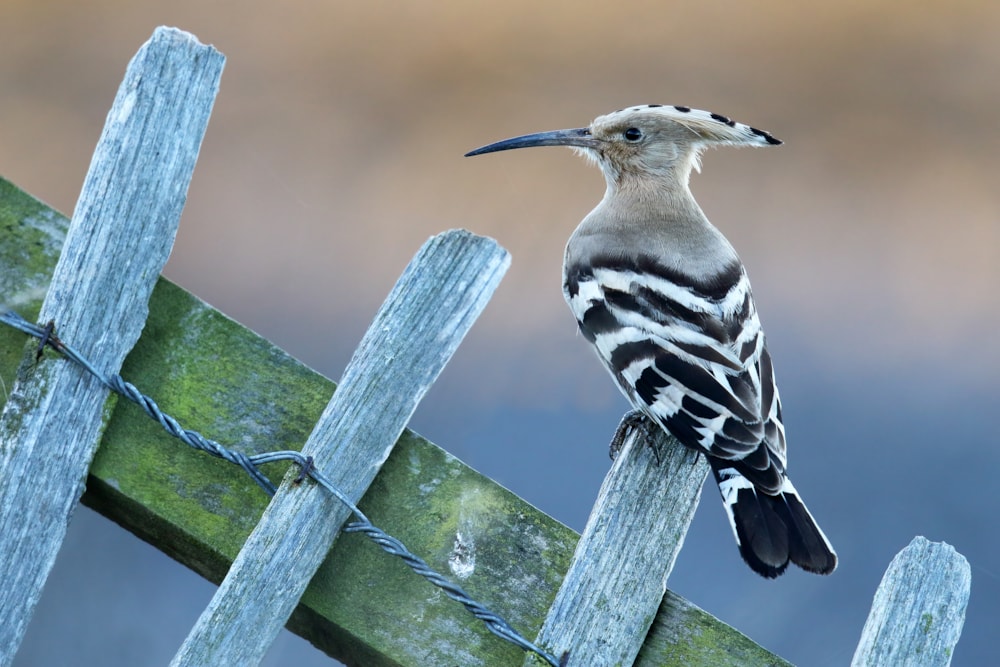 Hoopoe, Montrose Basin, Angus & Dundee (Mark Caunt).
Waxwing distribution retained a strong north-easterly bias, with most sizeable flocks in northern and eastern Scotland. Notable numbers included 200 in Elgin, Moray, and 100 in Aberdeen. Birds were few and far between further south, with just the odd report as far south as Lincolnshire and Norfolk.
An impressive six Lesser Yellowlegs were noted, including new birds at Cahore Marsh, Co Wexford, and Catcott Lows, Somerset, both on 18th. The Long-billed Dowitcher continued at Frampton Marsh, Lincs, as did two White-rumped Sandpipers at Roe Estuary, Co Derry, while a pratincole sp was brief at Long Drag, Cleveland, on 16th. An American Golden Plover was at Lough Corrib, Co Galway, on 18th, while a late Eurasian Dotterel was still on Tiree, Argyll, on 15th.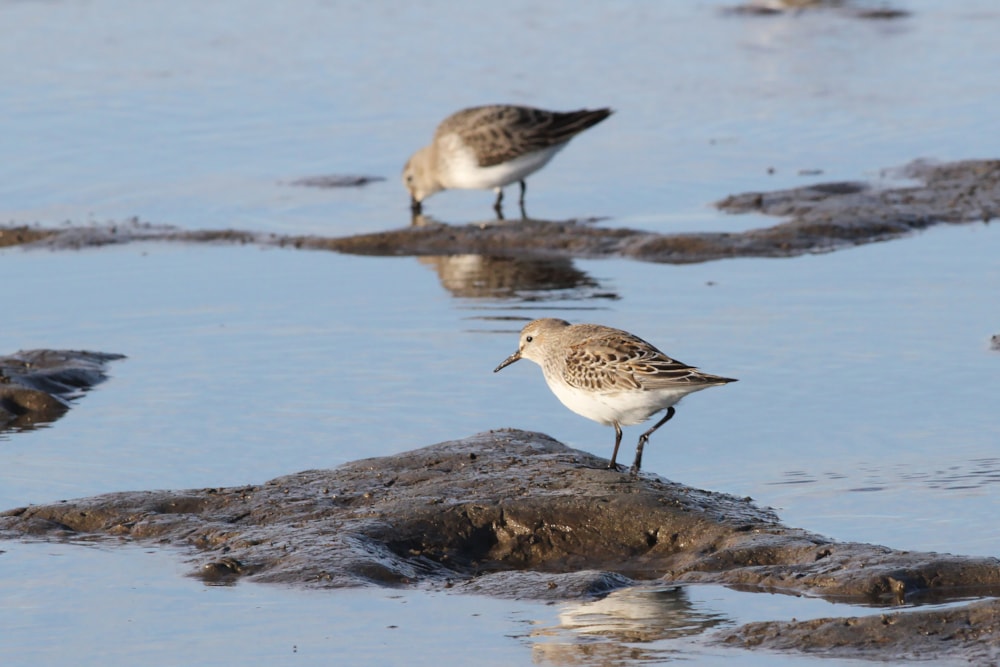 White-rumped Sandpiper, Roe Estuary, Londonderry (Derek Charles).
The Forster's Tern was again along the seafront at Salthill, Co Galway, on 18th. Rather more surprising for the date, though, was a brief White-winged Tern at Idle Valley, Notts, on the morning of 17th. A first-winter Bonaparte's Gull was seen off Millbrook, Cornwall, on 15th, while the Franklin's Gull was last noted in Weymouth, Dorset, on 14th. Four Ring-billed Gulls included the returning adult back in the roost at Llys-y-Fran Reservoir, Pembs. The only Kumlien's Gull was a returning adult at Moville, Co Donegal, Iceland Gulls totalled barely a handful and Glaucous Gulls only just scraped into double figures. Caspian Gulls were noted at a healthier number of 35 sites.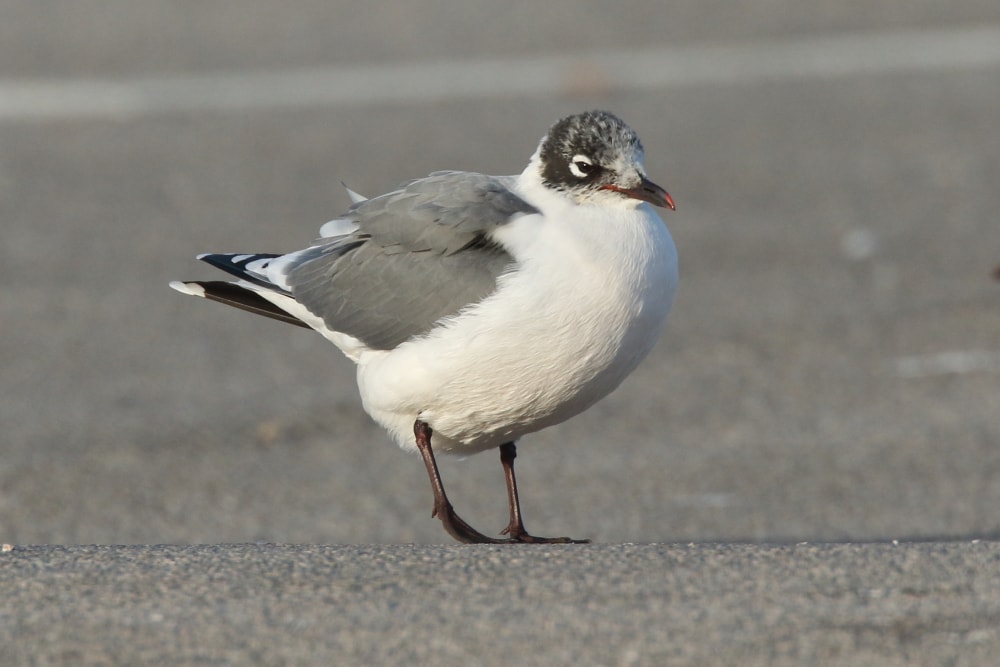 Franklin's Gull, Radipole Lake RSPB, Dorset (Andrew Jordan).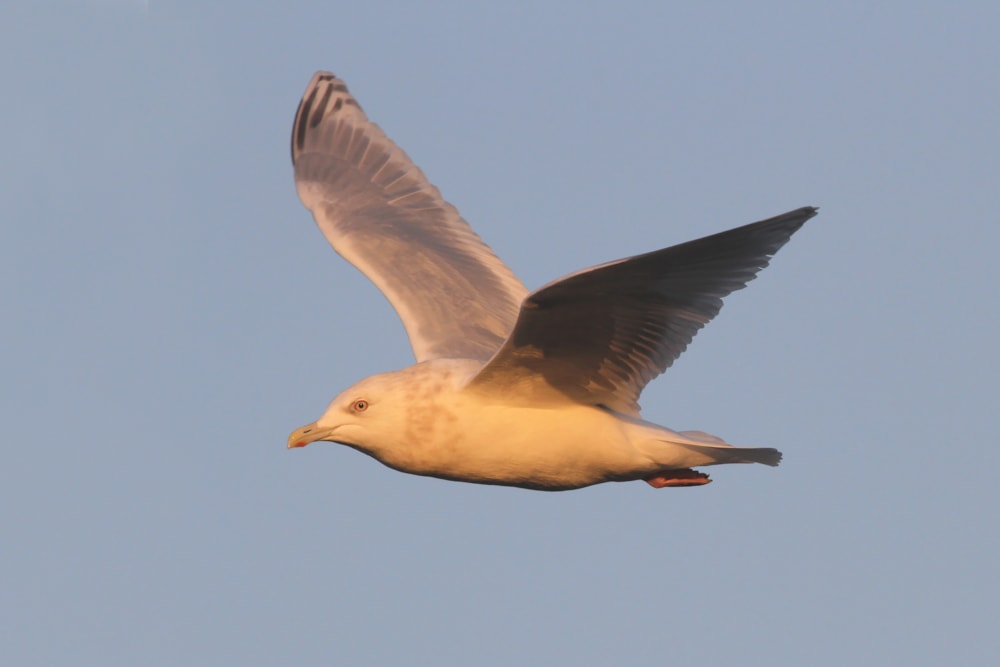 Kumlien's Gull, Moville, Donegal (Derek Charles).
One of the week's more notable finds was a Black-crowned Night Heron, which frequented a park in Redcar, Cleveland, for the day on 18th. Just one Glossy Ibis – the long stayer at Fremington Pill, Devon – was seen. The most northerly Western Cattle Egret was a bird at Bishopton, Clyde, while up to 39 roosted at Abbotsbury, Dorset, and there were sizeable counts made in Cornwall and on the Somerset Levels. An immature Common Crane was popular at Coldstream, Borders, following its discovery on 14th.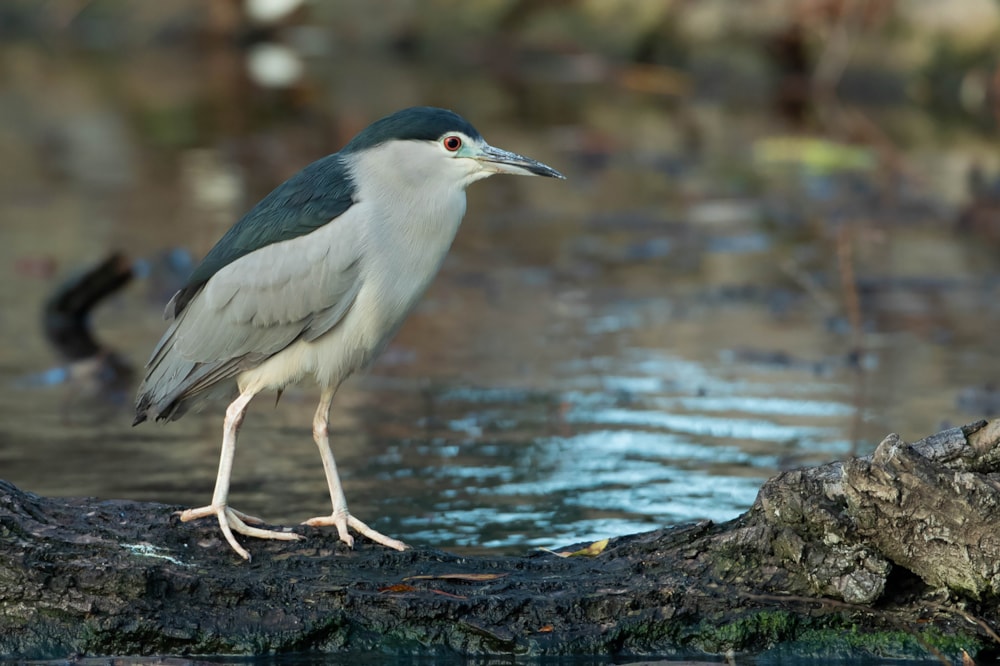 Black-crowned Night Heron, Redcar, Cleveland (Martyn Sidwell).
In Ceredigion, the female King Eider was again seen off Ynyslas on a few dates, while the drake remained off Sheringham, Norfolk, throughout. The Black Scoter was last reported off Cheswick Sands, Northumberland, on 14th, with the Co Kerry bird again off Rossbeigh on 20th. Two drake Surf Scoter continued off St Andrews, Fife, with a third across the Firth of Forth at Musselburgh, Lothian.
Six American Wigeon included late news of a drake at a site west of Oxford, Oxon, on 13th and the return of the female to Grimley, Worcs, for its third winter. Curiously, Green-winged Teal were restricted to the far north and north-west of Scotland, with two apiece for the Outer Hebrides and Orkney, but none elsewhere. Meanwhile, the American Black Duck soldiered on at Strontian, Highland, for another week. An impressive quartet of drake Ring-necked Duck arrived at Lough Yganavan, Co Kerry, on 17th, while another was shot dead at Upper Lough Erne, Co Fermanagh, on 10th. Eleven others were reported across Britain and Ireland, including two at Inch Island Lake, Co Donegal, on 17th. In contrast, just a sole Lesser Scaup was logged – the female at Llyn Llygeirian, Anglesey. Unfortunately the splendid drake Hooded Merganser at Blythburgh, Suffolk, was found to be wearing a colour ring.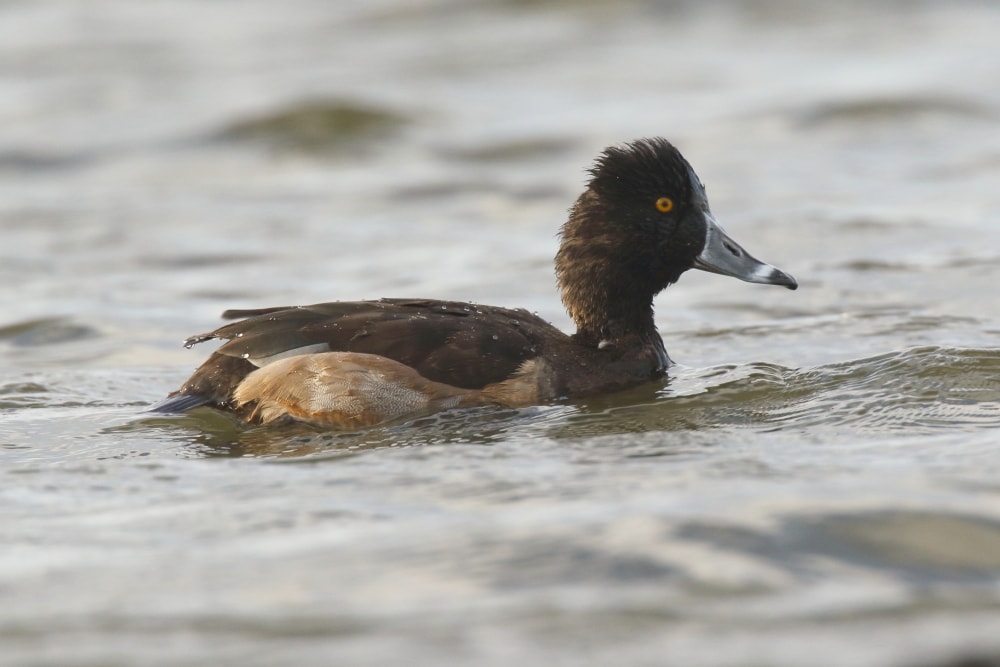 Ring-necked Duck, Radipole Lake RSPB, Dorset (Andrew Jordan).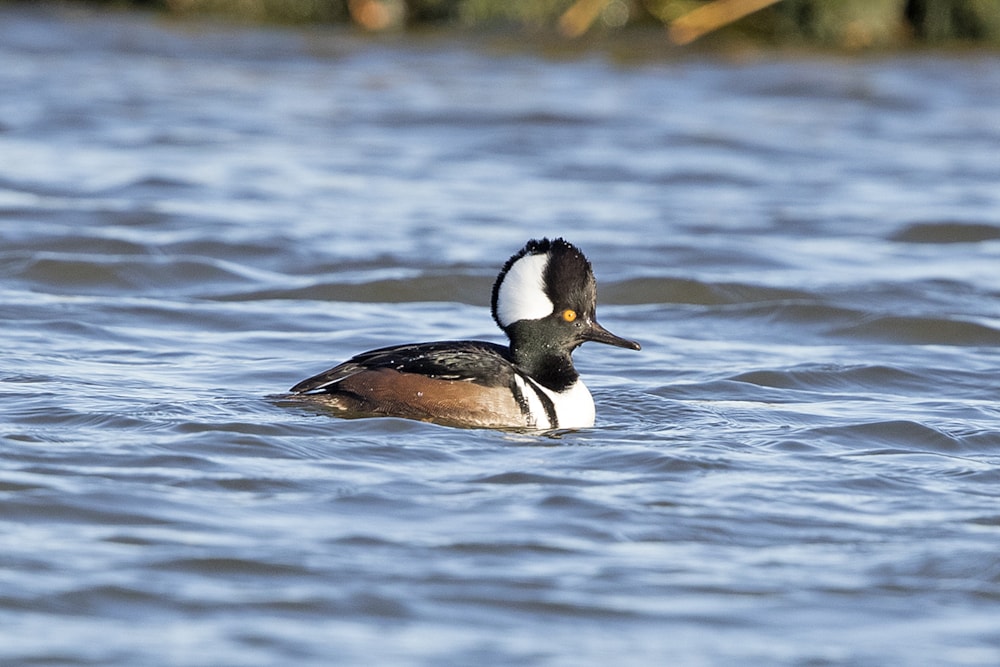 Hooded Merganser, Blythburgh, Suffolk (Andrew Moon).
Four Canada Geese, including three presumed Todd's, continued on Barra, Outer Hebrides, with another likely Todd's among Pink-footed Geese in Northumberland. A Richardson's Cackling Goose was on North Uist, while Black Brant were in Dorset, Norfolk, Cumbria and Glamorgan, the latter involving a bird at Whiteford NNR, Gower, on 18th.
Though there were a few possible fly-bys claimed on the east coast, the only confirmed White-billed Diver was a deceased individual on the beach at Thorpeness, Suffolk, on 18th.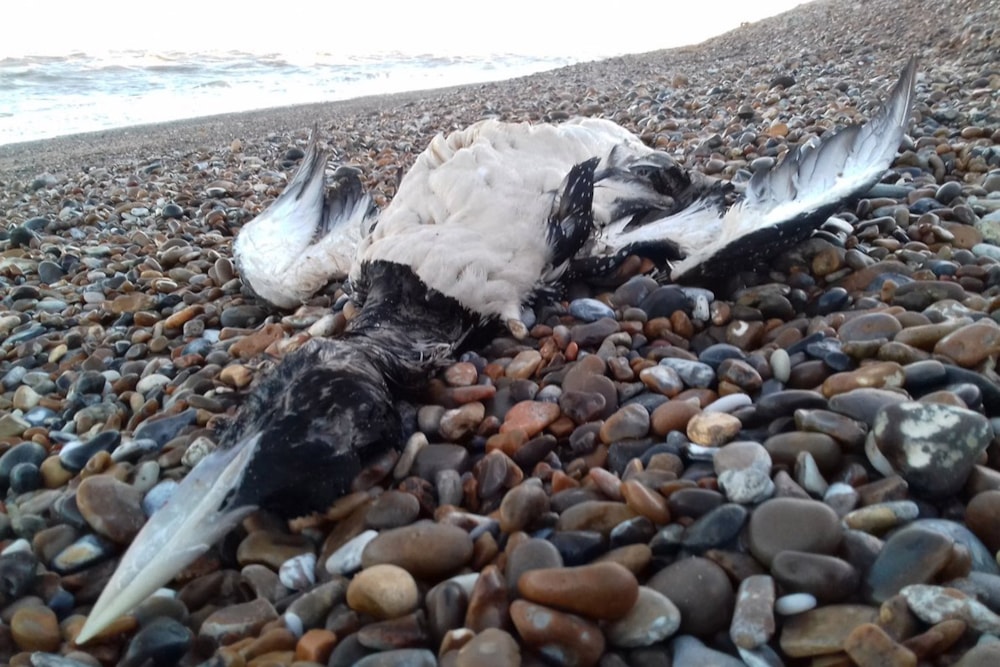 White-billed Diver, Thorpeness, Suffolk (James Littlewood).
Rough-legged Buzzards totalled a dozen, with two still at Great Fen, Cambs, and a third seen at nearby March Farmers. Geographically speaking, the most significant record concerned a juvenile near Capel Curig, Conwy, on 20th, while two proved popular at Faseny Bridge, Lothian, and others were twitchable in Cleveland and Norfolk.
Western Palearctic
Late news concerned an American Kestrel videoed on the north-west side of Graciosa, Azores, on 5 November. This represents the fourth record for the mid-Atlantic archipelago, although the first since 1980.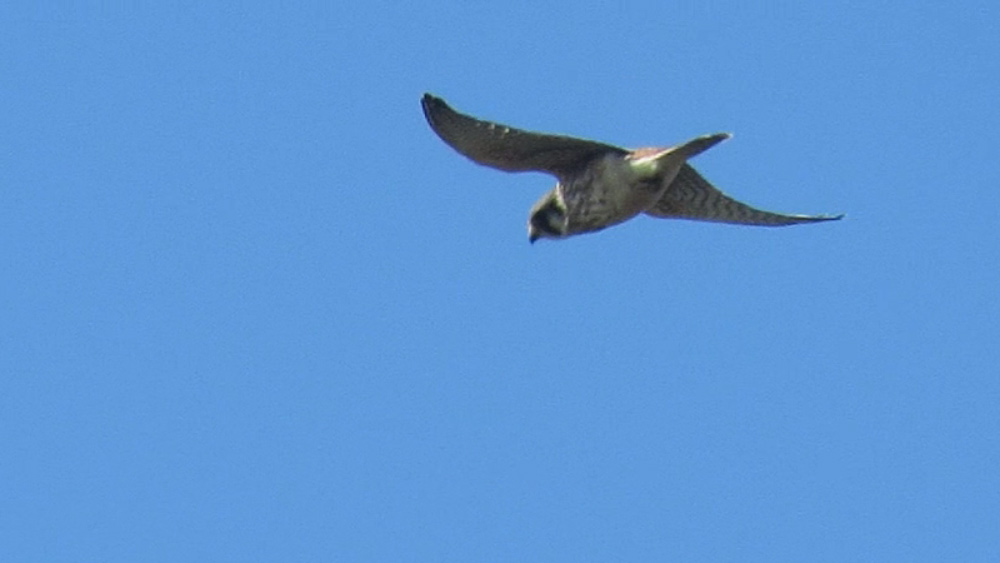 American Kestrel, Graciosa, Azores (Nuno Gonçalves).
Switzerland's first Long-tailed Shrike was an excellent find near Grandson on 18th, lingering there to 20th. Another national first came in the form of an Azure Tit in Hungary – the bird was seen well and photographed at Lake Fehér on 18th.
Gripping news from The Netherlands concerned a Nutcracker on the outskirts of Wageningen, Gelderland, from 19th. The bird was typically fearless, approaching the gathered crowd to within centimetres at times. Other Dutch records included Black-winged Kites at De Biesbosch and Purmerend, with a third just over the border in Limburg, Belgium. In northern France, a Cream-coloured Courser was at Digny, Eure-et-Loir, on 17th, while the Eastern Imperial Eagle was again noted near Saint-Gilles, Gard, on 18th.
The Green Heron lingered at Quinta do Lago, Portugal, as did a Sociable Lapwing at La Janda, Spain. In Galicia, the drake Bufflehead lingered at Xuño, while another Bufflehead, a juvenile, arrived on Sal, Cape Verde – a first for the archipelago.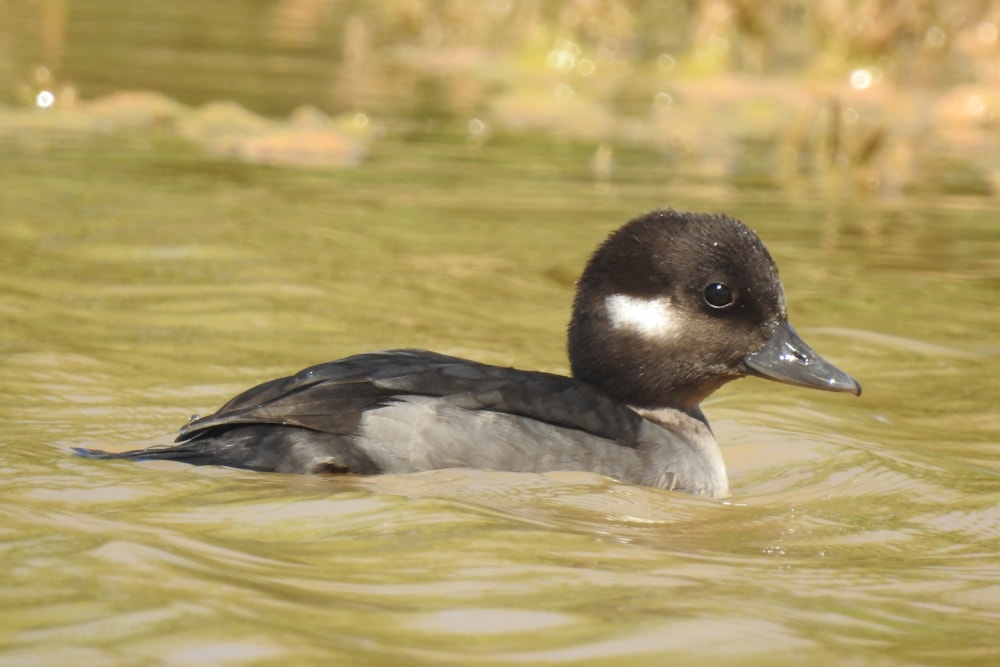 Bufflehead, Sal, Cape Verde (Uwe Thom).
The long-staying Brown Shrike hung on near Holmestrand, Norway, while other records from the country included a twitchable Greater Spotted Eagle at Hå on 17th, where there was also a lingering American Buff-bellied Pipit. Sweden's Naumann's Thrush was last seen at Patamalm on the morning of 14th, with an Oriental Turtle Dove seen in the same county at Berga that day.
Other records included a Blyth's Pipit at Skagen, Denmark, on 16th, a Hume's Leaf Warbler at Hel, Poland, on 17th and an Indian Roller at Hadiya, Kuwait.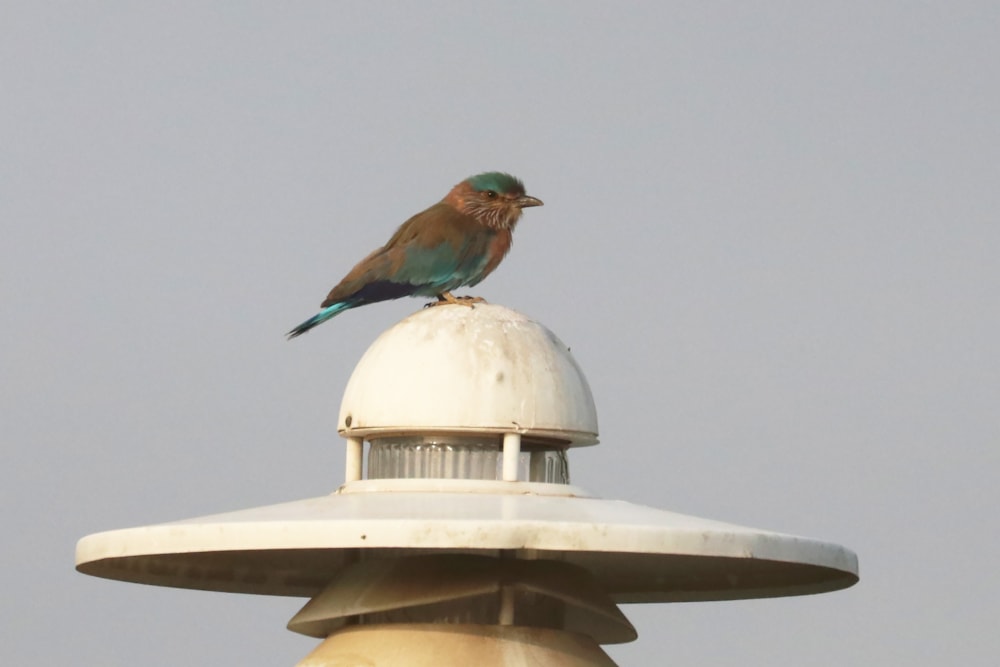 Indian Roller, Hadiya, Kuwait (Massimiliano Dettori).