The stellar start to June 2021 went even further this week, with two national firsts for Ireland following an Egyptian Vulture on the Isles of Scilly, the latter perhaps the first wild occurrence in Britain since 1868.
The vulture was first sighted over St Mary's on the morning of 14th, before promptly relocating to a pine on Tresco, remaining there for an hour and a half before heading back across to its larger neighbour, last noted around 2.30 pm. The trail didn't go cold there: it was back on Tresco early the next morning, only to perform a prompt disappearing act as the first helicopter of the day arrived – and less than an hour before the first twitchers made landfall on the island. Regrettably, that would be the last confirmed sighting; where it is now is anybody's guess.
There are two accepted records of Egyptian Vulture in Britain, both immatures dating from the 19th century. More context on this long-awaited reoccurrence, as well as a history of British and Western Palearctic records, can be read here.

Egyptian Vulture, Tresco, Isles of Scilly (Scott Reid).

Egyptian Vulture, Tresco, Isles of Scilly (Scott Reid).
Ireland's first Least Tern, was a terrific find at Little Tern colony on the beach at Portrane, Co Dublin, on 19th, with wardens later confirming that the grey-rumped, squeaky-voiced tern had been present for a couple of weeks prior to the discovery.
The species was split from Little Tern as recently as March 2017, when the Irish Rare Birds Committee adopted the IOC World List as its taxonomic authority. Indeed, it is a tricky taxa to separate from its Eurasian relative, particularly in a vagrant context. A squeaky pudeek pudeek call, not too dissimilar to a Ring-necked Parakeet, made by 'advertising' males is the main distinguishing feature, while its grey rump and tail, more diminutive size, yellowish legs and reduced black bill tip provide helpful pointers.
The only other accepted record for the Western Palearctic hails from Rye Harbour, East Sussex, from June 1983, where it returned annually until 1992. Another potential record from the Azores in June 2020 was not heard to call.

Least Tern (centre, with fish), Portrane Point, Dublin (Paul Kelly).
A first-summer male Red-winged Blackbird was a sensational find at Castleconor, Co Sligo, on 11th. Photographed on garden feeders by a non-birder, there has been no subsequent sign of this Irish first. Just the second Western Palearctic record, it follows a widely-twitched female on North Ronaldsay, Orkney, in April 2017 (see here).

Red-winged Blackbird, Castleconor, Sligo (Sean Judge).
In Norfolk, Hickling Broad scored a Collared Pratincole on 16th, with one of the birds at Dungeness RSPB, Kent, reported again the previous day. Last Sunday's individual at Wheldrake Ings, North Yorkshire, flew off high north on 14th. Meanwhile, a pratincole sp overflew St Buryan, Cornwall, on 17th, with a probable heading over Portland Bill, Dorset, the following day.

Collared Pratincole, Hickling Broad, Norfolk (Nick Clayton).
At Ham Wall RSPB, Somerset, the male River Warbler wasn't noted after 18th. A singing Savi's Warbler was present at Lakenheath Fen RSPB, Suffolk, recently, while the Iberian Chiffchaff remained at Foxhall.

River Warbler, Ham Wall RSPB, Somerset & Bristol (Jonathan Farooqi).
In another solid summer showing of the species, two new Great Reed Warblers were recorded: a brief songster on the outskirts of Hull, East Yorkshire, on 14th and another in Nottinghamshire – at Idle Washlands on 20th. The county's other Great Reed held steadfast at Besthorpe all week, with Northumberland's male at East Chevington NWT lasting until 18th.

Great Reed Warbler, Besthorpe NWT, Nottinghamshire (Nick Truby).
Unst, Shetland, hosted a Snowy Owl at Crussa Field on 18-19th, perhaps the female belatedly reported from Hermaness on 31 May.

Snowy Owl, Haroldswick, Unst, Shetland (David Cooper).
A male White-spotted Bluethroat sang at Slimbridge WWT, Gloucestershire, from 19th. In Lincolnshire, a probable male Black-headed Bunting was photographed by a non-birder at Deeping St James on 15th, although news didn't surface until 17th – on which date there was no further sign. A swift species with a white rump proved an unfortunately brief visitor to Marshside RSPB on 18th
White-spotted Bluethroat singing from foreshore reeds earlier at Middle Point. 📽 shot from adjacent to Shepherds Hut Hide on the seawall @Slimbridge_wild @WWTSlimbridge #GlosBirds pic.twitter.com/Jumj8bCX78

— Martin McGill (@MJMcGill_Anser) June 20, 2021
In Borders, the drake Lesser Scaup was back at Mire Loch from 15th. Co Mayo's American Black Duck was reported from Cross Lough, Mullet, for the first time since April, while the drake King Eider continued at Ythan Estuary, Aberdeenshire.
This week saw an influx of Caspian Terns, with two together at Southfield Reservoir, East Yorkshire, particularly notable on 19th. Also that day one flew along the River Thames at Beckton, London, with presumably the same then at Bowers Marsh RSPB, Essex, on 20th. A ringed bird at Barton-upon-Humber Pits on 19th could well be the bird that roosted at Baston and Langtoft Pits the following evening. Elsewhere, a first-summer Bonaparte's Gull remained at Cleat, Barra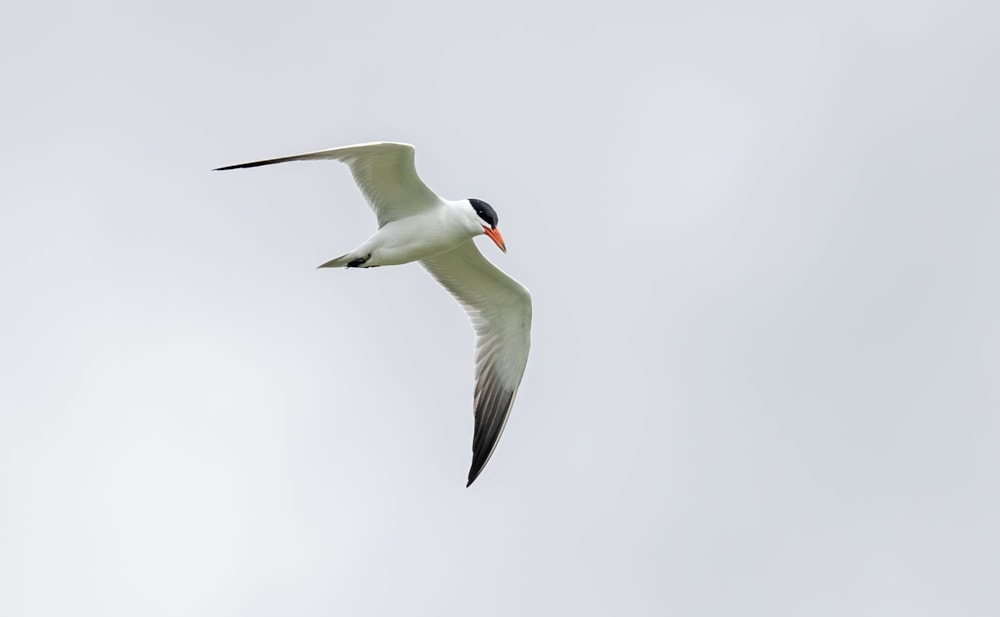 Caspian Tern, Barton-upon-Humber Pits, Lincolnshire (Graham Catley).
Fresh from a stint along the Spanish north coast, the adventurous Walrus flaunted quarantine restrictions and resurfaced around the Isles of Scilly from 17th, exploring the yachts off Porthcressa, St Mary's, before moving to the secluded coastline of St Martin's on 20th. Further north, the Sei Whale again performed admirably off Hound Point, Lothian.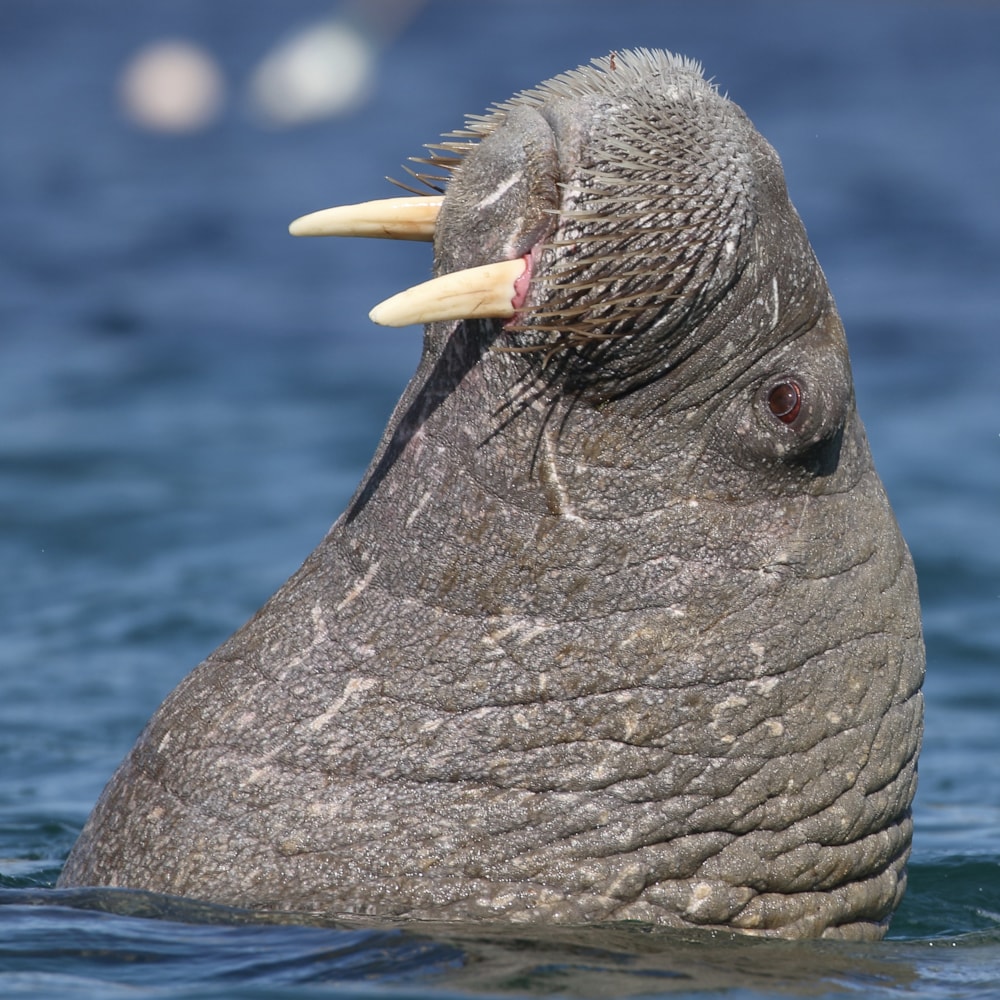 Walrus, St Mary's, Isles of Scilly (Scott Reid).
Scottish mainland
A singing male Icterine Warbler by the River Tweed at Innerleithen, Borders, from 19th was a highlight, with a tuneful Blyth's Reed Warbler at Barns Ness, Lothian, on 14th equally as impressive; the bird at Brough, Caithness, was last noted on the same date. In Argyll, a Common Rosefinch sang at Drumfearn, Skye, with a Black Kite reported at Glen Fenzie, Aberdeenshire, on 16th.
In a strong showing for Rosy Starlings, it was the islands that scored highest, with no fewer than four on Arran, Clyde Islands, alone. In Argyll, singletons were on Seil, Iona, Mull, Jura, Islay, and Gigha, while a further two were on Canna, Highland. Away from islands, records were as follows: Drumlithie, Aberdeenshire; Dalavich, Argyll; Port Logan, Dumfries and Galloway; Port Seton, Lothian; Maidens, Ayrshire; Plockton, Highlan; and Killimster, Scarfskerry and Scrabster, all in Caithness. Phew!
Late white-wingers at Lossie Estuary, Moray, with two adult Icelands alongside a second-summer Glaucous Gull on 19th; another Glauc was at Lendalfoot, Ayrshire. A female Long-tailed Duck at Drumpellier CP, Clyde, was an interesting inland record for June, while an adult Long-tailed Skua headed north past Gairloch, Highland, on 12th. Three Eurasian Spoonbills remained at Loch of Strathbeg RSPB, Aberdeenshire, and Common Quails were at four sites.
A male Red-veined Darter in Borders at Newmains Farm, Reston, on 17th was a notable record.
Northern Isles and the Hebrides
Little Tern again featured in Shetland's week, with two briefly at Scousburgh, Mainland, on 16th. With two involved in this week's sightings it could be presumed all recent sightings involve the same pair. The adult Long-tailed Skua continued its sporadic appearances at Loch of Clumlie, Mainland, throughout, while a first-summer Iceland Gull was at Rerwick, Mainland, on 16th. A Grey Phalarope flew north past Boddam, Mainland, on 20th.
Rosy Starlings had a fair showing again this week with six localities reporting birds, including two at Norwick, Unst, and singles at Baltasound and Skaw, Unst, West Burra, and Sumburgh, Mainland. Other Unst highlights included a singing Icterine Warbler was at Valyie, Unst, from 14-17th and a female Red-backed Shrike at Norwick. Marsh Warblers were reduced in number with singles at Valyie, Unst, and Skaw, Whalsay. A first-summer male Golden Oriole was busy serenading visitors at Vidlin, Mainland, on 18th only.

Rosy Starling, Norwick, Unst, Shetland (David Cooper).
Fair Isle enjoyed two new Rosy Starlings, while a flyover European Bee-eater and female-type Golden Oriole (both 15th) added a bit of variety. Up to two Marsh Warblers were present and a Common Quail was on the island on 17th.
In Orkney, an adult White-billed Diver was first seen in flight past Brough of Birsay, Mainland, on 16th but later settled in the bay on 18th. A European Bee-eater added a splash of colour to Papa Westray's week on 15th. A first-summer Glaucous Gull was at Westray on 16th.
North Ronaldsay managed to get in on the Rosy Starling action after missing out on last year's influx. An adult was on the island from 17th. A European Nightjar was there on 15th and a male Grey Phalarope flew through on 19th. Marsh Warbler, Long-eared Owl, Curlew Sandpiper and White-tailed Eagle all featured.

Grey Phalarope, North Ronaldsay, Orkney (George Gay).
Rosy Starlings were scattered across the Outer Hebrides, with one again on Barra and singles at Loch Euphort and Clachan, both North Uist. Three Glaucous Gulls were also around, with an adult at Boisdale, South Uist, on 17th, a second-summer at Craigston, Barra, on 18-19th and one at Loch Sandary, N Uist, on 20th. An Iceland Gull flew north past Stoneybridge, South Uist, on 18th.
Dan Owen
North-East England
In a somewhat quieter week in Northumberland, a Rosy Starling was the only new scarcity found – in a Tweedmouth garden on 19th. The Ring-necked Duck remained at Bothal Pond throughout, as did the female Red-necked Phalarope at Grindon Lough. Newbiggin's Rosy Starling was still present until 15th and the first-summer American Golden Plover was still at Cresswell Pond on 14th, briefly relocating to nearby Druridge Pools on 15th. Long Nanny's Black Tern held out.

American Golden Plover, Cresswell Pond NWT, Northumberland (Jonathan Farooqi).
An immature Golden Eagle was reported in Harthope Valley on 19th and a Black Guillemot flew past Seaton Sluice and Cullercoats on 17th. The Eurasian Spoonbill remained at Cresswell Pond throughout the week, being joined by a Spotted Redshank from 14th and up to 10 Little Gulls. Waders at Druridge Pools included a Spotted Redshank and two Wood Sandpipers, with a Eurasian Spoonbill also there on 19th. Common Quail sang at four localities.
A Velvet Scoter flew north past Whitburn Coastal Park, Durham, on 18th along with a Roseate Tern two days later. A Eurasian Spoonbill at Saltholme RSPB and a Roseate Tern at Greatham Creek on 20th were Cleveland's highlights.
Jonathan Farooqi
North-West England
A European Bee-eater arrived in off the sea at St Bees Head, Cumbria, on 16th, then continued east inland but sadly wasn't resighted. A Rosy Starling was mingling with the Commons at Whitehaven on 18-19th at least. A Eurasian Spoonbill made a reappearance at Hodbarrow RSPB from 15-17th.
In Lancashire, an American Golden Plover was at Hesketh Out Marsh RSPB on 20th, where the male Blue-headed Wagtail remained. An adult Roseate Tern was at Seaforth LWT on 15th. Also of interest, a Vagrant Emperor dragonfly was at Ainsdale NNR on 18th.
A Rosy Starling frequented Sutton, Cheshire, on 13th but there were no further reports since. An unseasonal Whooper Swan was at Redes Mere on 18th.
Dan Owen
Lincolnshire and Yorkshire
A fairly typical spread of June sightings in Lincolnshire produced Common Quail at three sites, a Marsh Warbler at Theddlethorpe Dunes on 17th and a Glossy Ibis at Bardney Lock from 19th – could it be the Alkborough Flats bird, which was last seen on 14th? Slightly less predictable was the White-tailed Eagle over Frampton Marsh RSPB on 16th.

Eurasian Spoonbill, Frampton Marsh RSPB, Lincolnshire (John Atkins).
Hints of return wader migration in South Yorkshire included Spotted Redshank at Adwick Washlands on 17th and Wood Sandpiper at Broomhill Flash on 19th. A Common Quail was flushed at Anglers CP, West Yorkshire, on 14th.
Just the single European Honey Buzzard was on show at Wykeham raptor watchpoint, North Yorkshire; a Hoopoe was reported nearby at Harwood Dale on 19th. A report of a Red-backed Shrike at North Cave Wetlands YWT on 16th topped a good week for the reservoir, with Wood and Curlew Sandpipers also seen. Also in East Yorkshire, a White-tailed Eagle overflew Leven Carrs on 15th, with a European Bee-eater doing the same at Patrington on 16th. At least two Rosy Starlings were in the Easington and Kilnsea area, with a Common Rosefinch singing at Spurn on 16th.
Josh Jones
West Midlands
This spring's Blyth's Reed Warbler arrival has been subpar in comparison to 2020, making the singing male at Middleton Lakes RSPB, Staffordshire, even more of an impressive inland find. Needless to say this also served as a first for the county, making this the fifth county first found at the reserve.

Blyth's Reed Warbler, Middleton Lakes RSPB, Staffordshire (Dave Hutton).
A Chough was reported at Twitchen, Shropshire, on 15th but no follow-up sightings were to be had. In Worcestershire, a singing Melodious Warbler proved a one-day bird at Lickey Hills CP on 19th – another testament to inland patching and a great local find.
Dan Owen
East Midlands
A Roseate Tern was a welcome visitor to Carr Vale NR, Derbyshire, on 18th, although sadly proved brief.
In Nottinghamshire, a Purple Heron was at Langford Lowfields RSPB on 17th, before flying east never to be seen again. Other gangly visitors to the site included two Common Cranes on 15-16th. Three Arctic Terns were at Scrooby Top Quarry on 16th. The European Honey Buzzards continued their sporadic appearances from the Welbeck watchpoint throughout.

European Honey Buzzard (lower), Welbeck watchpoint, Nottinghamshire (Robert Mellor).
The Northants Rosy Starling put in another appearance at Clifford Hill GPs on 14th, while one was a brief visitor to a private garden at Grane Park, Northampton, on 19th.
In Leicestershire and Rutland, spangly perfection came in the form of an adult male American Golden Plover at Rutland Water on 15th only. Other site highlights included a first-summer Black Tern and two Little Terns.
American golden plover Rutland water lagoon 3 pic.twitter.com/CoeDx5SFSJ

— simrob500 (@simrob500) June 15, 2021
Dan Owen
East of England
In Norfolk, a Black-crowned Night Heron flew over Great Ryburgh on 14th and a Purple Heron was at Titchwell RSPB two days later. Two European Bee-eaters were near Great Yarmouth on the evening of 17th, with five flying over Kelling Heath the day previous. The Marsh Warbler sang at Kelling all week and a male Red-backed Shrike visited West Runton on 14th. Rosy Starlings were at Cromer on 14th, Fakenham on 17th and Langham on 18th. Glossy Ibises were noted at Hickling Broad (two) and Welney WWT.

Marsh Warbler, Kelling, Norfolk (Julian Thomas).
Highlight in Suffolk was a White-winged Tern at Trimley Marshes SWT on 20th. A Black Kite was reported over the A14 near Ipswich on 14th. A Rosy Starling lingered at Landguard NR; up to two adult Roseate Terns were on show at Minsmere RSPB and the Glossy Ibis held on at Lackford Lakes SWT.
An adult Long-tailed Skua over The Naze, Essex, on 19th was a very unusual June record for Essex – much more expected were the handful of Spotted Redshanks back at Old Hall Marshes RSPB. In Hertfordshire, two Common Quail sang at Oughton Head Common on 17th and a trio of Common Scoter visited Hilfield Park Reservoir on 20th.
Bedfordshire's only report this week was a Common Crane heard at Broom on 16th. Up to three Glossy Ibises were in the Bluntisham area of Cambridgeshire, with a Black Tern at Grafham Water on 16th and a Common Quail at Newmarket Heath on 16th.

Eurasian Spoonbill, Boyton Marshes RSPB, Suffolk (John Richardson).
Josh Jones
South-East England
During a week when temperatures dropped off in the region, two Golden Orioles graced Sussex: a singing male briefly at West Wittering on 15th and a similarly fleeting bird – this one a female-type – at Cissbury Ring on 19th. The latter site also hosted a Common Quail on the same date. Late news of a Rosy Starling in a Selsey garden emerged, while a European Honey Buzzard flew over Shoreham-by-Sea on 15th. Two Roseate Terns reappeared at Church Norton on 20th. Out east, the Black-necked Grebe continued at Rye Harbour.
The Martin Down Rosy Starling was there until 17th, with a Common Quail at the site on 16th. Elsewhere in Hampshire, a Roseate Tern was at Hill Head on 17th and a Pink-footed Goose was at Fleet Pond from 16th.

Rosy Starling, Martin Down NNR, Hampshire (Nick Truby).
Things were considerably quieter than of late in Kent this week, though a Black Kite over Cliftonville and a male Red-footed Falcon at Bough Beech Reservoir, both on 14th, was a decent raptor double-act. Dungeness enjoyed a Rosy Starling from 17th and the lingering Glossy Ibis, plus there was late news of a Marsh Warbler, which had been present on 15th. Nearby, the Hooded Crow continued to spend time at Greatstone-on-Sea. A European Serin flew west over South Foreland on 16th.
In London, a Sandwich Tern over a Kingston upon Thames garden on 16th was a notable record. Wantage, Oxfordshire, enjoyed an unusual duo of records on 20th, especially a released Great Bustard briefly on a school playing field; a Rosy Starling, present for a second day, was slightly more expected but nonetheless a handy inland find. The Otmoor Glossy Ibis was present throughout.

Black-necked Grebe, Wanstead, London (Tony Brown).
Ed Stubbs
South-West England
A first-summer male Red-footed Falcon on St Mary's from 16th was the scarcity highlight in the Isles of Scilly. Up to two Rosy Starlings were on St Mary's from 19th, while the immature Iceland Gull remained throughout. The first Wilson's Storm Petrel of the year was seen from the RV Celtic Explorer to the south-west of the islands on 19th.

Red-footed Falcon, St Mary's, Isles of Scilly (Scott Reid).
Rosy Starlings continued to feature in good numbers in Cornwall, with singles seen at seven localities during the week. New scarcities comprised of a Golden Oriole at Praze-an-Beeble on 14th, Hoopoe at Kuggar on 18th and a Black Kite reported between St Newlyn East and Newquay on 14th. The first-summer Black-crowned Night Heron was seen again in Nanjizal Valley on 14th, with Foxhole's Ring-necked Duck reported again on 17-18th. Ruddy Shelduck were at Helston, Maer Lake NR and Stithians Reservoir.
Seven European Bee-eaters near East Prawle on 14th and a brief Ortolan Bunting on Lundy on 17th were the highlights of the week in Devon. A Rosy Starling was also on Lundy on 14th. White-tailed Eagles flew over South Molton and Brendon Common on 14th and 17th respectively, while a Eurasian Spoonbill put in an appearance at Exminster Marshes RSPB on 20th.
In Dorset, a Balearic Shearwater flew past Portland on 16th, followed by a couple of Pomarine Skuas the next day. A Rosy Starling was there on 19th and a Roseate Tern put in a brief appearance at Ferrybridge on the same date. Eurasian Spoonbills were at Lodmoor RSPB, Abbotsbury Swannery and Langton Herring.

Rosy Starling, Bryher, Isles of Scilly (Kris Webb).
A Common Crane flew over Cam, Gloucestershire, on the evening of the 19th. Up to four Garganey frequented Slimbridge WWT from 16th. Coombe Hill Meadows continued to play host to a singing male Common Quail, with another singing at Marshfield.
Two Long-tailed Duck were found at Portbury Wharf on 19th and remained the following day. A drake Garganey lingered at Chew Valley Lake and a Western Osprey was at Ham Wall RSPB on 17th.
Wiltshire again scored a Rosy Starling, with one in Warminster from 18th. A Little Gull was at Cotswold Water Park on 16th and 17th and Common Quails sang at Chiseldon and Everleigh.
Jonathan Farooqi
Wales
No fewer than seven Welsh sites hosted Rosy Starlings – St Brides Wentlooge, Gwent, Llanelli, Carmarthen, Harlech, Gwynedd, and Tregele and Valley, Anglesey, as well as Haverfordwest and Hasguard Cross, Pembrokeshire.
In Powys, a Hawfinch flew into a Guilsfield window this week and survived to tell the tale. In the south of the county, a Common Quail sang from Llanbadarn Fynydd. Ystumtuen, Ceredigion, held a Hoopoe until 17th, while the drake Garganey held on at Goldcliff Pools NR, Gwent. An adult White-tailed Eagle was reported over Fedw Fawr, Anglesey, on 13th, with two Roseate Terns at Cemlyn Bay.
Ireland
Rosy Starlings continued to dominate the airwaves across the island of Ireland, with the following counties scoring birds: Cork (two), Clare, Mayo, Wicklow, Kildare, Down, Antrim and Derry.
Otherwise, there was precious little on offer. A Lesser Yellowlegs was new at Tacumshin, Co Wexford, on 15th, lingering there to 19th. The Avocet hung around at Ormond's Island near Tuosist, Co Kerry – an excellent west-coast bird.
In Co Antrim, a male Green-winged Teal was an unusual June discovery on Rathlin Island on 17th.
Josh Jones
Western Palearctic
A belatedly reported Yellow-billed Shrike on Tenerife, Canary Islands, tops the week's billing, with this one-day Western Palearctic first at Las Mercedes on 23 May. Elsewhere, an Indian Pond Heron was photographed along the Saale River near Altendorf, Germany, on 2nd. If accepted as wild, this will be just the third regional record after birds in Kuwait in November 2009 and July 2013. Another record from Finland in August 2016 resides in Category E.
Sensational photographs of last week's albatross off the Italian coast confirmed it as an Atlantic Yellow-nosed Albatross, noted off Torvaianica on 11th and Varazze on 12th – an Italian first and the ninth for the WP. It's tempting to speculate that the Black-browed Albatross off Herøy, Norway, on 16th is the individual feared killed by White-tailed Eagles between Copenhagen, Denmark, and Malmö, Sweden, in mid-April (see here).
In Georgia, a male Hume's Wheatear was photographed at Kolkheti NP by visiting Kuwaiti birders on 7th. Away from Iraq, Kuwait is the only country in the region to have recorded the species to date, with eight accepted records, most recently in November 2016 – an amazing coincidence!

Hume's Wheatear, Kolkheti NP, Georgia (Mohammad Shah).
Impressively, a pair of Elegant Terns look set to fledge chicks on the French Biscay coast for the first time, with three adults and two chicks recorded among the breeding Sandwich Terns at Polder de Sébastopol, Barbâtre, on 19th. Germany's second Pacific Swift was photographed over Greifswalder Oie on 17th – and looks to be a different individual to last week's bird in Northumberland. Meanwhile, a female Amur Falcon was at Pucol, Valencia, on 13th – a first for mainland Spain after one on Tenerife in November 2020.
Látrabjarg, Iceland's most westerly point, scored a shock White-throated Needletail over the seabird cliffs on 20th. Meanwhile, the Black-and-white Warbler continued to sing at Syðra Lágafell until 18th at least, with an Eastern Imperial Eagle at Vilkkiläntura, Finland, on the same date. A Greater Sand Plover was at Kaarina on 19th, with a Black-winged Pratincole at Torup Holme, Denmark
The Netherlands' fifth Cinereous Vulture was near Breukelen on 19-20th, with a Bearded Vulture near Deleen on 14th; a Eurasian Scops Owl was at Alle, Belgium, on 15th. Noirmont Point, Jersey, hosted a brief male Red-footed Falcon on 14th.

Cinereous Vulture, Breukelen, Utrecht (Kris De Rouck).