The week at a glance
The flying start to 2015 continued this week when Ireland's second Slaty-backed Gull was found at the gull-watching mecca of Killybegs, Co Donegal, on 17th. A classic adult in all respects, the bird showed very well around the inner harbour and slipway throughout Saturday and some excellent photographs were taken. Though still present first thing on Sunday morning, it soon flew off down the estuary and as yet has not been seen again. Gull numbers were reportedly very low over the weekend, with a lack of trawlers perhaps to blame; many will be hoping the bird is lured back in by returning fisherman in the coming days and weeks.

Slaty-backed Gull, Killybegs, Donegal (Photo: Dermot Breen)
This record closely follows Ireland's first, a near-adult photographed in Galway City last February (for an account of that bird, see www.birdguides.com/webzine/article.asp?a=4217), and the immediate assumption was that the Killybegs bird might be the same individual returning. However, it appears an altogether heftier beast with a longer bill and quite impressive size.
Content continues after advertisements

Slaty-backed Gull, Killybegs, Donegal (Photo: Derek Charles)

Slaty-backed Gull, Killybegs, Donegal (Photo: Derek Charles)
Though it could occasionally be quite mobile and elusive along its favoured stretch of the River Don, Aberdeen's Harlequin never really looked like going anywhere and was still present on 20th. In fact it gave perhaps its best views of its stay so far, showing unconcernedly to within a few metres of gawping twitchers. A prolonged stay in the area looks a good bet.

Harlequin Duck, Aberdeen, Aberdeenshire (Photo: Daniel Branch)

Harlequin Duck, Aberdeen, Aberdeenshire (Video: Zac Hinchcliffe)
Still extremely rare but barely getting the attention they deserve are both American Coots — still present at Lough Gill, Co Kerry, and Balranald, North Uist, on 18th and 19th respectively. The co-operativeness of Cornwall's Pacific Diver has been well received this winter and it was still floating around in Mount's Bay on 19th.
Just a handful of Black Brants were noted this week (in Devon, Hampshire, Essex, Suffolk and Lincolnshire). Co Sligo's Richardson's Cackling Goose was again recorded at Ballintemple on 18th, the first report of it since late November, and another remained on North Uist on 17th. The parvipes Canada Goose remained at Wexford Wildfowl Reserve, and a Snow Goose was still at Newark Bay, Orkney, on 14th.
One of the highlights of the week was the discovery of a gorgeous drake Black Duck among a small party of Mallards off Samson, Isles of Scilly, on 19th. It's been a long time since the famous long-stayers graced the archipelago until the mid–2000s; here's hoping this one finds the islands to its liking. A drake American Wigeon at Swillington Ings, W Yorks, on 18th was the only new individual of the eight recorded; three Cornish records comprised the remaining drake at Kingsmill Lake and two females still on the Gannel Estuary, while there were also lingering drakes in Devon, Aberdeenshire and Counties Leitrim and Donegal. A drake Blue-winged Teal was at The Shunan, Orkney, over the weekend, while ten Green-winged Teal included two drakes at Muckle Roe, Shetland, on 17th and new birds on the Mullet peninsula, Co Mayo; Lossie Estuary, Moray/Nairn; and Loch of Bosquoy, Orkney.

Black Duck, Samson, Isles of Scilly (Photo: Joe Pender)

American Wigeon, St. Aidan's RSPB (Swillington Ings), West Yorkshire (Photo: Mick Hemingway)
Four drake Lesser Scaup remained: at Trabboch Loch, Ayrshire; Dozmary Pool, Cornwall; Cardiff Bay, Glamorgan; and Llangorse Lake, Powys. Ring-necked Ducks were typically more numerous, with three still at Lough Leane, Co Kerry, on 20th; eight others included two in Ireland and British birds still in Berkshire, Buckinghamshire, Northamptonshire, Dumfries & Galloway (2), Argyll and the Outer Hebrides. The female Ferruginous Duck was still at Slimbridge, Glos, on 16th and Blashford Lakes, Hants, hung on to its drake.

Ferruginous Duck, Slimbridge WWT, Gloucestershire (Photo: Tim Jones)
The only King Eider around Britain & Ireland was the usual female off Ruddon's Point, Fife, on 20th; a Surf Scoter was also there and two were still off Old Colwyn, Conwy, with others still on the Stour Estuary, Suffolk/Essex, and at Newcastle, Co Down. New birds were at Skaw, Unst, Shetland, on 18th and off Rosslare, Co Wexford, on 17–18th. The Black Scoter remained off Rossbeigh, Co Kerry, to 18th and another was reported off Cheswick Sands, Northumberland, on 20th.

Surf Scoter, Stutton Ness, Suffolk (Photo: Steve)
It goes without saying that the two Cattle Egrets were still at Dungeness, Kent, throughout the week, with several Great White Egrets also still frequenting the adjacent RSPB reserve; another Cattle Egret was also still on Jersey. The Glossy Ibis also returned to Frampton Marsh, Lincs, on 18th after a lengthy absence. Rather more surprising was a juvenile Night Heron at Nickoll's Quarry, Kent, from 14th. This is, of course, no more than a few miles from the infamous town of Hythe, which has recently attracted adult Night Heron as well as Chinese Pond and Green Herons in the depths of winter...

Night Heron, Nickoll's Quarry, Kent (Photo: Mike Buckland)
Lesser Yellowlegs remained at Rye Harbour/Pett Level, E Sussex, to 18th and on the Rogerstown Estuary, Co Dublin; there was no sign this week of Hampshire's Greater Yellowlegs, but the Spotted Sandpiper continued to provide fine support to the Harlequin in Aberdeenshire.

Spotted Sandpiper, Inverallochy, Aberdeenshire (Photo: Jack Bucknall)
The juvenile Ivory Gull reappeared in Ullapool harbour, Highland, on 16–18th before returning to the fish farm at nearby Ardmair until the week's end. Also still around were two semi-permanent fixtures: the Laughing Gull at Ballycotton, Co Cork, and the Bonaparte's Gull in the Dawlish Warren area of Devon. Ten Irish Ring-billed Gulls included new first-winters at Tralee Bay Wetlands, Co Kerry, from 17th and in Ennis, Co Clare, on 19th; a near-adult was also new at Spanish Point, Co Clare, on 19th, with twos in Limerick City and at Cuskinny Marsh, Co Cork. Belated news of a first-winter at Marazion, Cornwall, on 13th was significant but British records were otherwise limited to birds in Cornwall, Hampshire (2), Pembrokeshire, and on North Uist. Glaucous and Iceland Gull numbers remained fairly meagre and it's rapidly becoming obvious that it's not going to be a good year for them.

Ivory Gull, Ullapool, Highland (Photo: Peter)

Laughing Gull, Ballycotton, Cork (Photo: Ronan McLaughlin)

Ring-billed Gull, Cuskinny Marsh, Cork (Photo: Ronan McLaughlin)
Following an excellent early winter period for the species, Richard's Pipits continued at Breydon Water, Norfolk, Stolford, Somerset, and Cloughton Wyke, N Yorks.

Richard's Pipit, Breydon Water RSPB, Norfolk (Photo: Jake Gearty)
Lesser Whitethroats of presumed eastern origin were at Lochwinnoch, Clyde, throughout the week and at Carrigaline, Co Cork, from 17th. The Dusky Warbler continued to show on and off at Chichester Gravel Pits, W Sussex, throughout the week and another was photographed at Marton Mere, Lancs, on 16th. Two Yellow-browed Warblers were at Gwennap sewage works, Cornwall, from 18th and three others were seen in the county: at College Reservoir from 15th, Ponsanooth sewage works on 19th and still near Penryn to 18th. Two remained in Devon, by the Plym Estuary and at Broadsands — though the latter was not seen again after 14th.

Yellow-browed Warbler, College Reservoir, Cornwall (Photo: Alex Greene)

Dusky Warbler, Chichester GPs, West Sussex (Photo: John Fordham)
In Northumberland the Rose-coloured Starling was still around Prudhoe to 20th though it could go missing for long periods. Meanwhile, the Penduline Tits at Darts Farm, Devon, were last seen on 16th.

Rose-coloured Starling, Prudhoe, Northumberland (Photo: Frank Golding)
Western Palearctic news
Although belated news, the African Crake photographed at Puerto Rico, Gran Canaria, on Boxing Day 2014 stole the headlines this week. On the Spanish mainland the Thayer's Gull remained at Xove, Galicia, and the Pygmy Cormorant was still at Aiguamolls de l'Empordà NP, Catalonia. Italy's Grey-headed Gull performed well over the weekend at Bisceglie harbour, Puglia, with that region also playing host to Pallas's Gull and the long-staying Pied Kingfisher.

Grey-headed Gull, Italy (Photo: Josh Jones)
A Lesser Flamingo was seen in Kuwait City on 13th, while the Crimson-winged Finch at Mandria, Cyprus, was joined by a second bird on 20th. In the Azores, the wintering Willet continued at Ponta Delgada, São Miguel.
Finland's double act — the Black-throated Accentor and Azure Tit — also remained, as did the American White-winged Scoter and Hooded Merganser in south-west Iceland. The Wallcreeper continued to perform well at Dinant, Belgium, all week and the Netherlands claimed only its fourth Spotted Sandpiper on 20th; the Oriental Turtle Dove was also still near Rotterdam that day.
Photo of the Week, 24–30 December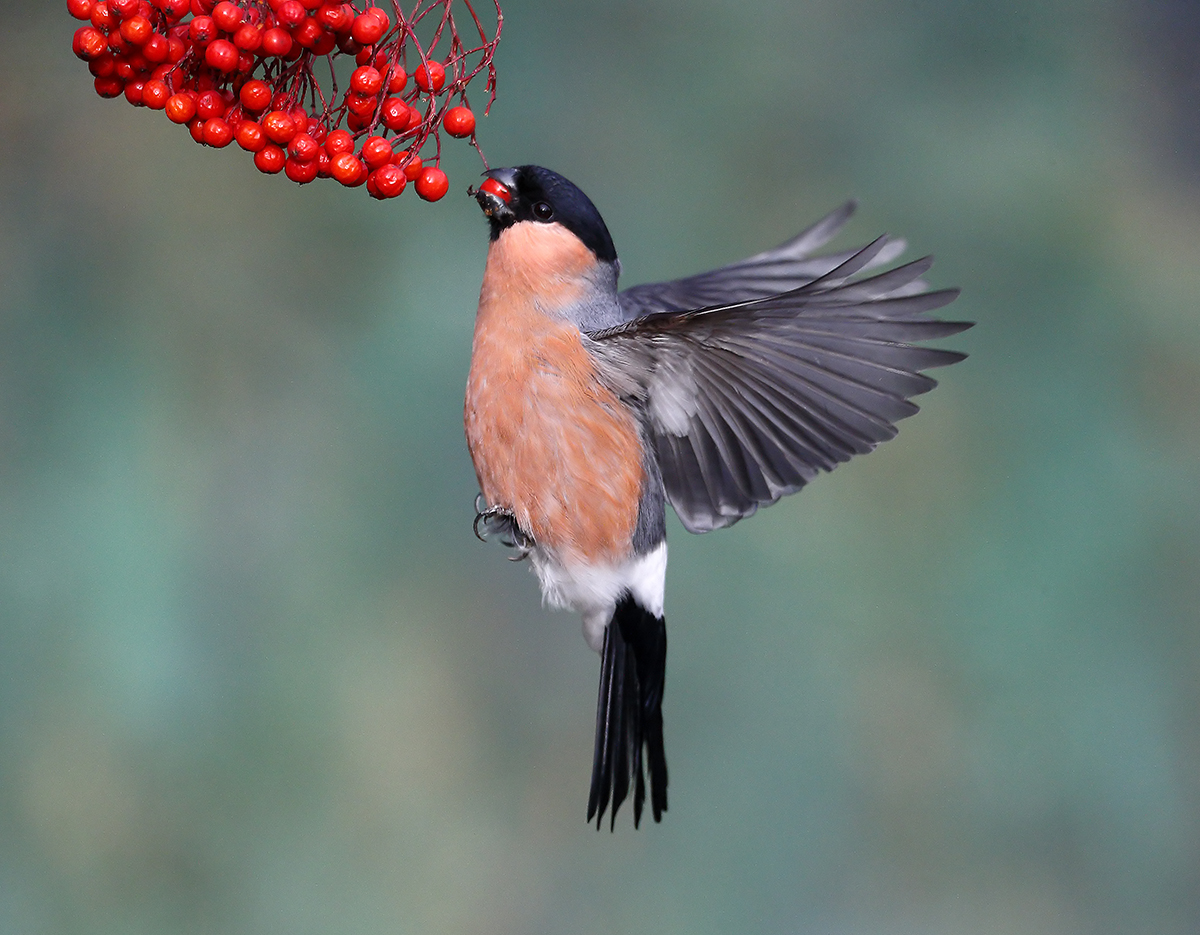 British Bullfinch, Studley, Warwickshire (Photo: Mike Lane)
It's not often during my time as BirdGuides' photo editor that that I've been able to look at an image so early in the week and think "Wow, that's Photo of the Week!", says Steve Young. But that's exactly how it was with Mike Lane's superb image of a berry-plucking Bullfinch and, although there were some great posts this week that made it a great contest, it still remained my firm favourite.

Mike used 1/2500th second shutter speed to freeze the action, but more interestingly ISO6400 had to be used even in good winter light to achieve this shutter speed; the quality of high ISO settings just keeps getting better! Congratulations to Mike for his imagination and patience in waiting for everything to come together; I should imagine there were a lot of "missed it again..." moments before this winning one.
Other notable images

Lapwing, undisclosed site, Gloucestershire (Photo: Mike McKenzie)

Whooper Swan, Welney WWT, Norfolk (Photo: Harry Read)

Penduline Tit, Darts Farm RSPB, Devon (Photo: Mick Colquhoun)

Red-breasted Merganser, Exe Estuary, Devon (Photo: Charlie Fleming)

Redshank, Largo Bay, Fife (Photo: John Anderson)

Kestrel, Widewater Lagoon, West Sussex (Photo: Howard Kearley)

Robin, Loch Leven, Perth & Kinross (Photo: S Gillies)

Short-eared Owl, undisclosed site, Cambridgeshire (Photo: Ian Clarke)

Black Redstart, Brean Down, Somerset & Bristol (Photo: Steve Hatch)

Brambling, Germany (Photo: Siegbert Werner)

Buzzard, Glasgow, Clyde (Photo: Steven Mcgrath)

Bearded Tit, Lakenheath (Hockwold) Fen, Suffolk (Photo: Neil Rolph)