Despite the stubborn north-easterly airflow, a few classic spring overshoots managed to squeeze through as the week saw a noticeable changing of the guard, with a number of spring visitors making their presence felt, while some popular winter visitors departed.
In Cornwall, a male Eastern Subalpine Warbler at Cleeve Common, Trevescan, on 20th provided a nice contrast with last week's Western Subalpine Warbler in the same county, while a female subalpine warbler sp was photographed at Burton Marsh, Cheshire, the previous day. Of additional Curruca interest, a possible orphean warbler sp was at Knighton Heath Wood, Dorset, on 20th.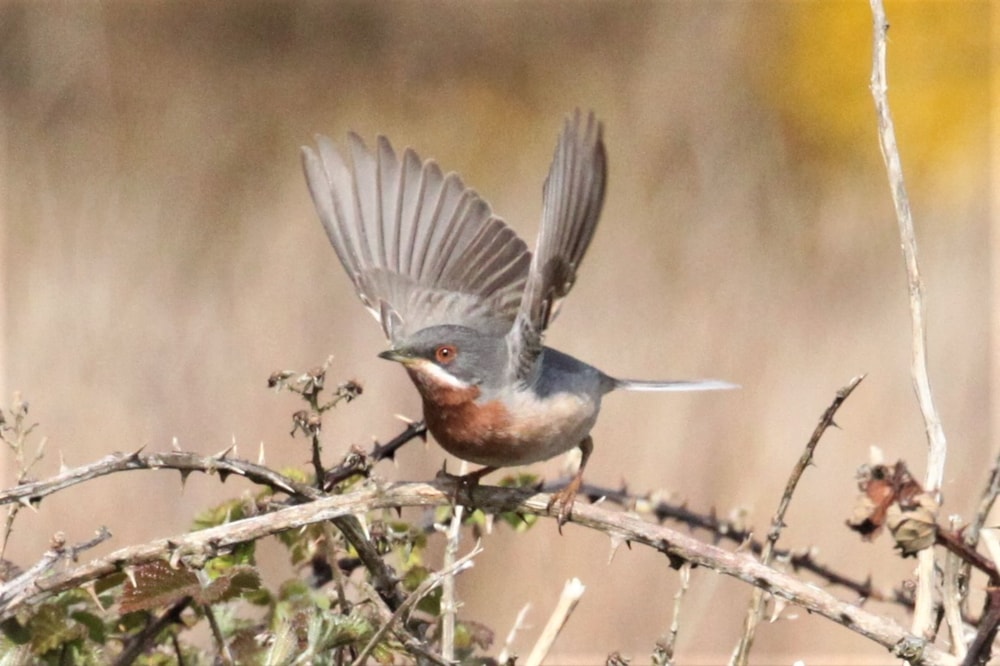 Eastern Subalpine Warbler, Trevescan, Cornwall (Paul Freestone).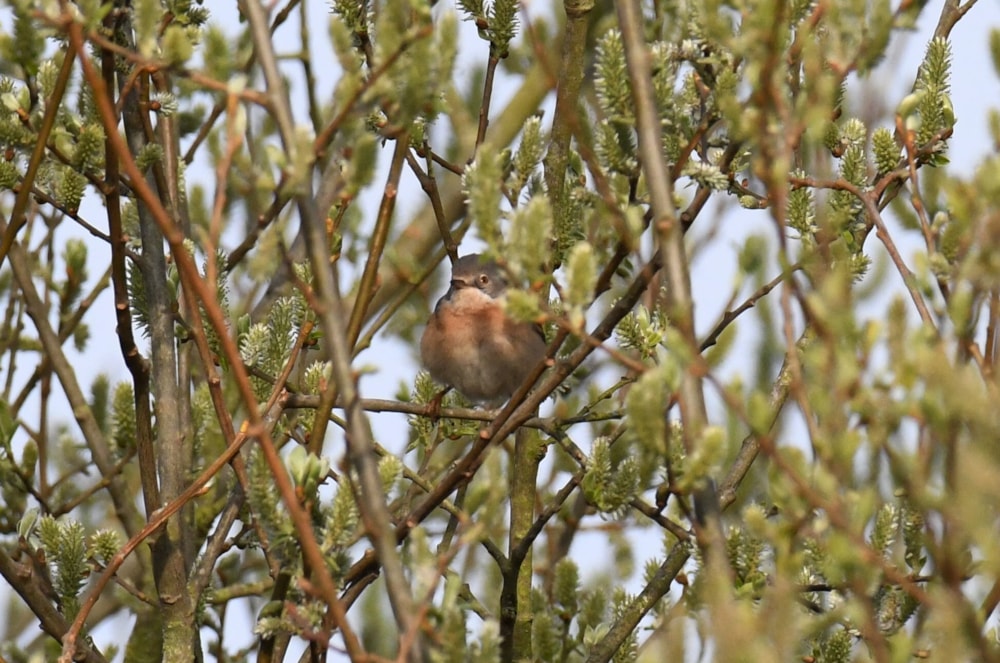 Subalpine warbler sp, Burton Marsh, Cheshire (TramBirder).
An elusive, singing male White-spotted Bluethroat was at Titchwell RSPB, Norfolk, from 17-19th, with a much more obliging male Iberian Chiffchaff singing at Foxhall Heath, Suffolk, from 17th; another was near Sizewell on 15th.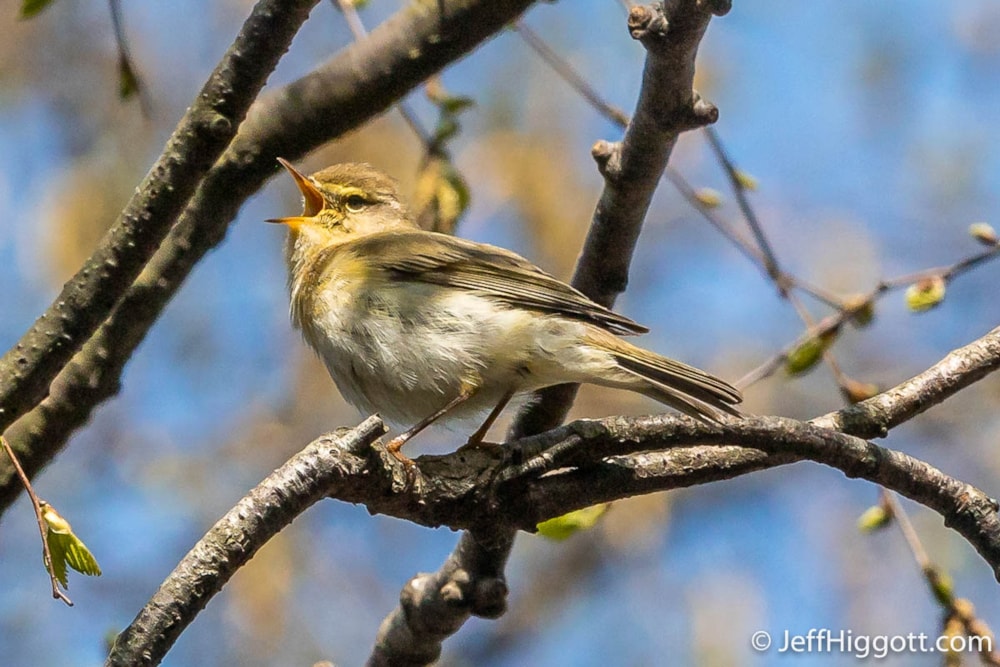 Iberian Chiffchaff, Kesgrave, Suffolk (Jeff Higgott).
A possible Iberian Wagtail was at Cheddar Reservoir, Somerset, from 18th, while a potential dombrowskii Yellow Wagtail was at Frampton Marsh RSPB, Lincolnshire, on 20th – an uncommon intergrade between Black-headed and Blue-headed Wagtails from Romania. In Scilly, a Tawny Pipit flew over Bryher on 16th.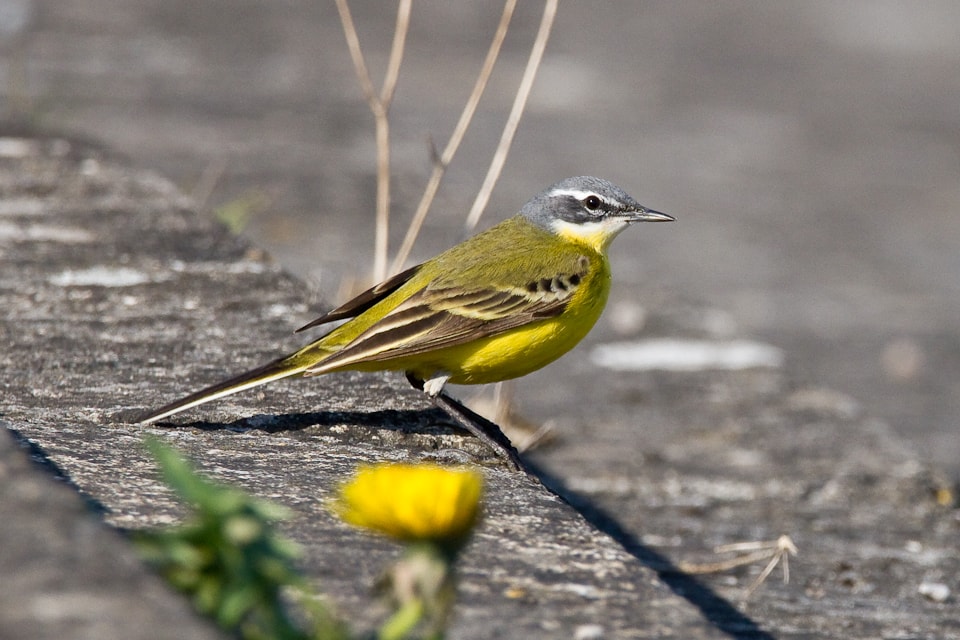 Possible Iberian Wagtail, Cheddar Reservoir, Somerset & Bristol (Alex Carlisle).
Strong northerly blasts at the end of last week saw a rare spring influx of Hornemann's Arctic Redpolls into northern Scotland. A probable at Achmelvich, Highland, was the most notable, with another three on Shetland – at Stjoal, Foula, as well as Mulla and Brae, Mainland.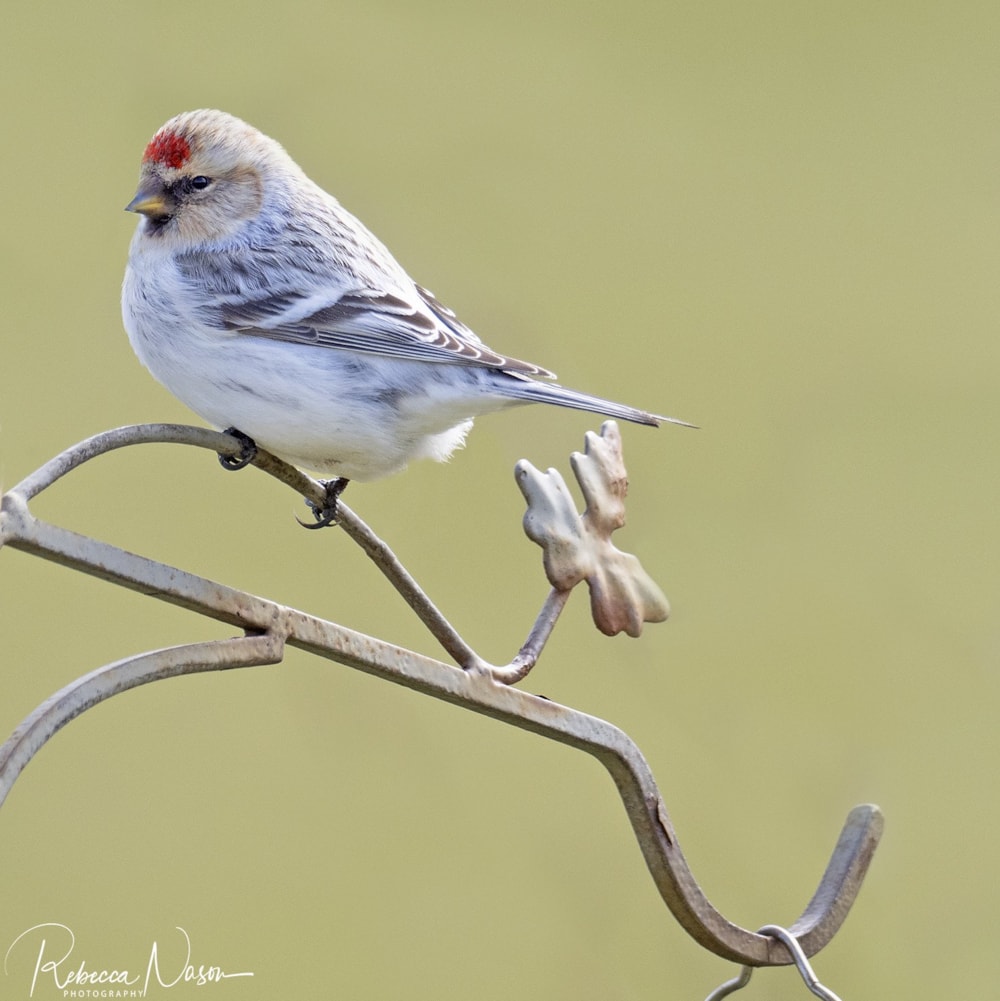 Hornemann's Arctic Redpoll, Mulla, Mainland, Shetland (Rebecca Nason).
April's most popular avian attraction, the White-throated Sparrow at Barcombe Cross, bid adieu to its adopted corner of East Sussex after 18th.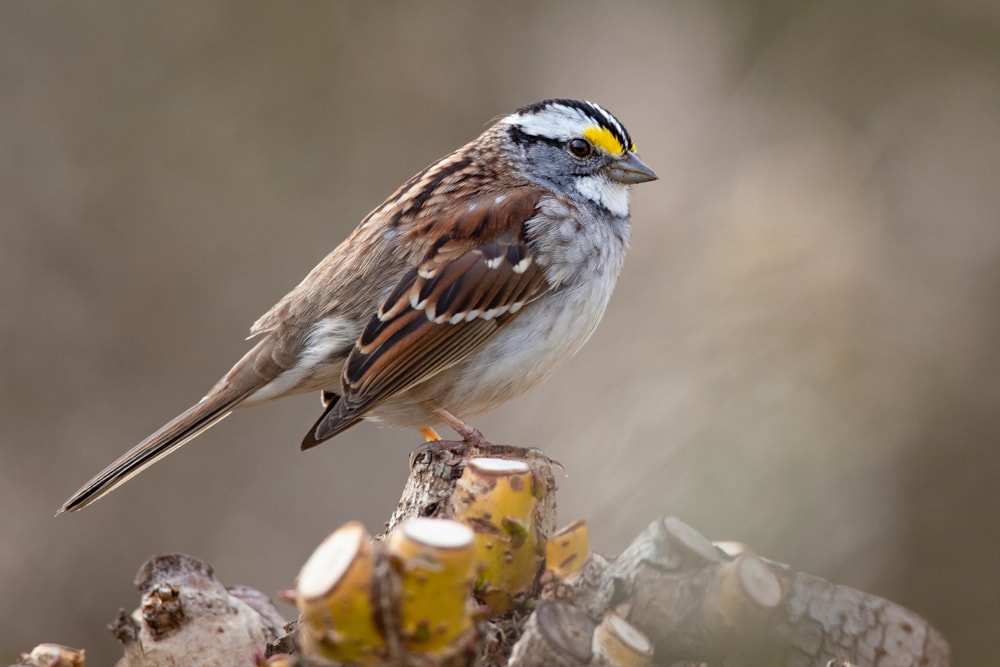 White-throated Sparrow, Barcombe, East Sussex (Marc Read).
Nottinghamshire's Two-barred Crossbill departed Thoresby pit top after 14th. Intriguingly, a possible Northern Mockingbird was reported from Swindon's West Mead Industrial Estate, Wiltshire, the following day, although wasn't to be relocated.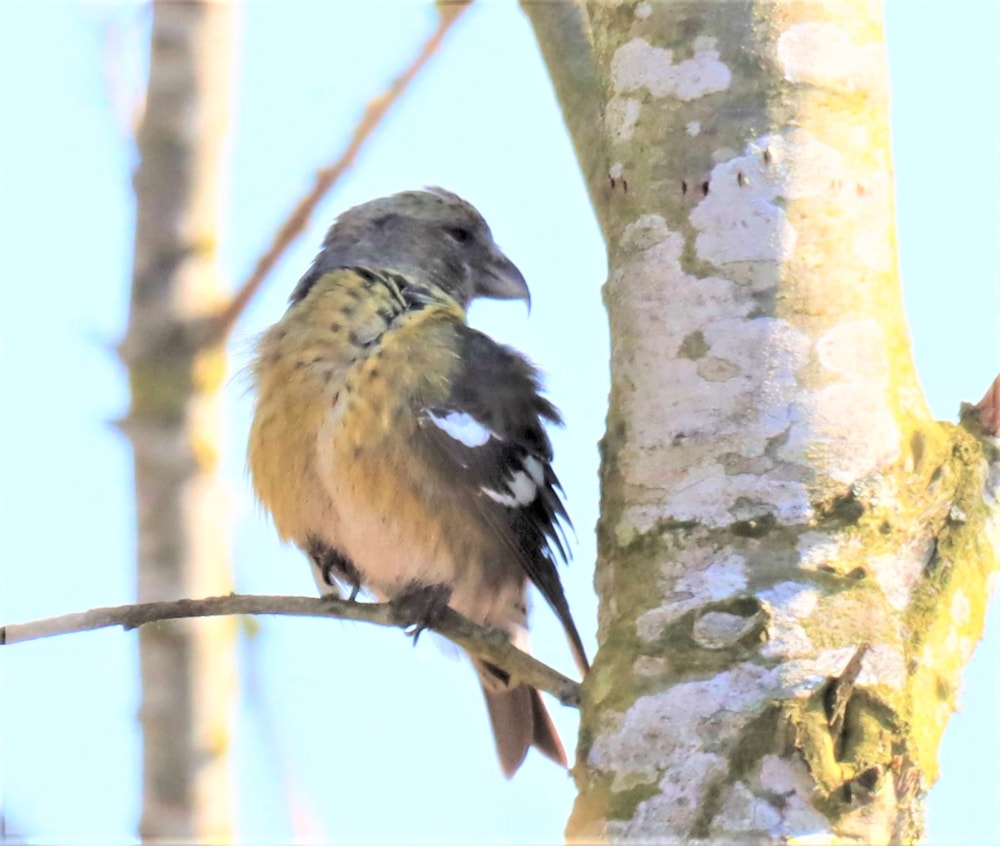 Two-barred Crossbill, Edwinstowe, Nottinghamshire (David Williamson).
Co Cork's rare Nearctic double held out for another week – the Castletownbere Belted Kingfisher and Nohoval Pond's Bufflehead – as did the first-summer Double-crested Cormorant at Carrig Island, Co Kerry.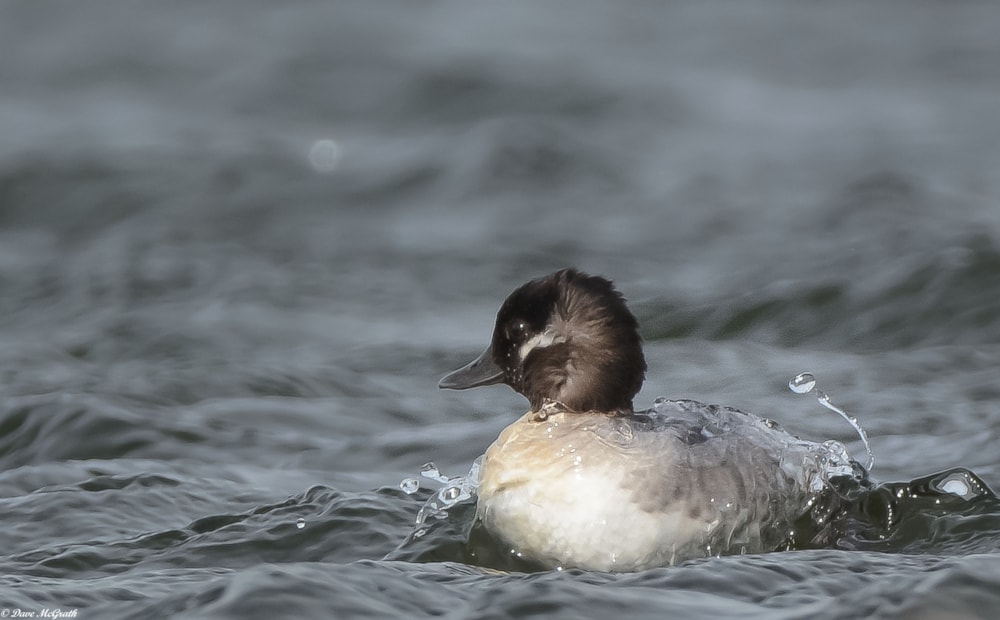 Bufflehead, Nohoval Pond, Cork (Dave McGrath).
Argyll's Pied-billed Grebe remained steadfast at Loch Feorlin, with the Hooded Merganser at Tophill Low NR, East Yorkshire, likely the drake from Hornsea Mere relocating.
A Richardson's Cackling Goose was with Pink-feet at Udale Bay, Highland, from 16th; another remained at Aird an Runair, North Uist, on 20th. Four possible Lesser White-fronted Geese flew over Alnmouth, Northumberland, on 17th.
The russet first-summer Long-billed Dowitcher at Scorton, North Yorkshire, is starting to look really quite dapper, while elsewhere, a probable Broad-billed Sandpiper was at Breydon Water RSPB, Norfolk, on 20th.

Long-billed Dowitcher, Scorton, North Yorkshire (S Clifton).
A rare Irish Kentish Plover graced Ballycotton, Co Cork, on 19th, while Ayrshire's Spotted Sandpiper was last noted at Croy the previous day.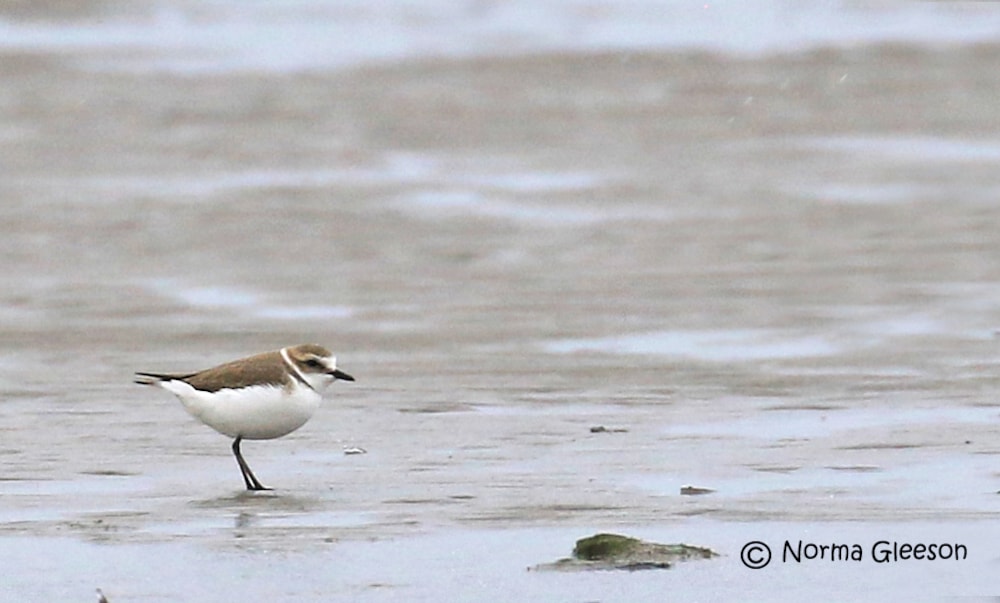 Kentish Plover, Ballycotton, Cork (Norma Gleeson).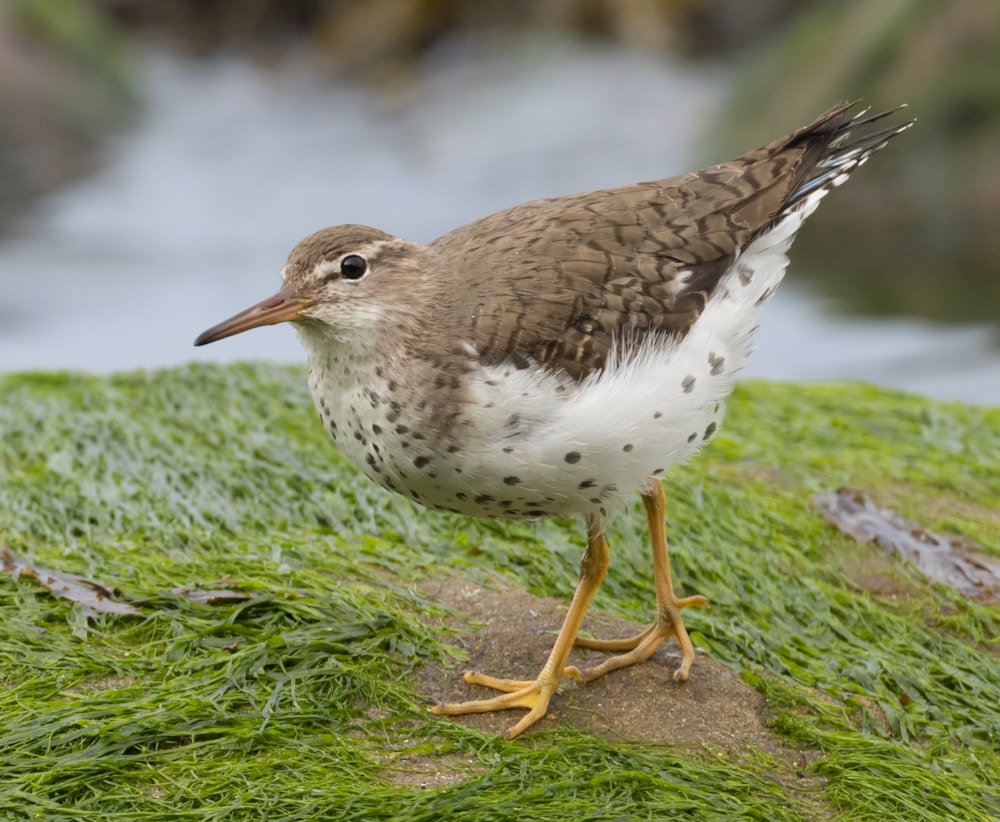 Spotted Sandpiper, Croy, Ayrshire (Dave Grant).
A reported first-winter Little Gull at Rutland Water from 13th was re-identified as the county's first Bonaparte's Gull on 20th. Another first-winter at Cardiff Bay, Glamorgan, from 18th is perhaps the same individual from earlier in the year. Cornwall's young American Herring Gull continued at Newlyn.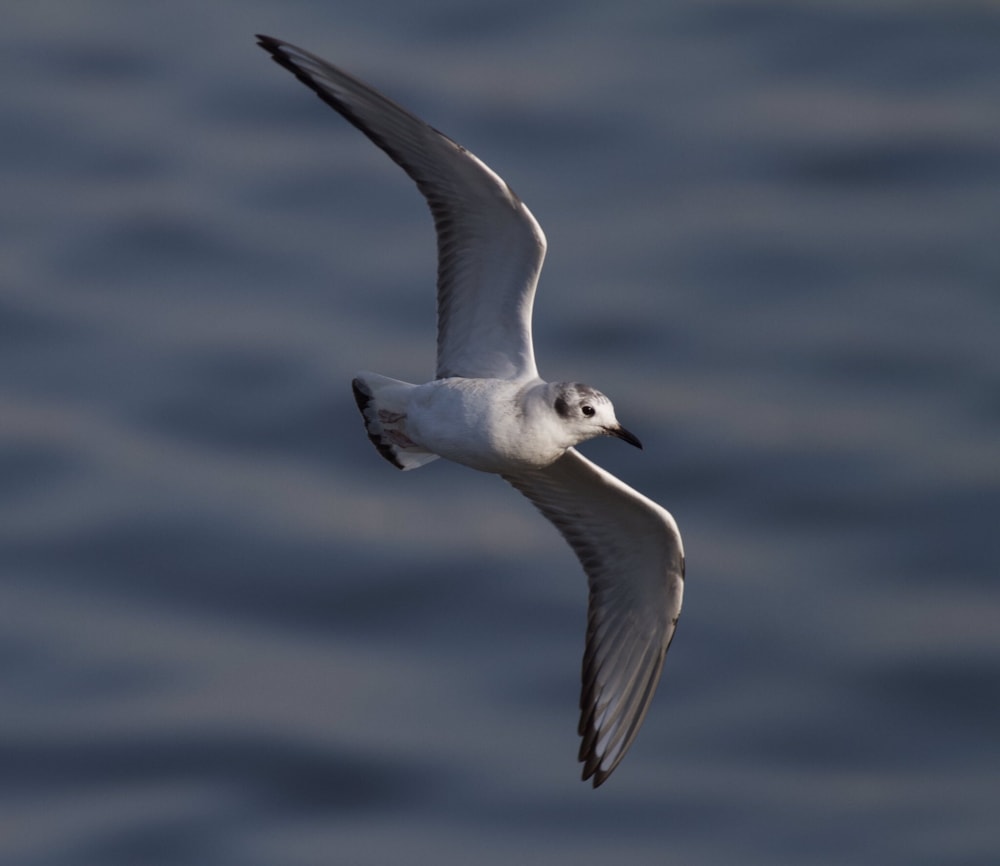 Bonaparte's Gull, Cardiff Bay, Glamorgan (Graham Smith).
A Sei Whale in the Firth of Forth proved reliable off Kinghorn, Fife, from 10th at least – one of the first-ever twitchable records of this deep-sea cetacean in British waters – while the young male Walrus remained at Tenby, Pembrokeshire, throughout the week.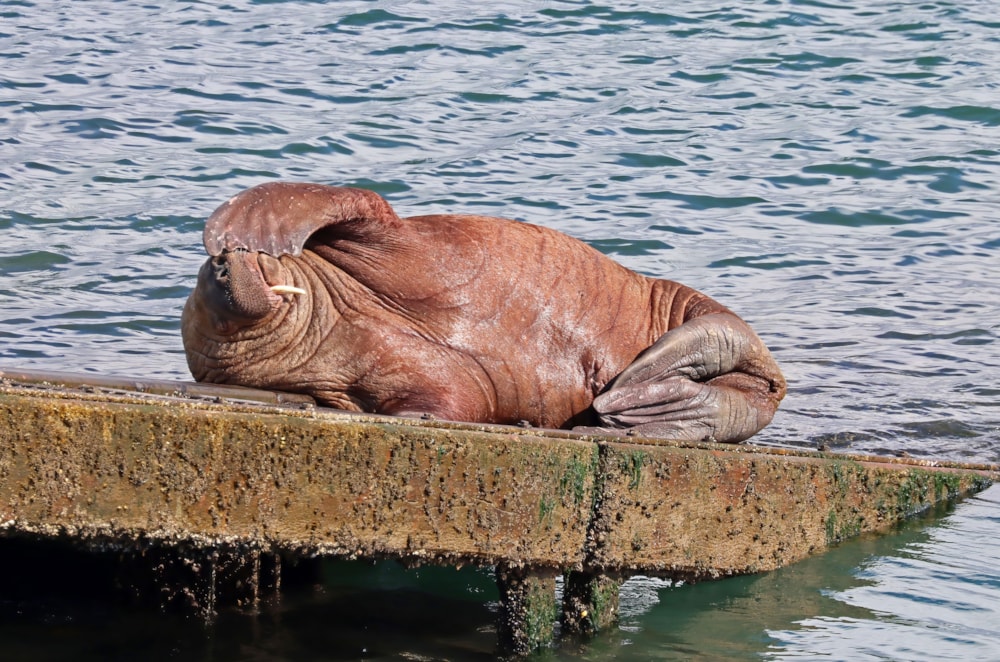 Walrus, Tenby, Pembrokeshire (Jason Williams).
Scottish mainland
The now expected spring build-up of White-billed Divers off the Aberdeenshire coast included at least 11 off Portsoy and no fewer than seven off Cullen, with others including singles off Lossiemouth, Moray & Nairn and Ferny Ness, Lothian.
The Lesser Canada Goose resurfaced with Pink-feet at St Fergus, Aberdeenshire, with a Tundra Bean Goose at South Medwin Pools, Clyde, drake Northern Eider at Coul Links, Highland, and Green-winged Teal at Tain, Highland. Ring-necked Duck remained at Loch Oire, Moray, Bingham's Pond, Clyde, Cameron Reservoir, Fife, and Martnaham Loch, Ayrshire. A further three joined the wintering Smew at Loch of Skene, Aberdeenshire; other Smew were at Bishop Loch, Clyde, and Cambus, Forth. Surf Scoter were at seven sites.
Glaucous Gull, Arbroath, Angus & Dundee (Alex Shepherd).
A small arrival of Avocet included one at Loch of Strathbeg RSPB, Aberdeenshire, as well as five at Gosford Bay, Lothian, and two at Belhaven Bay. A Eurasian Spoonbill at Loch of Mey, Caithness, is a notable record so far north.
A Hoopoe was at Loch Laggan, Highland, with a Wryneck on Eigg and a Black Redstart at Tarskavaig, Skye. A gorgeous male Lapland Bunting was singing at Sheigra, with another eight at Tarbat Ness and four at Tiree, Argyll.
Northern Isles and the Hebrides
A second-winter Ring-billed Gull at North Bay, South Uist, was a smart Hebridean record, while elsewhere saw a Todd's Canada Goose between Loch Grogary and Aird an Runair, North Uist, during the week, and the white-morph Snow Goose still at Loch an Tiumpan, Lewis, until 17th. A Eurasian Spoonbill was on rocks at the Butt of Lewis on 17th before moving to Loch Stiapavat. Several Lapland Buntings across the islands included at least one delightful male at Loch Stiapavat, Lewis.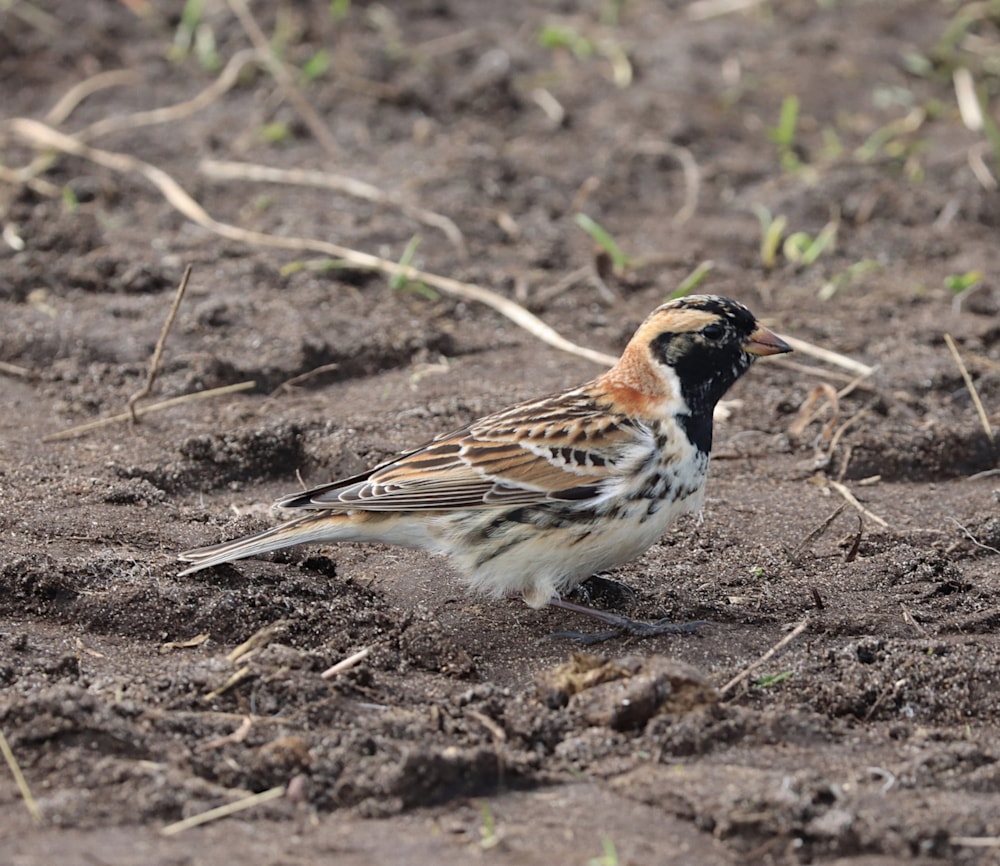 Lapland Bunting, Loch Stiapavat, Lewis, Outer Hebrides (Andy Williams).
Shetland's American Wigeon continued at Loch of Spiggie, Mainland, while a smart Blue-headed Wagtail was at Skaw, Unst. An immature White-tailed Eagle flew over Lamba Ness, Unst, with a White-billed Diver at Kirkabister, Mainland; a Siberian Chiffchaff was the best on Fair Isle.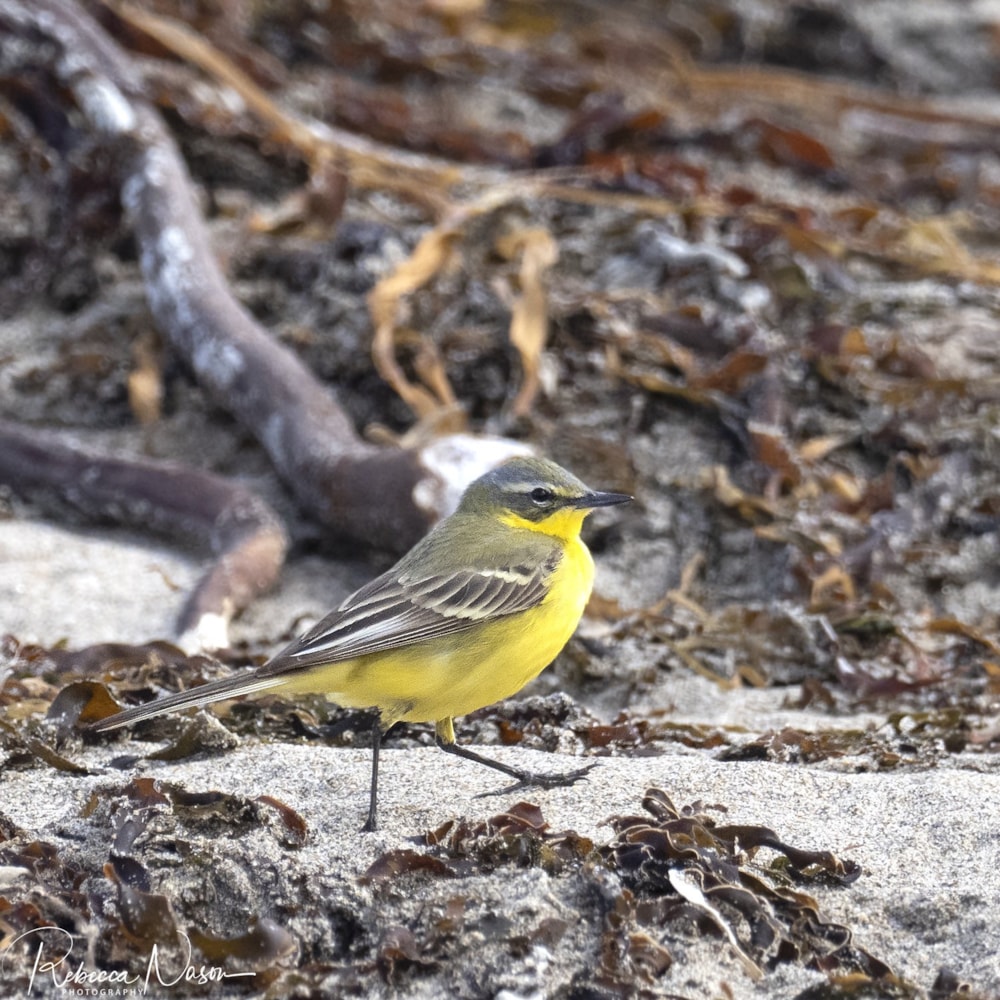 Blue-headed Wagtail, Skaw, Unst, Shetland (Rebecca Nason).
A Black Kite which flew through Papa Westray and Westray on 17th was the best of the week's action in Orkney. Meanwhile, White-billed Divers were off Papa Westray and North Ronaldsay, with a Green-winged Teal and Garganey also on the latter island.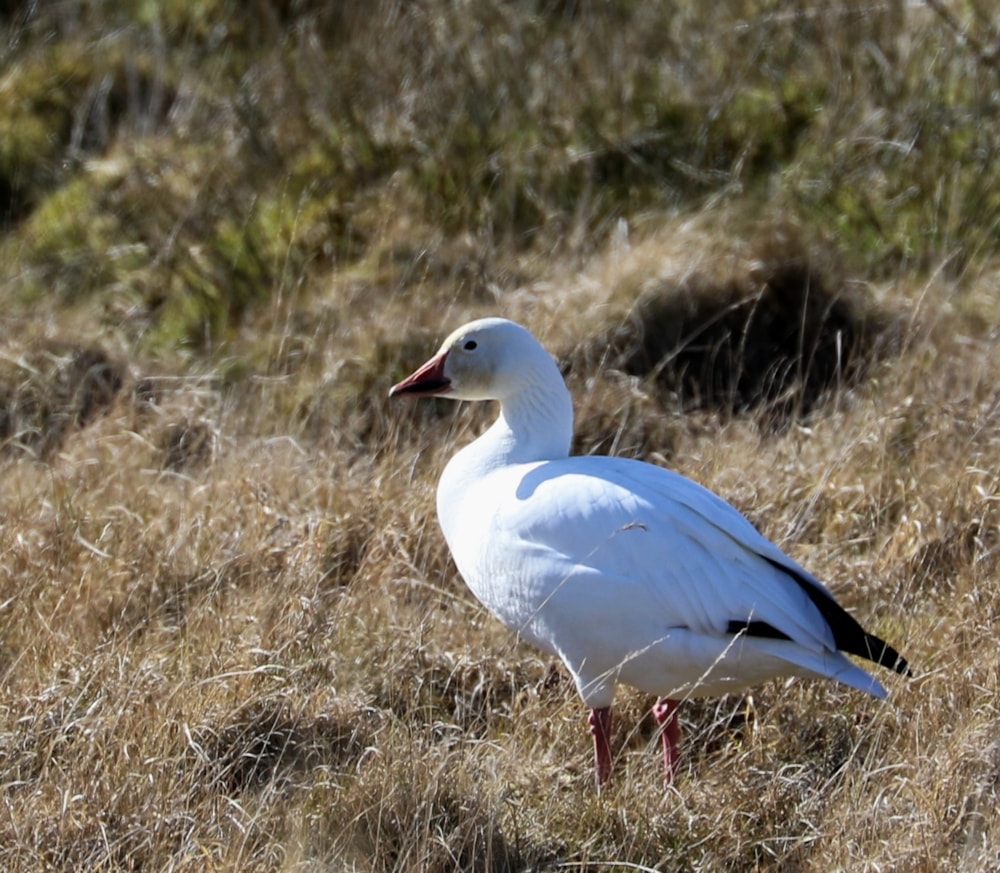 Snow Goose, Aird, Lewis, Outer Hebrides (Robert Wemyss).
North-East England
Bothal Pond, Northumberland, hosted a Pectoral Sandpiper from 16-19th, where the Spotted Redshank also hung on. A Spotted Crake was unfortunately found dead on the outskirts of Ashington, while a female Garganey was at Gosforth Park NR and a Wood Sandpiper was reported flying over West Hartford on 17th. Channel Wagtails were at Hemscott Hill and Druridge Pools, while the Shore Lark remained at the former site until 16th. A Snow Bunting flew north-east over Rising Sun CP with an Iceland Gull there, too; another Iceland was briefly at Branton GPs on 16th.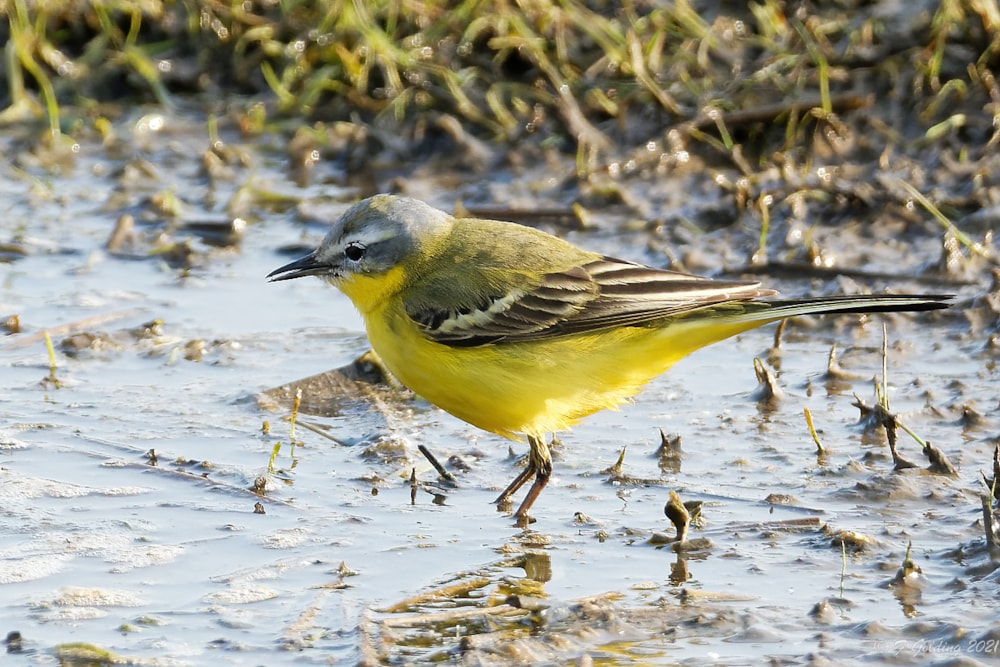 Channel Wagtail, Druridge Pools, Northumberland (Frank Golding).
A second-winter Iceland Gull was the best action past Whitburn Coastal Park, Durham, where a 'blue' Northern Fulmar and Little Gull also flew past. Another Iceland was at Washington WWT alongside the drake Ruddy Shelduck. Both the drake American Wigeon and Green-winged Teal continued their lengthy stays at Saltholme RSPB, Cleveland, as did the Spotted Redshank at Greatham Creek and Garganey at Holme Fleet.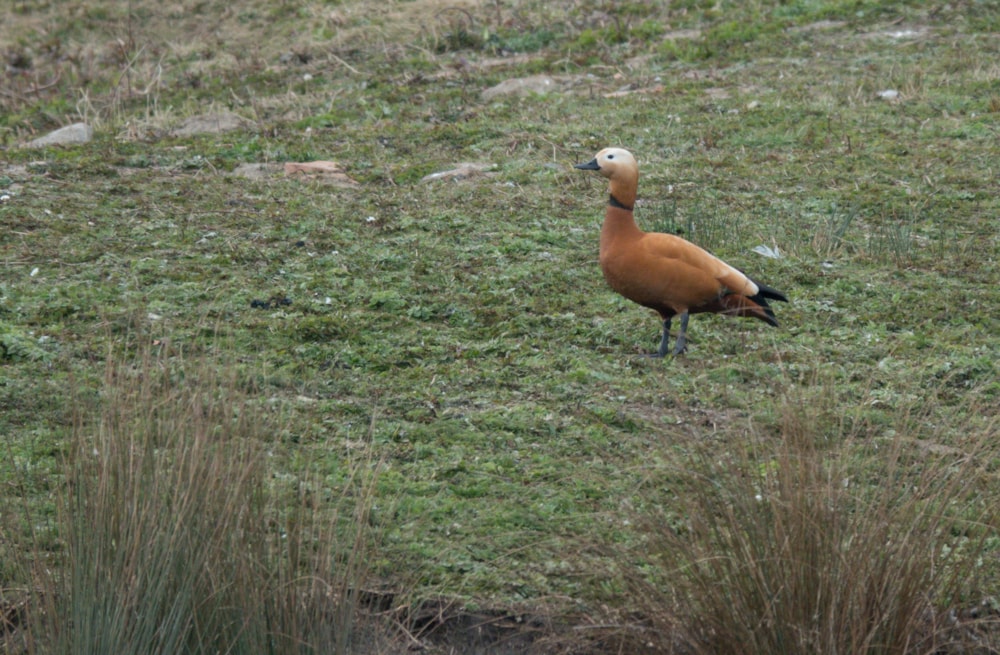 Ruddy Shelduck, Washington WWT, Durham (Andrew Kinghorn).
North-West England
In a quiet seven days for Cumbria, a White Stork of presumably suspect origin at Standing Tarn, Dalton-in-Furness, on 17th was likely the highlight. Lancashire remained largely the same, the Dusky Warbler continued at Ainsdale and still attracts a steady stream of admirers to whom it showed well to at times. A first-winter Russian White-fronted Goose was busy mingling with the Pink-feet at Crossens Outer Marsh on 18th, while a Hoopoe over a garden in St Helens was an intriguing report.
A Wryneck is always a major Cheshire bird, so one in a private garden near Nantwich on 13th was a great record. The drake Ring-necked Duck kept locals on their toes this week as it re-appeared on Sandiway Small Pool on 14th, albeit with no sign since. A singing Siberian Chiffchaff was along the Wirral Way at Parkgate on 15th. A stonking Slavonian Grebe was at Acre Nook Sand Quarry from 18th and served as a nice change to the county's ever-present Black-necked Grebes. There were two reports of White Stork this week – a sure sign of the times – with one over Weaver Bend, Frodsham Marsh, on 16th and a probable over Meols the same day. It was slim pickings in Greater Manchester this week although a Glossy Ibis over Heaton Park was a great local bird.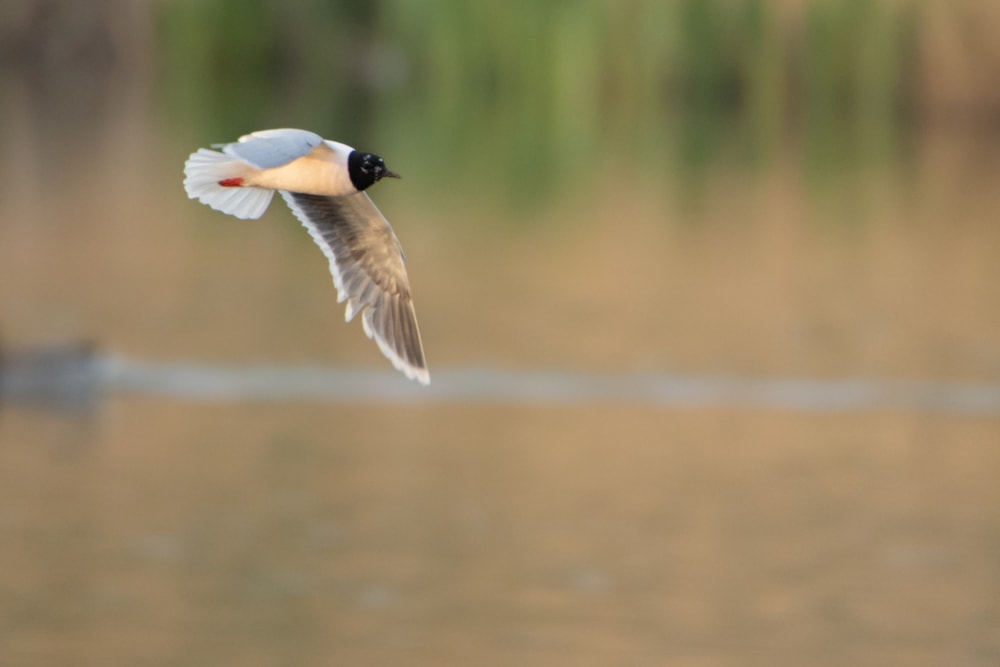 Little Gull, Woolston Eyes NR (PERMIT ONLY), Cheshire (Dan Owen).
Lincolnshire and Yorkshire
The Frampton Marsh RSPB team was thrilled to welcome back a pair of Black-necked Grebes to the reserve this week, after last year's successful breeding attempt. Also in south Lincolnshire, the Ring-necked Duck continued near Langtoft and a Kittiwake visited Deeping Lakes LWT early on 14th. Both Common Crane and White-tailed Eagle were in the skies over Grimsby this week. Four Lincs sites had Ring Ouzels.
A typical spread of April records in South Yorkshire included Garganey, Ring Ouzel and Channel Wagtail, while the Iceland Gull was seen again at Old Moor RSPB. Another Iceland Gull was near Leeds, with the Slavonian Grebe last noted at St Aidan's RSPB on 17th, the same day a female Long-tailed Duck was at Fairburn Ings RSPB.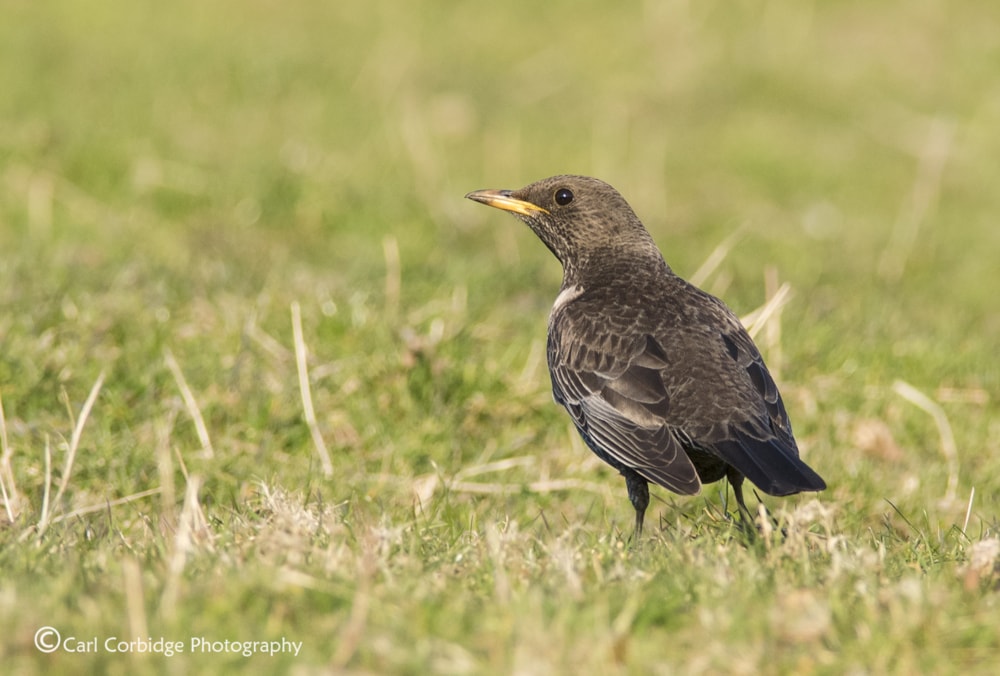 Ring Ouzel, High Bradfield, South Yorkshire (Carl Corbidge).
The Ring-necked Duck was still at Malham Tarn, North Yorkshire, on 14th, with a Common Crane overflying Nosterfield LNR the following day perhaps the bird seen over Huby and Wykeham Lakes on 19th. A Lesser Yellowlegs briefly visited North Duffield Carrs on 16th. An Iceland Gull was at Long Nab on 17th.
A handful of Ring Ouzel sightings was the best the Flamborough Head area could do this week, while Hornsea Mere hung on to its assortment of wildfowl and a Common Crane flew over on 18th. The Spurn area was quiet, too, with a flyover Woodlark on 20th probably the best. The Green-winged Teal was still at North Cave Wetlands, while Southfield Reservoir produced a Spotted Redshank on 14th.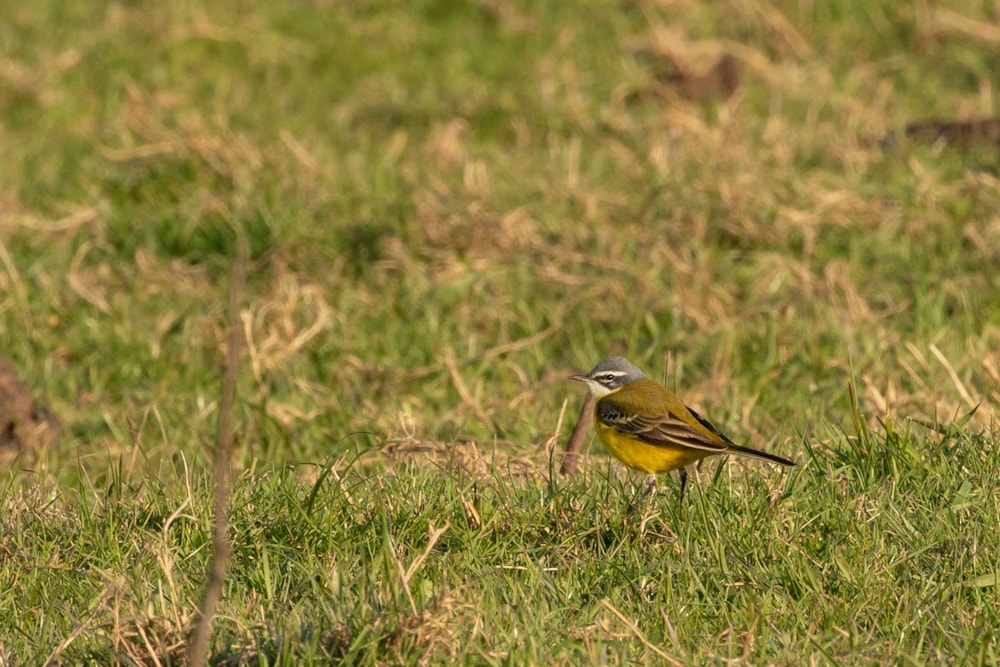 Blue-headed Wagtail, Fairburn Ings RSPB, West Yorkshire (Joe Seymour).
Content continues after advertisements
West Midlands
Migrants were limited across the region this week, although Ring Ouzels were back in Staffordshire in some numbers with six localities reporting birds. Herefordshire and West Midlands were much the same, with the former scoring one and the latter two. Sticking with the monochrome theme, a male Pied Flycatcher was at Venus Pool NR, Shropshire, on 15th.
Western Cattle Egrets continue to be a nice local bird in some areas, so three in the paddocks by Fishers Mill at Middleton Lakes RSPB, Warwickshire, were most welcome. Draycote Water had a relaxed week with Black Redstart and Mealy Redpoll on offer on 14th. An adult Russian White-fronted Goose paid a quick visit to Ladywalk NR on 18th. Over in Worcestershire, a European Turtle Dove at a private site by Tenbury Wells was a nice record. A Little Gull was at Upton Warren NR on 14th only while a Channel Wagtail was at Stanklyn on 18th.
Western Cattle Egret, Middleton Lakes RSPB, Warwickshire (Mr J.F.Farrington).
East Midlands
A Eurasian Spoonbill was new-in at Ogston Reservoir from 17th, where a White Stork circled overhead the same day. Lingering birds included the adult Great Northern Diver at Carsington Water and Russian White-fronted Geese at Allestree and Kedleston Park.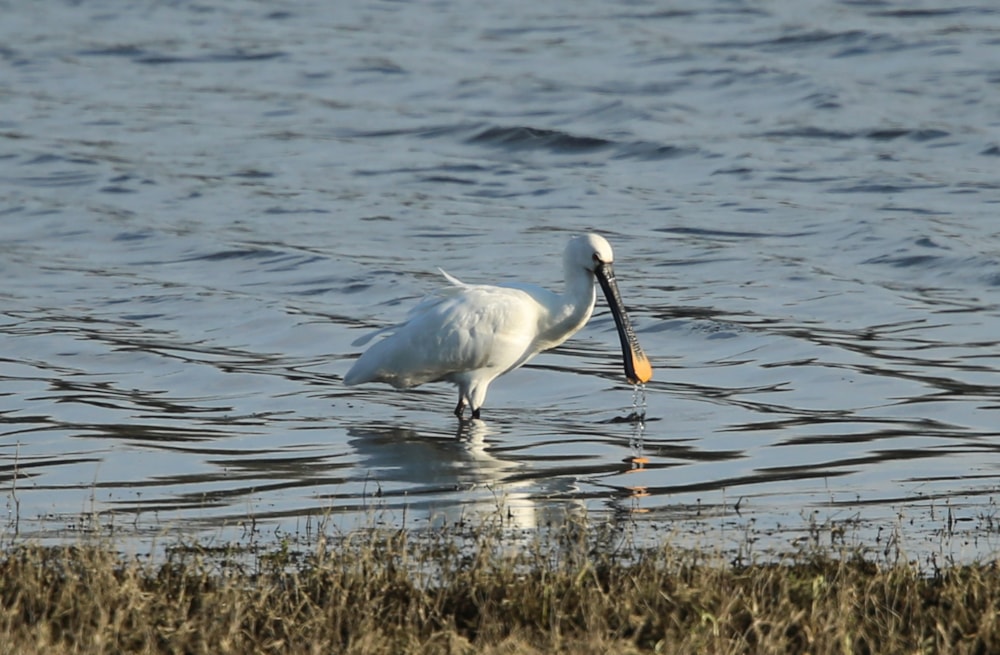 Eurasian Spoonbill, Ogston Reservoir, Derbyshire (Mary Wilde).
The Little Bunting at Langford Lowfields RSPB, Notts, made it into yet another weekly review however there was no further sign from 17th, the same day a Slavonian Grebe served as a fine replacement. Five Common Crane flew north-east over Elkesley on 15th before relocating to Idle Valley NR the following morning. A Black Tern was at Attenborough NR between 18-19th.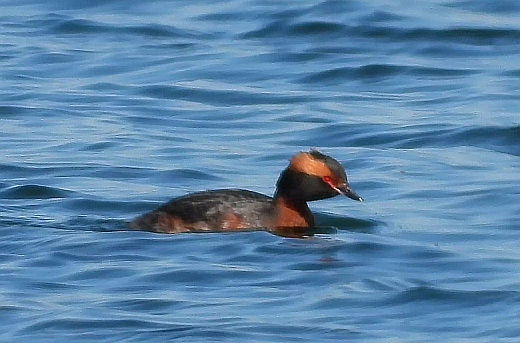 Slavonian Grebe, Langford Lowfields RSPB, Nottinghamshire (Alan Shaw).
A European Bee-eater was heard heading west over Earls Barton GPs, Northants, on 17th although sadly wasn't relocated. The Glossy Ibis was still being seen at Titchmarsh NR and Stanwick GPs and the drake Ring-necked Duck continues to call Clifford Hill GPs home. The first-winter European Shag was still at Daventry Reservoir CP. In Leicestershire and Rutland, a White Stork was photographed heading south over Manton Bay, Rutland Water, on 18th and at least one Great Northern Diver was still present. Two Iceland Gulls paid a visit to Gibbet Lane sand pit at Shawell on 17th and the drake Ring-necked Duck was still at Staunton Harold Estate.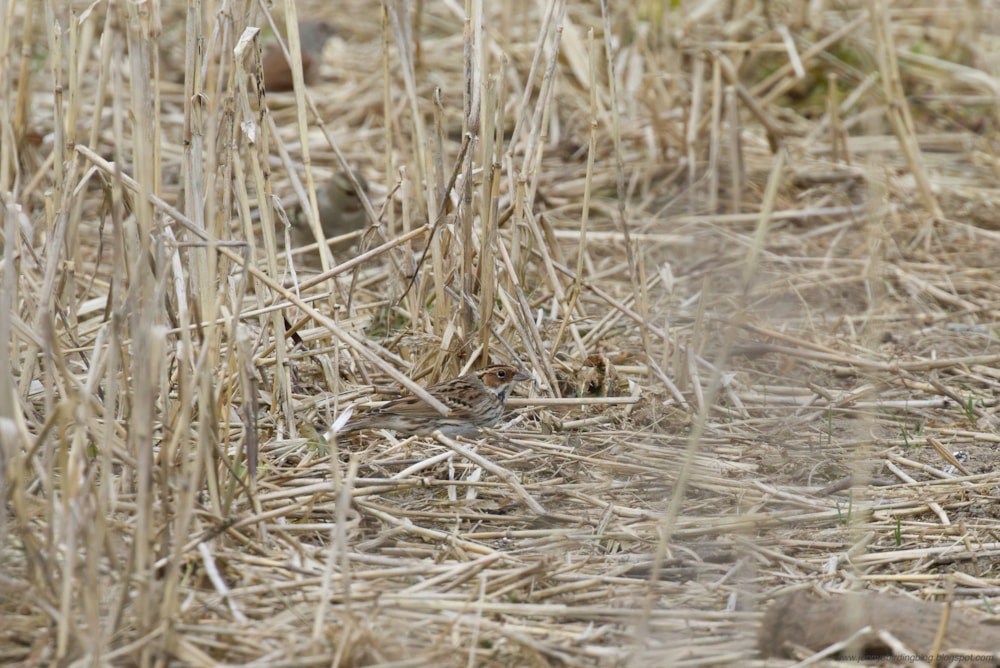 Little Bunting, Langford Lowfields RSPB, Nottinghamshire (Jonathan Farooqi).
East of England
Norfolk's Grey Phalarope lingered at North Point Pools, Wells, to 18th. A Glossy Ibis was at Denver Sluice on 18th; the only report of a White-tailed Eagle in the county this week was over Watton on 16th – the same day a Black Kite was reported from Ken Hill Marshes. A European Serin flew east over Beeston Regis on 20th, while up to two Wrynecks were in the Cley area and another was at Winterton Dunes.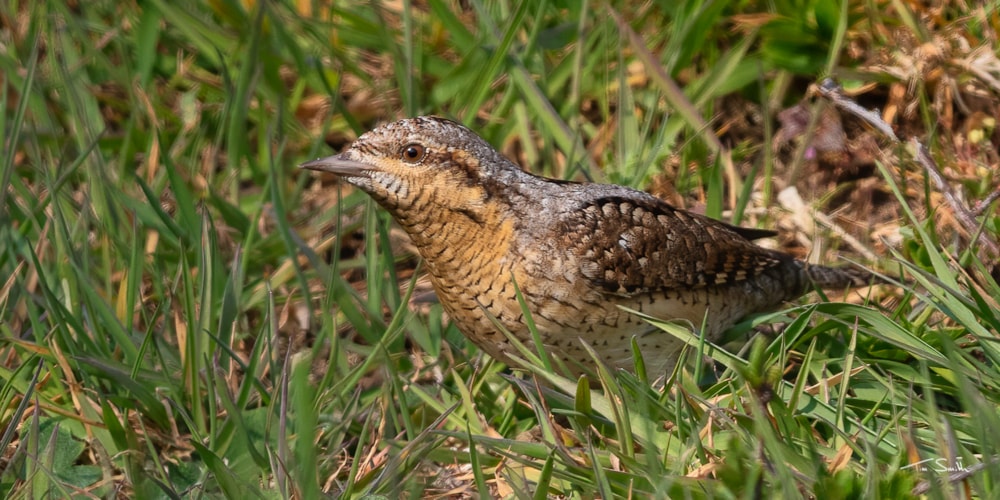 Wryneck, Walsey Hills NOA, Norfolk (Tim Smith).
A Siberian Chiffchaff was trapped and ringed at Landguard NR on 19th was the highlight of a quiet week in Suffolk. Four Common Cranes circled over Hollesley Marshes RSPB on 15th. Iceland Gulls were seen at Lowestoft and Cavenham Heath. Essex was also quiet, with the Ring-necked Duck still at Lee Valley CP and a Black Brant lingering at Mersea Island.
Hertfordshire's first Arctic Tern of 2021 visited Amwell NR on 16th, but the county could otherwise boast very little – Ring Ouzel at Easneye on 20th and two Little Gulls at Hilfield Park Reservoir about the best on offer. Bedfordshire produced a brief Hoopoe in a Biddenham garden on 18th, while a nice selection of April species included Ring Ouzels at four sites, Bar-tailed Godwits at two and a Little Gull at Priory CP on 20th.
Cambridgeshire had a decent seven days, with a White-tailed Eagle over Haslingfield on 20th, the three Glossy Ibises still in the Earith area and a fourth on the Nene Washes, the Kumlien's Gull still at Cottenham, up to four Smew still at Paxton Pits, an early Little Tern at Islesham Washes on 14th, plus an array of Ring Ouzels, Garganey, Bar-tailed Godwits and other classic mid-April birds.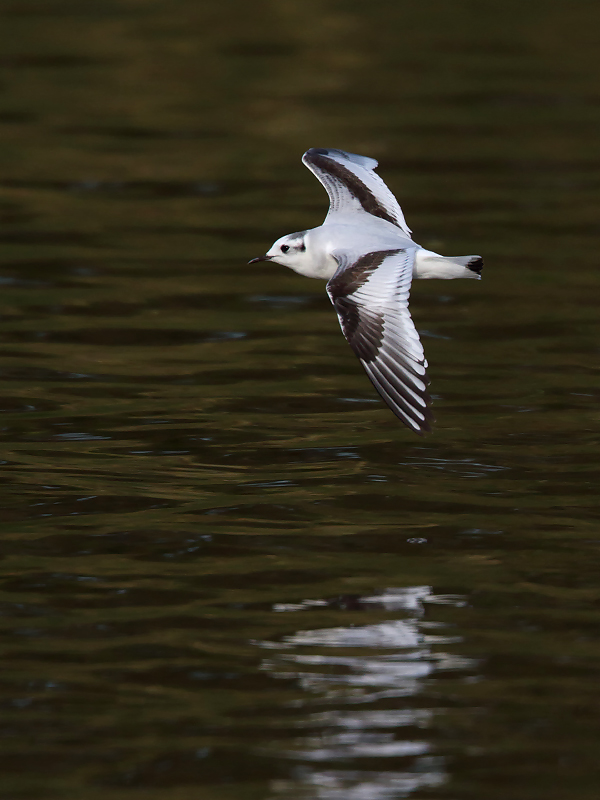 Little Gull, Loompit Lake, Suffolk (Chris Mayne).
South-East England
It was another subdued week in the region, though a Black-winged Stilt at Rainham Marshes, London, on 20th was a notable record indeed. It was otherwise quiet in the capital, with a trickle of Ring Ouzels moving through.
The first Pomarine Skua movement of any note occurred on 20th, though two past Dungeness, Kent, wasn't much to write home about. Dunge also held onto its Glossy Ibis and Iceland Gull, with another of the latter species also at Dover Harbour. On 19th, a European Serin flew over Abbot's Cliff on 19th, Stonar Lake hosted a Rough-legged Buzzard and an inland Velvet Scoter was at Conningbrook Lakes. A singing Siberian Chiffchaff was at Stodmarsh.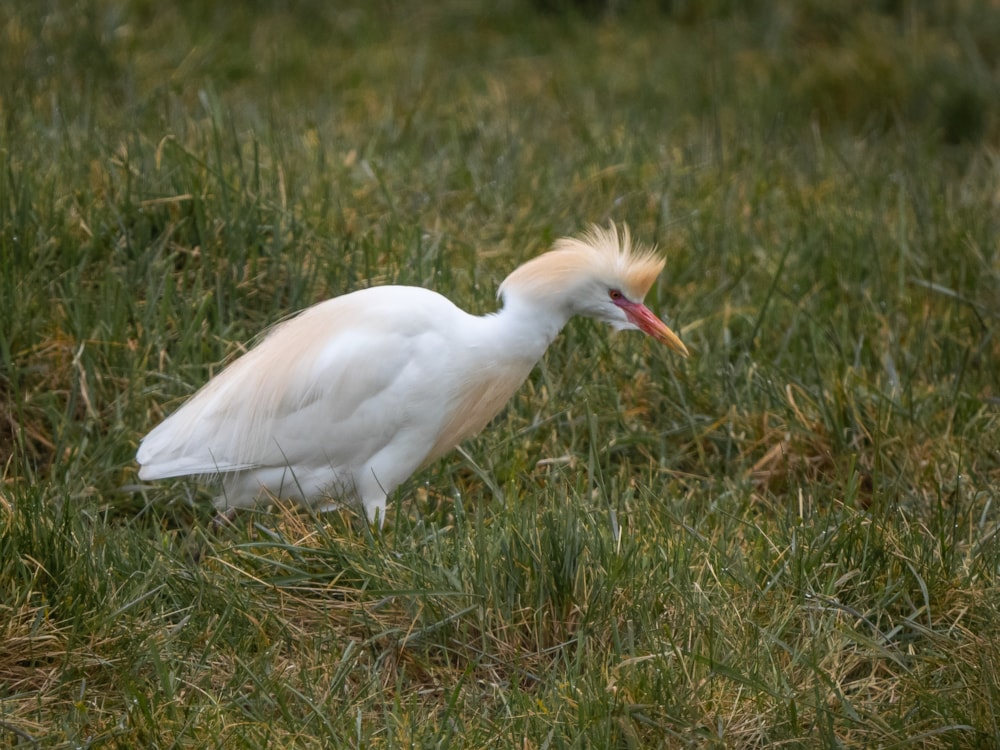 Western Cattle Egret, Isle of Sheppey, Kent (Terry Laws).
In Sussex, Rye hosted a Hoopoe on 17th and the Warnham Little Bunting was present until 18th. The Yellow-browed Warbler continued at Patching sewage works throughout. Bird of the week, however, was the drake Ring-necked Duck that turned up at Honer Reservoir, Pagham Harbour, late on 20th.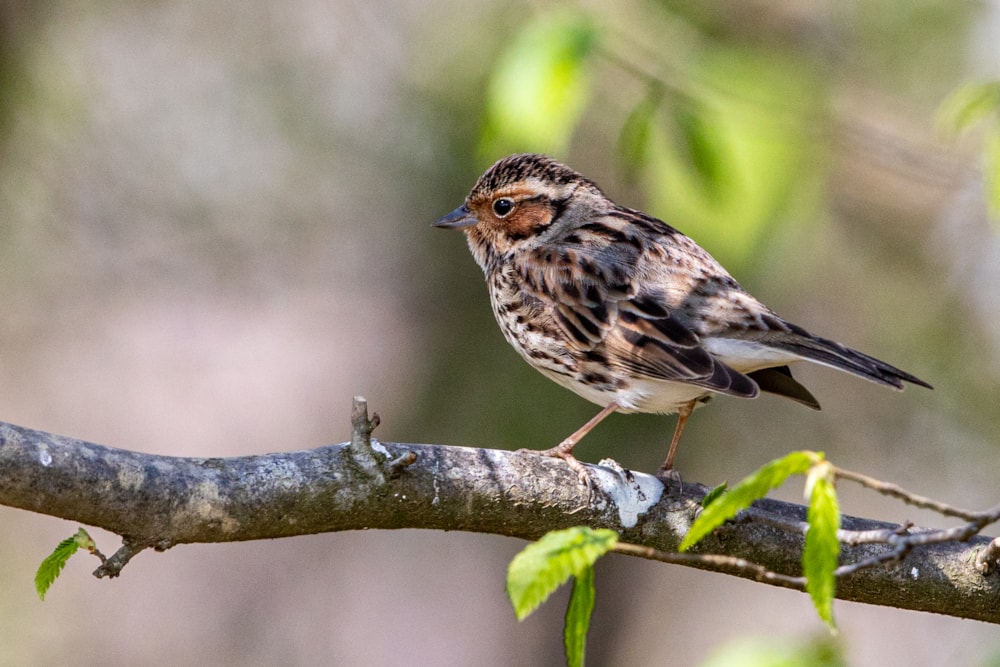 Little Bunting, Warnham LNR, West Sussex (Paul Ward).
Hinton Ampner, Hampshire, also scored a Hoopoe, on 18th. Elsewhere in Hants, a European Serin was a fleeting visitor to Hill Head on 16th, an Iceland Gull flew past Sandy Point on 14th and Woolmer Forest held onto the wintering Great Grey Shrike.
Two of the three Glossy Ibises over Caversham, Berkshire, on 18th were detected in Buckinghamshire the following day at Floodplain Forest. Gallows Bridge hosted two Common Cranes on 20th and the Tattenhoe Siberian Chiffchaff was about all week.
In Oxfordshire, up to two Glossy Ibises were still at Otmoor and the Ring-necked Duck pair continued at Radley GPs. The Holmethorpe SP, Surrey, Ring-necked Duck continued and the Little Bunting duo at Thursley Common were reported until 18th.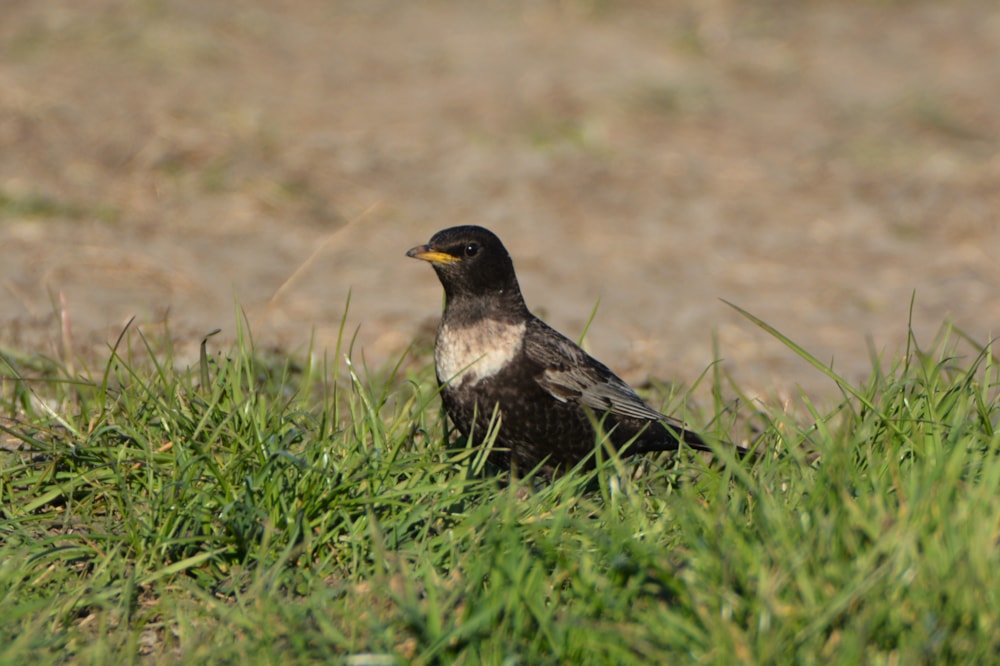 Ring Ouzel, Crossness, London (Terence Baker).
South-West England
It was a decent week on Scilly, with smart Citrine Wagtails on Bryher and St Martin's, a Wryneck on St Mary's and different Hoopoes on St Martin's and St Mary's. The European Bee-eater continued on the latter island as well.

Citrine Wagtail, Bryher, Isles of Scilly (Kris Webb).
In Cornwall, a Woodchat Shrike was found at Millbrook on 20th, the same day a Pectoral Sandpiper flew east over Trevescan. The previous day, a Wryneck was at Kynance Cove and an American Golden Plover was first found at Maer Lake, present until the following day. The Little Bunting continued at Sennen, a Corncrake was at Rinsey Head on 15th and Siblyback Reservoir held onto its Ring-necked Duck flock.
The big Slapton Ley energy continued in Devon, peaking on 17th when a mighty quartet of Purple Heron, Black-crowned Night Heron, Ring-necked Duck and Red-necked Grebe were all available, though the former was only present for two days. Elsewhere in the county, a Siberian Chiffchaff was at Dawlish Warren, up to three Glossy Ibises were still at Fremington Quay and Beesands Ley held onto its drake Ring-necked Duck.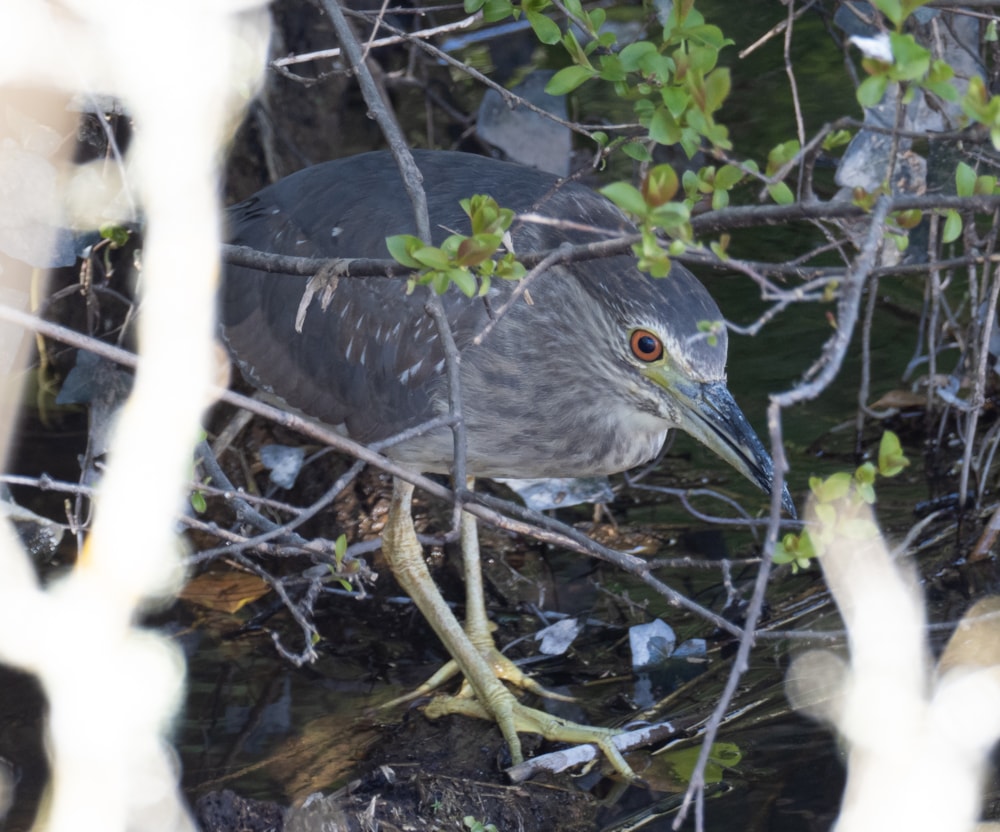 Black-crowned Night Heron, Slapton Ley, Devon (Simon Colenutt).
The Glossy Ibis and two Ring-necked Duck continued at their respective sites in Dorset, where Portland enjoyed single records of Wryneck and European Serin. There were two Montagu's Harrier reports in the county – at Arne and Sherbourne – and a Eurasian Stone-curlew was at Cheselbourne.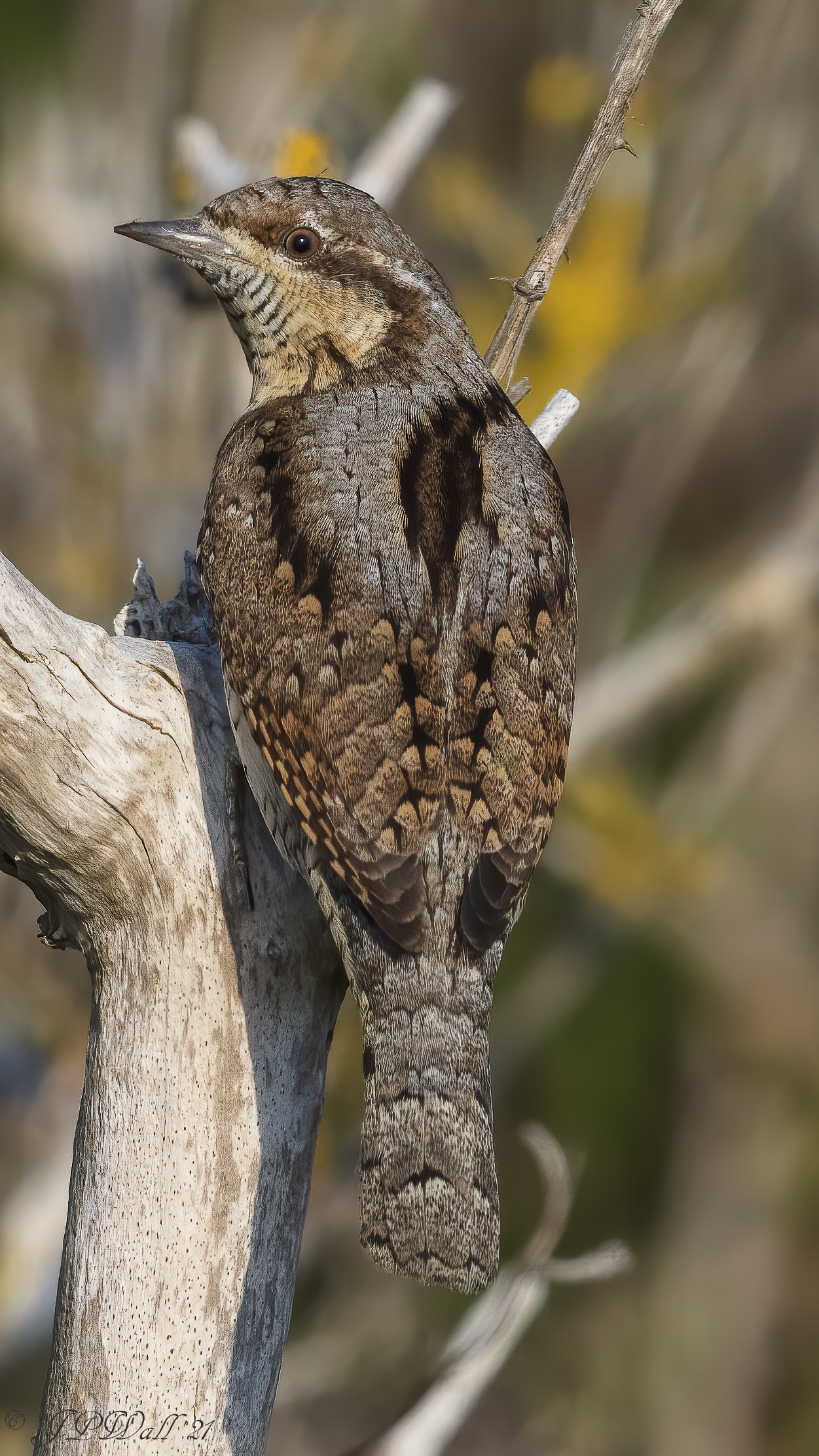 Wryneck, Portland, Dorset (John Wall).
A Glossy Ibis was at Cotswold Water Park, Wiltshire, on 18th, while, in Somerset and Bristol, the last remaining Eurasian Penduline Tit was present at Weston-super-Mare until 14th. A Black-crowned Night Heron was on the River Brue by Meare on 14th.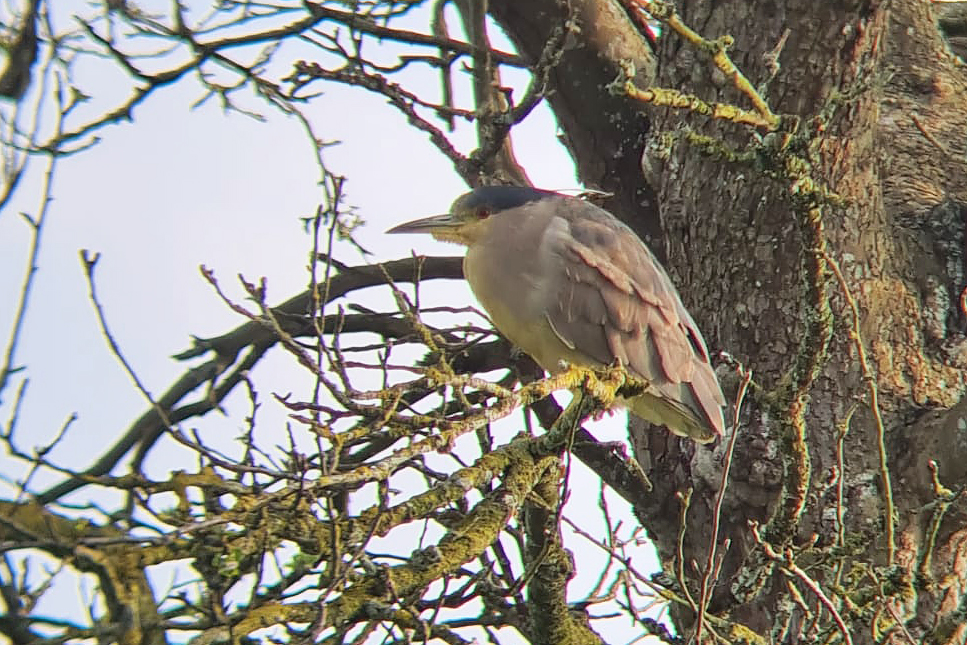 Black-crowned Night Heron, Meare, Somerset & Bristol (James Reddish).
Slimbridge WWT, Gloucestershire, saw a brief possible Citrine Wagtail on 20th, alongside a Garganey and Knepp White Stork. A Blue-headed Wagtail was at Coombe Hill Meadows on 18th, a Woodlark flew over Splatt Bridge on 14th and the Saul Warth Little Stint remained.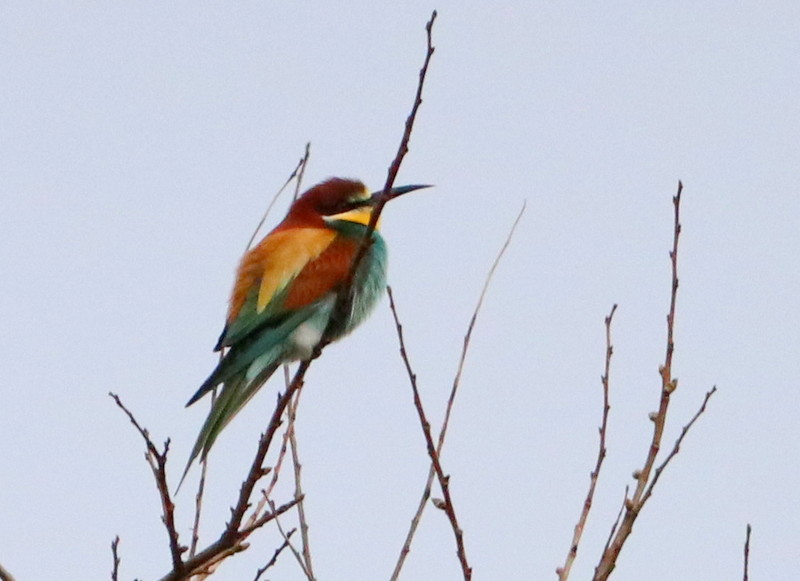 European Bee-eater, St Mary's, Isles of Scilly (Kris Webb).
Wales
Alpine Swift again managed to sneak into the review period with one flying north over Nolton Haven, Pembs on 18th. Two showy male Eurasian Dotterel proved easier to connect with at The Range RSPB, Anglesey, and were present until 19th at least, while a Curlew Sandpiper was at Whiteford NNR, Glamorgan, on 17th. A new, seemingly constant, fixture of British airspace, a White Stork was briefly at Ruthin, Clwyd, before continuing north-east on 16th. Hooded Crows enjoyed a great showing with six western localities producing sightings.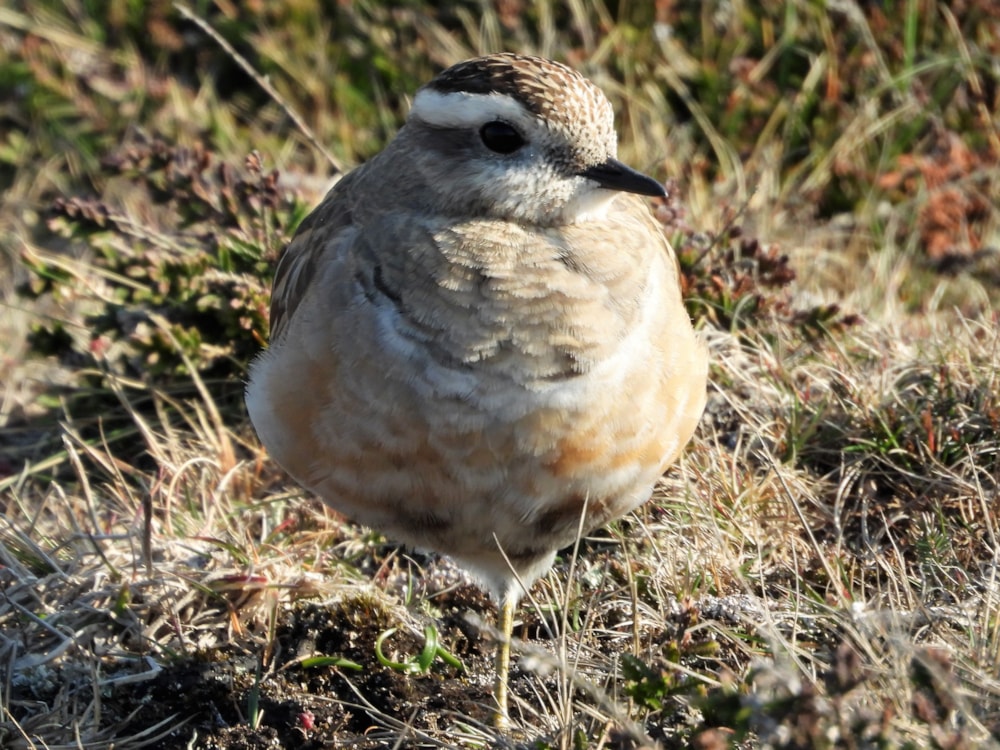 Eurasian Dotterel, The Range RSPB, Anglesey (Michael Jepson).
The drake Ring-necked Duck lingered on at Llyn Maelog, Anglesey, and the pair were still at Talley Lakes, Carmarthen, until 14th. The Tundra Bean and Russian White-fronted Goose were still at Goldcliff Pools NR, Gwent. Both white-winged gulls were on offer, with the juvenile Iceland Gull still at Brickfields Ponds, Clwyd, until 15th and one at Cemlyn Bay, Anglesey, from 17th, while juvenile Glaucous Gulls were at Cemlyn Bay on 14th and just south of Tywyn, Gwynedd, on 20th.
Ireland
Although three Hoopoes between Cos Cork and Wexford did their best to warm things up, the outlook remained largely wintry across Ireland. However, an American Golden Plover on the Mullet Peninsula, Co Mayo, from 19th was a sign of the changing seasons.
Lingering favourites included the Lesser Yellowlegs near Dungarvan, Co Waterford, as well as adult Kumlien's Gulls in Cos Galway and Kerry. No fewer than four Green-winged Teal were dotted about and the drake Lesser Scaup hung on at Enniskillen, Co Fermanagh. The only Ring-necked Duck was at Lough Beg, Co Derry.
Glossy Ibises were at Ballinoulart, Co Wexford, and near Waterville, Co Kerry, while a Common Crane was seen at an undisclosed location on the Shannon Callows. Two Garganey were at Cahore Marsh, Co Wexford, on 20th, with a drake performing well at Midleton, Co Cork, earlier in the week.
Western Palearctic
An exceptional influx of Hooded Wheatears into the eastern Mediterranean included an individual in northern Lebanon – a national first – with others including a female at Boğazkent, Turkey, a Greek first-winter male at Ipsilou Monastery, Lesvos, and no fewer than five in Cyprus, including three at Cape Greco.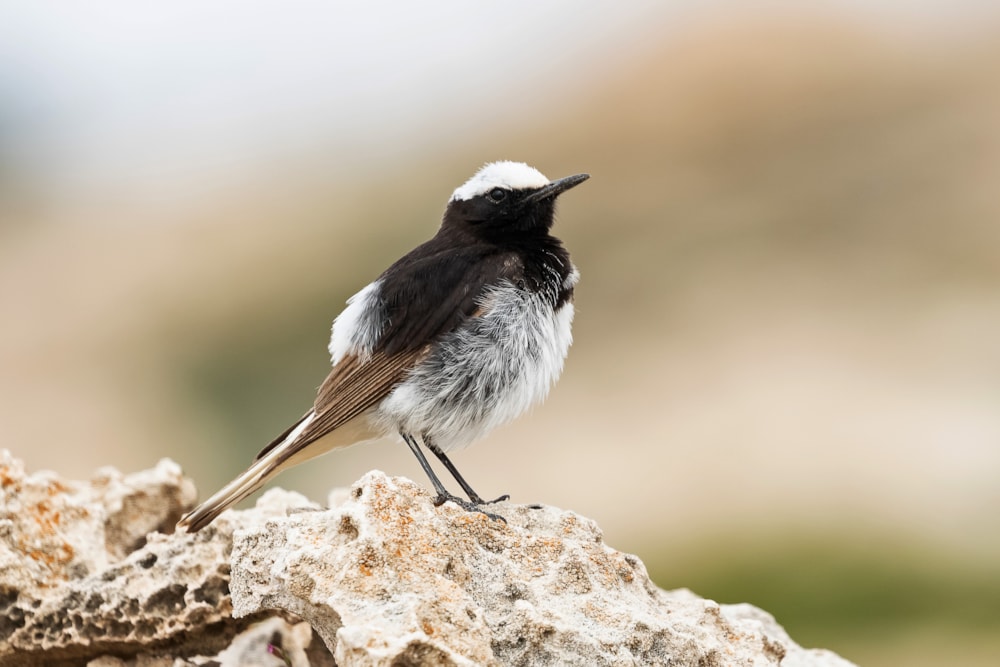 Hooded Wheatear, Cape Greco, Famagusta (Jane Stylianou).
Last week's Yellow-billed Kite resurfaced over Wangerooge, Germany, on 15-16th, while the Spotted Sandpiper remained at Kitzeberg. In The Netherlands, a first-winter Ross's Gull flew past Scheveningen while the drake Baikal Teal lingered at Zevenhoven.
The ninth Lesser Moorhen for the region was belatedly reported from the Canary Islands, having been photographed at Fuerteventura's Oasis Wildlife Park on 19 March. In Spain, three Elegant Terns were at Salinas de Santa Pola on 15th.
In Greece, an Asian Desert Warbler was photographed at Thessaloniki on 19th; the first African Desert Warbler for Cyprus and the Middle East was found at Akrotiri on the same date. Malta's third White-crowned Wheatear was at Dwerja, Gozo, from 16th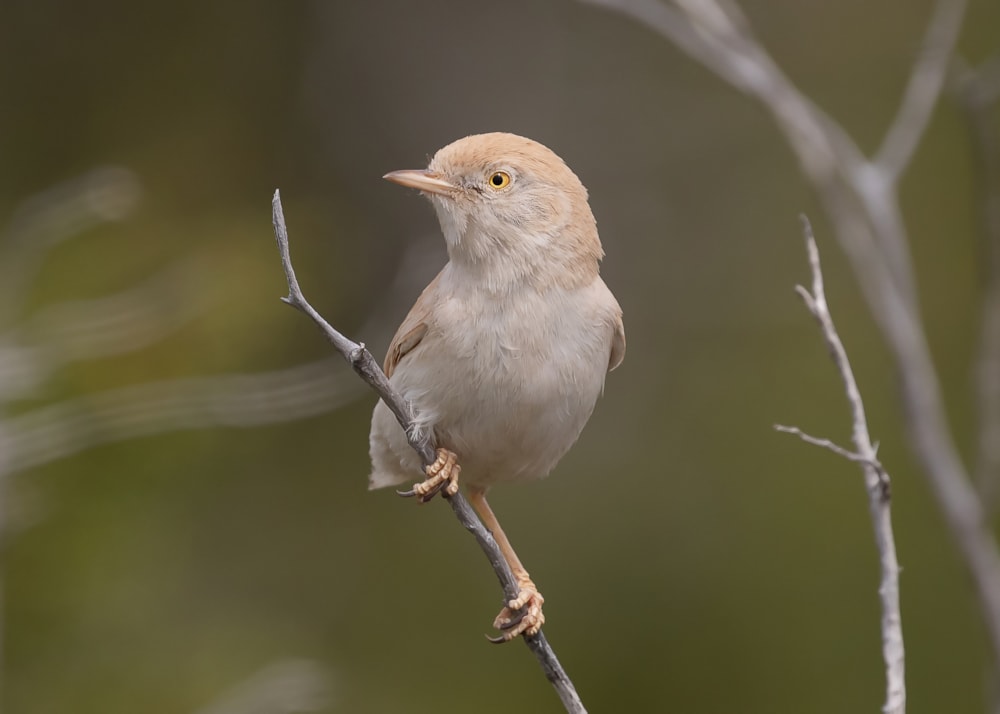 African Desert Warbler, Akrotiri, Akrotiri (Jane Stylianou).
A Black-browed Albatross past Skagen, Denmark, on 17th perhaps signals the return of the regular North Sea wanderer – is another Bempton Cliffs visit on the cards, perhaps? The same site saw a satellite-tagged Bonelli's Eagle attempt to head north out to sea towards Sweden on 20th
The Chinese Pond Heron was still at Jerusalem Botanical Gardens, Israel, with an Oriental Turtle Dove at Nahal Kasui. Meanwhile, Slovakia's first Iberian Chiffchaff was singing away by Chuck Norris Bridge, Devínská Nova Ves, on 20th, a Buff-breasted Sandpiper was at Sankt Andrä am Zicksee, Austria, and three Ruddy Shelduck of unknown – although presumably feral German – origin were on Guernsey, Channel Islands, from 16th. Interestingly, two Snow Geese with Pink-feet at Vatnsoyrar, Faroe Islands, on 19th turned out to be the birds seen in Aberdeenshire in late March.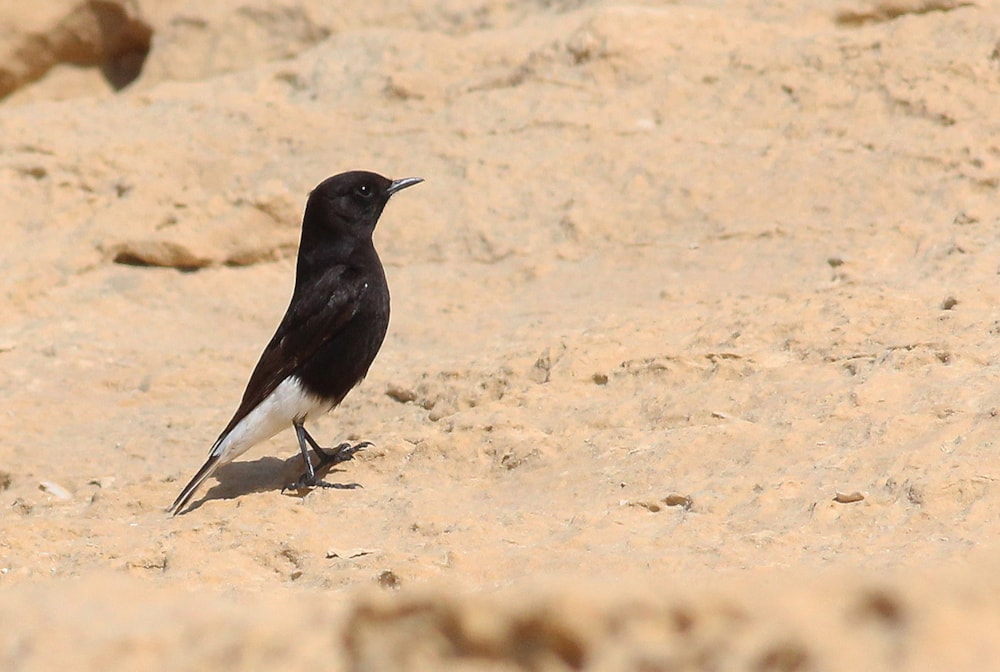 White-crowned Wheatear, Gozo, Malta (Raymond Galea).