Although it was a slower week again in many areas, a noticeable influx of Golden Orioles included notable records from Clyde, Worcestershire and Leicstershire. A plethora of mega goodies in Fennoscandia hint at what could lie ahead if weather conditions turn in our favour during the latter half of spring.
A tan morph White-throated Sparrow at Baltasound, Unst, on 18th was the best new rarity of another rather quiet spring week. The bird delighting in its adopted garden at Ordaal House throughout the day and Shetland has form for this species, boasting the bulk of British occurrences with 17 accepted records to date, most recently on Foula in the autumn of 2018.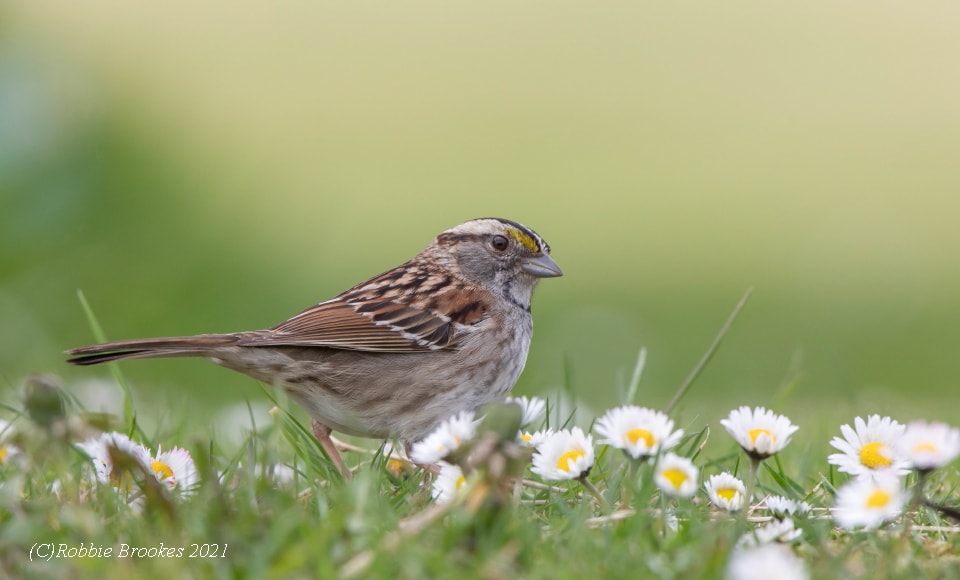 White-throated Sparrow, Baltasound, Unst, Shetland (Robbie Brookes).
On Fair Isle, the Calandra Lark completed an eight-day stay by departing on 15th, becoming the longest-staying record ever in the process. Meanwhile, a first-summer female Pallid Harrier flew over on 14th – thought to perhaps relate to the bird seen at Bonby Carrs, Lincolnshire, on 7th – while a probable ringtail flew over North Ronaldsay, Orkney, the following day.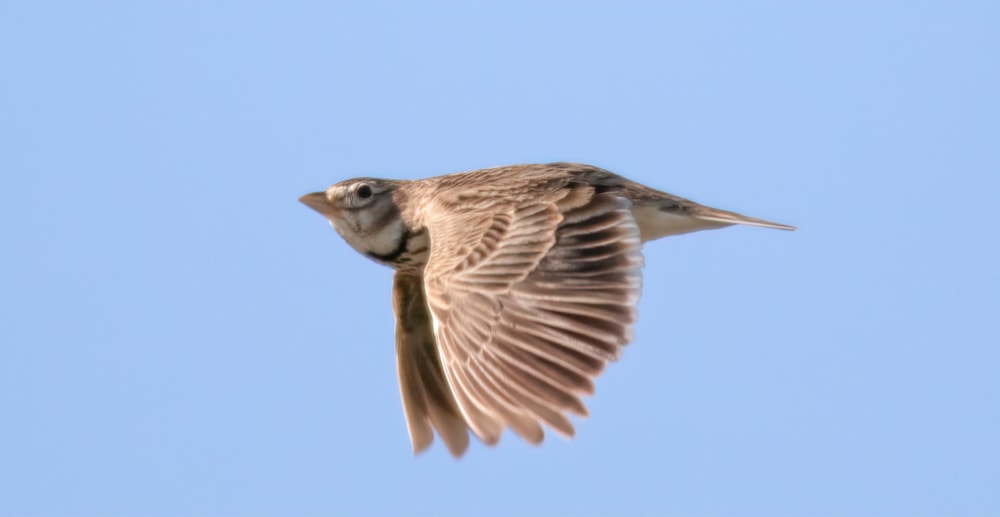 Calandra Lark, Fair Isle, Shetland (Alex Penn).
A gorgeous adult summer Franklin's Gull found among the Black-headed Gulls at St Aidan's RSPB, West Yorkshire, on 18th promptly bedded in and started displaying to the locals, providing some superb views of this Nearctic visitor. Amazingly, the small white mirror in the outermost right primary allowed it to be confirmed as the bird that visited multiple sites in Yorkshire in 2020 before heading overseas, pitching up at Skudeneshavn, Norway, from 17-29 January and at both Stavele and Diksmuide, Belgium, from 4-25 April.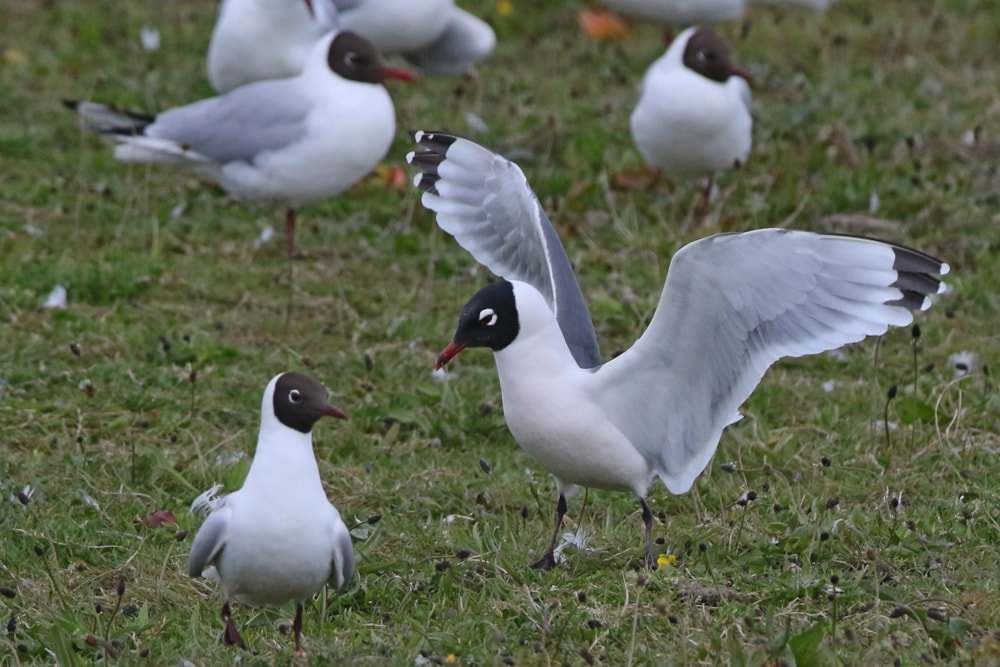 Franklin's Gull, St Aidan's RSPB (Swillington Ings), West Yorkshire (Stephen Tomlinson).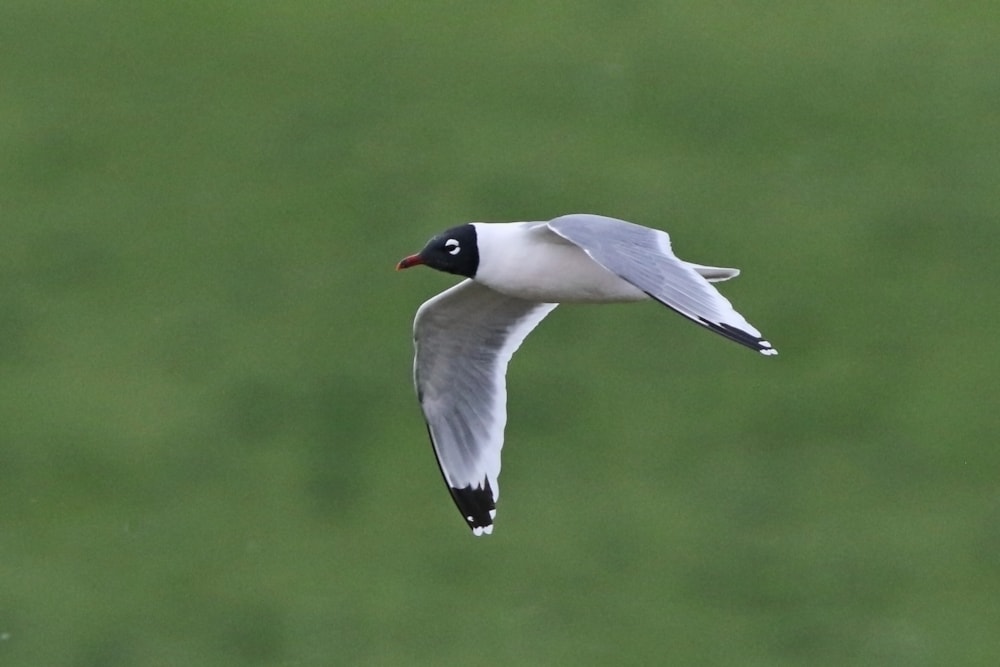 Franklin's Gull, St Aidan's RSPB (Swillington Ings), West Yorkshire (Stephen Tomlinson).
On the south coast, a second-summer Laughing Gull flew south over East Prawle, Devon, on 15th, with the American Herring Gull at Newlyn, Cornwall, last reported on the same date. Nottinghamshire's Bonaparte's Gull was last noted at Holme Pierrepont on 13th, while the youngster at Dunnet Bay, Caithness, continued throughout the week.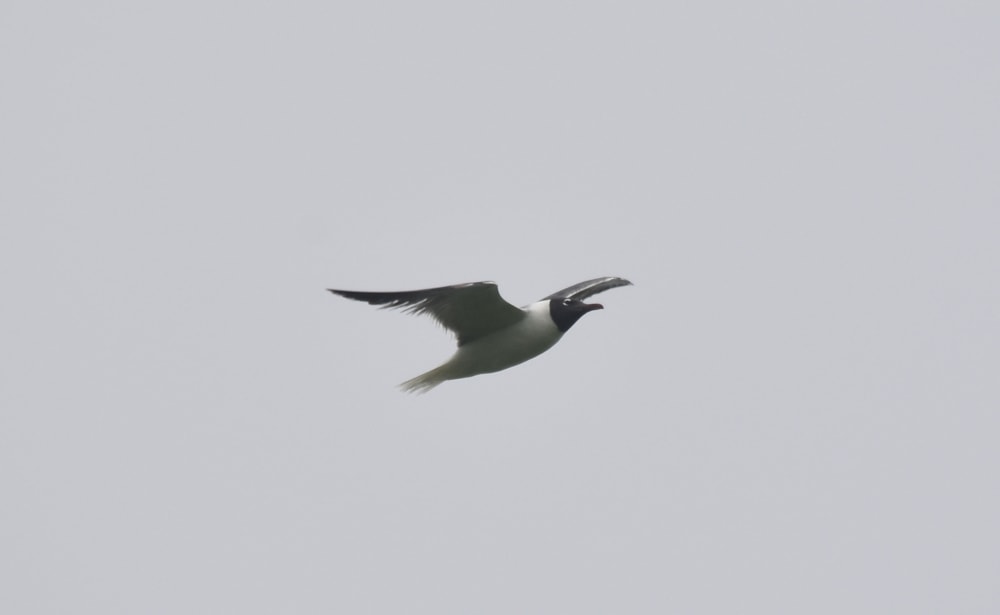 Laughing Gull, East Prawle, Devon (Patrick Mayer).
In Co Kerry, the Double-crested Cormorant remained at Reenturk Point, Carrig Island, throughout.
The Double-crested Cormorant was present again today at Reenturk Pt in Ballylongford bay per Cait O'Neill pic.twitter.com/s4VboenrmM

— Kerry Bird News (@KerryBirdNews) May 17, 2021
Remarkably, the Cheshire Collared Pratincole reappeared over the paddocks at Leasowe for a brief period on 14th. In a more expected locale, one was hawking over Higham Marshes, Kent, on 16th. The Kentish Plover on Holy Island, Northumberland, was last reported on 14th

Kentish Plover, Holy Island, Northumberland (Tim Dean).
North Yorkshire's Savi's Warbler proved an accommodating customer at Heslington East throughout, with others still reeling at Llanelli Wetland Centre WWT, Carmarthen, and Derek White's Eggs Pits, Bedfordshire.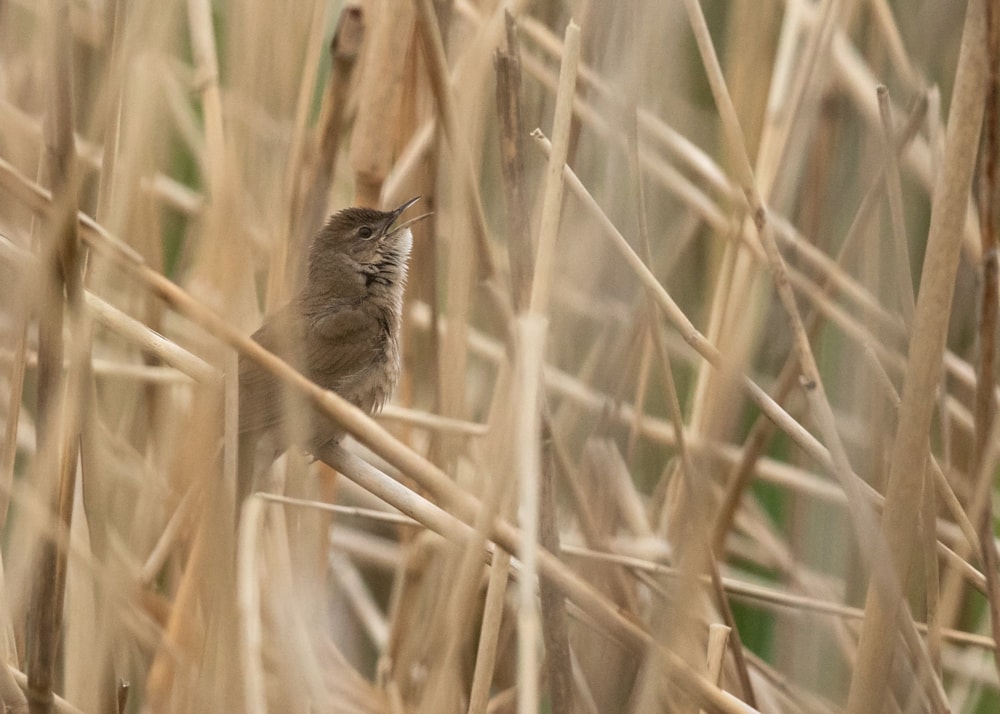 Savi's Warbler, Heslington, North Yorkshire (Paul Coombes).
Foula, Shetland, scored a male Western Subalpine/Moltoni's Warbler on 17th, with last week's Rustic Bunting still present on 12th. Lundy, Devon, saw a brief visit from a male Eastern Subalpine Warbler on 15th.
A singing male Thrush Nightingale was a nice find at Spurn Point, East Yorkshire, on 13-14th, while the singing Iberian Chiffchaff remained at Foxhall, Suffolk, throughout the week.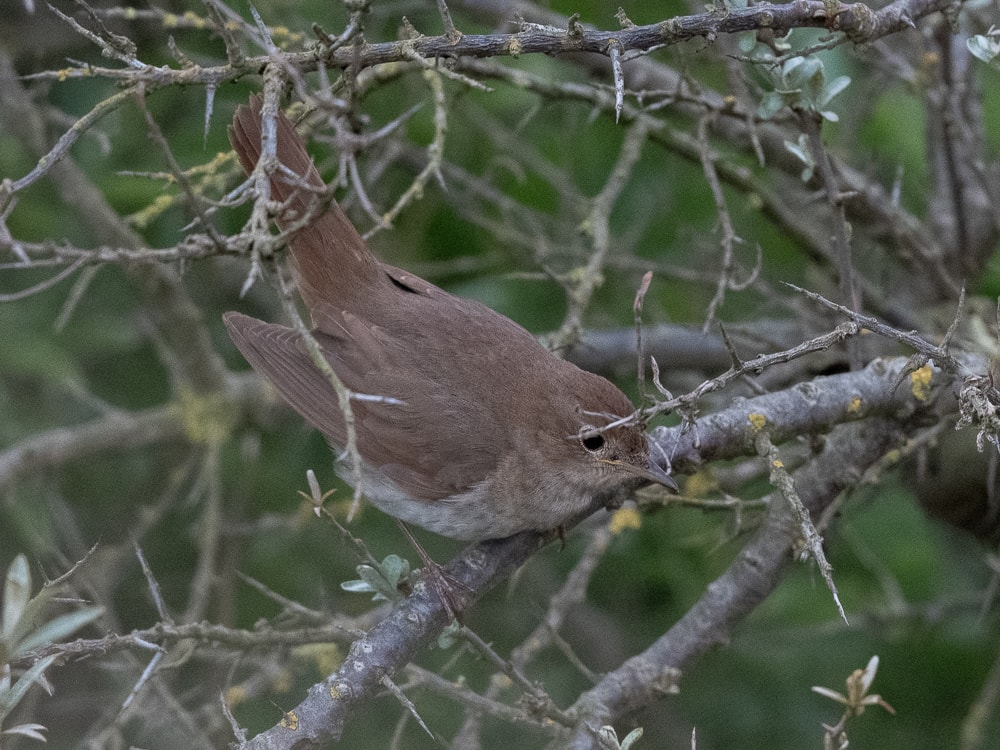 Thrush Nightingale, Spurn YWT, East Yorkshire (Tom Hines).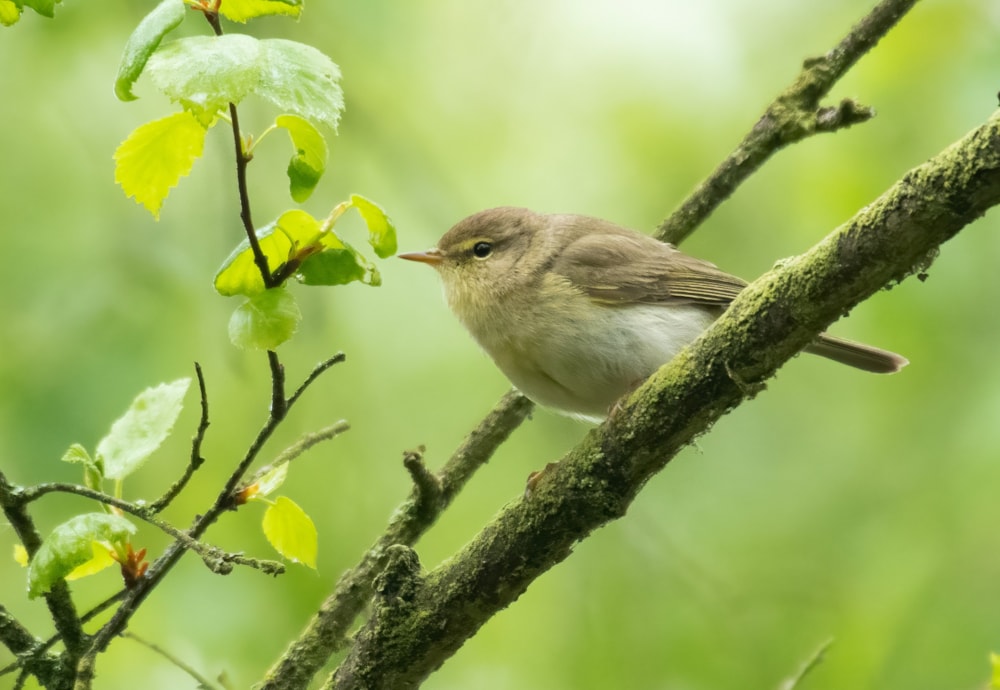 Iberian Chiffchaff, Foxhall, Suffolk (Rob Knapp).
A probable female Black-headed Wagtail was a brief visitor to Glamorgan's Cardiff Bay on 14th – Britain's first-ever female if accepted as such – while, in Argyll, a probable Great Reed Warbler in scrub at Clachan, Loch Fyne, would, unfortunately, remain unconfirmed.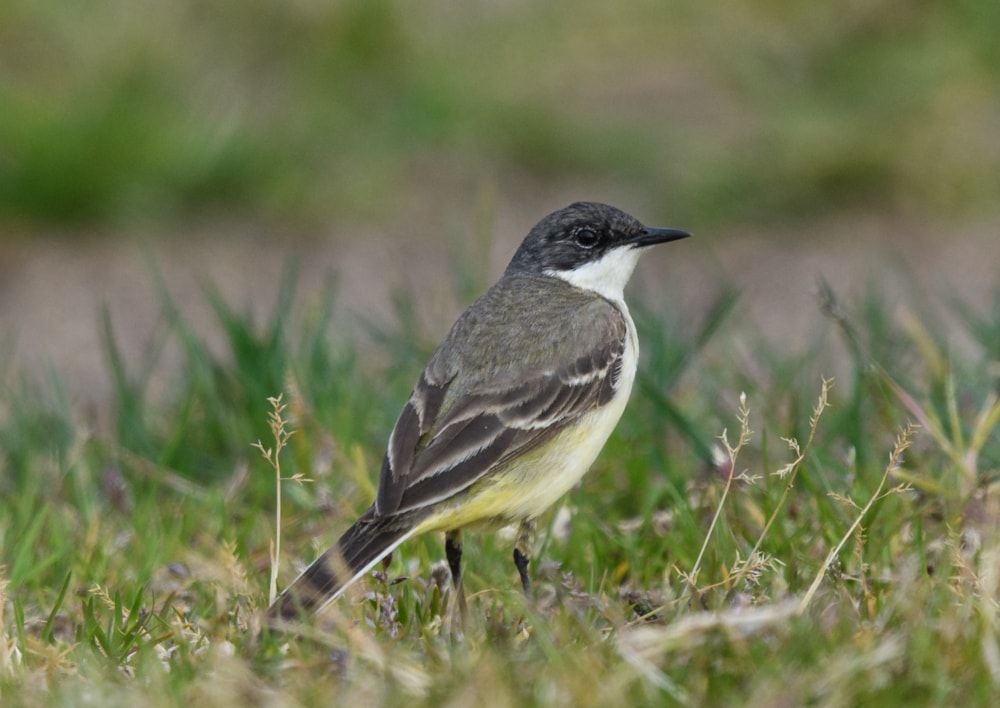 Probable Black-headed Wagtail, Cardiff Bay, Glamorgan (Peter Howlett).
An adult Egyptian Vulture reported over Willingham by Stow, Lincolnshire, on 13th was an intriguing report. Two Snowy Owls made the news pages – still on Papa Westray, Orkney, and St Kilda, Outer Hebrides.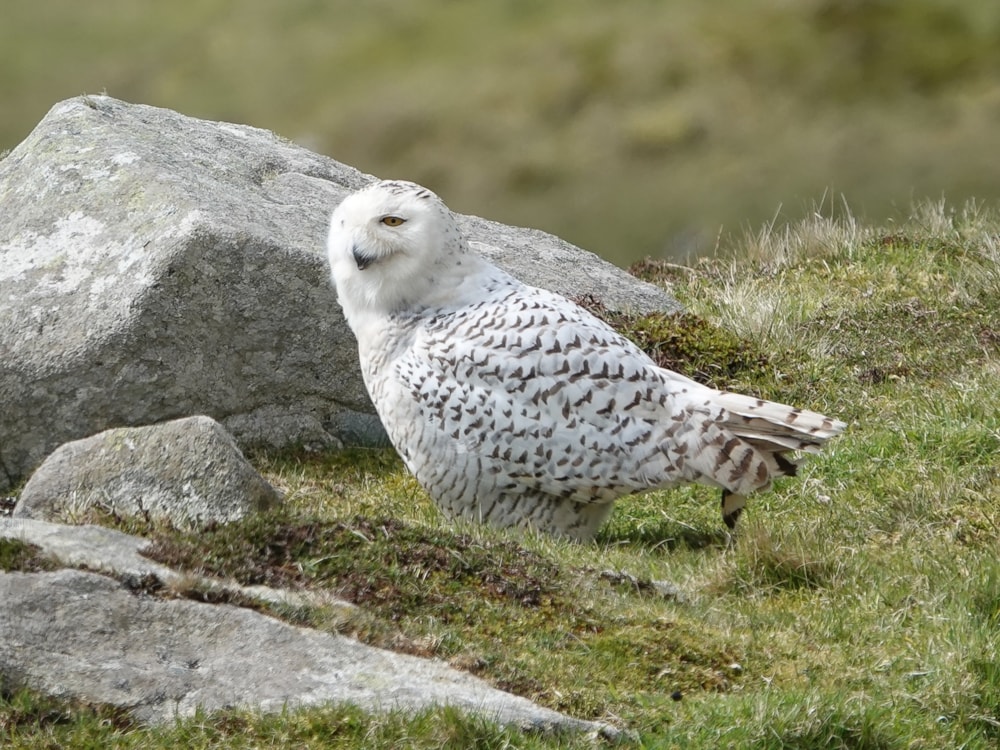 Snowy Owl, St Kilda, Outer Hebrides (Craig Nisbet).
In Argyll, the melancholy vocals of Loch Feorlin's Pied-billed Grebe could be heard echoing around the valley, while Shetland's drake Hooded Merganser remained at Stanevatsoe Loch, Mainland. Last reported back in March, the Co Mayo Pacific Diver was still at Elly Bay on 17th.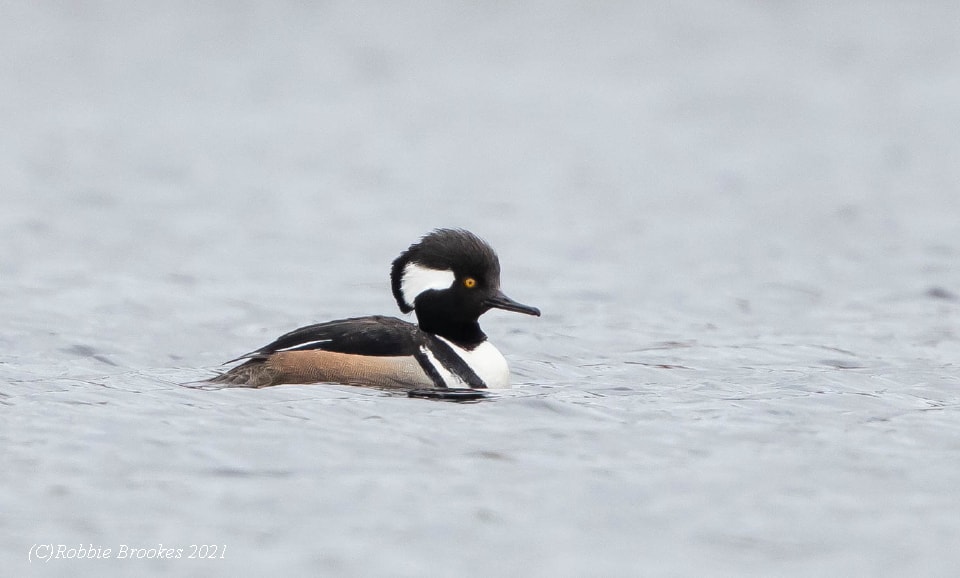 Hooded Merganser, Stanevatsoe Loch, Mainland, Shetland (Robbie Brookes).
A new female King Eider was at Loch Fleet, Highland, from 14th, with the regular drake still at Aberdeenshire's Ythan Estuary.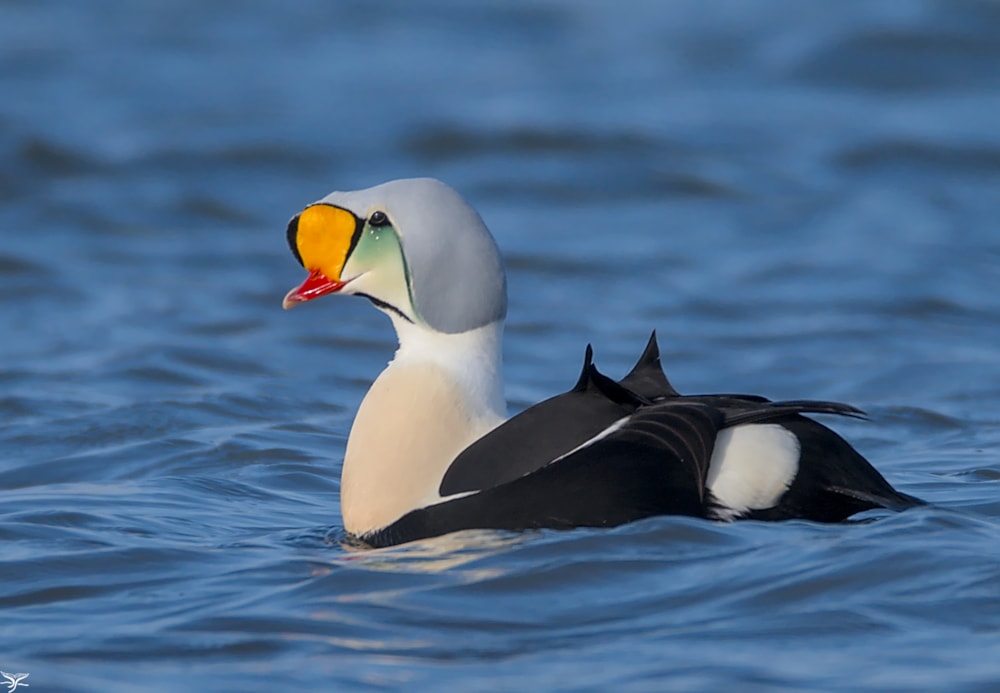 King Eider, Ythan Estuary, Aberdeenshire (Ron Macdonald).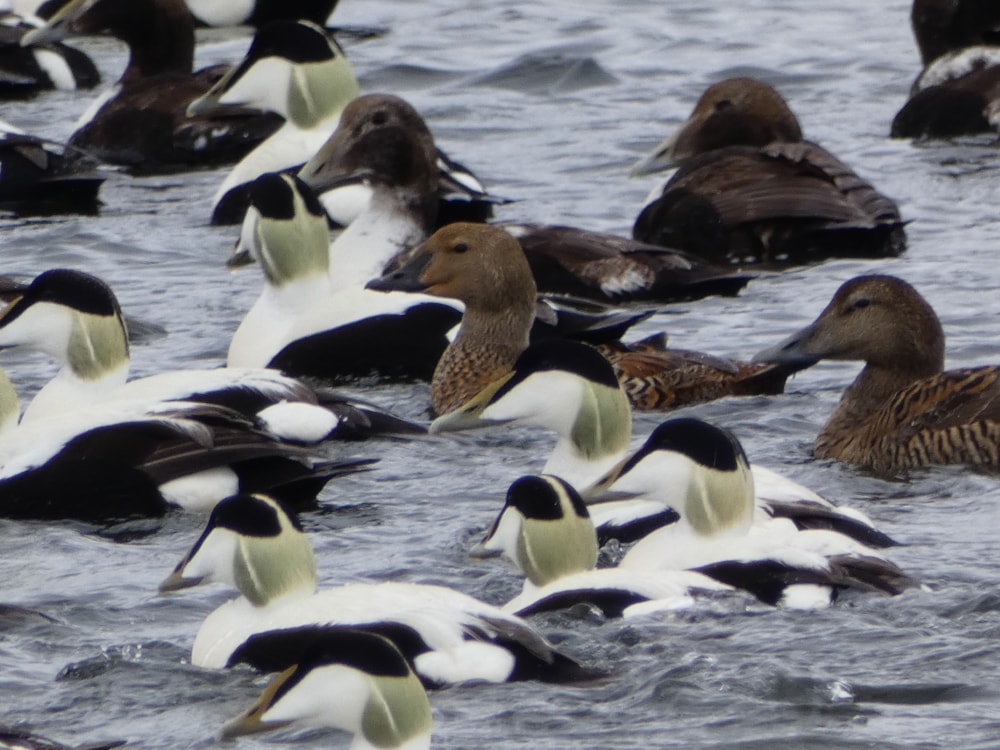 King Eider (centre), Loch Fleet, Highland (Dean Macaskill).
Suburban Norwich isn't the first place you would expect to find a Caspian Tern, so one at UEA Broad on 16th came as somewhat as a surprise, commuting between there and Whitlingham CP. What is likely the same bird resurfaced at Potter Heigham Marshes on 18th. The Whiskered Tern at Dorset's Longham Lakes was last sighted on 16th, while the Co Donegal Gull-billed Tern relocated to Annagry on the same date.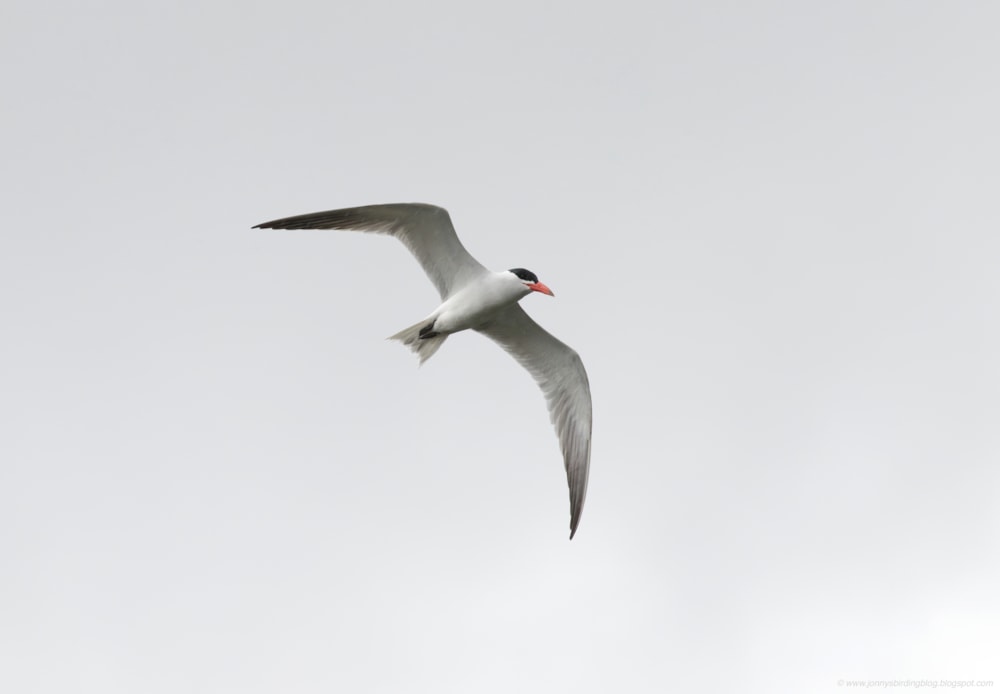 Caspian Tern, UEA Broad, Norfolk (Jonathan Farooqi).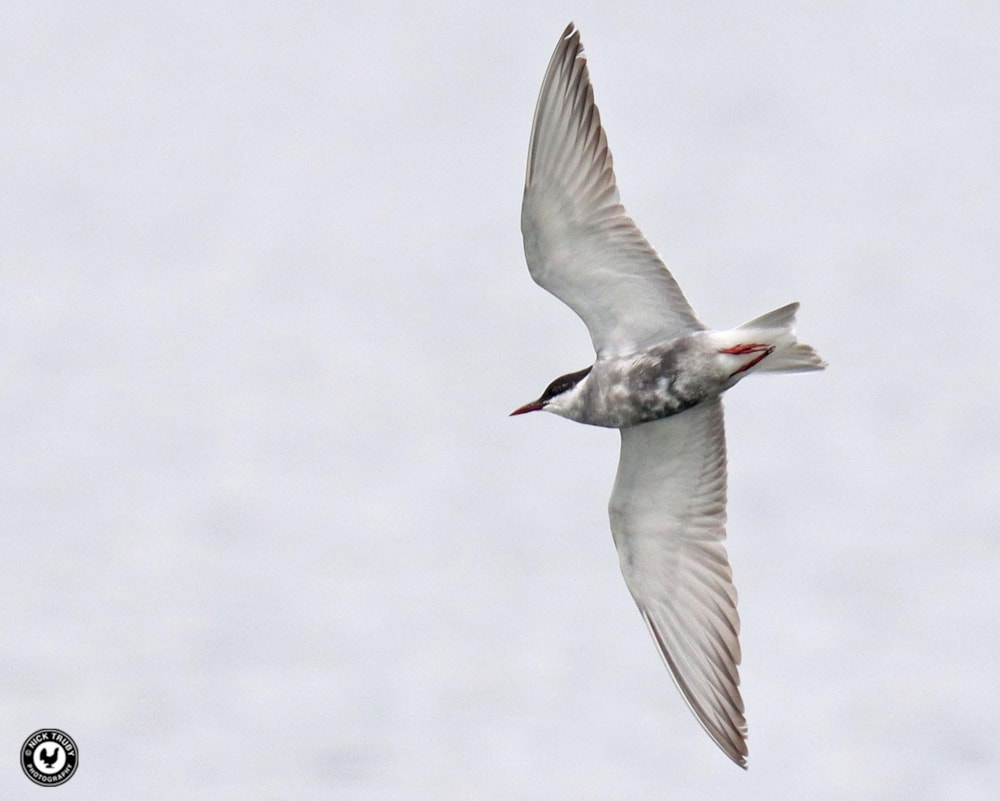 Whiskered Tern, Longham Lakes, Dorset (Nick Truby).
A Squacco Heron was a rare mid-Wales find, at Ynys-Hir RSPB, Ceredigion, from 13-15th, while Kent's Black Stork was last recorded at Stodmarsh NNR on 12th.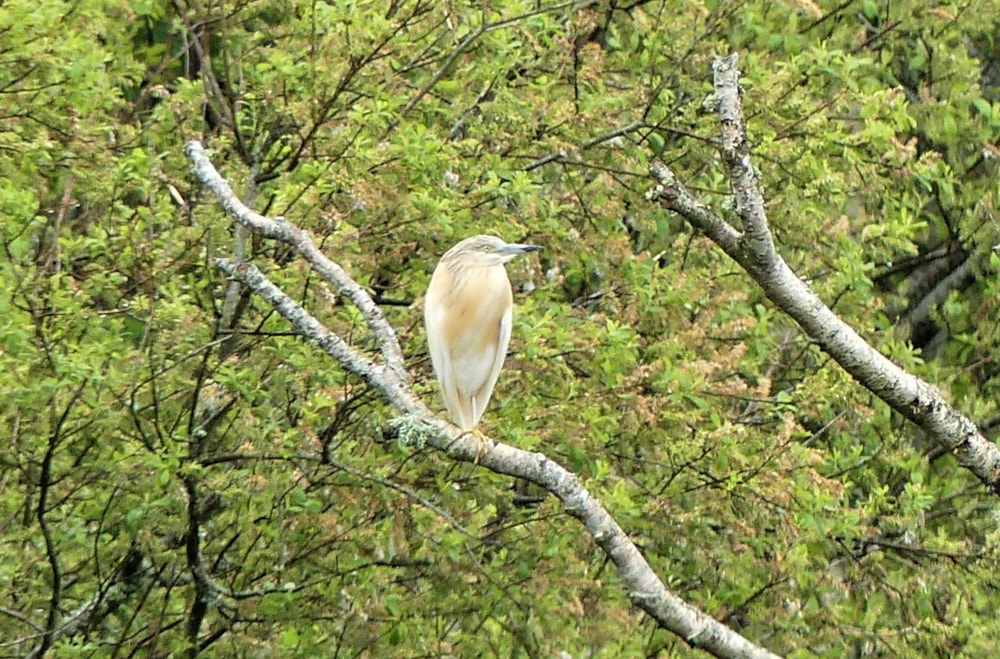 Squacco Heron, Ynys-Hir RSPB, Ceredigion (Tom Kistruck).
Taken into care at Southwick, West Sussex, back on 24 November, Britain's third Geoffroy's Bat was successfully released at an undisclosed site in the county on 14th. Wally – the Tenby, Pembrokeshire, Walrus – was still present until 17th, while the Sei Whale again showed well of Kinghorn, Fife, towards the week's end.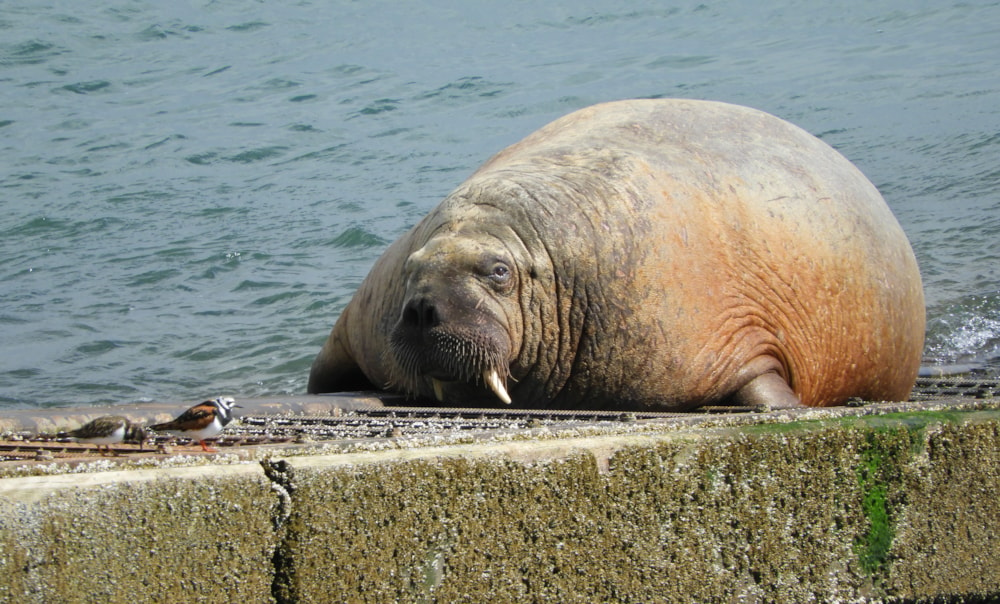 Walrus, Tenby, Pembrokeshire (Lynne Demaine).
Scottish mainland
Highland's European Serin was an impressive find at the unassuming Talmine early on 17th. Unfortunately brief, it would have proved as undoubtedly popular as the female-type Golden Oriole at Baron's Haugh RSPB, Clyde, from 15th.
Grey-headed Wagtails were at three Aberdeenshire locations – Whinnyfold, Meikle Loch and Loch of Strathbeg – with another at Garnock Floods SWT, Ayrshire. On 12th, a probable Siberian Chiffchaff was at Old Portlethen, Aberdeenshire.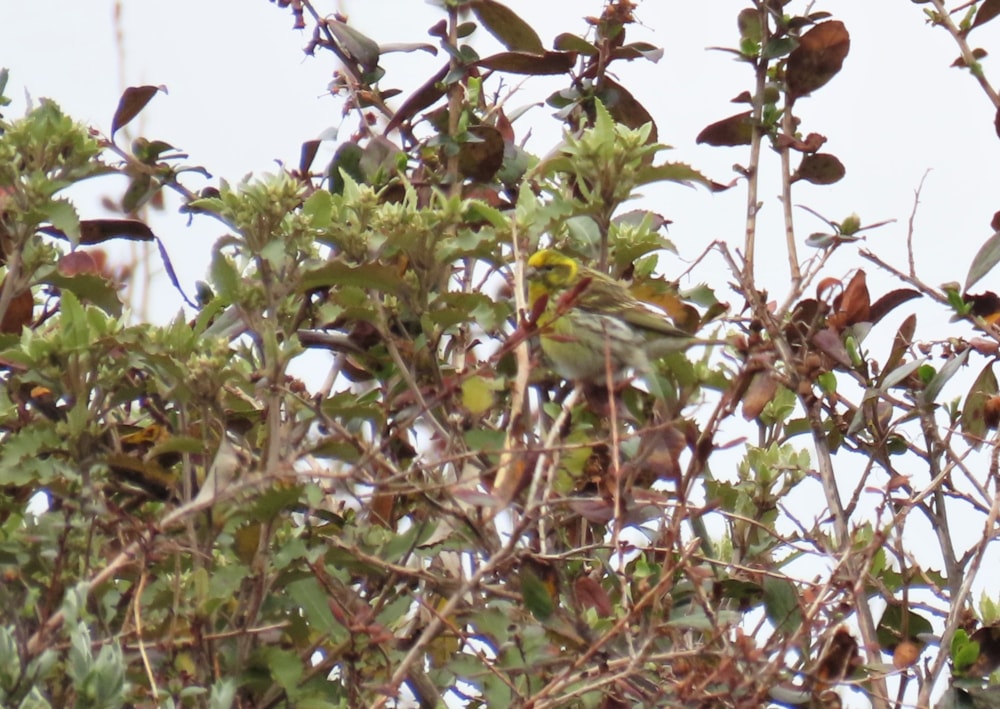 European Serin, Talmine, Highland (Tim Drew).
The Aberdeenshire Black Kite reappeared near Pitmedden on 13th; another was reported at Glenelg, Highland, on 17th. The region's sole Temminck's Stint was at Loch of Strathbeg RSPB, Aberdeenshire, while a Common Crane flew in off the sea at Sanna Bay, Highland, on 16th.
A single White-billed Diver held out at Lossiemouth, Moray and Nairn, until 14th, while one flew north past Slains Castle, Aberdeenshire, on 12th. A possible Todd's Canada Goose with Pink-feet at Findhorn Bay, Moray and Nairn, on 12th harked back to the winter months, as did a drake Green-winged Teal at Letham Pools, Fife.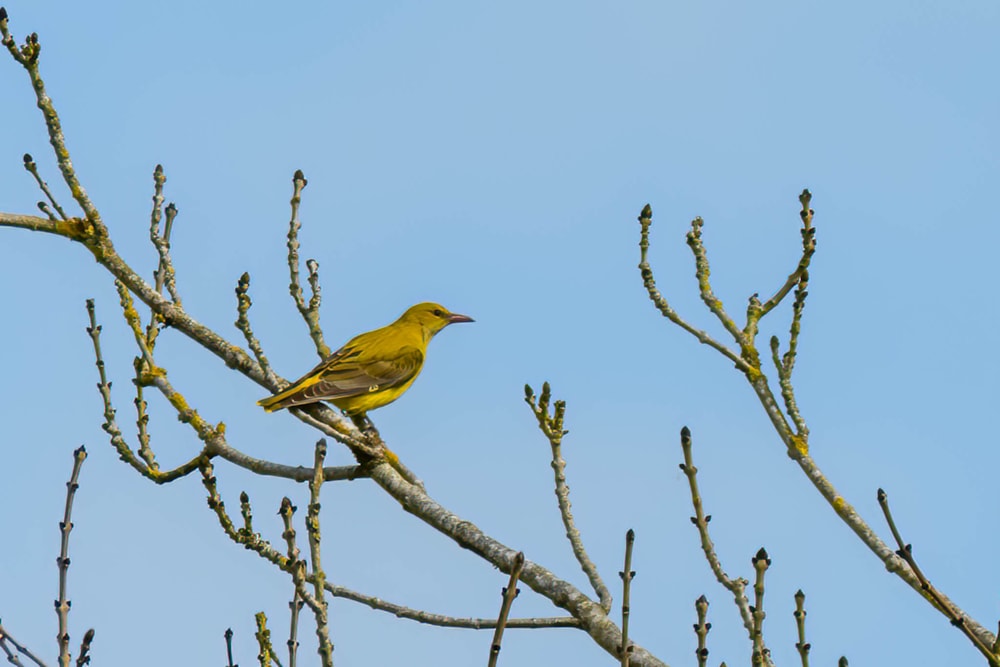 Golden Oriole, Baron's Haugh RSPB, Clyde (Thomas Bowman).
Northern Isles and the Hebrides
A smart male Red-backed Shrike was in Shetland at Leawart, Unst, with a Common Crane at nearby Haroldswick. Two late White-billed Divers remained off Norwick until 14th, while a Rough-legged Buzzard flew south-west over Dury, Mainland, on 16th. A drake Ring-necked Duck ended the week at Loch of Hillwell, with Wryneck at three sites: Isbister, Whalsay, and Scatness and Geosetter, Mainland. Unfortunately, a Golden Oriole corpse was found at Fleck, Mainland, on 16th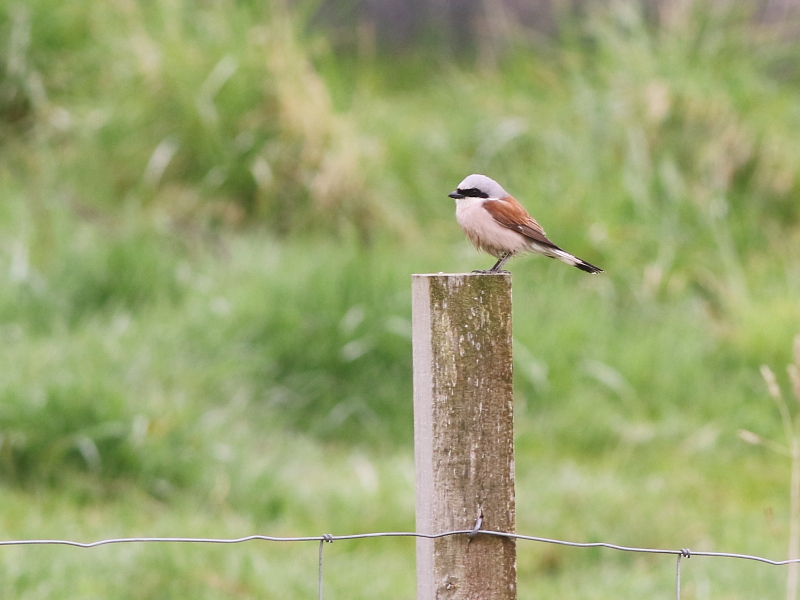 Red-backed Shrike, Norwick, Unst, Shetland (David Cooper).
In an action-packed week on Fair Isle, a female Citrine Wagtail was perhaps the scarcity highlight. Other island highlights included the ringed Little Bunting still and an Olive-backed Pipit, alongside a single Blue-headed and two Grey-headed Wagtails, two Wood Sandpipers, Western Osprey, and a Little Ringed Plover.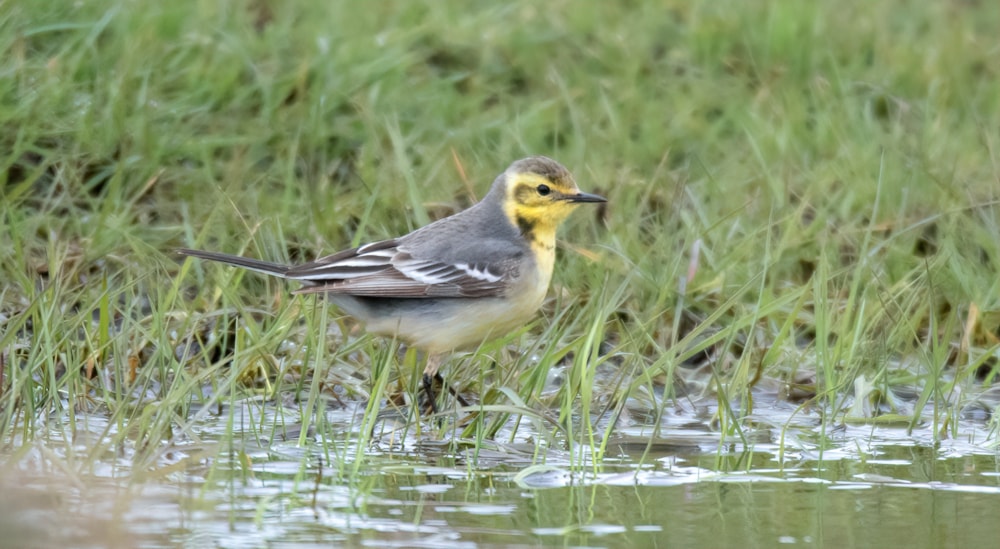 Citrine Wagtail, Fair Isle, Shetland (Alex Penn).
Meanwhile, the Black Kite tracked over Fair Isle on 16th and North Ronaldsay, Orkney, the following day was the individual last seen in Aberdeenshire last week.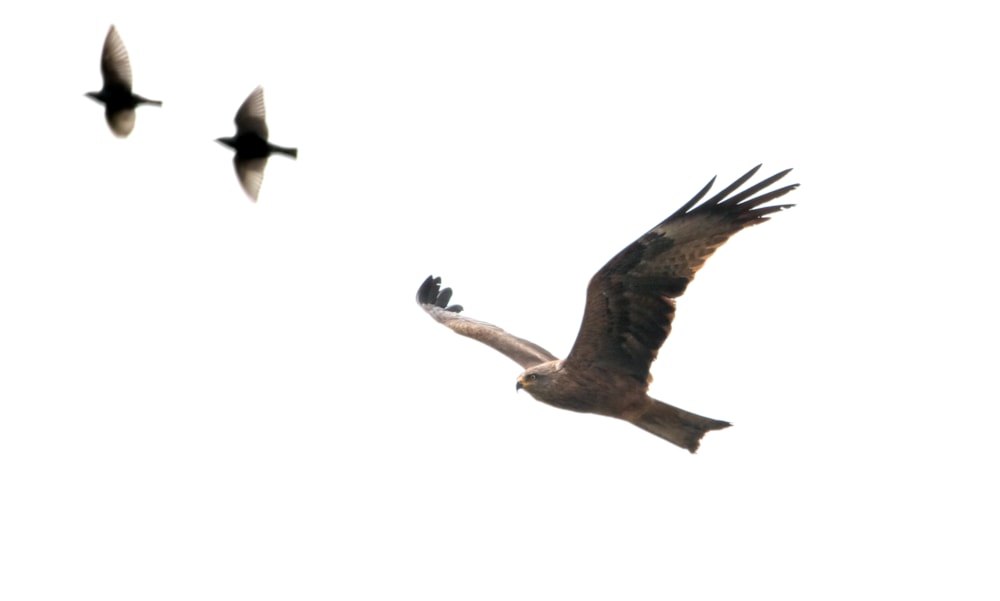 Black Kite, Fair Isle, Shetland (Alex Penn).
Westray, Orkney, saw a one-day Temminck's Stint on 16th, where first-summer Little Gull continued. A Shore Lark was neighbouring Papa Westray from 13-15th. Several Garganey were dotted around, including no fewer than three at Graemeshall, Mainland. A brief Temminck's Stint was on North Ronaldsay on 14th before flying south, with a supporting cast of Wood Sandpiper and two Garganey; another Wood Sandpiper was on Sanday, with an Avocet on Stronsay.
In the Outer Hebrides, Long-tailed Skua passage picked up speed on 18th, with no fewer than 19 adults northbound past Aird an Runair, North Uist. A Red-rumped Swallow was at Grogarry, South Uist, on 13th, with a drake Green-winged Teal at Loch Bhrusda, Berneray, that afternoon.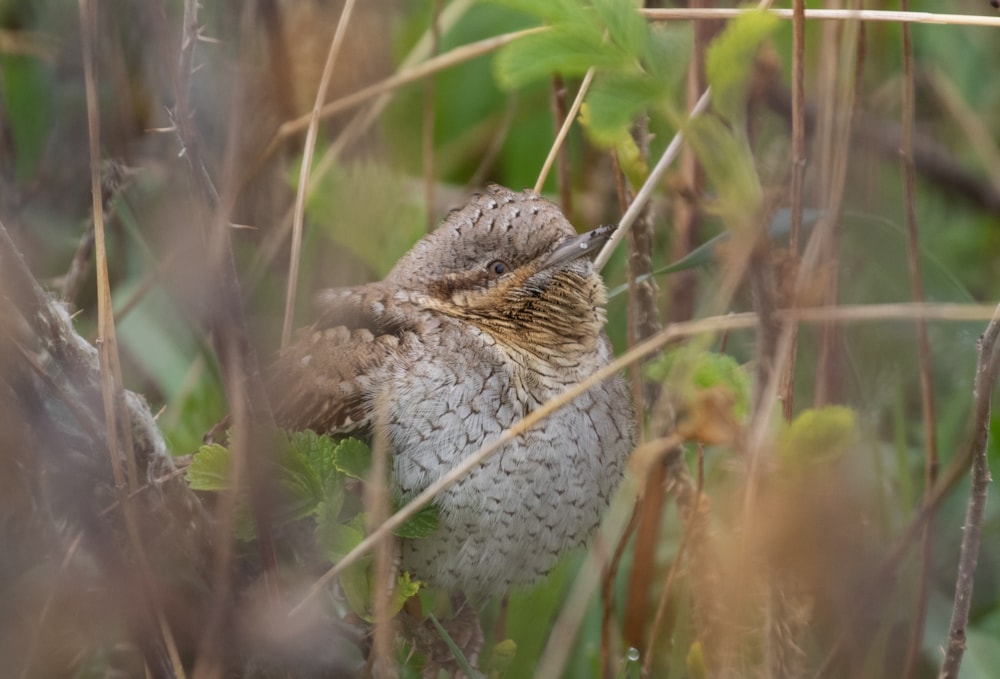 Wryneck, Fair Isle, Shetland (Daniel Gornall).
North-East England
Visitors to Northumberland's Holy Island jammed into a young Caspian Gull and a probable Grey-headed Wagtail, while a Common Crane was near Acklington on 12th. To the south, a Black Tern was at Long Nanny on 18th. Wood and Curlew Sandpipers were at three sites each; a Little Stint was at North Blyth from 14th. Grindon Lough's reliable Red-necked Phalarope remained, Amble and Old Hartley both hosted Iceland Gulls and Ruddy Shelduck continued at Budle Bay and Widdrington Moor Lake.
In Durham, Wood Sandpipers were at three sites: Lamesley Water Meadows (two), Rainton Meadows and Bishop Middleham. Washington's Ruddy Shelduck remained in place, as did the Eurasian Spoonbill at Boldon Flats, while Whitburn Coastal Park scored a flyover Hawfinch and third-winter Glaucous Gull.
Bran Sands, Cleveland, hosted a Little Stint and Curlew Sandpiper, while a Hooded Crow was at Warsett Hill on 15th. A Wood Sandpiper continued at Cowpen Marsh, Eurasian Spoonbills were noted over Warsett Hill and at Cowpen Marsh, and Garganey were at three sites.
Eurasian Spoonbill, Boldon Flats NR, Durham (Paul Hindess).
North-West England
Seven Pomarine Skuas winged their way past South Walney NR, Cumbria, on 12th, and a Common Crane flew over Foulshaw Moss on 17th. A drake American Wigeon of unknown origin was found paddling in Petersburg's Tarn, Beckermet, on 12th, and on a similar note, an Egyptian Goose was at Ullswater on 18th.
A Temminck's Stint could be found creeping around on Newton Marsh, Lancashire, throughout the week. A female Grey-headed Wagtail was decorating the Long Bank at Seaforth LWT on 15th, while a juvenile Iceland Gull paid a brief visit to Stanley Park, Blackpool, on 17th and a Common Crane flew over Leighton Moss the same day.
Over in Cheshire, Burton Marsh produced a Common Crane on the afternoon of 16th. A slightly unseasonal juvenile Iceland Gull was on the Mersey at Runcorn from 14-16th. Frustratingly, a possible Temminck's Stint flew through Woolston Eyes NR on 15th but sadly didn't land. A Common Quail was sound-recorded over Chester on the night of 17-18th.
Greater Manchester too scored a Temminck's Stint, with one dropping down briefly at Audenshaw Reservoirs on 16th. Kittiwakes were at Elton Reservoir on 13th and the aforementioned Audenshaw on 14th, and a male Blue-headed Wagtail was still at Carrington Moss.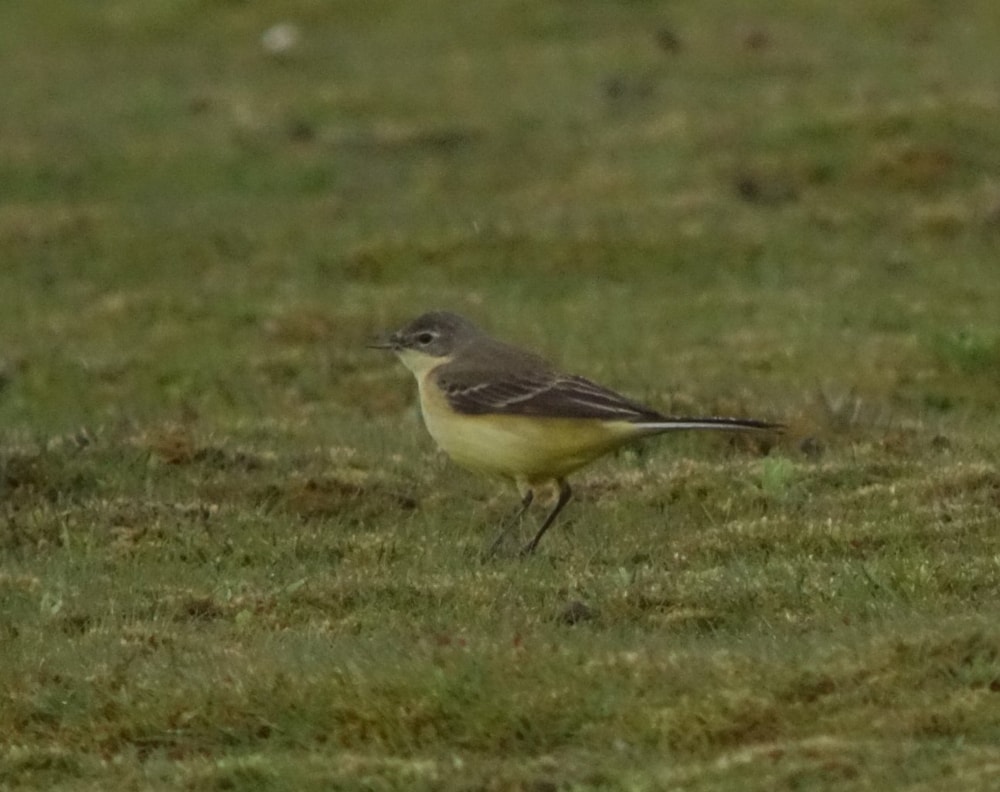 Grey-headed Wagtail, Seaforth LWT (Permit only), Lancashire (Gavin Thomas).
Lincolnshire and Yorkshire
Frampton Marsh RSPB was the place to be in Lincolnshire, with up to three Temminck's Stints on site plus a late Water Pipit and three flyover Common Cranes providing backup. Nearby Freiston Shore RSPB scored European Honey Buzzard and a singing Tree Pipit on 18th. Another of the former flew over Gibraltar Point NNR on 16th, with a Wood Warbler also there. It's been a few years since Eurasian Dotterel turned up at Tetney Lock, so one on 12th was welcome. A Common Quail sang near Corringham on 15th.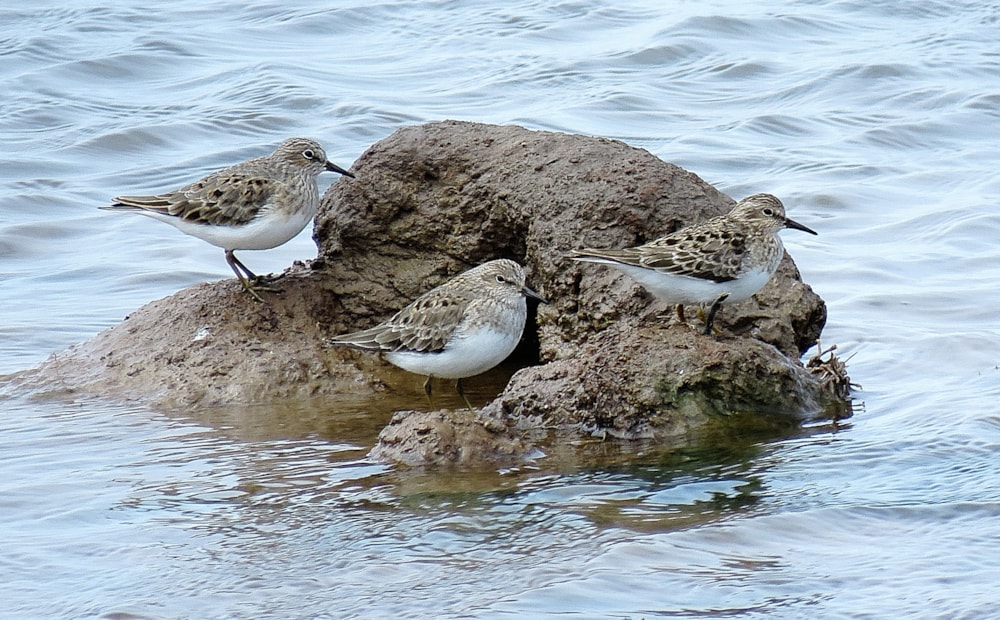 Temminck's Stint, Frampton Marsh RSPB, Lincolnshire (Roy Harvey).
Content continues after advertisements
In East Yorkshire, Golden Orioles were at Spurn and Flamborough Head (two). The former also logged Purple Heron, Red-rumped Swallow, Grey-headed Wagtail and Temminck's Stint in a very productive seven days, while Flamborough held on to its Hoopoe till 14th. On 16th, Grimston was graced by a Grey-headed Wagtail and a European Honey Buzzard flew over Hornsea Mere. The latter species was also back at Wykeham Forest, North Yorkshire, while there was a brief male Red-backed Shrike at Filey on 15th.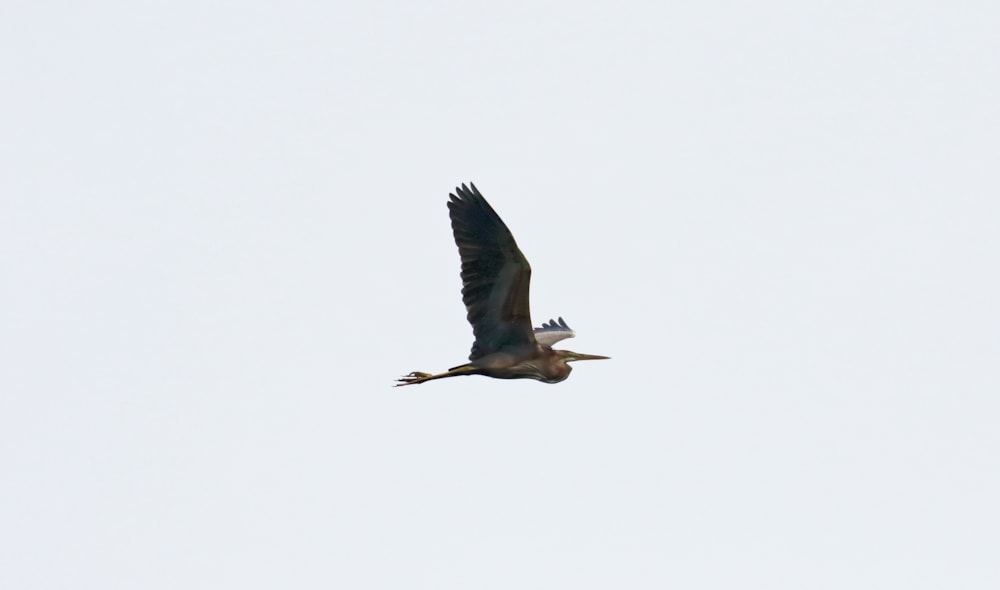 Purple Heron, Kilnsea, East Yorkshire (John Hewitt).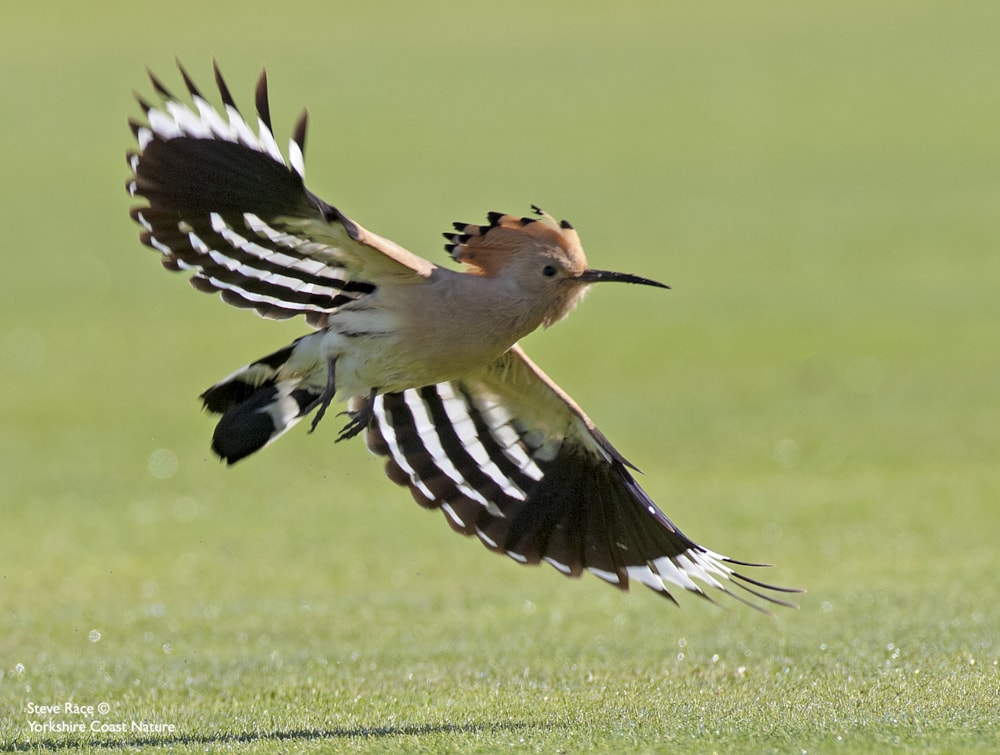 Hoopoe, Flamborough (village), East Yorkshire (Steve Race).
A Black Kite flew over South Anston, South Yorkshire, on 15th, while Orgreave Lagoons' purple patch continued with Little Tern on 15th in addition to Little Stint and Black-necked Grebe. Other sightings included Common Quail at Auckley Common on 12th, European Honey Buzzard over Thorne Moors NNR on 13th and Kittiwake at Old Moor RSPB on 17th. St Aidans RSPB, West Yorkshire, offered Curlew and Wood Sandpipers.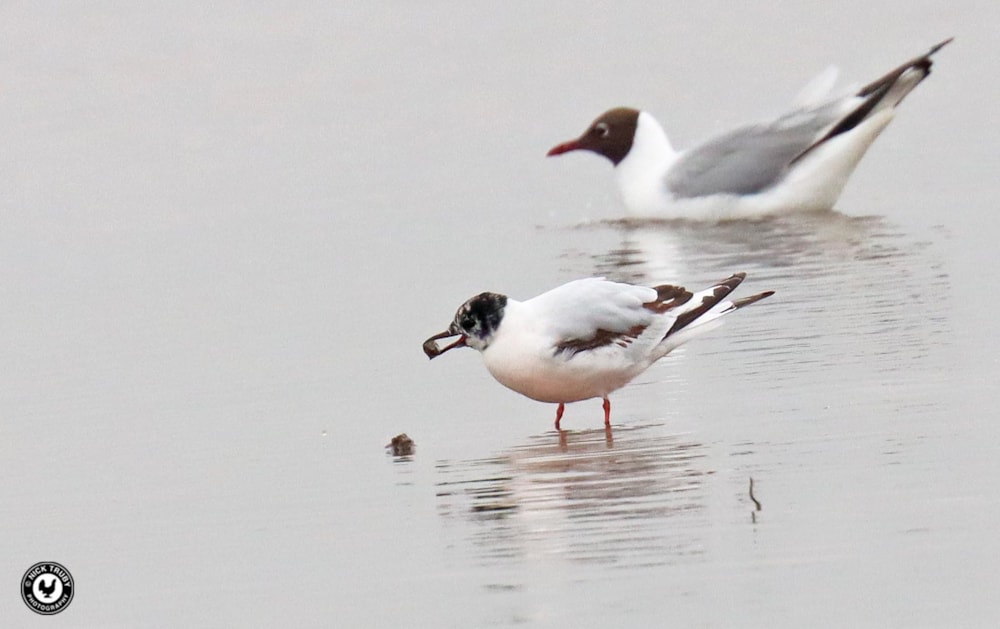 Little Gull, Frampton Marsh RSPB, Lincolnshire (Nick Truby).
West Midlands
Staffordshire's Hoopoe just about lingered into the recording week on 12th but wasn't seen since. An adult Kittiwake flew through Westport Lake on 14th and a drake summer plumage Long-tailed Duck was bobbing around Belvide Reservoir between 16-17th. An immature Eurasian Spoonbill was tracked south through Branston GPs and later Middleton Lakes RSPB on 12th.
The immature Eurasian Spoonbill was later seen at Ladywalk NR, Warwickshire, then continued its mission south, while the drake Garganey remained present throughout. Worcestershire enjoyed an exciting couple of birds. A Black Kite was over Jubilee Gardens, Bewdley, on 13th before flying north, not to be reported again. Meanwhile, an immature male Golden Oriole was discovered singing by the car park at Monk Wood from 14th. The bird was typically elusive but showed briefly on occasion.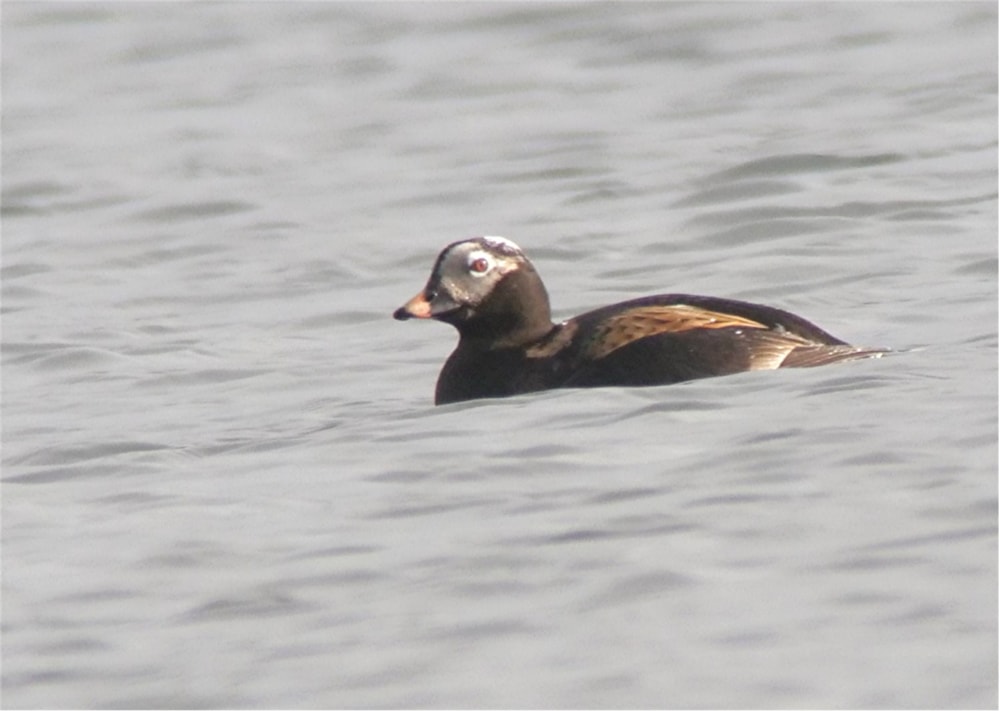 Long-tailed Duck, Belvide Reservoir (PERMIT ONLY), Staffordshire (Steve Nuttall).
East Midlands
Black Kite again headlined Derbyshire's week, when one flew south over Wyver Lane DWT on 12th. A Glossy Ibis was again busy playing hard to get at Carr Vale NR from 13th.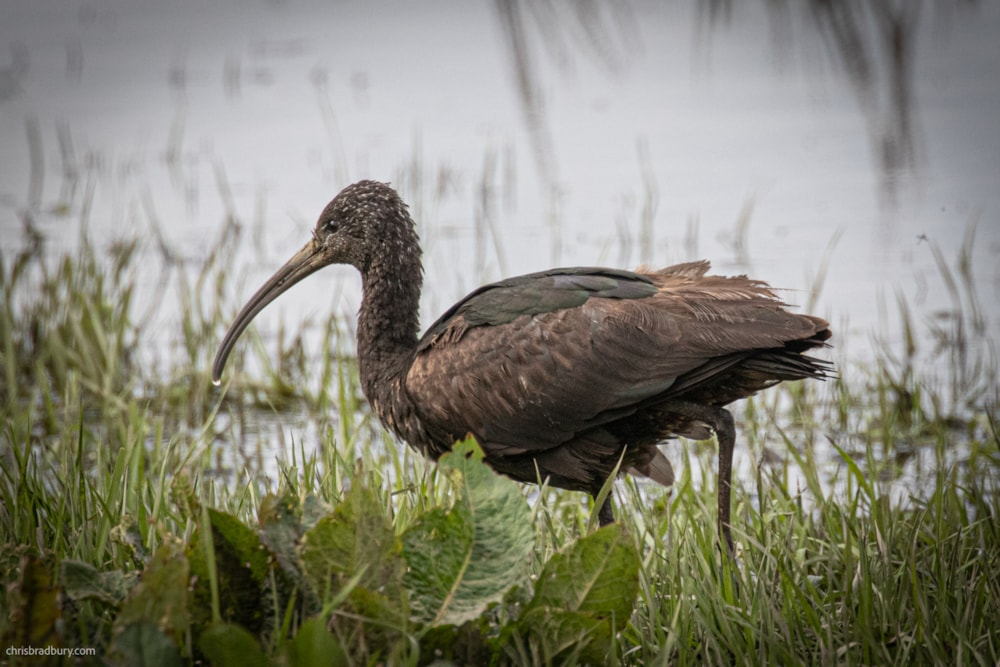 Glossy Ibis, Carr Vale NR, Derbyshire (Chris Bradbury).
Winter wildfowl continue to linger in Notts, with a first-winter Russian White-fronted Goose at Besthorpe NWT and a Dark-bellied Brent Goose at Daneshill Lakes. The Glossy Ibis remained at Besthorpe NWT while two Common Cranes flew north over Langford Lowfields RSPB on 15th.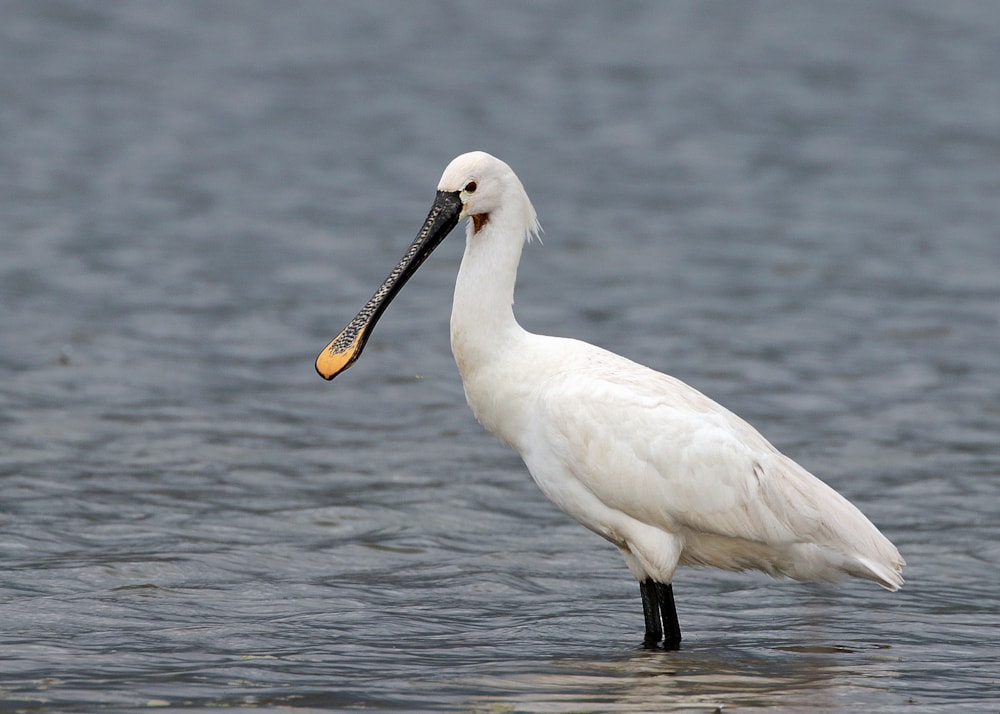 Eurasian Spoonbill, Bingham, Nottinghamshire (Darren Chapman).
Northants endured a quiet week, although a Baltic Gull at the DIRFT 3 development at Lilbourne was revealed to be wearing the all-important colour ring. A Hoopoe was probing the grass at Croyland Park, Wellingborough, on 18th.
Kumlien's, unringed Baltic Gull at Shawell and colour ringed Baltic Gull taking a nap at DIRFT (at Shawell later in the day). pic.twitter.com/CEYFgVl54k

— Carl Baggott (@hillwatcher) May 19, 2021
The second-winter Kumlien's Gull again put in sporadic appearances at Shawell sandpit, Leicestershire, and the Northants Baltic Gull also made a brief cameo on 18th. A Temminck's Stint was on Lagoon 4 at Rutland Water on 16th, perhaps last week's bird still lurking. A Black Tern was also at Rutland. Remarkably a female-type Golden Oriole was discovered on the grounds of a school at Melton Mowbray on 12th. Fortunately, the bird recovered in care and was released at a private estate in Nottinghamshire on 15th.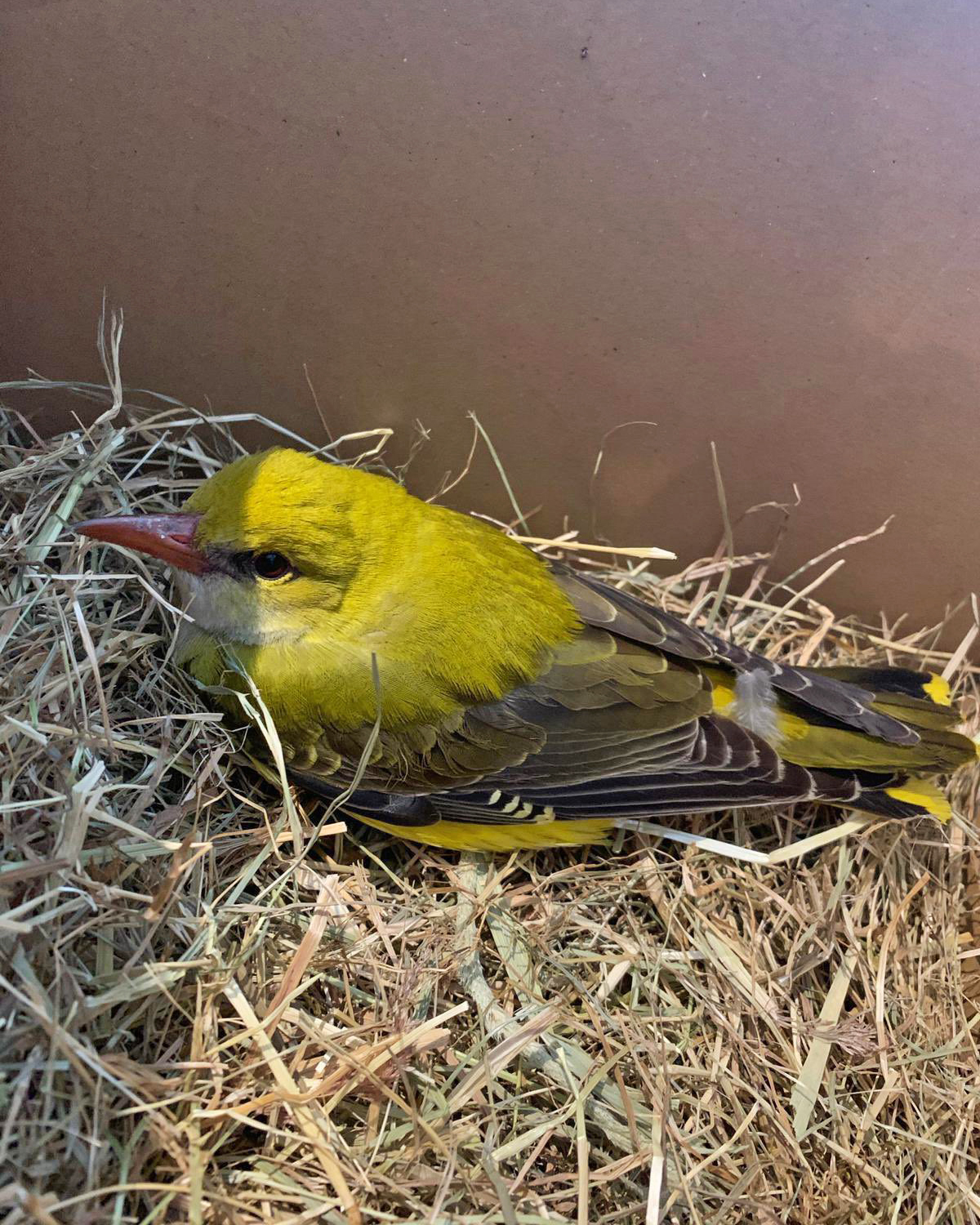 Golden Oriole, Melton Mowbray, Leicestershire and Rutland (Long Field Academy).
East of England
No fewer than seven sites in Norfolk produced Golden Orioles this week, most of which were on the coast between Holkham and Cromer. Up to three Grey-headed Wagtails were at Ken Hill Marshes, with a Hoopoe seen in King's Lynn on 17th and a brief European Serin at Holme Dunes on 18th. Four Temminck's Stints were at three sites, while a Eurasian Dotterel flew over Breydon Water on 13th – the same day a Eurasian Stone-curlew was seen at Blakeney Point.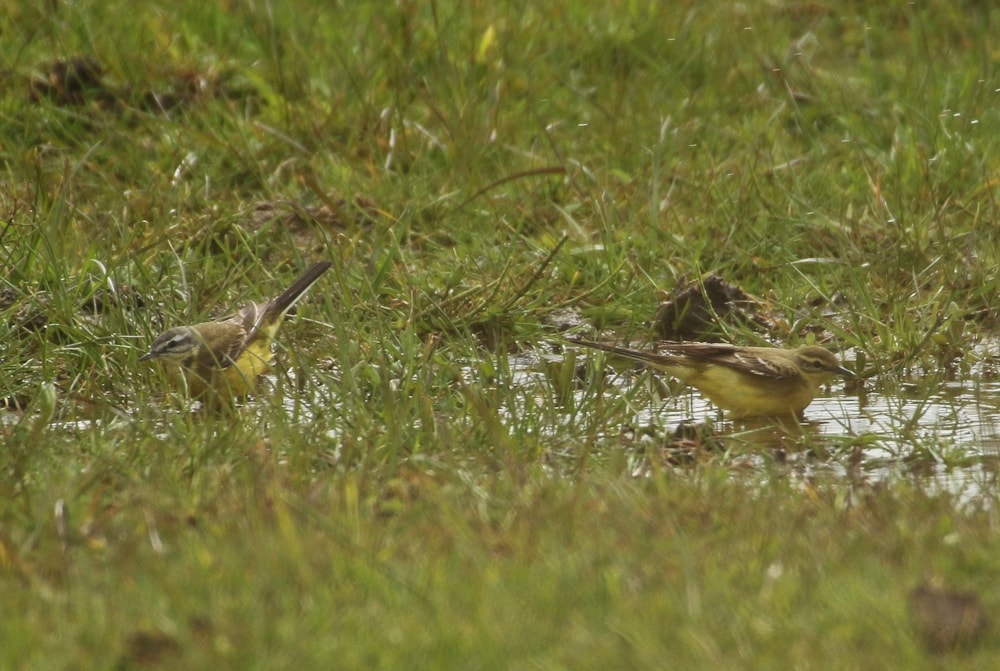 Blue-headed Wagtail, West Runton, Norfolk (Tony Sutton).
The year's first White-winged Tern was an all-too-brief affair at Grafham Water, Cambs, on 12th, with a Black Tern there on 15th. Two Temminck's Stints spent a few days at Smithy Fen, Cottenham, with another found at West Brook, Fenstanton, on 18th. No fewer than five sites produced Glossy Ibises and a Brent Goose was at Ferry Meadows CP on 15-16th
It has been a decade since Golden Oriole was last regular at Lakenheath Fen RSPB, Suffolk, so news of a singing male on 14th was welcome – even if it was brief. Another Golden Oriole was at Minsmere RSPB, where a Pectoral Sandpiper called in on 18th. A Hoopoe was at Woodbridge on 14th, with another at Gazeley the next day. Three sites produced European Honey Buzzards, while a Temminck's Stint was still at Trimley Marshes SWT.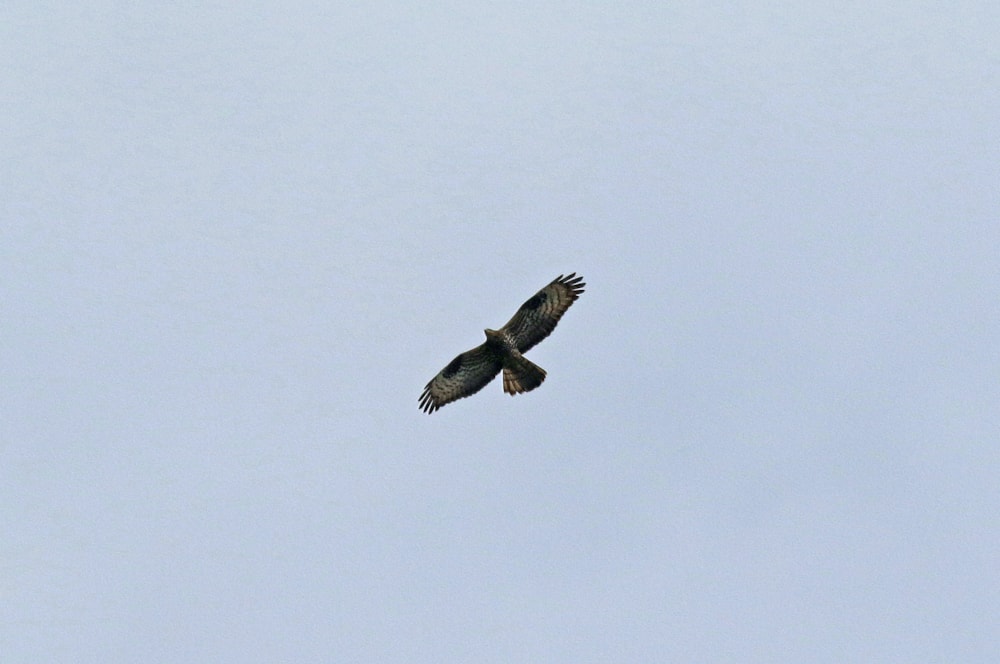 European Honey Buzzard, Aldeburgh, Suffolk (John Davies).
A Hoopoe flew over the M25 at Waltham Abbey, Essex, on 15th, with a Red-rumped Swallow at The Naze on 16th and a brief male Golden Oriole at Wat Tyler CP on 17th. The Woodchat Shrike was last reported at Rochford on 12th.
Amwell NR reasserted itself as one of Hertfordshire's premier birding locales with a flyover Purple Heron on 14th, while a European Nightjar was in a Tring garden on 15th and a Blue-headed Wagtail at Bramfield on 18th. A particularly quiet week in Bedfordshire produced little more than a Sanderling briefly at Broom GPs on 15th.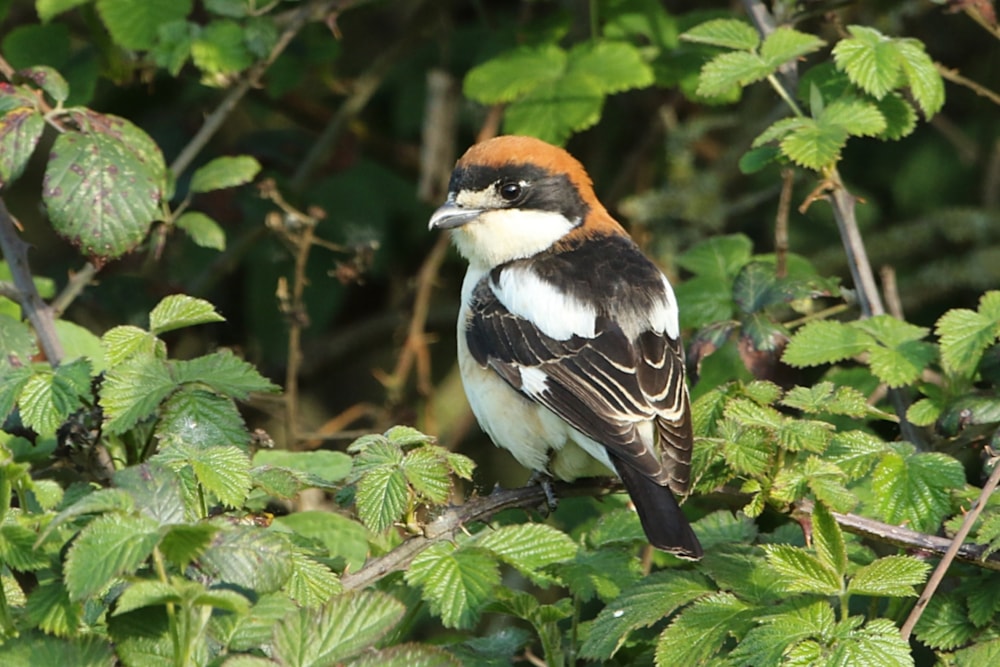 Woodchat Shrike, Rochford, Essex (Adrian Webb).
South-East England
After a decent flush of birds during the last review period it was back to the underwhelming theme that has dominated the region this spring. Despite the wet weather the first proper arrival of European Honey Buzzards took place, included no fewer than five in Kent. A few other continental species graced the Garden of England, including a Melodious Warbler and Purple Heron at Dungeness on 17th and 12th respectively, Golden Orioles at Margate on 16th and Park Gate Down on 18th, Red-rumped Swallow at Lade GPs on 19th and a Montagu's Harrier over Bough Beech Reservoir on 12th.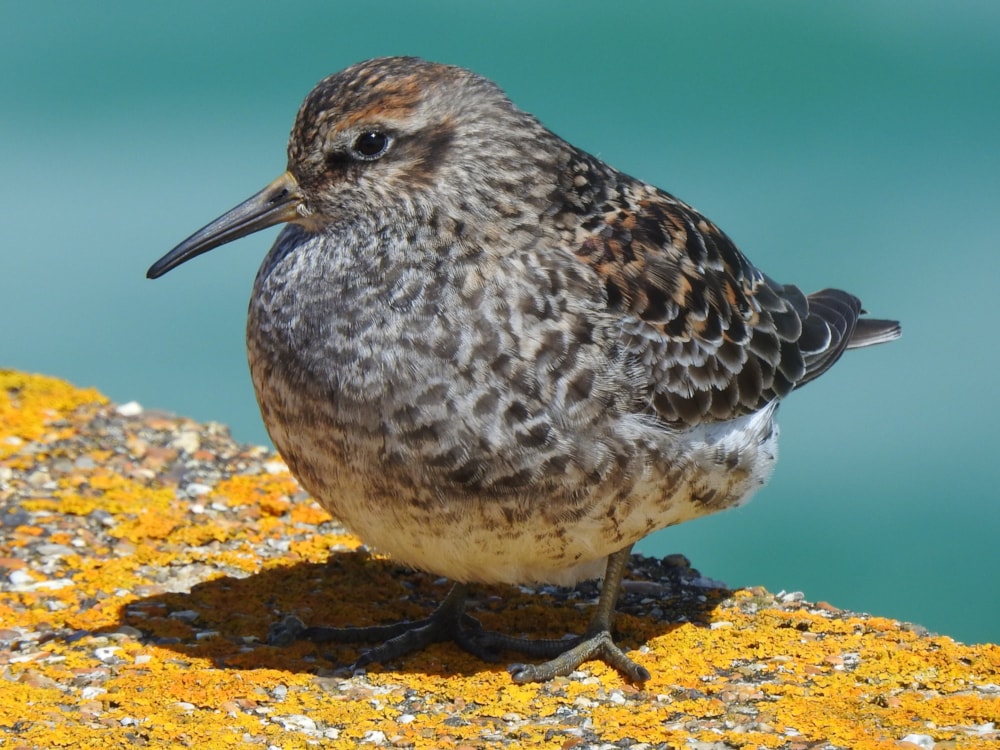 Purple Sandpiper, Newhaven, East Sussex (Colin Holter).
It was quiet indeed in Sussex, where a Eurasian Stone-curlew flew over Birling Gap on 14th and the Church Norton Roseate Tern reappeared. There was an unconfirmed report of three European Bee-eaters at Bevendean LNR on 18th, too. A European Serin at Pennington Marshes on 12th was the best Hampshire could muster by some stretch. On the Isle of Wight, the Purple Heron continued at Brading Marshes.
It was even quieter inland, unsurprisingly, though five Eurasian Spoonbill were tracked on 14th – on the deck and then departing Little Marlow GPs, Buckinghamshire, in the morning, before being seen over Cookham Dean, Berkshire. They clearly U-turned, however, as they were finally reported over Henley-on-Thames, Oxfordshire, at midday. Berkshire also scored a Common Quail at Cow Down on 13th and the Otmoor Glossy Ibis continued in Oxfordshire. In London, a Golden Oriole at Upminster on 16th was a notable record.

Channel Wagtail, Watermead Lake, Buckinghamshire (Dan Forder (@DanFWildlife)).
South-West England
The Lesser Yellowlegs remained on St Mary's, Scilly, until 12th, when late news arose of a European Serin overhead from the previous day. The Iceland Gull was still knocking about too.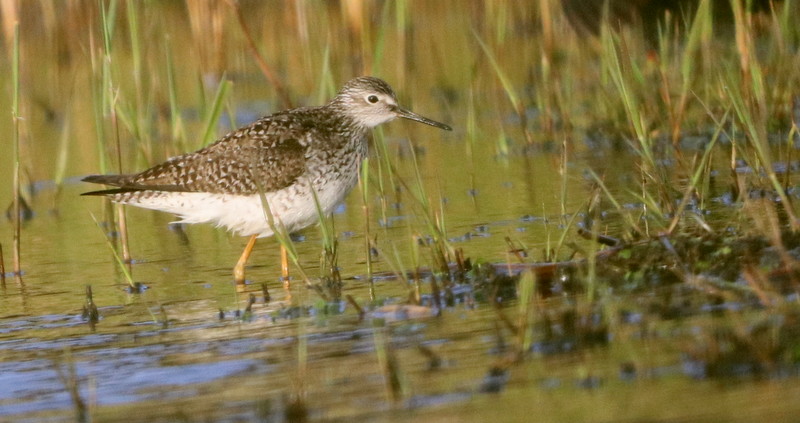 Lesser Yellowlegs, St Mary's, Isles of Scilly (Kris Webb).
The Cornish Buff-breasted Sandpiper lingered until 12th as well, at Davidstow Airfield, and the Foxhole Ring-necked Duck was about all week, seemingly paired with a local female Tufted Duck. The Montagu's Harrier was seen again at Goonhilly Downs on 14th, a Woodchat Shrike was at Kenidjack Valley from 12-15th and Pendeen and Porthpean enjoyed flyover European Serins on 14th and 16th respectively. A Grey-headed Wagtail was at Housel Bay on 18th.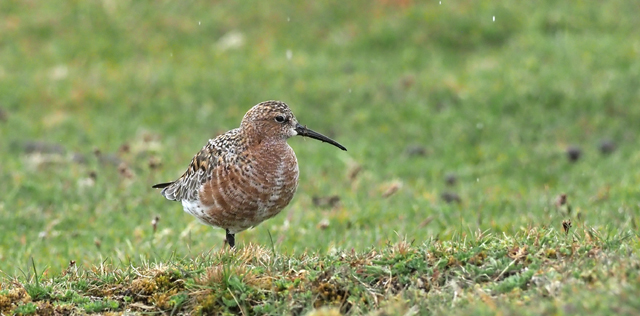 Curlew Sandpiper, Davidstow Airfield, Cornwall (Adrian Davey).
In Devon, a Red-rumped Swallow proved popular at Dawlish and Man Sands between 12-15th. The Golden Oriole was still on Lundy, as was a Ring-necked Duck at Slapton Ley. On 12th, an adult Long-tailed Skua flew in off the sea at Thurlestone Bay and continued inland.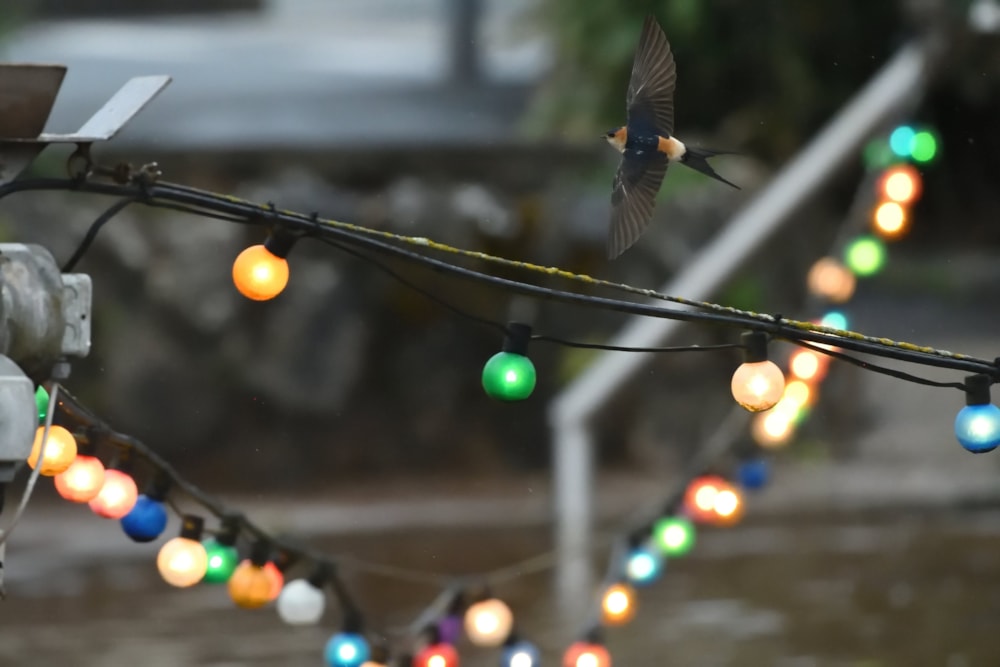 Red-rumped Swallow, Dawlish, Devon (Stephanie Murphy).
Dorset's first wild White-tailed Eagle in over 100 years flew west past St Aldhelm's Head on 9th. Meanwhile, a suburban Woodchat Shrike was at Iford Golf Course, Bournemouth, on 18th. A Hoopoe was in a Langton Herring garden on 12th, with a European Honey Buzzard over Coward's Marsh two days later. Portland's Chough was last noted on 13th, while the isle also scored a European Serin and Golden Oriole. An Alpine Swift was overhead on 12th, before relocating to Weymouth town centre that evening. Lodmoor RSPB's Iceland Gull count increased to two and Pomarine Skuas were noted off Portland Bill and Hengistbury Head, while a very unseasonal Sooty Shearwater flew past Wyke Regis on 16th.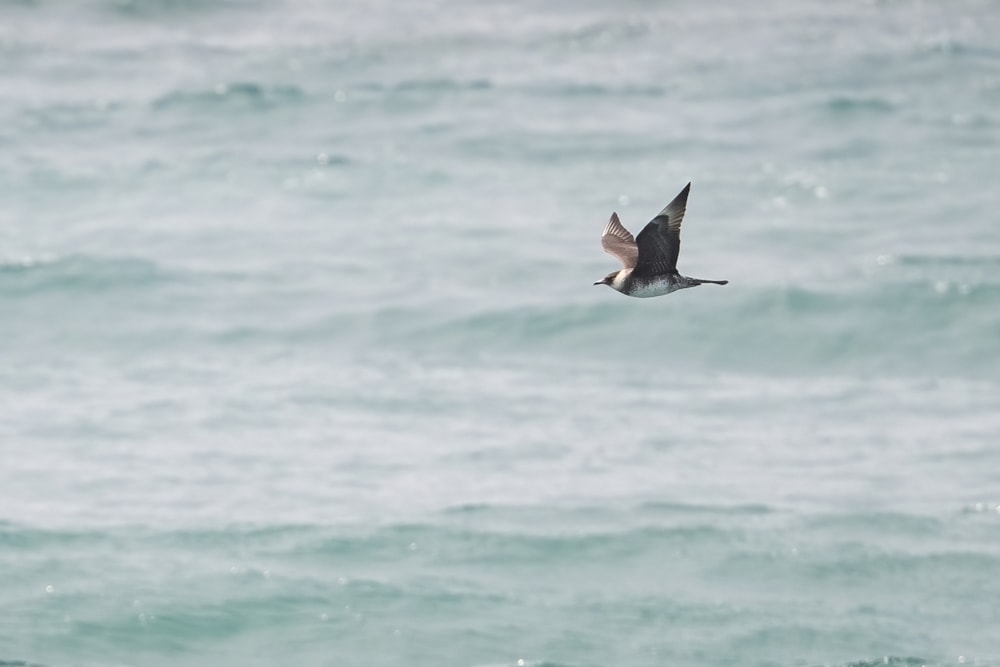 Pomarine Skua, Portland, Dorset (Matthew Barfield).
A European Nightjar in a Shirehampton front garden must have been a shock for the finder! Elsewhere in Somerset and Bristol, Barrington's Hoopoe was reported again on 13th and a Channel Wagtail visited Pawlett Hams, while Tealham Moor hosted a duo of Garganey and Wood Sandpiper. A Glossy Ibis was at Steart WWT, alongside a Wood Sandpiper, Eurasian Spoonbill and Garganey.
A Glossy Ibis was a fresh arrival Slimbridge WWT, Gloucestershire, from 16th, alongside a Garganey and Little Stint. Several Little Gulls graced the county, while a Eurasian Spoonbill was on the River Severn off Newnham on 12th. – the same date two Common Quail were at Lydeway, Wiltshire.
Can't resist, Glossy Ibis on the Rushy @slimbridge_wild requires a #DidgyVid! #GlosBirds #BirdsSeenIn2021 pic.twitter.com/AizEmNrEex

— Roberta 💙 (@RobertaBirder) May 16, 2021
Wales
Bardsey Island played home to a smart Woodchat Shrike from 14th, their second in as many years. Over on Skomer, a male Blue-headed Wagtail was strutting his stuff on 13th. Redpolls have long been a tough topic in birding, more so in spring when birds are looking misleadingly bleached. However, some smart 'Icelandic' candidates appeared to be on the move with three at Great Orme, Conwy, on 15th and another at Newport, Gwent, the same day.
An adult Long-tailed Skua pitched up at Machynys golf course, Carmarthen, on 15th, although was first noted by on 11th. Sadly, it became apparent the bird was oiled, although it stayed till the following morning and was last seen flying off out to Loughor Estuary and seemed lively enough. A juvenile Glaucous Gull was on the Afon Teifi at Teifi Marshes NR, Pembrokeshire, on 15th.

Long-tailed Skua, Machynys, Carmarthen (Andrew Jordan).
Ireland
An impressive two Montagu's Harriers were in the country during the week: a male at Ballycotton, Co Cork, from 14-15th and a female Rush, Co Dublin, on 13th. Two blue morph Snow Geese were at South Slob, Co Wexford, on 16th, the same day the drake Ring-necked Duck was last reported at Lough Beg, Co Londonderry.
No fewer than four Eurasian Hobbies were in the country, at Newcastle and Rathnew, Co Wicklow, Athlone in Co Westmeath and at Tacumshin, Co Wexford; the latter site hosted a female Red-footed Falcon on 17th. Four Glaucous and one Iceland Gulls were still lingering at various locales in the country.
In Northern Ireland, the Black-necked Grebe – at Lough Neagh, Co Armagh – and the Curlew Sandpiper at Belfast Lough RSPB in Co Antrim continued.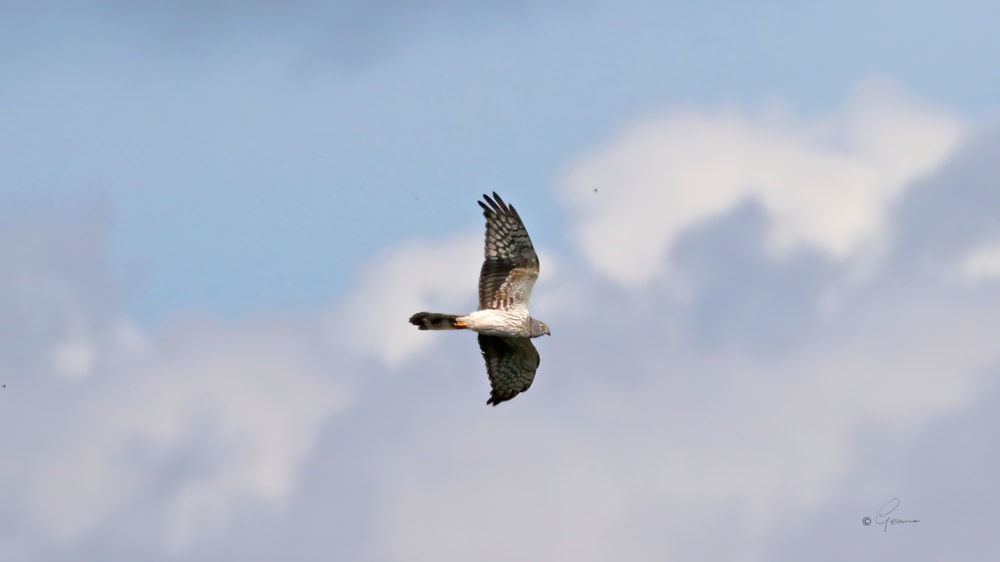 Montagu's Harrier, Ballycotton, Cork (Gemma Kelleher).
Western Palearctic
In what has proved a remarkable week for Fennoscandia, the region has seen an enviable tally of desirable megas from across Eurasia, a possible hint towards what might be headed towards Britain and Ireland once we receive a run of easterly winds at some point this spring.
In a bustling week for Finland, the country's first White-throated Robin – a gorgeous male – at Kimitoön, Kimito, highlighted, although a Caspian Plover – the country's third – at Pahkaneva on 15th wasn't far behind. Elsewhere, a drake Black Scoter was at Söderskär, a Greater Sand Plover was at Sosonpellot, a pale morph Booted Eagle was at Paimionlahti, and two Whiskered Terns were at Kanteleenjärvi.
The White-throated Needletail photographed over Vest Stadil Fjord on 17th – an impressive third for Denmark – raised hopes for another here in the coming weeks. Hopefully this one steers clear of any nearby wind turbines. The fifth Oriental Pratincole for Norway was at Orrevatnet on 15th, with the country's third Bimaculated Lark near Ulvik from 8-14th.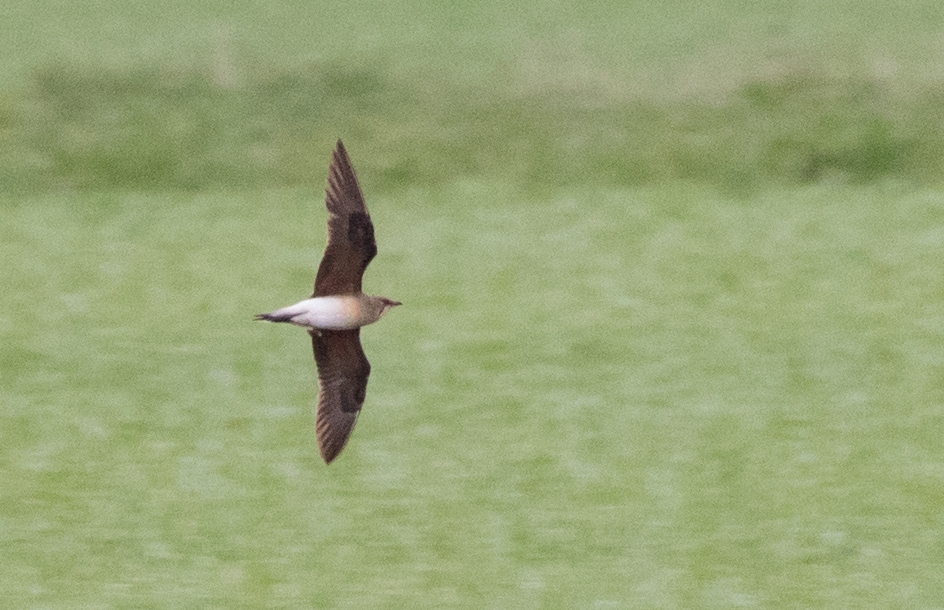 Oriental Pratincole, Orrevatnet, Rogaland (Bjørn Mo).
A male Black-faced Bunting – Sweden's fourth – was ringed at Nidingen bird observatory on 17th, while a Buff-bellied Pipit was photographed at Småkulla on 10th. After heading north towards Swedish airspace over Skagen, Denmark, last week, the Sandhill Crane rocked up at Storsjö from 13th. Meanwhile, the White-tailed Lapwing continued at Lökholmen, with the Stejneger's Scoter remaining off Påarp.
Turkey's first Western Reef Heron – a stunning breeding plumage blue morph – was found by the country's premier rarity finder at Amik Baraj Gölü on 13th; another continued at Roquetas de Mar, Spain. Elsewhere in Spain, the first Rüppell's Vulture for Salamanca – a juvenile – was near Aldearrubia on 17th; Israel's second was found on the 50th-floor staircase of an apartment block in Tel Aviv on 18th before being taken into care.
The discovery of a colony of Plain Swifts in mainland Portugal back in December 2019 is one of the most outrageous ornithological findings in the region for several years. A flock of 30 screaming birds were photographed over Parque da Cidade, Porto, on the evening of 15th. Once thought to be a Macaronesian breeding endemic, this rather healthy count should surely alert European birders to the possibility of some straying further afield in the near future.
In the Spanish Pyrenees of Huesca Province, Aragon, at least one – and probably two – territorial male Eurasian Pygmy Owls were expertly documented on 3-4th, a considerable range expansion if they are found to be just the tip of the iceberg throughout the Pyrenees.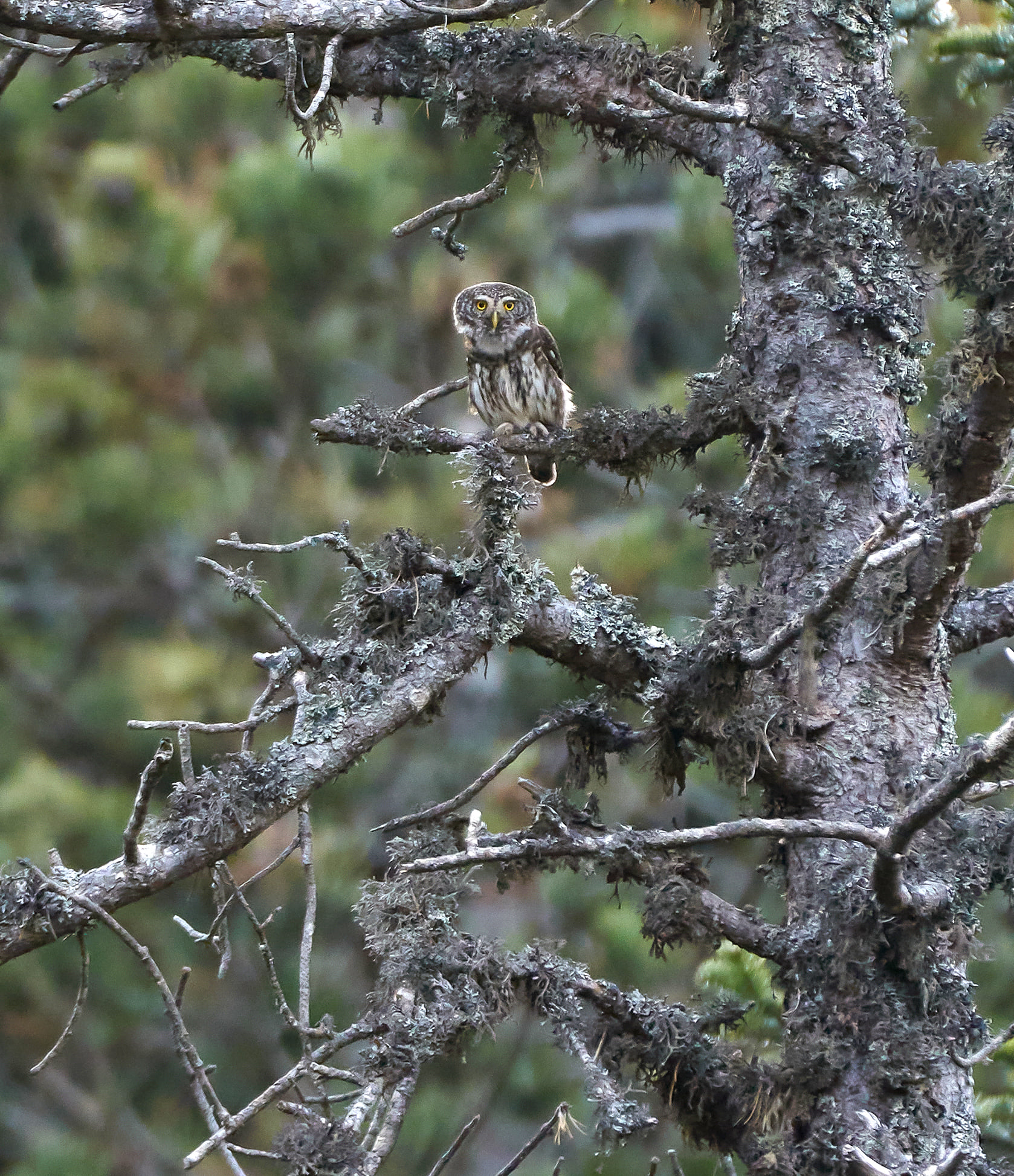 Eurasian Pygmy Owl, Huesca, Aragón (Daniel López Velasco).
Belgium's second Little Swift was at Blokkersdijk, Antwerp, on 15th, while The Netherlands's fourth – a different individual – at Westkapelle on 18th. Elsewhere in the Netherlands, a Crested Lark was photographed at Beverwijk, while Eglazine, the satellite-tagged Bearded Vulture, remained at Lemele.
Hungary's first Melodious Warbler was trapped and ringed at Ócsa, the Czech Republic scored its first Greater Short-toed Lark, and Bulgaria's fifth Spur-winged Lapwing was at Durankulak Lake. A Long-billed Dowitcher at Syvash, Ukraine, on 7th was a national first. In Israel, the Chinese Pond Heron held out at Jerusalem Botanical Gardens until 16th at least.
The male Red-tailed Shrike at San Filippo del Mela, Sicily, on 17th was Italy's third; the Semicollared Flycatcher was still at Ossiach, Austria, the previous day. In the Channel Islands, St Ouen's Pond, Jersey, hosted a Pectoral Sandpiper from 15th.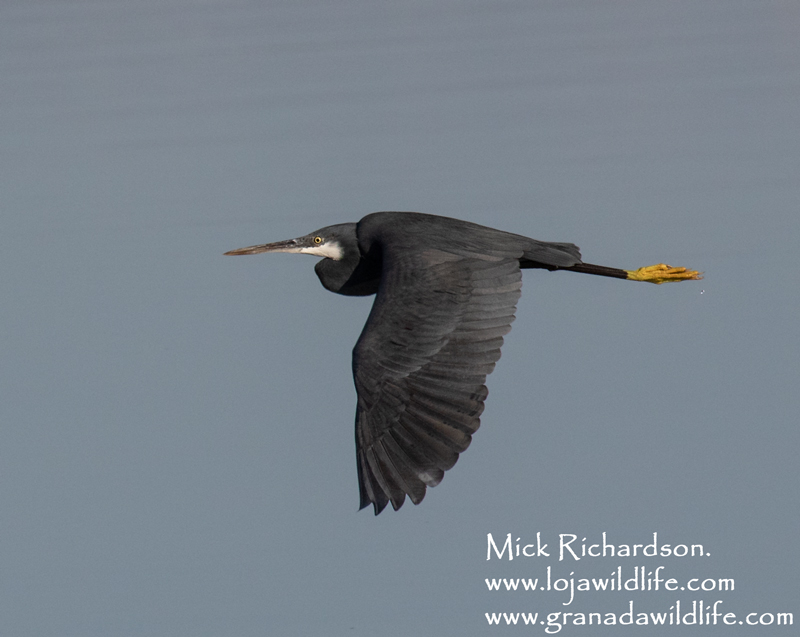 Western Reef Heron, Roquetas de Mar, Andalucia (Mick Richardson).