The week's biggest surprise was the relocation of the adult Egyptian Vulture at Dunfanaghy New Lake, Co Donegal, on 14-15th. Ireland's first-ever record, photo analysis confirmed it as the bird present in Scilly on 14-15 June. Where it has been in the intervening four weeks is anybody's guess, although it could quite easily have disappeared unnoticed into the Irish countryside if it continued on a north-west trajectory after leaving Scilly. There will be plenty hoping for another reappearance over the coming weeks ...
Egyptian Vulture, Dunfanaghy New Lake, Donegal (E Larissey).
At Bempton Cliffs, East Yorkshire, the highly popular Black-browed Albatross came and went from the Staple Newk Northern Gannet colony throughout the week, continuing to prove rather unpredictable.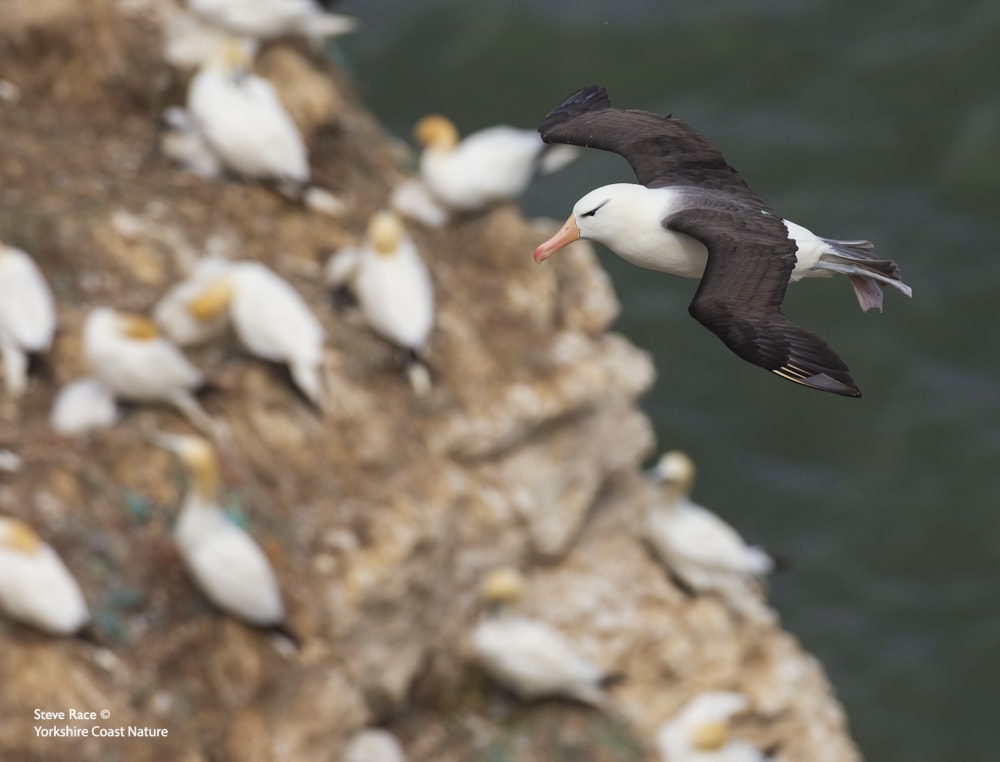 Black-browed Albatross, Bempton Cliffs RSPB, East Yorkshire (Steve Race).
Rare terns remained on both sides of the Irish Sea throughout – the Elegant Tern at Cemlyn Bay, Anglesey, and the Least Tern at Portrane Point, Co Dublin.

Elegant Tern, Cemlyn Bay, Anglesey (Will Bowell).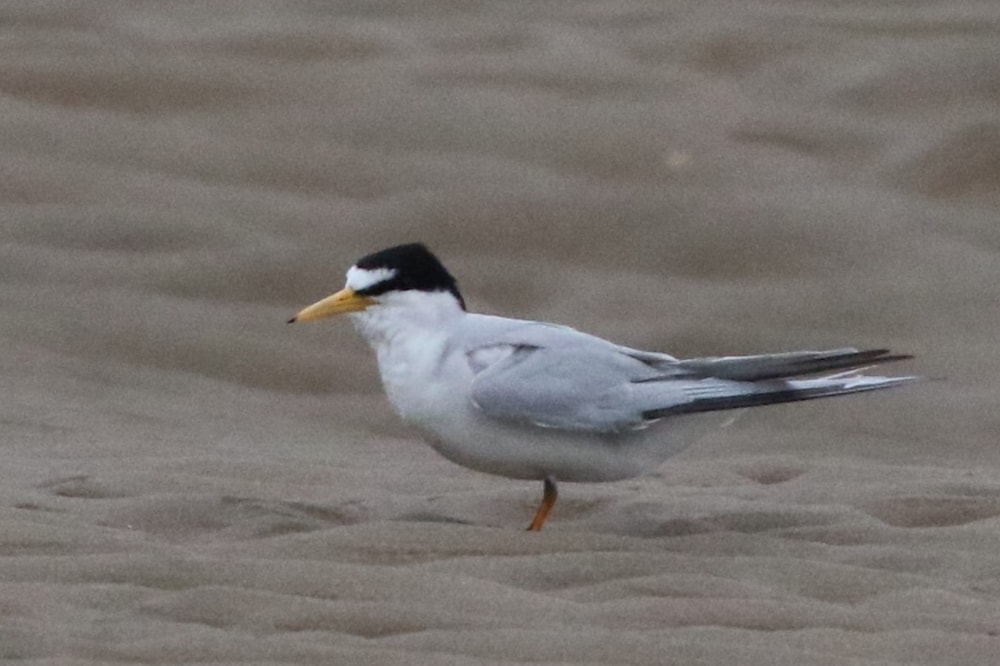 Least Tern, Portrane Point, Dublin (Brian McCloskey).
A new first-summer Bonaparte's Gull was at Ringaskiddy, Co Cork, on 18th, while the regular adult was once more back at Oare Marshes, Kent, from 16th – a little later than usual. In Shetland, another individual held out at Norwick, Unst, while the first-summer was last noted at Lough Beg, Co Antrim, on 14th.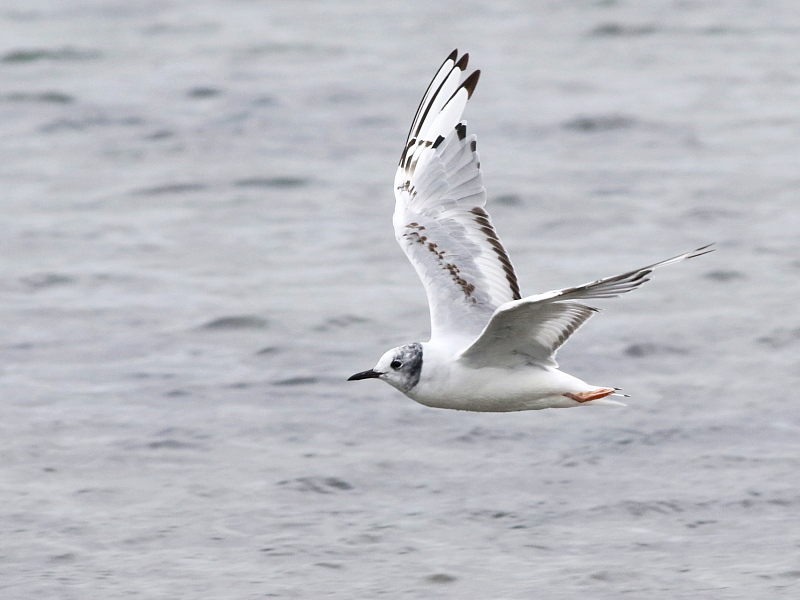 Bonaparte's Gull, Norwick, Unst, Shetland (David Cooper).
Last recorded at St Aidan's RSPB, West Yorkshire, on 2nd, Finnish-ringed Caspian Tern 'LJJ' made an appearance at Middleton Lakes RSPB, Staffordshire, on 15th.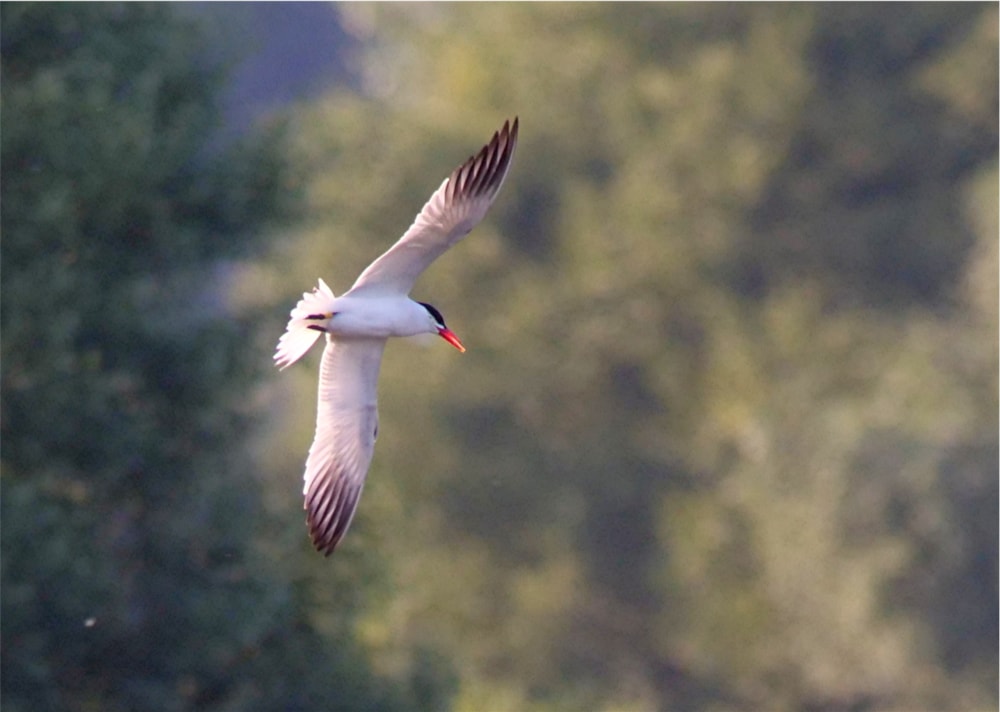 Caspian Tern, Middleton Lakes RSPB, Staffordshire (Steve Nuttall).
In Kent, a wide-ranging Black Stork graced a number of sites between Sandwich, Dover and Folkestone, briefly lingering near Minster on 13th, where it was twitchable to a handful of speedy birders. Another flew over Rye Harbour, East Sussex, on 15th. Elsewhere, the female Snowy Owl again delighted visitors to Hirta, St Kilda, on 12th.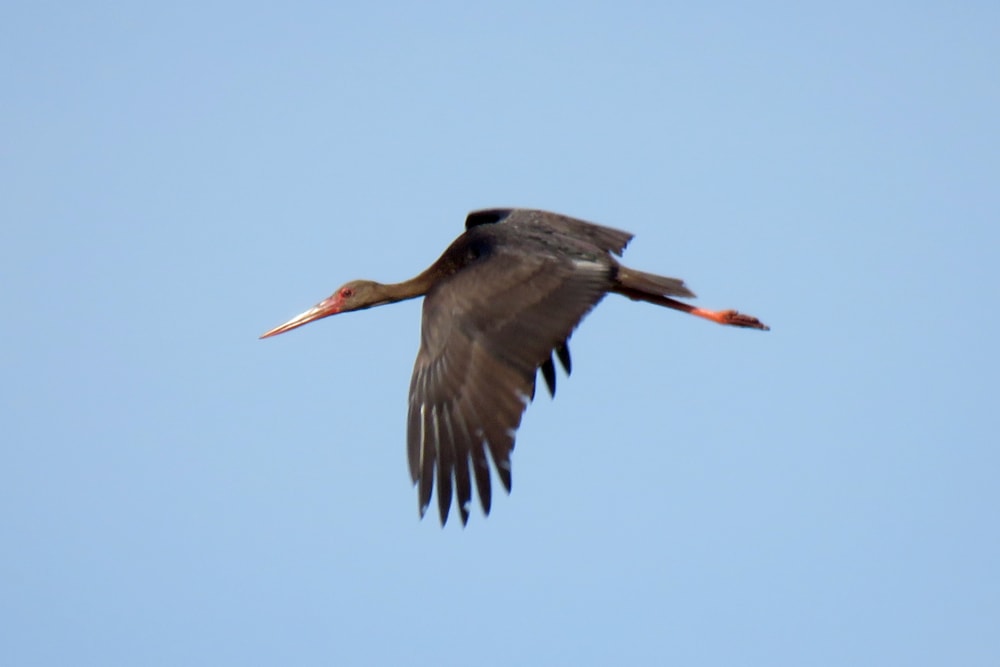 Black Stork, Minster nr Ramsgate, Kent (Shaun Ferguson).
An Eastern Subalpine Warbler was trapped and ringed on Skokholm, Pembrokeshire, on 18th. Impressively, it was initially found by one of the team while doing the washing up!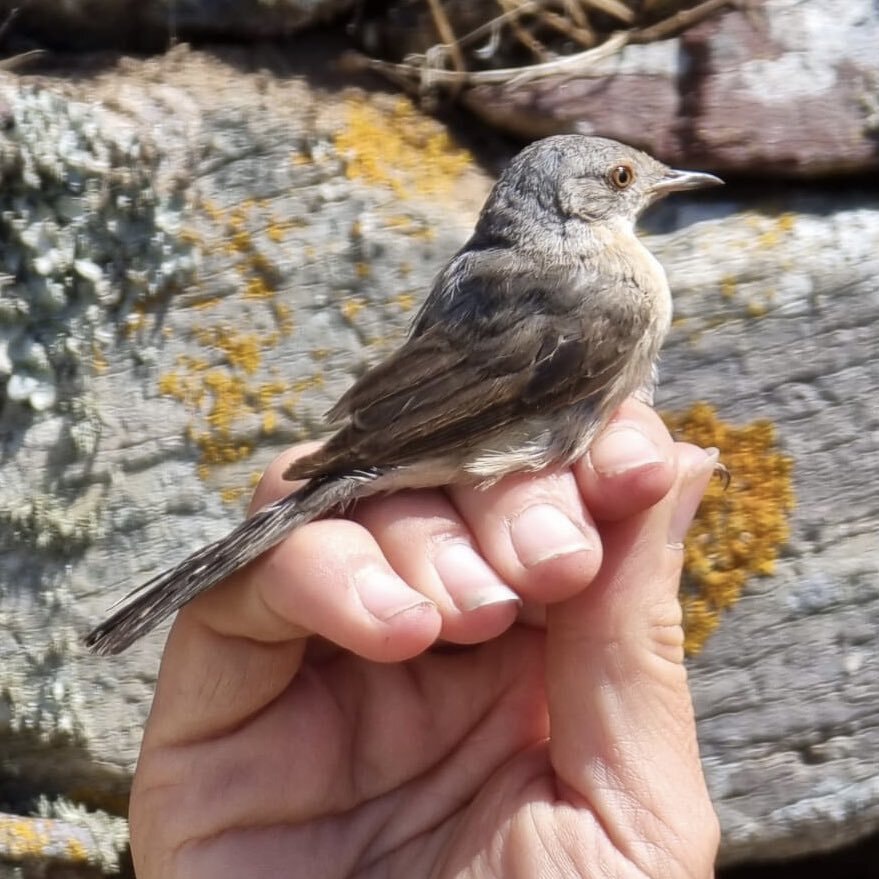 Eastern Subalpine Warbler, Skokholm, Pembrokeshire (Luke Marriner).
Perhaps overlooked at first glance, the Common Myna at Landguard NR, Suffolk, on 13th is more than worthy of a mention. Native to Central and South-West Asia, it is one of only three bird species listed among the world's 100 worst invasive alien species and is well-adapted to areas of human habitation. Known to spread to new areas by boat and a common cage bird, it has been widely introduced across the globe.
Within Europe, established populations are already present in Italy and Portugal. The Port of Felixstowe – Britain's biggest and busiest – is situated right next door, making this bird as good a candidate for ship assistance as any. One to consider for Category C5 (vagrant naturalised species from outside Britain), perhaps?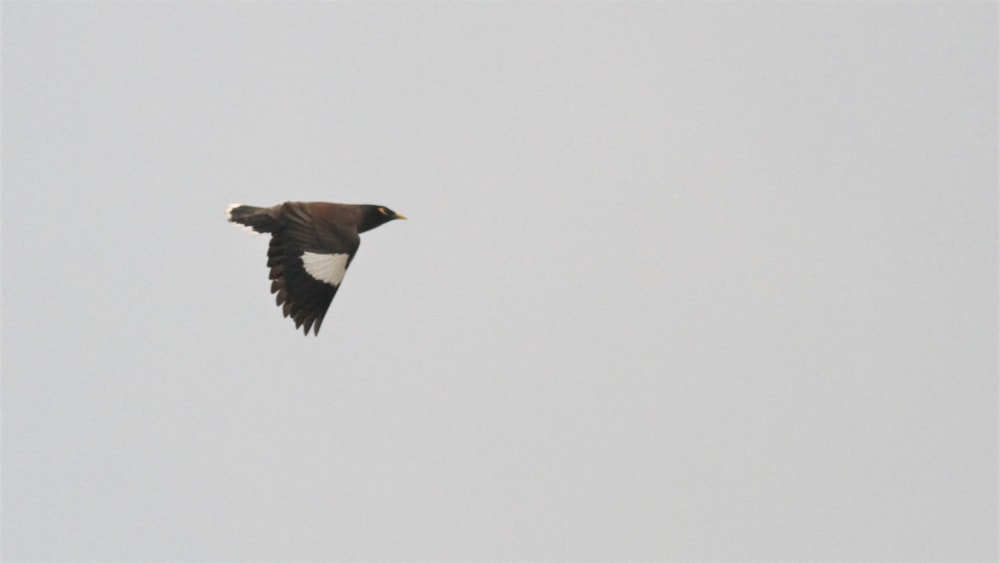 Common Myna, Landguard NR, Suffolk (Simon Davies).
Co Cork's Short-billed Dowitcher was last noted at Ring Estuary, Clonakilty, on 12th; West Sussex scored a Kentish Plover at Church Norton from 14-16th, although it was elusive.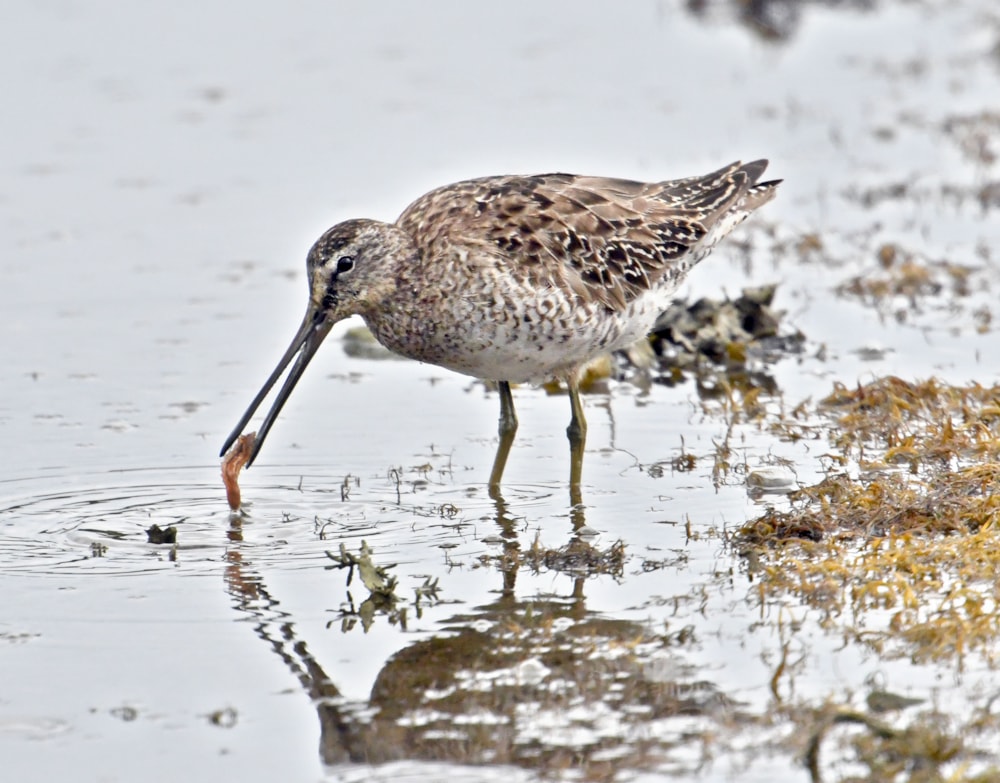 Short-billed Dowitcher, Clonakilty, Cork (Richard Mills).
In Norfolk, the touring adult Pacific Golden Plover graced Snettisham and Titchwell RSPB on 16-17th before making a prompt exit. A possible overflew Weybourne on 13th too.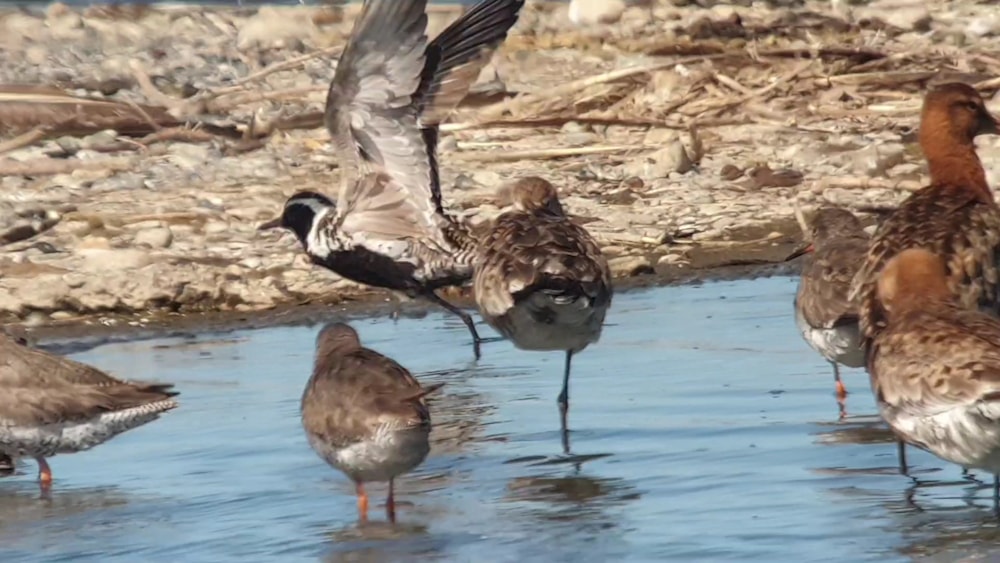 Pacific Golden Plover, Snettisham RSPB, Norfolk (Chris Kelly).
The drake Black Scoter continued off Blackdog, Aberdeenshire, while, in Shetland, the young drake King Eider remained at Baltasound, Unst.
Off Kinghorn, Fife, the Sei Whale perhaps proved its most reliable yet, while the Scilly Walrus made good use of his new pontoon in St Mary's harbour (see here).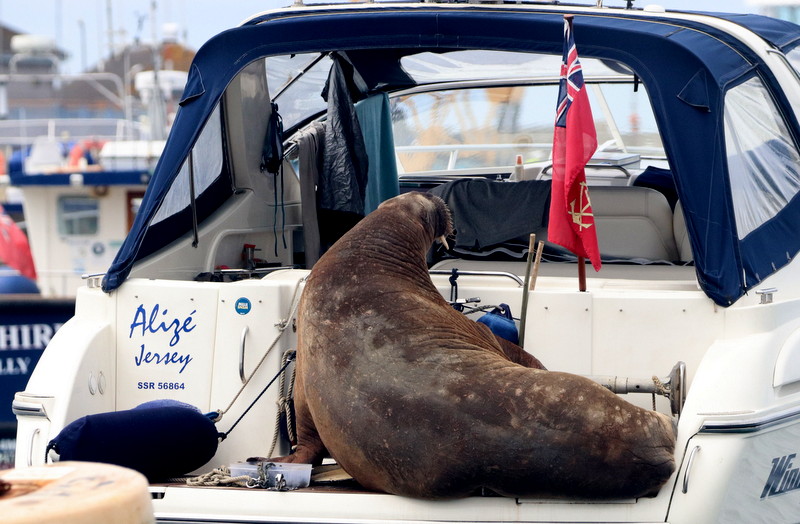 Walrus, St Mary's, Isles of Scilly (Kris Webb).
Scottish mainland
A notable Lowland record was a White-tailed Eagle over Hopes Reservoir, Lothian, on 13th. A Leach's Storm Petrel was off the Crowlin Islands, Highland, on 12th and Pomarine Skua flew past North Queensferry, Fife, on 17th. A Roseate Tern was in the roost on Isle of May on 13th while another flew north past Blackdog, Aberdeenshire, on 16th. An immature Glaucous Gull provided a change in season at Brora, Highland, on 16th.
An unseasonal Smew was reported at Craigmaddie Reservoir, Clyde, while the Ruddy Shelduck made a re-appearance at Findhorn Bay, Moray and Nairn. A male Common Rosefinch was reported at Ettrick Bay, Bute on 13th while an adult Rosy Starling decorated the boarding kennels at Aird of Sleat, Skye, between 12-13th.
A Fin Whale was noted past three sites in Aberdeenshire: Inverallochy and Gardenstown (both on 14th) and Troup Head (on 15th).
Dan Owen
Northern Isles and the Hebrides
Shetland's Long-tailed Skua proved even more mobile this week, with just two reports, both of which at Dalsetter, Boddam on 17th and 18th. Sand Water, Mainland, hosted a Western Osprey from 12-18th, while a Rosy Starling was in gardens at Stendaal. Non-avian highlights included a scattering of Killer Whale reports, while c 200 Atlantic White-sided Dolphins moved through Colgrave Sound on 13th and c 100 were at Vassa Voe on 15-16th.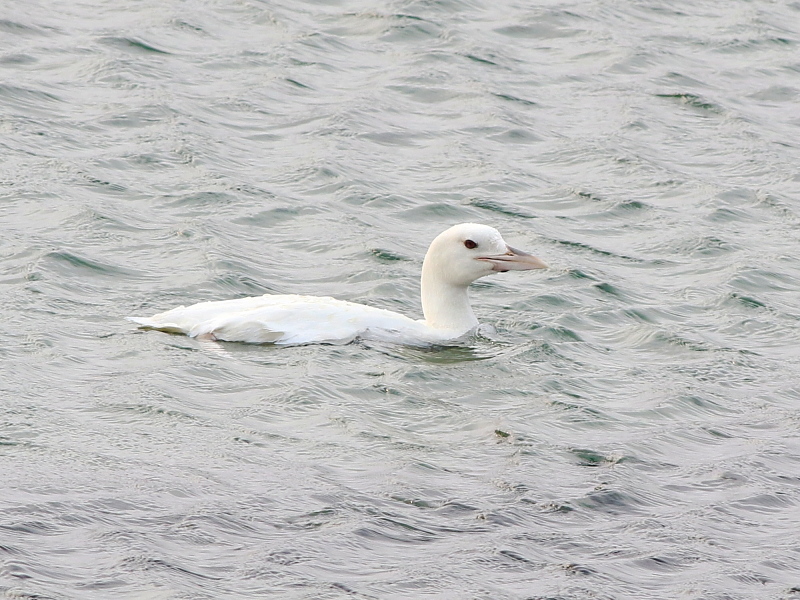 Albino Great Northern Diver, Norwick, Unst, Shetland (David Cooper).
As summer continues and the nights begin to draw in, Fair Isle's 'Stormie' ringing sessions can resume, 151 European Storm Petrels were trapped on the night of 12-13th alongside two Leach's Storm Petrels. The female European Honey Buzzard continued to provide outrageous views throughout.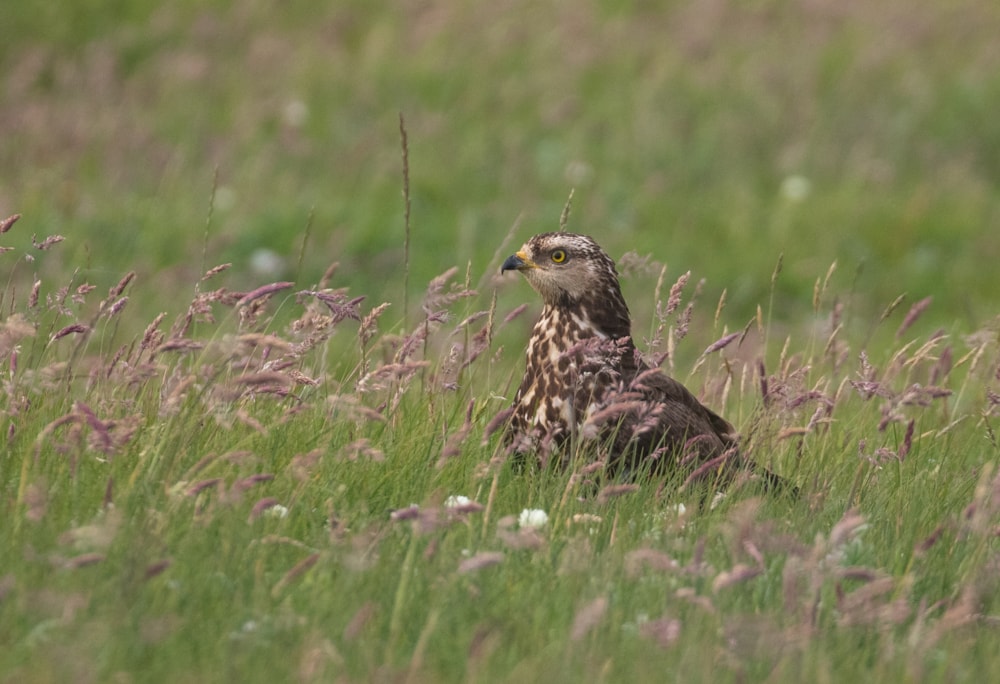 European Honey Buzzard, Fair Isle, Shetland (Daniel Gornall).
Orkney was largely quiet this week, with a Rosy Starling at Toab, Mainland, on 18th the highlight. The Rosy Starling was still entertaining North Ronaldsay throughout, while a Leach's Storm Petrel was ringed among 88 European Storm Petrels on 13th.
The RV Celtic Explorer was off the Outer Hebrides this week and produced a Wilson's Storm Petrel approximately 68km north of St Kilda on 15th. Likewise, a first-summer Long-tailed Skua was 95km west of Barra on 12th. Immature Glaucous Gulls were at Scolpaig and Loch Paible, North Uist, on 14th and Baleshare, North Uist, on 17th. An adult Rosy Starling was busy brightening up Borgh, Barra, between 14-17th.
Dan Owen
North-East England
A Temminck's Stint at Cresswell Pond and a Long-tailed Skua past St Mary's Island, both on 15th, were the best of the week in Northumberland. Greater Scaup were found at East Chevington NWT and Derwent Reservoir, while the Druridge Bay area continued to host Eurasian Spoonbill, Spotted Redshank and Ruddy Shelduck. Another six Ruddy Shelduck flew north past Coquet Island on 12th. In Lindisfarne NNR, Budle Bay produced a Curlew Sandpiper and a Eurasian Hobby was at Fenham-le-Moor. Common Quail sang at three localities.
In Durham, a first-summer Sabine's Gull moved north off Whitburn Coastal Park on Monday. A Pomarine Skua, European Storm Petrel and two Sooty Shearwaters also passed the site. Four Greater Scaup were at Hurworth Burn Reservoir at the start of the week with three drakes remaining until Friday. A Great Egret put in a brief appearance at Low Barns.
It was a quiet week in Cleveland with a Eurasian Spoonbill at Saltholme RSPB and Cowpen Marsh, along with a Little Gull at Seaton Snook, being the highlights.
Jonathan Farooqi
North-West England
In Cumbria, a Haverigg garden hosted a Rosy Starling on 13th. Up to three Common Quail were in voice around Penrith on 13th while one was sound-recorded over Hallgarth the following morning.
Lancashire was largely quiet, with up to two adult Roseate Terns still frequenting Seaforth LWT for another week. The male Blue-headed Wagtail remained at Hesketh Out Marsh RSPB, where two Little Terns were present on 18th.
Two Ruddy Shelduck worked their way around Cheshire this week, firstly reported on the Mersey at Pickerings Pasture, the two later reported at Burton Mere Wetlands RSPB on 16th could involve the same pair. The following day two were at Elton Hall Flash, Sandbach Flashes with three there on 18th. A Wood Sandpiper was also at Burton Mere Wetlands throughout.
A grey male harrier species was logged south over Astley Green, Greater Manchester, on 18th and thought by the observer to involve either a Hen or Pallid. Sadly, the bird wasn't relocated and the identification evaded confirmation.
Dan Owen
Lincolnshire and Yorkshire
Warm weather was perhaps responsible for reports of a White Stork north over Spalding, Lincolnshire, on 17th and a possible Black Kite south over Bassingham on 12th. In a busy week for Frampton Marsh, the site hosted no fewer than four Wood Sandpipers, Curlew Sandpiper, Ruddy Shelduck and two Short-eared Owls. Another Wood Sand was at Toft Newton Reservoir.
Three Roseate Terns were at Freiston Shore; another was at Gibraltar Point. A Glossy Ibis appeared at Alkborough Flats on 18th, a Black-necked Grebe was at Baston and Langtoft Pits and two sites scored Common Quail –Scopwick and Donington on Bain.
In East Yorkshire, a Red-necked Phalarope at Beacon Ponds highlighted on 18th, with two Rosy Starlings recorded – at Kilnsea and Hornsea. Late summer Little Gull numbers began to swell at Hornsea Mere and Kilnsea Wetlands, with a first-summer Caspian Gull also at the latter site. Elsewhere in the Spurn recording area, a possible Cory's Shearwater, Roseate Tern and Wood Sandpiper were noted. A Pomarine Skua flew north past Flamborough Head on 17th.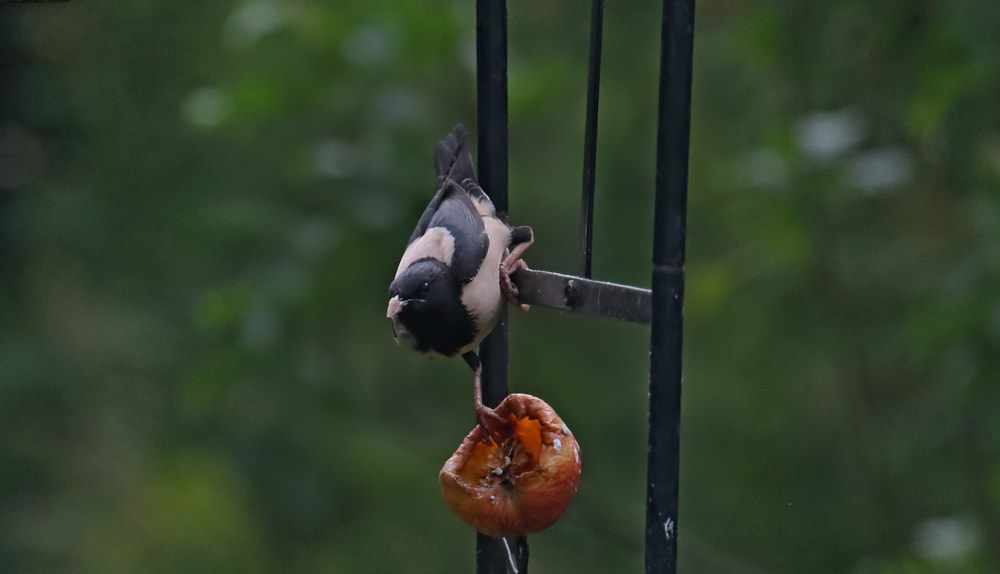 Rosy Starling, Kilnsea, East Yorkshire (John Hewitt).
At least one European Honey Buzzard continued to perform from the raptor viewpoint at Wykeham Forest, North Yorkshire, while two Common Quail 'wet their lips' – at Ebberston and Long Nab. The latter site saw an early juvenile Yellow-legged Gull head north on 12th; two Pomarine Skuas were off Old Nab the next day.
Houghton Washlands, South Yorkshire, hosted two Wood Sandpipers on 15th; a Eurasian Spoonbill at Denaby Ings was a notable Dearne Valley record. A Garganey was at St Aidan's, West Yorkshire, with a Common Quail sound-recorded over Bramley.
West Midlands
The drake Greater Scaup lingered at Branston GPs, Staffordshire, until 17th, and was joined by a Eurasian Spoonbill on 12th. A pair of Ruddy Shelducks were at Blithfield Reservoir on the morning of 15th and later two pitched down at Belvide Reservoir that afternoon – presumably the same birds? The former site hosted a brief Spotted Redshank. A Wood Sandpiper was at Middleton Lakes RSPB on 15th, and a Sandwich Tern overflew the Warwickshire portion of the reserve on 15th. Two Garganey were at Marsh Lane NR, West Midlands, on 14th.
Dan Owen
East Midlands
The pair of Ruddy Shelduck continued to brighten the shores of Carsington Water, Derbyshire. Up to two Wood Sandpipers were at Idle Washlands until at least 16th while a Lesser Emperor dragonfly present at Newstead and Annesley CP on 17-18th provided some variety.
The pools at DIRFT 3, Lilbourne, continue to produce birds. This week a putative first-summer Baltic Gull paid a brief visit on 13th, meanwhile the Wood Sandpiper proved more reliable. Rutland Water continued to host the first-summer Black Tern throughout. A Eurasian Spoonbill was there on 13th and a Ruddy Shelduck on 18th.
Dan Owen
East of England
A classic week for early wader migration, Norfolk's totals were nonetheless impressive, with scores on the doors including a Pectoral Sandpiper at Hickling Broad from 18th and an adult White-rumped Sandpiper at Cley Marshes on 17th. Wood Sandpipers were at four sites, with a Curlew Sandpiper at Cley Marshes.
A count of no fewer than seven Common Quail at Flitcham on 17th was nothing short of exceptional. A lone songster was at Ringstead too, with four Caspian Gull at Cley Marshes, a European Honey Buzzard over Holt and a Pomarine Skua east past Cromer. Ken Hill Marshes hosted a Glossy Ibis throughout, while a European Bee-eater flew west over Bawsey on 16th.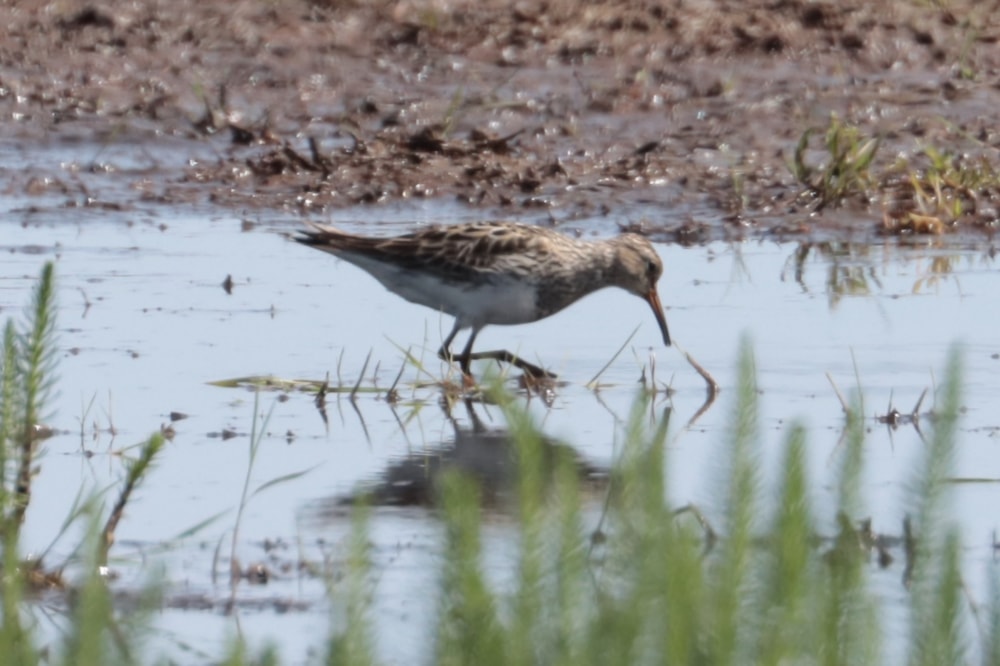 Pectoral Sandpiper, Hickling Broad, Norfolk (Trevor Williams).
In Suffolk, a first-summer Glaucous Gull at Hen Reedbed would have seemed a bit out of place during the blistering heatwave, the weather more suited to the three European Bee-eater reported south over Bentley on 14th. Early limosa Black-tailed Godwits began to appear in the county, with a Wood Sandpiper at Carlton Marshes otherwise best of the wader action. Elsewhere, two Roseate Terns continued at Minsmere RSPB, a Black Redstart remained at Landguard NR and a German-ringed Caspian Gull was at Livermere Lake.
Old Hall Marshes, Essex, saw a one-day Pectoral Sandpiper on 13th, replaced by a juvenile limosa Black-tailed Godwit the following day. The Red-necked Grebe was last sighted at Abberton Reservoir on 14th, with the site also playing host to a Black Redstart and Ruddy Shelduck. A Common Quail sang at Elmstead.
A busier week for Cambridgeshire, Kingfishers Bridge NR saw visits from both a Purple Heron and Glossy Ibis. A Black-necked Grebe and Caspian Gull duo spent the week at Grafham Water, Smithy Fen scored a Garganey and a Common Quail sang near Prickwillow.
An adult Caspian Gull roosted at Grovebury Sand Pit, Bedfordshire, on 16th; Hertfordshire scored a Wood Sandpiper at Amwell and lingering Common Quail at Deadman's Hill.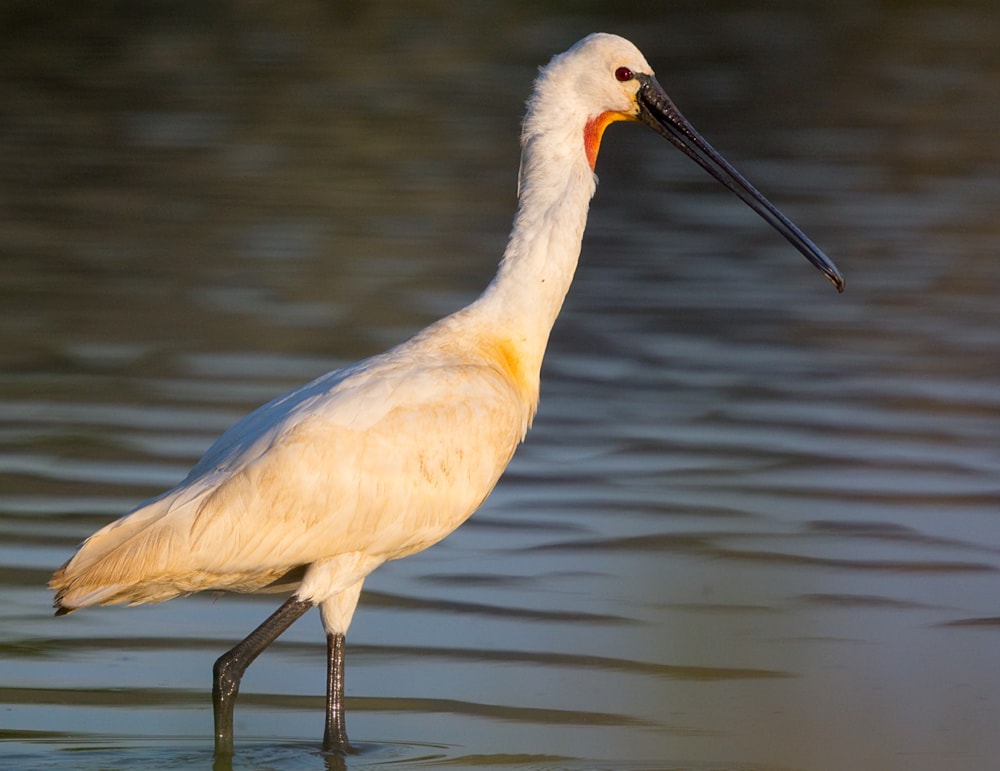 Eurasian Spoonbill, Boyton Marshes RSPB, Suffolk (Nick Brown).
South-East England
Long overdue warm weather helped provide a sense of midsummer quiet in the region, though on 16th a brief singing Golden Oriole at Northward Hill RSPB, Kent, proved that stuff was still out there to be found. On 15th a European Serin flew over Dungeness, while European Honey Buzzards were at Ash and South Foreland. The Bough Beech Reservoir Glossy Ibis was present until 16th – a Sandwich Tern visited the same site the following day.
In Sussex, a Hooded Crow at Polegate on 13th was rather unseasonal, and presumably the same bird was at nearby Hailsham on 16th. The Pagham Harbour Glossy Ibis remained in the area until 13th, and was even seen past Selsey Bill on 12th. One of the Roseate Terns was at Church Norton on 14th. Up to three Common Quail were in voice at Steep Down.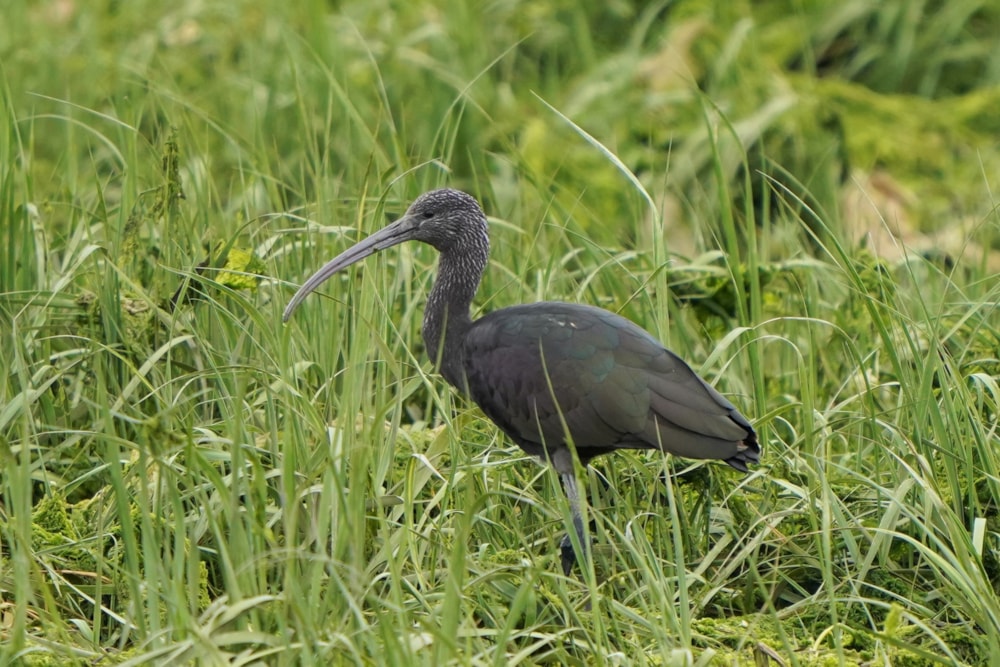 Glossy Ibis, Pagham Harbour LNR, West Sussex (Andy Wilkes).
On 16th, a male Red-footed Falcon flew over Hawkhill Inclosure in the New Forest. Up to three Roseate Terns were on and off at Titchfield Haven, where a candidate Temminck's Stint was seen on 18th. Sturt Pond also scored Roseate Tern. A Common Quail sang at King's Somborne and the Fleet Pond Pink-footed Goose – now suspiciously tame – continued.
Four Ruddy Shelduck were at Linford Lakes in Buckinghamshire and a Common Quail was at Letcombe Bassett, Oxfordshire. In the capital, a Sandwich Tern visited London Wetland Centre on 17th
Ed Stubbs
South-West England
No fewer than three Rosy Starlings were recorded on Scilly during the week, with at least two on St Martin's and one on St Mary's. Both islands also hosted an Iceland Gull. A Long-tailed Skua and Balearic Shearwater were seen from Scilly pelagics.
It was a good week for scarcities in Cornwall. Two European Honey Buzzards flew over Penzance on 12th, with a Red-backed Shrike at Porthgwarra and Rosy Starlings at St Austell and Maer Lake two days later. A Black Kite flew over Tresmeer on 15th and a European Bee-eater was seen flying over Nanquidno Valley and Sennen Cove on 17th. A Melodious Warbler was reported singing near Loggans Moor for five days from 11-16th. Ruddy Shelduck were at Maer Lake and Hayle Estuary, and Common Quail were at two sites.

Ruddy Shelduck, Hayle Estuary, Cornwall (Martin Webb).
In Devon, a Pomarine Skua and Roseate Tern were at Dawlish Warren.
Roseate Terns were well reported in Dorset during the week with sightings coming from four localities. A White Stork flew over several sites in the Weymouth area on 14th and again the following day. Balearic Shearwaters were seen of Portland throughout the week and Western Cattle Egrets were at Abbotsbury Swannery and Butterstreet Cove.
The first-summer female Red-footed Falcon remained at Langford Lakes, Wiltshire throughout the week and a Western Osprey flew over the site on Wednesday. Both Little and Black Terns were seen at Cotswold Water Park along with a Western Osprey and Ruddy Shelduck. Common Quail sang at five localities.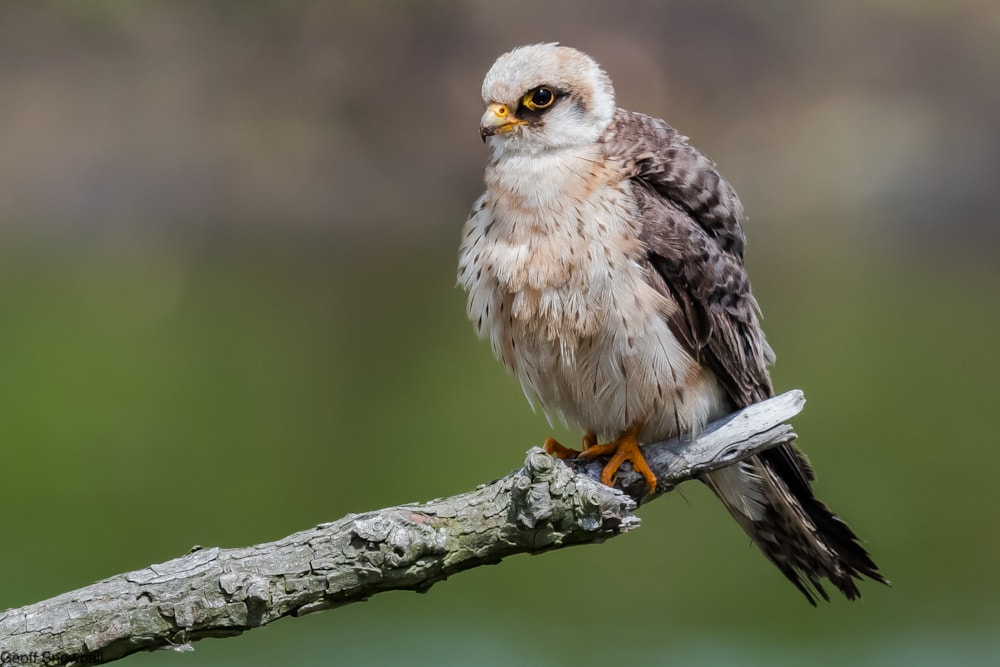 Red-footed Falcon, Langford Lakes, Wiltshire (Geoff Snowball).
A Spotted Redshank lingered at Slimbridge WWT, Gloucestershire with a Garganey there on Monday. Cotswold Water Park hosted a Wood Sandpiper from 17th and Common Quail were at six localities in the county.
Up to five Garganey were at Chew Valley Lake, Somerset & Bristol along with a Wood Sandpiper. Two Black Terns put in an appearance at Blagdon Lake on Saturday and a Dartford Warbler was in Lufton at the start of the week.
Jonathan Farooqi
Wales
A new Wood Sandpiper at Cors Ddyga, Anglesey, on 12-13th was a highlight of a quiet Welsh week. At least one Roseate Tern remained at Cemlyn Bay, with two European Storm Petrels trapped and ringed there on 13th. A Hooded Crow continued at South Stack. In Gwynedd, two Ruddy Shelduck were at Broad Water, Tywyn, on 17th.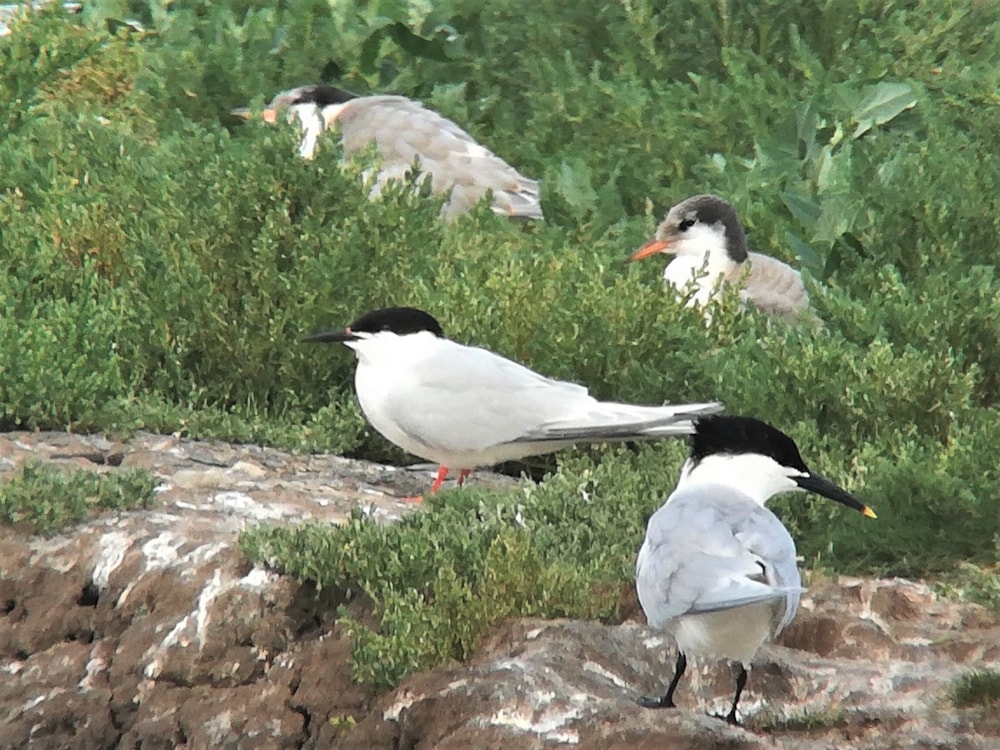 Roseate Tern, Cemlyn Bay, Anglesey (Luke Gravett).
Ireland
A female Montagu's Harrier at Mizen Head, Co Cork, is a rare Irish record. Meanwhile, two Rosy Starlings were recorded – at Bonniconlon, Co Mayo, and Carrigaholt, Co Clare. A Wood Sandpiper was at Ballyteige Bay, Co Wexford, with a Roseate Tern at Maharees, Co Kerry.
An adult summer Sabine's Gull was a smart find at Bann Estuary, Co Londonderry, on 18th, with a Garganey and Great Egret at Lough Beg, Co Antrim. Elsewhere, a Cory's Shearwater flew east past Fanad Head, Co Donegal. The RV Celtic Explorer earned a mention with a Wilson's Storm Petrel and Pomarine Skua at sea roughly 45 km WNW of Arranmore Island, Co Donegal, on 18th.
Western Palearctic
Kilpisjärvi, Finland, scored big with a putative Kamchatka Leaf Warbler on 18th. A Western Palearctic first if accepted, the species was split from the closely-related Arctic Warbler as recently as 2011 (see here). Trapped, ringed and sound-recorded, the bird could scarcely have been documented more comprehensively, while DNA testing should resolve the identification beyond doubt.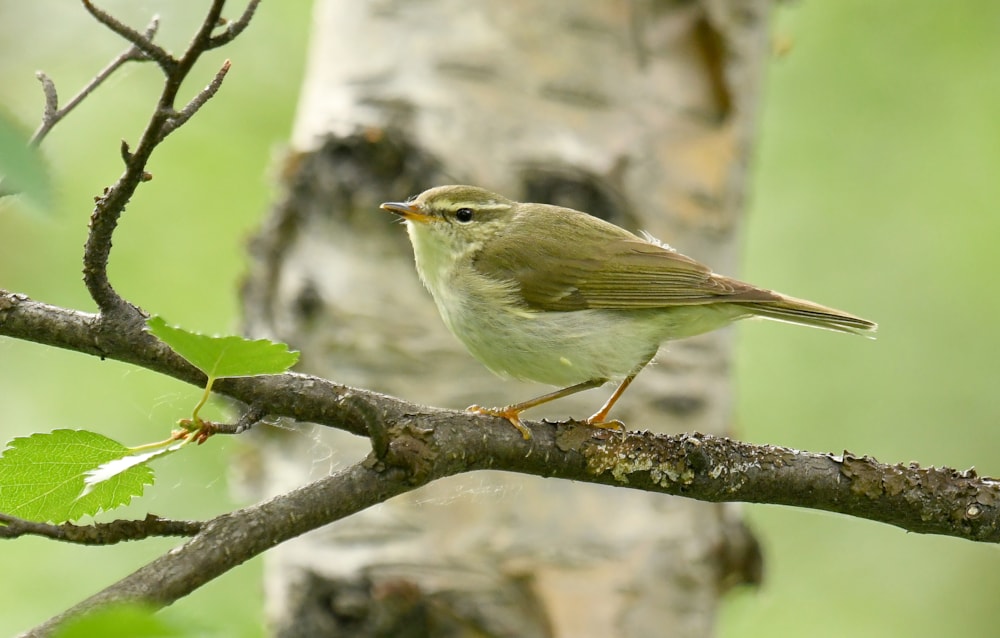 Putative Kamchatka Leaf Warbler, Kilpisjärvi, Lapland (Petteri Lehikoinen).
The third White-winged Crossbill for both Iceland and the Western Palearctic – a male – was on Surtsey on 13th, coinciding with higher than usual counts in eastern Canada. Last reported at Geatnjajávri, Norway, in early June, the widely-travelled Sandhill Crane resurfaced at Lakselv River Delta on 13th. A first-summer Mandt's Guillemot was a surprise at sea find 74 km east of Fugloy, Faroe Islands, the following day.
Luxembourg's first Arctic Skua was a midsummer treat on 15th, as was Belgium's twelfth Lesser Yellowlegs – at Doel from 15th. Soeldon, Austria, scored a Cinereous Vulture on 12th and a young Bearded Vulture remained at Ede, The Netherlands.