The week at a glance
It's been another interesting week in birding as migrants continue to trickle in, with some healthy falls of common migrants occurring in the south and west and a scattered arrival of forerunning overshoots, which are hopefully just a hint at what may be to come as spring migration shifts gear with the approach of May.
Bread and Cheese Cove on St Martin's, Isles of Scilly, continued to host the fine adult male Common Rock Thrush found on Sunday 10th (see the finder's account) over the first part of the week, although it could not be found during searches on 16th and 17th and has presumably sought its bread and butter elsewhere. The controversial Kent bird of 1983 aside, by the 10th day of the bird's stopover, it had just pipped the previous long-stay record for the species and earned renewed prestige for the oft-forgotten island. Other long-staying, but remote, major rarities included the Pied-billed Grebe on Loch Feorlin, Argyll, and the American Coot on North Uist, both still in place on 17th, and the drake American Black Duck still at Strontian, Highland to 18th.

Common Rock Thrush, St Martin's, Isles of Scilly (Photo: Peter Tongue)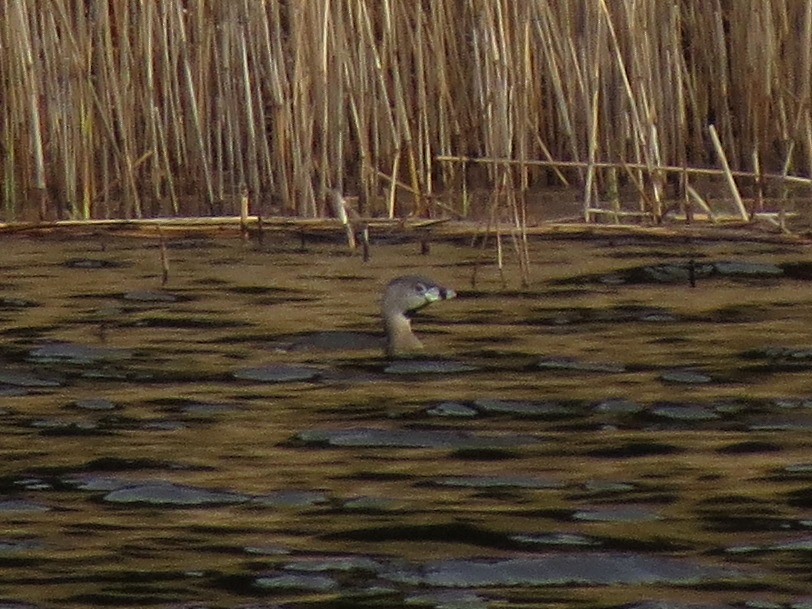 Pied-billed Grebe, Loch Feorlin, Argyll (Photo: Mark Wilkinson)
The species having regained the status of metaphorical pearl in recent years, with many claims resolving as misidentifications and the few genuine birds being erratic and/or remote, the speedy identification and news of a first-winter American Herring Gull in the pig fields around Great Livermere, Suffolk, pricked many ears on the evening of 15th. Unsurprisingly, it was a first for the county so the area received an exhaustive grilling over subsequent evenings, drawing a massive blank save for a brief reappearance on the evening of 16th. Erratic to say the least, hopefully it will return to allow Suffolk birders and the new generation of British listers a chance to add this challenging species to their lists. Perhaps equally frustrating was late news of a meena Oriental Turtle Dove at Crigglestone, West Yorks, on 11th March which will have been gutting for local birders.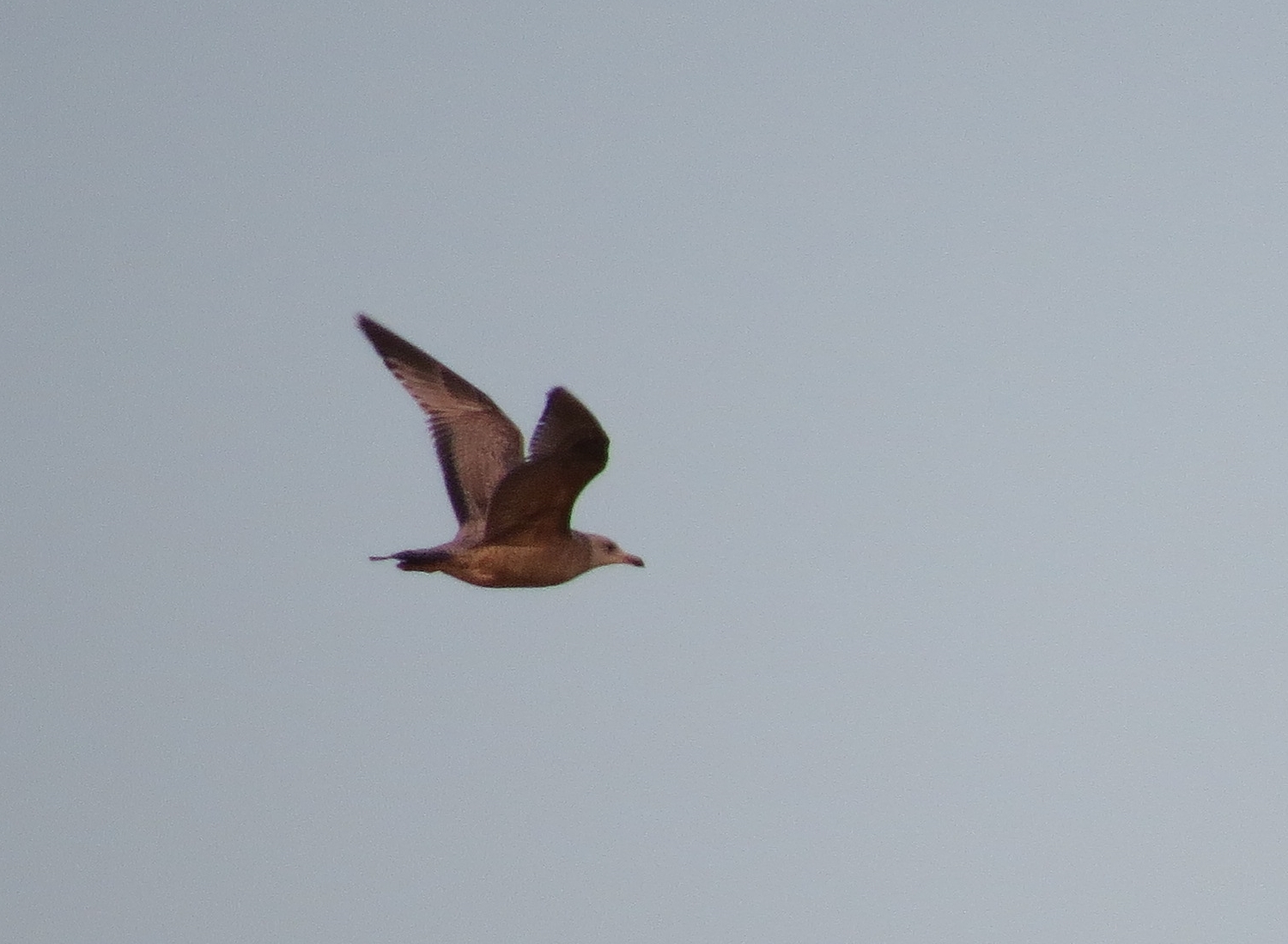 American Herring Gull, Great Livermere, Suffolk (Photo: Nick Moran)
The ongoing assault of scarce herons arriving on the west side of the country was fronted by a Squacco Heron, the first of 2017, sighted in flooded dunes behind Paudi O'Se's pub in Ventry, Co Kerry, on the afternoon of 17th, showing into the evening and again the next day. With the previous county records being of birds blasted from the sky in the late 19th century, this was a tidy result. The island of Lundy, Devon, provided landfall for a wayward adult Night Heron on 13–17th, and the popular bird at Venus Pool, Shropshire, stuck around to 14th before resurfacing again on 18th. The only Purple Herons of the week were an unexpected fly-over at Scoughall, all the way up in Lothian, on 12th and another over Indian Queens, Cornwall, on 18th.
Passerine arrivals with a southern European theme also continued to trickle in this week. Spring male Western Subalpine Warblers are always a tempting diversion and two arrived on 13th: at Portland, Dorset, and St Lawrence on the Isle of Wight. While the Portland bird was a one-dayer, the one at St Lawrence was still there the next morning. A ringed male seen around the Canal Scrape at Spurn, East Yorks, on 16th and 17th was taken to be the individual ringed at the observatory nine days previously; it shared the same area with an Iberian Chiffchaff on 16th. This non-singing individual was strongly suspected on the basis of its contact call and, after ending up in a mist net and being observed well in the field, it was clear that the identification was safe. Hopefully this will instil further confidence in calls playing a part in identifying the species, and many more, not just singing spring males, could potentially be unearthed.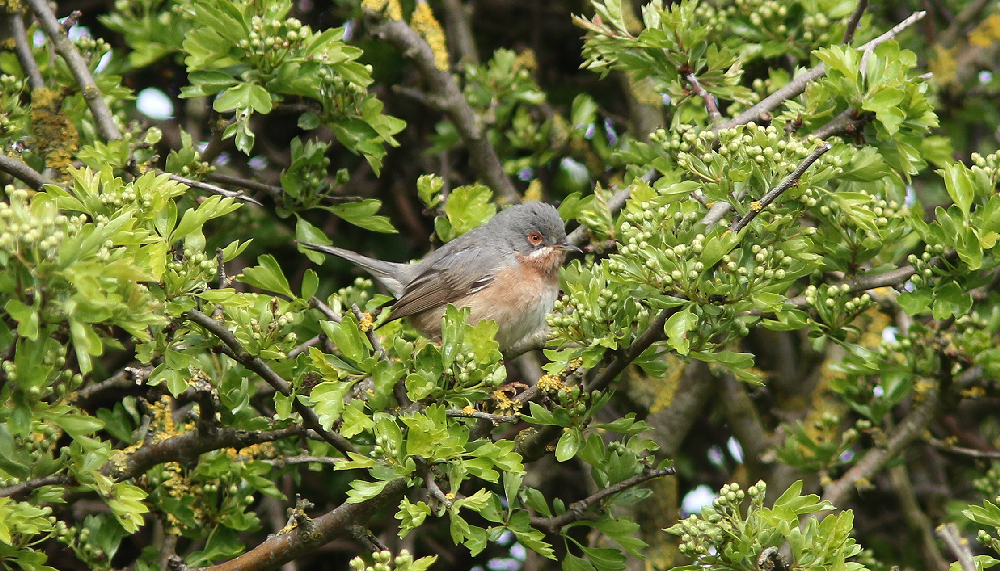 Subalpine Warbler, Spurn YWT, East Yorkshire (Photo: Darren Ward)
As numbers of commoner hirundines pushed through Britain this week they were joined by no fewer than seven Red-rumped Swallows. First came a fleeting appearance from a bird on wires at Upper Bittell Reservoir, Worcs, on 13th, followed by a similarly brief fly-through gracing Boyton Marshes, Suffolk, two days later. Clearly the individual which found its way to Fairburn Ings, West Yorks, on 16th was suitably impressed as it performed over the reserve for two days, a stay mirrored by another arrival at Trimley Marshes, Suffolk. Ferry Meadows, Cambs, a site with an excellent recent track record of attracting the species, offered another respite from 17–18th. It was the Weymouth wetlands which outgunned all, though, with at least two skimming the pools and reedbeds between Radipole Lake and Lodmoor RSPB on 16th and 17th. As they have a tendency to turn up at similar times to Red-rumpers and under the same conditions, it made sense that it was also a fruitful week for Alpine Swift sightings, starting with one over Littlehampton, West Sussex, on 12th. The next day saw a singleton over Blue House Farm, Essex, while reports on 14th came from Shuart and Margate, both in Kent. What may well have been one of these birds was seen cleaving the sky over Kingsdown then the Sandwich Bay area, again in Kent, on 16th.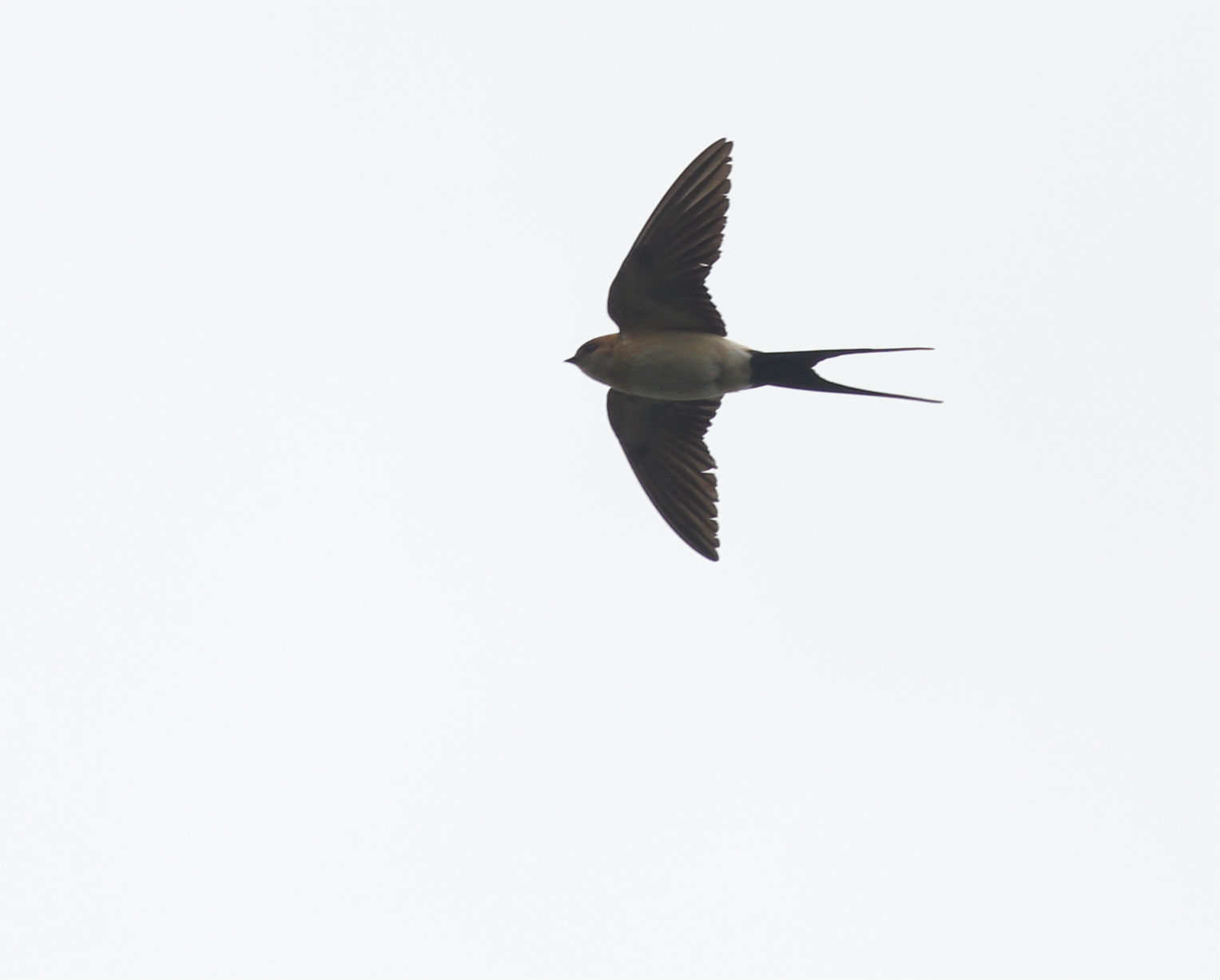 Red-rumped Swallow, Fairburn Ings RSPB, West Yorkshire (Photo: Ellis Lucas)
A typically ephemeral European Serin called in for a short while at Prawle Point, Devon, on 14th but just as a settled male at Snettisham Coastal Park, Norfolk, began to draw an inevitable crowd on 18th, it became clear that it sported some unfashionable blue plastic around its leg and had therefore absconded from someone's cage. Two new Eurasian Hoopoes this week were in the somewhat random locations of Farnsfield, Notts, from 13–16th and Derwent Reservoir, Northumberland, on 17th. Meanwhile, Co Waterford's Woodchat Shrike secured the title of a long-stayer as it lingered at Brownstown Head to at least 17th. Another Woodchat turned up at Old Lizard Point, Cornwall, on 16th and was still there on 18th.
It's tough to construct an argument that the Pallas's Leaf Warbler trapped and ringed on Bardsey Island, Gwynedd, on 18th is another classic sign of spring, but it certainly dropped in an unanticipated autumnal taste to the week's affairs. Haddon Hill, Somerset, provided the setting for another of the week's unseasonable passerines, a very smart male Two-barred Crossbill there from 17–18th even bursting into snippets of song around the car park as it attended a flock of Common Crossbills. Further west, the Little Bunting duo remained at Goss Moor, Cornwall, to 17th, while Arctic Redpolls were at Holt, Norfolk, on 13th and South Nesting, Shetland, on 16–17th. Faithful Great Grey Shrikes entertained in Ceredigion, Devon, Hampshire and North Yorkshire, but will surely be attending to other business soon and clearing out.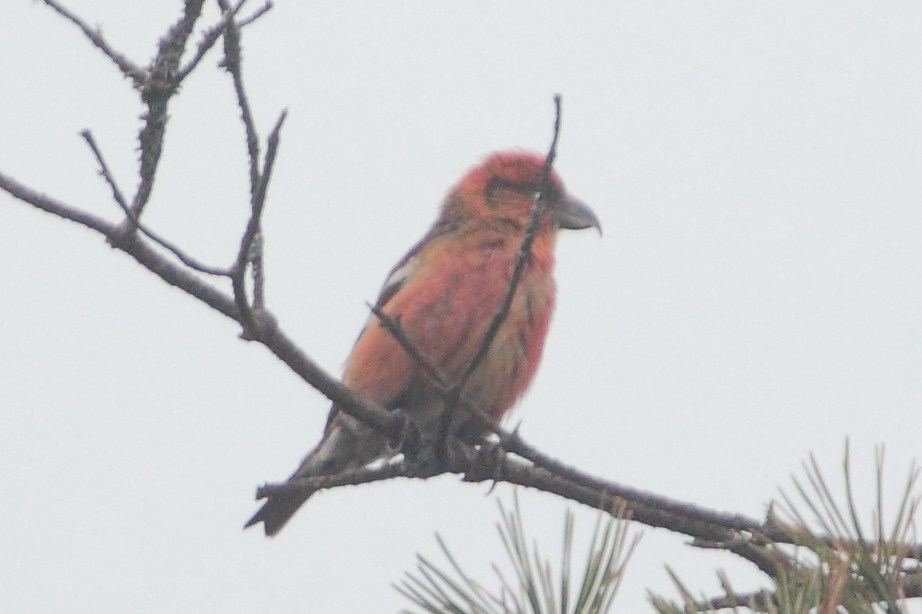 Two-barred Crossbill, Haddon Hill, Somerset & Bristol (Photo: Ian Seward)
The first-winter Bonaparte's Gull carried on with its offbeat visits to Farmoor Reservoir, Oxon, dropping by on 13th, 17th and 18th. Over in Co Kerry, the first-winter at Kenmare was seen again on 15th, and a new first-winter called in to Blashford Lakes, Hants, on 17th. Six Ring-billed Gulls were all in Ireland. Tacumshin, Co Wexford, was a natural venue for the first Kentish Plover of the year, a lovely male bearing colour rings, from 16–17th, while the site's Long-billed Dowitcher, now in glorious brick-red plumage, was seen all week. The Temminck's Stint made reappearances at Tucklesholme Quarry, Staffs, on 16th and 18th, and the Lesser Yellowlegs in Dorset and Carmarthenshire stuck around to 15th and 16th respectively.
Never any less exciting for us to report and surely still just as enchanting to watch, even the best part of seven months since its arrival, North Ronaldsay's adult male Northern Harrier cruised the island to 16th at least. Elsewhere on the Orkneys, a Snowy Owl was found on Papa Westray on 16th but proved impossible to find subsequently. The same island boasted one of the week's four White-billed Divers, a long-stayer to 17th like those off Portsoy, Aberdeenshire, and Water Sound, Burray; the other bird flew past North Ronaldsay on 17th. Black Kites were seen at Ballinspittle, Co Cork, on 14th; Petworth, East Sussex, on 14th; Ring Marsh/Tacumshin, Co Wexford from 15–18th and both Goonhilly Downs, Cornwall, and Minster on the Isle of Sheppey, Kent, on 16th.
The returning adult drake King Eider, an enduring fan of the Ythan Estuary, Aberdeenshire, showed up there again on 15th and was performing well at the end of the week. Regular Surf Scoters included four in the Firth of Forth, while other scarce wildfowl on offer comprised two Black Brants at Spurn, East Yorks, and another at Frampton Marsh RSPB, Lincs, as well as eight of both Ring-necked Duck and Green-winged Teal, two American Wigeon and the curious adult drake Ferruginous Duck again at Washington WWT, Co Durham.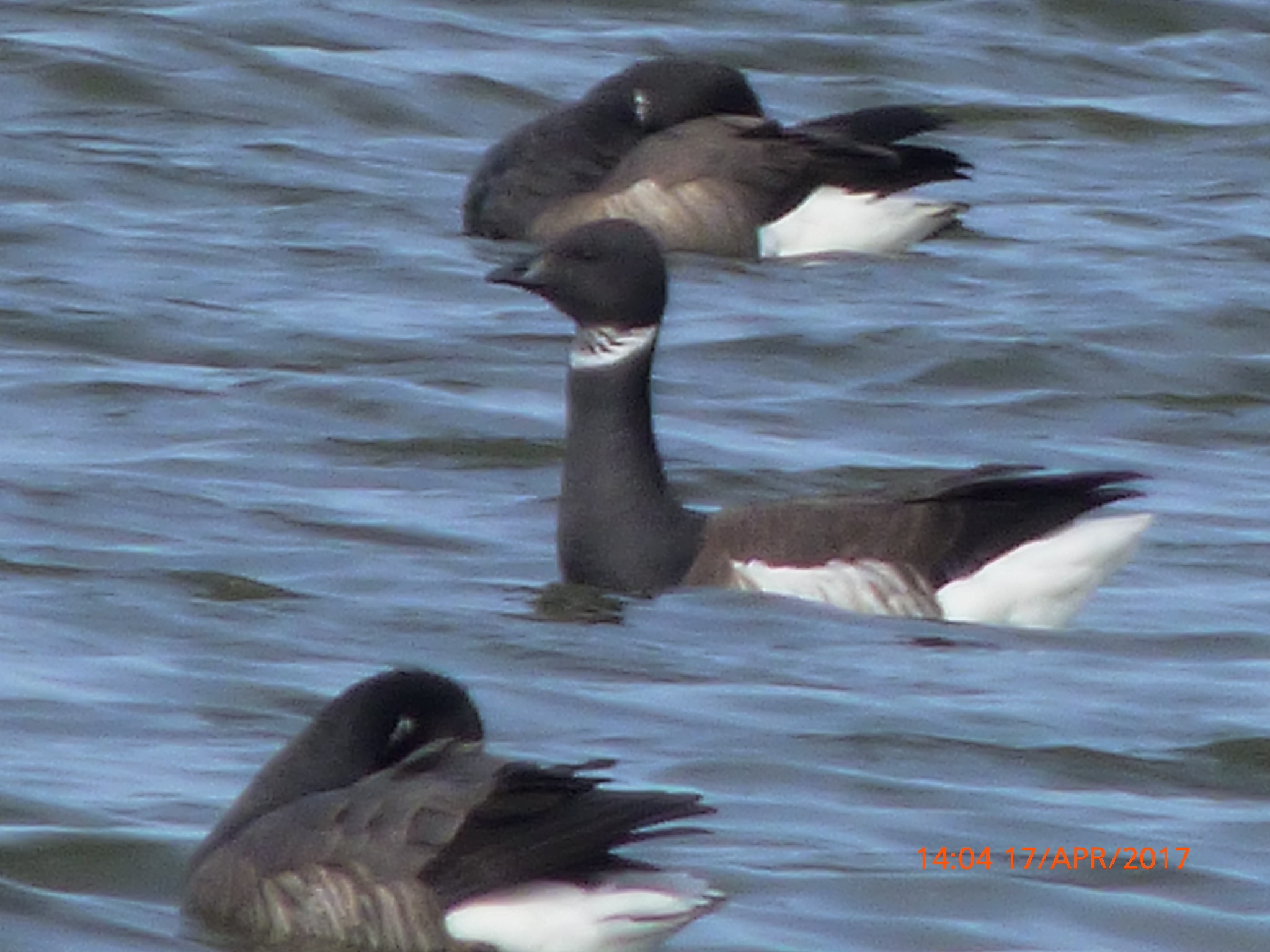 Black Brant, Beacon Ponds, East Yorkshire (Photo: Rob Creek)
What was presumably a genuinely wild White Stork flew over Exminster Marshes, Devon, on 17th, while birds over Boldon, Durham, and Cley, Norfolk, might have been authentic too but it is always hard to tell. Ham Wall, Somerset, had three Glossy Ibises this week, while Lakenheath Fen, Suffolk and Cossington Meadows, Leics, held onto their long-stayers.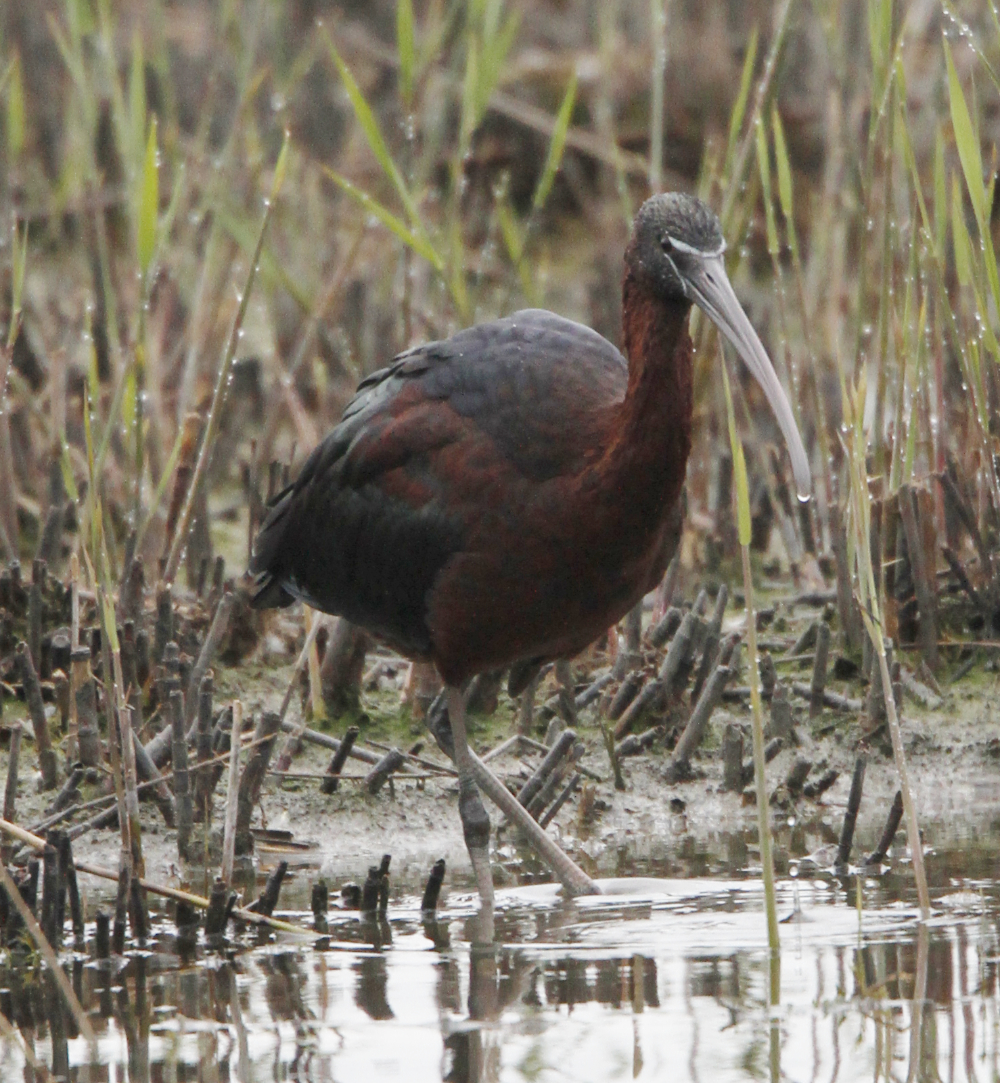 Glossy Ibis, Ham Wall RSPB, Somerset & Bristol (Photo: Mark Bolton)
While spring migration has continued to simmer nicely over the last week, with Hobbies, Common Cuckoos and Common Swifts now widespread and the first Spotted Flycatchers turning up, the lack of another major rarity was a bit of a let-down for hopeful twitchers. Perhaps this coming week will produce the goods. An Alpine Accentor that stays put longer than a couple of hours wouldn't go amiss...
Western Palearctic news
News across the region has been fairly slow this week but included a Black-winged Kite in Sweden at Orust, Västra Götaland, on 12th; a Bar-tailed Lark at Cape Greco, Cyprus, on 13th and a Black Bush Robin at Mutla'a Ranch, Kuwait, on 14th. Hungary's first Bonaparte's Gull was found at Hortobágy on 14th and another Swedish Black-winged Kite was at Skurup, Skåne, on 17th, when the adult Black-browed Albatross was back on Heligoland, Germany.
On the debit side came confirmation that the Spanish Rarities Committee has now deleted the record of Fork-tailed Flycatcher from Huelva on 19 October 2002. As the sole record of this species away from the Americas, Fork-tailed Flycatcher is therefore also removed from the Western Palearctic list. The move follows a similar recent rejection by the same committee of the WP's only Louisiana Waterthrush record, from Tenerife, Canary Islands, in November 1991 (Dutch Birding 39: 92–94 and 94–96).