The week at a glance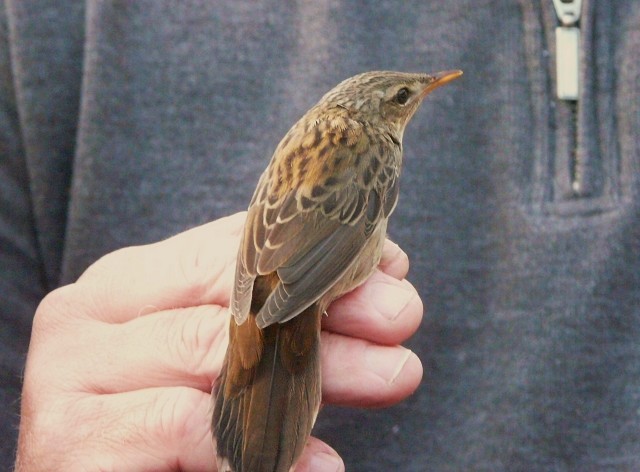 Pallas's Grasshopper Warbler, Spurn, East Yorkshire (Photo: Chris Gomersall)

Greater Sand Plover, Ythan Estuary, Aberdeenshire (Photo: G Morrice)

Zitting Cisticola, Swalecliffe, Kent (Photo: Martyn Wilson)

Ficedula flycatcher sp, Waxham, Norfolk (Photo: Peter Simpson)
With some gentle breezes and clear blue skies across much of the country, conditions felt really rather good for some quality vagrants. Indeed this week provided some rarities of the highest quality, mainly from the continent, but there were plenty of arrivals (almost entirely shorebirds) from the west. However the barrage of rarities almost played second fiddle to a remarkable invasion of one of our most charismatic, and mysterious, raptors, an influx which stole almost as many of the birding headlines as the "A" list stars....
The pick of the week's rarities was the first-summer Eleonora's Falcon seen flying over a birder's garden at Maldon (Essex) on the afternoon of 13th. The bird aroused the lucky birder's suspicions enough for him to alert a nearby birding neighbour, and the identification was confirmed after photos taken were sent off for expert comment. This species has a particularly chequered history on the British List—none has ever been twitchable; the 1987 bird in Norfolk took a decade or more to be accepted, the bird in Yorkshire was a fresh corpse and the birds in Lancashire, the Outer Hebrides and Suffolk were seen by just a handful of birders. Kent's second Zitting Cisticola (and second of the 2000s) was found at Swalecliffe on the morning of 14th, and occasionally showed well before, after just three hours or so, heading off high to the west, off towards Tankerton, never to be seen again. The only other county record was briefer still, spending just a few minutes at St. Margaret's at Cliffe early on 25th August 2006. This species still remains a tricky bird to catch up with, the only truly twitchable birds of recent years were both seen in Dorset in the spring of 2000, and prior to that, you have to go way back to the late summer of 1976, and Holme in Norfolk for a long-staying Fan-tailed Warbler (as it was then). Over in County Galway, a Western Sandpiper was found on Omey Island, Cleggan on 13th, appearing again briefly in bad weather the following day. This eternally rare little peep will always quicken the pulse, and the Omey Island individual was no different. This is the first record for Galway and the fourth for the Republic, following two birds in Wexford and one in Cork, all of those appearing in the 1990s. Another high-quality Nearctic shorebird find was the beautiful-looking juvenile Stilt Sandpiper at Rubha Ardvule, South Uist (Outer Hebrides) on 14th–15th, which was the first record for the island group, and the fourth for Scotland as a whole. Staying north of the border, in Aberdeenshire, what was Scotland's fifth (or fourth) Greater Sand Plover was a tremendous find on the Ythan Estuary on 12th, where it remained to 17th. The record books still state that there have been four previous Greater Sand Plovers in Scotland, but one of those is the much-debated bird on the River Don, Aberdeen in 1991, which was surely Britain's first Lesser Sand Plover. And let's not forget that the decade we find ourselves in has seen two reports of Greater Sand Plover turn into Lesser Sand Plover, one in Lincolnshire in 2002, and another in Hampshire in 2003 (this bird a stunning male, of the species-in-waiting Mongolian Plover). The only "available" genuine Greater Sand Plover of recent years was a male at Snettisham in Norfolk in July 2004 (which was first seen in East Yorkshire). In East Yorkshire, a Pallas's Grasshopper Warbler that was trapped, ringed and released at Spurn (East Yorkshire) on a very busy 14th was only the fifth mainland record of the wonderfully charismatic and rather enigmatic eastern vagrant: two have appeared in Norfolk, with single birds in Dorset, and Northumberland (a county which has two records on the books, the other being on the Farnes. On St. Mary's (Scilly) the juvenile Hudsonian Whimbrel was seen again on 14th–16th, but generally remained hard to track down around the islands. Two teasing flycatchers this week caused much head-scratching and posed some major identification headaches. In Scotland, a first-winter bird at Fife Ness on 14th–16th was trapped and ringed on 15th and was considered to show features of Collared Flycatcher. Those who travelled north must have been hugely disappointed when the bird was retrapped the following day, and positively identified as a Pied Flycatcher. Almost as soon as news of the bird in Fife appeared on 15th, the identification of a Ficedula flycatcher at Waxham (Norfolk) began to raise excitement levels further still, in one of the busiest rarity weeks of 2008. Observers familiar with Collared Flycatcher thought that the Waxham bird showed characters associated with Semi-collared Flycatcher (including a hint of a double wing bar, a greyish cast to the brown-toned plumage and wholly white outer tail feathers). A bird thought to be the same individual was still present on 16th, but there were suggestions that the bird seen (and videoed) late in the day on 15th wasn't the bird initially photographed by the finder. Ahhh, the old two-bird theory! Which, by 16th, had seemingly become a three-bird theory (confirmed by studying photographs)...so, the original bird was thought not to be the bird seen later on 15th, and the bird on 16th–17th was neither of the birds from 15th. This remains one of the toughest autumn identification challenges in Europe....and if it took two goes to get the Fife bird right in the hand, the Norfolk bird stands no chance unless it is trapped.

Honey Buzzard, Newburgh, Aberdeenshire (Photo: Micky Maher)
The amazing influx of Honey Buzzards this week almost sprung out of nothing. Last week had seen around 30 birds being recorded (not a bad haul on its own) and this week started as a complete blank, for consecutive days on 11th–12th. And then, it started....the first birds of an astonishing 13th were two in off the sea at Caister-on-Sea (Norfolk) and at Landguard NR (Suffolk), followed by a single bird over Ravenscar (North Yorkshire) and two over Dorman's Pool (Cleveland) by just after 09:00. By 10:00, further singles had been recorded in Norfolk (two birds), Cleveland, East and South Yorkshire, and singles soon reached Essex and East Sussex. Three passed over Flamborough Head (East Yorkshire) by 10:45 and a further 17 birds were seen in Norfolk by midday (including four singles over Titchwell RSPB) and 18 birds drifted over Minsmere RSPB (Suffolk) in a four-hour period. Birds continued to move across a broad front, from Northumberland to Essex throughout the afternoon, with seven birds over Bawdsey (Suffolk) and six birds together over Ravenscar the most significant afternoon tallies, while one made it to Caddington (Bedfordshire). By the end of the day, at least 170 birds had been recorded, with Suffolk scoring a minimum of 44 birds (from just nine sites), while Norfolk registered 41 birds (from 23 sites). Cleveland, Northumberland, North Yorkshire and County Durham also made it into double figures. There was little let-up on 14th either, with Gibraltar Point NNR (Lincolnshire) seeing 10 birds pass through by just after 08:00, with the total rising to 16 before 10:00. Five were seen at Cromer (Norfolk) just after 09:00 and five more were together over Hunstanton (Norfolk) a little later. Staying in Norfolk, as many as 13 were seen around Burnham Overy Dunes and Holkham Pines by late morning as birds began to radiate inland from the coast—birds seen in South Yorkshire, Derbyshire, Nottinghamshire, West Midlands, Cambridgeshire, Bedfordshire, Buckinghamshire and Hertfordshire. Birds were also being recorded further north, with birds on Shetland, Orkney and Aberdeenshire, while to the west, the odd single was seen in Lancashire, and to the southeast, birds were seen in London and Kent. Eight birds were seen at Welney WWT (Norfolk) between 11:30 and 12:30, after six birds were seen together over Boyton (Suffolk). Ones, twos and threes continued to drift through the east coast throughout the day, with the grand total reaching at least 190 by dark (though there is likely to have been some duplication as birds moved south after making landfall on the two days). Norfolk topped the list with up to 66 birds reported, with Lincolnshire seeing 31 birds logged. The total of nine birds through Cambridgeshire was of note, as were nine through Greater London. On 15th, at least 55 birds were reported, with birds now reaching down to Dorset and across to Cumbria. In Norfolk, a group of three was seen over Briston and four birds were seen over Sheringham Park (the day tally for the county reaching 13, and the three-day total peaking now at 120+). In Essex, four birds (a one and a three) were seen at Leigh-on-Sea. The 16th saw a further 22 birds noted, all singles, with birds reaching Dorset and Scilly, with 33 on 17th (with singles in Ayrshire and Lancashire). There are certainly parallels with the invasion of 2000, which began very quietly on 18th and 19th September, before it truly took off on 20th. It remains to be seen if we end up with the numbers we did then—the 12-day spell of records then saw perhaps as many as 800 sightings logged.

Grey Phalarope, Shustoke Reservoir, Warwickshire (Photo: Dave Hutton)
After the impressive showing of Grey Phalaropes last week, fewer sightings were noted this week, but numbers still crashed through three figures, almost entirely thanks to the remarkable flock of around 100 birds that congregated in Sennen Cove (Cornwall) on 11th. Numbers rose steadily through the day, from an initial report of some 25 birds, followed by 50, then 60, before peaking at the century mark. At least 21 birds were still present in the bay on 13th, while 34 were seen off Porthgwarra (Cornwall) on 14th. The weekly tally was eased through the 200 mark when 60 birds were seen off Dursey Island (Co. Cork) and a further 23 were off Porthgwarra on 16th. A couple of birds were seen in Warwickshire, while other inland singletons were seen in Worcestershire (at Upton Warren) and another bird appeared at Farmoor Reservoir (Oxfordshire). Around 55 Sabine's Gulls were noted this week, still a decent tally, even compared to last week's 80 or more. The juvenile around the River Hitchen in Southampton (Hampshire) proved popular to 12th, while seawatching peaks were of seven from Galley Head (Co. Cork) on 10th and six were seen off Pendeen Watch (Cornwall) on 12th. Only two Cory's Shearwaters to report this week: singles reported from Porthgwarra (Cornwall) on 12th and Salthouse (Norfolk) on 13th. Some 50 or so Balearic Shearwaters were noted this week, with 21 off Porthgwarra easily the highest count of the week. Numbers of Sooty Shearwaters were also relatively low, but 85 seen from Kilcummin Head (Co. Mayo) and 80 off Porthgwarra on 15th stood out as, comfortably, the highest tallies of the week. Seven Leach's Storm-petrels were seen on the same Kilcummin seawatch, with others this week including singles off Pendeen on 11th and 12th, and off Strumble Head on 13th. On the east coast, just seven Long-tailed Skuas were noted, from Southwold (Suffolk) on 11th, Flamborough Head (East Yorkshire) and Skinningrove (Cleveland) on 13th, Fife Ness (Fife) and Bawdsey (Suffolk) on 14th, Spurn (East Yorkshire) on 15th and off Tyninghame (Lothian) on 17th, while on the west coast, a single was seen off Kilcummin Head on 12th, and two passed Strumble Head on 13th. One was seen off Scilly on 17th. Seven Pomarine Skuas were seen from Porthgwarra on 11th and was comfortably the highest count of the week in a poor seven days for the species. Up on Orkney, at St. Margaret's Hope, South Ronaldsay, the still-summer plumaged White-billed Diver remained to 16th at least.

Common Crane, Dungeness, Kent (Photo: Adrian Dowling)

Spoonbill, Grafham Water, Cambridgeshire (Photo: Mike Lawrence)
The Cattle Egret was seen again at Kidwelly Marsh (Carmarthenshire) on 13th, while the family party of two adults and a juvenile remained at Catcott Lows (Somerset) to 16th. Further Somerset records on 16th came from Meare village (at least two here) and at Shapwick Heath NNR. Great White Egrets remained at Ellesmere (Shropshire) to 13th, with one at Blashford Lakes HWT (Hampshire) to 17th. "New" singles were seen at Newport Wetlands (Gwent) on 14th and Bowling Green Marsh RSPB (Devon) and Ynys-Hir RSPB (Ceredigion) on 15th–17th. Just under 20 Spoonbills were seen around the country this week. The peak number was of 10 birds on Brownsea Island (Dorset) on 16th, while the trio at Titchwell RSPB (Norfolk) remained to the middle of the week (and may have been the same three that flew over Snettisham RSPB (Norfolk) on 13th and Sculthorpe on 15th. Inland, a Spoonbill was seen at Belvide Reservoir on 13th and two were seen at Grafham Water (Cambridgeshire) in the middle of the week. The sometimes dancing, bugling pair of Common Cranes remained at Dungeness RSPB (Kent) until 12th at least and a single bird remained at Welney WWT (Norfolk) until 14th. On Scilly, a juvenile Purple Heron was seen on St. Mary's on 12th, initially at Lower Moors, then flying over Peninnis Head, heading towards Gugh, with further singles seen in Somerset, at Shapwick Heath NNR on 15th and over Nanjizal (Cornwall) on 16th. A Spotted Crake remained at Oare Marshes KWT (Kent) to 11th at least, with the bird at Dunstable Sewage Works (Bedfordshire) still present on 14th. Another arrived on St. Mary's (Scilly) on 15th, with others at Farlington Marshes HWT (Hampshire) on 16th–17th and the National Wetlands Centre (Carmarthenshire) on 17th. Eight migrant Corncrakes were found during the course of the week: on 13th singles were seen at Abbot's Cliff (Kent), on Bardsey Island (Gwynedd) and Whalsay (Shetland), one was at Flamborough Head (East Yorkshire) on 14th, another was at Nanjizal (Cornwall) on 15th and in Dorset, singles were seen at Portland on 16th and Hengistbury Head on 17th, with one at Trevorian Pools (Cornwall) on the latter date.
A Snow Goose was back at Craobh Haven (Argyll)—for the fifth winter in a row—on 16th–17th. The drake Black Duck at Lough Swilly (Co. Donegal) was seen again on 14th, and another drake was again at Ventry Harbour (Co. Kerry) on 15th–16th. A drake Green-winged Teal was seen at Inner Marsh Farm RSPB (Cheshire) on 15th, and single Ring-necked Ducks were at Inch Island Lake (Co. Donegal) on 14th and at Loch Leven (Perth & Kinross) on 15th. In Dorset, the moulting young male Hooded Merganser remained at Radipole Lake RSPB to 15th, before relocating to the west on 16th, appearing at Abbotsbury Swannery, where it remained to 17th. A Surf Scoter was in the Sound of Tarnasay (Outer Hebrides) on 15th.
Aside from the amazing invasion of Honey Buzzards, there were few other raptors of note were reported. At least 100 Ospreys were noted, many moving on the same days as the Honey Buzzards. Five together at Thorney Island (Essex) on 17th was a particular highlight. Juvenile Montagu's Harriers were seen at Axmouth (Devon) on 12th and Shingle Street (Suffolk) on 15th.

Pectoral Sandpiper, Cresswell Pond NWT, Northumberland (Photo: Craig Shaw)

Red-necked Phalarope, East Mersea, Essex (Photo: Steve Arlow)

Buff-breasted Sandpiper, Cresswell Pond NWT, Northumberland (Photo: Frank Golding)

Temminck's Stint, Wadebridge, Cornwall (Photo: Colin Selway)

Great Snipe, Flamborough Head, East Yorkshire (Photo: Darrell (ginger) Prest)
In Ireland, as well as the Western Sandpiper in County Galway, three juvenile Semipalmated Sandpipers were found this week: a bird at Rogerstown Estuary (Co. Dublin) on 16th was preceded by two on 13th. One was at Ballycotton (Co. Cork) and another was at Carrahane Strand (Co. Kerry)—along with a juvenile American Golden Plover and two Buff-breasted Sandpipers! Birders at Carrahane on 13th upped the tally of "Buff-breasts" from two to a splendid five, with four (more?) there on 17th. Elsewhere, single birds were seen at Cresswell Pond (Northumberland) from 11th–15th (and this bird was occasionally accompanied by two Pectoral Sandpipers); at Polgigga (Cornwall) on 11th–17th; at Howmore, South Uist (Outer Hebrides) on 12th (with this, or another, at Ardivachar Point on 14th–17th); around Tresco and St. Mary's (Scilly) on 13th–16th; and one on Tiree, at Loch a'Phuill, on 17th. On 14th, a single Buff-breasted Sandpiper was at Ballycotton, with two there on 15th (with the Semipalmated Sandpiper and three Pectoral Sandpipers). A Wilson's Phalarope was found at Alkborough Flats (Lincolnshire) on 16th, before flying across the Humber, where it was claimed briefly at Blacktoft Sands (East Yorkshire) on 17th, before appearing again in Lincolnshire later the same day. A juvenile Baird's Sandpiper was still being seen at Black Rock Strand (Co. Kerry) to 17th, with a new arrival in Argyll on 15th, one on the Add Estuary, Bellanoch. The juvenile Lesser Yellowlegs remained at Guardbridge (Fife) to 13th, while a new arrival was found at Cross Lough on the Mullet (Co. Mayo) on 12th–15th. As well as the Carrahane Strand American Golden Plover (found on 11th), further Irish individuals were seen at Tacumshin (Co. Wexford) on 13th (along with four Pectoral Sandpipers), while one at Ballycotton on 15th could have been the bird seen there on 7th. One was also seen at Kilcoole (Co. Wicklow) on 17th. A further 18 Pectoral Sandpipers were seen this week, including two still at Hickling Broad NWT to 14th and two at Meare Heath (Somerset) on 17th. In Essex, the juvenile Red-necked Phalarope remained at Mersea Island until 13th, with further juveniles appearing at Titchwell RSPB (Norfolk) on 14th–17th (visiting Holme briefly on 15th), Farlington Marshes (Hampshire) on 16th–17th and Donna Nook and Humberstone Fitties (Lincolnshire), both on 17th. At least 20 Dotterels were found this week: two birds were on St. Mary's Airfield (Scilly) on 11th, with two more at Landguard NR (Suffolk) on 13th and The Range RSPB (Anglesey) and Kynance Cove (Cornwall) on 17th. Singles appeared in Durham, Worcestershire and Dorset on 11th, Conwy on 12th and 16th and East Sussex on 13th, while on 16th, birds were found on Skomer (Pembrokeshire) and at White Nothe (Dorset). A Temminck's Stint (or possibly two) was a good find at the Walmsley Sanctuary (Cornwall) on 12th (with two Pectoral Sandpipers) and a single Temminck's Stint was at Belvide Reservoir (Staffordshire) on 15th–17th. There were three Great Snipe to report this week: one was seen on mainland Shetland at Quendale on 12th, and two singles were in East Yorkshire, at Flamborough Head on 13th and Speeton on 17th.

White-winged Black Tern, Dungeness RSPB, Kent (Photo: Adrian Dowling)

Sabine's Gull, At sea, Cork (Photo: Sean Ronayne)
An adult Bonaparte's Gull was seen at Ardmore (Co. Waterford) on 16th. Also in Ireland, three Ring-billed Gulls were seen this week: a second-winter was on the Bann Estuary (Co. Derry) on 12th, with an adult still at Portrush (Co. Antrim) on the same date and at Black Rock Strand (Co. Kerry) on 13th. Also on 13th, adults were again at Southend-on-Sea (Essex) and Kinneil Lagoons (Forth). One Iceland Gull and four Glaucous Gulls were seen this week (all in Ireland bar a "Glauck" in the Outer Hebrides) while the juvenile Caspian Gull was still at Farmoor Reservoir (Oxfordshire) to 11th. The White-winged Black Tern remained at Shotwick Fields (Clwyd) to 11th, with presumably the same bird again at Inner Marsh Farm RSPB (Cheshire) on 12th–13th. In Bedfordshire, at Stewartby Lake, a juvenile White-winged Black Tern was found on 11th, while at Dungeness RSPB (Kent) one juvenile became two on 11th–13th, with one remaining to 15th.

Hoopoe, Carsethorn, Dumfries & Galloway (Photo: Brian Henderson)

Wryneck, Pagham Harbour LNR, West Sussex (Photo: Doug Kelson.)

Red-backed Shrike, Druridge Pools, Northumberland (Photo: Duncan Watson)
In County Mayo, the female Snowy Owl remained on Termon Hill, Blacksod until at least 12th, with the female still at Aird an Runair, North Uist (Outer Hebrides) on 14th. A Red-rumped Swallow was seen on Bryher (Scilly) on 13th with another at Holme Dunes NWT (Norfolk) on 17th. Up to half a dozen Hoopoes appeared during the week (following a belated report of one in Somerset on 10th); on 11th one was found at Lade GPs (Kent), remaining to 12th. On 13th singles were reported at Earsdon (Northumberland), Whitburn Coastal Park (Co. Durham) and Warnham LNR (West Sussex). On 14th a Hoopoe was seen at Seaton Pond (Co. Durham) with another arriving in Dumfries & Galloway, at Carsethorn, this bird still present on 17th. Five Citrine Wagtails were recorded during the past seven days: one was at Wester Quarff, Mainland (Shetland) on 12th, another was found at Lough Beg (Co. Derry) on 13th, with further birds at Rattray Head (Aberdeenshire) on 14th, on St. Mary's (Scilly) on 16th–17th and on Whalsay (Shetland) on 17th. Two single Tawny Pipits were seen in Dorset on 13th, one at Portland, the other at West Bay, Bridport, with further birds on Lundy (Devon) on 14th–15th, Polgigga (Cornwall), also on 15th, and at Pegwell Bay (Kent) on 17th. A Richard's Pipit arrived at Holland Haven (Essex) on 17th, with the only Red-throated Pipit of the week was seen at Flamborough Head (East Yorkshire) on 15th. Back to Dorset, where the juvenile Woodchat Shrike remained at Portland Bill to 12th and a new baby Woodchat appeared at Hook Head (Co. Wexford) on 16th. At least 40 Red-backed Shrikes were noted, including five birds in Norfolk and at least three in Northumberland. Numbers of Wrynecks recorded comfortably nudged past the 100 mark, with five on the Outer Head at Flamborough on 13th the highest single number reported. Three birds were at Thorntonloch (Lothian) on 13th and three more were seen on Skomer (Pembrokeshire) on 15th. In the West Midlands, two Wrynecks were at Sutton Park on 12th while at least half a dozen birds were seen in Somerset. Singles made it out to County Cork too, with birds on Cape Clear Island and Dursey Island. The Spurn Shore Lark remained throughout the week, while single Short-toed Larks were on St. Agnes (Scilly) on 11th with the other on Whalsay (Shetland) on 14th. Staying on Shetland, one or two Thrush Nightingales were on Fair Isle on 13th and 15th, with another on Fetlar on 15th. Another was trapped and ringed at Holme NOA (Norfolk) on 14th, reappearing there on 16th–17th. Whalsay featured once again with a Bluethroat there on 11th–13th, with one at Cambois (Northumberland) on 12th and, back on Shetland, singles were on Fair Isle and Fetlar on 15th. Two other Bluethroats were seen at Icklesham (East Sussex) on 13th and Hengistbury Head (Dorset) on 17th, while a very early Waxwing made landfall at Spurn on 17th.

Greenish Warbler, Pendeen, Cornwall (Photo: Mike Barker)

Melodious Warbler, Portland, Dorset (Photo: Gary Thoburn)

Yellow-browed Warbler, Gramborough Hill, Norfolk (Photo: Peter Simpson)

Subalpine Warbler, The Leas, S.Shields, Durham (Photo: Nigel Jones)
"PG Tips" aside, it was Shetland that lead the way this week as far as rare warblers are concerned. The first Lanceolated Warbler of the autumn was discovered at Sumburgh, Mainland on 12th, quickly followed by another on Fair Isle on 13th. Also on Fair Isle on 13th came the third Paddyfield Warbler on Shetland this autumn, the second bird still present on Unst to 12th. A Western Bonelli's Warbler was found on Lundy (Devon) on 14th, representing the second record for the island, and only the third definite bonelli in the county ever (which, along with Scilly and Shetland, boasts records of both Western and Eastern Bonelli's). The second Western Bonelli's Warbler of the week was found on Fair Isle on 17th. On Scilly, a Booted Warbler was discovered on St. Agnes on 17th. An early rush of at least 27 Yellow-browed Warblers was interesting—the first of the autumn arrived at Barns Ness (Lothian) on 13th and was followed by at least 11 more around Scotland and its islands (with three on North Ronaldsay on 16th), six in Norfolk, with five in East Yorkshire and two in North Yorkshire. The Greenish Warbler at Low-Newton-by-the-Sea (Northumberland) was trapped, ringed and released on 13th (and singing by 17th) while one reached Cape Clear Island (Co. Cork) on 15th, with another at Pendeen (Cornwall) on 16th–17th. A Marsh Warbler was seen on St. Kilda (Outer Hebrides) on 13th, with further singles reported at Rainham Marshes RSPB (London) on 14th and at Land's End (Cornwall) on 15th–16th. At least 16 Melodious Warblers were seen this week: at least one remained at Portland Bill (Dorset), with two birds on Scilly (Bryher on 11th, St. Mary's on 14th), two in County Waterford (at Brownstown Head on 16th), three in County Cork (at Galley Head on 12th, Dursey Island on 14th and Old Head of Kinsale on 16th–17th), at least four birds were in Cornwall (on the Lizard, at Porthgwarra, Nanjizal and Porthcurno) while one made it to Bardsey Island (Gwynedd) on 15th–17th. On 16th, along with the birds at Brownstown Head, single Melodious Warblers were trapped and ringed at Sandwich Bay (Kent) and Caldey Island (Pembrokeshire). Some 20 Icterine Warblers included birds from Shetland to Scilly, with three birds in Angus on 14th, including two in Arbroath, and two more in Lothian. Two Icterine Warblers were seen on North Ronaldsay (Orkney) on 16th. In County Durham, the Subalpine Warbler remained in South Shields until 14th, while Barred Warblers reached at least 32 birds this week with Shetland and Norfolk taking the lion's share (at least nine in Shetland and five or more in Norfolk), and two each for Aberdeenshire, Lothian and Fife. Another Barred Warbler was on St. Kilda on 13th. Thirteen Red-breasted Flycatchers were found this week—three were on Shetland on 13th–14th, including two at Helendale, Mainland on 14th. Also on 14th, one was found at Arbroath (enjoying a purple patch this week) while five birds were found on 15th, at Toab on mainland Shetland, at St. Abbs' Head NNR (Borders), on Holy Island (Northumberland), at Great Yarmouth (Norfolk), and a photogenic male at Flamborough Head (East Yorkshire), which was still present on 16th. Also on 16th, single Red-breasted Flycatchers were at Nanjizal (Cornwall), Mizen Head (Co. Cork) and Fair Isle, with two at Scarborough (North Yorkshire).

Ortolan Bunting, Soldiers' Point, Anglesey (Photo: R.L.Brown)
Rose-coloured Starlings made landfall this week at Benacre (Suffolk) on 13th, at Sandwick, Mainland (Shetland) on 15th, in Cornwall, at Treen and St. Levan, both on 16th, when another was found on Fair Isle. Another was at Polgigga and Land's End (Cornwall) on 17th. A juvenile Two-barred Crossbill was seen in a private garden in Durham on 17th, the first bird of the autumn to make the mainland. Back on Fair Isle, the juvenile Two-barred Crossbill remained to 14th and, still on Shetland, the first two Yellow-breasted Buntings of the autumn period arrived—one was seen at Aith, Fetlar on 12th with the other on Whalsay on 13th–14th. A Little Bunting was found at Hoswick, Mainland (Shetland) on 15th–17th, while the first Rustic Bunting of the autumn arrived on Unst (Shetland) on 17th. It was another good week for Ortolan Buntings, with up to 10 recorded, including two singles in Dorset (at Durlston CP on 13th and Studland Bay on 14th), four singles on Shetland (on Fair Isle on 12th and 16th, Fetlar on 13th–15th and mainland on 17th) with others on St. Mary's (Scilly) on 14th and 16th, one at Soldiers' Point (Anglesey) on 15th–17th and one at Trimingham (Norfolk) on 17th. Three Common Rosefinches were found on Shetland on 12th (on Fair Isle, Fetlar and Unst) and these were followed by one on Whalsay on 13th and two at Swinister, Mainland on 15th, when two were also seen on North Ronaldsay (Orkney). The other records this week came from Dursey Island (Co. Cork) on 12th and Rattray Head (Aberdeenshire) on 16th–17th. The week concludes with a bird that was once well worthy of "mega" status, but is now almost an also-ran in terms of Nearctic passerine vagrants—Red-eyed Vireo. The fourth American passerine of the autumn so far (and the third species) was found at Cross Lough, The Mullet (Co. Mayo) on 13th.
Photo of the Week

Grey Phalarope, Shustoke Reservoir, Warwickshire (Photo: Dave Hutton)
Good numbers of the delightful Grey Phalarope have passed through the UK this month, providing plenty of opportunities for birders and photographers to catch up with them. As well as being naturally photogenic, these dainty birds will often allow a very close approach, making close-up shots a possibility, albeit with the difficulties caused by their frenzied feeding activity. To date, we've received almost 400 Grey Phalarope images, many of which are of very high quality. This week, however, Warwickshire-based bird photographer Dave Hutton has submitted our first detailed shot showing this species in flight. Photographing a juvenile bird at Shustoke Reservoir in his home county, Dave has captured a perfectly-posed image of the bird just millimetres above the water. The beautiful lighting creates an atmospheric feel and brings out the textures in the bird and the water, even highlighting the bird's eye and bill and the water droplets falling from its feet. Certainly an outstanding image.
Other notable photos

Golden Plover, Salthouse, Norfolk (Photo: Nigel Pye)

Cuckoo, undisclosed site, Cheshire (Photo: Richard Steel)

Gannet, Bempton Cliffs RSPB, East Yorkshire (Photo: Steve Race)

Common Kingfisher, Venus Pool NR, Shropshire (Photo: Jim Almond)

Common Kingfisher, Mere Sands Wood LWT, Lancashire (Photo: Tom Charles)

Dotterel, Landguard NR, Suffolk (Photo: Chris Mayne)

Long-tailed Tit, Spain (Photo: Steve Fletcher)

Little Egret, Cley Marshes NWT, Norfolk (Photo: Douglas Mcfarlane)

Ficedula flycatcher sp, Waxham, Norfolk (Photo: Peter Simpson)

Curlew Sandpiper, Cresswell Pond NWT, Northumberland (Photo: Marcus Conway)

Northern Wheatear, Salthouse, Norfolk (Photo: Nigel Pye)

Little Stint, Toft Newton Reservoir, Lincolnshire (Photo: Nick Clayton)

Pectoral Sandpiper, Lundy, Devon (Photo: Andrew Cleave)

Black Tern, Shustoke Reservoir, Warwickshire (Photo: Jim Almond)

Shoveler, Cley Marshes NWT, Norfolk (Photo: Richard Bedford)

Wryneck, Kingston Seymour, Somerset & Bristol (Photo: Gary Thoburn)

Common Treecreeper, Discoed, Powys (Photo: Paul Leafe)