A reasonable seven days produced a good scattering of new rarities and several megas, although this is no more than you'd expect for the first half of October. The clear highlight of the week was the discovery of a male Common Rock Thrush on the slopes of Blorenge, just south-west of Abergavenny, Gwent, on 12th. It remained in situ until the end of the review period, occasionally showing very well but often ranging over a large area and thus being difficult to pin down at times. It represents just the third for Wales, following records in Ceredigion in 1981 and on Anglesey in 1986. And what a cracking bird, too: scaly and subtle, although showing hints of the outrageous colours that will emerge as the months progress and spring arrives. Interestingly, it is favouring the same mountain that hosted a Mamora's Warbler back in June 2010 and, when you think that a Cream-coloured Courser was found not far away at Bradnor Hill, Herefordshire, in May 2012, it's clear that these apparently uninspiring, isolated mountaintops have the ability to produce mega rarities with regularity – what must be missed?

Common Rock Thrush, Blorenge, Gwent (Jeff Lack).
In terms of rarity, it's hard to beat the Western Orphean Warbler found on St Agnes, Scilly, on 12th. Continuing the archipelago's excellent run of extreme rarities, this bird showed on and off until 15th and was seen well by virtually every birder on the isles. This is just the fifth record for Britain, but the fourth since 2012, hence this species' overall rarity is not relative to its recent status. Many will have seen the long-staying bird in Pembrokeshire in November-December 2013 (and plenty saw the one-day bird in Cleveland in May 2012), and so there was relatively little interest in it from anyone not actually on Scilly this week. Also still on the isles was the candidate Wilson's Snipe on St Mary's which, although showing plenty of good features, is some way off being the textbook 'obvious' example of the species that European birders may hope for.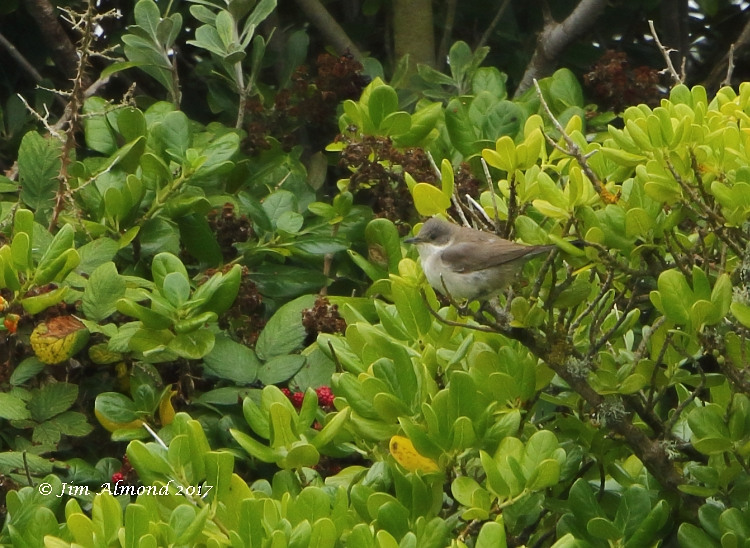 Western Orphean Warbler, St Agnes, Scilly (Jim Almond).
Big mainland birds have been few and far between in recent times and so news of a Two-barred Warbler at St Aldhelm's Head, Dorset, on 17th caused great excitement. Reported on the evening of 15th as a potential Arctic Warbler, identification was confirmed on Tuesday and twitched by a decent crowd after news broke in the early afternoon. Given that this is the first twitchable individual since the Filey bird of October 2006, and indeed the first to be available since the British Ornithologists' Union's Records Committee (BOURC) announced its intentions to follow IOC taxonomy (which splits Two-barred from Greenish Warbler), this bird will no doubt draw considerable crowds if it remains into the weekend.
Last week's White-crowned Sparrow remained on Foula, Shetland, to 12th, while Whalsay scored with a typically confiding Steppe Grey Shrike at Vaivoe from 14th. Cape Clear, Co Cork, has been somewhat devoid of North American passerines in recent years and thus a Swainson's Thrush showing well on the island on 14th was welcome for the gathered Irish birders enjoying their autumn holiday. Meanwhile, back on Scilly, the Isabelline Wheatear was still showing at St Mary's airfield to 15th. Other major news included the lingering Blackpoll Warbler at Blacksod, Co Mayo, to 15th and a Short-toed Treecreeper trapped and ringed on private land at Samphire Hoe, Kent, on 16th.

Steppe Grey Shrike, Whalsay, Shetland (Mick Kemp).

Short-toed Treecreeper, Samphire Hoe, Kent (Martin Collins).
The headline shorebird was the long-staying Semipalmated Plover in Co Mayo, seen again on Achill Island on 15th. The Spotted Sandpiper stayed in Dorset all week but the Cape Clear bird was despatched by a Sparrowhawk on 14th. Just two Lesser Yellowlegs were seen: lingering birds at Lodmoor, Dorset, and Tacumshin, Co Wexford; the latter site also hosted a couple of Long-billed Dowitchers, American Golden Plover and two Pectoral Sandpipers. A further handful of 'Pecs' included a showy bird at Covenham Res, Lincs, from 15th. A Semipalmated Sandpiper was at Clogheen Marsh, Co Cork, from 13-15th and a total of six American Golden Plovers were logged. The Stilt Sandpiper continued to tour sites in the Poole Harbour area of Dorset and the Wilson's Phalarope put in another week's stay at Oare Marshes, Kent, where the Long-billed Dowitcher also remained. Another dowitcher continued in Lancashire. Red-necked Phalaropes were in Northumberland, Norfolk and Essex.

Pectoral Sandpiper, Covenham Reservoir, Lincolnshire (Dean Eades).
The female American Wigeon returned to Grimley, Worcs, on 16th, while drakes remained at Rutland Water and on North Uist. The only Ring-necked Duck was that at Easter Loch, Unst. A Ferruginous Duck was at Gartmorn Dam, Forth, from 12th – a great record for Scotland. A juvenile Surf Scoter was found at Baltasound, Unst, on 15th and a drake was off Rossnowlagh, Co Donegal, on 13th, as well as the usual bird off Lothian. A King Eider was off Murvagh, Co Donegal, from 13th. Returning geese included two Red-breasted Geese among the Pink-feet at Loch of Skene, Aberdeenshire, on 16th. The Richardson's Cackling Goose remained at Budle Bay, Northumberland, all week and another was on Islay, where there was also at least one Todd's Canada Goose. Two further Todd's were still in Northumberland and one was in Highland. Two Snow Geese were at Findhorn Bay, Moray/Nairn, to 12th before moving to Ardersier, Highland, on 13th.
The whole of this week's Western Cattle Egret records came from the southern half of England, south of Lancashire and Lincolnshire. A Glossy Ibis had reached Rum, Highland, by 14th and was still there a few days later; elsewhere others remained in Somerset and Co Clare. The Purple Heron was still at Leighton Moss, Lancs, to 16th, while Cornish records at St Levan on 16th and Lizard Point on 17th could feasibly have been the same bird.
There was a report of a dark-morph Gyr Falcon at Reiss, Highland, on 16th, while a juvenile Pallid Harrier was at Worth Marsh, Kent, the same day and the lingering female was in Cheshire on 12th.
The Forster's Tern was still at Soldier's Point, Co Louth, this week, while the American Royal Tern was again noted on Guernsey on 13-14th. The Bonaparte's Gull was also still in Devon.
Eastern passerines weren't at their most plentiful, but a late juvenile Black-headed Bunting entertained birders on Fair Isle throughout the week. Also on the island were Red-throated Pipit and Siberian/Stejneger's Stonechat on 16th. The last Isabelline Shrike report from Foula came on 11th; one then showed well at Soldiers' Point, Anglesey, on 15-16th. Two Olive-backed Pipits were at Funzie, Fetlar, on 12th, with others on Lundy, Devon, on 13th and at Baltasound, Unst, on 16th. No more than eight Richard's Pipits were seen, none particularly twitchable, but last week's Red-throated Pipit remained on show at Lissagriffin, Co Cork, to 14th. There was a report of a possible Blyth's Pipit flying over St Mary's, Scilly, on 17th.

Black-headed Bunting, Fair Isle, Shetland (Brendan Doe).
A couple of Cornish Red-eyed Vireos were seen. One at Porthgwarra on 12th could feasibly be the bird from a couple of weeks back, while another was at Nanjizal on 14th. An Arctic Warbler showed well at Kilnsea, East Yorks, all week, with another reported in neighbouring Easington on 15th. Three Blyth's Reed Warblers were seen on Shetland, with a fourth trapped at Nanjizal on 17th. Both of the week's Marsh Warblers were on mainland Shetland.
Content continues after advertisements
Red-eyed Vireo, Porthgwarra, Cornwall (Brian R Field).

Arctic Warbler, Kilnsea, East Yorkshire (Ron Marshall).
Radde's Warblers were at Minsmere, Suffolk, and Dungeness, Kent, on 14th; further birds followed at Portland, Dorset, on 15th, Barns Ness, Lothian, on 16th and St Mary's, Scilly, on 17th. A new Dusky Warbler was trapped at Sandwich Bay, Kent, on 15th (and re-trapped on 17th), with another on the Farne Islands on 16th. The first two Pallas's Warblers of the autumn arrived on 16th, with birds on St Agnes, Scilly, and at Margate, Kent.

Radde's Warbler, Portland, Dorset (Joe Stockwell).
After a brief bird on St Mary's, Scilly, on 12th, a Greater Short-toed Lark showed well in fields at Sennen, Cornwall, on 16-17th. 'Long-staying and 'confiding' can be applied to two rare chats on Shetland this week: the Thrush Nightingale at Sandgarth to 15th and the Red-flanked Bluetail at Isbister to 16th. Scarce migrants were otherwise in quite short supply, with perhaps 10 Red-breasted Flycatchers, six Barred Warblers, four Red-backed Shrikes, three Wrynecks and three Hoopoes giving a taster of the paltry totals.
A Hornemann's Arctic Redpoll continued on Foula, while up to three (and two Coues's Arctic Redpolls) formed a spectacular flock at Baltasound, Unst. Another Coues's remained nearby at Valyie. A European Serin migrated over Hunstanton cliffs, Norfolk, on 13th. In a productive autumn for Rustic Buntings, Cape Clear, Co Cork, scored one on 15th, the day after Portland Bill had scored another.
Western Palearctic news
As is so often the case in mid-October, it was the Azores that dominated regional proceedings. Corvo scored heavily with the archipelago's first (and WP's fifth) Blackburnian Warbler on 15th; a Yellow-throated Vireo was subsequently found just a few hundred yards away. Other highlights from the hallowed isle this week included the second Black-throated Green Warbler of the autumn, Upland Sandpiper, Scarlet Tanager, Common Yellowthroat, two Blackpoll Warblers and a couple of American Buff-bellied Pipits among the plentiful spoils.

Blackburnian Warbler (top) and Yellow-throated Vireo, Corvo, Azores (www.vincentlegrand.com).
Elsewhere in the Azores, Snowy Egrets were seen on Pico and Terceira; the latter island also scored a new American Coot at Cabrito Reservoir and the long-staying Redhead at Paul da Praia. Few birders are on Flores in autumn these days, so Northern Waterthrush and Rose-breasted Grosbeak were great finds on 15th. Three Rough-legged Hawks at Lagoa Branca on 14th must also have been quite impressive.
The Norwegian hot-spot of Værøy scored heavily on 13th, with a first-winter Mugimaki Flycatcher photographed – a national first and just the third for the WP. Meanwhile, the Hoopoe at Vardø, Varanger, on 14th must have felt a little chilly.
Belgium's first Long-tailed Shrike, a first-winter, was trapped at Het Zwin on 15th and stayed to 17th, although it became extremely elusive on the latter date. A Pallas's Reed Bunting was photographed at Linosa, Sicily, on 15th. Records from Santiago, Cape Verde, included a superb Black-headed Heron at Barragem de Poilão on 12th and a juvenile Stilt Sandpiper in Praia on 17th.