It's reality that the usual excitement and joy of spring birding will be heavily tempered in the coming weeks. As social distancing and self-isolation have become a stark necessity seemingly overnight – and we may yet have a few weeks of birding exclusively from our homes – it goes without saying that common sense in regard to twitching must be adopted by all in these trying times. With a run of easterlies forecast towards the end of the month, things could get challenging … but we should all bear in mind government advice and act responsibly and compassionately, regardless of how gripping things might become.
News of spring arrivals will always put a smile on the faces of birders, though, and the seasonal shift was evident this week. Notable was a fall, mainly on the south coast, on Monday of Northern Wheatears, among other bits. We received hundreds of reports of this harbinger of spring just on 16th, including an incredible 232 from Dorset alone … other notable spring returns have included a Little Ringed Plover arrival over the weekend, plus a few more hirundines, White Wagtails and the first singing Willow Warblers.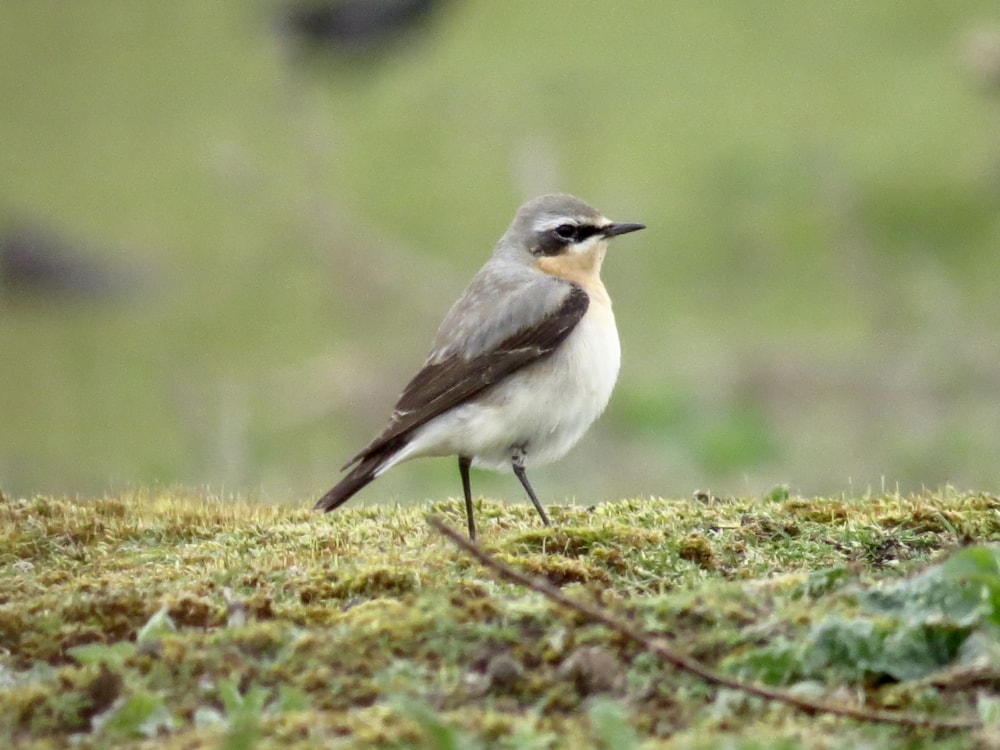 Northern Wheatear, Crosby Marine Park, Lancashire (Pete Kinsella).
As it happened, our third weekly review of the third month of the year produced three outstanding rarity finds. Pick of the bunch was a gorgeous male Lesser Kestrel, which was photographed at Porth Hellick Down, St Mary's, Scilly, on 7th but identified on 15th. There have been barely more than 20 Lesser Kestrel records in Britain (11 since 1950) and the last twitchable bird was at Minsmere in 2010, which was also in March. The bird was still present on 17th and Scilly will take this excellent start to spring – just a fourth record for the archipelago.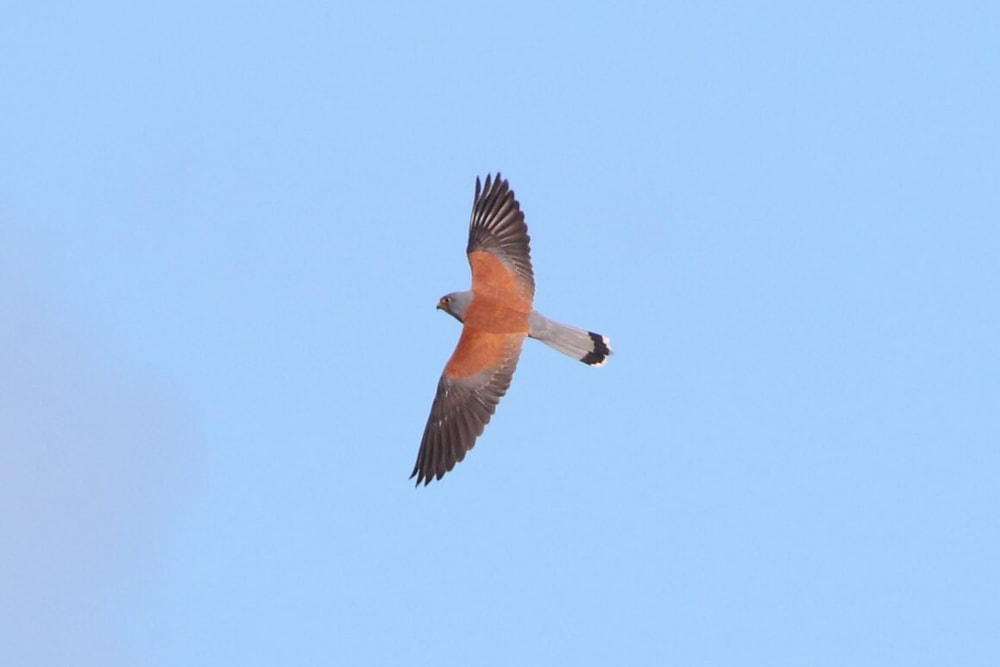 Lesser Kestrel, St Mary's, Isles of Scilly (Scott Reid).
Some 179 km to the north-east of St Mary's, as the falcon (or plover) flies, is Lundy, which was the home of Devon's fourth Killdeer on 16th. Despite turning up in Britain no fewer than 14 times between 2000 and 2010, there have only been three records since, rendering this characterful Charadrius rather desirable. However, with no ships sailing to the island and things as they are generally, a twitch was never realistic – as it happens, the bird hasn't been seen since.
The other headliner was a Short-toed Treecreeper at where else but Dungeness, Kent. England's Garden has hosted a silly 78% of Britain's records of this continental species and with this bird favouring a small garden and sometimes showing well, the relatively small congregation of birders comfortably kept to the recommended social-distance requirements of 2 metres apart. The arrival in a similar location of a 'creeper with a preference for walls might pose significantly greater issues.
In terms of long-stayers, gulls headlined proceedings. Out west, the Laughing Gull continued to drop in with some regularity at Chew Valley Lake, Somerset, relocating to Cheddar Reservoir on 16-17th, though the Ross's Gull on the Plym Estuary, Devon, continued to be a little mobile before flying downriver on 15th, not to be seen again.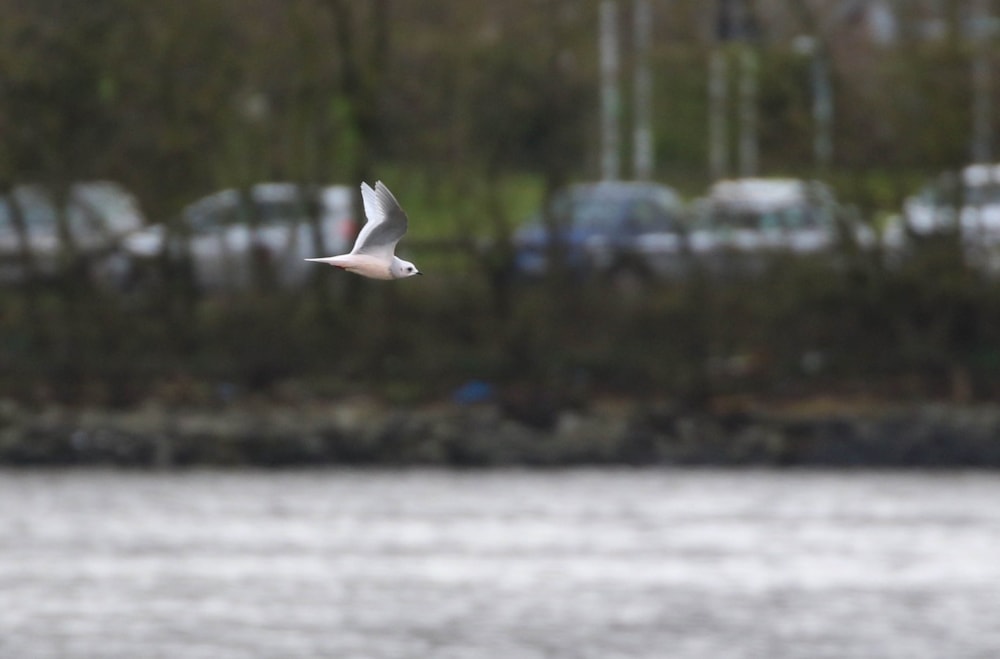 Ross's Gull, Plym Estuary, Devon (Ashley Howe).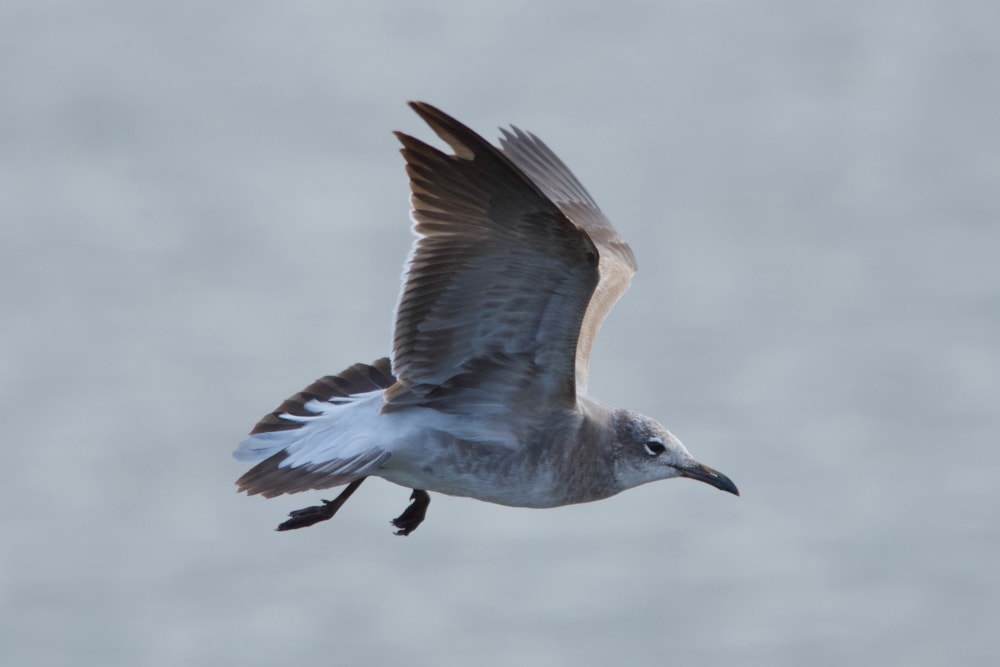 Laughing Gull, Chew Valley Lake, Somerset & Bristol (Brian Thompson).
In Ireland, the American Herring Gull continued in Sligo Harbour, but the Co Cork bird seems to have departed. However, the adult Bonaparte's Gull remained in Co Wexford. The Forster's Tern also put in a cameo at Kinvarra, Co Galway, on 14th.
The Shetland Tengmalm's Owl relocated from Lea Gardens to Lyndsey Lea Plantation, where it was discovered on 15th, though it seems off the cards for anyone from outside the islands for a while.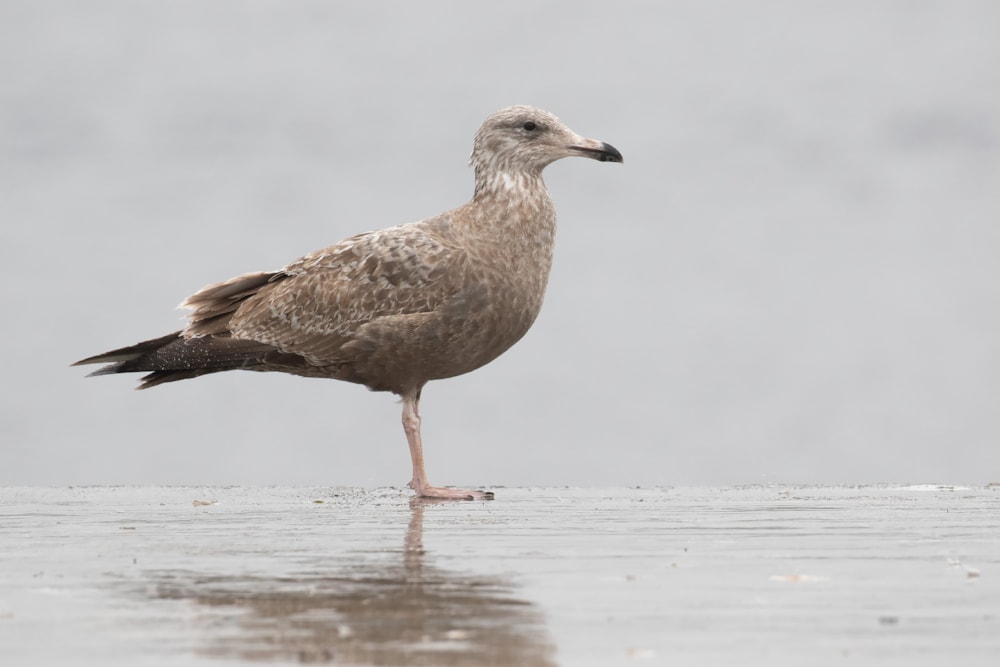 American Herring Gull, Sligo, Sligo (Josh Jones).
In terms of rare passerines, both Black-throated Thrushes made it into another weekly review, as did the Cheshire Siberian Stonechat. Buckinghamshire enjoyed a rare moment in the limelight when a male Black-bellied Dipper appeared near High Wycombe on 12th, favouring a waterfall on The Dyke. It proved popular until Tuesday, when there were no reports. Should it resurface, birders are reminded to view from the roadbridge only and not via Crown House School …
The usual rare duck line-up was still on offer: the Blue-winged Teal in Devon, White-winged Scoter in Lothian, Black Scoter in Northumberland, King Eider in Moray & Nairn, American Black Duck in Highland and Ferruginous Duck in West Midlands and Hampshire. The Pied-billed Grebe battled on in Argyll, too.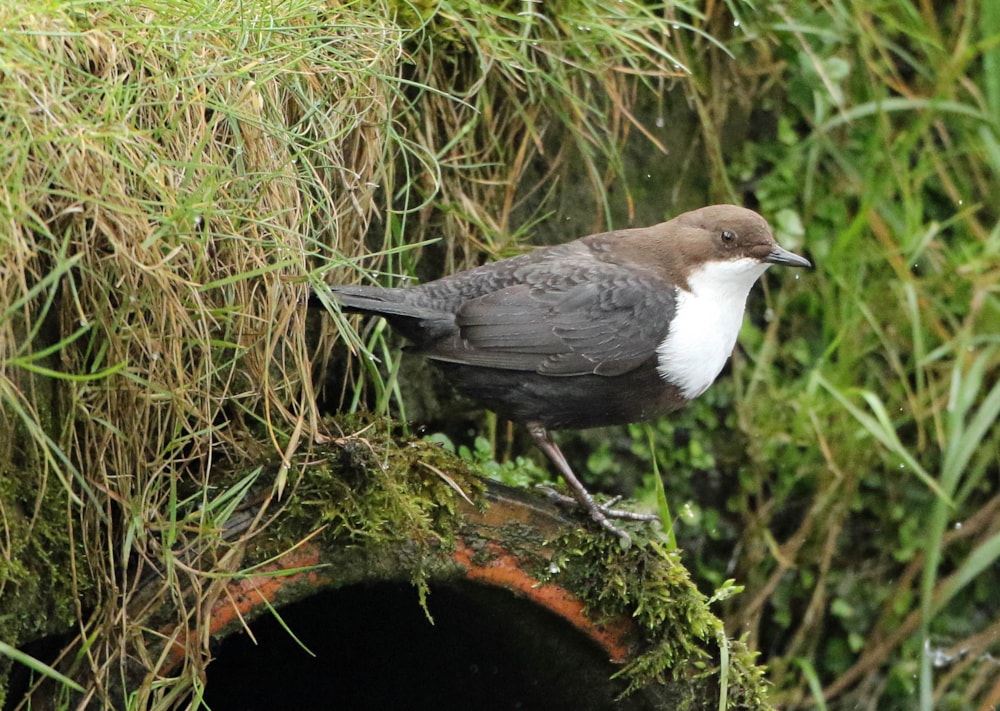 Black-bellied Dipper, High Wycombe, Buckinghamshire (Mark Leitch).
Richardson's Cackling Geese continued on the Outer Hebrides and Argyll, the Grey-bellied Brant was still to be found in Lancashire and the three Long-billed Dowitchers – in Devon, Co Wexford and Co Wicklow – stood firm for another week.

Scottish mainland
There was a distinct end-of-winter feel, with a small cohort of wintering wildfowl still lingering and just a glimmer of spring as the week rolled to a close. The Snow Goose was again at New Cumnock, Clyde, two settled American Wigeon were in the northern half of the country at Loch Eye, Highland and Fedderate Reservoir, Aberdeenshire, drake Surf Scoter remained off Embo, Highland and Musselburgh, Lothian respectively and the long-staying Smew was still at Lochwinnoch RSPB, Clyde.
Scotland's two hardy Great Egrets showed no ill effects from a winter of social isolation and continued to hang out at Forfar Loch, Angus, and Auchenreoach Loch, Dumfries & Galloway. The Great Grey Shrike remained quarantined in the Brawlbin Forest, Highland.
Iceland and Glaucous Gulls numbered around a half-dozen of each, with most individuals that have been seen regularly throughout the winter. Waxwing numbers echoed the ebbing of winter with 21 at Banchory, Aberdeenshire, this week's peak count. And so to spring: two Sandwich Terns off Moray & Nairn and Borders coasts offered the tiniest hints of better days ahead, as did the a White Wagtail at Reston, Borders, as the week ended.

Northern Isles and the Hebrides
On the Shetland mainland, South Nesting Bay continued to host a White-billed Diver, while Fair Isle had a flyover White-tailed Eagle. White-winged gulls hung on in small numbers, with up to five Iceland Gulls in circulation and four Glaucous Gulls. It was quiet week in Orkney, with the drake Green-winged Teal on North Ronaldsay reported once.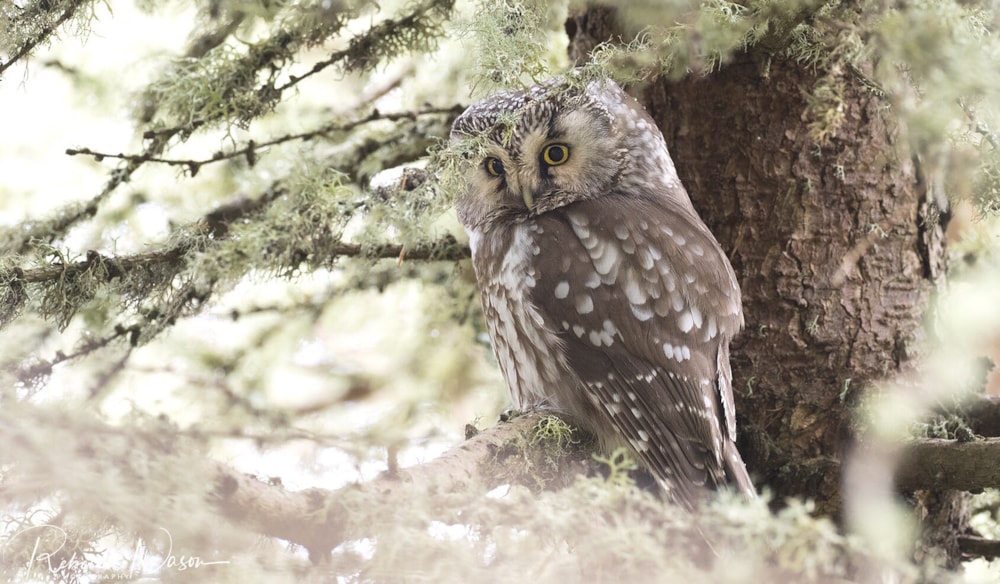 Tengmalm's Owl, Kergord, Mainland, Shetland (Rebecca Nason).
The Outer Hebrides faired little better, with a Snow Goose still on North Uist and a Ring-necked Duck remaining on Barra. There was a little more gull action, with peaks of seven Glaucous and four Iceland Gulls in the week.
Drake Green-winged Teal on Islay and two Ring-necked Duck on Tiree were the highlights further south.
North-East England
Last week's Great Grey Shrike remained at Trimdon, Durham, for most of the week and the Far Pastures NR Siberian Chiffchaff began to sing. As the week ended, a White-tailed Eagle flew south over Boldon Flats and was tracked along the River Wear as far as Washington WWT. Two Iceland Gulls were recorded at Seaham and Whitburn Coastal Park respectively.
Cleveland's Ruddy Shelduck continued to buddy up with Eurasian Wigeon over the weekend. An immature Glaucous Gull was noted at Saltholme RSPB and a Lapland Bunting flew north at Skinningrove, while a male Black Redstart was well received at South Gare.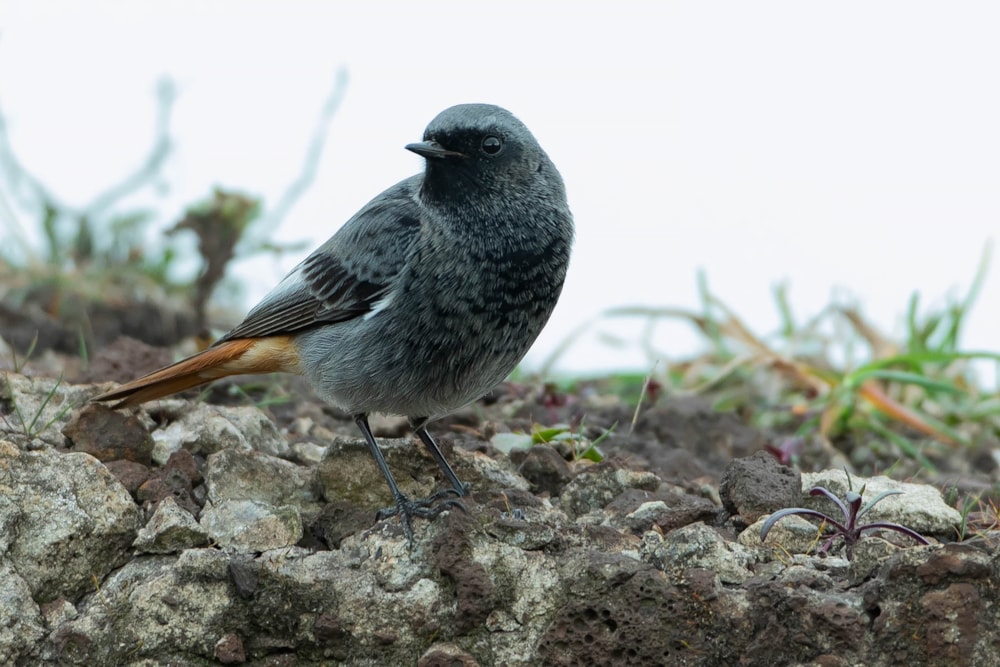 Black Redstart, South Gare, Cleveland (Martyn Sidwell).
A smart drake Ring-necked Duck at Caistron NR appears to have been a one-day bird, disappearing faster than a delivery of toilet roll to Asda. On the coast, the Hadston and Amble area yielded a couple of fly-over records of up to three Common Cranes, while the wintering adult remained at Middleton. Also hanging about were the drake American Wigeon at Grindon Lough, juvenile Iceland Gull at North Shields and Great Grey Shrike at Kirkharle.
North-West England
A Todd's Canada Goose at Rockcliffe Marsh on 15th proved to be Cumbria's bird of the week. Another was still being seen further south at Crossens Outer Marsh, Lancashire. Also here, Tundra Bean and Greenland White-fronted Geese made an appearance among the hordes of Pink-feet. To round up the wildfowl theme, there was an adult Bewick's Swan was at Upper Thurnham on 11th and a drake Green-winged Teal at Crossens Marsh on 16th.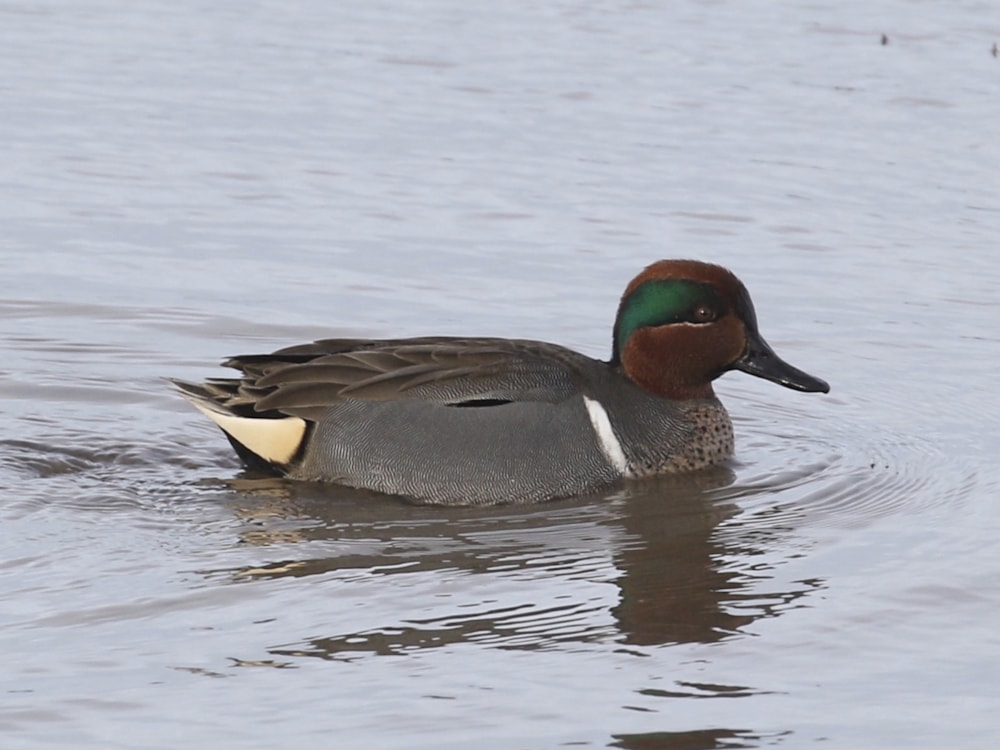 Green-winged Teal, Crossens Outer Marsh, Lancashire (Mark Nightingale).
Mid-March usually signals the return of Woolston Eyes' Black-necked Grebes, so the birds arriving on 14th was a typical date and by the end of the week six were settling down, with the single still present at Lapwing Hall Pool until the 15th. Elsewhere, two Western Cattle Egrets were again at Burton Mere Wetlands RSPB and an adult Eurasian Spoonbill arrived back on the 17th.
In Greater Manchester, Winter Hill had a welcome site first on 17th in the form of five high-flying Red-throated Divers – a super vis-mig record. Two different adult Iceland Gulls were attending the evening roost at Pennington Flash CP, where a Sandwich Tern paid a brief visit before continuing west.

Lincolnshire and Yorkshire
A Hooded Crow flew over Gibraltar Point, Lincs, where up to 83 Water Pipits remained. Further up the coast, a Siberian Chiffchaff was at Anderby Creek on 13th. Four Black-necked Grebes called in at Toft Newton Reservoir on 14th, while migrants included the first Northern Wheatear at Woodhall Spa Airfield on 17th and a Black Redstart at East Halton Skitter on 16th.
The Black Brant remained in the Spurn area, where early spring migrants included Firecrests and a Ring Ouzel. A Green-winged Teal was at Bubwith Ings on 16th, while a group of Waxwings entertained in Hessle and the Richard's Pipit hung on at Flamborough Head, where two Common Cranes flew south on 11th (they were also seen over Filey).
The Ring-necked Duck stuck around at Bolton-on-Swale Lake YWT, North Yorkshire, as did the drake at Long Preston Deeps and the Lesser Yellowlegs at Nosterfield. On the coast, at least one Hooded Crow was in the Reighton area.

Water Pipit, Scaling Dam Reservoir, North Yorkshire (Martyn Sidwell).
Eurasian Spoonbills are back at Fairburn Ings, West Yorks, for another summer; other sightings in the area included the continuing Long-tailed Duck at Wintersett Reservoir and a Siberian Chiffchaff at Calder Wetlands. Another Sibe Chiff and the continuing Great Grey Shrike were at Hatfield Moors, South Yorks.
West Midlands
Gulls, gulls, gulls … this was the theme of the week in Worcestershire. The regular Glaucous Gull continued its routine of feeding up at Upton Snodsbury before sleeping it off at Upton Warren NR while, elsewhere, a juvenile Iceland Gull roosted at Clifton Pits on 11th. An adult Little Gull was also there for two days from 14th, and an adult Kittiwake turned up at Upton Warren the following day, albeit in bad health.
The Draycote Water roost continued to produce the adult Iceland Gull and multiple Caspian Gulls were also noted. The Black-necked Grebe was joined by a second on 13th and up to four Greater Scaup remained.
The drake Green-winged Teal was again seen at Wall Farm NR, Shropshire, on 11th but no subsequent reports followed – perhaps it's the Lancashire bird? A White Wagtail was noted on floods at Whixall Moss. The familiar Cannock Chase Great Grey Shrike continues to fly Staffordshire's flag.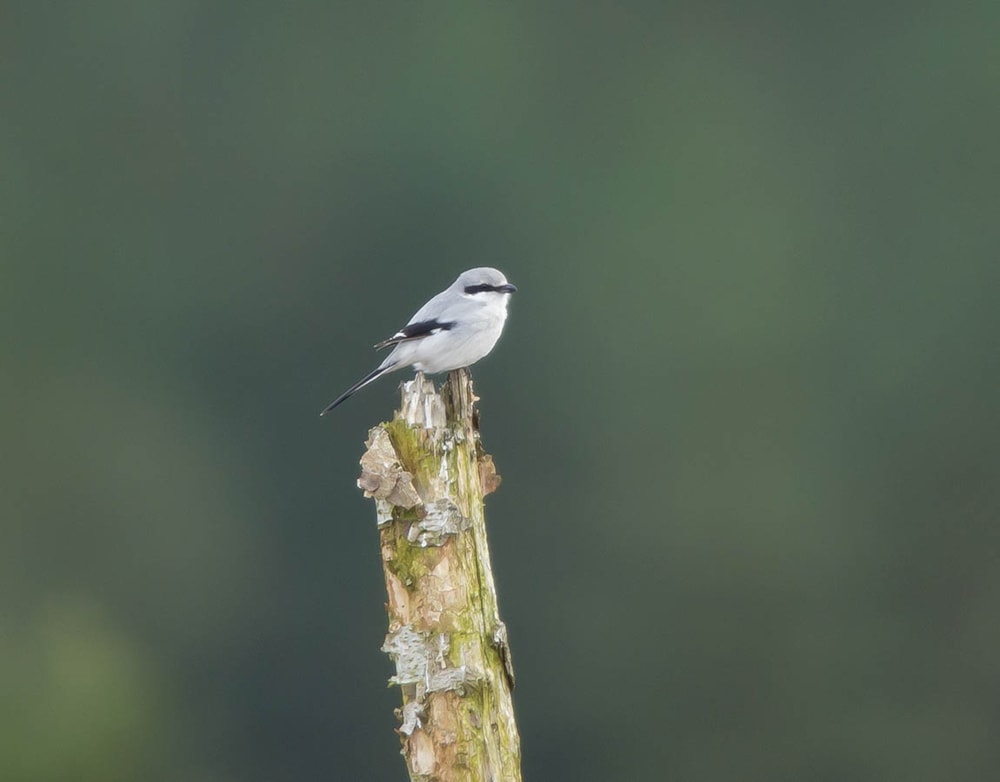 Great Grey Shrike, Cannock Chase, Staffordshire (Ron Marshall).
East Midlands
A Brent Goose rocked up at Clifford Hill GPs, Northants on 17th and up to five Western Cattle Egrets were still at Stanwick GPs.
In Nottinghamshire, Holme Pierrepoint held onto its Red-necked Grebe, Long-tailed Duck and up to three Smew. The Slavonian Grebe at Attenborough NR made a re-appearance on 11th and a Eurasian Spoonbill was seen briefly on 16th.
Four Waxwings were still at Willington, Derbyshire on 13th, with Bleaklow scoring a Snow Bunting that day. Both Great Northern Divers were still being seen at Carsington Water, where the region's first Little Ringed Plover of the year turned up on 14th. An adult Kittiwake on 13th and Black-necked Grebe the following day were also notable.
The first migrants of the year always provide joy, so it was pleasing to hear Rutland Water welcomed back its first Western Osprey on 13th. Other than a Kittiwake on 14th, it was a standard pick of the bunch otherwise, with scarce grebes present and correct, plus up to 12 Smew still.
East of England
In Norfolk, arriving migrants included a pair of Garganey at Holme-next-the-Sea and the first Northern Wheatear at Cley on 15th. Sightings otherwise involved familiar long stayers, such as the Great Grey Shrike at Fincham, Rough-legged Buzzard at Wells-next-the-Sea (another reported over Kelling Heath on 16th), Shore Larks at Holkham Gap, plus Caspian Gulls at Sheringham and Thetford.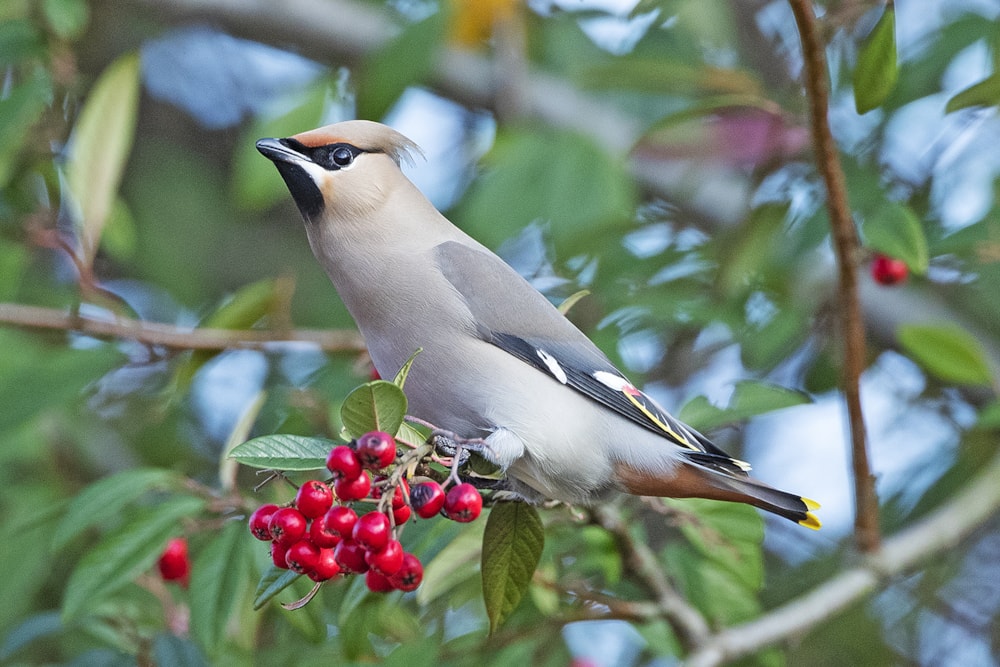 Waxwing, Wangford, Suffolk (Andrew Moon).
A Ring Ouzel showed up at Great Livermere, Suffolk, on 15th, while Northern Wheatears adorned the coast from 16th. Groups of Waxwings were at Wangford and Eyke, while Tundra Bean Geese were at Covehithe Broad (one) and Trimley Marshes (two).
An early Swallow was over Tollesbury, Essex, on 16th, but it was a quiet week in general in the county. Four Waxwings were at Thornwood Common on 17th and the two Western Cattle Egrets continued to tour the Lee Valley. Abberton Reservoir retained just a single Smew.
The Ring-necked Duck stayed another week at Priory CP, Beds, as did the Dartford Warbler at Houghton Regis Pits. Several sites in the county logged Northern Wheatears on 16-17th. A Western Osprey flew over Panshanger Park, Herts, on 16th – the first in the county this year.
An early Willow Warbler sang at Etton, Cambs, on 16th, while Sand Martins were 'in' in small numbers by the end of the week. A trio of Smew hung on at Bainton GPs and an Iceland Gull roosted at Fen Drayton GPs on a few dates.
South-East England
Hampshire got in on the Northern Wheatear fall on 16th, with many sites logging birds. An early Western Osprey flew over Totton on 11th. The New Forest Great Grey Shrike was still present, as was the Great Bustard at Pennington Marshes. Some 46 Northern Wheatears were reported on the Isle of Wight on 16th, including 25 at West High Down.
Berkshire enjoyed its first Little Ringed Plovers on 14th (at Queen Mother Reservoir), and a dubious White Stork was at Lower Basildon on 16th. The released, roaming White-tailed Eagle was seen over the M40 near High Wycombe, Buckinghamshire, on 17th and, in the same county, the Ring Ouzel remained at Pitstone Hill. A Black-throated Diver was a great record for Oxfordshire, with one at Farmoor on 15th, though it didn't linger and flew off north. The following day a Willow Warbler was singing at Otmoor. The Garganey remained at Standlake, three Avocets were at Sutton Courtenay GPs on 14th and a Rock Pipit was at Farmoor on the same day.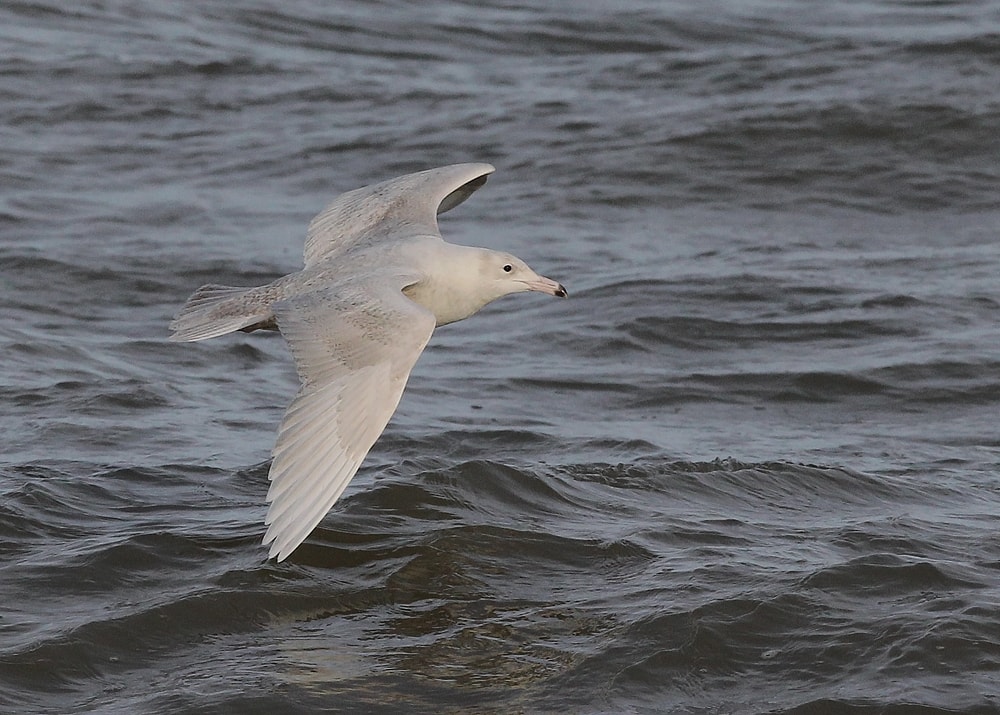 Glaucous Gull, Dungeness NNR, Kent (Richard Smith).
In the capital, the Mitcham Yellow-browed Warbler hung on for most of the week, though there was no sign on 17th. Two Iceland Gulls were knocking about, and the drake Smew was still on King George V Reservoir. A group of up to seven Waxwings were at Croydon on 12th, with two present the following day and one on 15th. Interestingly, two released White Storks from the Knepp reintroduction scheme in Sussex appeared over Rainham Marshes then at Crayford on 13th – presumably having returned to our shores after a winter somewhere warmer. Still present in the morning, they were seen in flight, heading south, over Trent CP in north London on 14th, before pitching up at Papercourt Water Meadows, Surrey, the next day. They then flew west over Tice's Meadow, Surrey, on 16th – will they return to Knepp to breed?
Elsewhere in Surrey, the Frensham Common Great Grey Shrike lingered until the start of this week, but has seemingly gone (or just vanished again). The other shrike reappeared on Ash Ranges on 12-13th. Also, the two Great Northern Divers remained at Island Barn Reservoir, two White Wagtails were at Shackleford on 17th and a Little Gull dropped in at Tice's Meadow on 16th.
West Sussex cashed in on the Northern Wheatear fall on 16th, with 18 sites logging the species. On 16th, two White Wagtails were at Goring Gap, and on 16th a smart trio of three Garganey arrived at Pagham Harbour, where up to 23 Western Cattle Egrets could be seen during the week. Elsewhere, Pulborough Brooks enjoyed another Brent Goose. In East Sussex, a pair of Common Cranes were tracked as they followed the coast west, being logged at Pett Level, Bexhill, Eastbourne and East Dean. Also, a Kittiwake was at Weir Wood Reservoir on 13th, the Glossy Ibis reappeared at Rye Harbour on 15th and seven Garganey flew past Beachy Head on 15th. There was a House Martin at Hastings on 16th.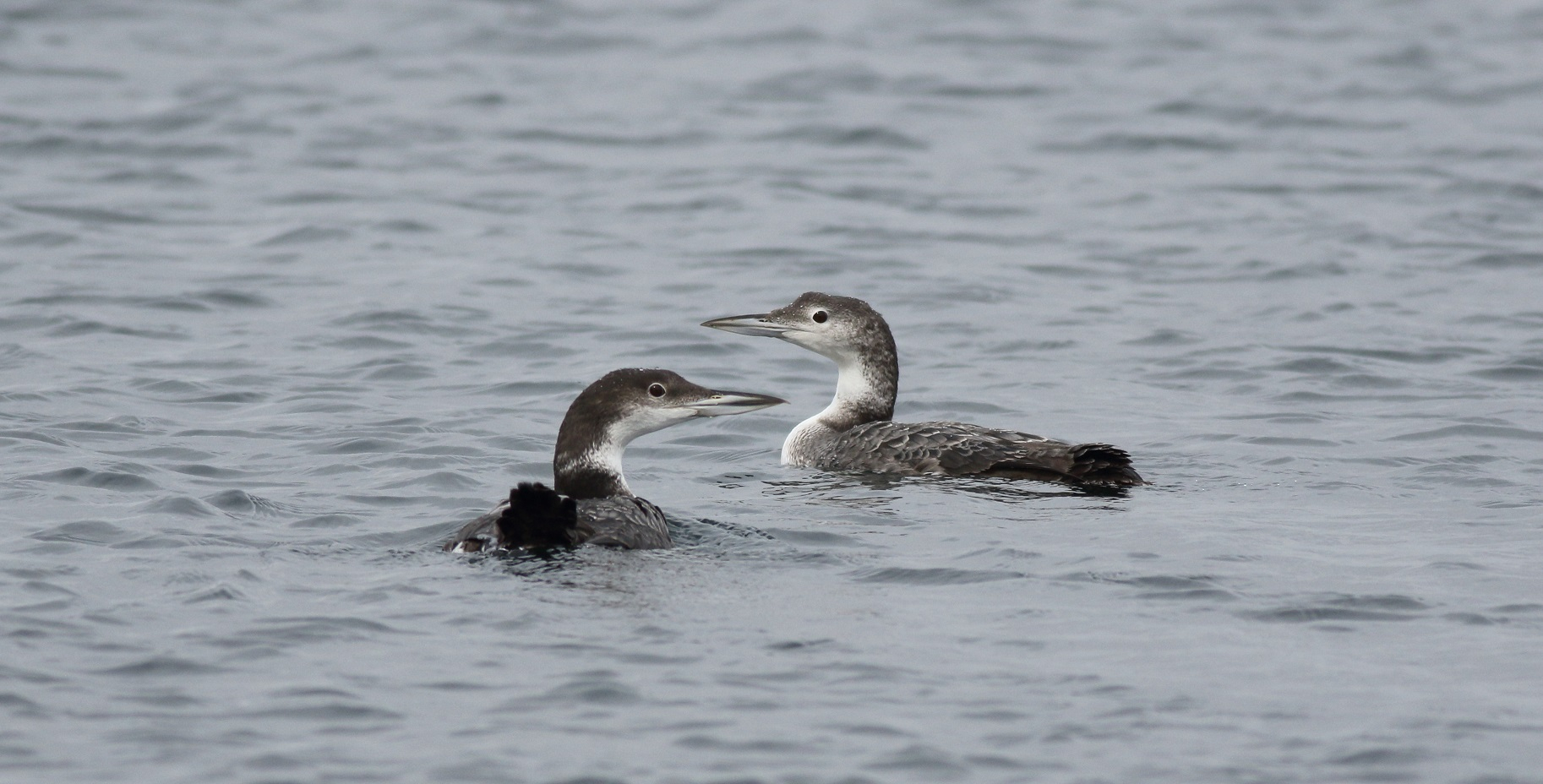 Great Northern Diver, Island Barn Reservoir, Surrey (Dave Harris).
Finally, it was rather quiet in Kent, spring arrivals aside: the two Tundra Bean Goose remained in the far east of the county and both Red-necked Grebes were still on offer. The Glaucous Gull remained at Dungeness, too.
South-West England
There were spring signs in Cornwall, with the county bagging records of Swallow, House Martin and Western Osprey. The Lesser Scaup remained at Stithians Reservoir, as did the Ring-necked Duck at Siblyback Reservoir. An adult Kumlien's Gull flew over Polgigga on 16th, while the lingering Ring-billed Gull was still on the Hayle. Three Glaucous and singles of Caspian and Iceland Gulls were also on offer. A Curlew Sandpiper was on the Camel Estuary on 11th.
Alongside a pleasant early spring list of migrants, Devon enjoyed a particularly good week on the scarcity front, too. An adult drake Surf Scoter was in Labrador Bay from 14th – a smart find – while two Hooded Crows were on Lundy on 13th. At Ilfracombe, a third-winter Glaucous Gull was logged. Elsewhere, the Ring-necked Duck and Green-winged Teal remained.
An incredible 232 Northern Wheatears were reported to us from Dorset on Monday, with no fewer than 125 of those on Portland – amazing stuff, with 100+ Common Chiffchaffs and 40+ European Stonechats also chalked up on the isle that day, along with Black Redstarts, Firecrests, Swallows and White Wagtails … it sounded like a fine day to be in the field. Longham Lakes and Sturminster GP both hosted the commuting Ring-necked Duck, the Great Grey Shrike continued at Morden Bog and the Eurasian Penduline Tit was still to be found at Radipole Lake.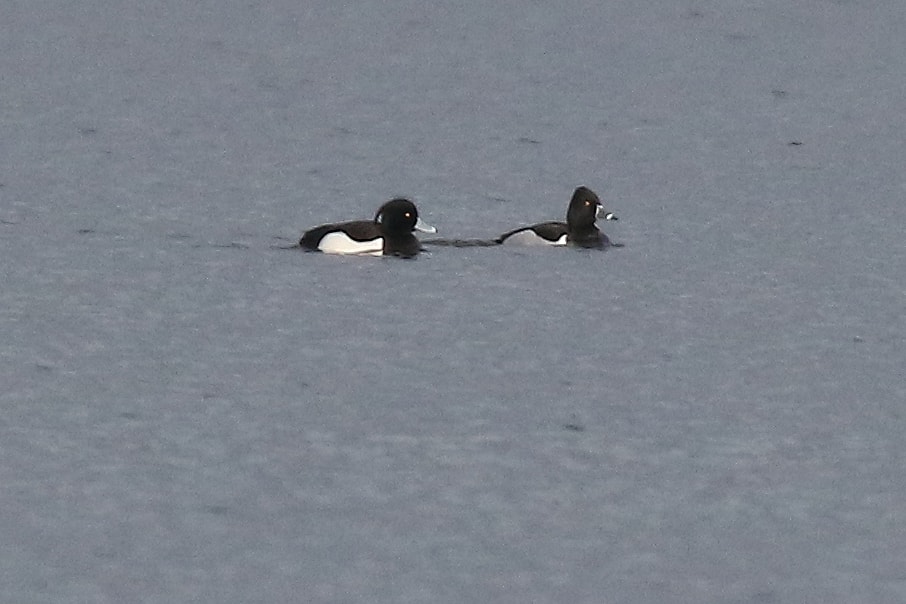 Ring-necked Duck, Chew Valley Lake, Somerset & Bristol (Chris Teague).
Impressively, there were two new Ring-billed Gulls found in Somerset: an adult at Porlock on 14th and a second-winter at Cheddar Reservoir and Lower Weare from 16th. A drake Ring-necked Duck was also new at Chew Valley Lake from 13-15th, while the Kentish Plover continued at Burnham-on-Sea. News of a first-winter Rosy Starling in a garden at East Brent on 13th came as a bit of a surprise, as did the report of Britain's first Common Cuckoo at Hamsford Water on 16th.
In Gloucestershire, a near-adult Iceland Gull entertained at Slimbridge on 13th and the Great Grey Shrike remained at Crabtree Hill throughout. A flyover Common Crane was a decent record at Bradford on Avon, Wiltshire, on 17th.
Wales
Migrants continued to arrive, with Sand Martins and Northern Wheatears logged in reasonable numbers for this early stage. The first-winter Rosy Starling was performing at Llanfaethlu throughout the week, and on 15th Bardsey Island logged its first Manx Shearwater of the season.
Great Grey Shrikes remained omnipresent, with four sites in the south and one in the north scoring. The Glossy Ibis lingered for another week at Newport Wetlands, Gwent, and over in Glamorgan the juvenile Kumlien's Gull showed at Aberavon.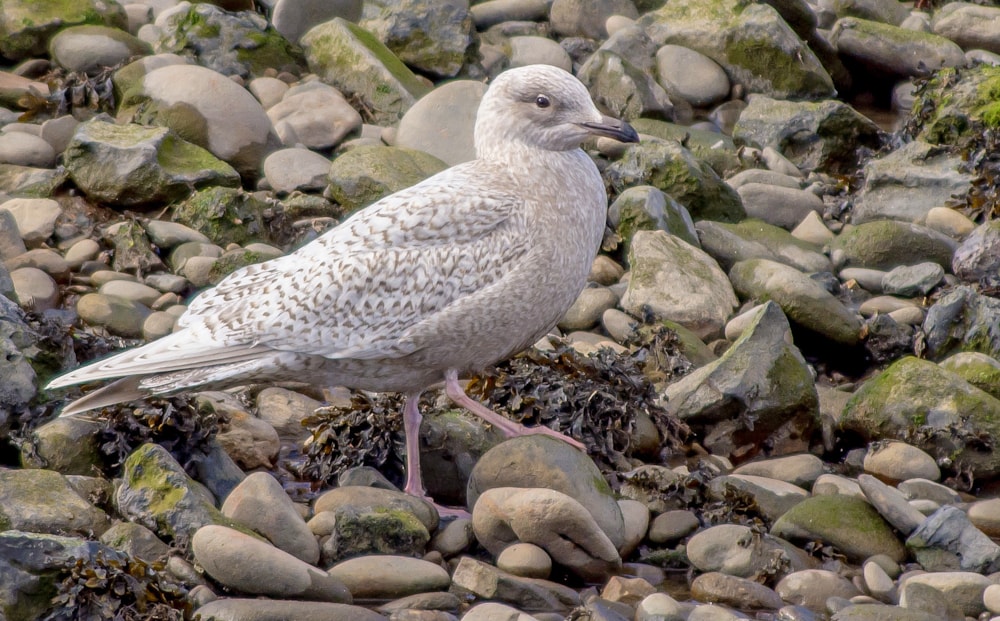 Kumlien's Gull, Port Talbot, Glamorgan (Jeff Lack).
All was quiet on the wildfowl front: just a single drake Ring-necked Duck was reported at Llyn Pendam, Ceredigion and Anglesey's wintering Greenland White-fronted Geese were still at Llyn Llywenan – perhaps providing some eye-candy for those twitching the starling.

Republic of Ireland
The first Northern Wheatears appeared in Cos Wexford and Wicklow on 16th, with more following on 17th – one of which even reached Co Donegal.
Wildfowl highlight was the Tundra Bean Goose still at Nobber, Co Meath, although – not to everyone's taste – a drake Red-crested Pochard on a pond on the outskirts of Dublin caused a bit of a stir, for it's a rare bird in Ireland. The Surf Scoter was still off Gleninagh Quay, Co Clare, with another drake found off Cromane, Co Kerry, on 16th.
Three Ring-necked Duck were still at Lough Atariff, Co Cork, with the female still at Cloonee Lakes, Co Kerry, and the drake at Lough Fern, Co Donegal. On Achill Island, Co Mayo, the drake Lesser Scaup was seen again on 14th, where the Green-winged Teal also remained. Another of the latter hung on at East Coast NR, Co Wicklow, where the American Wigeon was also still present.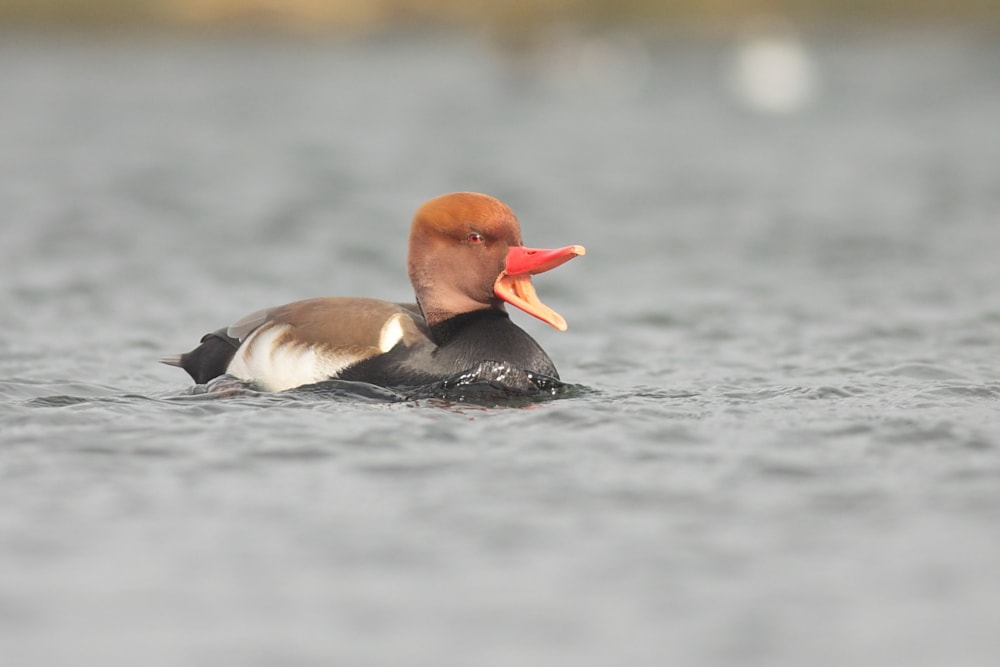 Red-crested Pochard, Dublin, Dublin (Grzegorz Burkowski).
A first-winter Ring-billed Gull was a nice find at The Gearagh, Co Cork, on 15th, while a couple were seen around Cork City, the adult remained at Tralee, Co Kerry, and a second bird arrived in Sligo, where the usual Doorly Park bird hung on. An adult Kumlien's Gull was at Dingle, Co Kerry, with at least one more in Tralee. Peak count of Iceland Gulls was seven at Killybegs, Co Donegal, where there were also four Glaucous Gulls.
Other bits included a Red-necked Grebe off Mountcharles, Co Donegal, on 15th and the continuing Glossy Ibis at Pilmore, Co Cork.
Northern Ireland
Things remained very quiet in the nation, with adult Ring-billed Gulls still on offer at Belfast Waterworks and Carrickfergus harbour, as well as the Water Pipit at Portavogie, Co Down.
A small flock of Waxwings were at Springwell Forest, Co Derry, on 17th, while a few groups of Pink-footed Geese were scattered around, suggesting migrant birds on their way back to Iceland.
Western Palearctic
It was a relatively quiet week around the region by recent standards, although this was no doubt contributed to by the restrictions on movement (and, in some nations, even leaving the confines of your own property). Nonetheless there were a few snippets of significant news, not least the discovery of a Golden Nightjar at Merzouga, Morocco, on 13th – the first record from this region of the country, and perhaps the most northerly ever.
The Canary Islands' good run continued with an adult Cape Gull at Puerto de la Cruz, in the south-west of Fuerteventura, on 15th – a first for the archipelago. In addition, the Eastern Yellow Wagtail remained that at Morro Jable and an Iceland Gull was on Tenerife on 13th.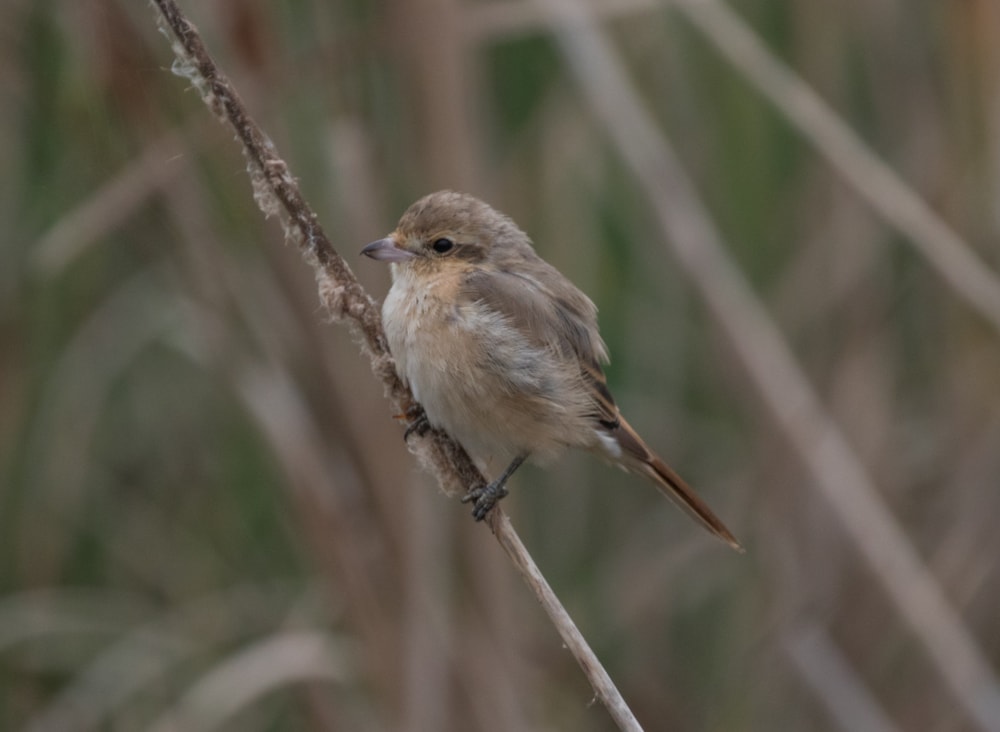 Isabelline Shrike, Coto Doñana, Andalucia (Tim Marshall).
Much closer to home, a Zitting Cisticola on Alderney on 17th was a bit of a gripper four south-coast English birders. This species has gone very rare again on British shores. German news included the continuing Baikal Teal in Lower Saxony and Black Scoter in Schleswig-Holstein, plus a Sociable Lapwing at Memmingen, Bavaria. Neighbouring Austria was treated to its ninth Pallas's Gull, a first-winter, at Hohenau an der March on 15-16th. Another Sociable Lapwing was at Baks, Hungary, on 16th.
An adult Franklin's Gull was at Zoetermeer, The Netherlands, on 16th, while the Oriental Turtle Dove was still at Sneek and the Pied Crow in Leeuwarden. The Green-headed Wagtail was still at Trelleborg, Sweden, on 11th.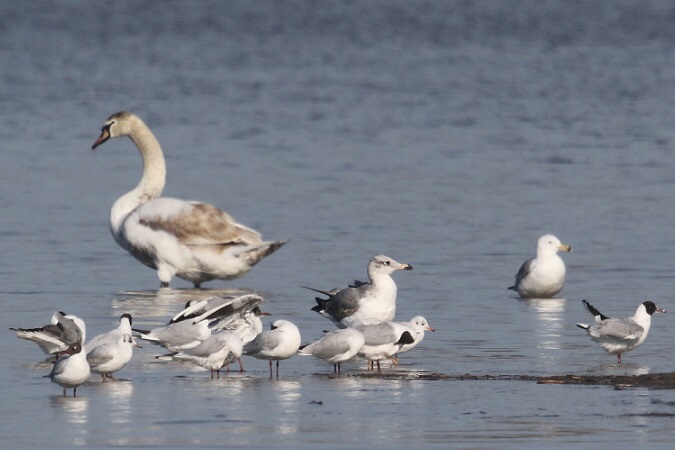 Pallas's Gull, Hohenau an der March, Austria (Jakob Vratny).