The week at a glance
Thankfully, last week's mega stayed round long enough to be pinned down and closer views allowed the drake White-winged Scoter at Rossbeigh (Co Kerry) to be confirmed as being of the Asian stejnegeri race. This is rather unexpected, but considering previous Western Palaearctic records of this race have come from Iceland, France, Denmark and Finland maybe this was the most likely outcome. The bird was present all week and often showed well early in the morning.

White-winged Scoter, Rossbeigh, Kerry (Photo: Richard Bonser)
The Oriental Turtle Dove continued to show on and off all week, viewable from various locations in Chipping Norton (Oxfordshire). We can also confirm that, as of last weekend, the collection at No 41 had raised over £2,500 for Birdlife Malta, enabling more migration camp observers to work through the migration seasons on the island. Nearby, a similar collection at No 33 has raised £865 to help Daisy, a critically ill local girl. We'd like to add our thanks to everyone that donated, many well over the odds, to these good causes.
Elsewhere, several of the winter's other star birds remained, including the Pacific Diver, off Marazion (Cornwall) again on 14th, the American Coot reported from Termoncarragh Loch (Co Mayo) on 15th and the House Crow at Cobh (Co Cork) all week.
Snow Geese remained at Gott (Shetland) to 11th and Lady Bay/Portmough Lough (Co Antrim) to 13th, with just one new bird, on Holy Island (Northumberland) briefly on 13th. The only Ross's Goose now remaining was one around Holme next the Sea (Norfolk) all week.

Snow Goose, Gott, Mainland, Shetland (Photo: Robbie Brookes)
Perhaps a sign of birds retreating north, there were no reports of Black Brants along the south coast. The only birds reported were from Rossbeigh (Co Kerry) on 10th and Lincolnshire, where one at Gibraltar Point (Lincolnshire) on 9th–12th was possibly the same as at Frampton Marsh on 14th. Similarly the only Red-breasted Goose reported was an escaped colour-ringed bird at Greenhithe (Kent) on 13th, and the only Richardson's Canada Goose was the bird still at Loch Gruinart, Islay (Argyll), reported on 12th.
The two remaining Ferruginous Ducks did just that, at Oulton Broad (Suffolk) until at least 13th and at Lurgan (Co Armagh) all week. The only new bird reported was a possible at Pitsford Reservoir (Northamptonshire) on 14th. There were also just two drake Ring-necked Ducks, both in Ireland. One was the long-stayer at Lough Cowey (Co Down) all week, which popped over to Ballyherly Lough again on 13th, and the other was a new bird at Dunfanaghy New Lake (Co Donegal) on 13th.

Ferruginous Duck, Oulton Broad, Suffolk (Photo: Rob Wilson)

Ring-necked Duck, Lough Cowey, Down (Photo: Derek Charles)
The long-staying drake Green-winged Teal was at Campfield Marsh (Cumbria) to at least 14th and there was another at Baleshare, North Uist (Outer Hebrides) on 12th. Two others both courted some controversy: the bird at Caerlaverock (Dumfries & Galloway) looked like the hybrid that's been in the area for a while now, and similar aspersions were cast around the identity of the bird at Connaught Water (Essex), present to at least 13th. Causing less controversy was the drake Black Duck, which remained around the harbour at Ventry (Co Kerry) until at least 13th.
Oxfordshire's drake American Wigeon, present to at least 14th, just about kept up its popularity. There was also another new bird, at Pilmore (Co Cork) on 13th. Things were pretty much unchanged in the Lesser Scaup world, with birds ever-present at Slimbridge (Gloucestershire) and both Cosmeston Lakes and Eglwys Nunydd Reservoir (Glamorgan).

Lesser Scaup, Cosmeston Lakes CP, Glamorgan (Photo: Paul Mahiques)
After last week's rush of Surf Scoters, things were back to normal this week. The female was still off Dawlish Warren (Devon), with up to four Slavonian Grebes, a Red-necked Grebe and a single Sandwich Tern, and the other female was still off Waterville (Co Kerry) to 14th. Not reported since 22nd January, the drake King Eider was again in Burghead Bay (Moray & Nairn) on 14th. It may well have been in the area all along, but had surprisingly evaded being seen. With numbers of so many other ducks dwindling, it was surprising to see Smew at a similar number of sites as last week, although the only remaining double-figure count was 10 at Dungeness (Kent) on 16th. The only Irish birds were two redheads at Lough Bunny (Co Clare) on 12th.
It is probably the behaviour of seawatchers in Cornwall that explains the pattern of records of Balearic Shearwaters, with single birds recorded off Pendeen on three days this week, along with a single Manx Shearwater on 13th. In Wales, though, Manxies were already back on land at Skomer by the weekend. Also on the sea was a single White-billed Diver past Whitburn (Durham) on 12th.
Great White Egrets were reported from just eight sites, including regular birds at Meare Heath (Somerset) and Blithfield Reservoir (Staffordshire). One was also again at Marlingford (Norfolk) on 16th, with other Norfolk records from Hapton and Loddon on 13th. In Lincolnshire, one remained at Kirkby on Bain Gravel Pits to 13th and then perhaps the same was at Gibraltar Point on 14th. Cattle Egrets were again seen in Somerset, at Westhay Moor on 13th, and in the Channel Islands, at Ruette Julienne (Guernsey) on 12th.

Great White Egret, Meare Heath, Somerset & Bristol (Photo: Jeff Hazell)

Cattle Egret, Ruette Julenne, Guernsey (Photo: Chris Bale)
Plenty of Spoonbills were recorded along the south coast, including new birds at eight sites from Kent to Dorset. Others included one along the north Norfolk coast, one still at the National Wetland Centre (Carmarthen) and, in Ireland, singletons still at Courtmacsherry (Co Cork) and Cromane (Co Kerry). More spring-like was a single White Stork at Fairlie (Ayrshire) on 13th. Also reported were four fly-over Glossy Ibis over Cambridge on 11th and one over Treorchy (Glamorgan) on 16th, though none could be relocated.
After a notable absence last week, the north-Norfolk Rough-legged Buzzards were reported regularly through the week, with another Norfolk bird as far inland as Cockley Cley Warren on 12th. Other regular birds were also reported from Nottinghamshire, Lincolnshire, South Yorkshire, Durham and Shetland, and new birds were at Somerleyton (Suffolk) on 10th, Howden Moor (Derbyshire) on 10th–13th and, most notably, at Cholsey Downs (Oxfordshire) on 15th–16th.

Rough-legged Buzzard, Cholsey Downs, Oxfordshire (Photo: Roger Wyatt)
The juvenile White-tailed Eagle was still around Old Basing and Newnham (Hampshire) all week, and almost as predictable was the possible Tundra Peregrine, at Walmsley Sanctuary (Cornwall) all week, now looking very smart. The only other raptor events of note were the reappearance of the Northern Harrier at Bru, Lewis (Outer Hebrides) on 11th and the continued arrival of Ospreys, with birds reported over South Mimms (Hertfordshire), Sladesbridge (Cornwall) and Netherfield Lagoons (Nottinghamshire).

Peregrine Falcon, Walmsley Sanctuary (MEMBERS ONLY), Cornwall (Photo: Phil Stidwill)
After its brief sojourn to Radipole Lake (Dorset) to 11th, the Long-billed Dowitcher was back on more familiar territory at Lodmoor on 15th–16th. After last week's first few Little Ringed Plovers, there were plenty more this week, with birds at many sites, as far north as Heslington (North Yorkshire) and Alston Reservoirs (Lancashire).
Records of Glaucous Gulls came from five sites in Scotland, two in Ireland, two in Wales and 14 in England. As ever, most were singletons, but there were two juveniles at Balranald, North Uist (Outer Hebrides) on 11th. Iceland Gulls were more widely distributed, seen at over 32 sites, though there were no reports from Wales. The top sites were Richmond Bank (Cheshire), with two juveniles and a second-winter present on 12th, and Milltown (Co Kerry), with an adult and two juveniles on 13th. Elsewhere, an adult and two third-winters were at Loch Oire (Moray & Nairn) on 12th. The adult Kumlien's Gull was again in the roost at Chew Valley Lake (Somerset) on 12th, with the juvenile also still in Sligo on 13th, with a first-winter Ring-billed Gull.
Content continues after advertisements

Glaucous Gull, private site, Essex (Photo: Steve Arlow)

Iceland Gull, Edinburgh, Lothian (Photo: Mike Thrower.)

Kumlien's Gull, Sligo, Sligo (Photo: Derek Charles)
Other Ring-billed Gulls remained at nine regular sites across the country, including the returning bird at Dingwall (Highland). The only new bird was an adult at Milltown (Co Kerry) on 13th; also in Ireland, there were still two together at Cuskinny Marsh (Co Cork). The only other big gull of note was the possible near-adult Baltic Gull that remained at Lackford Lakes (Suffolk) to at least 14th.

Ring-billed Gull, Westcliff-on-Sea, Essex (Photo: John)

Putative Baltic Gull, Lackford Lakes SWT, Suffolk (Photo: Mick Southcott)
In Wales, the adult Bonaparte's Gulls remained in Lligwy Bay (Anglesey) to at least 15th and there was then another adult in Cardiff Bay (Glamorgan) on 13th–16th. The regularity of these adult birds at certain sites in spring is remarkable, and there have been previous records of what must be this bird in Cardiff Bay over 21st–24th April 2004, 14th–15th April 2006, 8th–30th March 2009 and 7th March to 12th April 2010. In one of the missing years it may also have been recorded at Ogmore-by-Sea on 15th–19th January 2008. It is intriguing to think where these birds might be spending their time during the rest of the year and why they only turn up at these sites in spring. The Forster's Tern was reported again at Doorus (Co Galway) on 15th and further early Common Terns were recorded from Cobham (Surrey) on 11th and on the Ouse Washes (Cambridgeshire) on 14th.
The same small groups of Shore Larks remained, with 12 at Cley Marshes (Norfolk) to 14th, 10 at Dingle Marshes (Suffolk) to 13th, seven in Holkham Bay (Norfolk) to 12th and three at Reculver (Kent) to 16th. A small group of 10 also reappeared at Gibraltar Point (Lincolnshire) on 12th.

Shore Lark, Dingle Marshes SWT, Suffolk (Photo: Jamie MacArthur)
After last week's brief Cornish Hoopoe, others in the county were equally inaccessible. There was a late report of one at Stithians Reservoir on 6th, one in flight at Lizard Point on 12th and one reported from St Levan on 15th, possibly present since 13th. A far more showy bird was well photographed at Portland Bill (Dorset) from 12th, and there was another report of a bird in a garden at Clevedon (Somerset) on 15th. Another early migrant was a Quail on Bryher (Isles of Scilly) on 14th.

Hoopoe, Portland, Dorset (Photo: Tony Hovell)
Sand Martins arrived en masse during the week, making it as far north as Lothian and Clyde by the weekend, with up to 12 at Brockholes Nature Reserve (Lancashire) on 15th. Swallows were less numerous, reported as far north as Nottinghamshire. Rather more unusual were an early House Martin on Tresco (Isles of Scilly) on 12th and a Yellow Wagtail over Stanpit Marsh (Dorset) on 15th, both the first of the year. Wheatears were widespread, particularly along the coast, with three birds making it to southern Scotland, and there were also plenty of returning White Wagtails. The first real migrant Ring Ouzel was at South Norwood Country Park (London) on 16th. Also presumably heading back north (or east) was the first Richard's Pipit of the year, at L'Eree (Guernsey) on 14th.

Northern Wheatear, Portland, Dorset (Photo: Simon Johnson)

Richard's Pipit, L'Eree, Guernsey (Photo: Chris Bale)
The first early Whitethroat was at Aust (Gloucestershire) on 16th and the first Willow Warbler was a singing bird at Portland (Dorset) on 13th, with other early birds in Co Cork, Gloucestershire, Worcestershire and as far north as Leasowe (Cheshire). There was an unusual, and unconfirmed, spring report of a Yellow-browed Warbler in a garden in Oswestry (Shropshire) on 12th, but further details were not forthcoming.
Waxwings were still hanging on across the country, though with few birds reported from Scotland, it'll be interesting to see which route these birds take back north. With numerous birds in the southeast it is tempting to think they will make the short Channel crossing and then an overland passage through the Low Countries. But with so many ringed and colour-ringed birds about to depart, hopefully their return route will be revealed. Peak counts were 150 in Attenborough (Nottinghamshire), 140 in Rushmere St Andrew (Suffolk), 130 in Biggleswade (Bedfordshire), 112 in Newark on Trent (Nottinghamshire) and 110 in Upper Caldecote (Bedfordshire). In the supermarket stakes, the 130 outside Sainsbury's in Watford (Hertfordshire) were beaten by 150 outside Debenhams in West Thurrock (Essex), though only 100 of these also chose to grace the nearby Primark.
The male Penduline Tit was reported from Dungeness (Kent) again on 11th, rapidly followed by a group of three birds at Minsmere (Suffolk) on 14th–15th. At least one of these birds was ringed, as was the Dungeness bird, but with no birds ringed in 2010, is it likely these are foreign birds? There were five ringed in 2009, though, so perhaps these are just returning adults.

Penduline Tit, Dungeness, Kent (Photo: Martin Casemore)
Great Grey Shrikes were rather more widespread this week, but these changes in distribution could of course be quite random. The only new birds reported were at Mynydd Penhydd (Glamorgan) on 12th–13th, Hopesay (Shropshire) on 13th–16th, Haytor Vale (Devon) on 13th and Chobham Common (Surrey) on 14th.

Great Grey Shrike, Winchcombe, Gloucestershire (Photo: Tom Mabbett)
The first-winter Rose-coloured Starling remained in Penzance (Cornwall) all week. With no reports from Rainton Meadows (Durham), the only Coues' Arctic Redpoll at the start of the week was in Bedford on 10th. There was then one briefly at Longframlington Common (Northumberland) on 11th and another at Mayday Farm (Suffolk) on 12th–13th. Rather more spring-like was the first Serin of the year, which was at Landguard (Suffolk) briefly on the morning of 16th.
Small numbers of Lapland Buntings remained around the coast, with just the one inland bird, over Rainham Marshes (London) on 10th. Up to 65 remained at Weybourne (Norfolk), with the only other double-figure counts coming from Paviland (Glamorgan) and several sites in East Yorkshire. The furthest north was one that remained at Point of Ayre (Isle of Man) to 13th. The only other bunting of note was a reported Little Bunting at Bintree (Norfolk) on 10th, but this couldn't be relocated.
In Kent, four Northern Long-tailed Tits at North Foreland on 13th, and one on 14th, may have been the same birds as at Dymchurch for most of the winter, which were last seen on 8th, despite the distance between these sites.

Northern Long-tailed Tit, North Foreland, Kent (Photo: Barry Hunt)
Other races still present included the Central Asian Lesser Whitethroat still at Drogheda (Co Louth) to 15th, and there were single Nordic Jackdaws in East Sussex, Northumberland and Dumfries & Galloway, with two reported from Achavandra Muir (Highland) on 10th.
Photo of the Week: 10th–16th March 2011

Pheasant, Marshside RSPB, Lancashire (Photo: David Cookson)
Bird photographer David Cookson can always be relied upon to produce images that are a little bit different from the norm and his latest uploads are no exception. Our favourite of these is instantly recognisable as a reflection shot, with calm water creating a clear reflection and a clean, uniform background. The dynamic pose quickly identifies this as a 'take-off shot', which are notoriously difficult to capture due to the need for quick reactions (landing shots are much easier to time). At this point, though, most birders' brains would be expecting to pattern-match a wildfowl, wader or other waterbird species, so it takes a while to register the fact that this is actually a cock Pheasant! An unusual moment captured with great timing and composition.
Other notable photos

Pied Kingfisher, Gambia (Photo: Dave Williams)

House Sparrow, Qatar (Photo: John A Thompson)

Yellow-billed Oxpecker, Kenya (Photo: John Fielding)

Roseate Spoonbill, United States (Photo: Stuart Hill)

Goosander, Llandrindod Wells, Powys (Photo: Kev Joynes)

Dartford Warbler, World's End, Clwyd (Photo: Pauline Greenhalgh)

Greater Spotted Eagle, India (Photo: Mital Patel)

Crested Tit, Aviemore, Highland (Photo: Robert Askew)

Firecrest, Silbe Nature Reserve, Guernsey (Photo: Chris Bale)

Brambling, private site, Norfolk (Photo: David Whistlecraft)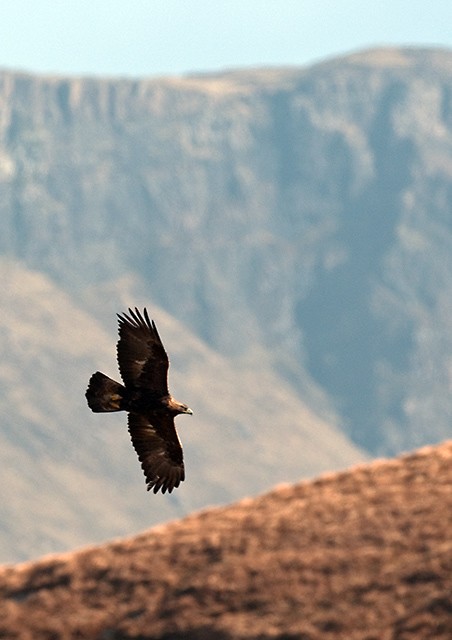 Golden Eagle, undisclosed site, Argyll (Photo: Steve Hiscock)

Common Kestrel, Richmond Park, Greater London (Photo: Mr Clive Daelman)

Pintail, Slimbridge WWT, Gloucestershire (Photo: Pete Blanchard)

European Stonechat, Westward Ho!, Devon (Photo: Rob Cross)

Siskin, Haigh CP, Greater Manchester (Photo: Roy)

Hoopoe, Portland, Dorset (Photo: Tony Hovell)

Common Buzzard, Rhayader, Powys (Photo: Chris Cook)

Little Owl, undisclosed site, Leicestershire and Rutland (Photo: Paul Riddle)

Sanderling, Barmston, East Yorkshire (Photo: Martin Standley)