A week that promised much ultimately delivered a new species for Britain, followed by a national second just 24 hours later – finally, it feels like autumn has well and truly kicked off!
The new addition to the British list (pending its inevitable acceptance by the BOURC) came in the form of White-rumped Swift. The bird in question was found at Hornsea Mere, East Yorks, on the afternoon of 14th, where it hawked low over lakeside vegetation, often to within metres of the small crowd of initial observers. Initially reported as a likely Pacific Swift, the recent weather conditions – warm temperatures and strong southerly winds – arguably suggested that the similar White-rumped, previously unrecorded in Britain, was a more likely bet than its East Asian congener.
And so it proved – the identification was quickly resolved within the space of an hour, and the twitch ensued. Several tens of birders were able to connect before the final sighting a short while after 18:15, by which point it was already getting dark. Despite the late show on Sunday, though, there was no sign in poor weather conditions the following morning, much to the disappointment of the couple of hundred birders on site. A report of what was presumably the same bird then came from Spurn during the afternoon, but it failed to linger there and, once more, the bird has disappeared into the abyss.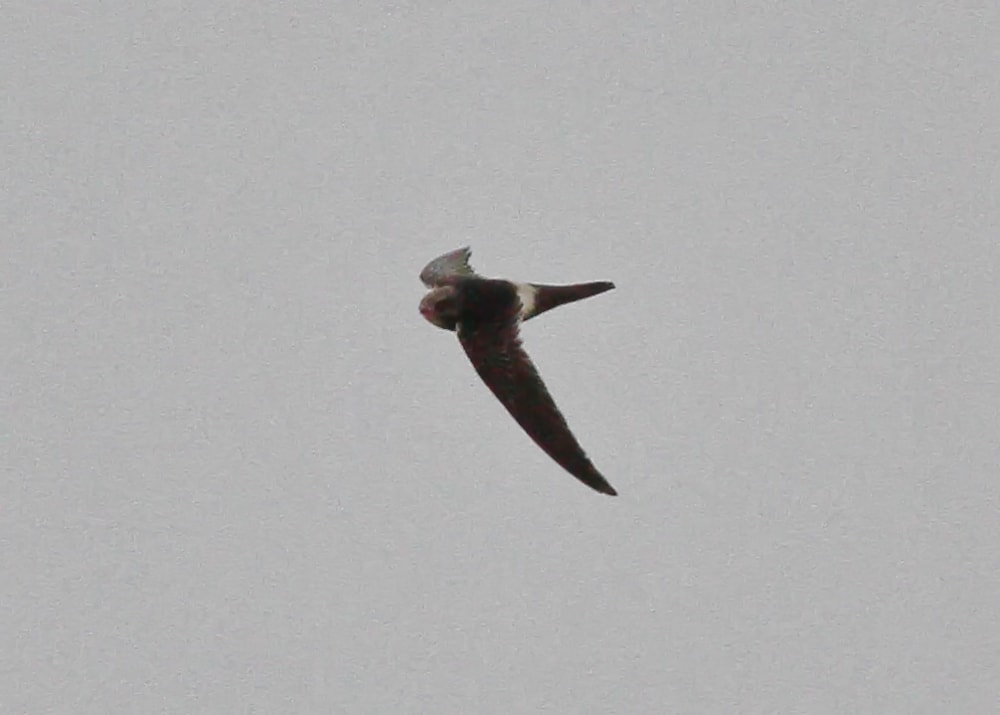 White-rumped Swift, Hornsea Mere, East Yorkshire (Richard Willison).
Cornwall then blitzed into action late afternoon on 15th, with a sensational second for Britain in the form of a Grey Catbird near Land's End. It showed a few times before dusk and was seen by a few tens of observers lucky enough to be within striking distance. Thankfully it lingered through the night and proceeded to exhibit itself to several hundred observers throughout Tuesday, making the experience a complete contrast to the legendary – if desperately frustrating for some – events that unfolded at South Stack, Anglesey, back in 2001, when an exceptionally elusive catbird proved nigh on impossible to see for most visitors. This was, then, a shot at redemption for many twitchers, who'd patiently waited 17 autumns for another chance at this hugely desirable Nearctic vagrant.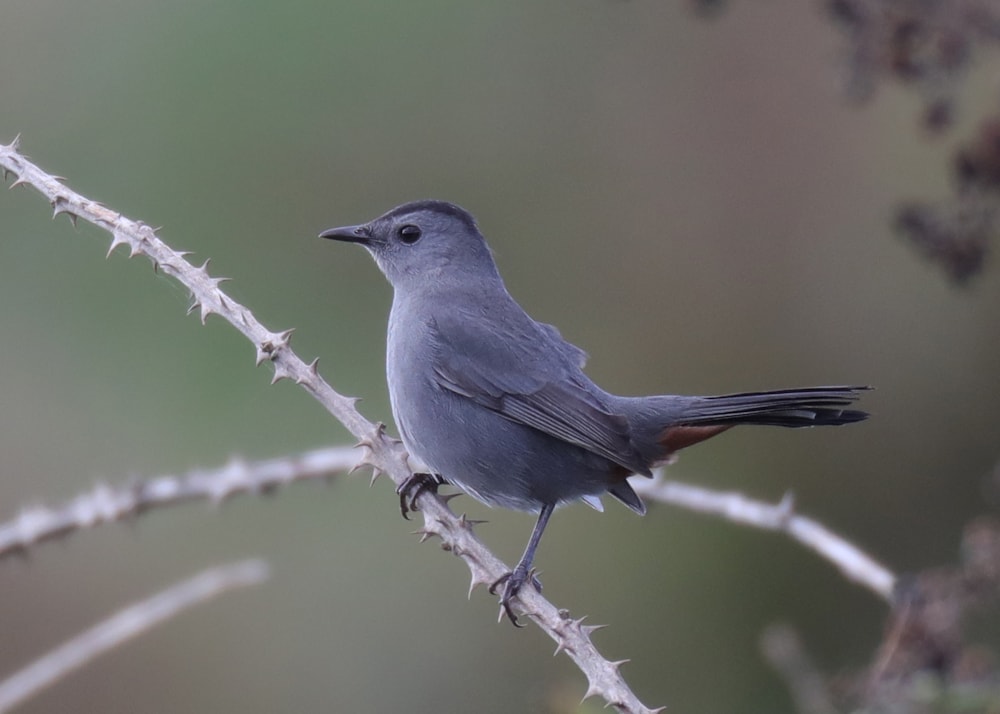 Grey Catbird, Trevescan, Cornwall (Graham Jepson).
Also on 15th, a brief Bobolink was seen on St Mary's, Scilly, by one fortunate observer. Then, on 16th, the second Scarlet Tanager in as many autumns was found in Co Cork – this time on Cape Clear. There were, however, no other landbird arrivals of a Nearctic flavour, despite what appeared very promising conditions – the lingering White-crowned Sparrow was still on Foula, Shetland, and the Swainson's Thrush found last Tuesday at Aywick, Yell, was still there all week. Foula's White-throated Sparrow wasn't seen past 10th.

Swainson's Thrush, Aywick, Yell, Shetland (Ian Wells).
Almost forgotten among the two headline acts, a Western Black-eared Wheatear to North Ronaldsay, Orkney, on 11th and a few Pallid Swifts: one at Kingsgate, Kent, on 11th followed by possibles on Holy Island, Northumberland, and one photographed at Church Norton, West Sussex, on 13th.

Black-eared Wheatear, North Ronaldsay, Orkney (George Gay).
Scilly produced a smart Eastern Yellow Wagtail on Tresco from 10th, although it was quite elusive and would go missing for long periods – but nonetheless was showed well enough for its monochrome plumage tones and spectacularly large hindclaw to be seen, and was also heard giving its distinctive call. Other major arrivals from the east included Shetland's second River Warbler of the autumn, this time showing well in a garden at Wester Quarff on 14th, and a fine Pechora Pipit at Castlebay, Barra, Outer Hebrides, which showed well from 13th. After a deathly quiet spell, Fair Isle finally scored heavily in the form of a White's Thrush on 13th.

River Warbler, Wester Quarff, Mainland, Shetland (Lee Fuller).

Pechora Pipit, Castlebay, Barra, Outer Hebrides (Steve Duffield).
Two Isabelline Shrikes were the best of the rest, these present at Thurlestone, Devon, from 10th onwards, with the Barra bird last seen on 10th. Meanwhile, a brief Woodchat Shrike graced Sumburgh, Shetland, on 11th, while Red-backed Shrikes were on Shetland, Tiree and St Agnes, Scilly. Around 25 Great Grey Shrikes arrived, many of which were on Shetland.
Flyover Red-throated Pipits were over St Martin's, Scilly, and Colwyn Bay, Conwy, on 10th, with another at Llanon, Ceredigion, that day. A further individual was sound recorded over Knott End-on-Sea, Lancs, mid-morning on 11th. Two Olive-backed Pipits arrived on Isle of May, Shetland, on 11th and one lingered in the Spurn area from 11-15th, with a third in the same county at Flamborough Head on 16th; in Shetland, birds were on Fair Isle and Yell, with two more on Mainland. Meanwhile the Tawny Pipit remained on Bryher, Scilly, to at least 14th and Richard's Pipits were reported at upwards of 20 sites.
The unspectacular autumn for Red-breasted Flycatchers continued, with just 10 noted. Four Bluethroats were on Shetland, with another on Scilly. A smart, frosty first-winter Siberian Stonechat turned up on Bardsey Island, Gwynedd, on 16th, while a Red-flanked Bluetail did the same at Holkham Pines, Norfolk, on 15th.

Siberian Stonechat, Bardsey Island, Gwynedd (Steven Stansfield).
A Booted Warbler performed well at Sumburgh, Shetland, from 12-15th, while nearby Grutness claimed one of the week's 11 Pallas's Warblers – six of which were in Norfolk. Melodious Warblers were in Cornwall, Scilly, Co Cork and Co Galway, the latter involving a bird at Slyne Head from 13-15th. In Co Cork, a Western Subalpine Warbler perfomed well on Cape Clear.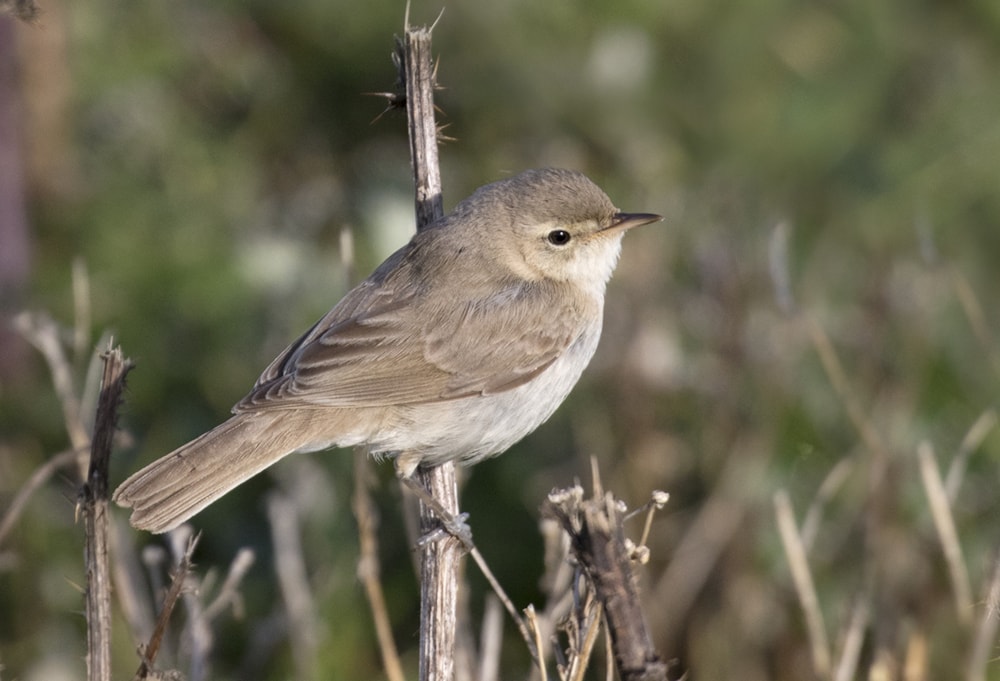 Booted Warbler, Sumburgh, Mainland, Shetland (Roger Riddington).
In Norfolk, reports of a potential Two-barred Warbler at Holkham on 16th remained unconfirmed. However, Greenish Warblers at Ballynacarriga, Co Cork, and St Agnes, Scilly, were more certain, while an Arctic Warbler was identified from photos taken at Gibraltar Point, Lincs, on 11th, having been initially reported as a Greenish. Norfolk boasted the week's only two Dusky Warblers, at Eccles on 14th and Trimingham on 16th.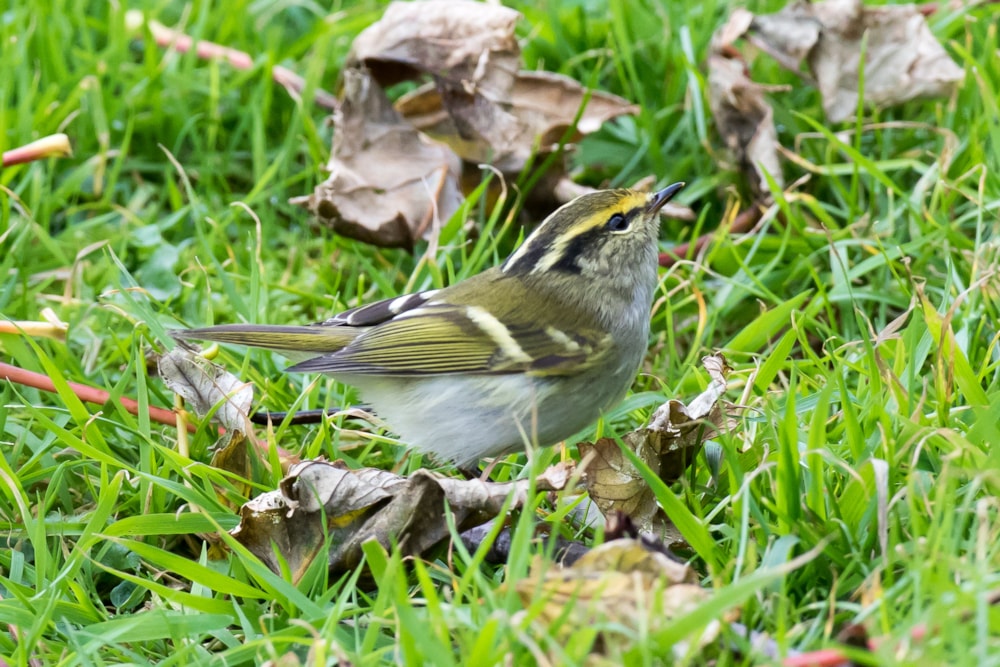 Pallas's Warbler, Grutness, Mainland, Shetland (Mick Kemp).
The European Bee-eater at Haltwhistle, Northumberland, was last seen on 10th, but was subsequently relocated to the north-west at Crawford, Clyde, from 12th. Other scarcity news concerned around 10 Wrynecks, a Hoopoe on Anglesey, around 20 Common Rosefinches and seven Rosy Starlings.

European Bee-eater, Crawford (David Lynn).

Common Rosefinch, Symbister, Whalsay, Shetland (John Irvine).
The Stilt Sandpiper was again at Inch Island Lake, Co Donegal, on 14th, where there was also a Baird's Sandpiper on 15th. Another Baird's lingered at Findhorn Bay, Moray, while a juvenile Spotted Sandpiper was a popular find at Marske-by-the-Sea, Cleveland, on 12th, lingering to 14th, and was followed by a similarly showy individual at Jarrow, Durham, on 15-16th. Four Lesser Yellowlegs were seen, including a new bird on North Uist in addition to lingering birds in Cornwall, Dorset and Suffolk. The Long-billed Dowitcher was still at Frampton Marsh, Lincs, on 13th. Just three American Golden Plovers, however, was a paltry total for mid-October, with lingering birds in Orkney, Outer Hebrides and Co Clare.
Content continues after advertisements

Spotted Sandpiper, Jarrow, Durham (Tom Tams).

Spotted Sandpiper, Marske-by-the-Sea, Cleveland (Damian Money).
A small influx of White-rumped Sandpipers was welcome, with nine birds seen, all of which were juveniles. The two British records concerned one killed by a Eurasian Sparrowhawk at Hayle Estuary, Cornwall, and another at Pool of Virkie, Shetland, both on 14th. All others were in Ireland, including two together on Inishmore, Co Galway, on 14th and another newly arrived bird on the lake at Cape Clear, Co Cork, on 13th. Just a single Buff-breasted Sandpiper was seen, a lingering bird at Loop Head, Co Clare, while a late Temminck's Stint was at Baston and Langtoft Pits, Lincs, from 15th.
An adult Bonaparte's Gull was something of a bolt from the blue at Low Newton-by-the-Sea, Northumberland, on 14th, but it was gone as soon as it had appeared. Meanwhile, the Forster's Tern was still at Soldier's Point, Co Louth, that day.
Glossy Ibis were seen at five sites across Britain and Ireland, while a Western Cattle Egret reached as far north as Mull, Argyll, from 12th. A further 45 sites noted this rapidly increasing species, all of which were in the southern half of England, Wales and Ireland.

Western Cattle Egret, Thurlby Fen, Lincolnshire (Josh Jones).
Shetland's Snowy Owl was last reported from Fetlar on 10th, the same day that the long-staying (but rarely seen) North Walian female was again relocated, this time in the mountains east of Eisingrug, Gwynedd. The latter was still showing on 11th, with the St Kilda female also again noted that day.
Putting in another week was the American White-winged Scoter off Musselburgh, Lothian, with one or two Surf Scoter also off the Lothian coastline. Another drake was back off Ballyvaughan, Co Clare, on 15th and a female-type was in Scilly waters between St Helen's and Tean from 15th.

Surf Scoter, Isles of Scilly (Joe Pender).
In Co Kerry, the Blue-winged Teal was still at Trabeg on 10th. Meanwhile, it's getting to that time where Green-winged Teal become readily identifiable again, as drakes moult into breeding plumage, and birds were identified at Wick, Highland, from 10th and at Campfield Marsh, Cumbria, on 11th. A new male American Wigeon was at Kilcoole, Co Wicklow, on 14th, with lingering birds in Rutland and Highland.
A trio of young drake Ring-necked Duck arrived at Drift Reservoir, Cornwall, on 16th, following discoveries of singles at Loch of Clumlie, Shetland, on 12th, St John's Loch, Highland, on 13th and Inch Island Lake, Co Donegal, on 14th. The drake Ferruginous Duck hung on at Skinflats Lagoons, Forth, all week, as did the young male at Minsmere, Suffolk.
Also still lingering was the Pied-billed Grebe at Loch of Spiggie, Shetland, while the Pacific Diver was also still off Crookhaven, Co Cork, on 11th.
Western Palearctic
It's hard to look anywhere other than the Azores to start our regional round up, and in particular the western islands of Flores and Corvo. An amazing regional first was found on the former island on 13th in the form of a Western Kingbird, which lingered until the following morning at least. Flores also scored Scarlet Tanager, Northern Waterthrush and Yellow-billed Cuckoo during the week.

Western Kingbird, Ponta Delgada, Flores (Gerbrand Michielsen).
But it was the altogether more well-watched island of Corvo that really delivered landbirds in bulk. The Azores's first Wilson's Warbler, a female, arrived on 12th, and proved the precursor to a legendary week of birding on the famous island. Other highlights included a Dickcissel and White-throated Sparrow on 13th, as well as at least four American Redstarts in the early part of the week.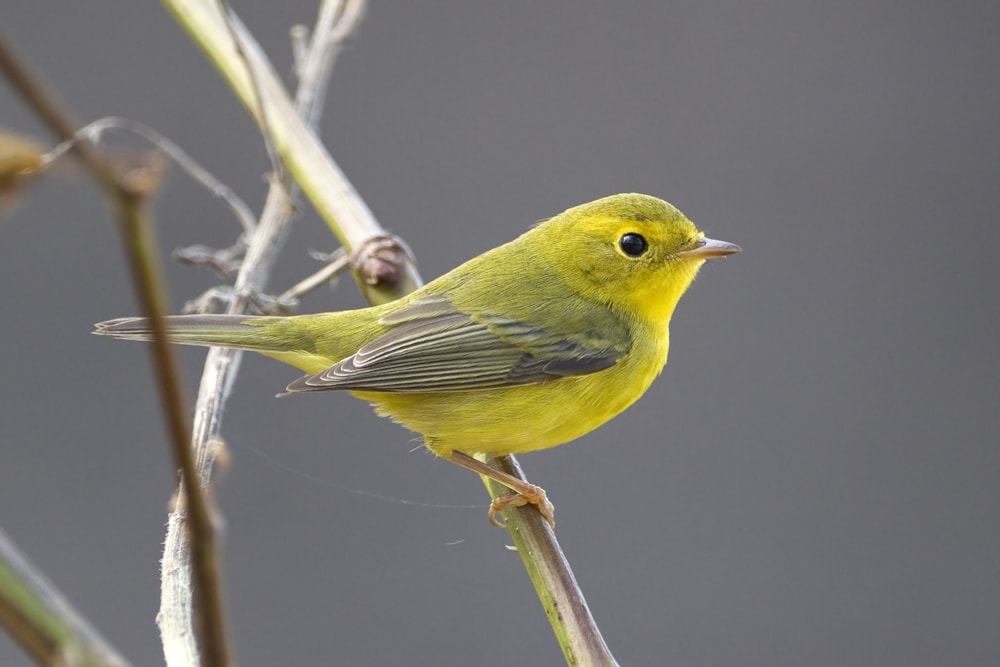 Wilson's Warbler, Corvo, Corvo (Daniel Mauras).
Then, on 16th, a major 'fall-out' happened, as the remnants of Hurricane Michael deposited a large number of landbirds on the island. Highlights of another mind-boggling day in Corvo's short history included Wood Thrush, Bay-breasted Warbler, no fewer than three Black-throated Green Warbler and a Yellow-throated Vireo … and that's before mentioning the annual or near-annual 'padders' that included Ovenbird, Bobolink, Grey-cheeked Thrush, Baltimore Oriole, multiple Rose-breasted Grosbeaks and Indigo Buntings, plus upwards of nine Red-eyed Vireos … in total 30 individual American landbirds were seen. Phew!

Wood Thrush, Corvo, Corvo (Peter Stronach).

Bay-breasted Warbler, Corvo, Corvo (Mika Bruun).

Yellow-throated Vireo, Corvo, Corvo (Mika Bruun).
Also of significant note were Lesser Whitethroat (first for the Azores), Red-backed Shrike and Greater Short-toed Lark (both thirds for the Azores), which added a significant European element to an extraordinary seven days.
Meanwhile, Iceland enjoyed a superb period for eastern vagrants. A Lanceolated Warbler was seen near Höfn, as was an Olive-backed Pipit, while a Paddyfield Warbler was at Hali – all of these were second national records. Elsewhere, the Hermit Thrush continued near Eyrarbakki to 12th.

Paddyfield Warbler, Hali, Austurland (Alex Máni Guðríðarson).

Hermit Thrush, Eyrarbakki, Suðurland (Alex Máni Guðríðarson).
Belated news was received of a Swinhoe's Storm Petrel, which was filmed off the German island of Wangerooge on 3rd. Another seawatching record concerned a Black-browed Albatross south past Kagabäcken, Sweden, on 13th.