Despite this review covering a mid-winter week with relatively settled weather, the lack of change since our last instalment is quite extraordinary. A well scattered suite of long-staying treats still managed to ensure that a memorable day out was just a short drive away for most birders. Bird of the moment remains the first-winter male Desert Wheatear at Whitby, North Yorkshire, pleasing the crowds and showing no signs of leaving by 16th. Similarly, the first-winter male Eurasian Penduline Tit continued to tempt birders further south, performing well at Plock Court, Glos, all week. In Norfolk, the Hume's Leaf Warbler at Waxham also stayed put till 16th but was more demanding of birders' patience.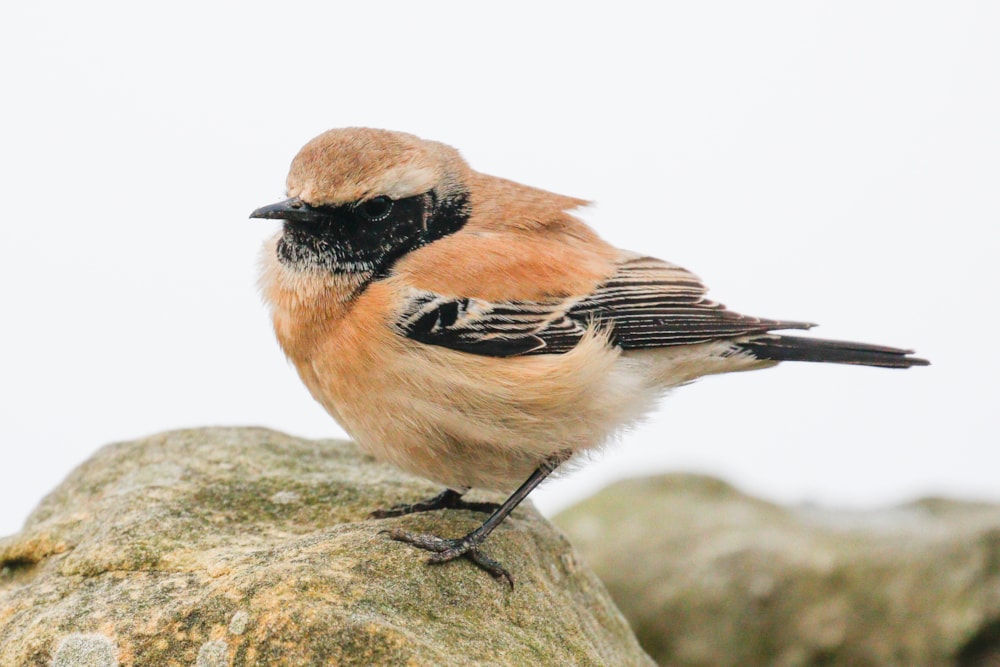 Desert Wheatear, Whitby, North Yorkshire (Arto Maatta).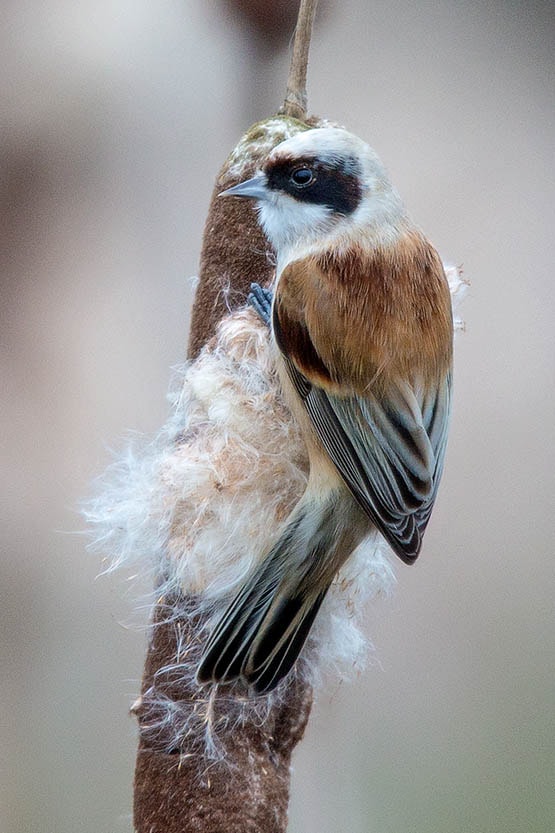 Eurasian Penduline Tit, Longford, Gloucestershire (Ron Marshall).
Not to be taken for granted, this may be one of the very few winters we will ever be able to casually report the ongoing presence of several wintering Parrot Crossbill flocks. The most impressive report came from the regular haunt at Santon Warren, Norfolk, were numbers peaked at a mighty 36 on 14th, with 11 noted on 16th. On the Berkshire/Surrey border, 16 lingered at Wishmoor Bottom on 14th, when 12 were still on the edge of Howden Reservoir, Derbys. The somewhat erratic trio at Broxbourne Woods, Herts, showed up only on 14th and 16th.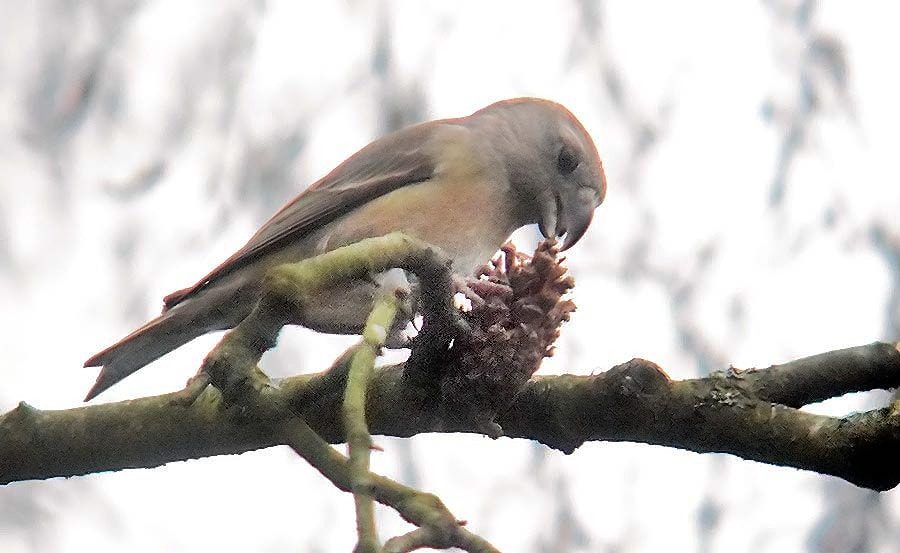 Parrot Crossbill, Santon Warren, Norfolk (Barry Woodhouse).
Both of the Coues's Arctic Redpolls at Letheringsett, Norfolk, were still on show on 16th, as was the evidently comfortable long-stayer at Hazlewood Common, Suffolk. The other Norfolk pair, at Royal Cromer Golf Course, just nudged into the week. In Devon, East Budleigh's Italian Sparrow,or doppelgänger resided at Cadbury Gardens all week.
Nine Great Grey Shrikes were logged this week, including a 'new' bird at the regular Berkshire site, Cow Down, seen on 13th and 14th. Known current wintering birds were still at Owthorpe, Notts; Milkham Inclosure, Hants; Prestwick Carr, Northumbs; Morden Bog NNR, Dorset; and Crabtree Hill, Glos, to 16th. The individuals at Thursley Common, Surrey, and Ashdown Forest, East Sussex, were in situ to at least 14th. The Powys bird was still in its favoured clearfell near Usk Reservoir on 10th. The Richard's Pipit at Arlingham, Glos, was still by the Severn on 16th, with the duo lingering at Caerthillian Cove, Cornwall, on 11th, and one again on 14th.
Following reports around New Year that Dorset's first-winter Stilt Sandpiper had been flooded out of its current favourite lagoon on Brownsea Island, it was little surprise that it was refound on 12th checking out another of the county's wetland hot-spots, Coward's Marsh. Still there on 15th, despite having been something of a fixture in Dorset since mid-September, its reappearance was cause for fresh celebration among year listers and the lively community of local birders alike.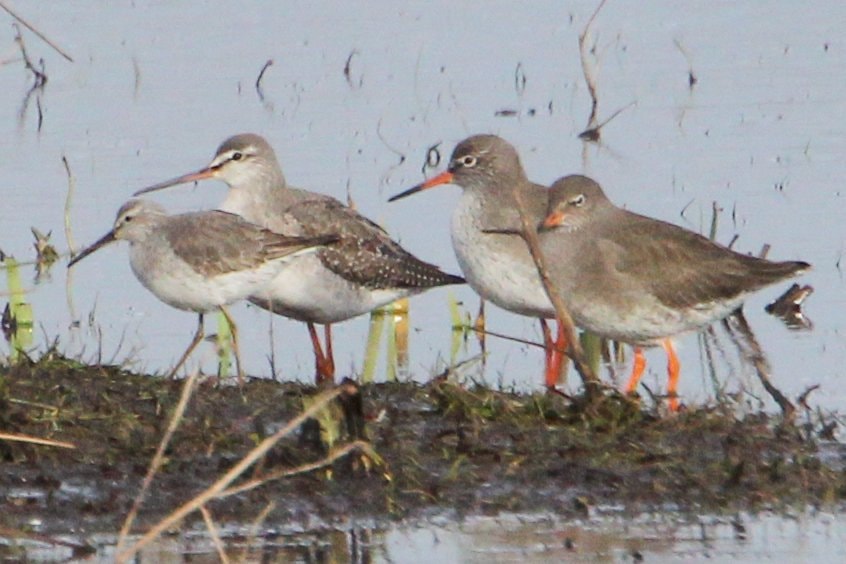 Stilt Sandpiper (left, with Spotted and Common Redshanks), Coward's Marsh, Dorset (Alan Hayden).
At the sandpiper's original venue, Lodmoor RSPB, the long-staying Lesser Yellowlegs briefly surfaced on 11th. Kent's established adult Long-billed Dowitcher was ever dependable, still doing its probing around Oare Marshes to 14th at least, the only recent change in its behaviour being its new-found liking for the saltier conditions in Faversham Creek on the edge of the reserve. In West Sussex, Pulborough Brooks RSPB's wintering Temminck's Stint showed at distance all week.
St Martin's, Scilly, fed back positive reports of its Snowy Owl on 14th. The adult male Rough-legged Buzzard continued to roam the Thorney Toll area, Cambs, to 14th and it is conceivable that the male seen again near Holme, about 20 km to the south-west, could be the same individual.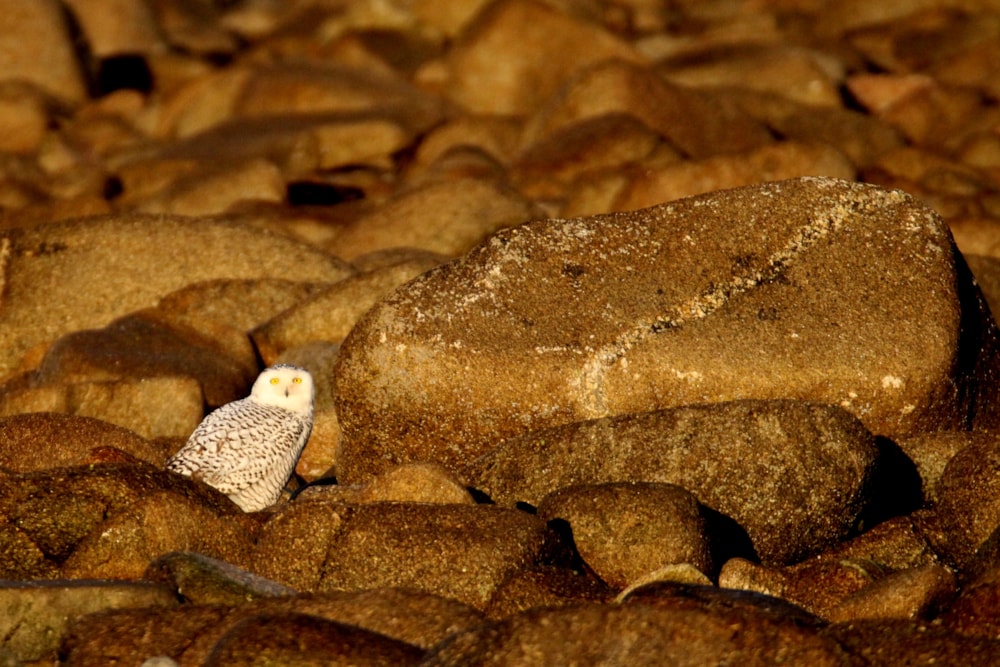 Snowy Owl, St Martin's, Isles of Scilly (Kris Webb).
Rare wildfowl provided much of the week's news but most birds were long stayers such as the adult drake Black Scoter still off Rossbeigh, Co Kerry, on 13th and the long-staying female King Eider at Ynyslas, Ceredigion, to at least 14th and off Castlegregory, Co Kerry, on 11th. That said, a new, drake King Eider was found in Ballysadare Bay, Co Sligo, on 14th and a drake Lesser Scaup was discovered at Lydacan Turlough, Co Galway, on 13th, before relocating to Cahermore Turlough the next day. Known drakes remained at Chew Valley Lake, Somerset, to 16th and Dozmary Pool, Cornwall, to 14th.
The drake American Wigeon was still at Matford Marsh, Devon, all week and both of the Highland drakes made it into this review, the Tain bird being seen on 10th and the other moving around the Muirtown Basin area to 16th. The Ayrshire drake was at Dipple Shore to 12th, while the drake at Grindon Lough, Northumbs, showed again on 11-14th, as did the Rutland Water bird to 10th. A drake Green-winged Teal was a quality find at Standlake, Oxon, from 15-16th and a new bird accompanied last week's drake at Tacumshin, Co Wexford, on 13th, with one remaining the next day. Another drake was discovered at Greenlaw Farm pond at Foulden, Borders, on 14th, being reported again on 15th, when the continued presence of the drake at Greylake, Somerset, was confirmed. The drake at Saltholme RSPB, Cleveland, was still showing on 16th when, in East Yorkshire, the drake at Kilnsea Wetlands resurfaced.
The Essex drake Ring-necked Duck remained on the lake at Abbott's Hall Farm all week, other than taking a trip to Old Hall Marshes RSPB on 14th. A drake at Cotswold Water Park, Glos, on 13th was presumably the same bird found there in the first half of November, and other known drakes were still at Shapwick Heath NNR, Somerset, on 13th and Temple Water, Co Down, on 11th. The female at Corran Lake, Co Cork, was present and correct on 11th. New individuals were reported from Cahermore Turlough, Co Galway, on 13th and Little Loch Shin, Highland, on 14th – both drakes, the latter lingering to 16th – while a female was new in at Tarmon Lough, Co Galway, on 14th.
Porthpean, Cornwall, held onto its three Surf Scoters to 15th, while on 14th Pensarn boasted Conwy's two wintering drakes and the adult drake was still bobbing about off Musselburgh, East Lothian. The drake was still in Largo Bay, Fife, on 13th. A Black Brant was found at Castlegregory, Co Kerry, on 11th, the adult at Middlebere, Dorset, reappeared on 12-16th and up to three were along the north Norfolk coast between Titchwell and Cley during the week. Fingringhoe Wick EWT, Essex, had another on 16th. A Todd's Canada Goose was seen at Loch of Skene, Aberdeenshire, on 14th.
Cornwall boasted three Ring-billed Gulls: the known first-winter on Trenance Pool, Newquay, to 16th and, on 14th, another first-winter on the Hayle Estuary, along with a second-winter at Millbrook. Ibsley Water at Blashford Lakes HWT, Hants, hosted its regular adult for the evening roost to 16th, and the adult at Strathclyde Loch, Clyde, was present till late morning on 10th when, surprisingly, it flew off high and has not so far been relocated. The rest of the week's Ring-bills were in Ireland. In Co Cork, adults remained at Timoleague to 16th and Castletown Bearhaven to 14th. Co Kerry had its adults at Tralee Bay Wetlands Centre to 16th and at Blennerville to 14th. A second-winter was at Belfast Waterworks on 15th and, also in Co Antrim, the Carrickfergus adult remained on 13th. Two adults were at Nimmo's Pier, Co Galway, on 15th, and Limerick city had a first-winter on 13th and its regular adult on 14th. Finally, the adult at Bray, Co Wicklow, was reported on 12th.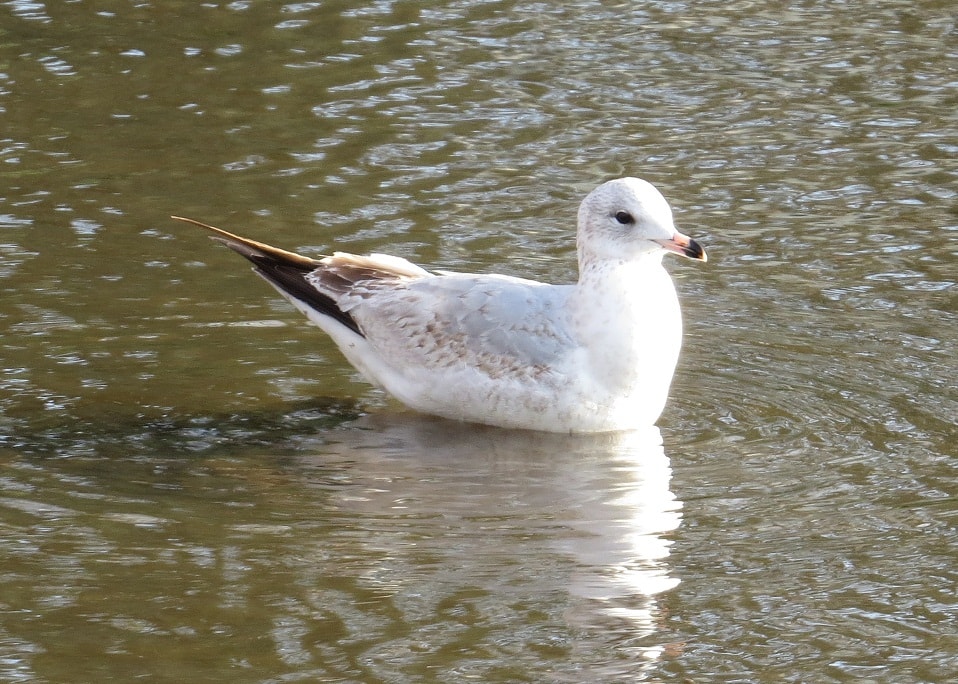 Ring-billed Gull, Newquay, Cornwall (Mark Worden).
Kumlien's Gulls lingered in Co Kerry at Tralee to 16th and at Blennerville to 10th, while others stayed put on Omey Island, Co Galway, and St Mary's, Scilly, to 15th. A Little Auk was a surprise off Joppa, Lothian, on 14th, as was a Grey Phalarope off Broadsands, Devon, on the same day. Perhaps there will be bigger surprises next week …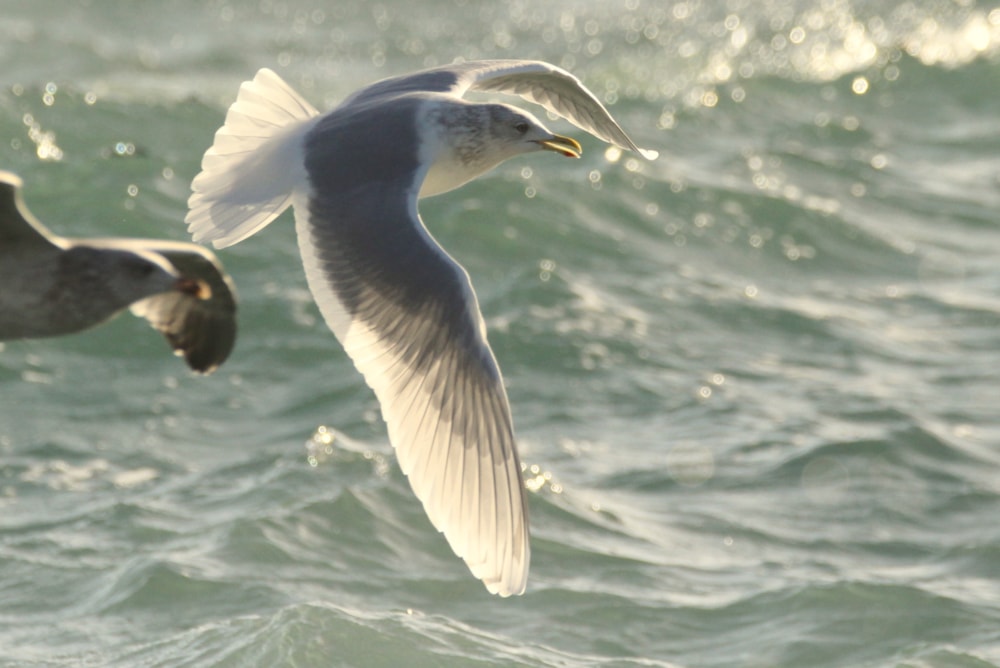 Kumlien's Gull, St Mary's, Isles of Scilly (Kris Webb).
Western Palearctic news
Spain enjoyed its second-ever Pacific Diver at the inland site of Embalse de Civan, Aragón, from 10-16th. On Fuerteventura, the popular Dwarf Bittern resided at Llanos Pelados to 16th, when a Tristram's Warbler at Barranco de la Torre continued the island's spate of high-end rarities. The drake Redhead was still at Paul da Praia on Terceria, Azores. Two Wood Ducks were unearthed on São Miguel on 16th.
Dwarf Bittern, Llanos Pelados, Fuerteventura (Janne Aalto).
The adult Abyssinian Roller was still at Nouadhibou, Mauritania, on 12th and an Indian Roller was seen for the first time since December at Sulaibiya Pivot Fields, Kuwait, on 14th.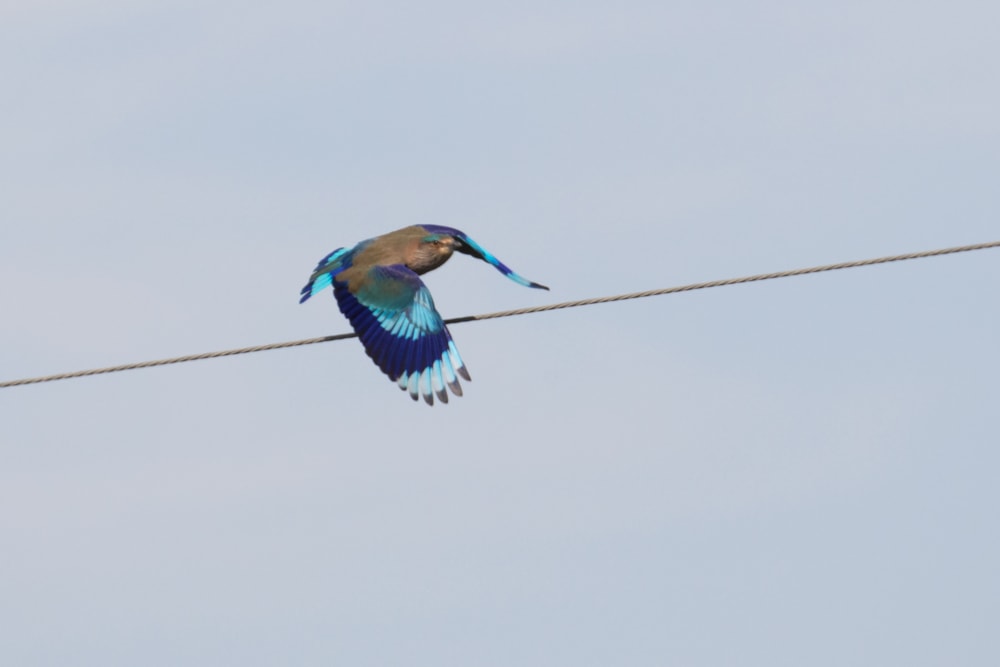 Indian Roller, Sulaibiya Pivot Fields, Kuwait (Josh Jones).
Israel's fourth Red-wattled Lapwing was discovered at Afikim, Northern District, on 12th and Italy was treated to its second White-rumped Sandpiper at Mezzano, Argine Agosta, on 16th. The Swedish Greater Yellowlegs was still at Smedsgård on 16th, when in Norway a meena Oriental Turtle Dove was at Øysand, Sør-Trøndelag, for its fifth day.