It's been another steady week, with the bulk of news provided by Hawfinches, returning winter visitors and late southbound migrants, although there were one or two surprises thrown in to remind us that autumn is not quite over just yet.
The most outrageous record of the week concerned a Cory's Shearwater found at Rutland Water on 2nd. Happily, the bird seemed healthy enough and spent the day cruising around the reservoir; it was still being watched at dusk. It had moved on by the following morning, but was relocated at Pitsford Reservoir, Northants, on 4th. Unfortunately for Northants listers, though, it failed to linger there. The record follows on from September 2016's bird photographed over Regent's Park, London, and represents just the fourth-ever inland record of this seabird. Read more about this amazing discovery in Andy Mackay's account.

Cory's Shearwater, Rutland Water, Leicestershire and Rutland (Andy Mackay).
Shetland's first Pied-billed Grebe was an excellent find at Loch of Spiggie on 3rd. Perhaps an overdue addition to Shetland's already extensive bird list, it was nonetheless welcome; it was still on show there on 7th. Presumably, like other individuals to have turned up at this time of year, it will go on to spend the winter on the loch.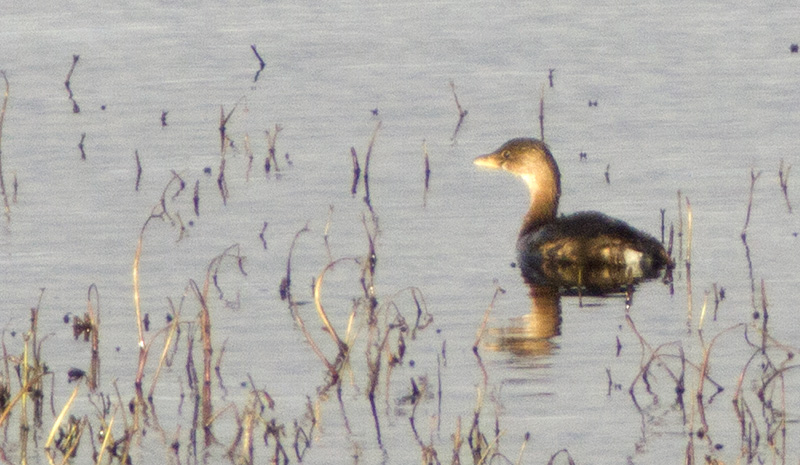 Pied-billed Grebe, Loch of Spiggie, Mainland, Shetland (Roger Riddington).
Just when some were starting to consider the possibility of the Common Rock Thrush wintering on its chosen hill in rural Gwent, it suddenly disappeared. Last noted on the morning of 3rd, it was seen to fly off strongly and couldn't be relocated for the rest of that day or the next.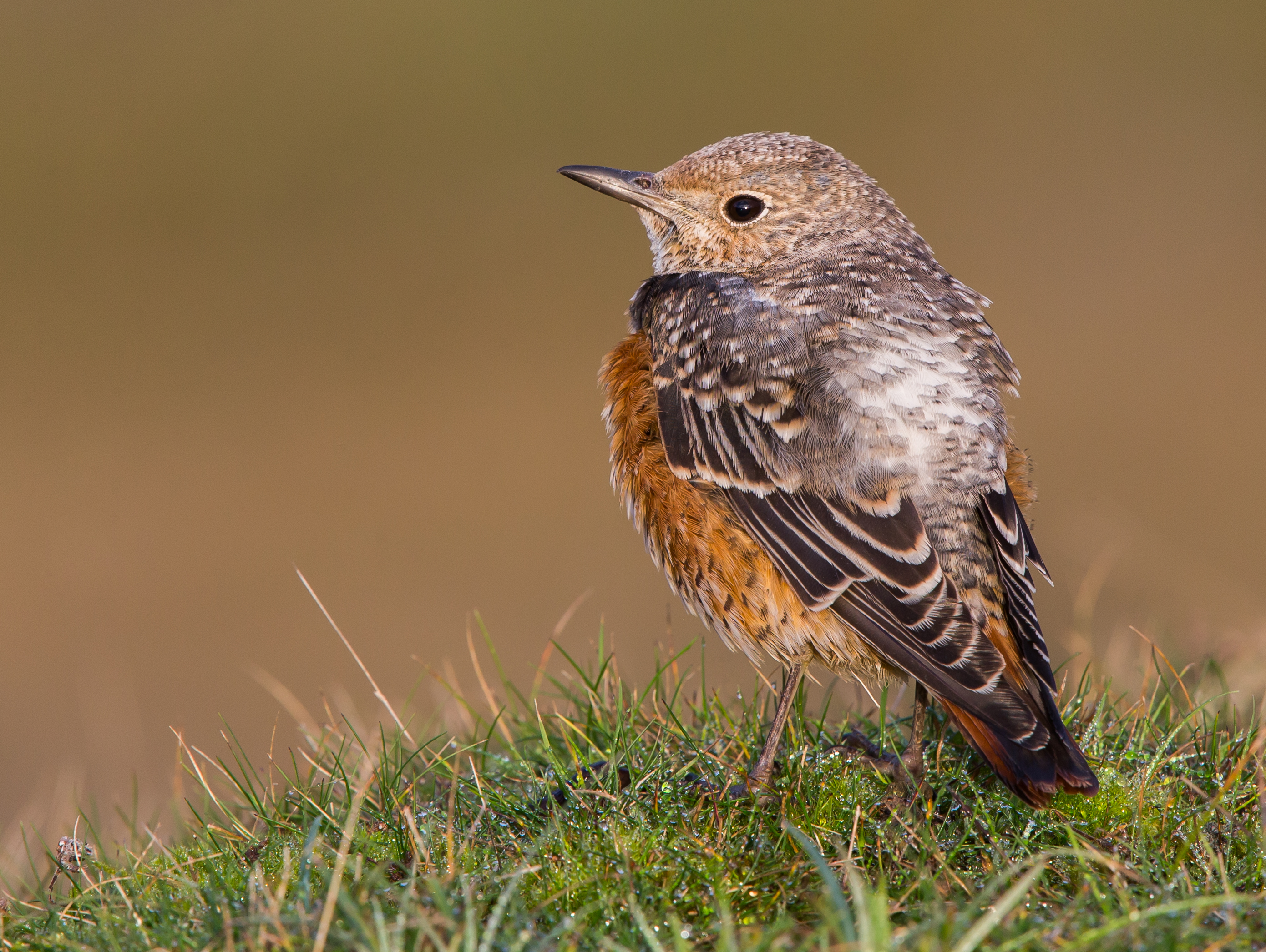 Common Rock Thrush, Pwll-du, Gwent (Peter Garrity).
A returning favourite was the Pacific Diver in Mount's Bay, Cornwall. Seen off Marazion on 4th and Newlyn on 6th, this is now the 12th winter that it has graced the area. A good selection of White-billed Diver reports included Norfolk sightings at Mundesley on 2nd and 3rd, Sheringham on 5th and Walcott on 4th and 6th. One was off Newton Point, Northumberland, on 4th and others passed Torness Power Station, Lothian, on 2nd, Isle of May, Fife, on 6th and Houton Head, Orkney, on 2nd. One remained off Papa Westray and a juvenile was seen in Hascosay Sound, Shetland.
A new Wilson's Snipe was located at Lower Moors on St Mary's, Scilly, on 3rd and was seen again on 6th. It is undoubtedly the best looking of this year's candidates, being a 'slam-dunk' delicata. The Stilt Sandpiper was again at Middlebere, Dorset, on 2nd before presumably the same bird was relocated to the east at Farlington Marshes, Hants, briefly on both 5th and 7th. Last week's White-rumped Sandpiper at Gwithian, Cornwall, was last seen on 2nd, while a new bird was found near Carnoustie, Angus, on 7th and others remained in Cos Kerry, Antrim and Wexford. A Semipalmated Sandpiper was at Whitton Sand, East Yorks, on 4th, with the still-probable bird at Slimbridge (where there was also a probable Baird's Sandpiper on 3rd). A Pectoral Sandpiper was still at Pulborough Brooks, West Sussex, to 2nd.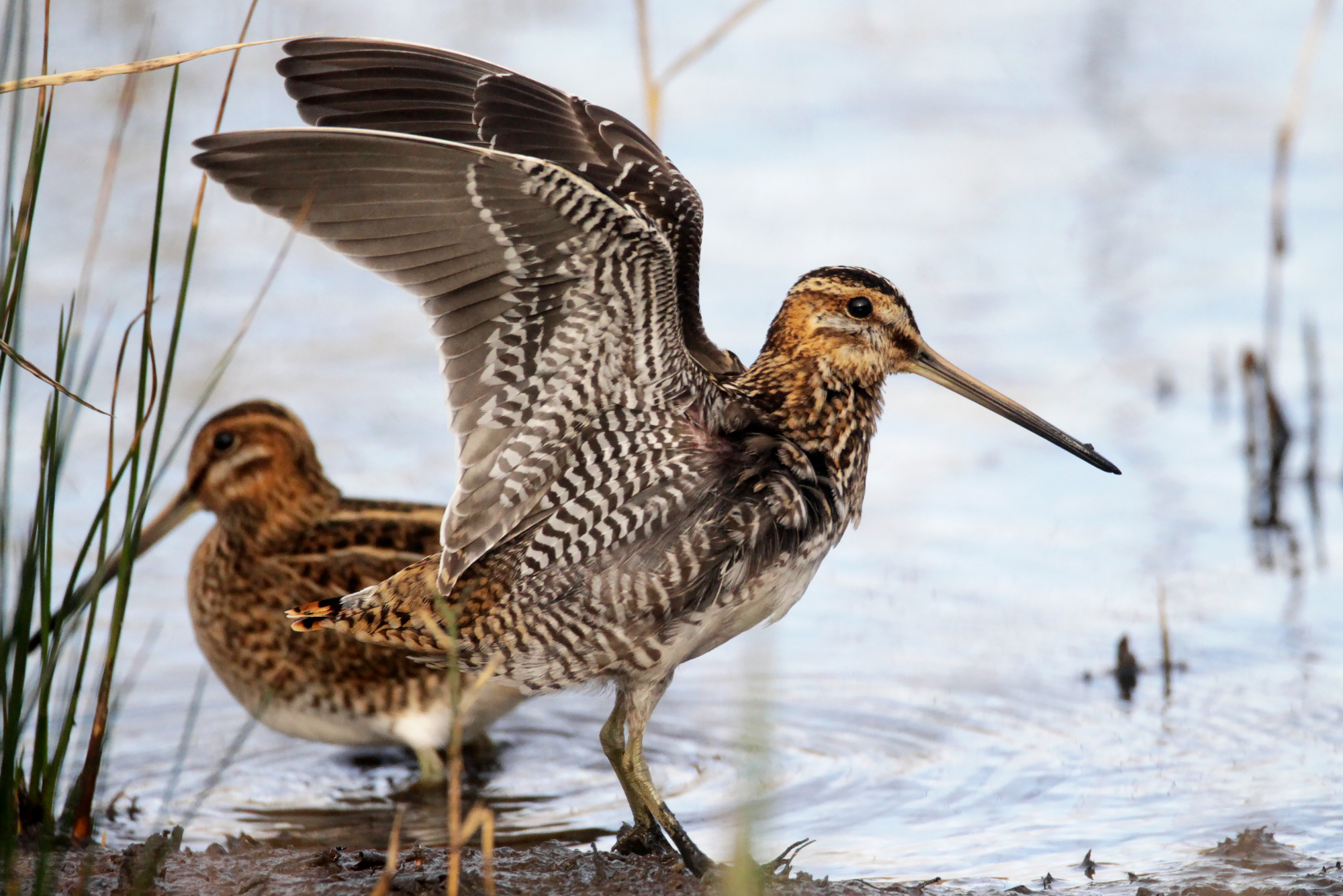 Wilson's Snipe, St Mary's, Scilly (Kris Webb).
Two juvenile Long-billed Dowitchers remained on show at Marshside, Lancashire, and others lingered in Lincolnshire, Kent and at Tacumshin, Co Wexford. Most impressively, though, was one photographed as it flew towards the Welsh mainland past Skokholm, Pembs, on 1st. Tacumshin also held one of the week's three Lesser Yellowlegs; the others were at Maxstoke, Warks, on 1-2nd (a county first) and Lodmoor, Dorset, to 6th. American Golden Plovers were on offer on North and South Uist and in Dumfries and Galloway and Co Wexford. Confiding Grey Phalaropes were well appreciated at Cley, Norfolk, and Oxey Marsh, Hants.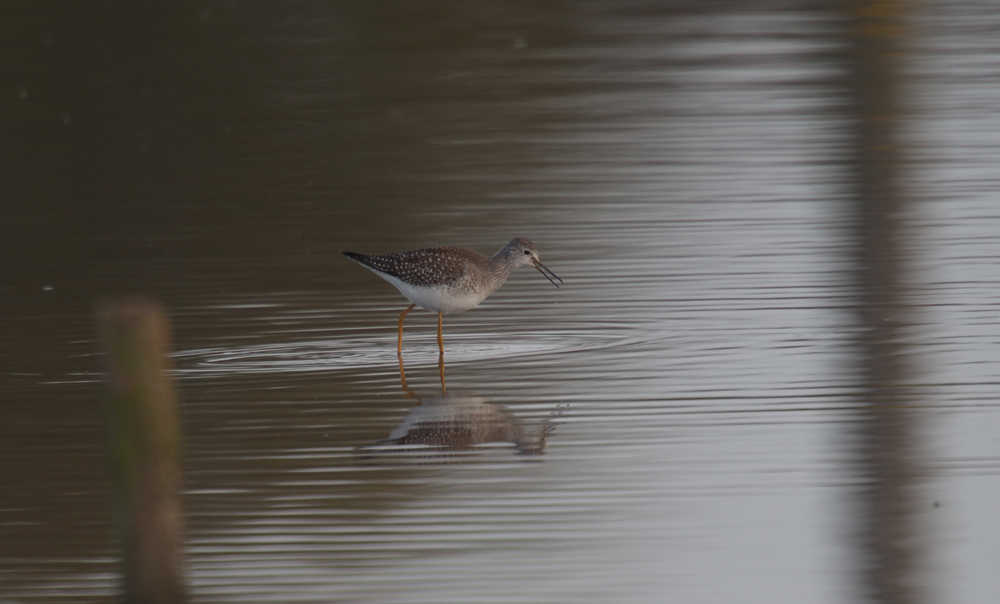 Lesser Yellowlegs, Maxstoke, Warwickshire (Dave Hutton).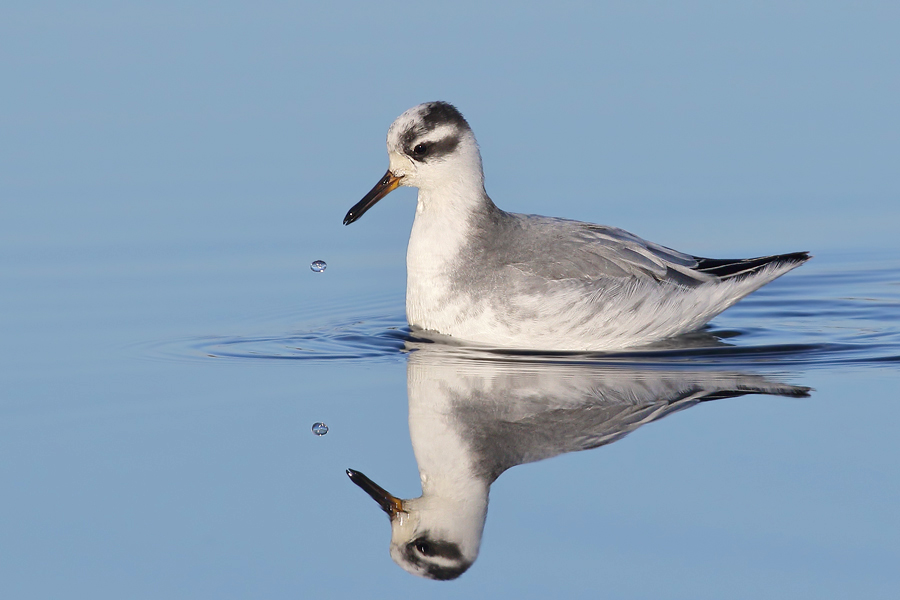 Grey Phalarope, Pennington Marshes, Hampshire (Joe).
A drake Ferruginous Duck arrived at Rutland Water on 6th, but had gone by the following morning. Interestingly, two drakes were together at Dinton Pasures, Berks, from 7th – although a ringed escapee has been seen here in recent years. The Hampshire bird was seen again at Blashford Lakes, where the Lesser Scaup remained to 4th. No fewer than six Ring-necked Duck were recorded in Ireland, with British birds on Tiree and in Dumfries and Galloway, Cornwall and Essex.
A new King Eider, a drake, was off Wester Quarff, Shetland, from 4th. Two Surf Scoters were off Porthpean, Cornwall, from 5th, with others still on show in Scilly, Lothian, Fife and the Outer Hebrides. A drake Green-winged Teal was at Loch Gruinart, Islay, on 6th, with one still on North Ronaldsay. At least eight American Wigeon were seen, four of which were in Scotland. Two blue-morph Snow Geese remained in Forth to 4th, Islay held the week's only Richardson's Cackling Goose, and a Todd's Canada Goose toured sites near Tain, Highland, on 3-4th. Black Brants were in Devon, Dorset, Essex and Norfolk, while the Red-breasted Goose continued near Collieston, Aberdeenshire.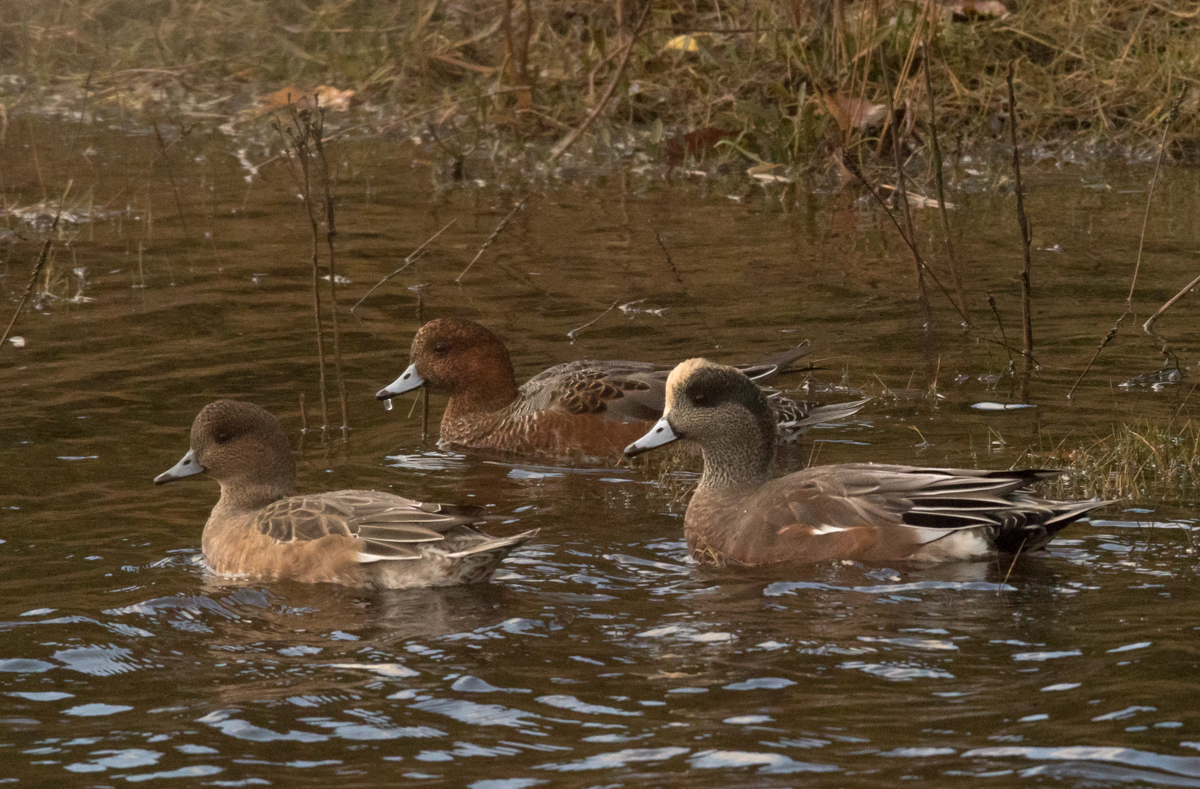 American Wigeon, Clachnaharry, Highland (Colin Leslie).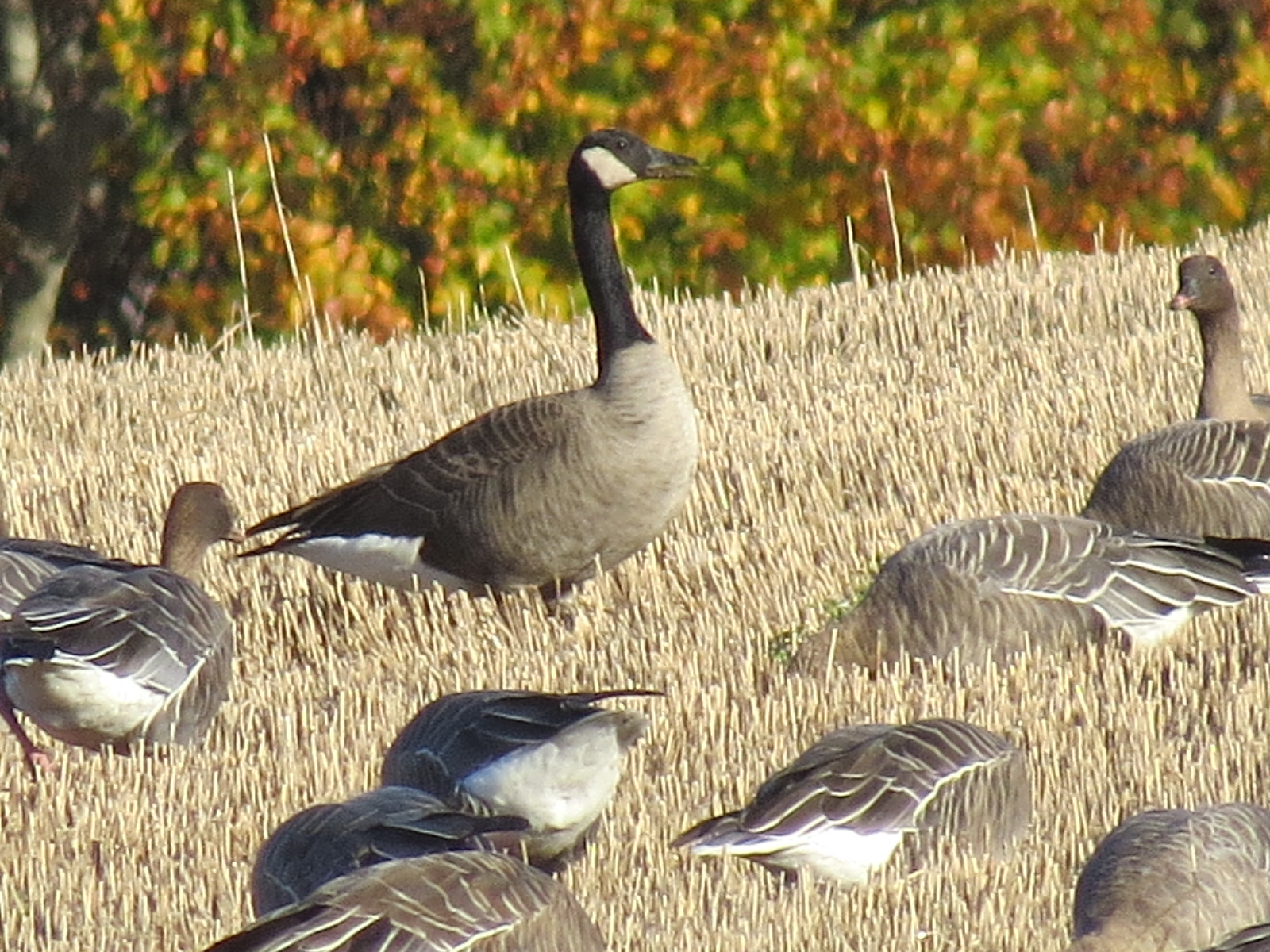 Todd's Canada Goose, Kildary, Highland (Bob Swann).
Calm and settled conditions encouraged a few late migrants into action. One of the highlights was a female Pied Wheatear on the beach at Skinningrove, North Yorkshire, on 6th – although it was only identified from photos posted on Twitter after dark and had gone by the following morning. There was also a Red-flanked Bluetail in Lowestoft, Suffolk, on 7th, and what looked an excellent candidate for Eastern Yellow Wagtail graced Dursey Island, Co Cork, on 3rd. A Siberian Stonechat reached Skomer, Pembs, on 2nd.
No fewer than three Pallas's Warblers were in Suffolk over the weekend (Orford Ness, Bawdsey and Felixstowe Ferry), with two in Kent (Sandwich Bay and Kingsdown) and one in Great Yarmouth, Norfolk, on 3rd bringing the total to six. Sandwich Bay also hosted the week's only Dusky Warbler from 3-5th. A Radde's Warbler was trapped on Cape Clear, Co Cork, on 1st and another remained on St Mary's, Scilly, to 2nd.
Content continues after advertisements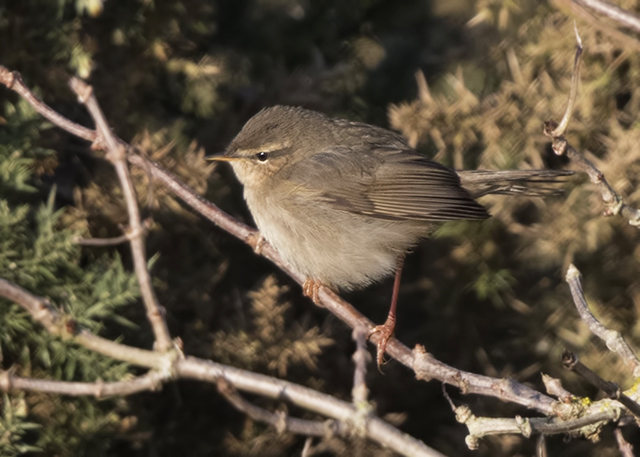 Dusky Warbler, Sandwich Bay, Kent (Steve Ashton).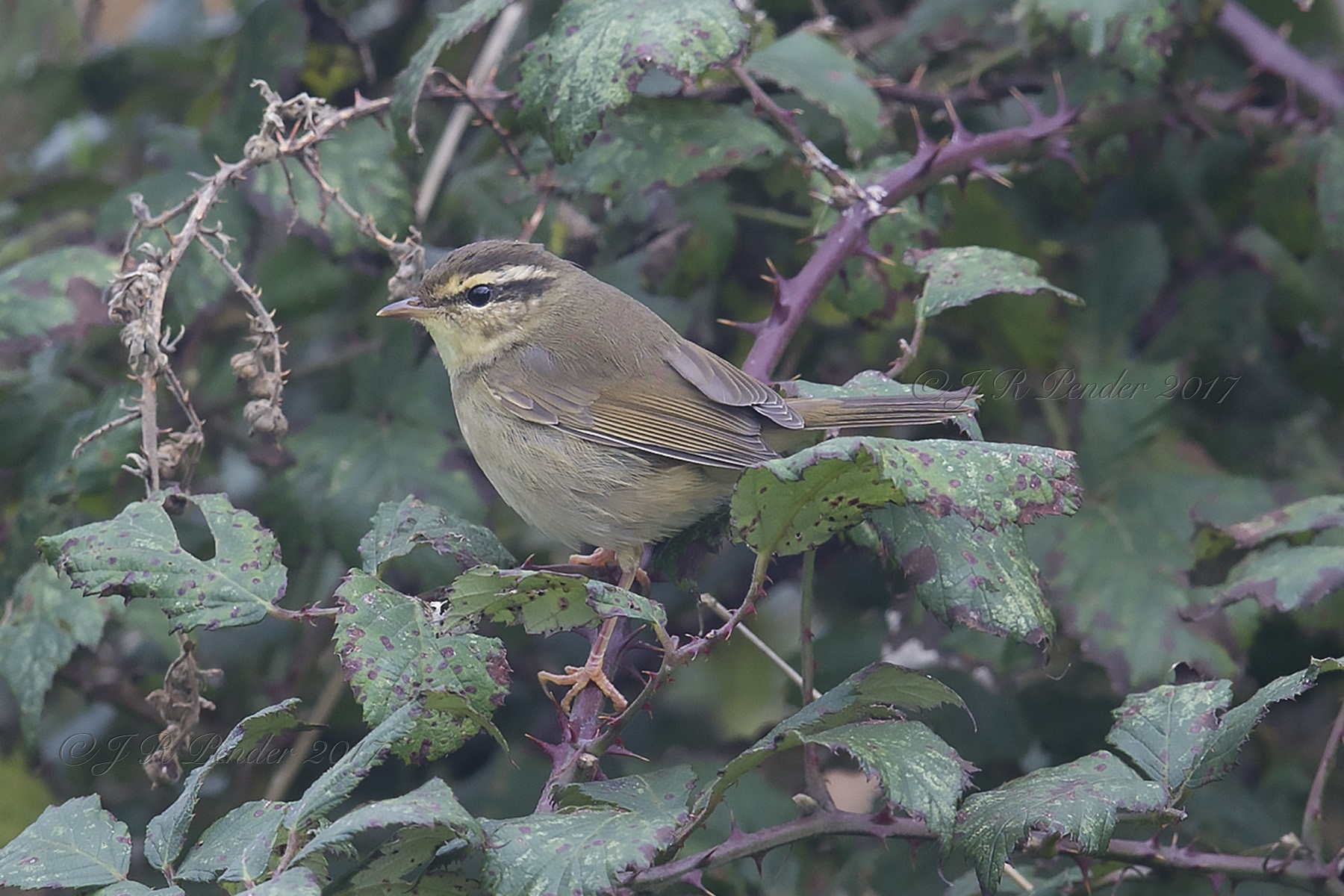 Radde's Warbler, St. Mary's, Scilly (Joe Pender).
A Barred Warbler arrived at Landguard, Suffolk, on 4th, with lingering birds still in Co Durham and Dorset. On Shetland, a new Red-breasted Flycatcher was at Halligarth, Unst, on 3rd, with another still at Kergord on 2nd. Five Little Buntings included one on board RV Cefas Endeavour, 11 nautical miles south of Lyme Regis, Dorset, on 3rd. A Common Rosefinch was seen briefly at Pendeen, Cornwall, on 3rd and up to two Rosy Starlings were at Treen, Cornwall, from 2-4th.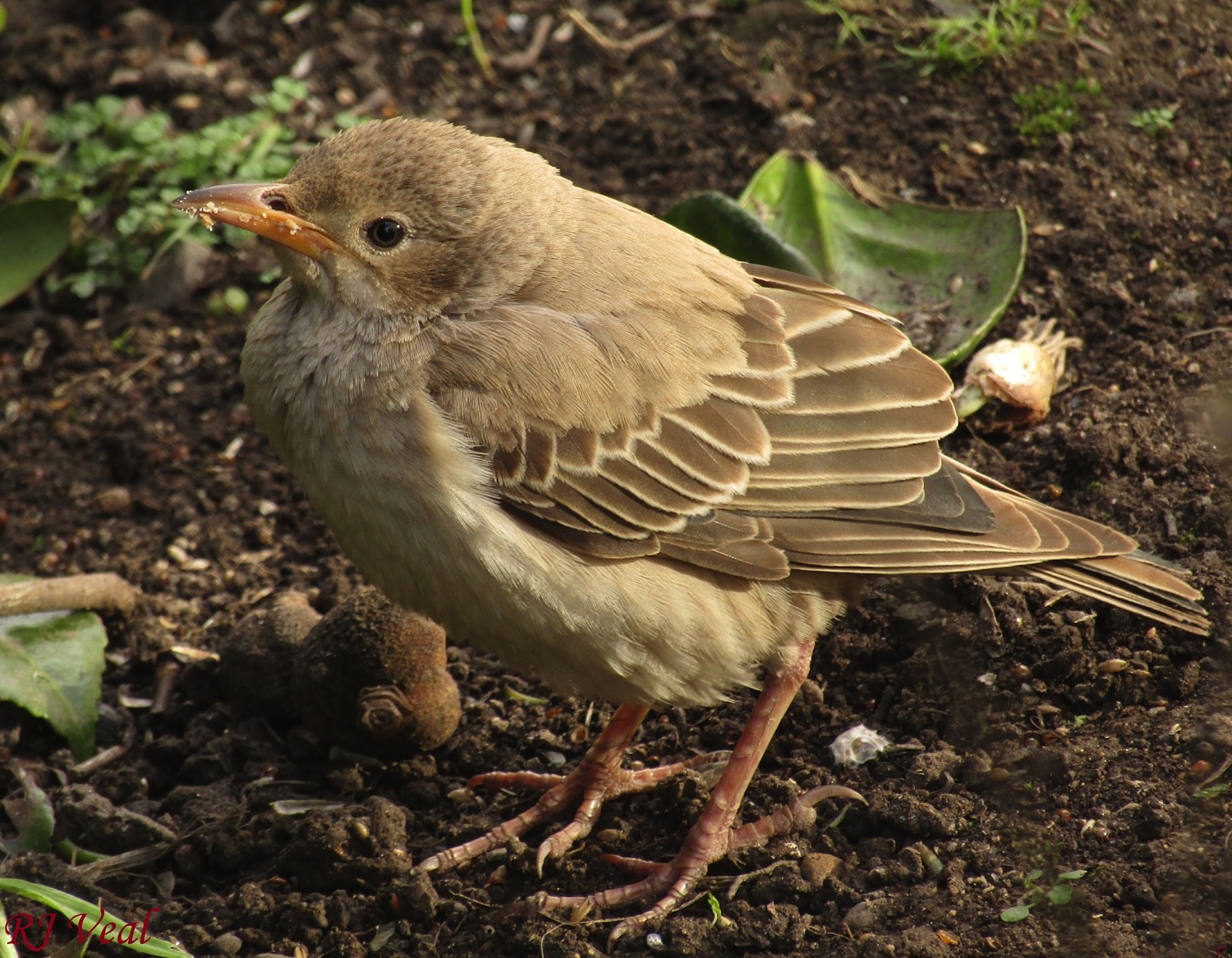 Rosy Starling, Treen, Cornwall (Reuben Veal (age 15)).
What must be the same European Bee-eater doing the rounds was at Tynemouth, Northumberland, for a while on 5th, after last being recorded at Whitburn on 2nd. Hoopoes were in Ballycastle, Co Mayo, on 3-4th and Helford, Cornwall, on 1st, while a Wryneck was in Dorchester, Dorset, on 2-3rd. Richard's Pipits were seen at eight sites, including two together at Flamborough Head, East Yorks, on 3rd and an inland record from Bolton upon Dearne, South Yorks, on 2nd. Great Grey Shrikes were found at just nine sites and included a few obvious migrants in eastern areas.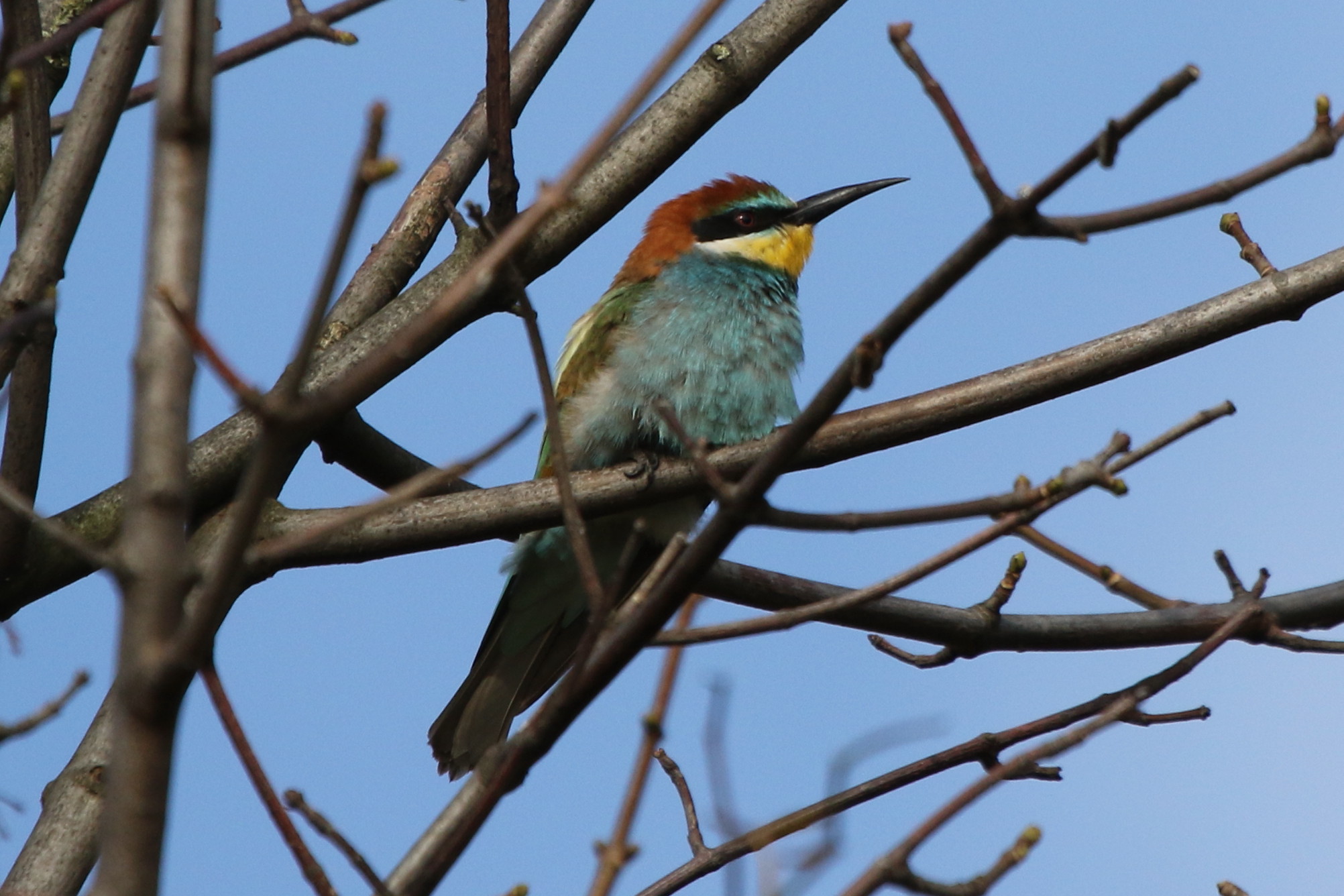 European Bee-eater, Tynemouth, Northumberland (Duncan Watson).
A noticeable influx of Shore Larks took place, the stand-out record being a bird inland at Burwell Fen, Cambs, from 5th. Small groups returned to east coast sites, including fours in the Salthouse/Cley area and at Happisburgh, Norfolk, with other records from Lincolnshire and Northumberland.
Hawfinches were again well represented, with a distinctive shift in behaviour noted this week. Although there were plenty of fly-overs still being reported, many more were found settled in wooded areas, mercilessly gobbling up multitudes of hornbeam seeds. As you can see from this week's map, the species was much more widely spread in the opening days of November, with many more records from eastern areas. High counts included 74 at Longdown, Devon, on 7th and 60 at Castle Howard, North Yorks, on 4th, with many hundreds (if not thousands) in between.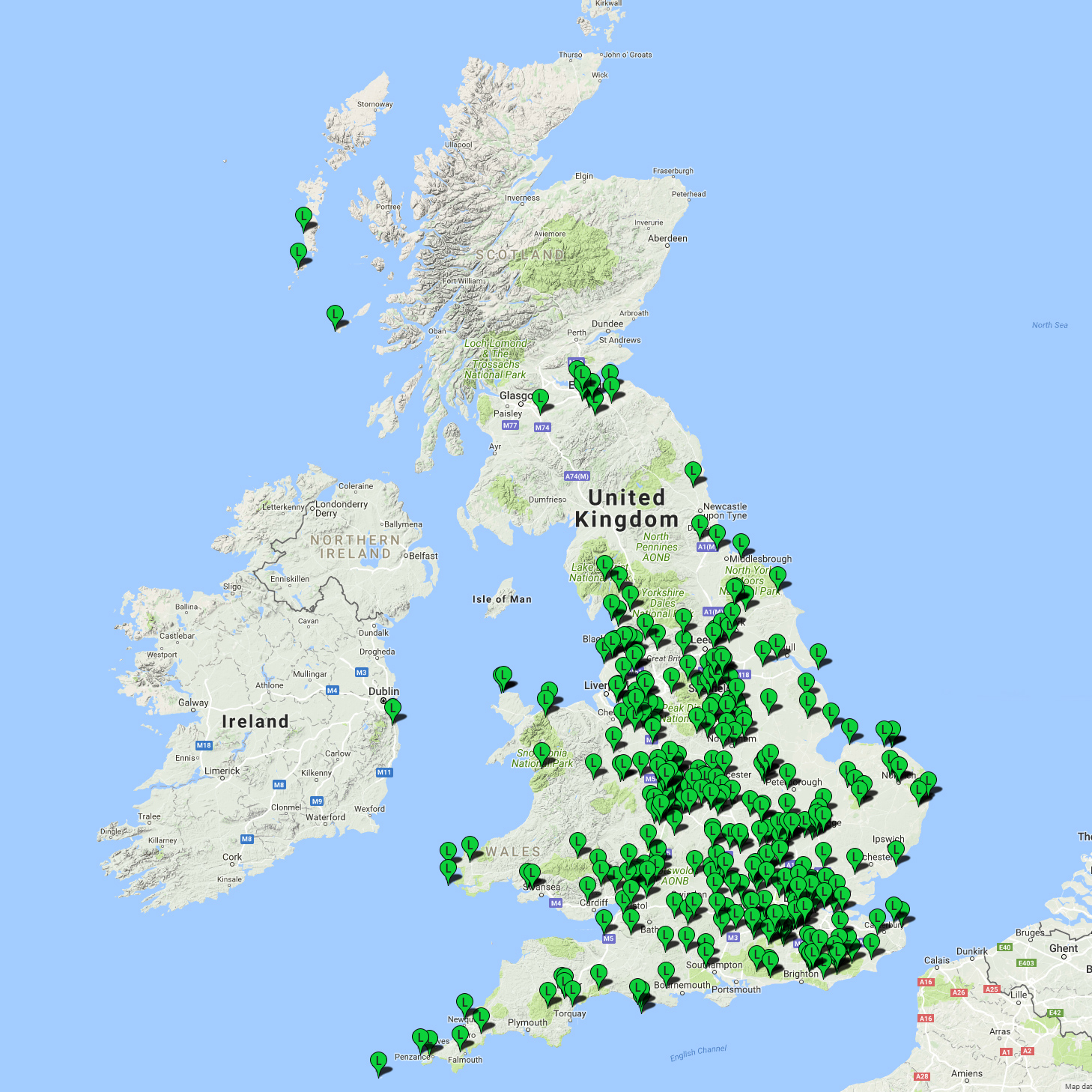 Hawfinch records from Britain and Ireland, 1-7 November 2017 (BirdGuides.com data).
In a poor week for the species, adult Ring-billed Gulls remained at Blackrock, Co Louth, and Nimmo's Pier, Co Galway. A handful of Sabine's Gulls included a juvenile lingering off Cromer Pier, Norfolk, from 2-6th.
Two Glossy Ibises flew over Lucan, Co Dublin, on 2nd, with another at Abbott's Hall Farm, Essex, the same day. Three sites in Devon also held singles, as did two in Cornwall. A White Stork at Brighstone, Isle of Wight, on 6th was presumably the blue-ringed escape last seen in Hampshire on 4th.
Western Palearctic news
A much quieter week around the region produced just a handful of major records, the most significant of which was a Pallas's Fish Eagle seen twice at Besh Barmag, Azerbaijan, on 1st. This is the first modern-day record for the country, and the first regional report since summer 1990, when the species was last recorded in north-west Kazakhstan.
A smart adult Abyssinian Roller was photographed in Nouadhibou, Mauritania, on 1st – the first in the Western Palearctic since a bird on Fuerteventura in June 2014. Malta's first Brown Shrike was identified at Marsaxlokk on 2nd and was still there the following day. The only news from the Azores was the Snowy Egret still showing well in the middle of Horta town, Faial, on 3rd.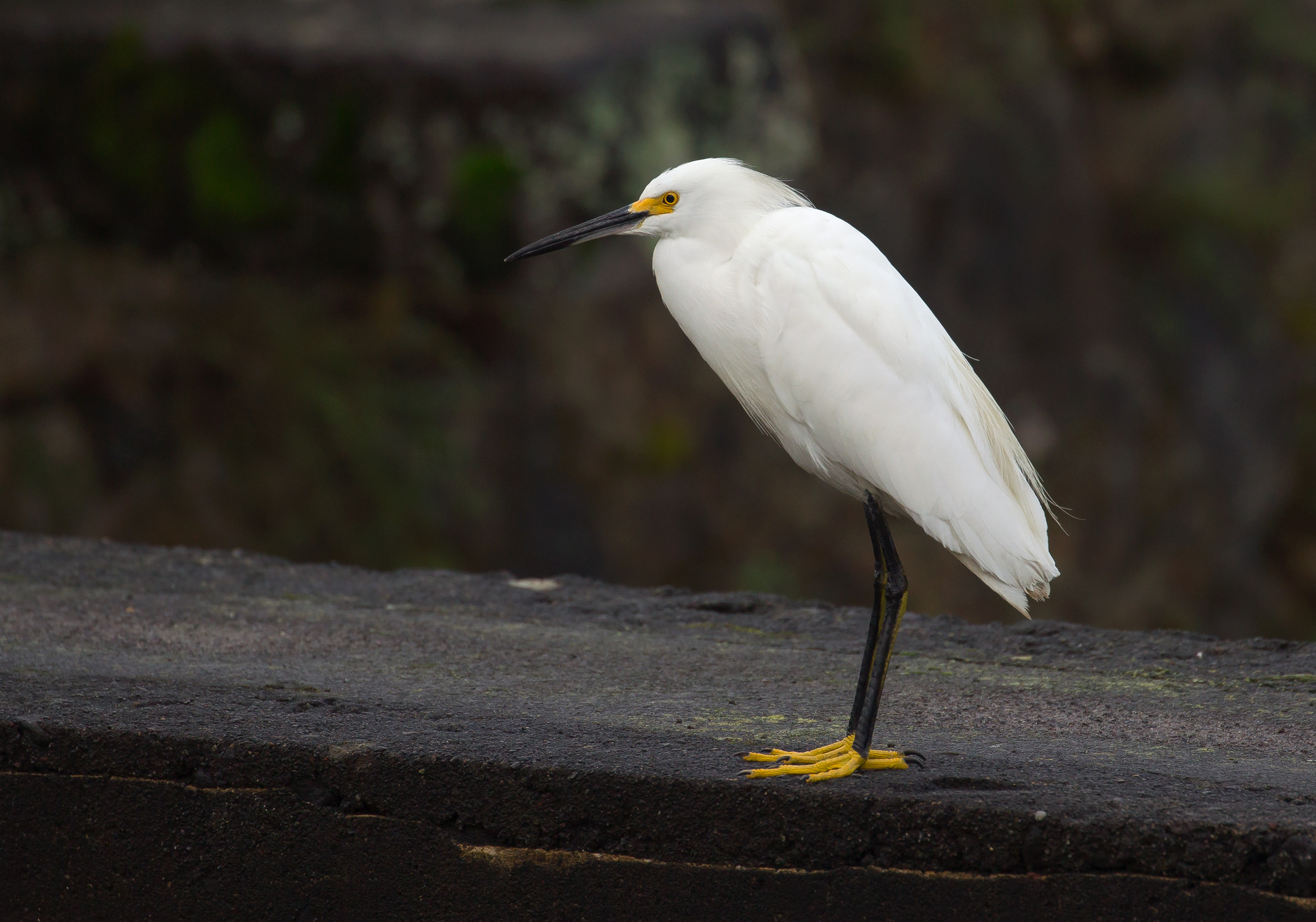 Snowy Egret, Horta, Faial (Kris De Rouck).
Danish records included news of a Stejneger's Stonechat at Gedser on 31st and the country's first Pine Grosbeak in five years flew over Skagen on 3rd. Iceland was treated to its 12th Hermit Thrush at Villingavatn on 3rd; curiously, Hermit is the commonest Catharus thrush to be recorded there. Polish records included the lingering Spur-winged Lapwing at Strzelno – it was first noted in September – and the Caspian Plover at Jeziorsko. A Black-winged Kite remained in North Holland.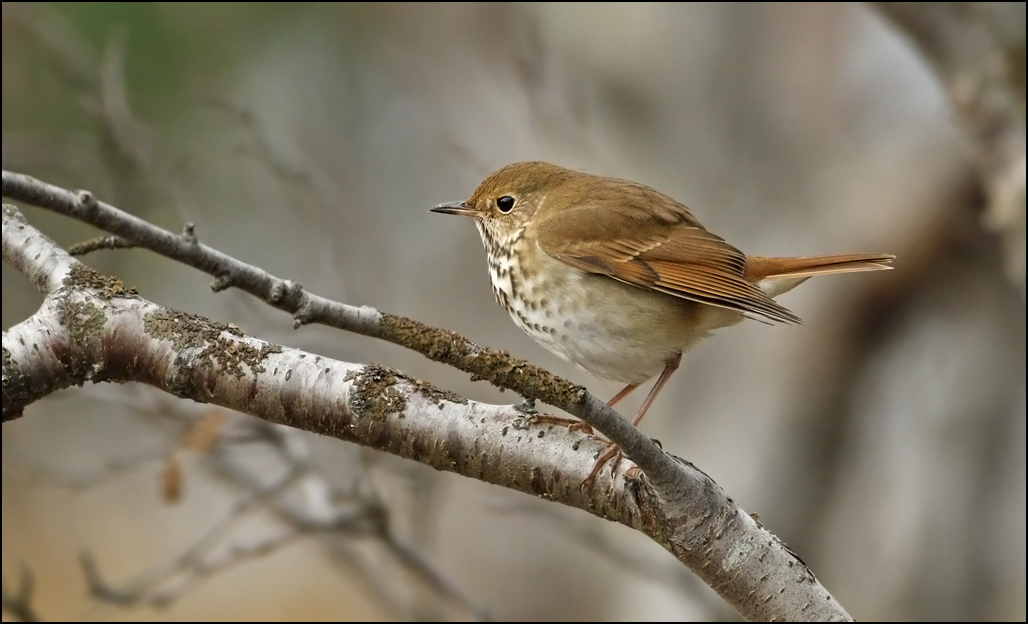 Hermit Thrush, Villingavatn, Suðurland (Alex Máni Guðríðarson).