May. Hope, promise, excitement … the start of the month is probably the closest birders come to feeling the anxious, champing-at-the-bit state of Zugunruhe of migratory birds in spring. Then, just as this peak time arrives, the weather gods deliver a cold, blocking, northerly airflow that has everyone searching for winter hats and gloves.
The week brought no new 'mega' reports and it was left to the drake Baikal Teal in Cambridgeshire to provide some colour and charisma. Re-found on the Nene Washes at March Farmers on 2nd, here it remained for the rest of the week, looking settled, though invariably distant. This led to some entertaining colourful smudges akin to those produced in the back row at a Lady Gaga gig as visiting birders shared their best photographic efforts online – it was hardly an easy subject, particularly with a bitter north-westerly blowing straight across the washes and into the faces of the assembled crowd. No doubt many that have visited will now be keen to see the back of it, as an extended summer stay might begin to sow seeds of doubt about origins.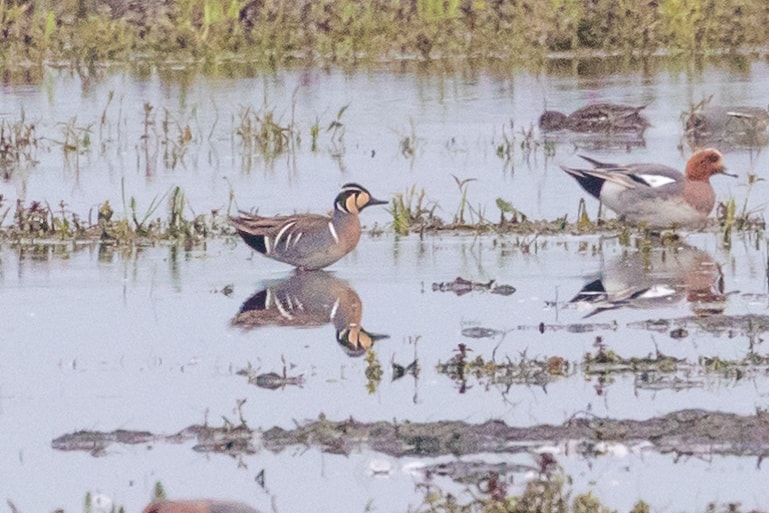 Baikal Teal, March Farmers, Cambridgeshire (Ian Bollen).
Bank Holiday Monday brought news from North Wales of an interesting third-calendar-year gull showing some characteristics of Slaty-backed Gull at Rhos Point – unfortunately the pictures were inconclusive and, in typical fashion, the gull in question departed, never to be seen again, despite extensive searching.
While debate on the stay of execution for Britain's native corvids raged online, the Pied Crow appeared to add another undetected epic journey to its legend. After spending last week on the North Devon coast, it was probably not what one observer expected to see pitching inland off the sea at North Foreland, Kent, on a Bank Holiday Monday in May – unless of course we now have two!
After being found on 30th, it was several days before the mobile and elusive Great Spotted Cuckoo on the north Norfolk coast was pinned down, with many local birders not seeing it until 5th, when it lingered at Weybourne Camp long enough to be twitched. It was still around on 7th, but continued to prove evasive.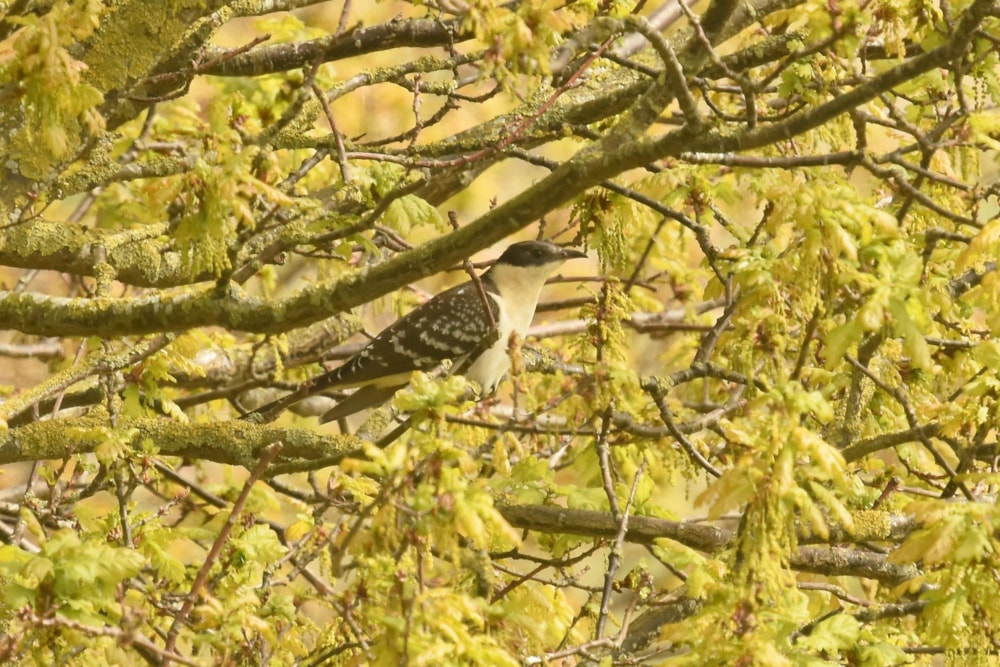 Great Spotted Cuckoo, Weybourne, Norfolk (Moss Taylor).
Last week's drake American Wigeon at Paxton Pits, Cambs, remained the only one recorded this week and the number of Green-winged Teal halved with three drakes noted from Orkney, Northumberland and East Yorkshire. The drake Blue-winged Teal extended its stay at Mellon Charles, Highland, to at least 6th and the long-staying American Black Duck held firm for another week at Strontian, although has apparently developed a limp.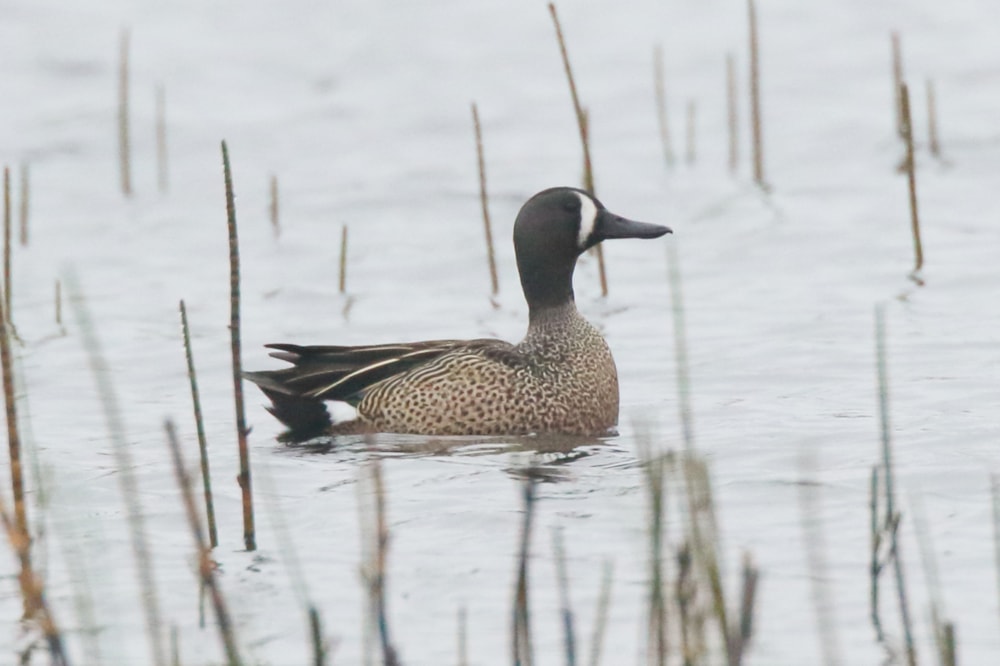 Blue-winged Teal, Mellon Charles, Highland (Andrew Jordan).
Continuing the American wildfowl theme both the American White-winged Scoter at Musselburgh, Lothian, and American Eider at Skerries, Co Dublin, were still in situ, the former present all week and the latter noted on 2nd. The adult drake King Eider began the week off Nairn before making a return to its spiritual home at Ythan Estuary 3rd. The seemingly resident Welsh female reappeared off Aber Dysynni, Gwynedd, after more than a month unseen.
Up to four drake Surf Scoter provided back-up to the White-winged at Musselburgh and another four were noted again in the Sound of Taransay after several weeks of radio silence – presumably a reflection of observer coverage rather than a genuine absence. Elsewhere a single drake off Llanfairfechan, Conwy, on 6th was all that could be mustered. Up to 11 Ring-necked Duck lingered, as did the Blagdon Lake drake Lesser Scaup. A drake Ferruginous Duck was noted at two sites in West Yorkshire on 4th and 5th. Reports of the unsettled, escaped female Bufflehead came from Northamptonshire and South Yorkshire.
After last week's brief surge, numbers of White-billed Divers fell back with two or three still off the Moray & Nairn coast, four or five around the coasts of North Ronaldsay and Papa Westray, Orkney, and singles at Lamba Ness, Shetland, and Aughrhus Point, Co Galway. The adult male Pied-billed Grebe continued to find Loch Feorlin, Argyll, to its liking.
An early Cory's Shearwater moved past Old Head of Kinsale, Cork. A modest stream of Pomarine Skuas continued to provide interest to south-coast seawatchers in Sussex, Dorset and Kent, with a smattering elsewhere – including eight up the Solway at Bowness, Cumbria, on 1st. The end of the week saw the first Long-tailed Skua noted past Aird an Runair, North Uist.
Unperturbed by the north wind, Black-crowned Night Heron numbers increased from two last week to five, with a first-summer still in Co Cork and apparently settled adults seen periodically on on Scilly and in Kent and West Yorkshire. Another adult flew over Waltham Brooks, West Sussex. It was a better week for Purple Heron sightings. The first-summer at Burnham Overy, Norfolk, appears settled and an adult took up residence at Ynyslas, Ceredigion, from 2nd. One individual was presumably responsible for the reports at Marazion Marsh and the Hayle Estuary, Cornwall on 3rd and 5th respectively. There were also flyovers in Worcestershire and Devon on 6th and 7th. Seven Glossy Ibis were widely distributed with a distinct westerly bias, with one at Strumpshaw Fen, Norfolk, bucking the trend.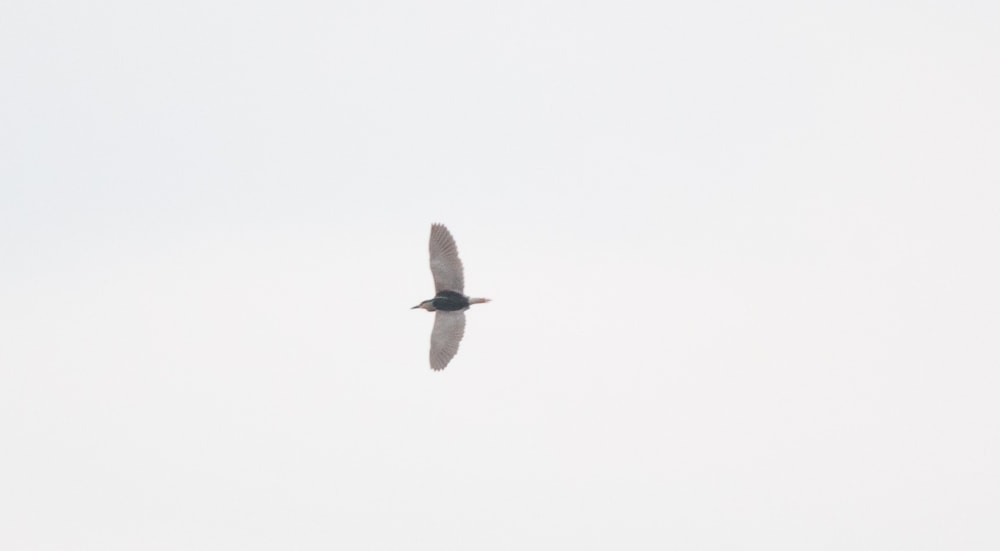 Black-crowned Night Heron, Waltham Brooks SWT, West Sussex (Adam Huttly).
A White-winged Tern will brighten most birders' day on British soil, so six pristine adults cruising into view at Abberton Reservoir, Essex, on the morning of 3rd was no doubt an exhilirating moment for the finder. Five remained to 5th, along with a first-summer Bonaparte's Gull there, which was first seen briefly on the evening of 2nd and again regularly after. The first-summer found last week at Blashford Lakes, Hants, hung around and the Cardiff Bay individual was also noted again on 3rd. Further north, another first-summer made a fleeting appearance at South Gare, Cleveland, on 6th.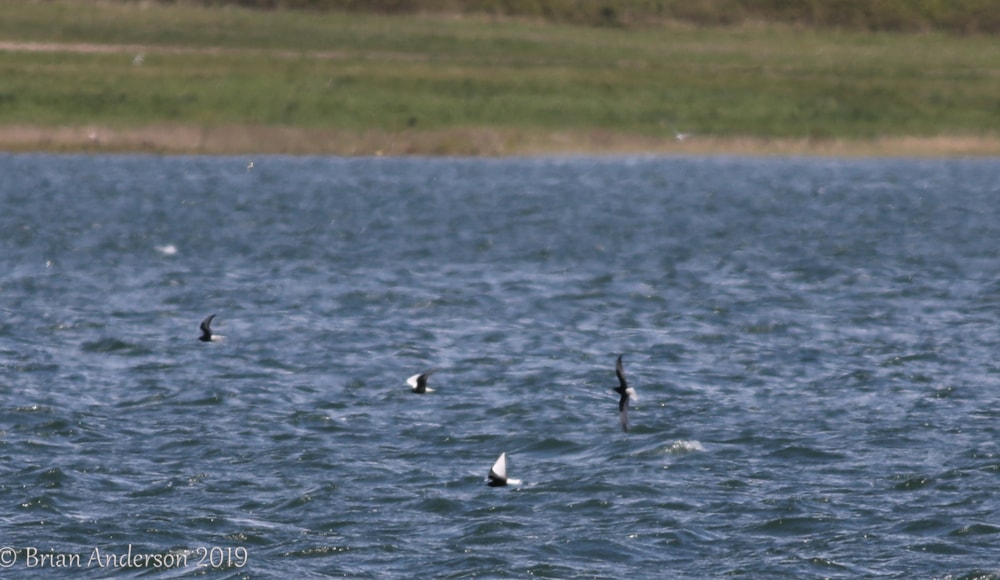 White-winged Terns, Abberton Reservoir, Essex (Brian Anderson).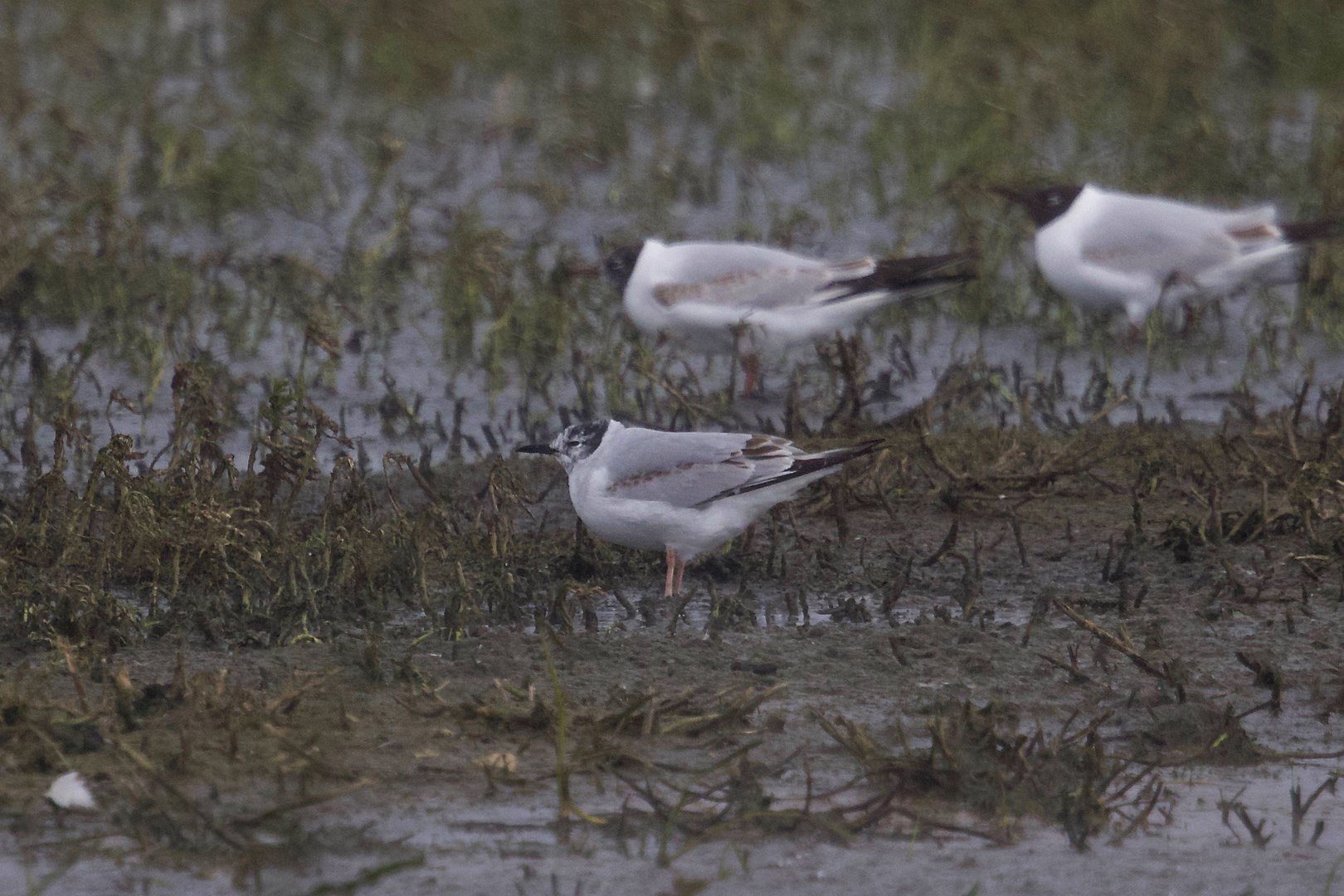 Bonaparte's Gull, Abberton Reservoir, Essex (Paul Chamberlain).
Black Terns began to move in a big way on 7th, with some hefty counts being noted across the Midlands among the 104 reports of the species we carried on that day alone. Top tallies included 60 at Draycote Water, Warks, and 40+ at Farmoor Reservoir, Oxon, with plenty of groups of up to 20 elsewhere.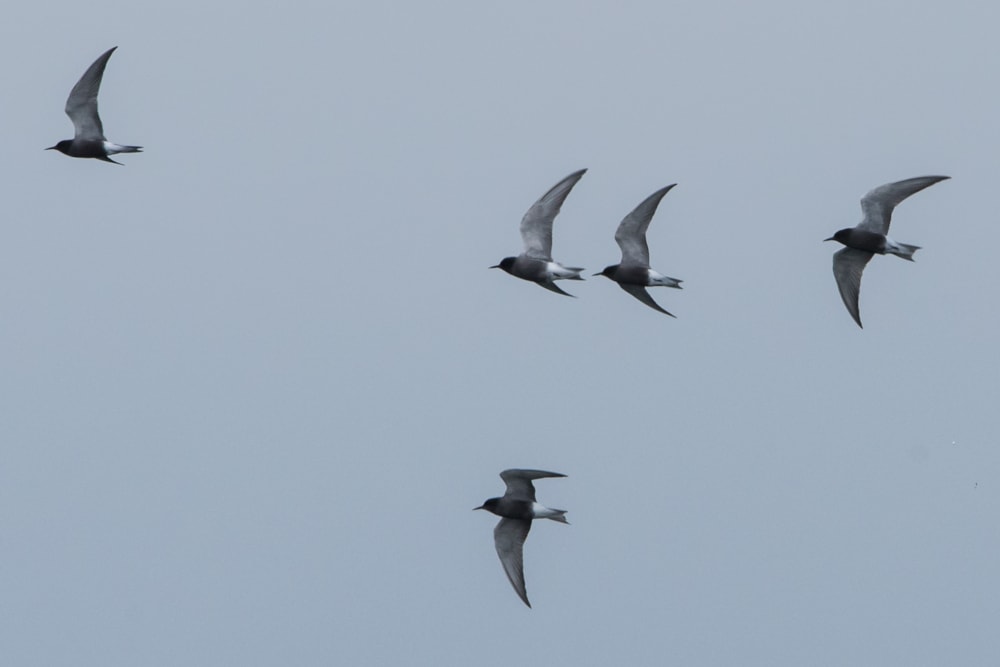 Black Tern, Alton Water, Suffolk (Jim Mountain).
Perhaps pre-empting a planned English reintroduction, up to three White-tailed Eagles put in appearances, last week's adult at Benacre, Suffolk, remained on 1st before departing north. Five days later, a juvenile was noted at Cart Gap, Norfolk, and then in the Horsey/Waxham area on 7th. Another juvenile was apparently in West Sussex on 1-2nd. There were numerous Black Kite reports, including one at several sites in Kent on 2nd, a bright individual photographed at Alkborough Flats, Lincs, on 3rd and one south at Somerleyton, Suffolk on 7th. Up to eight Montagu's Harriers were kicking about, including males in Somerset and Norfolk on 5th. Both male Red-footed Falcons from last week stuck out the chilly start to the week in Suffolk and South Yorkshire respectively, while pictures emerged of a female at a golf course near Billericay, Essex, from 29 April-1 May, but a subsequent thorough search yielded no further sightings.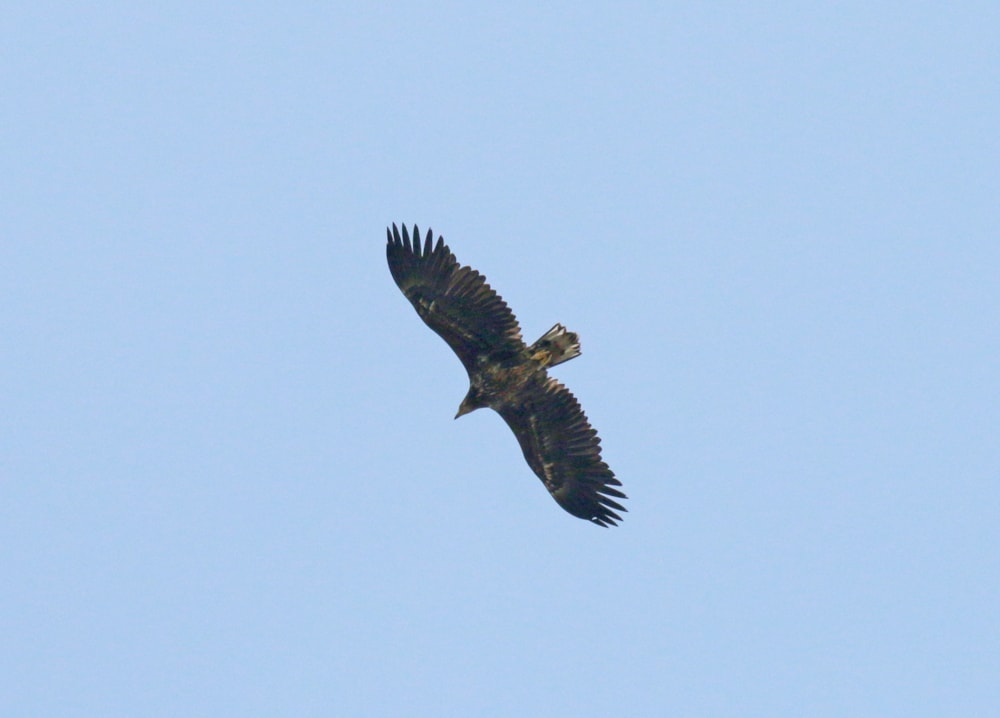 White-tailed Eagle, Waxham, Norfolk (Ron Mcintyre).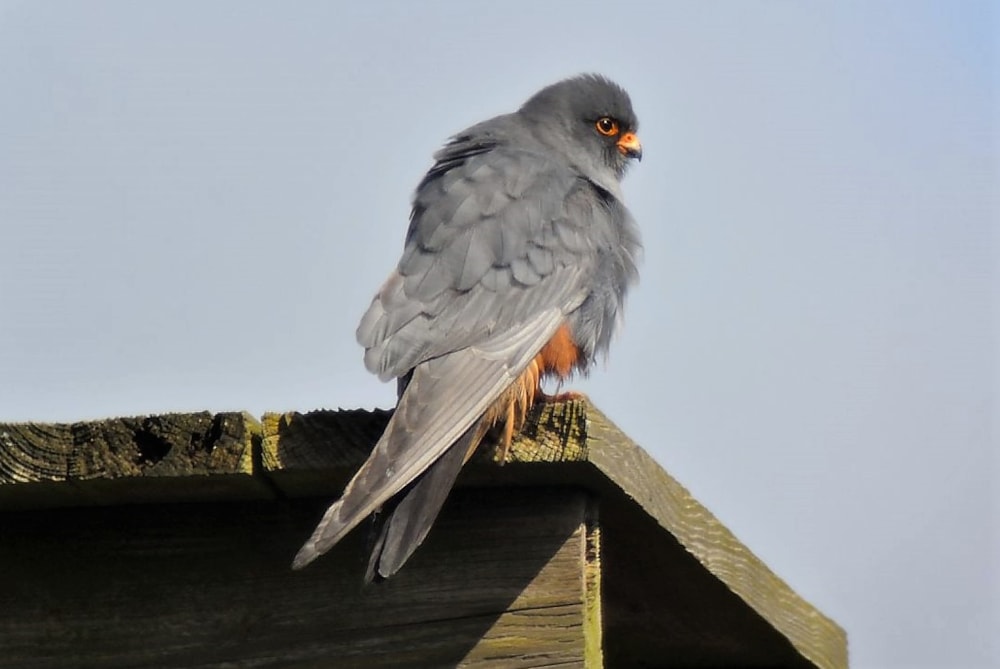 Red-footed Falcon, Rendlesham Forest, Suffolk (Jonathan Theobald).
Expectations for wader passage are always high on the agenda in May and a single Black-winged Stilt at Radipole Lake, Dorset, on 6th was therefore a low return for a species that has maintained a breeding toehold in recent years. In contrast, the bracing conditions appeared to suit the altogether hardier Eurasian Dotterel, with 'trips' at up to 18 widely spaced locations. Upland hills and coastal sites were both productive, with the pick being eight at Long Nab, North Yorkshire, on 7th later seen flying over moorland in Cleveland, five well-watched individuals at Choseley, Norfolk, from 5th and a couple of very showy birds at Dane Bower, Cheshire. Four Temminck's Stints were detected in Warwickshire, London, Norfolk and Cornwall. The long-staying first-summer Spotted Sandpiper saw out another week in Co Wexford and an adult was a surprise at Skateraw, Lothian, from 4th. Lincolnshire's long-staying Long-billed Dowitcher made it to 1st but hasn't been reported since, suggesting a May Day departure.
Eurasian Dotterel, West Kington, Wiltshire (Jeff Hazell).
Lundy came up trumps with a Subalpine Warbler double strike: a male Western Subalpine Warbler was trapped on 1st, followed by a male Eastern Subalpine Warbler in the nets five days later. Another probable male Western was trapped and ringed at Orford Ness, Suffolk, on 7th and, on Scilly, unidentified females were on St Mary's on 2-3rd and St Agnes on 7th.
After bemoaning the scarcity of Red-rumped Swallows in last week's column the inevitable influx occurred this week, with at least 10 individuals zipping through the country as far north as Elton Reservoir, Greater Manchester. An inland individual, only the fourth for land-locked Oxfordshire, graced Grimsbury Reservoir for three days from 3rd and attracted a steady stream of admirers.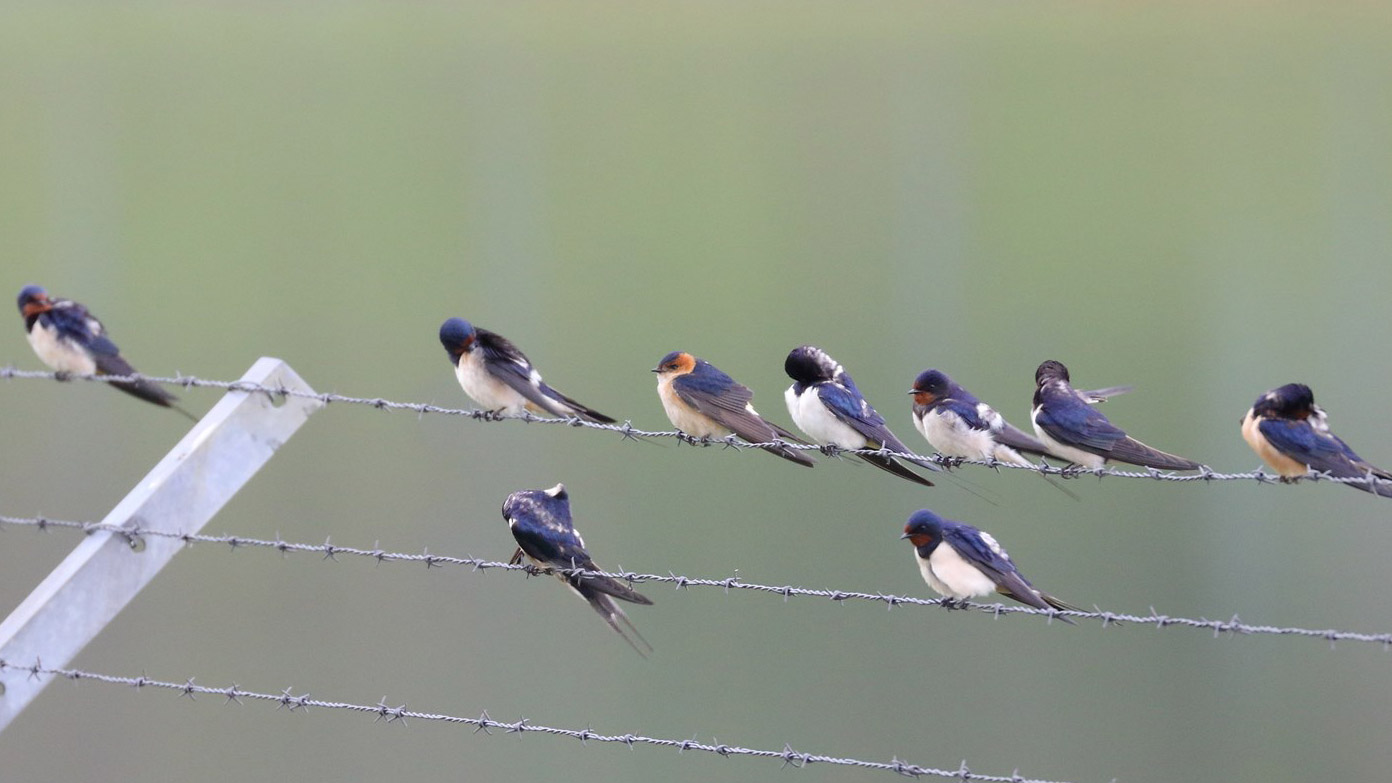 Red-rumped Swallow, Grimsbury Reservoir, Oxfordshire (John Friendship-Taylor).
Just seven Hoopoes and two Wrynecks were seen, the latter poles apart on Orkney and in Dorset. Five Woodchat Shrikes included last week's female lingering on Alderney, along with individuals in Cornwall, Scilly and North and East Yorkshire. An influx of Golden Orioles to Scilly came on 7th, with perhaps as many as 10 across the isles.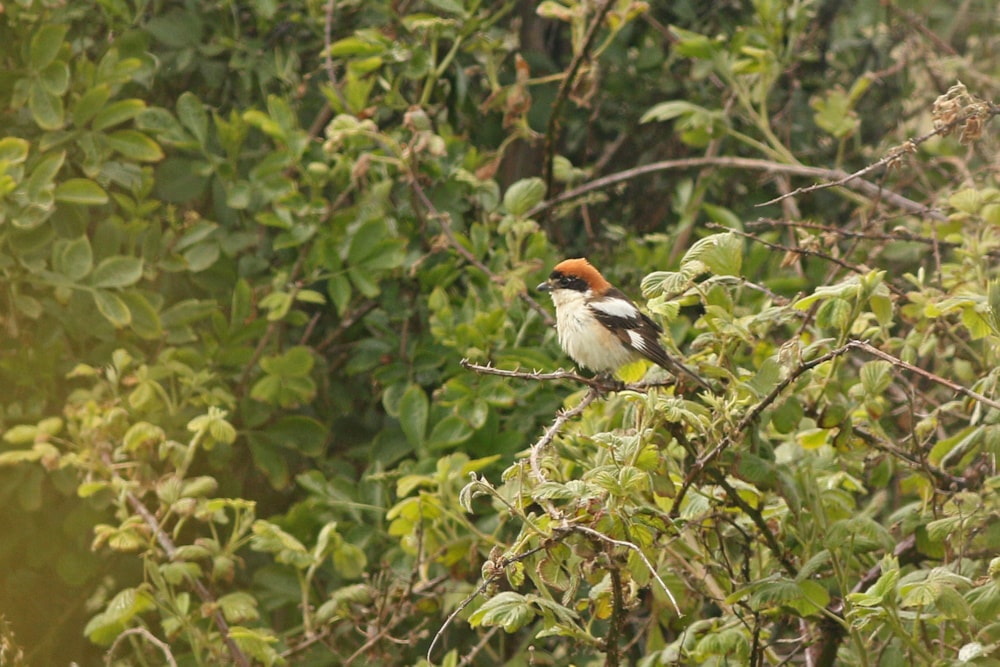 Woodchat Shrike, Long Nab, Burniston, North Yorkshire (Mark Pearson).
After last week's trio of Citrine Wagtails, it was almost a blank week until a brief male was observed at East Coast NR, Wicklow on 7th. A fine male Ashy-headed Wagtail visited St Mary's, Scilly, on 1st and a male Grey-headed Wagtail was at Port Meadow, Oxon. Further north, a male Black-headed Wagtail was at Durness, Highland, on 4th.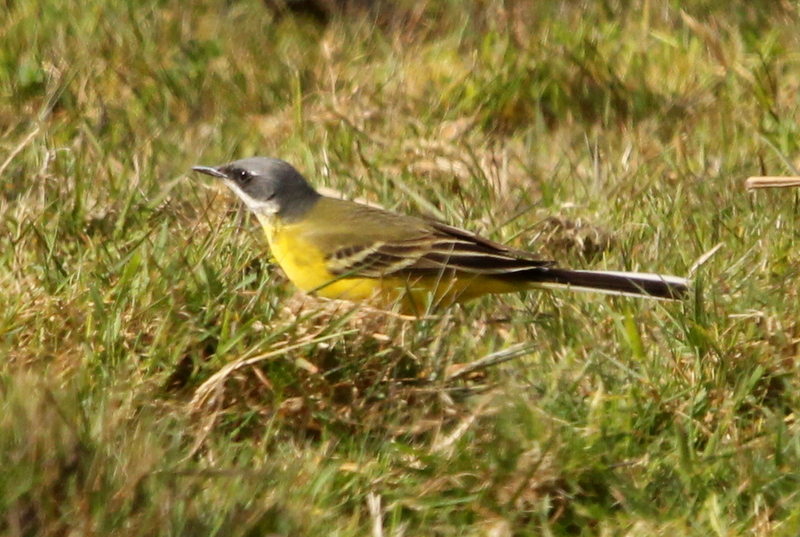 Ashy-headed Wagtail, St. Mary's, Isles of Scilly (Kris Webb).
A Melodious Warbler sang at Portland, Dorset, on 6th, but only one further individual was discovered (at Kilmichael Point, Co Wexford; also on 6th). The singing male Iberian Chiffchaff at South Kirby, West Yorkshire remained reliable all week, with a male singing at Gibraltar Point on 6th representing an overdue first for Lincolnshire. A male Great Reed Warbler sang at Penshorpe Waterfowl Park, Norfolk, on 6th, as did Savi's Warblers in Suffolk and Nottinghamshire, with a third Savi's at Longhaven, Aberdeenshire, on 6th. Shetland produced Yellow-browed Warblers on Fair Isle and at Hoswick.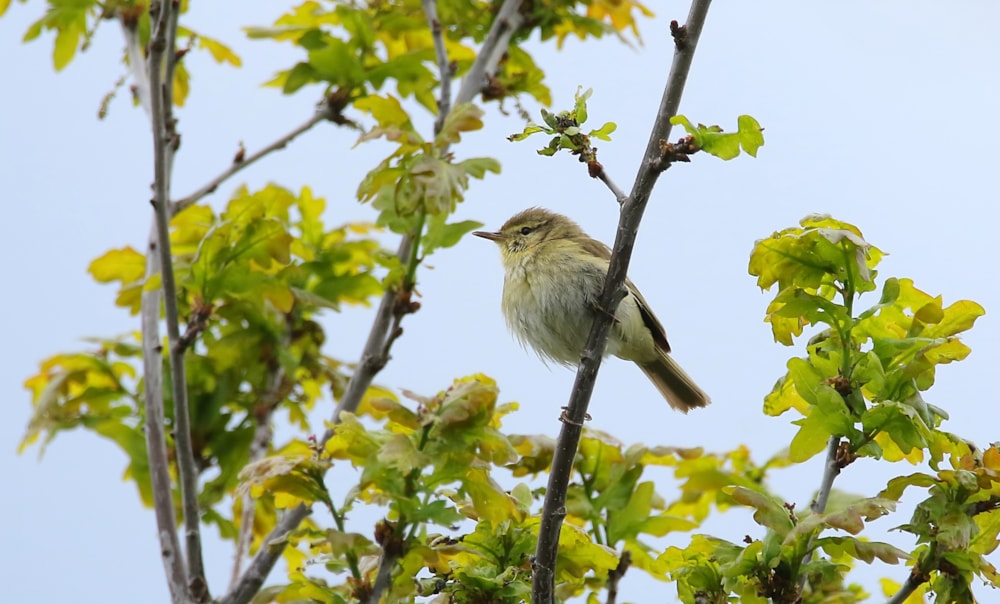 Iberian Chiffchaff, South Kirkby, West Yorkshire (Jaz Hughes).
Up to six European Serins were at sites in Dorset and Kent, further north individuals were noted in flight in Norfolk and Cheshire. Three Little Buntings were well spread in the west with singles on St Mary's, Scilly, and Great Saltee Island, Co Wexford, on 5th plus a confiding individual at Eoligarry, Barra, for two days. A single Ortolan Bunting was also on the Saltee Islands from 5-7th.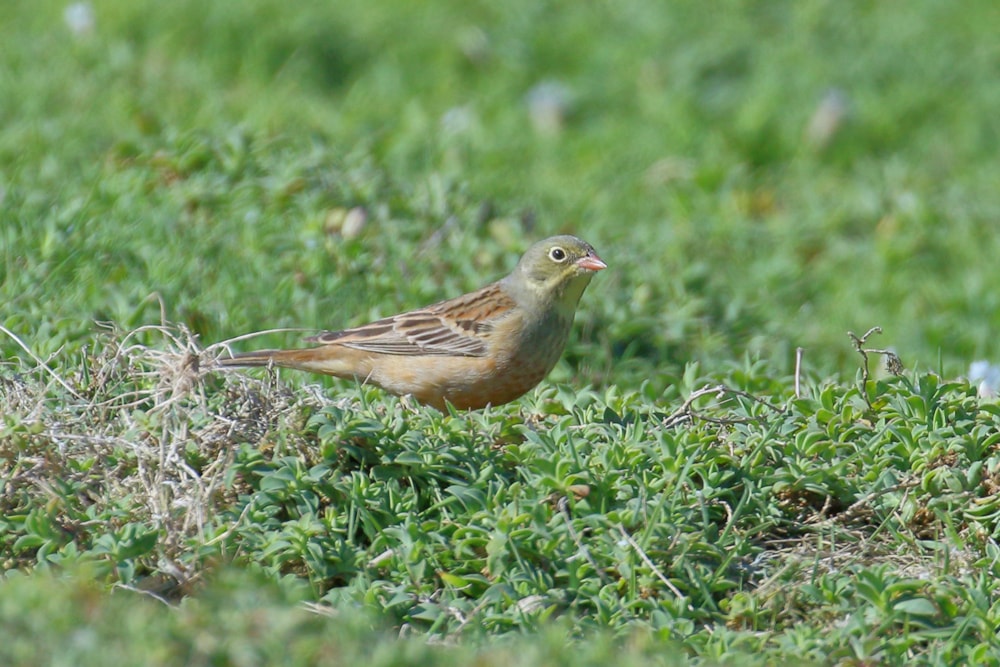 Ortolan Bunting, Saltee Islands, Wexford (Tom Shevlin).
Western Palearctic
Norway experienced a barmy day on 2nd, with a national first, a second and a third, plus a bizarre presumed hoax surrounding a Tristan Albatross. The latter was reportedly, photographed from a ferry off Judaberg, Finnøy, Rogaland, although only one image has been produced (and apparently only one was taken). The existence of a Grey-headed Lapwing on Gjervoldsøy, Arendal, Aust-Agder, was unquestionable and it lingered to 4th. If accepted, it'll represent the second for the WP after last spring's bird in northern Turkey. A White-crowned Sparrow turned up on Sandøy, Bulandet, Sogn og Fjordane, staying to 5th and, finally, a Lesser Short-toed Lark appeared in front of one lucky observer at Stava, Karmøy, Rogaland. Sweden, meanwhile, could only muster a female Sardinian Warbler on the island of Horssten.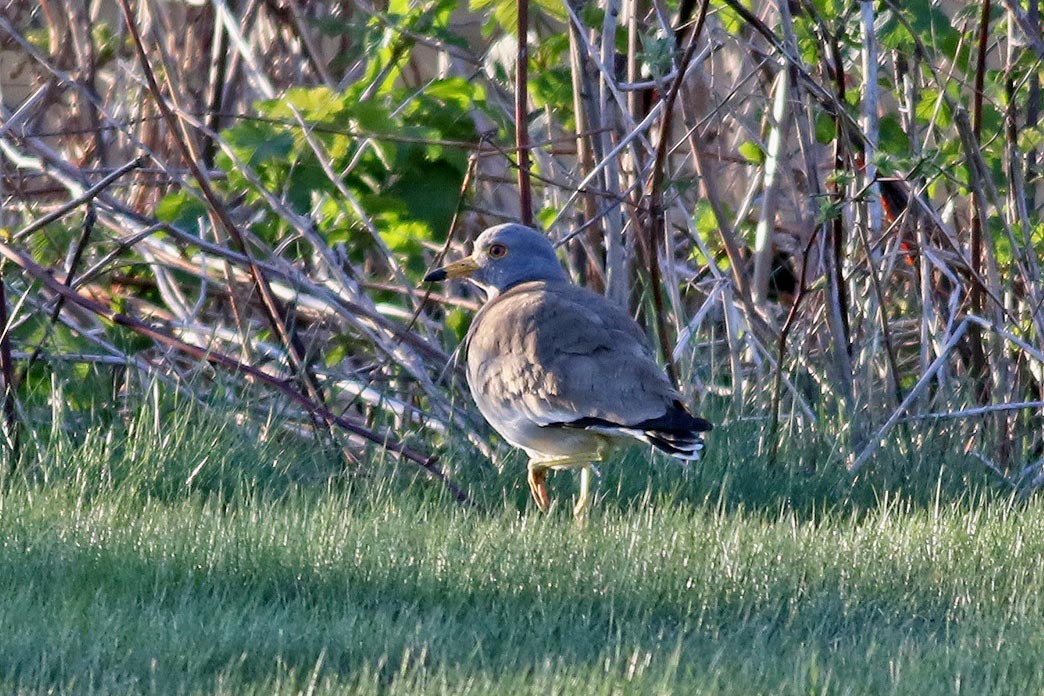 Grey-headed Lapwing, Arendal, Norway (Jesper Segergren).
The week's other outstanding record was a male Seebohm's Wheatear on the French-Belgian border east of Sailly-Lez-Lannoy on 7th. It started the day on the French side of the border but, much to the pleasure of Belgian birders, crossed into that country late morning and remained there for the rest of the day. After the bird in The Netherlands in May 2017, British birders can perhaps start realistically hoping for this subspecies some day.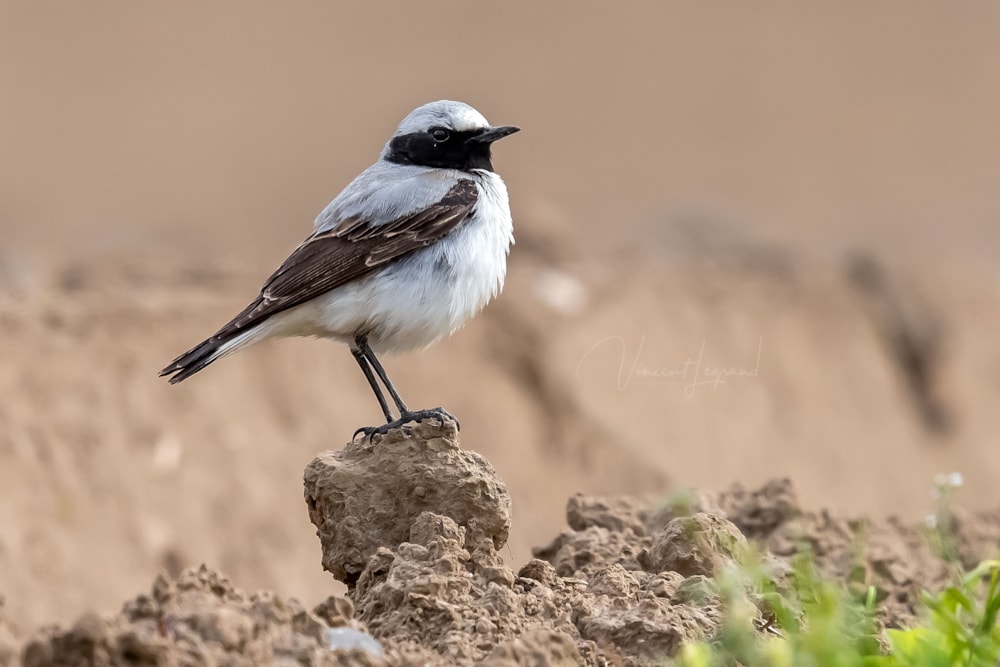 Seebohm's Wheatear, Templeuve, Walloon Brabant (Vincent Legrand).
The Dwarf Bittern lingered another week on Fuerteventura, while mainland Spanish records included a Western Reef Heron at Coto Doñana and a pair of Elegant Terns near Valencia. A Radde's Warbler was trapped on Isla Ventotene, Italy, on 2nd, while late news emerged of a Grey-headed Gull at Zarzis, Tunisia, on 26 April. Albania's first Blue-cheeked Bee-eater was at Drilon on 6th, a Namaqua Dove visited Akrotiri, Cyprus, and several Crested Honey Buzzards were identified among the tens of thousands of European Honey Buzzards moving north through Egypt and Israel. The Nutcracker was also still in Wageningen, The Netherlands, on 7th.