The week at a glance
We're now into the final days of the ornithological spring and the almost constant excitement of May appears to be on the wane. Not only has the volume of news decreased significantly, but many of the month's star birds have moved on too — not least North Uist's Black-billed Cuckoo, which was not seen after last Tuesday.
June is usually a month that produces quality over quantity, though, and the week's best 'discovery' was the reappearing first-summer Semipalmated Plover at Tacumshin, Co Wexford, on 3rd. Much more obliging second time around than on its debut, it showed daily until the week's end and put the identification beyond any doubt — both the call and semipalmations were noted. An American Golden Plover also touched down at Tacumshin on 6th — one of two reported this week, with the other at Rye Harbour, E Sussex, from 3–5th.

Semipalmated Plover, Tacumshin, Wexford (Photo: Paul Kelly)

American Golden Plover, Tacumshin, Wexford (Photo: Paul Kelly)
A convincing description of a Cliff Swallow was received from a site in south-east Hampshire; the bird, seen well on the morning of 3rd but not again, was with Barn Swallows and may well be 'one that got away'. The only other 'mega' news was another unconfirmed report of the Lammergeier on Dartmoor on 3rd and the continued presence of the Eastern Olivaceous Warbler at Scatness, Shetland, to at least 4th. Portland's Great Spotted Cuckoo was still present all week and is now closing in on a month in residence — should it linger for another week then that milestone will be achieved. And, last but not least among the week's highlights, the Dalmatian Pelican has notched up another seven days in Cornwall.

Eastern Olivaceous Warbler, Scatness, Mainland, Shetland (Photo: Steve Minton)

Dalmatian Pelican, Drift Reservoir, Cornwall (Photo: Brian Mellow)
The drake Bufflehead was seen on both Bassenthwaite Lake and Windermere this week. The only Surf Scoter was the immature drake off Musselburgh, Lothian, while drake King Eiders continued off Achravie, Highland, and on the Ythan Estuary, Aberdeenshire. The trickle of White-billed Diver records continued with a new bird off Barra, Outer Hebrides, on 5th and another still off Yell, Shetland, on 6th. One of the better finds this week was a drake Blue-winged Teal at Carlton Marshes, Suffolk, on 6–7th, while a drake Green-winged Teal arrived at Carr Lane Pools near Hale, Cheshire, on 7th. The drake Ring-necked Duck was still sitting pretty on Islay, Argyll, on 3rd, and a male Lesser Scaup was at Lower Lough Erne, Co Fermanagh, on 7th.

Green-winged Teal, Hale, Cheshire (Photo: Damian Young)
The male Little Bittern at London Wetland Centre was last noted on 3rd. Another male, very likely a returning bird, arrived at Old Moor RSPB, S Yorks, on 4th and began to hold territory thereafter. A third individual was audible at Trimley Marshes, Suffolk, on 7th. Belated news was also received of a male photographed at Ipplepen, Devon, on 26 May. An adult Night Heron was at Shapwick Heath, Somerset, on 4th, with an immature seen on Jersey on 6th. A Purple Heron flew from St Agnes, Scilly, towards St Mary's early on 6th, while last week's bird continued at Minsmere, Suffolk, to 3rd. Cattle Egrets were at Stoke-by-Nayland, Suffolk, on 2nd and still at Tacumshin on 6th. Records of White Stork from Cambridgeshire on 5th and Northamptonshire on 6th may well involve one of the escapes that have been touring East Anglia this spring; another in the Steart area of Somerset from 4th is a more likely candidate for a genuine arrival. Eight Glossy Ibis were reported from six sites.

Little Bittern, Old Moor RSPB (Dearne Valley), South Yorkshire (Photo: Elliot Montieth)
Five Black Kite reports included one at Tacumshin on 4th — presumably the bird recently at South Slob. Others were reported from Kent, West Sussex, Cambridgeshire and Cornwall. A male Red-footed Falcon was at Easington, E Yorks, on 5th before departing south over Spurn. A female was at Walberswick, Suffolk, on 7th. Unfortunately the week's only Snowy Owl report concerned a male found dead on Lewis, Outer Hebrides, on 27 May.
A Broad-billed Sandpiper touched down at Brandon Marsh, Warks, for little more than a matter of minutes on the morning on 2nd. Also that day a White-rumped Sandpiper was at Loch Bee, South Uist. Temminck's Stints were at Hickling Broad, Norfolk, on 2nd, Sanday, Orkney, on 3rd and Kenfig, Glamorgan, on 5th. Last week's Kentish Plover was last seen at Church Norton, W Sussex, on 1st, with a male at Landguard, Suffolk, on 2nd presumably that relocating to The Naze, Essex, on 4th. Seven Red-necked Phalaropes included the long-stayer at Grindon Lough, Northumberland, two on Papa Westray, Orkney, and a brief bird at Holme Pierrepont, Notts, on 4th.

Kentish Plover, Landguard NR, Suffolk (Photo: John Richardson)
The Lothian Gull-billed Tern was at Tyninghame Bay on 3–4th but began to commute along the Firth of Forth to Kinneil Lagoon from 3rd (it was last seen there on 6th). Another at Kenfig, Glamorgan, early on 5th may well be the bird seen flying over Shapwick Heath, Somerset, that evening. A Caspian Tern at Graemeshall Loch on 4th is the first seen on Orkney since April 1998; another was reported at Long Eaton, Derbys, on 5th. A Whiskered Tern was identified from photographs taken at Brading Marshes, IOW, on 6th, and another was in Suffolk at Trimley Marshes on 7th. Somewhat surprisingly the adult Laughing Gull reappeared briefly at Dungeness, Kent, on 2nd but soon flew strongly off to the west once more. The first-summer Bonaparte's Gull continued to show well on the Wansbeck Estuary, Northumberland, all week.

Gull-billed Tern, Kinneil Lagoon, Forth (Photo: Scott Wotherspoon)

Bonaparte's Gull, Wansbeck Estuary, Northumberland (Photo: Chris Downes)
A Paddyfield Warbler was trapped and ringed at Mire Loch, Borders, on 5th. Another Great Reed Warbler was found on 5th — this time at Waters' Edge Country Park, Lincs, where it lingered until the following day. The long-stayer also continued to sing at Paxton Pits, Cambs, all week. Savi's Warblers sang in Gwent and East Yorkshire. The male Iberian Chiffchaff was also still singing on Tresco, Scilly, to 5th. A large pipit caused lively debate on Fair Isle on 4–5th as the identification swayed from Tawny to Richard's via Blyth's. A Red-throated Pipit flew over Galley Head, Co Cork, on 2nd.

Great Reed Warbler, Waters' Edge CP, Lincolnshire (Photo: Dave Roberts)

Richard's Pipit, Fair Isle, Shetland (Photo: Lee Gregory)
A reduction in the number of many scarce migrants was not unexpected this week, with totals of two Eurasian Hoopoes, two Grey-headed Wagtails and singles of Wryneck (Scilly), Woodchat Shrike (Devon) and European Serin (Suffolk). An Alpine Swift lingered on St Mary's, Scilly, from 1–5th. Fly-over European Bee-eaters were noted at Margate, Kent, on 4th and at two sites in Suffolk on 7th. One lingered for the best part of 24 hours in the Spurn area on 5–6th. Red-backed Shrikes were slightly down on last week with around 25 recorded; the only Icterine Warbler was the male singing at Laggan, Highland, throughout.

Red-backed Shrike, Attenborough NR, Nottinghamshire (Photo: Alan Horsley)

Icterine Warbler, Laggan, Highland (Photo: Dennis Morrison)
Around eight Marsh Warblers included a peak of two on Fair Isle. The only Bluethroats were females on North Ronaldsay, Orkney, and Fair Isle on 6th. Eight Common Rosefinches included a lovely red male at Kilnsea, E Yorks, from 1–4th and others spread widely — records came from the likes of Cornwall, Highland, Orkney and Oxfordshire, this last bird in a garden in Oxford on 1st. Greenish Warblers totalled seven, Bardsey Island claiming its third of the spring on 5th. The only Red-breasted Flycatcher was at Titchwell, Norfolk, late on 6th, while a Rose-coloured Starling showed well in a garden at Caddington, Beds, from 3–6th.

Marsh Warbler, Fair Isle, Shetland (Photo: Lee Gregory)

Common Rosefinch, Kilnsea, East Yorkshire (Photo: Phil Jones)

Rose-coloured Starling, Caddington, Bedfordshire (Photo: Steve Blain)
Western Palearctic news
It was a quiet week across the region, with the continuing Sulphur-bellied Warbler comfortably the headline bird once again — though it did a Friday night bunk from Christiansø, much to the disappointment of prospective weekend twitchers. Other news included the Bar-tailed Lark still at Gruissan, France, and the Stejneger's Scoter still in Finnmark, Norway, on 2nd, while the Black-browed Albatross was relatively twitchable on Sylt, Germany, from 2–4th.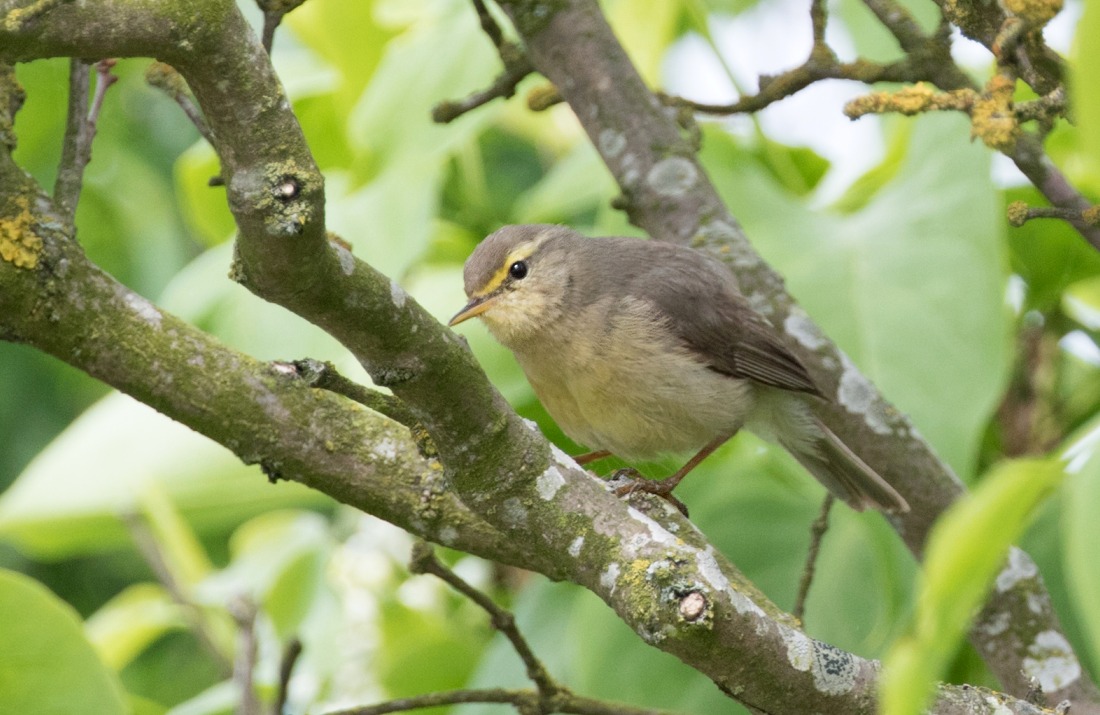 Sulphur-bellied Warbler, Denmark (Photo: Christian Leth)