This year there seemed to be a distinctly feathered feel to the best of the April Fools. Auntie Beeb led the way with an excellent docu-spoof. We're sure you have all seen it, but just in case....
Both BirdGuides and BirdLife International went on to rip off the BBC's efforts shamelessly. BirdLife managed to get the best out of it and you can see their story here. You can also watch a very interesting piece on how the BBC made the clip here.
The BBC continued their bird-related japery with an item on the Today programme on Radio 4. Dr Mark Avery of the RSPB explained to listeners that following the boom in Siskin, Brambling and Redpoll numbers as monitored during the Great Garden BirdWatch, the RSPB were extremely worried that our British birds were going to be out-competed for food. The solution, Mark explained, was obvious: a high-tech "Moggy" trap would be employed to catch these foreign invaders, and they would be shipped to Denmark via Heathrow's Terminal 5. You can listen again here. The item is about 15 minutes into the recording.
The BTO's "Bird of the Day" on the ever popular Bird Atlas website was Great Auk. We were a little alarmed that a non-breeding record had managed to get through their systems - especially an inland one. However, I'm assured that this problem is now resolved.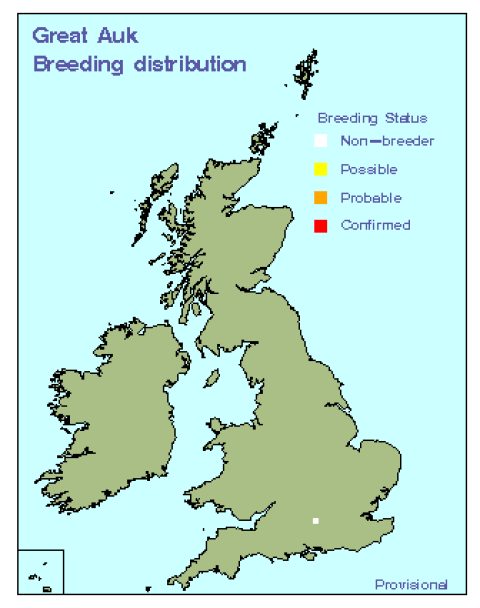 April 1st's Bird of the Day (map: BTO).
Content continues after advertisements
A variety of birding blogs caught our eye. Another sighting of the Great Auk (with a photo!) appears on the
Birdchaser Blog
. News also reached us (and embarrassingly due to its late arrival we believed it briefly) of a first for the Western Palearctic - a Bachman's Warbler! You can see the almost plausible story in the 1st of April entry of the
Birding Iceland website
.
And finally, the Yahoo news groups were not to be left out. Our particular favourite was a post on the Peterbirder news group from Mike Weedon. Mike's list for the day is reproduced here:
Maxey pits (Etton Road), Tuesday mid-morning:
Little Ringed Plover, 9

Ringed Plover, 6

Redshank, 9

Green Sandpiper, 6

Dunlin, 2

Sand Martin, a few skimming around the pits
Also a distant, brief flight view of a female Gadwall which may have shown characteristics of the eastern race, cachinnans, or Caspian Gadwall (this is the peak time locally for this form).
Brian Stone added a post that "Note: this form rarely occurs locally and would require a description for acceptance by the Peterborough Bird Club. I should be calling there later on so I'll keep an eye open but they are usually gone by the afternoon."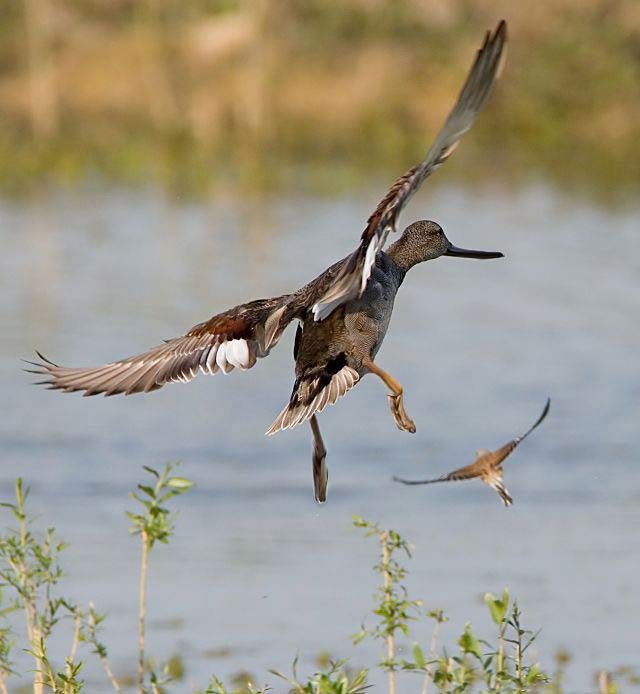 "Caspian" Gadwall flushing Linnet (photo: Richard Bedford).
Please do let us know of any goodies that we missed via the comments button at the bottom of this article.
Thanks to Peter Wilkinson for suggesting this article, and many apologies to Richard Bedford for vandalising his wonderful photograph. Thanks also to the BTO for use of their map.