Older-generation citizens of Perth, Western Australia, will recount how, back in the 1970s, thousands of big, noisy parrots would flock across the horizon, flying high with deep, slow wingbeats, and gliding for extended periods with their wings held downwards.
These were the sights and sounds of Carnaby's Black Cockatoos. Some locals call them 'rain birds', referring to former times when the beginning of the cockatoo's breeding season coincided with the start of the autumn rains. For the Aboriginal Noongar people, finding a Carnaby's feather was, and still is, considered a blessing.
Today things have changed, and not for the better. The natural geographical distribution of Carnaby's Black Cockatoo is restricted to the far south-western corner of Australia. Scientists estimate that within this region the cockatoo population has halved in the last 45 years and has suffered a 30% contraction in range, with habitat fragmentation, loss of nest hollows and lack of native food sources being the main causes. The current total population is estimated to number c 40,000 individuals, and its decline has been sufficiently steep that it is classified in the IUCN Red List of Threatened Species as Endangered.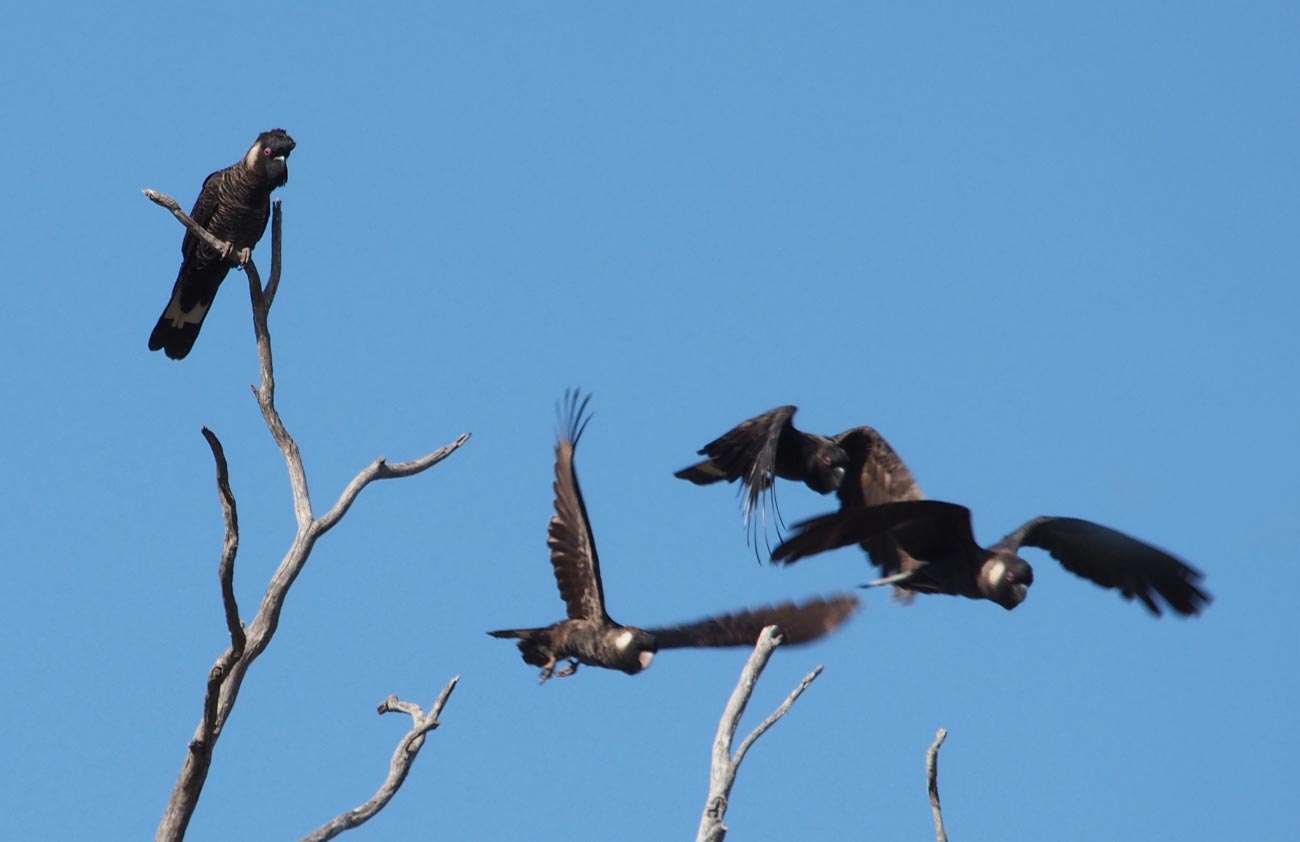 Carnaby's Black Cockatoos used to be a much commoner sight across Western Australia, including over the city of Perth itself (Jenny Donald / Atlas Living Australia).
This worrying situation has stimulated conservation action. In 2013 the Department of Parks and Wildlife of Western Australia produced the Carnaby's Cockatoo Recovery Plan, and the government and non-government organisations have been working in tandem to fulfil the aims of the plan. One of the NGOs long involved is Bush Heritage, and in 2020 the Loro Parque Fundación commenced its support of a very promising restoration project.
Carnaby's Black Cockatoo is found mostly within the Wheatbelt region of south-west Australia in localities that receive over 300 mm of rainfall yearly, but breeding takes place only in areas receiving 350-700 mm of rainfall a year. Cockatoos form flocks outside the breeding season, moving away from nesting areas. The species is sedentary in wetter parts of its distribution, and migratory in drier areas as birds move south and west towards the coast in summer. It is found in Eucalyptus woodland, favouring large hollows in mature trees for nesting. It is also found nearby pine plantations and sandplains or Kwongan heath with abundant shrubs, whose seeds are a perfect source of food for the cockatoos. The Kwongan shrublands constitute one of the most diverse vegetation assemblages on earth, but are found largely on sandy soils that were targeted early for agricultural development and have been disproportionately cleared.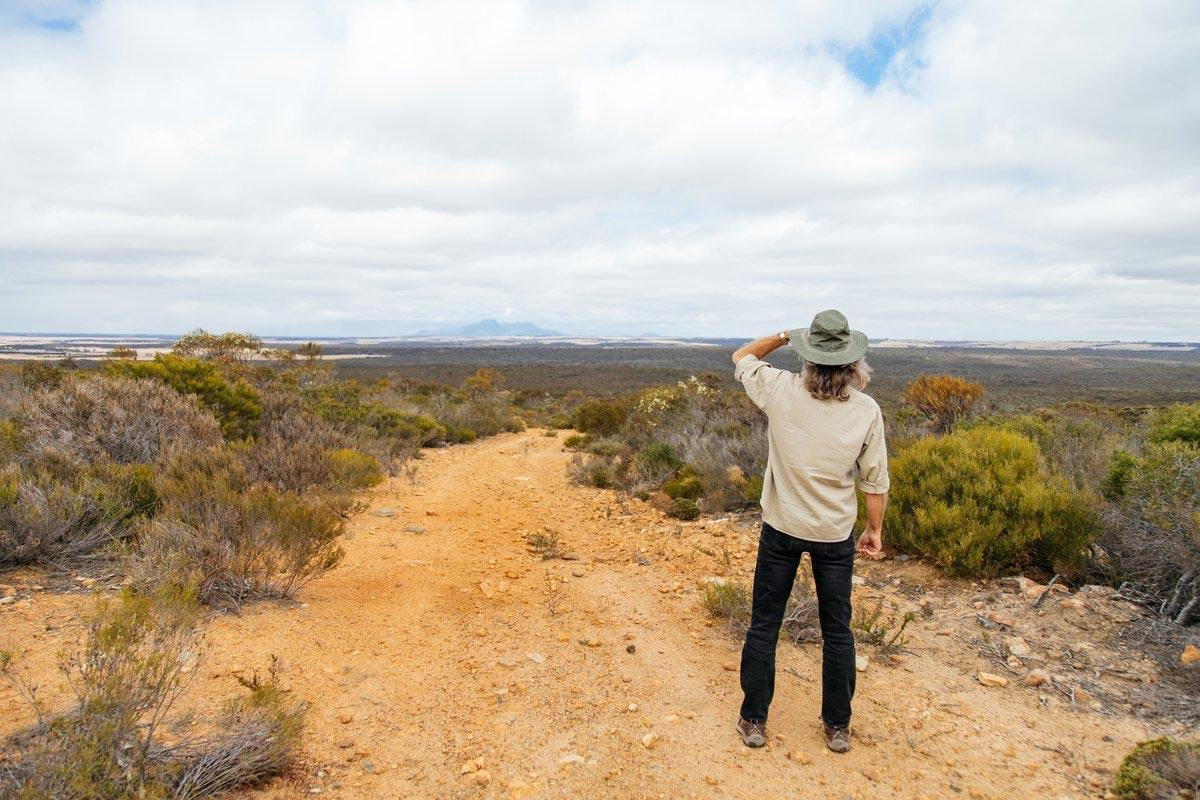 Landscape Manager Simon Smale looks over the Kwongan heath on the sandy plains of Monjebup Reserve, Western Australia (William Marwick / Bush Heritage).
The Bush Heritage project is centred on its Monjebup Reserve, a private protected area between the Stirling Range and Fitzgerald River National Parks, located in the South-West Australian Global Biodiversity Hotspot. The focus of the project is to consolidate and reconnect native habitat fragmented by land cleared for agriculture. This project directly addresses a key task in the Recovery Plan, to maintain or increase the area of non-breeding feeding habitat and night roosts by planting areas of native vegetation. The re-vegetation of target areas began in 2013 through the hand-planting of seedlings grown at a nursery outside of the reserve, but this was expensive and time-consuming. However, a subsequent donation to the project has enabled direct seeding using tractor-drawn machinery to sow the seeds directly into the soil, making the re-vegetation process cheaper and much more efficient.
The project has already achieved resounding success in extending foraging habitat and, in 2019, bringing about the return of Carnaby's Black Cockatoos to the Monjebup area. Bush Heritage has observed flocks of dozens of cockatoos feeding in the rich vegetation established by the project. Further good news reveals that cockatoos are nesting at a site within 12 km of the new feeding areas – research has revealed that the further the cockatoos have to fly to find food, the lower the survival rate of their chicks. Thus, a breeding site so close to Monjebup is a real bonus.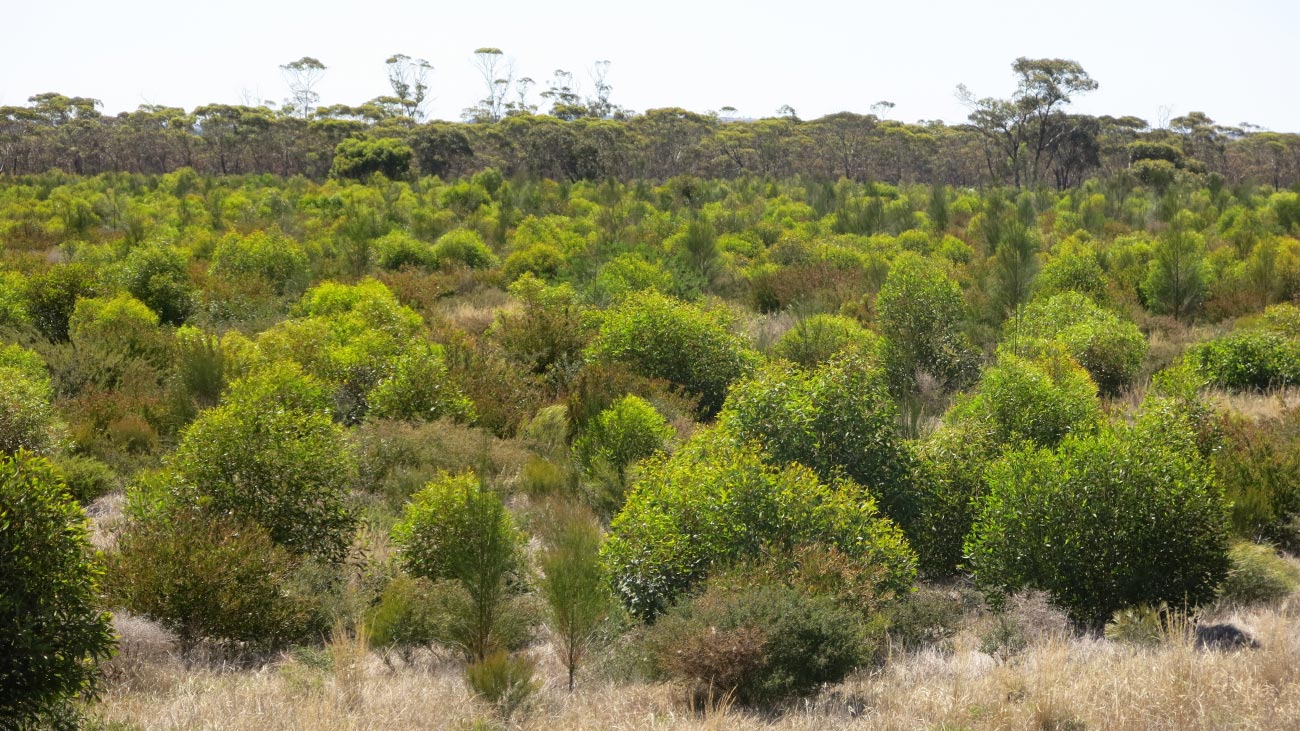 Restored habitat, rich in shrub species suited to Carnaby's Black Cockatoo, three years after planting (Threshold Environmental).
This project, with support from Loro Parque Fundación, is now building on this proven success by further enriching 400 ha of existing ecological restoration in Monjebup Reserve with further shrubs – 10,000 more seedlings will be planted to establish 'forage nodes' for cockatoos across the area, also benefiting a range of other fauna including Honey Possums, Australian Ringnecks and other nectar-feeding birds. The plants will be will monitored to follow their successful establishment (target of 70% minimum), and camera traps and sound recorders installed in the restoration area will monitor cockatoo activity.
This important project will dovetail with a range of additional Carnaby's Black Cockatoo projects being undertaken by other conservation organisations and individuals, including the installation of artificial nests and the annual census of this species. Together they have the chance to restore the species to its former glory.