...and here I am, stuck in the office with the rain battering down on the roof. It hasn't been a great October here in the Angus glens — lots of rain and wind, and with so much moisture in the air that any short-lived windows of better weather have been dominated by mist and murk. Not good conditions for VisMig, but maybe tomorrow.... However, conditions have been better in England, and the month has seen at least two migration spectaculars.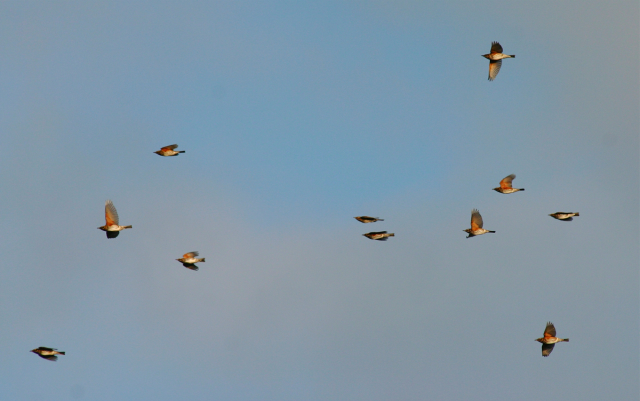 Redwings >W, Glenisla, Angus 18th Oct 2008. (Photo: Clive McKay)
Changing seasons
As the autumn weeks pass, the mix of familiar summer visitors is almost imperceptibly replaced by our winter immigrants. But the change comes gradually: as some species disappear, others appear, without you really registering it. One of the joys of visible migration is that you can see these departures and arrivals right before your eyes. The Swallows, pipits and wagtails of September are being replaced by finches, buntings and winter thrushes — and sometimes all can be seen on the same morning. As a few tardy individuals wave goodbye (and you hope that they're going to make it to their winter quarters), an excited wave of winter holidaymakers is arriving to keep us company over the short days of winter. It's great to stand by a migration motorway and see Swallows and Snow Buntings, wagtails, Wood Pigeons and Whooper Swans crossing paths. Even better if there's the odd Red-rumped Swallow, Honey Buzzard or Serin on the menu (see below!).
Flocks of winter thrushes start to guzzle down the hawthorn berries, but these are only the tip of the iceberg compared to the numbers that pass over all of us on their way to more western wintering grounds. Depending on the prevailing weather in Scandinavia and across the North Sea, they may pass during the night, but under the right circumstances a mad October rush occurs during daylight hours — and you can see and hear the winter coming in the shapes and calls of the Redwings and Fieldfares. When seen in the flesh (or feather!) the transition from autumn to winter is something dramatic and exciting, and something to celebrate.
October is always the busiest month of the year for migration watchers. And it's a time when the tables are turned. In my last article I used the analogy of our migrants behaving like marbles on a snooker table the shape of Britain that has been tilted from its "north" end, resulting in the "marbles" flooding southwards — encountering various barriers and funnels on their way. But, as the autumn progresses, the table is often tilted steeply from the east — Scandinavia — as winter thrushes, Starlings and finches flood in, either on a westerly heading directly across the North Sea, or on a northwesterly heading having come via the Low Countries. On these days, a different configuration of coast, hill and valley is required to funnel birds, and sites such as Scolt Head and Hunstanton cliffs on the north-Norfolk coast record many more Starlings and Chaffinches than Spurn, for example (which "works" primarily as a funnel for southbound birds). Likewise, the Pennines can act as a major barrier to cross-country movement, especially with inclement weather on the tops, and thrushes encountering the hills may flood northwards or southwards in search of a route across the hills.
October 2009 has seen two dramatic thrush immigrations into England (and a third influx "over the top" via the Northern Isles into northern Scotland has also occurred). The first comprised mostly Redwings on Tuesday 13th October, and involved a huge influx into south central England, probably resulting from birds avoiding frontal rain over the northern sectors of the North Sea, and is described by Steve Blain below.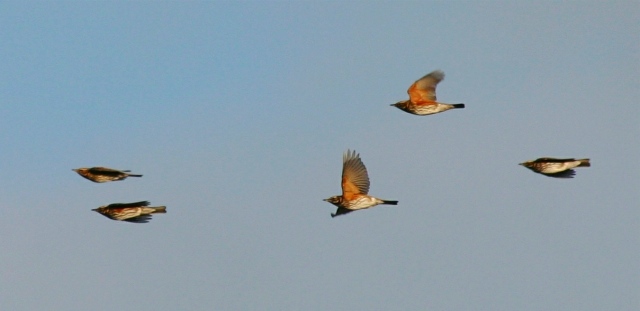 A little closer. Note how the closed wings are not folded completely into the body — a feature which helps to separate them from Starlings at a distance. (Photo: Clive McKay)
An extract follows (with his permission!) from Steve Blain's blog account of the "Lucky 13th" Redwing influx — when what he thought would be an ordinary morning at his pre-work VisMig watchpoint turned into a record-breaking day for Bedfordshire birding.
Viking invaders set Beds on fire (headline ©Mark Thomas)

I arrived just before seven, and as soon as I opened my car door I could hear Redwings and Chaffinches. Hearing Redwings before dawn isn't that unusual, but hearing Chaffinches was! I made my way through the trees out on to the top of the Pinnacle. It was still very gloomy and I could hear the "occasional" Redwing 'seep' from the surrounding trees — or so I thought. I assumed some had dropped in to the woodland to roost up over night.

Five minutes later and the light was just sufficient to pick up the first passing birds. Small flocks of Redwings were passing over west in groups of around ten. It was obvious that virtually all the birds I'd heard when still dark were flocks passing over rather than birds stopping off in the trees. These initial birds were all in small groups — up to twenty.

After around ten minutes Mark Gurney turned up, and I'm glad he did — the flocks were coming thicker and faster and numbers were beginning to increase rapidly. A big move was on! After an hour of non-stop counting, and some huge streams of Redwings over head (the largest being c.500 individuals strong) Mark had to leave. I was then on my tod for the next twenty minutes. It was pandemonium! I didn't know which way to look next, and everywhere I did look had a flock of Redwings zipping past! Thank goodness Col Campbell turned up fifteen minutes later. "Anything happening?" he said — "Yes, look up!!" I shouted, as another pile of "thrushage" made its way across the sky.


One amongst the many — Redwing, The Pinnacle, Sandy, Beds 13th Oct, 2009 (Photo: Mark Thomas)

The pulses of birds weren't really pulses any more, it was more like a torrent — no, tsunami — of birds, flapping, gliding, and skidding northwest. This was vismig at its absolute best! My notebook was filled with scribble — numbers everywhere, with "Redwing" scrawled somewhere nearby. Virtually everything else had to be ignored — I heard a Crossbill, but didn't bother looking for it, and I also heard at least three Bramblings lost amongst the fizzing melee. And I almost forgot to point out to Col a Raven which flew right past the watchpoint!

Back to the Redwings. It was rapidly heading towards 9am and time for work. I'd tried to get Matt Burgess to come up, but he was busy. I phoned Mark Thomas, but got no answer. But luckily he soon phoned back and I let him know what was going on. He joined us within a few minutes. The passage at this point was at its strongest, with lines of Redwings snaking across the sky, making counting difficult. Three pairs of eyes were just about right — one for looking south, one for looking north, and the other (me!) to scribble everything down and keep an eye on what was passing overhead. However, Col and I had to go to work. We passed MST the baton and hoped he could keep up!


Steve Blain's notebook — 13th October 2009 (Photo: Steve Blain)

When I got in to work, a quick tot up of our numbers revealed a staggering count — 21,551 to be precise! Obviously a group of about 500 went down as '500' so the extra one is a bit silly. Either way, it's still A LOT of Redwings!

Mark by this time had persuaded Matt to join him. They kept the pace going and had the best birds of the morning — Ring Ouzels! They had five birds fly over them during their middle hour of obs. Gutted I missed them, but a superb record, and a first for The Pinnacle. By the time 11am had come around the passage had almost stopped. The guys had counted another 7000+, bringing the total for the morning (06:55–11:25) to 28,982.





Record-breaking Ring Ouzels, The Pinnacle, Sandy, Beds, 13th October 2009 (Photo: Mark Thomas)

However, the story doesn't stop there. Johannes Kamp, who lives in Sandy, just below the watchpoint, also had another rush of birds just before dusk. He counted 4,006 going over between 17:40 and 18:46, when it got too dark to count further. I wonder how many more we could have added if someone had been on the Pinnacle?

So, grand Redwing total for the day —  32,988!

Cosmic.

Steven Blain, 13th October 2009
BirdTrack
For an animated map of the October Redwing influx see the BTO's BirdTrack website and in the Animated maps section enter Redwing for Sep-Oct and click Go. The largest number of BirdTrack sites with records are clearly in the week 11th–17th October, and interestingly there are fewer sites with records in the following weeks, perhaps as the birds become more sedentary after the initial arrival rush.
Here we go again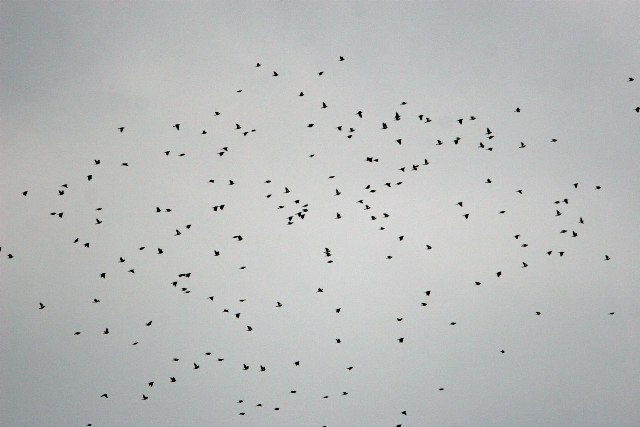 Fieldfares arriving, Oxenhope 27th October 2009 (Photo: Dave Barker)
Two weeks later, on 27th October, another veritable thrush tsunami engulfed eastern England. Again it fell on a Tuesday, so it was witnessed by only a handful of observers, but a great reward for Dave Barker (see feature below) and Howard Creber at Oxenhope who take time off work to cover this key period. Almost a week prior to this influx, Dave Barker and Hans van Gasteren had alerted vismiggers across Britain and the Low Countries to the development of potentially suitable conditions for an emigration of Scandinavian thrushes on the evening of Monday 26th. Sure enough, the weather forecasts were right, and radar images showed a huge wave of birds leaving Scandinavia and heading south towards to the Low Countries that night. In Britain, radar watchers on the Humber had also seen large numbers of angels heading inland overnight — accompanied by overhead "seeps" and "chacks". Keith Clarkson was at Flamborough Head for dawn on the morning of 27th: Fieldfares and Redwings were piling in from the east and heading southwest inland — 13,955 Fieldfares and 4,265 Redwings over the next 2 hours and 15 minutes. Crucially, conditions were a little murky, so brought the birds down to eye level on the coast, but not so bad that they couldn't continue inland. Meanwhile in Norfolk, Gary Hibberd and Andy Brown were quickly running out of fingers at Hunstanton as they counted 26,113 Fieldfares (previous site best 5,986) and 12,338 Redwings (previous best 3,070) passing over in just under 2 hours! Hard to imagine — especially in the unseasonably mild conditions of the day.

Fieldfares overhead, Oxenhope 27th October 2009 (Photo: Dave Barker)
However, at Oxenhope (West Yorkshire) in the Pennines, all was quiet in the mist, apart from Dave Barker's phone ringing ("seep, seep"?) as KC alerted him to what was happening on the coast. The birds hadn't reached the Pennines yet, but Dave and Howard planned to be there when they did! And sure enough, from 2pm onwards the first small flocks of Fieldfares started to arrive, and by the end of the day, they had logged 6,314 birds passing mostly southwest, with only a handful (155) of Redwings. For full details and more photos from the day, see Dave's Blog.
The day brought together a range of skills, experience and technologies ensuring that this great event didn't pass unseen, and thanks to Dave's predictions others were able to share in the excitement of the day. And it ended with a curious phenomenon — as Dave left the watchpoint in the gathering gloom, Howard swears that he saw a golden 'Ready Brek' glow coming from one very satisfied vismigger!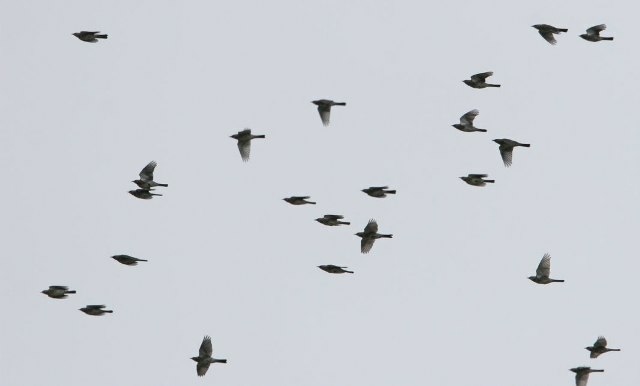 Fieldfares, Oxenhope 27th October 2009 (Photo: Dave Barker)
By the end of the day, 14 VisMig sites in Britain had clocked up 92,387 migrants between them, with the lion's share being made up of 56,328 Fieldfares and 25,752 Redwings, most of which were seen at Flamborough, Spurn, Hunstanton (Norfolk) and Oxenhope. It's always hard to pick up scarcer birds on these BIG days, but goodies on the day included a Richard's Pipit, a Lapland Bunting and a couple of Snow Buntings. Not a bad day at the office. Interestingly, in the wake of this influx from the east came a spate of inland Lapland Buntings — four at Oxenhope, one at Redmires (South Yorkshire) and one at Beacon Hill (Leicestershire) — perhaps all on this occasion hailing from Scandinavia rather than the more usual Greenland?
The 2nd BigVis weekend 17/18th October 2009
As ever, when a co-ordinated VisMig weekend is planned, the weather throws a spanner in the works — a lovely high-pressure system slap bang over the middle of the UK. But this is the nature of the game, and expectations weren't high. Neither day was great for numbers or variety, but a good turnout of observers resulted in the two biggest GB VisMig day totals of the year so far — 111,000 birds at 31 sites on the Saturday, and 122,000 at 37 sites on the Sunday.
17th October
Species with more than 1,000 individuals recorded on the 17th October
| | |
| --- | --- |
| Redwing | 31016 |
| Fieldfare | 22758 |
| Wood Pigeon | 20178 |
| Starling | 9233 |
| Pink-footed Goose | 5802 |
| Goldfinch | 4917 |
| Chaffinch | 2372 |
| Meadow Pipit | 1538 |
| Lapwing | 1405 |
| Linnet | 1340 |
| Skylark | 1195 |
| Jackdaw | 1144 |
It was pretty much bread-and-butter fare, but with a few sites had a good morning. Bryan Yorke was at Hutton Roof, Cumbria, a site that he is trying out for the first time this autumn, having recently moved into the area. Despite a slow September, October has come good and on the 17th he had almost 10,000 Fieldfares and almost 11,000 Redwings — a busy morning for a single observer! Hale Head in Cheshire clocked up 8,946 Wood Pigeons. These species along with Starlings dominated large counts at Stainburn Moor (North Yorkshire), Oxenhope (West Yorkshire) and Upper Loads (Derbyshire). A good trans-Pennine passage of Pink-footed Geese livened up the counts at several sites, with the largest numbers seen by Simon Roddis at Upper Loads (709 east), where he also had a total of 29 high-flying Bullfinches heading west. Goldfinches were also surprisingly numerous on the day — they don't seem to mind the high-pressure systems as much as some other species.
Other species in reasonable numbers included 921 alba wagtails, 773 Siskins and 330 Crossbills. A sprinkling of rarer species included 8 Ring Ouzels, 3 Wood Larks, 2 Lapland Buntings, and 1 Corn Bunting — the latter reflecting the increasing rarity of this species in the country as a whole. A very close flypast juvenile Honey Buzzard was a nice surprise for Andy Hanby and Jon Blacker at Stainburn.
18th October
The top 15 species on the "LittleVis" day, 18th Oct, 2009
| | |
| --- | --- |
| Starling | 67809 |
| Redwing | 19629 |
| Wood Pigeon | 8643 |
| Fieldfare | 7004 |
| Chaffinch | 5158 |
| Pink-footed Goose | 2057 |
| Goldfinch | 2013 |
| Greenfinch | 1144 |
| Linnet | 1088 |
| Meadow Pipit | 894 |
| Black-headed Gull | 788 |
| Skylark | 775 |
| Jackdaw | 672 |
| Siskin | 654 |
| alba wagtail sp. | 526 |
A generally poor day was dominated by 55,000 Starlings at Hunstanton, a good movement of 6,256 Redwings and 1,620 Chaffinches logged by Tim Sharrock at Sharpenhoe Clappers (Beds), and Mavis Smith chipped in with almost 7,000 winter thrushes at Darwen (Lancs). In the country as a whole Bramblings (254) out-numbered Swallows (110). Nine Little Egrets flying north at Know Hill Silverdale (Lancs) was a nice sight for Tony Riden, but scarcities were few and far between.
What else has been happening.
Well, there was the Eastern Crowned Warbler, but it wasn't flying over, so it doesn't count I'm afraid. October is the month when many of our finches start looking for good seed crops, and this month has seen larger-than-usual numbers on the move — Redpolls (3,320), Siskins (12,304), Goldfinches (61,550), Tree Sparrows (3,427) and Crossbills (1,526) — record numbers of the latter at several south-coast sites. Bullfinches have also been very conspicuous, with high-flyers recorded from most sites — though in characteristically small numbers for this largely sedentary species. The best count was an impressive 42 over Sharpenhoe Clappers, Beds in 2 hours 30 minutes on 29th. Chaffinches are streaming into the country from the Low Countries (52,008 since 1st October, mostly at southern and eastern sites), with reasonable numbers of Bramblings (1,414) thrown in to keep observers' identification sharp. Clearly these totals are only a fraction of the real numbers on the move, but they give a good flavour of what could be passing somewhere near you right now. Rock Pipits have been conspicuous at Spurn, with 553 of these "non-migrants" passing over south during the month — along with 4 fly-overs at inland sites — British or Scandinavian?
October variety came in the shape of 78 Wood Larks (see map), 30 Lapland Buntings, 3 Glossy Ibis, 3 Hawfinches and last but not least a Red-rumped Swallow, a Serin and a Honey Buzzard, all seen by Hamish Murray in 5 hours on 29th Oct at Durlston NNR (Dorset), along with 4,485 other migrants of 51 species! (see trektellen).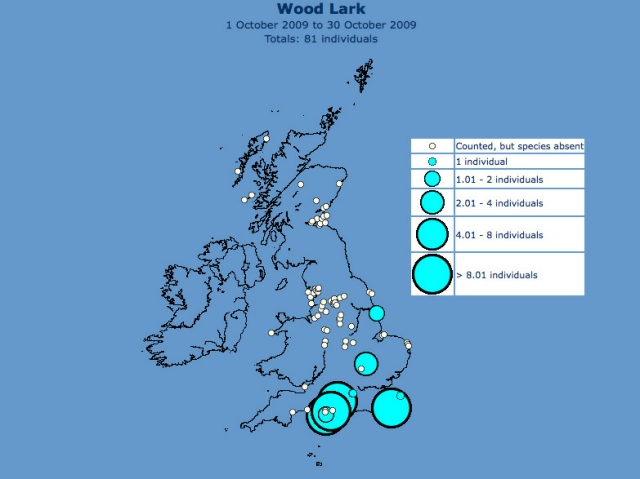 Distribution pattern of migrating Wood Larks at British VisMig sites, 1st–30th October 2009. (Photo: www.trektellen.org)
But I think we have to finish with our top scorers, all coming in with six-figure totals — 292,577 Starlings (193,586 of these at Hunstanton alone!), 229,502 Redwings, 146,204 Fieldfares (it's still early days), and sneaking into fourth place — 108,318 Wood Pigeons. Wood Pigeons? Any guesses which one of these will be the most numerous by the end of the season?
VisMig characters — Dave Barker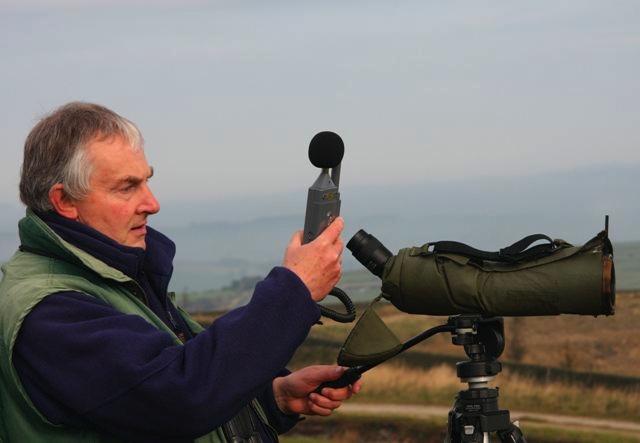 Dave Barker measuring temperature and humidity on a VisMig watch at Oxenhope, Bradford (Photo: Howard Creber)
Dave and I were first brought together in 2002 by a common interest in co-ordinating VisMig activities across the country. This soon resulted in us setting up the VisMig Yahoo group (http://groups.yahoo.com/group/vismig). Hard to imagine that communicating by email was new to many in those days — and broadband was the exception rather than the rule. Seven years later we have still to meet, but I'm sure I've received/sent more emails from/to Dave than I've seen Redwings over the same period. The Yahoo group is still going strong with Dave at the helm as group moderator. But this is not a talking shop, it's all about getting out there and Dave leads by example — I doubt whether any of us have spent as much time in the field actually vismigging as Dave and the Bradford crew. For this reason, I now consider the Oxenhope VisMig watchpoint (a Bradford Ornithological Group reserve) as an honorary inland bird observatory, with a fantastic series of counts to compare and contrast with other sites. There are few days when Oxenhope doesn't feature on the pages of Trektellen. Since August 2005 Dave, Howard and co. have logged counts on 351 separate days totalling 1,254 hours of observations!
Dave dates his interest in VisMig to a "legendary" talk given by Keith Clarkson to the Bradford Ornithological Group in 1990 on migration through the South Pennines. Having lived, worked and watched wildlife in the West Yorkshire Pennines for many years, he was transfixed by Keith's vivid descriptions of migration through the hills, a phenomenon which he had hitherto not witnessed. But not for long! The very next autumn he was staking out potential sites in the hills west of Bradford. Soon, with the help of Howard Creber, Simon Johnson, Mark Doveston, Brian Sumner and Martyn Hayes, co-ordinated VisMig counts were revealing new patterns to bird migration in the Bradford area. And yes, the "vis" really did flow as Keith had described, and what exciting stuff! Dave's passion for VisMig is plain to see in his emails, but events over the last few days have seen him running out of superlatives — transition tsunamis, Viking hordes, giga flows and numerical magnificences have all crossed the e-waves. Dave is still totally addicted to "vis" — which he considers to be THE Ultimate Birding Experience — and reckons it is where those that have dabbled in almost everything else finally end up! At the Oxenhope sites the interest of the regulars has now broadened to include "holistic skywatching" where all attributes of the weather and the sky, so dominant in this upland region, are eagerly explored by day and by night. You can follow the "vis" adventures of the Bradford lads and see photos of the spectacular dawn skies and migrating birds at http://vismig.blogspot.com.
Whopping Whooper hold up
Thanks to Stephen Welch and the Wildfowl and Wetlands Trust for pointing out that the Icelandic Whoopers that I mentioned in the last article are still holed up in...Iceland. Usually by late October a good number would have made the crossing to Britain, and certainly one or two new flocks have started to turn up in flooded fields near me over the last week. But to date only two out of the 42 birds tagged by WWT have left Iceland, perhaps because the weather is still so mild up there. Nevertheless, the birds' migration clocks must be getting very tightly wound, and surely the next decent weather window over Iceland (fresh northwesterlies or calm air following the passage of a low-pressure system) will spur them into action. The weather maps suggest Sunday 1st November as a possible departure window. So there might be a good few more Whoopers in the country by Bonfire Night. Follow the fortunes of the tagged Whoopers at whooper.wwt.org.uk/whooper/blog.
Spurn Bird Observatory celebrates its 1,000th VisMig day
Spurn Point Bird Observatory is one of the most active visible migration watchpoints in the country. Its 1,000th VisMig count was added to the Trektellen VisMig database on 29th October. Since the first counts were added in April 2006, approximately 1,557,875 migrating birds have been logged either flying over the narrow neck, or passing out to sea. This simple statistic shows the value of adding your counts to a standard database such as Trektellen — how else would it be possible to add up four years' worth of counts at the click of a few buttons? And it's not often that we're able to venture into the realm of seven-figure numbers (this is my first time, that's for sure). The Spurn counts are a great starting point if you want to find out more about the timing of migration for just about any British visible migrant, providing a great year-round picture, because whatever the time of year, if the weather's good, there's sure to have been somebody sky-watching or sea-watching on Britain's most exciting peninsula. To see Spurn's latest VisMig counts go to this link, or for full details of all birding activities at the observatory visit the Spurn Bird Observatory website.
More on Spurn next time round.
What next?
The season is drawing to a close, but November is a good month for Whoopers and Fieldfares, and Waxwings if it's an invasion year. Late-autumn movements of irruptive finches can also occur, with Goldfinches sometimes continuing through to the end of the month. But there is one treat left in store for us all, the last dynamic migratory fling of the autumn. What could it be? It weighs 500g, it's a vegetarian, and it's our third commonest garden bird. Love them or hate them, at this time of year, something transforms Wood Pigeons into driven flying machines, and when flock after flock haul themselves out of the woods and up into the cold clear November skies, it's a sight not to be missed! Don't be lulled into thinking these are simply feeding flights from roosts. If you have flocks of Wood Pigeons flying in tight flocks high over your area (you do need to look up to see them!) please make a note of how many and in what direction they're flying. There it still much to learn about Wood Pigeon movements in the UK.
Third BigVis weekend
The weekend of 31st October/1st November is the last of our three co-ordinated VisMig counts. The weather forecast isn't great, with Saturday looking better, and Sunday a complete washout. So why not try standing in one spot on Saturday morning for an hour, and see what comes to you? If you want to contribute please register your site on Trektellen by contacting me via the website. All we need is a six-figure grid reference.
Links
Websites:
Blogs:
Bird Observatories/VisMig sites: