After a week of strong north-west winds and driving rain, birding involved of a lot of sheltering and determination on Foula in early October. However, a long-staying Isabelline Shrike, an Olive-backed Pipit on 5th and a Hornemann's Arctic Redpoll on 7th kept us on our toes.
Sunday dawned beautifully calm and we were keen to make the most of it. We set off on an early morning loop of Ham. It was barely light when Geoff saw a bird sat in dried docken stalks approximately 30 m away at the foot of a north-facing coastal rocky bank, a favourite haunt of our resident House Sparrows.
Through the gloom Geoff saw white wingbars and a crown stripe and was interested enough to tell me to get my bins on it. The small, orange, conical bill and a small, black, beady eye were prominent. We took some quick record shots before the bird took off and flew out of sight behind Ham yard dyke. We followed, but there was no sign of it. On reviewing our grainy record shots, we felt sure it was something good.
Salvation came in the form of Paul Harvey and Roger Riddington, heading our way down the burn (you couldn't script it). We discussed what we had seen and the showed them our poor record shots. A volley of expletives followed as Paul and Roger looked at the photos and told us it was an American sparrow, and a rare one at that! Identification features of various American sparrows were briefly discussed and it was decided that it was time to go and re-find it.
The morning light conditions were improving by the minute. The atmosphere was supercharged with apprehension, but also excitement, as we headed up towards Ham house in a 'line sweep'. Geoff picked it up in a small shrubby area before it flew onto the roof of an outbuilding. It perched briefly before returning to the shrubbery, giving excellent views 10 metres from where we were all stood. There was no need to rush back to the house to consult The Sibley Guide – a confident identification of White-crowned Sparrow was made by Paul and Roger.
After the celebratory congratulations we headed back to the house to get breakfast, accompanied by a buoyant Paul, who strode off to put the news out from only wi-fi hot-spot on the isle. Breakfast was a rushed affair and, as we stepped out of the house, Paul and Roger were there gesturing that the sparrow had entered our garden. It emerged and showed well along the dyke, washing line and fence posts.
Overall the bird looked larger than a House Sparrow, with a 'bunting-patterned' head. The long tail was very obvious in flight and when perched. At times it raised its rear crown feathers to produce a small 'crest'. The tail was sometimes held semi-cocked and the wings slightly lowered.
Content continues after advertisements
The head was dominated by broad chestnut-coloured lateral crown stripes contrasting with a grey crown stripe. It showed fine, dark lateral throat stripes and the white eye-ring was interrupted at the rear by a blackish eye-stripe. The nape was a clean 'Dunnock-grey' colour. The bill was small, conical and orange. The mantle a tweedy mix of cream, warm brown and dark brown. It had white median and greater covert bars, the underparts a whitish grey with buff flanks and diffuse dark chestnut smudging on flanks. The legs and feet were mid brown.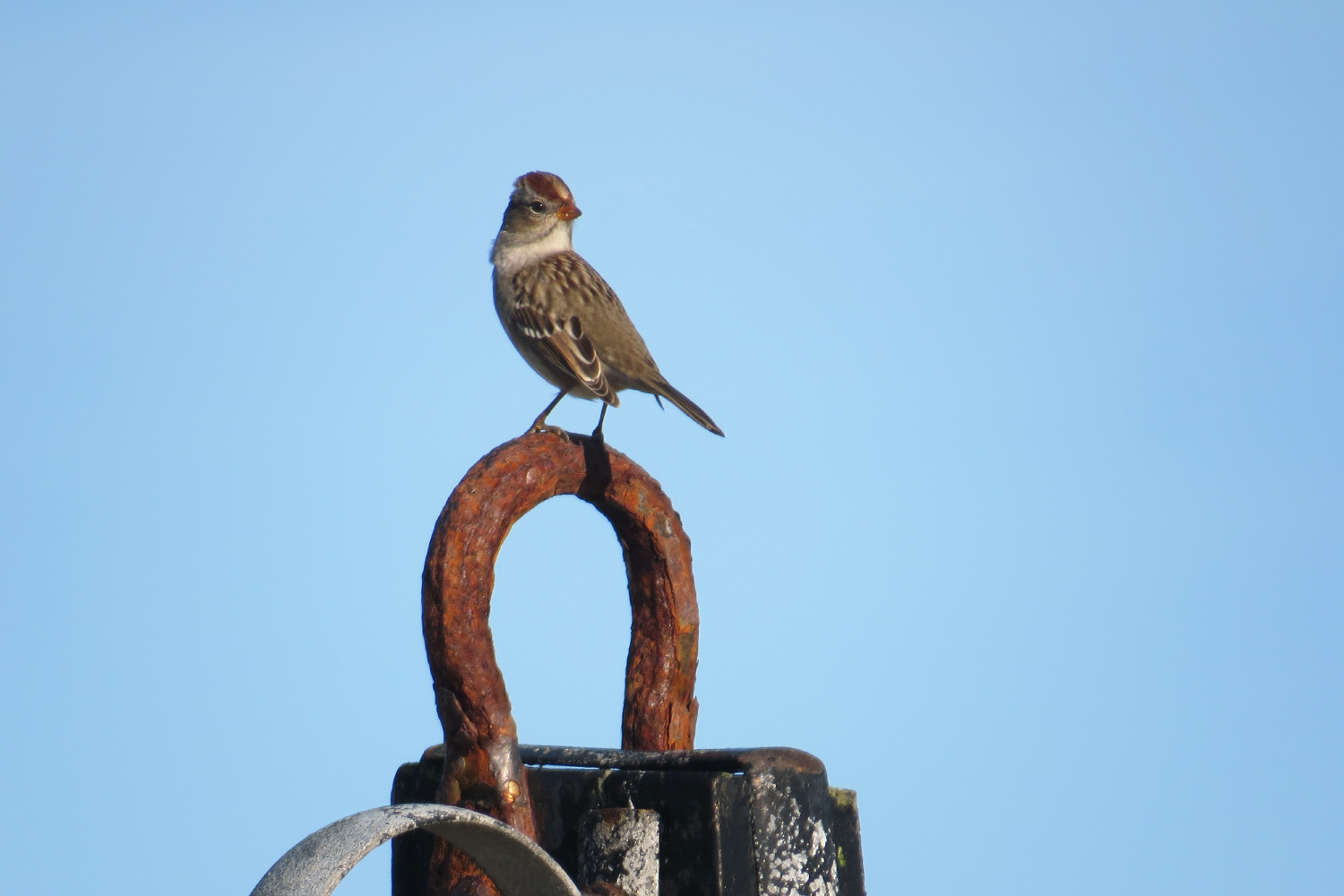 The White-crowned Sparrow, perched on a boat, on 8 October (Donna Atherton).
With news out, conversation now involved how folk were going to get to Foula. It can be difficult to get in or out of Foula at any time of the year for varying reasons. But it was a Sunday ... meaning no flights or ferry. The irony was that it was a perfect day of weather for all forms of inter-island transport – a rare thing. Luckily the bird stayed put and the Shetland birders who came in the following day got to see it. For the following three days it showed briefly around Ham, but became increasingly mobile and elusive.
Our thanks must go to Paul and Roger for their year-round support and encouragement and for sharing such a fantastic experience of a mega!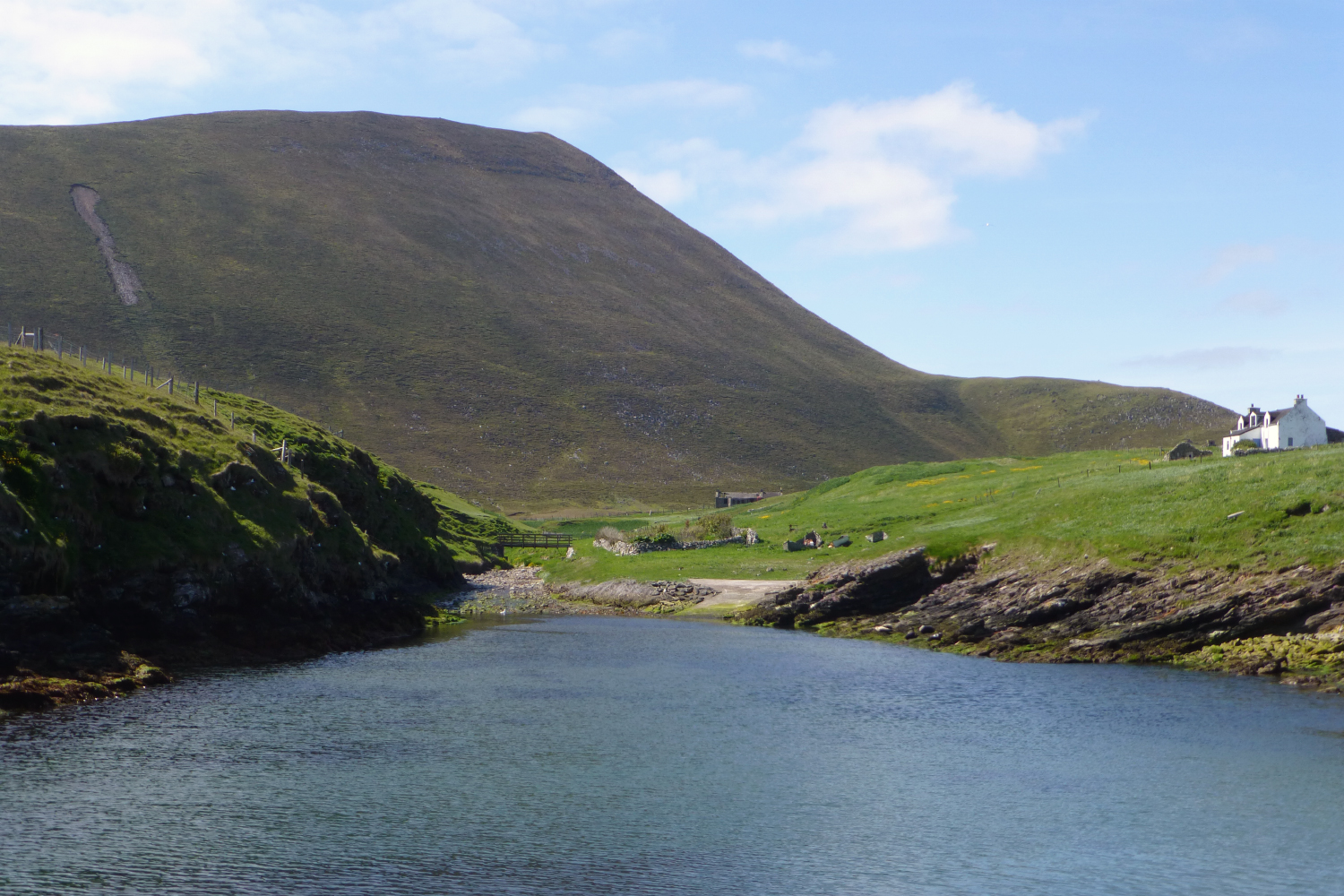 Ham Voe, Foula. The White-crowned Sparrow was found on the steep cliff face on the left before moving to the white house on the right (Donna Atherton).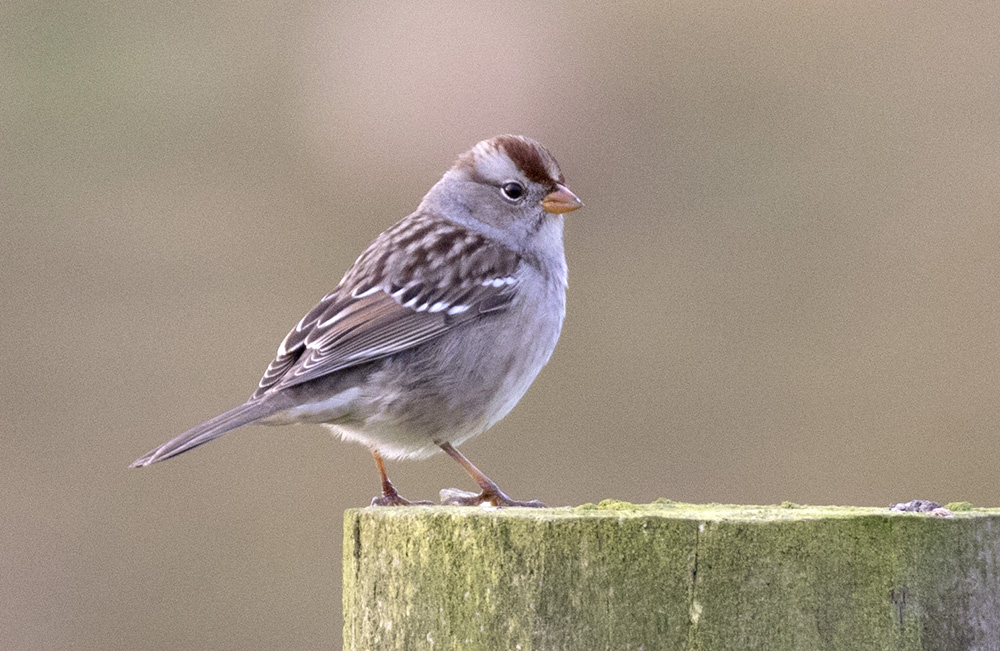 White-crowned Sparrow, Foula, Shetland, 8 October 2017 (Roger Riddington).