A huge concentration of gulls had been present in the vicinity of Duncannon, Co Wexford for a couple of months, attracted by large shoals of sprats which local fishermen were hauling out in shocking quantities. I was unable to spend any time looking at them until just before Christmas, but in the course of two visits I was rewarded with multiple Yellow-legged Gulls, a Ring-billed Gull and best of all — as they are still a very rare bird in Ireland — a first-winter Caspian Gull.
On the morning of 10 January I had an opportunity to spend a couple of hours there, but I wasn't too optimistic given that the tidal conditions were not ideal: disturbance on the beach tends to be at its greatest on Sunday mornings and, due to the orientation of the site, bright sunshine makes observation difficult after about 10 am. The predominant large gull species on the beach was Lesser Black-backed, but a couple of Yellow-leggeds, two second-winter Icelands and an adult Glaucous were a source of added interest.
The birds gradually became more distant as they followed the receding tide and I decided to have a quick look at the tiny fishing harbour of Duncannon, a spot where Iceland and Glaucous Gulls sometimes linger and can be viewed at close range. As I pulled up at the base of the pier just after 11 am I noticed a gathering of around 40 large gulls on the seaweed covered rocks to the south of the harbour, which fortunately were all in the shadow of the imposing Duncannon Fort. They were predominantly Herring Gulls, but my eye was immediately drawn to one bird, an adult with slightly but distinctly darker grey upperparts that suggested 'Scandinavian Herring Gull' Larus a. argentatus — not a particularly unusual bird here in winter, but one that I generally take a bit of time to look at, especially if they are not too far away.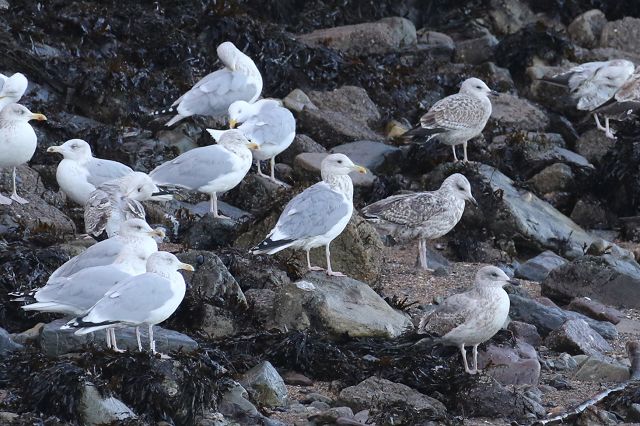 Vega Gull, Duncannon, Co Wexford, 10 January 2016 (Photo: Killian Mullarney)
Something about this bird wasn't right for argentatus, however, and it wasn't long before I registered that it had dark eyes, a feature that would not normally be seen in adult argentatus. Concerned that I might inadvertently flush the flock by getting out of my car — it is amazing how sensitive gulls can be to becoming the focus of a birder's eye — I wrestled my ungainly tripod into position and lined up the scope for a better look. I was completely unprepared for what I saw: the character of this 'Herring Gull' instantly reminded me of the numerous images I have seen of large gulls at the world famous Japanese gull hot-spot of Choshi Harbour — I wasn't quite sure what I was looking at, but I strongly suspected it had come from somewhere on the Pacific Ocean!
As I watched it preen I was able to determine that the eyes were truly dark, the orbital ring was cold pinkish-red and it had more extensive black on the primaries than argentatus, with a well-marked dark sub-terminal bar on p5 and even a small dark spot on the outer web of p4 on the right wing. More intriguing was the fact that it had still not completed its primary moult, with an old and obviously worn p10 retained on each wing and p9 about three-quarters grown. The bill colour was pale neutral, possibly very slightly greenish-tinged with a neat red gonydeal spot, absolutely no suggestion of any dark markings and a lovely yellow glow to the distal part of the upper mandible. The legs were pink, not appreciably different in shade to that of argenteus Herring Gulls alongside.

State of primary moult in the Duncannon Vega Gull, 10 January 2016 (Photo: Killian Mullarney)
Sensing that the bird was near the end of its preening session and about to fly, I readied my camera just in time for its take-off. To my great relief it arced toward me, and as it emerged into the sunlight and then doubled back right in front of me, I secured a sequence of good record shots. It continued to pass back and forth overhead for about 10 minutes before drifting off northwards, on its own, until lost from sight.
Thinking about what I had just seen, and having the huge advantage of being able to double-check key details by reviewing the images on the back of my camera, I came to the conclusion that the bird was a promising candidate for 'Vega Gull', a taxon that is regarded by some taxonomic authorities as subspecies of either (American) Herring or Lesser Black-backed Gull, and by others as a full species in its own right: L. vegae. My concern at this time was not so much the uncertain taxonomic position of vegae, as the mind-boggling complexity of identifying virtually all of the large gull taxa of the Pacific region, especially in a vagrant context, due to the extent of intraspecific variation and the very high incidence of hybridisation between all species. My knowledge of these issues is largely theoretical, and I was anxious to research the subject and check useful reference material before making such a bold and arguably foolhardy claim. However, I alerted a few birders that I knew were not too far away, and informed them I had just seen a possible Vega Gull.
While I waited for the bird to return, I was delighted to discover a stunning adult Caspian Gull in the melee of large gulls that suddenly materialised in the harbour with the falling tide. With only around a dozen previous records for Ireland, and very few of these in the southern half of the country, I anticipated (wrongly, as it transpired) that this beautiful bird might actually attract more interest from Irish birders than a possible Vega Gull! I decided to stay on a while in the hope that the Vega-type bird would return, and I was joined by Paul Kelly, with Kieran Grace "on the way".
Two hours went by with no further sign of either the Vega or the Caspian, and I decided to call it a day. Taking one last look at the rocks, and reminding Paul to keep an eye on these, I was delighted to see that it was back again. With such good views, whatever doubts may have crept in during the bird's two-hour absence receded. After about 10 minutes and a couple of wing-stretches the bird took off, but instead of drifting back and forth overhead it flew straight to one of the large trucks that were parked on the pier, and after perching for a short time on the side of the long open-topped trailer, it disappeared inside. I clambered up to a platform on an adjacent trailer with camera in hand, and waited for it to emerge. When it did, I was literally eye-to-eye with it for a minute or so and once again, those Choshi Harbour images came to mind — this was something really rare!
Content continues after advertisements

Vega Gull, Duncannon, Co Wexford, 10 January 2016 (Photo: Killian Mullarney)
I left the bird there, but Paul and Kieran were on hand to assist a couple of other birders who made it to Duncannon before the light went. Upon my return home, I frantically checked reference material at the same time as having some 'quality time' with my young daughters. Everything seemed good for Vega, but I knew that there would be far more to properly evaluating this bird's credentials than a quick checklist of features — I needed help.
Thankfully, there are a few people who have dedicated themselves to unravelling the problems posed by the identification of large white-headed gulls and who have travelled round the world with this primary aim. Much of their work can be accessed at the superb Gull Research Organisation website, but I took a short-cut and emailed two of the leading figures in this field directly: Belgian birder Peter Adriaens, and Chris Gibbins, based in Scotland.
I gave them my story and sent them a selection of the best photographs, with a request for their critical evaluation of the evidence. An hour or two after sending this off, while reviewing some of the photographs, I suddenly felt a stomach-churning anxiety; had I underestimated the possibility that a large Thayer's Gull could look like this? I had discounted Thayer's immediately on the grounds of size and the Herring Gull-like extent of black in the primaries, but the realisation that the head and bill of my bird were so Thayer's-like made me wonder if I had discounted this possibility too quickly.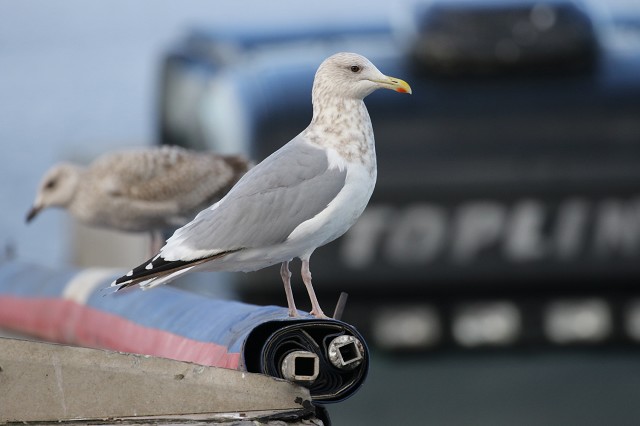 Vega Gull, Duncannon, Co Wexford, 10 January 2016 (Photo: Killian Mullarney)
Much of the evening was spent fielding the numerous phone-calls that came in, but I had not heard back from either Peter or Chris by midnight when I turned off my computer. While I felt a certain amount of trepidation at what they might conclude, their unrivalled insight based on extensive first-hand experience of all relevant taxa inspired confidence that they were the best people on the planet to advise me on this most challenging of identifications.
I woke around 5 am, remembered what had happened the day before and decided to check my email. Both Peter and Chris had responded, Peter from home, Chris while killing some time in the early hours of the morning at Amsterdam airport, en-route home from a trip to Korea where, serendipitously he had looked at lots of Vega Gulls, and even a few Thayer's. It was a huge relief to read that, without equivocation, they agreed on the identification!
Peter's opening words were: "This is an absolutely amazing bird! Everything looks spot-on to me: dark grey upperparts with very wide white scapular and tertial crescents; a greenish bill with only limited red on gonys (not reaching the cutting edges) and with no dusky marks anywhere; dark iris; purple orbital ring; prominent white tongue-tips outwards to p8; rather large amount of black on primaries inwards to p4; and the late moult — all excellent." Chris concluded: "To my eye the general first impression of the bird — eye, bill shape and pattern, the nature of head smudging and primary pattern — all cry 'Vega'. I guess it would be hard to be certain it is not some west-coast hybrid, but to me ... there is nothing that stands out as being genuinely anomalous for Vega [and] parsimony suggests that this is the logical identification. The simple thing is that it stands out immediately in that flock and looks just like a Vega. Then when you analyse the details, these match too. Absolutely amazing. Brilliant to see a very credible candidate in Europe."
It remains to be seen how this claim will fare when assessed by the IRBC, or if a decision made now will still be upheld in 10 years time, but that's the way it has to be when our understanding of this subject is in such flux. In any case, it has been a very exciting and enlightening experience for me, and I take this opportunity to express my deep gratitude to both Peter and Chris for their invaluable help in validating the identity of this "amazing bird".