"I dread being sent a photo from Papa Westray of some 'Yank' mega asking what it is."
That was the message I posted to my fellow comrades back on 5 October, bound for a week on the Isle of May. Having found Papay's first Western Bonelli's Warbler that same day (a species high up on my 'there's no reason why I couldn't find one of those on here' list), I was counting myself lucky that the bird had the decency to turn up when it did. A week later and I would have missed what would surely prove to be the island's bird of the autumn ...
With a patchy historic record of island coverage, Papay has been my adopted patch since 2016, broken by a season's hiatus on Fair Isle in 2018. Since my return to the island the following year, I have since been permanently based here. Having not left the island for any length of time since early October 2020, my normal reluctance to be off-island during peak migration seasons saw me head away for a break and a change of scene to spend 10 days on Sanday in mid-September, before agreeing to an invitation to join a team to man the Isle of May Bird Observatory from 9 October. Although always very much in my mind, the fear of being off the island and missing the 'big one' fortunately never came to pass.
Returning to Papay on 17 October, for what had been a month largely devoid of common migrants, a brief spell of south-east winds shortly after my return saw the autumn's first main arrival of Redwing, with a skulking Bluethroat appearing along the beach of the South Wick the following day. Now into the final stretch of October, the prospect of a late autumn flurry – although still perfectly feasible – felt like it was slowly fading by the day. Apart from the handful of birds arriving alongside the previous week's influx of thrushes it was quiet; Goldcrests had been virtually non-existent (prior to my return I had seen just two!), while the previously unimaginable absence of Yellow browed Warbler was looking set to become a reality. By the final week of the month I was on the verge of almost giving up on autumn 2021 ...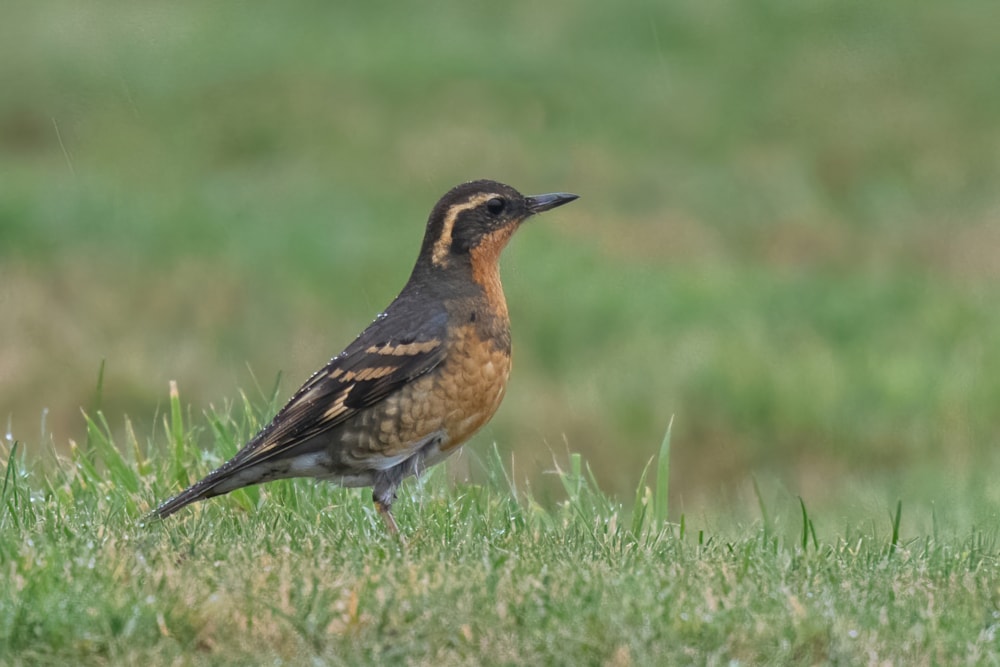 The first in Britain since an unusually coloured individual in Cornwall in November 1982, the Varied Thrush sent shockwaves through the birding community (Mark Rayment).
With recent days taken up by packing and cleaning as I moved out of the small flat above the kirk, time in the field had been rather more limited than usual. Being one of those folks with multiple island jobs, the morning of 27 October saw me begin with my usual routine of walking the short distance down the road to empty the island's postbox. In the process I was greeted by two ringtail Hen Harriers as they hunted over the field opposite the Post Office, with a third bird sat on a nearby stone dyke.
Returning for my shift in the Post Office itself later on, my intention of first making a short diversion to look around Links and the nearby beach found me slightly short for time, although I was still able to enjoy a sub-adult male Hen Harrier passing over the same field. With birds in previous winters having roosted together in a small patch of reeds just behind the house of Links, a late afternoon wander to see what might come in seemed well overdue. Though ringtail Hen Harriers are a daily sight, adult males are very erratic in their appearances, often not being seen for weeks at a time. Curious to see if this bird would end up roosting on the island, I set off with my girlfriend just after 4.30 pm to make the short walk down the road.
Content continues after advertisements
Situated just above the north-east corner of Tredwell Loch, we turned off the road to walk down the track to the house of Links where, about half-way down, I noticed a thrush feeding on the small lawn just behind the garage. Thinking nothing of it, but still raising the bins to check out what I naturally assumed would prove to be a Redwing, I was soon reduced to a hyperventilating wreck. Falling to the ground, grabbing the camera out of my bag and delegating Papay broadcasting news to Claire, it was all too startlingly clear as to what I was watching, even if my own eyes were refusing to believe it.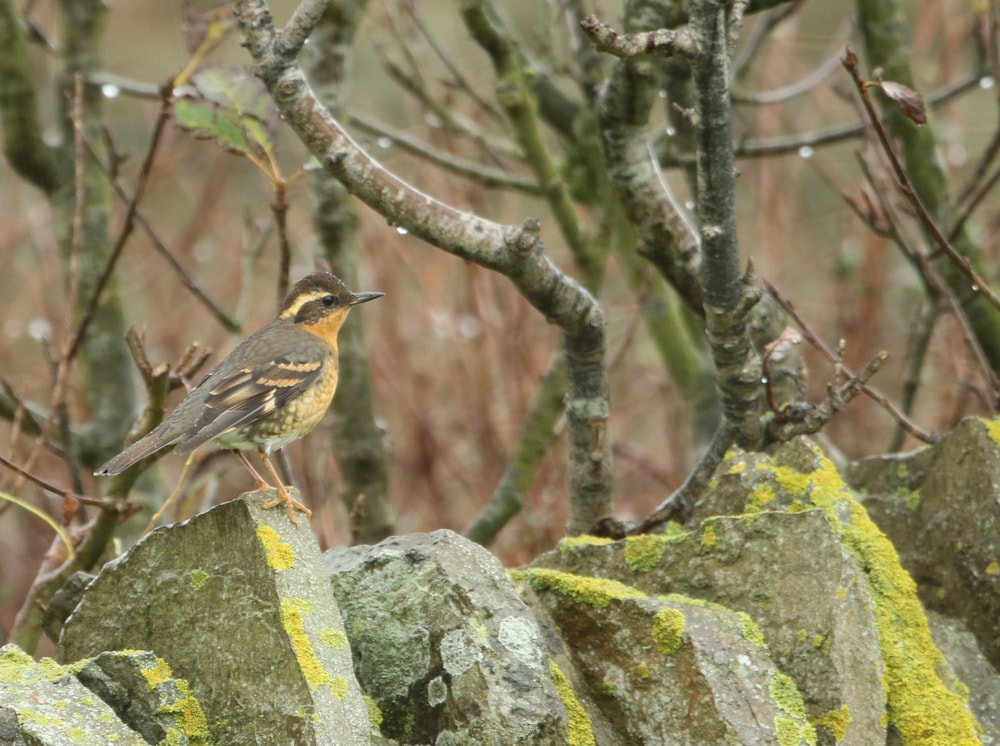 Sometimes the Varied Thrush would pose on dry-stone walls surrounding Links (Adrian Webb).

But it spent much of its time feeding on the lawn, occasionally alongside Blackbirds (Sam Viles).
Worrying that the significance of the original WhatsApp message – 'Varied Thrush Links garden' – may have not been fully realised, it was swiftly upgraded to the somewhat more urgent message of 'f****** Varied Thrush! Second British record!'. My ambition to find a North American passerine on Papay (something which took a while to realise I had actually done) had just been blasted into the stratosphere.
Papay ranger Jonathan Ford was first to arrive, later followed by Neil and Jocelyn Rendal, with Tim Dodman and Jennifer Foley also arriving in the fading light, as the bird continued to feed on the open lawns just outside the house. Later explaining the enormity of the record to Sue and Tony Curtis, both of whom had been away from the house when we arrived and were happy for me to release the news, Jonathan's mock prediction of the bird having already 'been around for ages' was found to be very much a reality when I showed my photos to Sue. "Oh, that's been here at least a week!" Staying on site until near darkness, we returned home where I broadcast the news to the wider world, opened the whisky, watched Twitter explode to life and attempted (very much the operative word here) to sleep.
Footage of the Papa Westray Varied Thrush (Matthew Mellor).
Returning at first light, I found the bird still present, and soon the first local birders arrived from Westray on the early morning school boat. They were shortly followed by the first chartered flights and boats coming direct from Kirkwall. Though occasionally going unseen, where it would sometimes feed among compost heaps in an out-of-view compound at the back of the house, the bird remained remarkably faithful to the front lawns, rarely staying far from the house and regularly offering extended views, often at close range.
It lingered until Monday 1 November. Donations collected on site as well as those given online will be split two ways, with one half going to a local cause, decided upon by islanders, and the rest to Bird Conservation Nepal, promoting education and sustainability through the Ranibari community forest project and its role as a bird and biodiversity community learning centre.