My May Bank Holiday was highly emotive. I spent Saturday at the funeral of my best mate, Phil Goodall. Phil was a great man who loved birding and people. He'd sometimes accompany me on my former patch at Stiffkey, Norfolk, and in recent years he'd come to my house in Felmingham to see what we could see. We'd always chat about the birds he'd seen on his holidays or on visits to the coast, while I'd recount my finds or near misses during migration periods. I had ;a lovely but emotional day chatting about Phil to his family and friends, and late in the evening I was making them laugh saying I'd be up in a few hours hitting the coast looking for 'the big one'. As I said goodbye to his wife Ruth, we remarked how fitting it would be if I found a great bird the next day ...
Rising at 4.30 am on 26 May, I wasn't feeling particularly lively, but when I got out of the car at Sheringham, I was met with quite a mild morning and a west/south-westerly breeze. The first hour was quiet, but as the breeze increased and the temperature rose further, small flocks of House Martins and steady numbers of Common Swifts and Swallows drifted by at close range – the best numbers I'd seen all spring. A movement of gulls included eight Mediterranean and a first-summer Little Gull struggling into the wind, high over the Cromer-Holt ridge. Two Avocets moving at sea and a Western Marsh Harrier flying east made for an uplifting morning.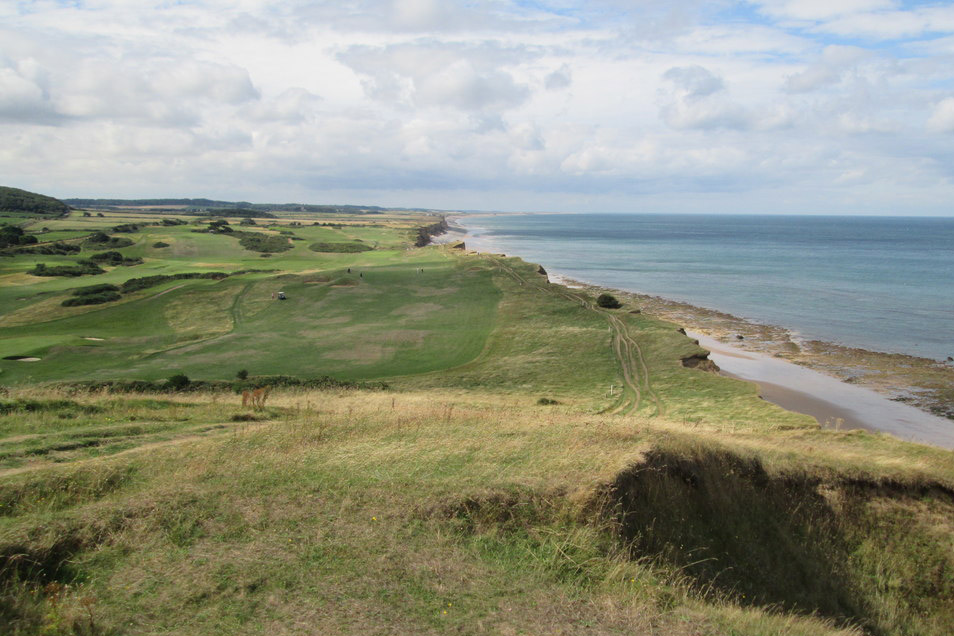 The north Norfolk coast between Sheringham and Weybourne has a long track record for producing rare birds (Martin Dawes).
I stopped for lunch and then went for a walk around the wider region to see if any passerines had come in, as there had been the odd light shower by this stage. I walked around one area, but it was raining quite heavily and I decided to stop and do something useful. Deer ticks have been a problem this spring so I spent a couple of hours clearing the paths of long grass to try to reduce the chances of picking them up. Frustratingly I learnt that I'd missed a European Honey Buzzard fly past me while I'd had my head down cutting!
I continued walking the hedgerows with the rain now more intermittent. On hearing an odd call from above me, my attention was drawn to a medium-sized brownish wader flying from the east over a barley field. It certainly looked different and my initial thought was of Ruff, but I was mindful that there had been an odd-looking first-summer European Golden Plover knocking around the area for the last three weeks, which was doing its best to look like something rarer. The Ruff line of thought was due to the bird having a more attenuated rear-end than any golden plover. At this stage I wasn't sure if this was due to the bird's legs being held out the back or a long tail. I kept on it with my bins until it alighted. On landing it very helpfully held its wings aloft for a while, allowing me to check out its underwing. It wasn't dazzling white like Ruff or European Golden Plover, nor did it have the evenly dark underwing of either of the 'lesser' golden plovers. Instead it was curiously variegated.
The bird was stock still but hunched down about 75 m away. I sat down and got my scope on it. I was a bit dumbstruck by what I saw. The quite big head was plain apart from a large, dark eye, with no ear covert spot or supercilium. The bill was pale and I could make out a yellowy colour to the legs through the gloom. The overall impression really surprised me as it didn't fit any wader I was familiar with. I guess I had been in denial of the obvious, as only at this point did the penny drop!
Unbelievably, right at this crucial moment, my concentration was broken by a loud barking from my left, mid-way between me and the bird. A Roe Buck was clearly irritated by something (probably me!) and its barking was getting louder and closer. I looked to see how close the deer was and I could see it doing some sort of threat display – it was stomping its front legs walking towards both me and the wader. Probably due to this, the bird suddenly took to the air, calling. The latter completely shocked me. I often listen to recordings of bird calls that I think I might be lucky enough to come across, so I'm hopefully well prepared for the event. I'd never heard this before, neither in the field nor from a computer!

A recording of the Norfolk Upland Sandpiper, captured by Ashley's RememBird. The second half of the recording is the same sequence 'cleaned up'.
It was reminiscent of Common Quail: a double wit-it with a similarly piercing quality, but not quite so high pitched. It repeated this four or five times as it flew across my view to the left. The head was retracted and I could now see that the legs weren't being held out from the wings, rather it had a very long tail. The flight action was odd: the wing beats were very fast and on the down stroke the arm was held horizontal and rigid while the primaries were contrastingly bowed down. In flight I can't think of any other wader it was like, but a speeded up Eurasian Stone-curlew was about the closest – perhaps with a hint of Common Sandpiper too. With these better and prolonged flight views I could confirm there was no wingbar and the rump was dark and plain.
Content continues after advertisements
It was now flying away from me and I was praying it would come down. Just as it was almost out of sight it appeared to possibly drop down at the edge of our recording area near the mill at Weybourne. I went after it, but couldn't resist a quick listen to the xeno-canto website first. I tapped in Upland Sandpiper and went to the flight calls. I heard wit-wit and wit-it-it – they were absolutely identical to my bird! An amazing feeling, but very surreal too.
I quickly reached the westernmost field but couldn't see the bird. My friend James McCallum had been working away and was on his way home when I phoned him, so he came to help try to relocate it. We are both very fortunate to have been granted access to this site by the landowner. On my former patch at Stiffkey, the release of bird news was straightforward and instantaneous. This, however, was a very different scenario and we were mindful of being on private land with restricted viewing. At this stage I was hopeful that the bird was still on site so our priority was to relocate it as quickly as possible before working out logistics for a twitch.
After two hours of thorough searching, though, it was sadly clear the bird had carried on. With this realisation we contacted various local birders to the west of us and I phoned the news to the bird information services. Fortunately, my RememBird had managed to record one of the bird's calls, albeit distantly.
Upland Sandpiper is a species I'd never dreamt about seeing in Norfolk. I know my friend Phil would have absolutely loved me telling him about it and I hope his family will enjoy reading this account. That was for you, Phil!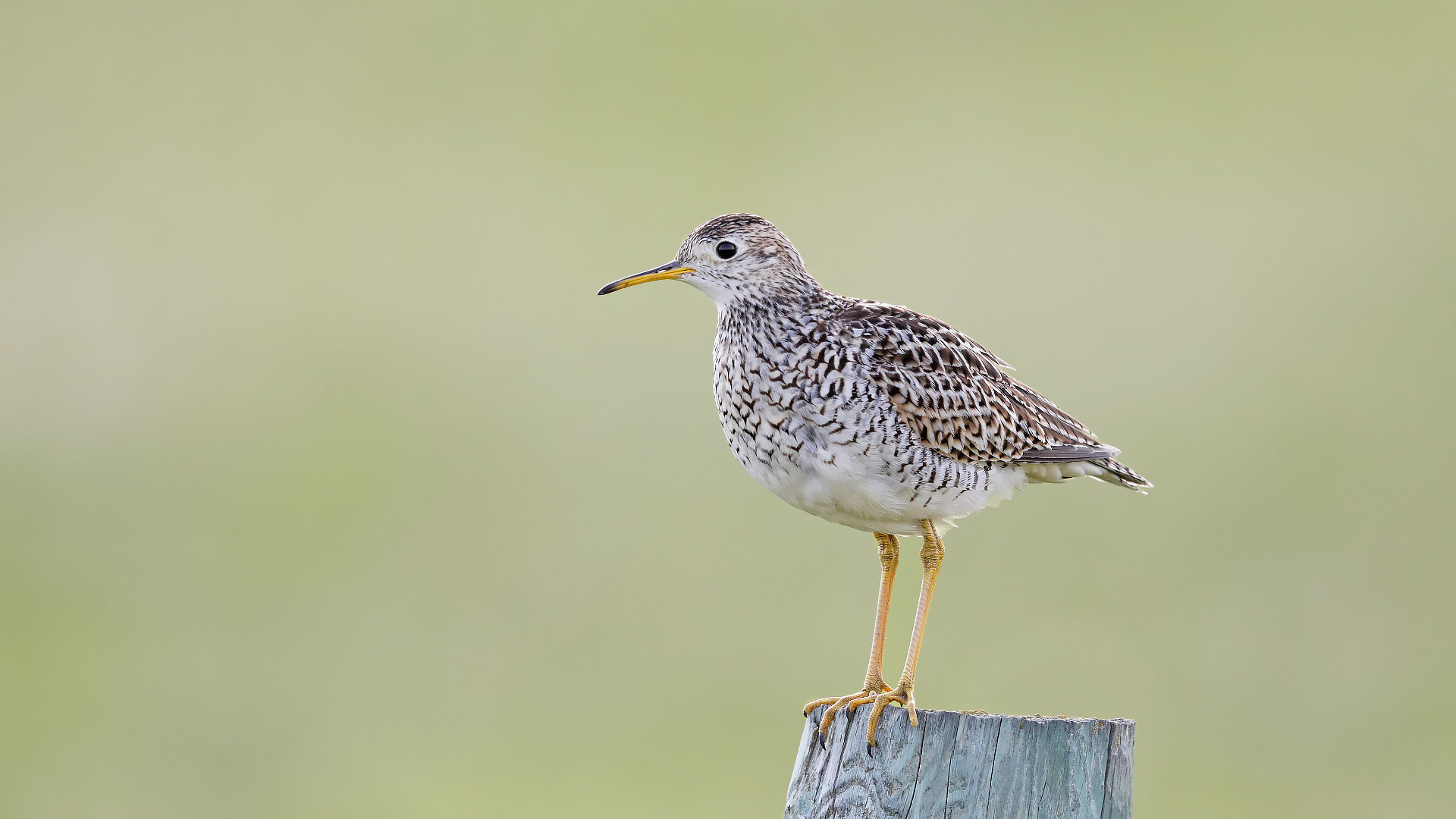 Upland Sandpiper breeds widely across North America (this one was photographed in Manitoba, Canada), although is in decline in many areas (Colin Bradshaw).
Stats & facts
Upland Sandpiper is a species of the Americas, breeding from eastern Alaska south through the plains of the Midwest and, less commonly, east to Pennsylvania. It is migratory, wintering in north-eastern Argentina, Uruguay and southern Brazil. It is a very rare vagrant in Britain and Ireland, with 49 previous British records and 12 from Ireland. It is predominately seen in autumn, with September (17 records) and October (29) by far and away the peak time for arrivals. Most have been seen on Scilly (15 records) and Cornwall (11). It is extremely rare in spring, with two previous May occurrences and just one in April.