Chas Holt: As I passed through Dorset on Sunday 15 October, I decided to take the chance to bird the St Aldhelm's Head area. I've always enjoyed the Purbeck coastline, it bringing back fond memories of childhood holidays. By late afternoon I had walked quite a few miles, covering the bulk of the area comprising the head itself, plus the adjacent valleys of Winspit to the east and Chapman's Pool to the west. Fifteen or so cracking Firecrests had brightened up the day, plus a decent spell of visible migration had kept my attention. With news from Portland of a Radde's Warbler and Red-breasted Flycatcher accompanying a flood of 'fire-crackers' there, it was clear that I should see the day out. So, with light fading, I decided to take a third look at the small, self-contained quarry in the centre of the St Aldhelm's headland that often attracts birds to its scrub and taller trees.
I was soaking up half-a-dozen Firecrests in the small patch of sycamores when a small 'green-and-white' warbler appeared to add the blur of head stripes. A few unsatisfactory views followed as the bird moved around in the canopy, but it was clearly a 'wing-barred Phyllosc'. I noted a strong supercilum, a wing-bar, plain tertials and apparent pale legs, but annoyingly it refused to show well enough to enable me to secure the identification. Then it had gone, presumably to roost, and I was left excited, frustrated and nervous in equal measure. To add to the stress, the battery had died on my mobile – who said birding was supposed to be a relaxing hobby?
Suffice to say, the combination of features I'd noted and the mid-October date left me rather anxious and I knew this critter had to be nailed. So later in the evening the details of the sighting were posted online as a "warbler sp". In doing so, I highlighted the poor views and the details seen in fleeting glimpses. Rather than being a "reported Arctic Warbler" (as described in some places since), the bird was a 'wing-barred Phyllosc' at that stage. Given what I'd seen on it and the balance of probability, Arctic Warbler was indeed the likeliest option, but rarer alternatives had definitely not been ruled out. As I was to be tied up with work in Gloucestershire in the days ahead, I hoped someone would be able to check it out …
Come late morning on the Monday, it was becoming clear that nobody had followed up the report – perhaps, understandably, put off by a former hurricane hitting the South-West. So, increasingly edgy, I contacted Marcus Lawson (the Dorset recorder) and suggested he mobilise someone locally to visit the quarry as soon as possible. Thankfully, Brett Spencer did just that the next morning, relocating the bird, and he eventually got good enough views to expertly secure the identification as a Two-barred Greenish – and full credit to him! I obviously wish it had shown better for me on the first evening, but I'm pleased it got nailed and was eventually enjoyed by many.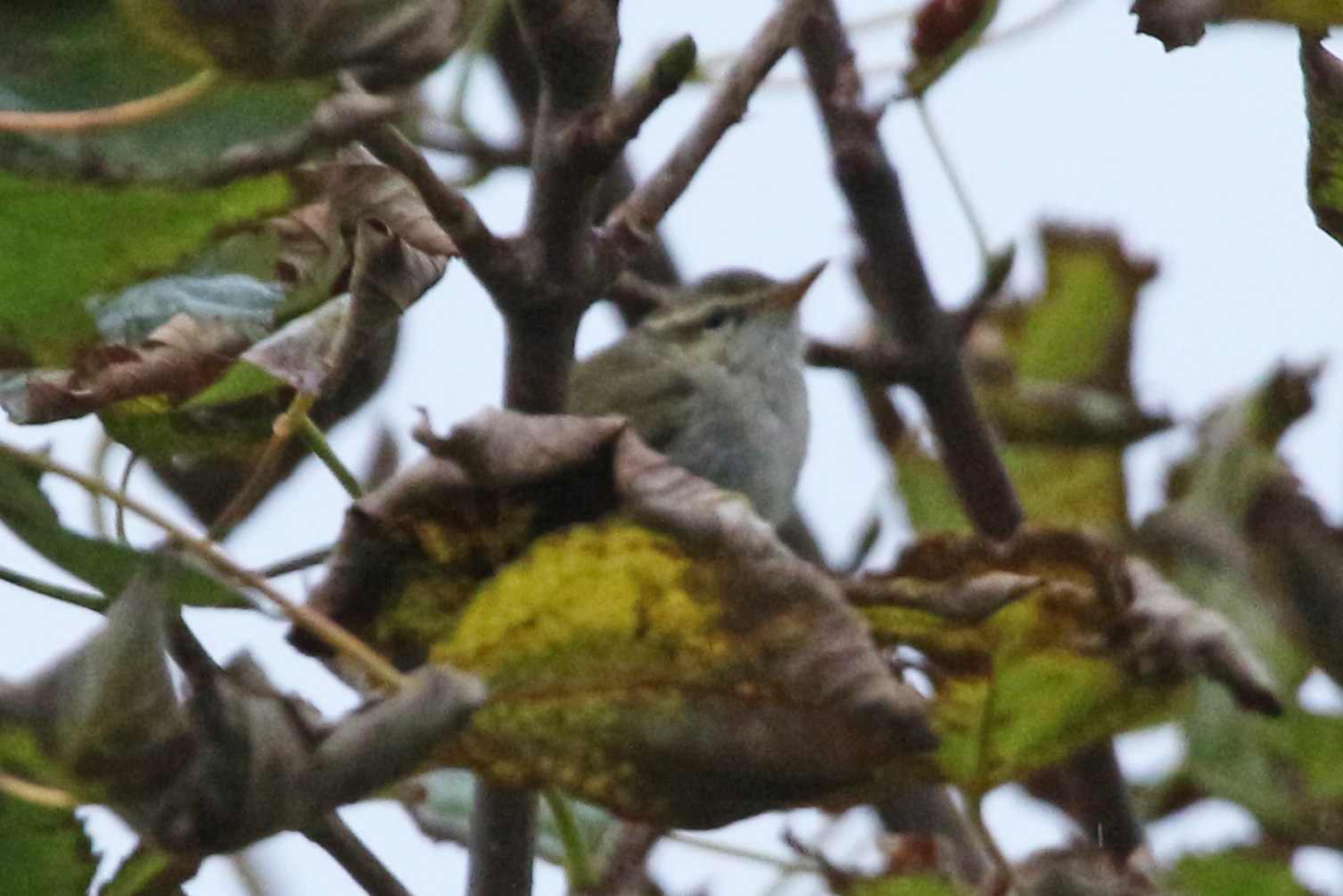 The Two-barred Warbler was initially very elusive, giving fleeting and partially obscured views for much of the morning. Nonetheless, Marcus Lawson's series of images, including the above, are enough to convey the rather rare-looking appearance and get the pulses racing.
Marcus Lawson: As County Recorder for Dorset I'm well used to receiving requests to help identify a bird, but when such a request is from the Secretary of the BBRC, you know it's definitely one to follow up. It was lunchtime on Monday 16 October when I received an email stating that Chas was not happy that the bird he had seen briefly at dusk in St Aldhelm's quarry the previous day was 'just' an Arctic Warbler, though there have only been two records of this species in Dorset, so it would have drawn quite a crowd anyway.
I was unable to get down to the site that day and even if I could, the strong wind and apocalyptic skies wouldn't have made locating the bird very easy. However, I did know the right man for the job and called Brett Spencer to ask if he could make the journey from Weymouth to have a look, as I knew he was off work for a couple of weeks. He couldn't get down that afternoon either but stated that he could be there in the morning.
Content continues after advertisements
St Aldhelm's is not known for holding good birds, but it was worth a try. Just before 11 am on 17 October, a call came in from a number I didn't recognise and unusually I picked it up. It was Brett calling from the office in the working quarry, as there was no mobile reception of any kind in that area and he had wisely gone down there to use their landline. He had been there since early morning and had seen the Phyllosc in question on only a handful of occasions, and every time briefly. He said that he thought it was a 'Greenish-type', but wasn't entirely happy it was an actual Greenish Warbler as several features were wrong. Hearing the tone of his voice, I knew that he was thinking of something else so I told him that I would be over there as quickly as possible.
My first view of the bird was from below and the heavy, long bill certainly seemed to favour Arctic Warbler. However, Brett was watching the bird from a different spot and had his best views of the bird thus far. I joined him from this vantage point and he was now certain it was a Two-barred Warbler. We decided that we should put news out of a "probable Two-barred" to give observers a chance to get there, so I scampered down the slope to the quarry office. I didn't have any numbers in my phone for the bird information services, so I called Steve Whitehouse on his mobile to ask him to share the news on BirdGuides.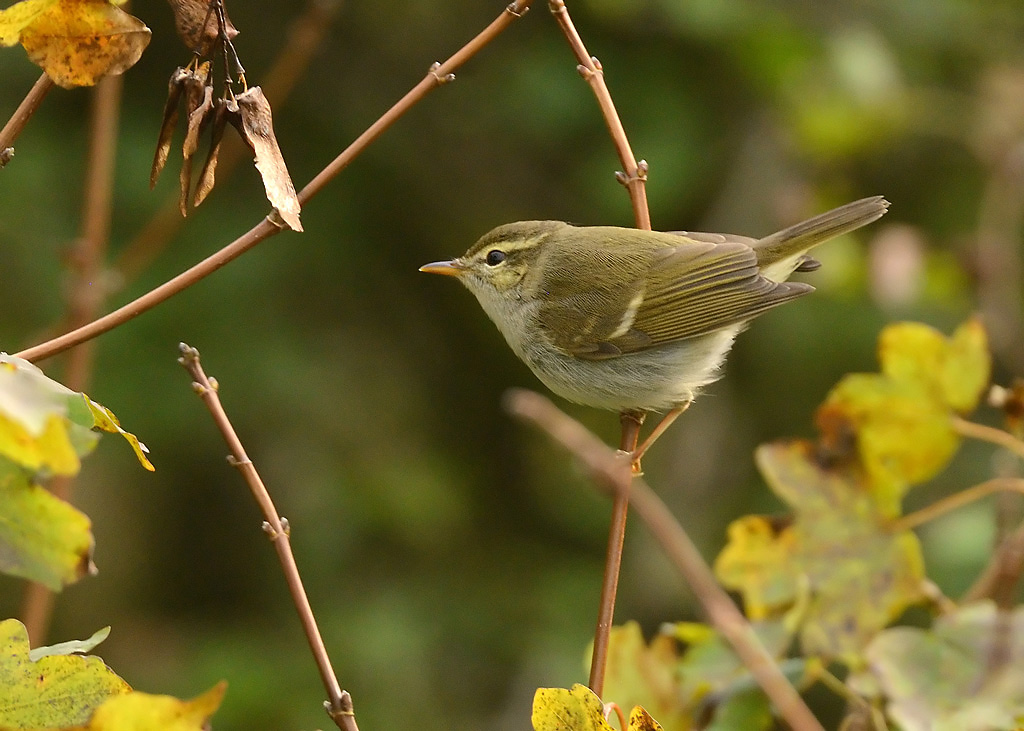 Two-barred Warbler, St. Aldhelm's Head, Dorset (Ian Curran).
I re-joined Brett and almost straight away had amazing views of the bird on top of an ivy-covered shrub and proclaimed: "**** me, it is a Two-barred Warbler!" We managed to get some photos, and Brett then made his way back to the car park at Renscombe Farm to share the images via Twitter. After a short while the first local birders started to arrive, as did the rain, so we took this opportunity to leave the site in a state of euphoria.
I then visited Weston Farm as I knew they owned most of the land around that area and fortunately bumped into the Farm Manager, who was delighted to open up one of the fields for parking, though I don't think he really understood how many people would turn up over the next day. Everything went very well, although by 19th I'm told the entrance to the field was starting to get a bit boggy, but as the bird was not seen that day, numbers were low anyway.
In a somewhat bizarre coincidence I took the phone call in the Porthcressa back in 1987 when the finder of the Scilly Two-barred Warbler called to share his thoughts of the bird on Gugh. However, my recollection of how that conversation went is very different to what was printed, but it didn't make for such a good story!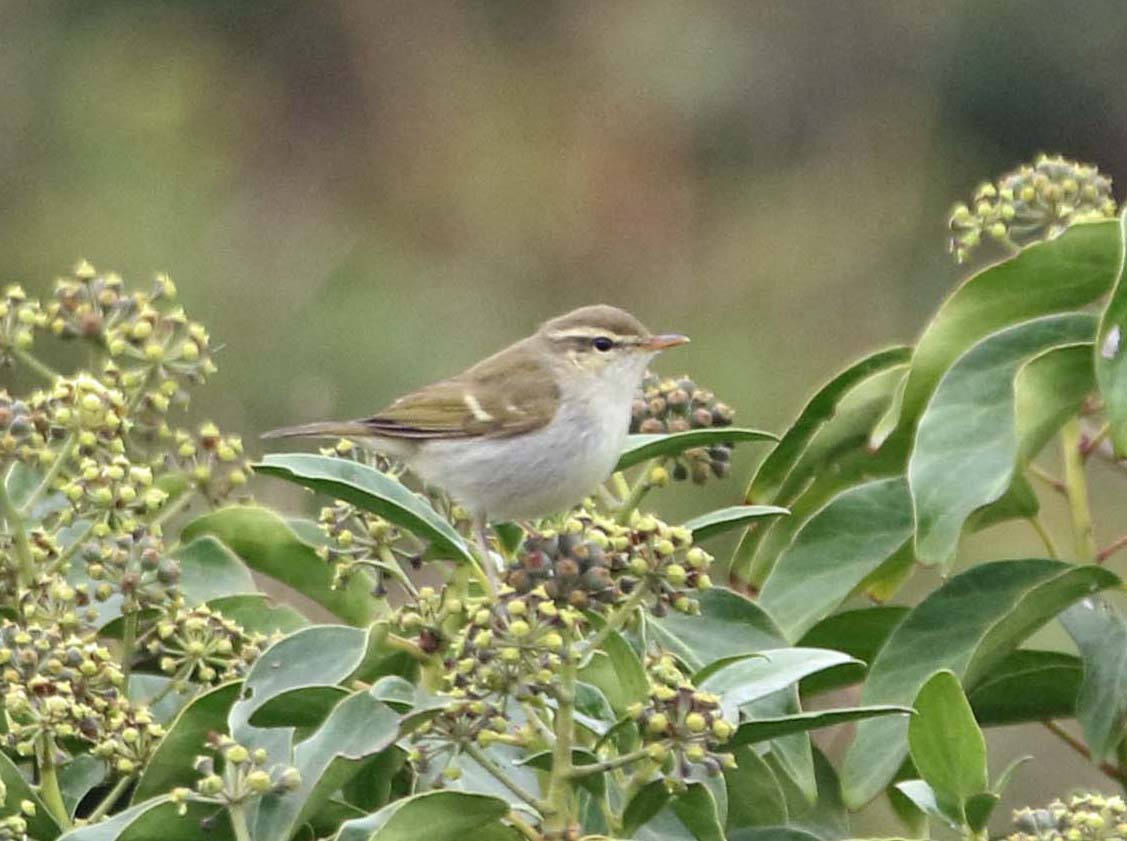 Two-barred Warbler, St. Aldhelm's Head, Dorset (Mark Leitch).