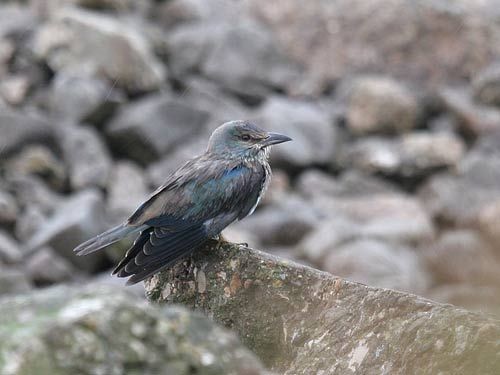 Roller: South Gare, Cleveland (photo: Ian Boustead).
On Friday 18th August, encouraged by the overnight rain and easterly wind, and the news of a Greenish Warbler nearby at Hartlepool Headland, I went to South Gare to see if I too could find a Greenish Warbler. At about 11.25am I arrived on the South Gare peninsula; as it was raining, I left my camera plus digiscoping gear in the car. I decided to check the bomb-hole first, as it is a good migrant trap in easterly winds (it had also produced a Greenish Warbler in September 2005).
As I crossed the Gare road I flushed a Whinchat from some weeds, which was my first indication of a fall in progress. I then noticed out of the corner of my eye a Jackdaw-sized bird flying out of the bomb-hole low over the rocks; its back looked a strange dark blue-grey colour with the naked eye. As soon as I had the bird in my binoculars I realised it was a very dull juvenile European Roller! The bird then swooped up and landed on the telegraph wires right next to my car.
There were no other birders around and I was mindful that the previous record of European Roller for Cleveland was a bird seen, and filmed, by Paul Doherty which flew straight over the bomb-hole and across the river Tees never to be seen again!!
I dashed back to my car, and whilst dragging out my camera gear with one hand, put the news out on my mobile with the other. The bird then flew back down towards the bomb-hole before I could get a photograph.
I was now faced with a conundrum. My experiences of Roller in the Middle East were that it is quite a flighty species and I therefore felt it would be safer not to press the bird trying to get a photograph whilst there were no other birders around. However, I would look rather foolish if, when other birders started to arrive, I could not point out the location of the bird. I therefore decided to try cautiously to locate the bird. I managed to locate it sheltering from the easterly wind and rain on the sheltered estuary side of the bomb-hole. Unfortunately it was partially obscured by grass, but rather than risk flushing it I captured a couple of record shots through the grass. As soon as I tried to alter position the bird flew off towards the end of the breakwater.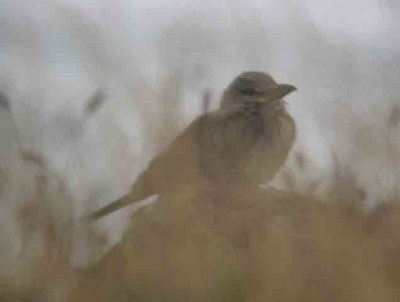 Roller: South Gare, Cleveland (photo: Ian Boustead).
I then noticed Dave Britton, another local birder, had arrived. I dashed across to tell him about the bird. Whilst trying to relocate the Roller it was flushed further up towards the end of the breakwater out of sight. I felt there was a good chance that the bird may have again landed just below the sky-line. This proved to be correct and I was able to flash off one photograph with my DSLR before I presume the shutter noise disturbed it. The bird flew back down to its original location, now in view. At this point we decided to remain where we were and to encourage the arriving birders to view the bird from a distance.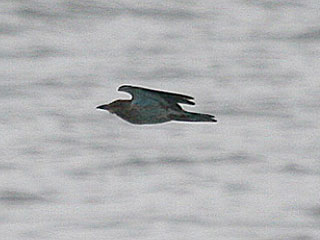 Roller: South Gare, Cleveland (photo: Ian Boustead).
The conditions were not good, with a steady drizzle. The South Gare breakwater is man-made from reclaimed slag. This slag is dark grey in colour and the bird blended in surprisingly well with the background as it remained immobile for long periods. The weather improved steadily throughout the day, but the bird made no serious attempts to feed, which was worrying.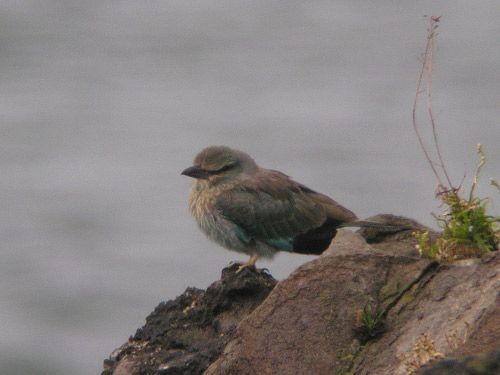 Roller: South Gare, Cleveland (photo: Ian Boustead).
At one stage the bird was mobbed by two Herring Gulls which threatened to drive it across the river Tees. However, it did manage to evade them by flying strongly inland towards the area known as the cabin rocks, where it remained for several hours before flying back out towards the breakwater. It was last seen at 20:40 hours flying strongly out to sea in an east-north-easterly direction.
This record constitutes the second recent record for Teesside, the previous being a single-observer sighting, a bird filmed by Paul Doherty on 11th September 1993. This bird flew straight over the breakwater and across the river into Durham, never to be seen again! There have been 95 British records since 1958, but this is the first twitchable record in Britian since 2000.
| | |
| --- | --- |
| | |
| Roller: South Gare, Cleveland (photo: Barry Byatt). | Roller: South Gare, Cleveland (photo: Mark Whiffin). |
The early find, prompt dissemination of news and the bird's stay into the late evening ensured that many birders were able to travel to 'the Gare' to see what is now an extreme British rarity. As Ian commented, the last twitchable bird was in Durham in 2000 when one was at East Bolden from 13th-30th July. Despite the fact that well over 100 birds have been recorded in Britain and Ireland since 1950, just 17 of these have been since 1990 (see accepted records).
The Roller breeds in southern and eastern Europe, northwest Africa and central Asia. The wintering grounds are in sub-Saharan Africa. The European breeding population is less than 110,000 pairs and underwent a moderate decline between 1970 and 1990, and, with few exceptions, this decline has continued, including key populations in Russia and Turkey. Against such a backdrop of decline, the outlook for this beautiful vagrant is for it to become increasingly rare here. Eds.