Who'd have thought that putting out a small portable moth trap in the shelter of a low stone wall on a windswept clifftop on Lundy Island, with not a tree or shrub in sight, would have led to an avian first for Britain?
I'm David Price and a spot of mothing was somewhat incidental to the main purpose of my stay on Lundy, which was to count the cliff-nesting seabirds as part of an RSPB team carrying out their four-yearly census on the island. Rare passerines were not at all on the agenda, and the main focus each day was heading up to an allocated section of coast and diligently counting the thousands of seabirds now nesting on the island. However, connecting with a splendid male Rustic Bunting only an hour or so after our arrival on the island back on 1 June was perhaps a portent of things to come.
It was early on the morning of 8 June that I came out of our accommodation in the old lighthouse on the west coast of the island to check my moth trap. The weather was good – fine and clear, with the sun rising in the east and a fresh south-west wind was coming in off the sea. As I walked to the trap I noticed a bird on the stone wall in the corner where there was a little alcove for the dustbins. I hardly glanced at it, thinking probably Common Linnet, until a few seconds later it tilted back its head and sang quite strongly.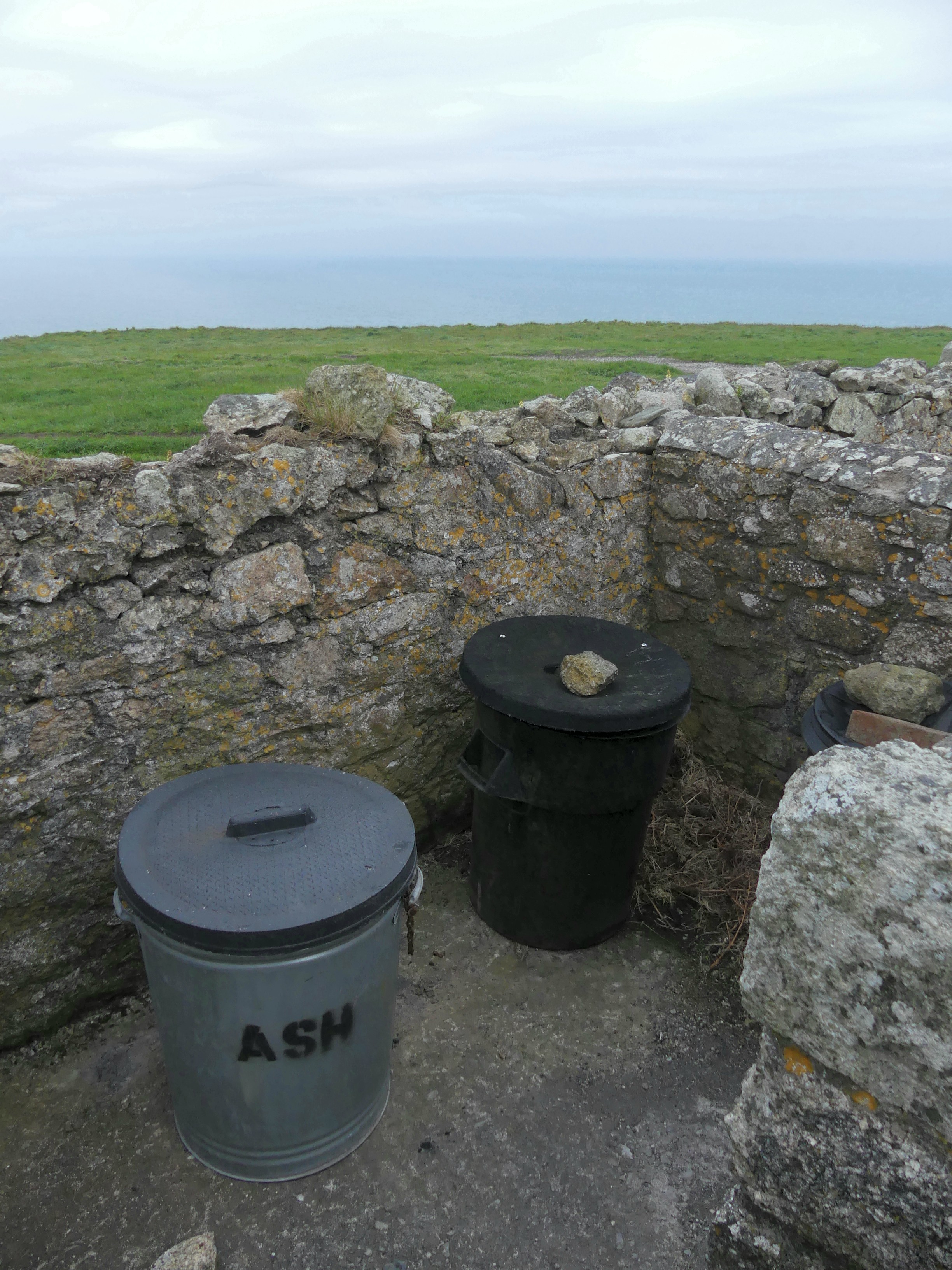 The unlikely spot near the old lighthouse where the Sulphur-bellied Warbler was first encountered (David Price).
It was only a brief, five-note repeated song (or call) – tst-tst-tst-tst-tst – delivered with an insistence about it, but at a considered and steady pace and with some degree of sonority. I realised instantly that it was a song I'd never heard before and immediately I was on full alert for this being something unusual. The bird then dropped down out of sight behind the wall among the dustbins, so I readied myself for its next appearance. True to form it hopped back up again but was totally obscured by an upstanding rock. It did sing again, however, and this gave me the opportunity to really get the song into my head before it dived back down. It then flew up onto the wall and obligingly perched sideways and I was able to get a brief but reasonable view of it.
I had a clear impression of a warbler (perhaps similar in size but a little stockier than Willow Warbler) with a very prominent supercilium that stretched way back behind its eye and maybe a hint of an upturn at the end. I could see no other obvious plumage features. Unfortunately, I was looking against the light towards the low early morning sun, so I got no feel for colouring except that the bird was dark above and light below. The supercilium reminded me of Radde's Warbler, but its bill was quite delicate, thin and pointed, and its body wasn't really that chunky. I only had it for a few seconds before it decided dustbins weren't ideal warbler habitat and flew off along the wall. This was obviously a bird out of its natural habitat, so I assumed it had not long arrived – (perhaps even lured down before dawn by the moth trap, which would have been one of the only lights visible on the island, as the electricity generator doesn't run at night).
I quickly collected up my moth trap, grabbed my camera and set off after it. Though I couldn't see the bird anymore, its progression down the wall towards the village was evident from its regular bursts of song. It gradually went out of earshot, so I took the opportunity as I walked in the direction it had taken to check out the less common warblers on the bird app on my phone. I flicked through looking for birds with obvious supercilia and playing their songs and calls – Dusky Warbler sounded very similar. One of the recordings was of a steady four- (rather than five-) note song, with remarkably similar tonal characteristics to my bird. The other recorded variation of Dusky song was a more rapid trilling, not quite what I'd heard, but certainly with the same feel about it.
I walked through the village thinking that I should surely come across it again if it was there, as it had been singing so obviously, but despite there being a few bushes and shrubs here I had no joy. I reckoned, like most migrant warblers, it would probably eventually find its way to more appropriate habitat in the wooded valley of Millcombe. So I headed down there …
I wandered around the valley and looked and listened for some time without locating it. There is plenty of cover here so a sighting it was less likely than hearing it, but there was an 'annoying' Song Thrush singing full throttle with a noisy Blackcap and even a Sedge Warbler joining in to add to the mix of distracting bird songs. And the occasional burst of Chaffinch song was also something of a problem as the repeated notes at the start of its song could for a moment be taken for the warbler's song.
I was on the verge of thinking that I'd better go and try to find someone else who might be up and about at this time of the morning to help locate this bird when Paul St Pierre, one of our seabird team, came into view on his early morning check of the valley. I told him the story and that from the general appearance and particularly the song I was tentatively thinking Dusky Warbler. However, as my previous experience of that species had involved standing an inordinate amount of time looking at a thicket of brambles and scrub and only getting a series of totally unsatisfactory, partial and sporadic views of an uncooperative brown bird, I wasn't going to go much further than tentative. Paul knew the species better, but said that it was considered a rare autumn vagrant, so it would be surprising for it to be here out of its breeding range at this time of the year.
We chatted on for a bit about possibilities as we wandered round searching for it. And then, there it was: a burst of song from a sycamore across the valley. Paul quickly got on to the bird as it flitted through the canopy, feeding very actively and sought to pick up the main features. It ranged around the valley, occasionally going into the blackthorn scrub, and in a couple of instances being chased off from there by a Willow Warbler, but most of its time was spent in the treetops. Good views were rather difficult, as most sightings in the canopy were distant and against the sky and somewhat burned out in the bright morning sun, or were in dappled shade cast by leaves, so assessing colouring was not easy.
Additionally, all my photographic 'point and shoot' (and hope for the best!) efforts had resulted in a series of pictures of nothing except leaves and branches where the bird had been about two seconds before! Both Paul and I did, however, manage to get brief sound recordings of the bird. Despite the limited views, Paul described what he was seeing as a plain looking Phylloscopus warbler with 'dirty' underparts and with a prominent supercilium running well behind the eye. Based on our observations and particularly the good match of the song with that on the bird app recording, he felt that it was a good shout for Dusky Warbler.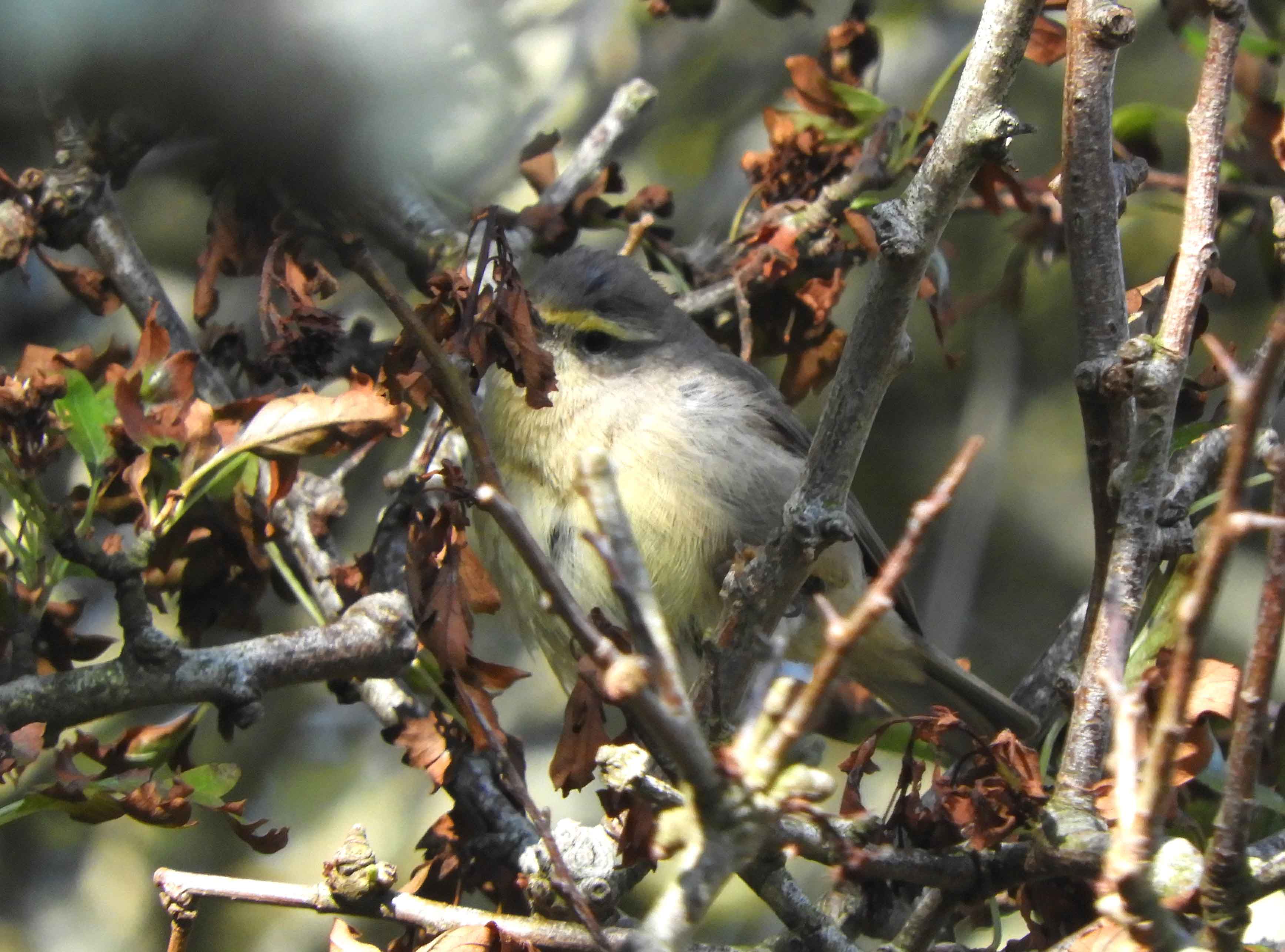 Initial views in Millcombe were often obscured, with the observers limited to record shots as the bird fed in the canopy (Dean Jones).
Fortunately, while the bird was still performing, Dean, the Lundy Warden, hove into view and we beckoned him over. We told him where we'd got to with trying to sort out this bird and he was more than excited, as a Dusky would be a lifer for him. So, he set to with his undoubtedly superior photographic skills and, with a fair degree of patience and persistence, managed to get some good record shots of the bird and a brief video clip. From the back-of-the-camera views it did indeed look like a Dusky Warbler, albeit quite a brightly coloured bird, and so it was with some relief I handed over responsibility to Dean for him to put out the news and ensure that all potential interested parties were informed.
And so I'm now handing over the writing of the next phase of this story (or should that be saga?) to Dean for him to relay subsequent developments …
With a series of decent record shots, a clear sound recording and satisfactory views in the field, I ambled towards the office from Millcombe with a big grin on my face, happy that after discussions with David and Paul immediately prior, that we had witnessed the first (surprisingly so, when considering Lundy's extensive list of rare birds) Dusky Warbler for Lundy. Though, as David said, an unusually bright looking one …
Once back in the office, I then sent a back of the camera shot to Lundy legend Tim Jones via WhatsApp, who, after a brief congratulatory correspondence, shared the image on his Twitter page.
Still grinning away, I subsequently set off to finish up a few morning jobs before our passenger vessel the MS Oldenburg arrived with a deck full of guests. I was unaware that, at that time, a Twitter storm was brewing! Less than an hour later, as I wandered unknowingly into a 4G hot-spot on the island, my phone gave off a series of rapid pings. This meant one of two things: is another birder now reporting the Dusky? Or has some other eastern gem been found on the island?
Opening my phone with haste, I was met with a number of messages from Tim asking me to check my emails with a brief note saying 'your Dusky might not be a Dusky!' Upon getting to my laptop I had indeed received a number of emails requesting the original record shots as well as a recording of the warbler's song if I had one. In addition to the requests, one or two emails also asked 'have you considered Sulphur-bellied Warbler?' Huh? No! A quick Google and a listen on Xeno-Canto to Sulphur-bellied Warbler recordings – "you must be joking", I thought!
Following this, I quickly sent on the original record shots of the bird along with a clear recording of its song to a number of experts online. Then, 15 minutes or so after, I got a message from fellow island birder Jamie Dunning just as the ship was coming alongside the jetty saying: "The news is out – it is a Sulphur-bellied Warbler!"
After making sure all the visitors disembarked the MS Oldenburg safe and sound, I made a beeline for Millcombe again to try and obtain some better views, and if lucky, some better photos. Thankfully the bird was still very vocal at this time and therefore easy to locate within the valley. From here followed a superb day truly soaking in the subtle beauties of this astonishing little leaf warbler while, at the same time, keeping tabs on the bird for the expected arrival of birder-laden charter boats.
As was the case in the morning, the bird continued to flit around the valley for the rest of the afternoon, generally feeding in the canopy of assorted trees and at times bursting into song, though nowhere near as frequently as earlier in the day. One of the highlights from that afternoon was around 3 pm, when the bird spent around five minutes meticulously picking small invertebrates from the wind-burnt leaves of a small hawthorn at the top of the valley barely two metres away, allowing superb views.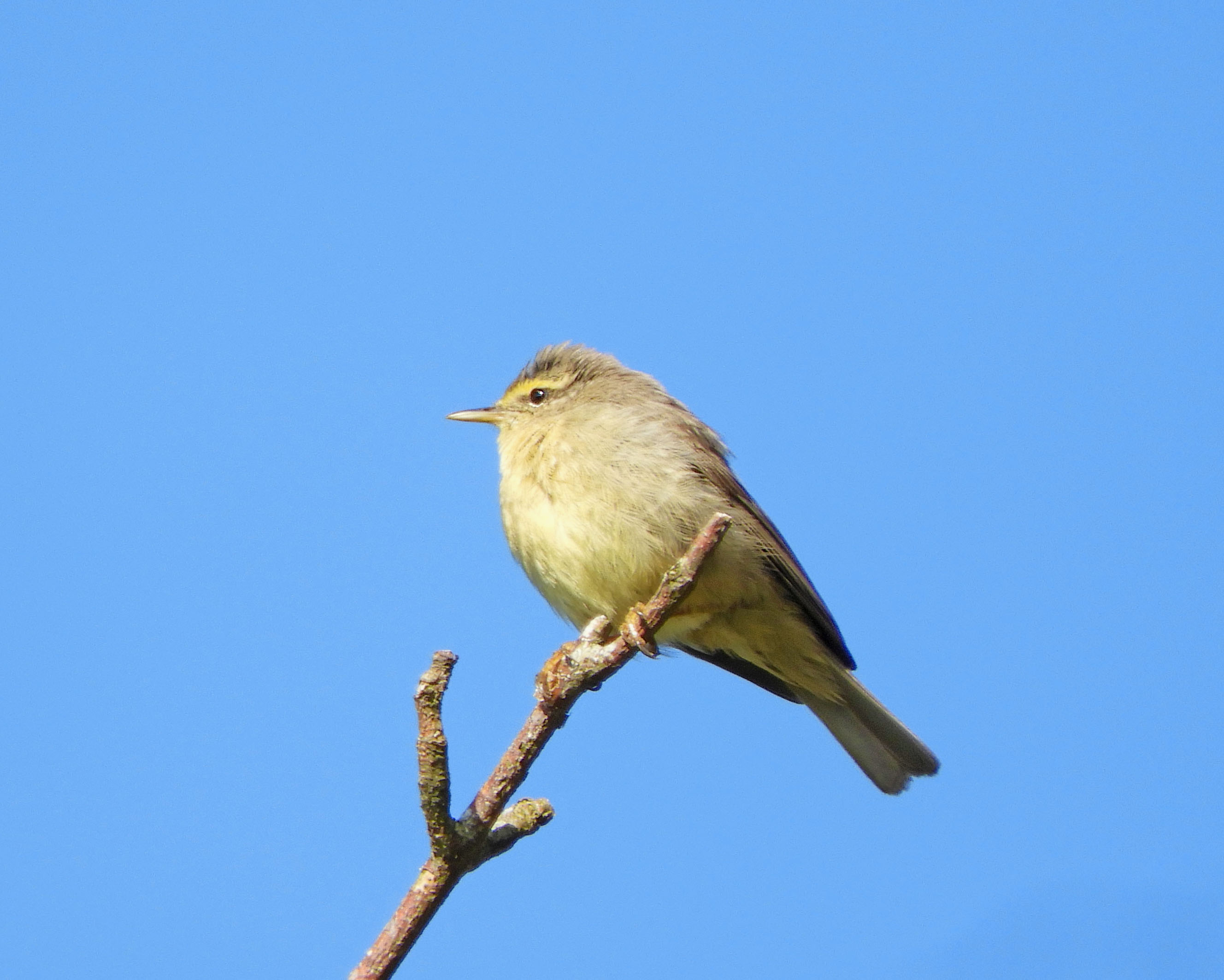 A rare moment when the warbler perched in full view in the open tree tops (Dean Jones).
By 6 pm the first charter boats had arrived at the jetty and as soon as the birders reached the valley they were on the bird within minutes. After brief initial views of the bird in the North Wood, the bird then alighted on one of two small trees next to Millcombe House, providing superb views and photo opportunities to 14 guests. The bird then took to the canopy again, seemingly following the evening sunshine, as more and more birders arrived.
At one point, shortly after 7 pm, the bird moved from the tree tops above Millcombe Pond and spent some time flycatching from a thicket of hawthorn between bouts of calling and singing – occasionally pitching down upon the bare rocks providing similar views perhaps to those which would be seen in the bird's typical rocky, semi-arid breeding habitats out east. Absolutely stunning!
With news that numerous boats had been booked for the following morning also, all hopes were set that the bird would remain for another day. Come the morning, however, despite extensive searching, the bird was nowhere to be seen – it had most likely left the island in the favourable clear and calm overnight conditions.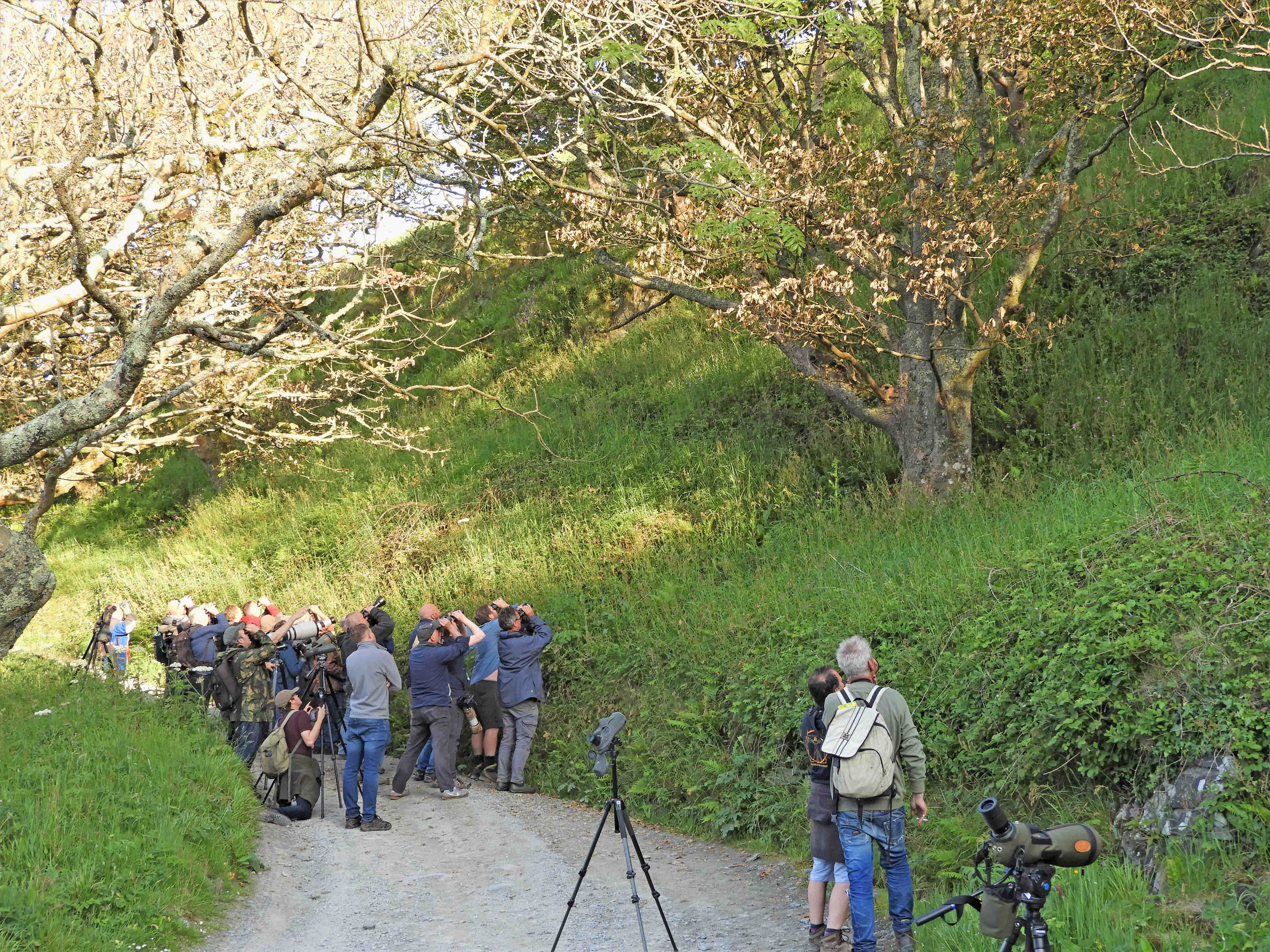 Birders who made it onto Lundy that afternoon were rewarded with views of Britain's first Sulphur-bellied Warbler, which semeingly departed overnight (Dean Jones).
It wasn't until that evening that the significance of the astonishing ornithological event really sunk in. Lundy has numerous firsts for Britain under its belt, such as Ancient Murrelet, Eastern Towhee, Eastern Phoebe and Bimaculated Lark to name but a few, but never did I think I would be part of such an occurrence during my time here as Warden.
We would like to take this opportunity to say a sincere thank you to those keen-eyed birders who responded so quickly to the photos and recordings posted online and pronounced on the true identity of this bird in a matter of minutes – a real success story for the use of social media.
Additionally, a huge thank you to everyone who visited the island over the two-day period, particularly those who very kindly donated to the Lundy Fund during their visit. If anyone would like to make a donation to the Conservation Team, please do so via the Lundy Fund link here.
I hope to see many of you on the island again in the near future.