It was just before lunch on Monday 8 May when I arrived at Portland Bird Observatory for the start of a five-day stay. After being welcomed by Observatory Warden Martin Cade, I made short work of unloading the car and grabbing a bite to eat before heading out to check the fields and hedges at Portland Bill.
I worked my way up past the Privet Hedge and to the Top Fields. Several Common Redstarts were on the fences, along with a male Whinchat. There were plenty of Willow Warblers and Common Whitethroats around, as well as Sedge Warblers flicking through the Alexanders, the lush green umbellifers that grow so well along the coast. There had clearly been a fall — just as I had hoped for my visit.
After a good two hours out and about, I turned into Culverwell, picking up Spotted Flycatcher and Reed Warbler, before heading back to the Top Fields. On a whim, rather than dropping down to the 'obs', I decided to carry on to the West Cliffs and up behind the Upper Lighthouse. Here there was another thick patch of Alexanders and brambles that was alive with birds. I spent about 30 minutes checking through the warblers, unsuccessfully trying to turn the fleeting views of a Garden Warbler into something more interesting. Ah well, time for a cup of tea at the obs.
As I walked past the Coastguards and along the top of the slopes, my attention was caught by a small bird flicking out of the path-side bushes and down into the low brambles that cloak the slopes. I saw it briefly, but it was clearly something different. It was now a little distant, but as it flitted and flicked in the tops of the knee-high brambles I was getting reasonable views. It was clearly a Sylvia warbler, like a neater, more compact Common Whitethroat. Definitely smaller than the two whitethroats that were often in close proximity, it had a distinct white throat with chestnut on the wings, but perhaps the chestnut was a little richer than on the whitethroats. Immediately striking were the bright, straw-coloured legs and, more significantly, black spreading from the bill back towards the eyes, but definitely not the mask of a Lesser Whitethroat. Besides, there was the wing colour!
I've seen most of the Western Palaearctic Sylvia warblers, but I've only had Spectacled Warbler once before, years ago at Landguard. I was increasingly sure, however, that I had found an adult male on my first day at Portland. Now how to get someone else onto it? With no phone reception and no other birder in view, I clearly had to leave the bird and get down to the obs. I took a few record shots; my camera is equipped with a standard 75-300 mm lens, so this was a case of pointing it at the distant bush the bird was in and hoping I would get something approaching a decent image, before setting off.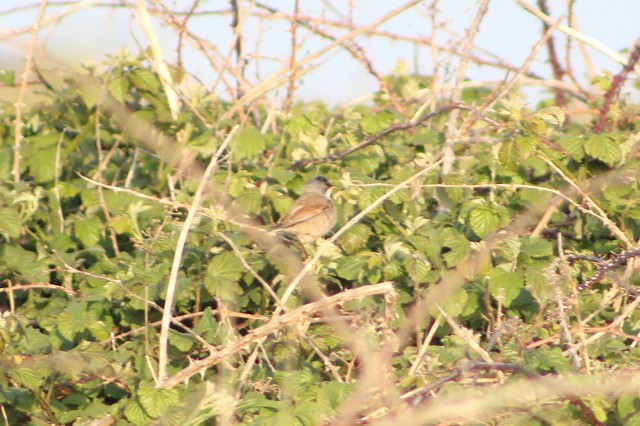 Although Andy's initial record shots were taken at a distance, enough could be seen on the bird to strongly suggest an exotic identification (Photo: Andy Davidson).
As I entered the obs, I couldn't quite believe that I would be announcing that I thought I had found a Spectacled Warbler. I quickly located Martin. I must have been convincing because it didn't take long for us to get back up to the slopes, gathering about half a dozen other birders along the way. Thankfully we quickly picked up the bird in its original spot. Views were again a little distant as it moved around the low bushes. Martin had gone down a different path and was about 50 m away, but was clearly getting views as I called across: "What do you think Martin?" There was absolute relief on my part when he called back "looks good!", with a thumbs-up for me.
Content continues after advertisements
Martin got a signal further up the hill and started putting the news out, and we continued to get somewhat distant views. As local birders started to arrive, though, the bird was lost in the lower bushes. Disappointment was growing after around a half-hour's searching. A couple of us decided to move back up to the warbler's original location below the Coastguards and, thankfully, it wasn't long before we picked it up here. After a short period it flew towards me and landed just 5 m away, giving me amazing views of this beautiful little bird: white throat with peach-buff on the breast and flanks, deep chestnut wings, bright legs matched by the yellow base to the lower mandible, grey over the back and head, with black spreading from the beak diffusing around the eyes with clear white eyerings. Stunning!
The assembled birders quickly gathered and the warbler really started to perform, flying across to land on both sides of the path and often feeding in the tops of the bushes, giving great views. Relief and enjoyment were evident all round. It was a first for Dorset and only the ninth record for Britain.
The bird stayed in the same area for the rest of the day and showed beautifully in the golden late afternoon light, giving great views and allowing for some stunning photographs to be taken — certainly better than the distant record shots I had taken earlier. It was a perfect end to a fantastic day.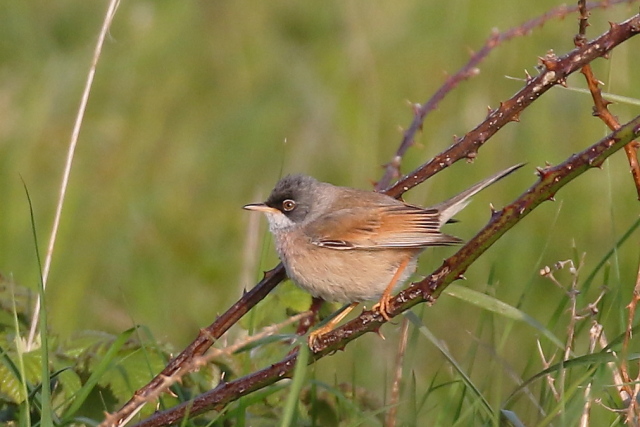 Spectacled Warbler, Portland, Dorset (Peter Moore).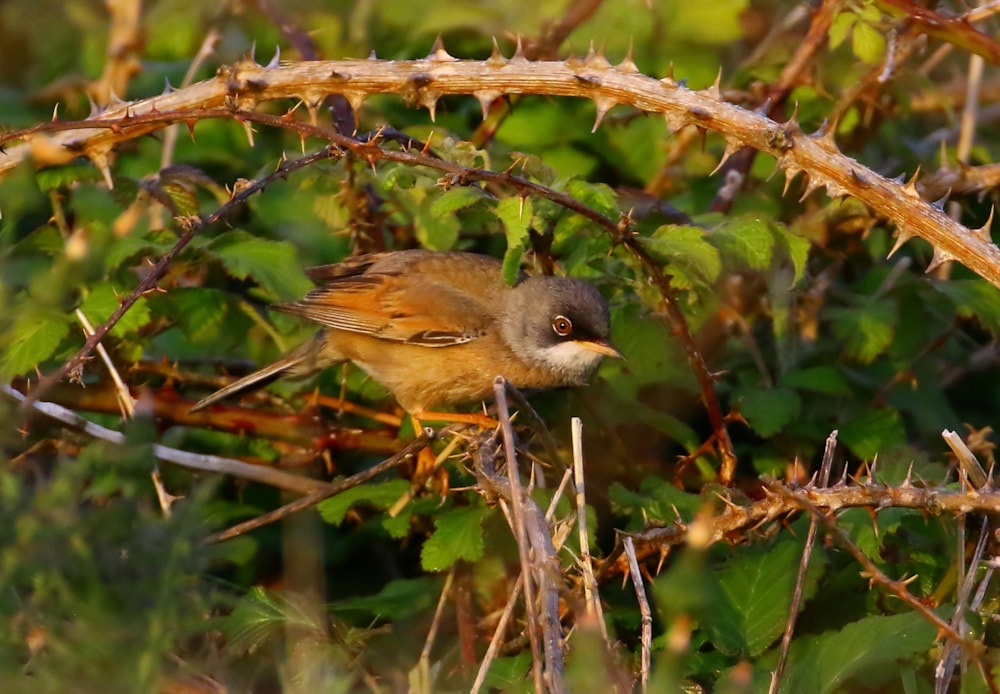 Spectacled Warbler, Portland, Dorset (Lee Fuller).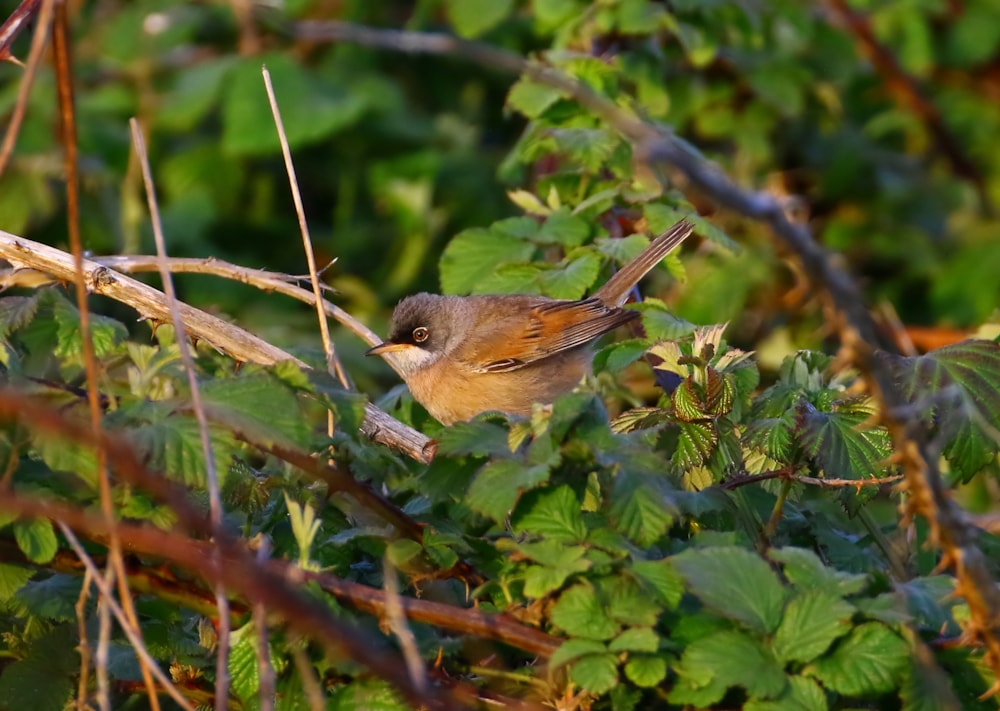 Spectacled Warbler, Portland, Dorset (Lee Fuller).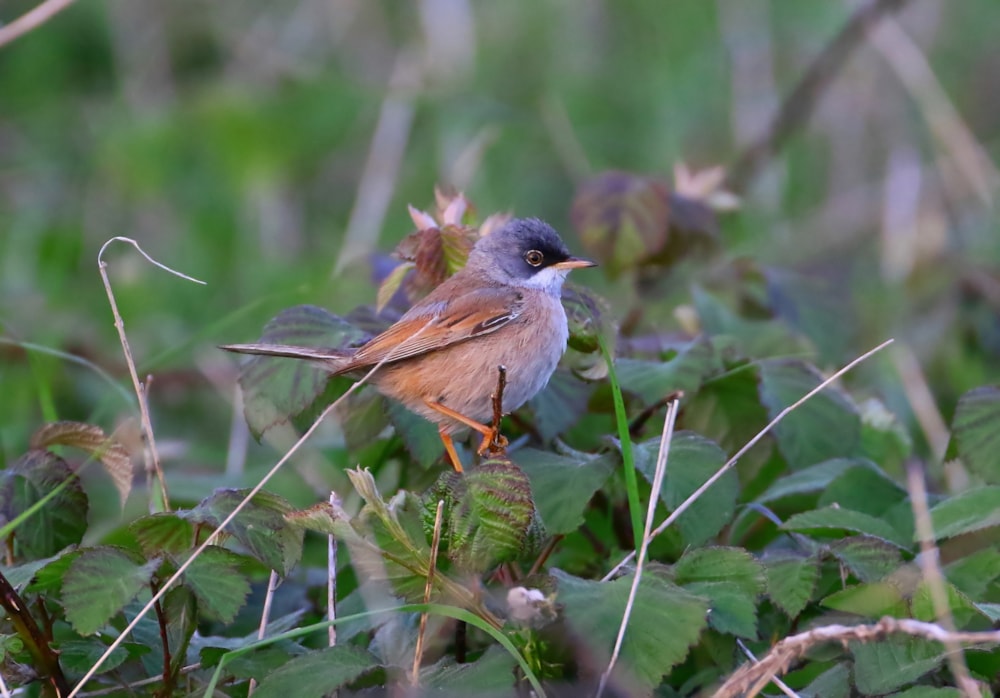 Spectacled Warbler, Portland, Dorset (Lee Fuller).