I was delighted to get the opportunity to join the RV Celtic Explorer with a team from the Irish Marine Institute and a host of scientists on the first leg of the Western European Shelf Pelagic Acoustic Survey (WESPAS) 2019 survey. Working as a seabird surveyor meant I would experience areas of the big blue that were new to me. It would also get me close to the continental shelf, where anything is possible in regard to the unusual.
Some of the days were long and uneventful, yet always enjoyable, and after eight days the species list was respectable. We'd encountered a variety of interesting bits, from Wilson's Storm Petrel, Long-tailed, Pomarine and Great Skuas, to Bottle-nosed Dolphins, Ocean Sunfish and Blue Sharks.
One of the most exciting elements of the trip was the number and variety of Great Skuas we encountered. With most of these beasts being immature, I was enjoying photographing a plumage I had rarely seen while seawatching from West Cork headlands or the pelagic trips that I run with my company Shearwater Wildlife Tours, where most birds are encountered later in the year.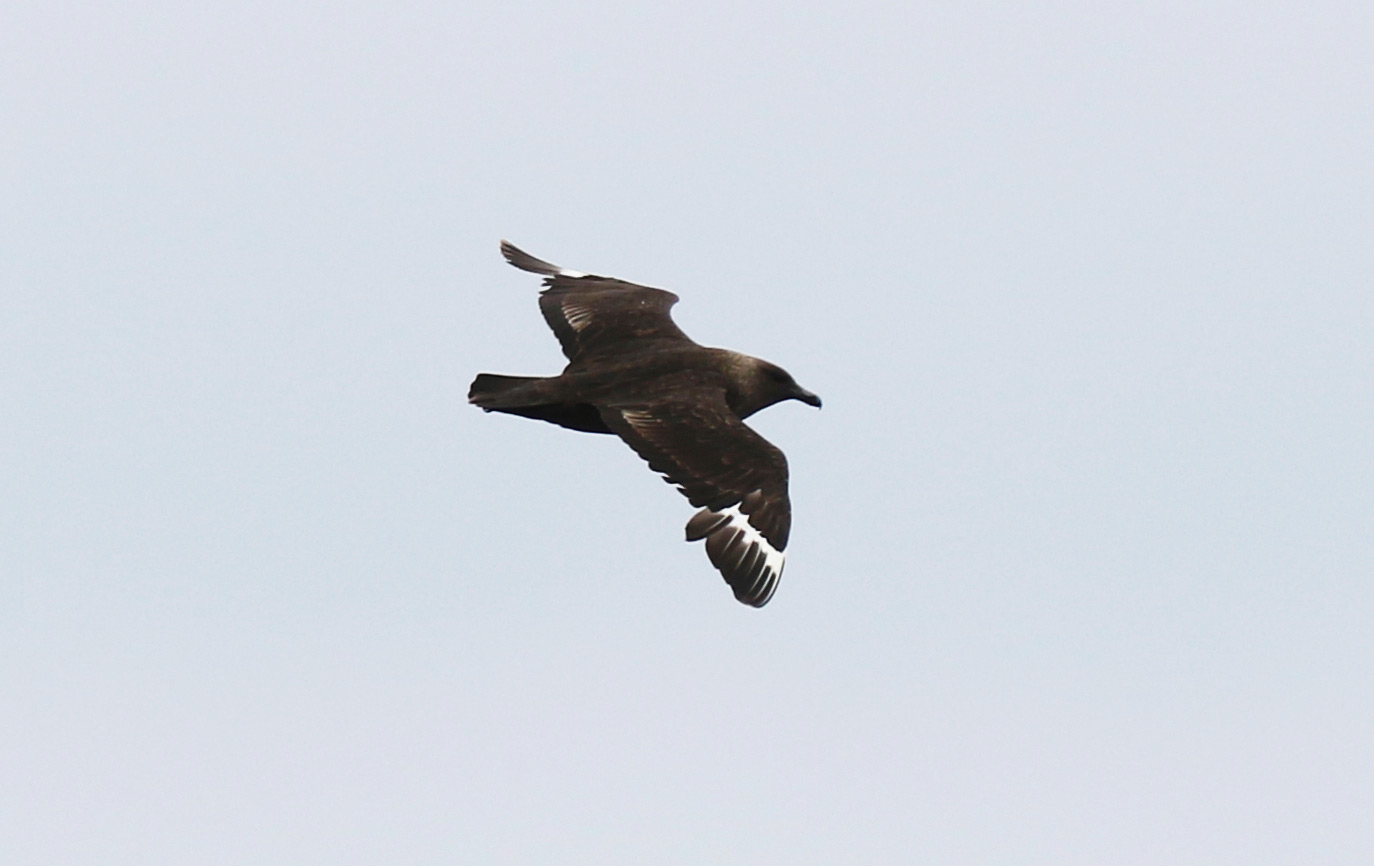 The skua was first encountered some 110 nautical miles south of Mizen Head (Paul Connaughton).
There were some strikingly dark second-year birds which got me thinking of South Polar Skua, but all had typical pale tips to the mantle and scapular feathers, as well as the barrel-chested look of a powerful Bonxie. My goal is always to photograph the upperparts, though it's not as easy as some might think as Bonxies tend to come in high to the ship. They also tend to keep their distance, often flying ahead and settling on the water, watching patiently from a safe distance to see if there is anything on offer.
So it was, at 3.15 pm on 22 June, some 110 nautical miles south of Mizen Head, I stood up and said to my colleagues: "Bonxie approaching from the north-west." However, I soon thought to myself that I should take some photos – it was dark as hell and had a pale nape … I dropped my binoculars and started shooting images.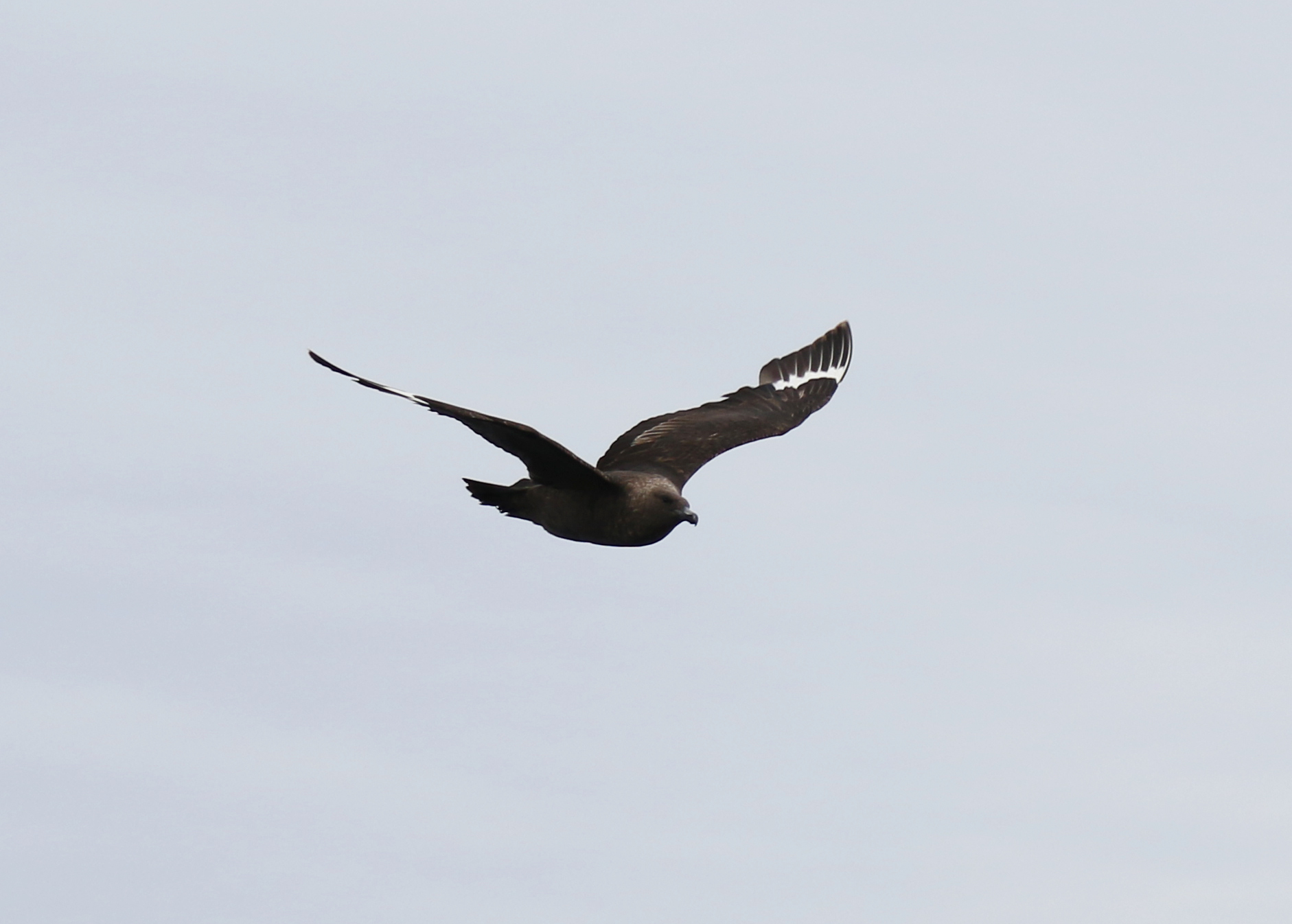 The pale nape and 'meat cleaver' bill can be seen from this angle (Paul Connaughton).
Content continues after advertisements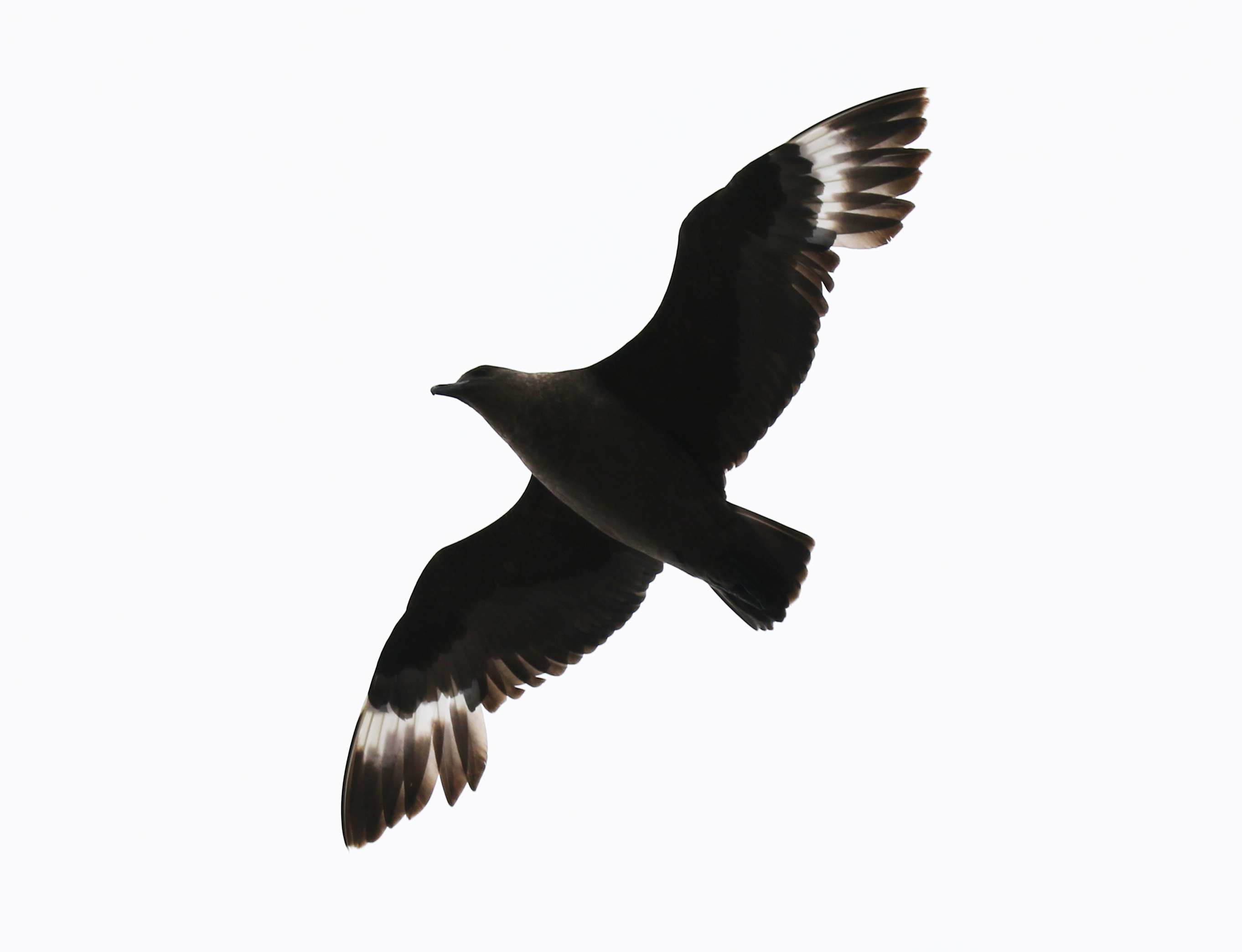 The state of the wing moult of the bird fitted for South Polar Skua in late June (Paul Connaughton).
The bird came up to the ship just above our eye level, ever closer, before flying up above the crow's nest and beginning to eyeball us. What a strange bird – it looked like it wanted to land, but it didn't. It hovered a little, then flew away to the south.
My mind was racing. Did I see the upperparts? Will I be able to tell if it was what I was thinking? It had to have been. I sat down and looked at my pictures. I zoomed in on the first shots I'd taken as it approached and there it was – not a pale tip anywhere to be seen on the upperparts, with the nape standing out as well. It didn't look too heavy, either.
The bird was in wing moult and I cursed at not having any literature onboard, so I immediately sent back-of-camera shots to all the birders I could think of and asked them to check if the moult fitted South Polar Skua – I knew this would clinch the ID.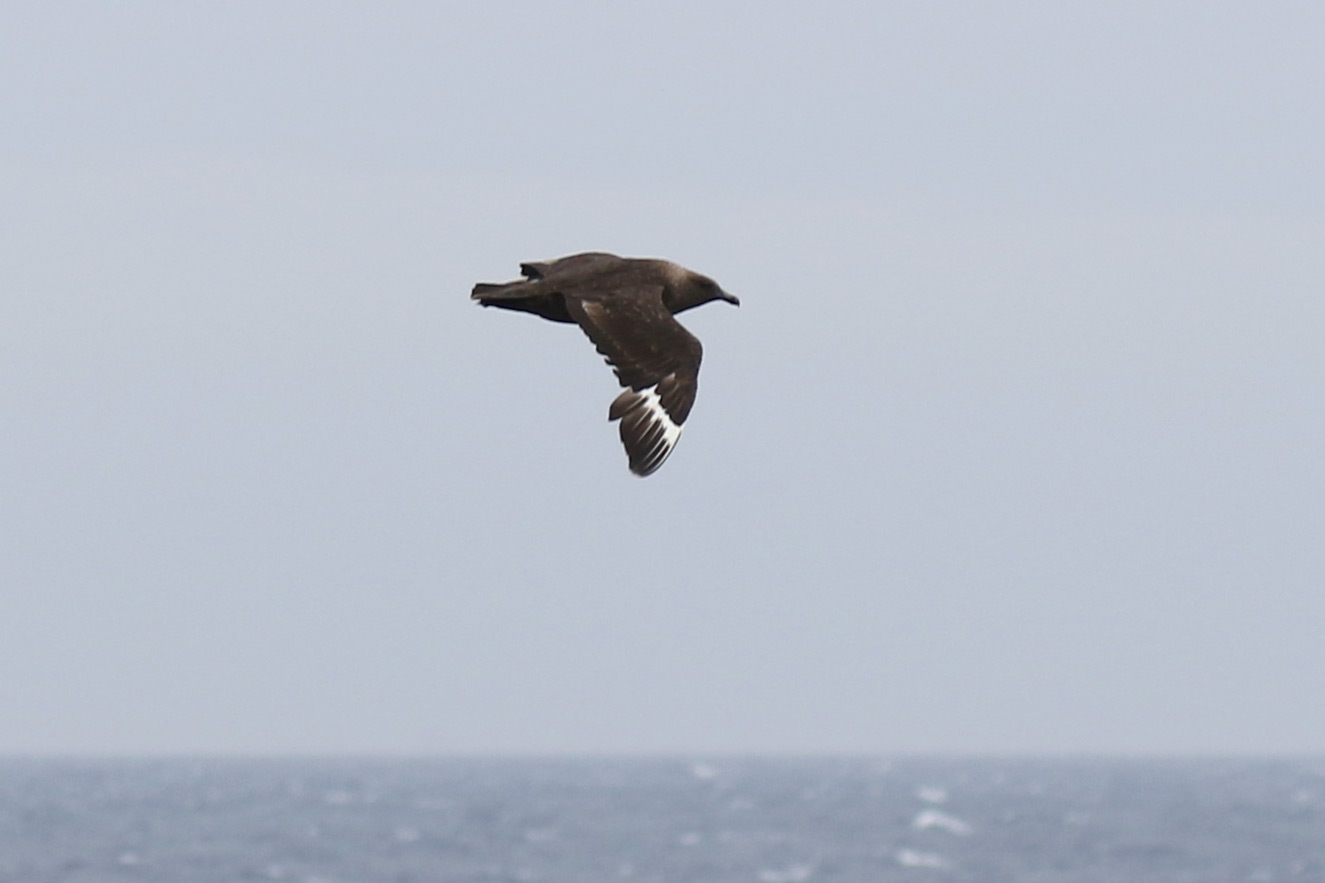 If accepted, it'll be the first South Polar Skua for Ireland (Paul Connaughton).
My heart was beating like mad as I awaited replies, but then they came: the moult score for this bird was spot on for South Polar Skua at this time of year. Hooray! My colleagues Sally O'Meara and John Power joined me in a shower of high fives as we realised we'd nailed a very tricky, highly sought after and beautiful first for Ireland. It was a dream come true – a second-calendar-year or older South Polar Skua. Thanks to all who helped with the ID.
Paul runs Shearwater Wildlife Tours, an ecotourism company based in Co Cork that specialises in pelagics and wildlife based package holidays. Visit the website here or read Paul's 2017 article for the BirdGuides website here.