My friend Doug Stanley and I had travelled independently to Cemlyn, Anglesey, with the intention of seeing a Roseate Tern at the lagoon. As we approached we saw Tony White, the font of all knowledge for this part of the island, and asked whether he had had any recent sightings of the Roseate.
He told us that there was a single bird and the best place to see it would be from the shingle ridge where the North Wales Wildlife Trust have placed a rope fence. We moved into position, with telescope and camera in hand, and set about trying to see it.
After a short while, I noticed a bird with dark wings heading towards the tern colony, with Doug getting on to it shortly after. Both of us had our cameras out and were able to fire off a few photographs. The unknown bird was trying to land, but was being chased off by the Sandwich Terns and Black-headed Gulls every time it did so.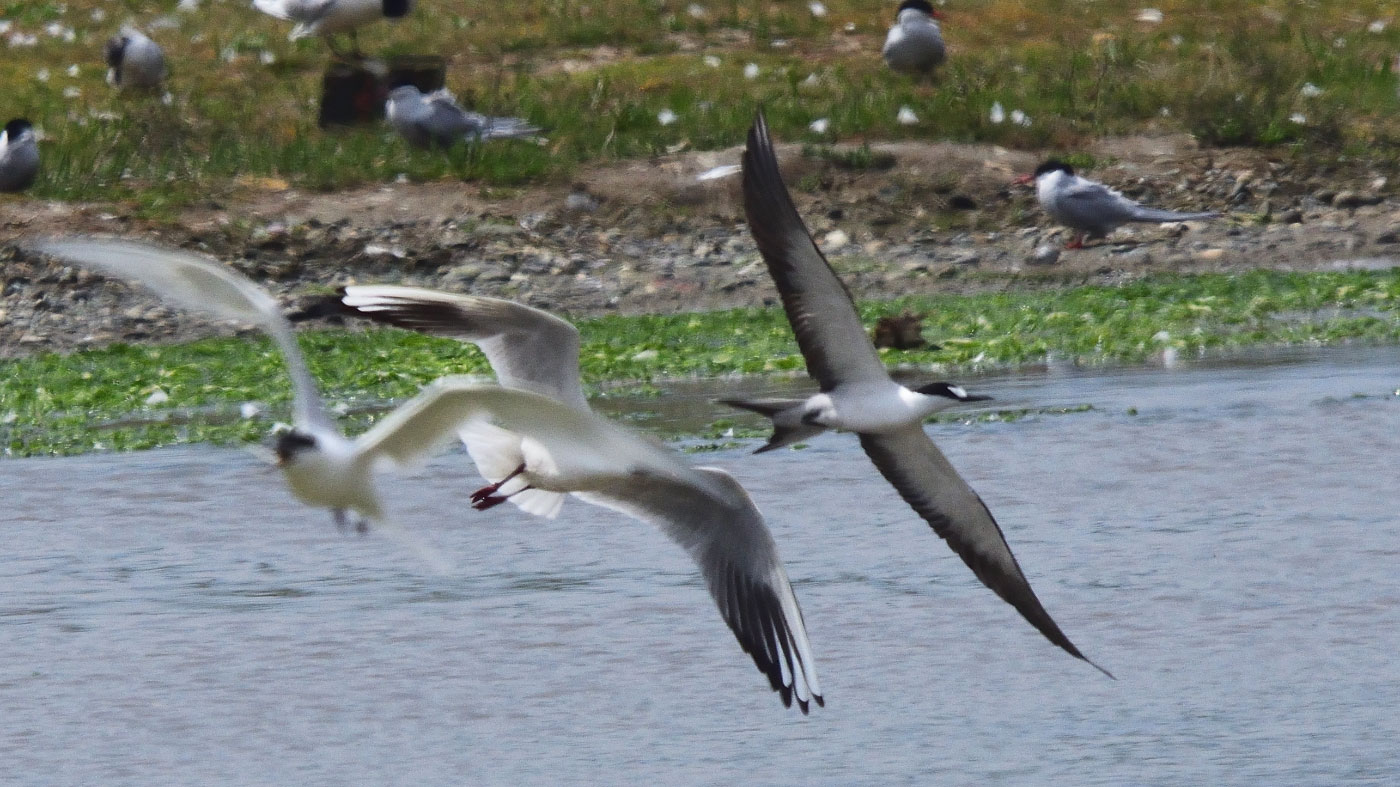 Local Black-headed Gulls and Sandwich Terns were not enamoured by the rare visitor, regularly chasing it off when it tried to land (Ian R Jones).
Before long the whole tern colony was up – the mystery bird really stood out and looked majestic. A few more photographs were taken. All the terns then settled, but the dark-winged individual circled a few extra times before landing out of sight behind some vegetation. We looked at the photographs and could see it was a tern of some sort, albeit one we had never seen before. As we left, we saw Dawn the warden and we told her what we had seen. We left to go and have a look at the bird guide, which was in the boot of the car – although we couldn't find a likely match, so we headed home.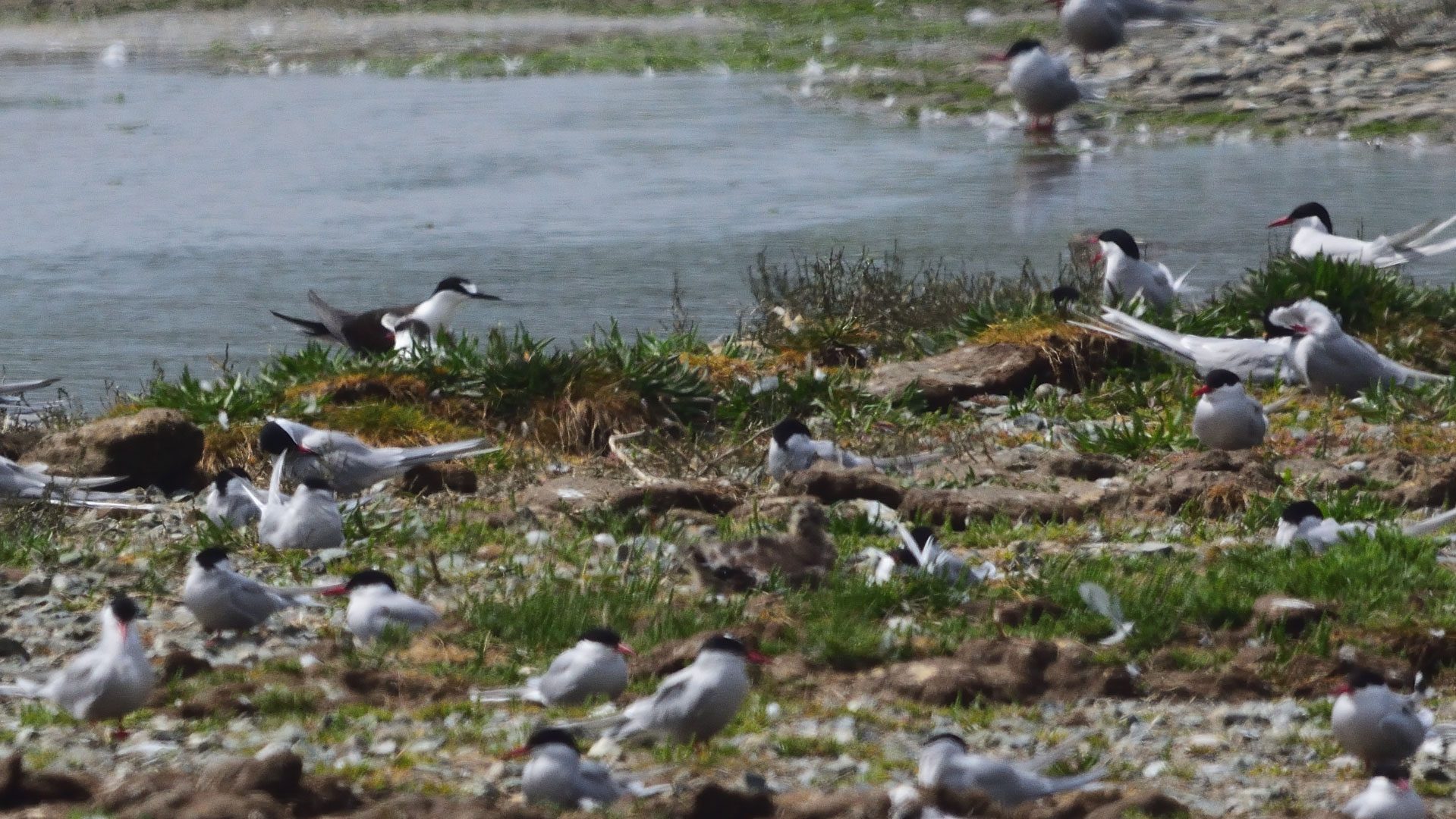 The Sooty Tern would only settle briefly in the colony (Ian R Jones).
On the way back I decided to find Tony and tell him about what Doug and I had seen, and show him the photograph. He immediately told me that it was one of two species – Sooty or Bridled Tern. He had a book with him and we quickly settled on Sooty. He immediately reported the sighting and told me of its mega rarity. Within a matter of minutes, Dawn was on the phone to say that she had also seen it.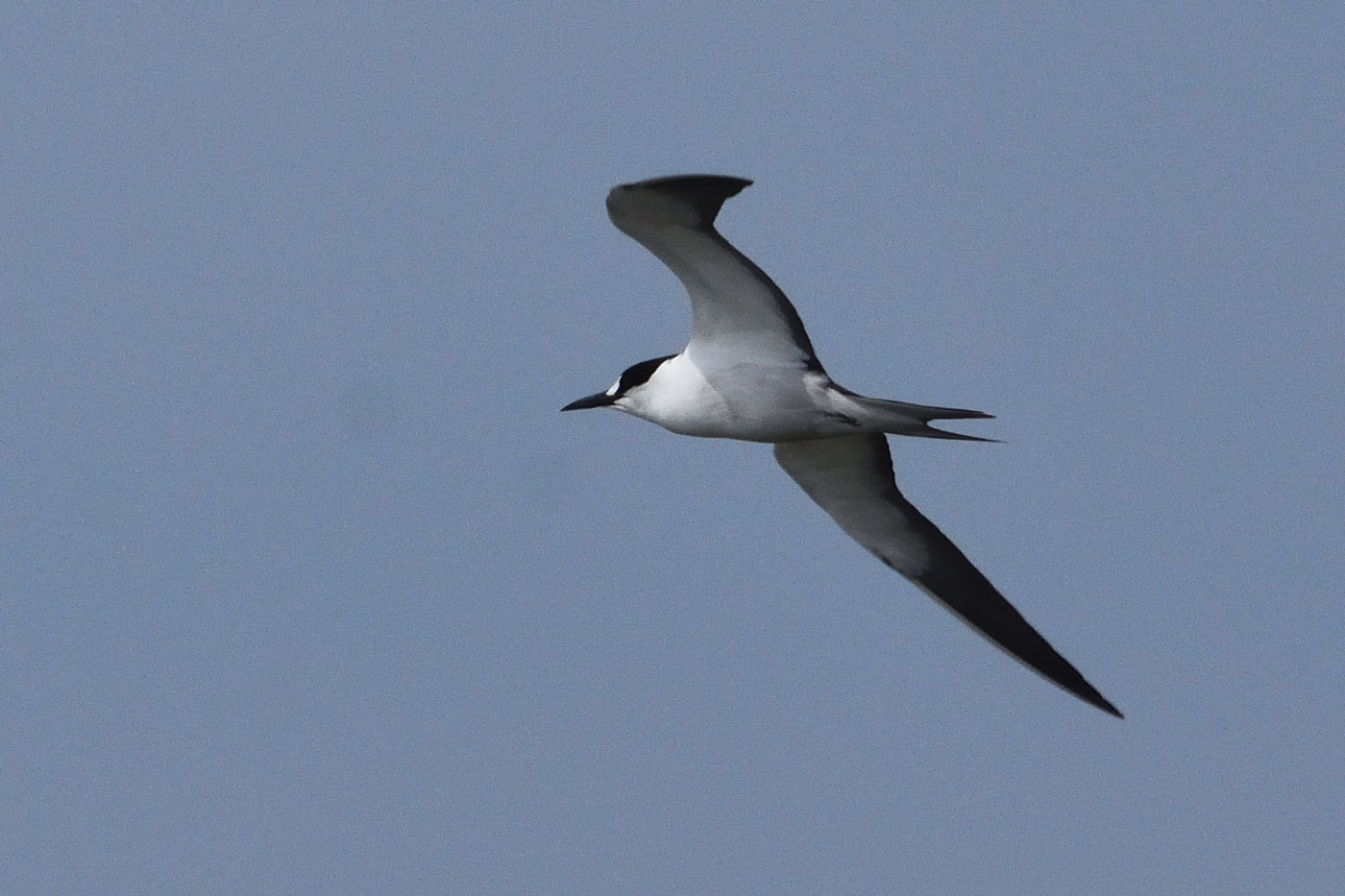 The mysterious, dark-backed tern performed several circular flights of the colony, allowing Ian to take some very good photos and confirm the identification as a Sooty Tern (Ian R Jones).
On the way home I stopped outside Doug's house and told him that what we'd seen was a very rare bird. The excitement was incredible. On arriving home, I downloaded a few photographs on the Wildlife of Anglesey Facebook page and read up about the species.
I rang Tony to see whether he had seen it – he was still at Cemlyn with fellow local birder Stephen Culley, but the Sooty was not to be seen. In my excitement I couldn't stay home and returned to Cemlyn to help with the search.
While searching unsuccessfully for the tern, Tony informed me that another Sooty Tern had been seen in 2005 at Cemlyn. Stephen and Tony were very pleased for Doug and myself – but it was a double celebration for Doug, as he was also celebrating his 80th birthday! What a day, and how lucky we are to have Cemlyn on our doorstep.